Ready for some more
very merry pixie dust
? I thought we'd continue our look at
Disney holiday decorations
today with a tour of the Christmas prettiness at
Port Orleans Riverside Resort
!
The
deluxe resorts
may have decadent decorations, the huge trees, and the fancy gingerbread; but that's no reason to overlook the moderate resorts at the holidays. They have some absolutely gorgeous decking-the-halls going on as well:
Coronado Springs
is awash in poinsettias, French Quarter has some fun New-Orleans-style décor, and
Riverside
is positively regal...
I love the big tree that greets you as soon as you step into Riverside, with the lights reflecting in the perfectly-polished floor. It's surrounded by trunks rather than presents - maybe from the passengers travelling on the riverboats? ;)
Gracious garlands ring this pretty atrium - and aren't those cool lanterns too?
Frosted fruits seem to be a subtle theme in the Riverside holiday decor - the tree is filled with (pretend) apples and pears and plums and leaves.
Look at that big bow! I wonder how much ribbon WDW uses in all of its decorating at the holidays? Probably A LOT.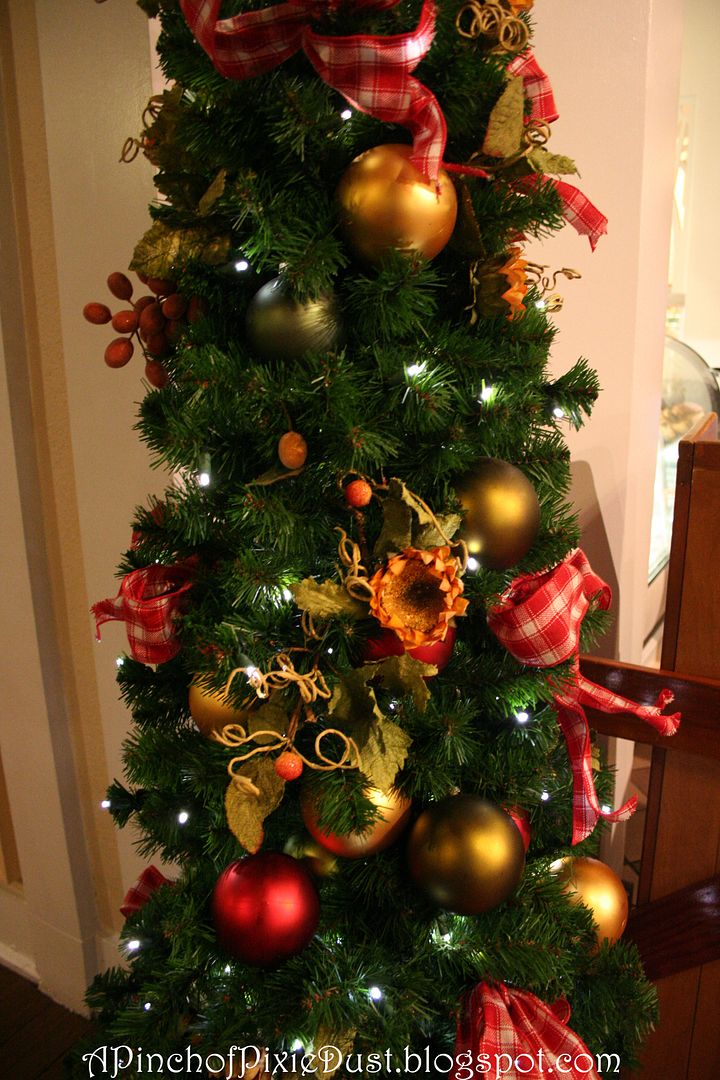 If you head down the hallway towards the Riverside Mill Food Court (one of the tastiest food courts in all of property, btw), you'll find some rustic trees and wreaths. But the real festive spirit can be found in the main part of the lobby...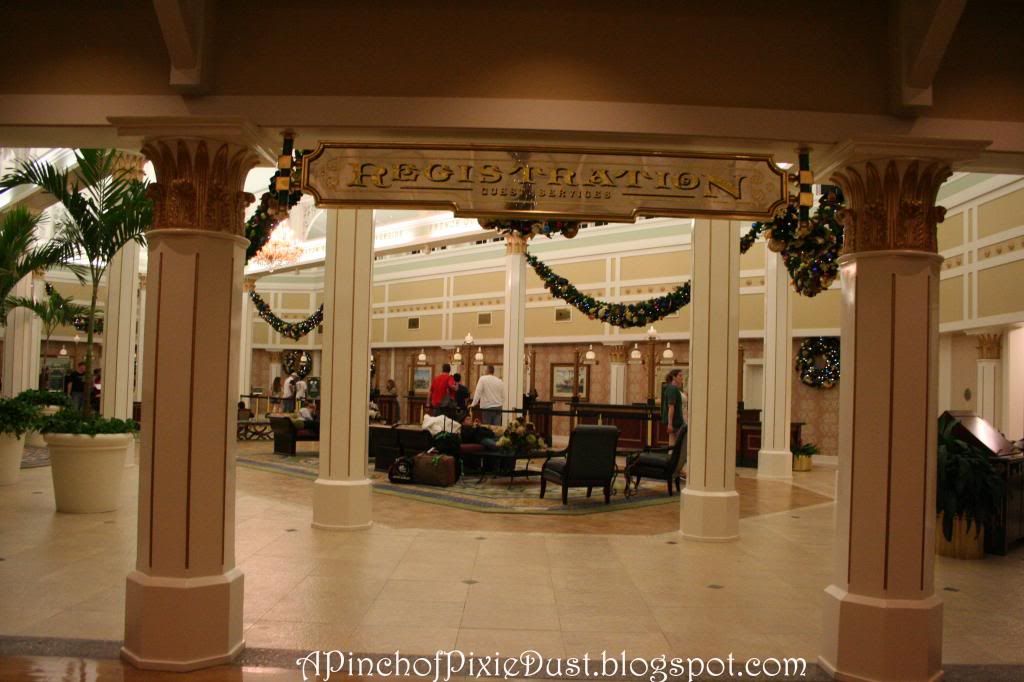 Step through towards registration and concierge, and you'll find such a pretty sight...
Sometimes I forget what a grand lobby this is, with the giant fans and chandeliers on the ceiling and those stately columns. There are some spectacular swags hung between them at the festive time of year...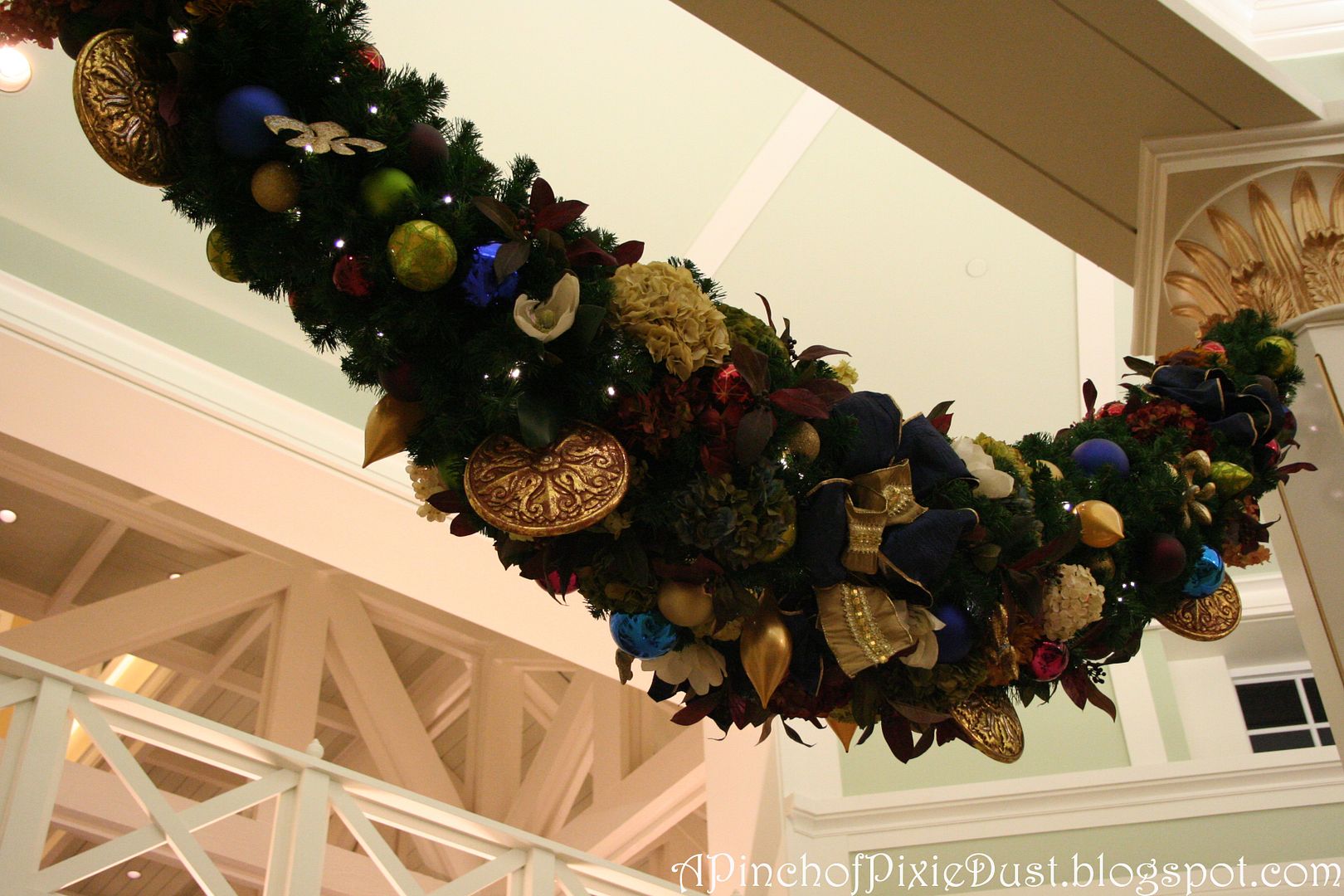 I love the understated nod to Orleans, with the fleur de lis and the gold medallions!
When it comes to comfy chairs and couches, Riverside has some excellent spots to sit and settle in with a book...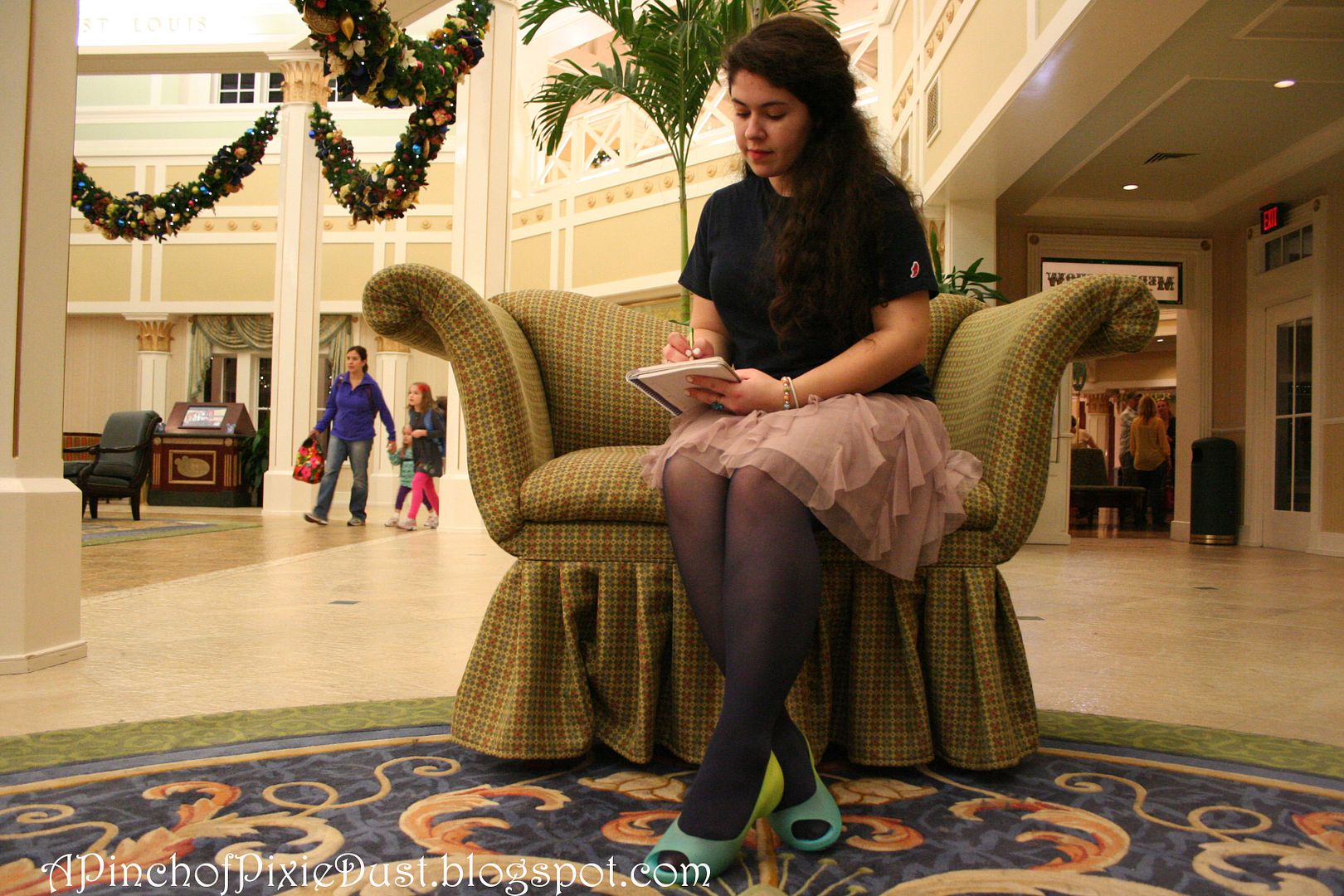 Yet another chair for me to add to my Disney Dream house wish list. ;)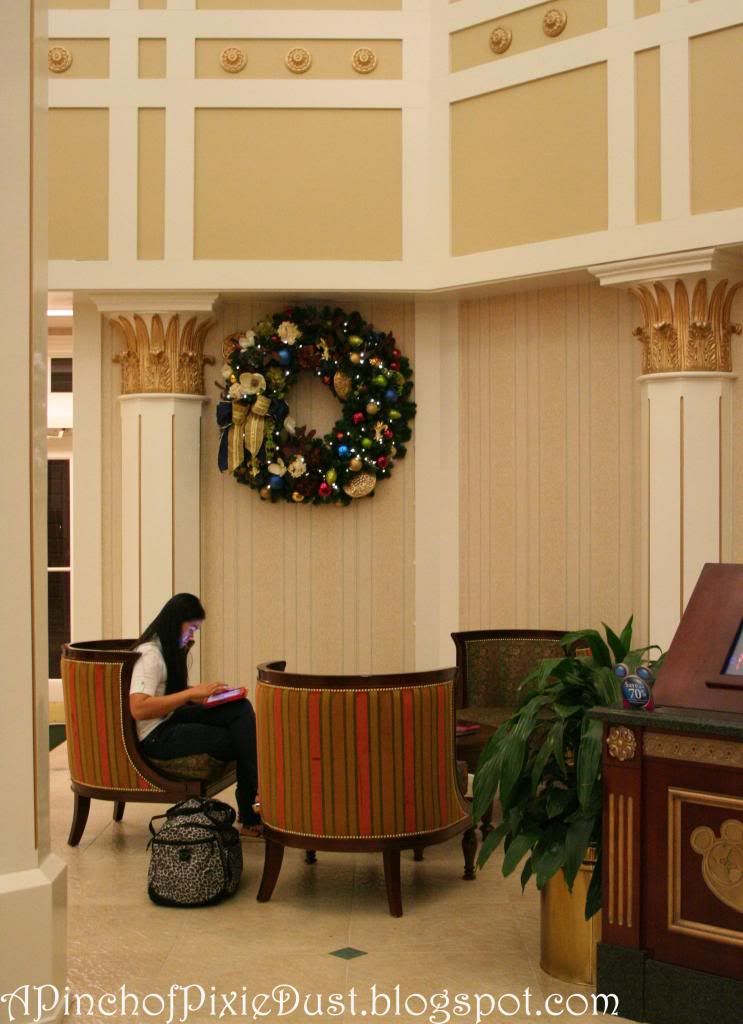 I love those funky round ones as well! And at the holidays you get to sit beneath the garlands and wreaths...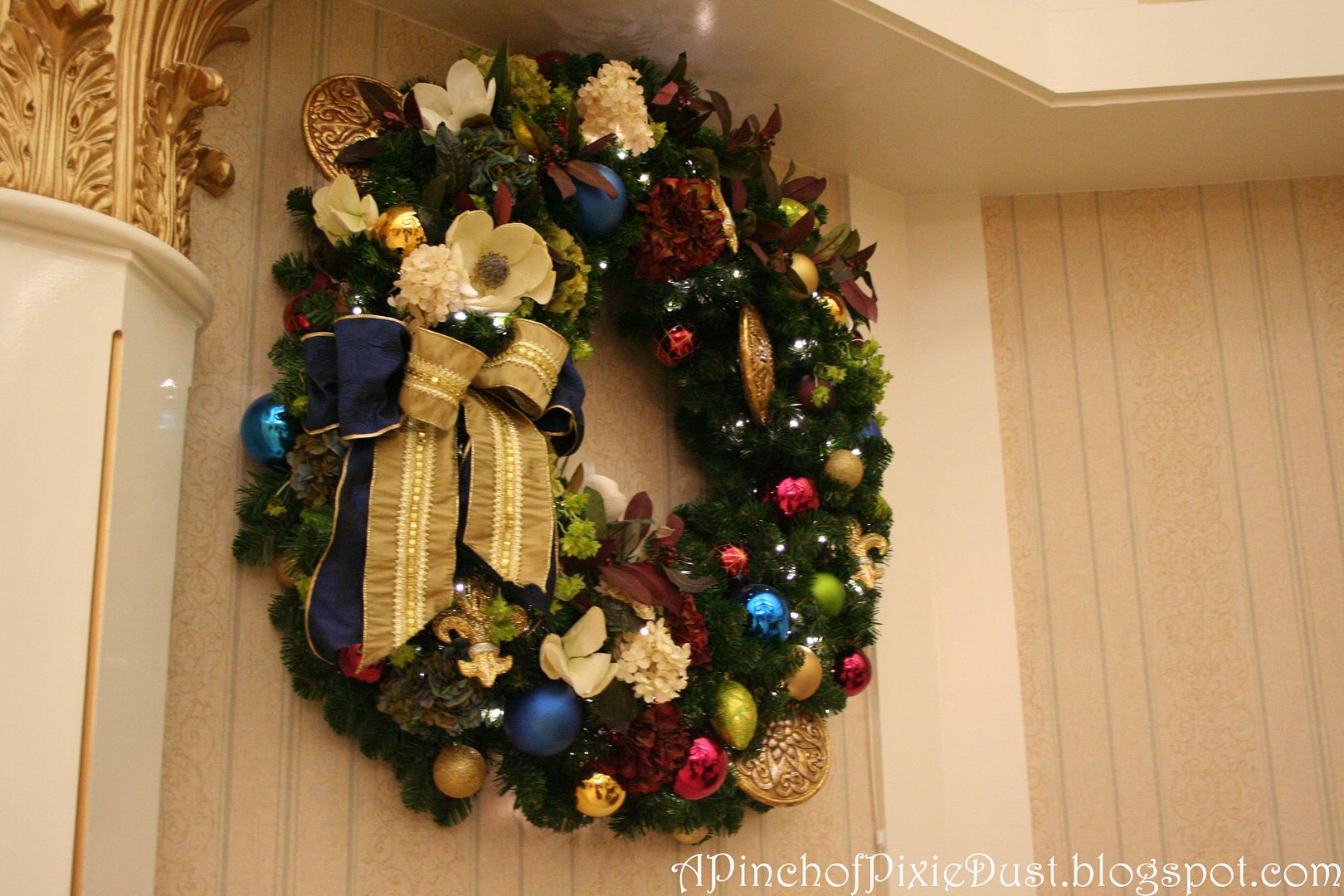 Oh-so elegant!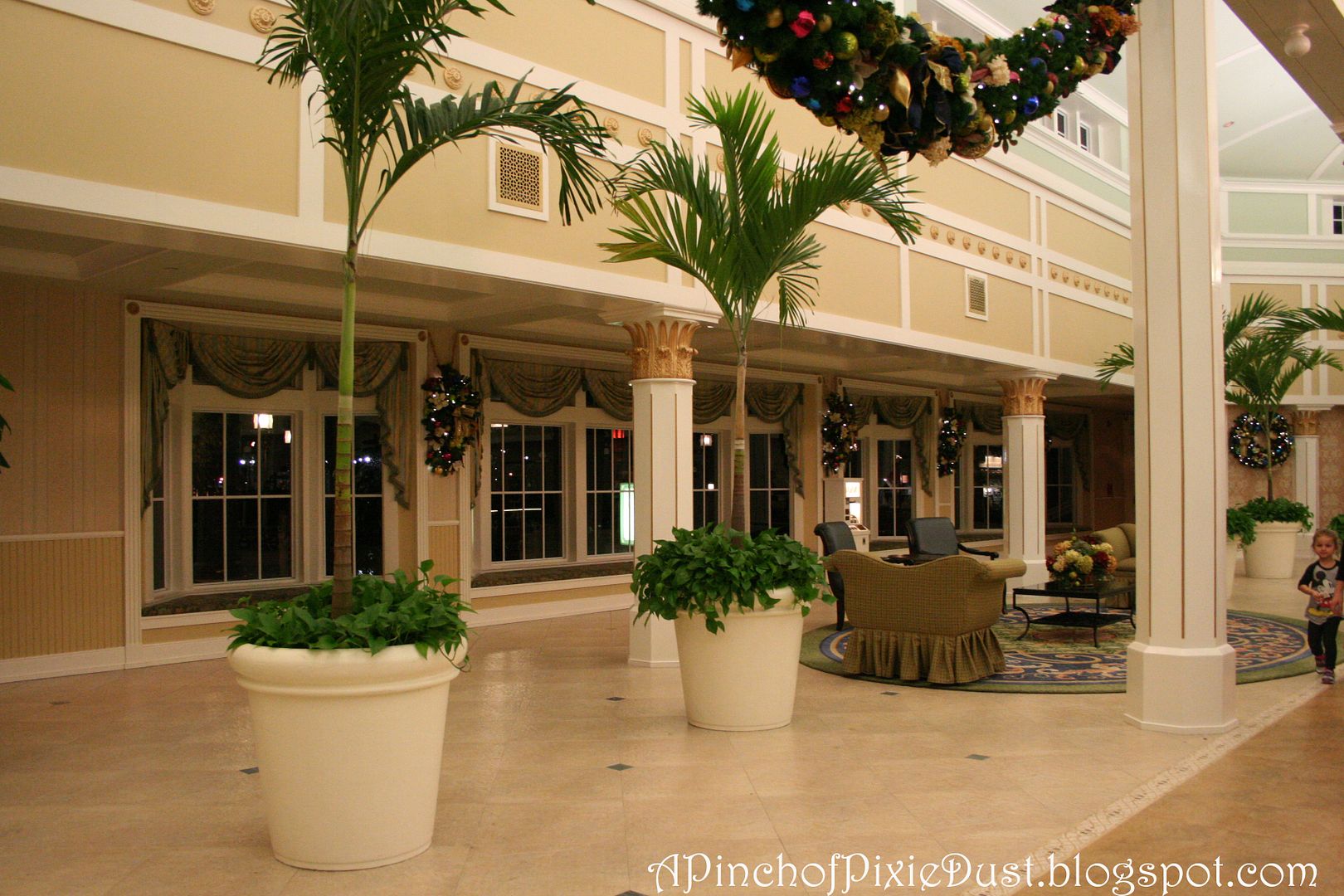 Any lobby that has palm trees in it gets my vote of approval. Also, those window seats are so cosy and pretty and yet so easy to miss...another beautiful WDW quiet corner!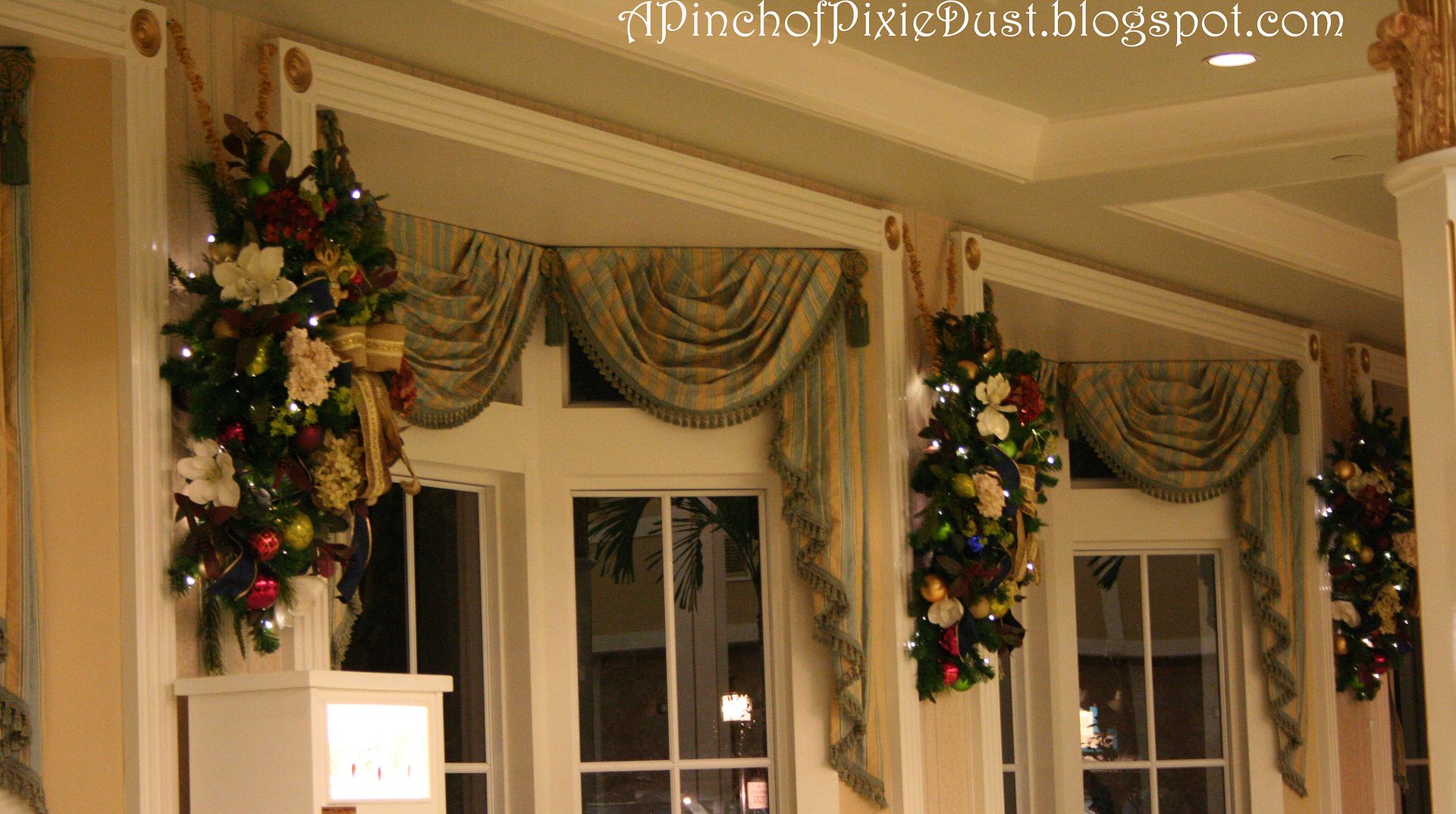 There are evergreen and ornaments by the windows too. Look at how they even hide the wire its hanging from with gold ribbon. Love it!
I have been coming to appreciate Riverside more and more, and at the holidays it does not disappoint!