We are just nine days away from
Christmas
, everybody! So for this week's
Sweet Treat Monday
post, I thought we needed something
extra
festive...
...and what dessert gets you into the holiday spirit more than an adorable holiday Disney cupcake? Walt Disney World has quite an impressive array of
Christmas creations
at the resorts and parks. Let's take a look at some of the most merry and tasty of them!
The first stop on our Disney Christmas Cupcake tour is going to be one of the most Christmassy of all the resorts: the Grand Floridian!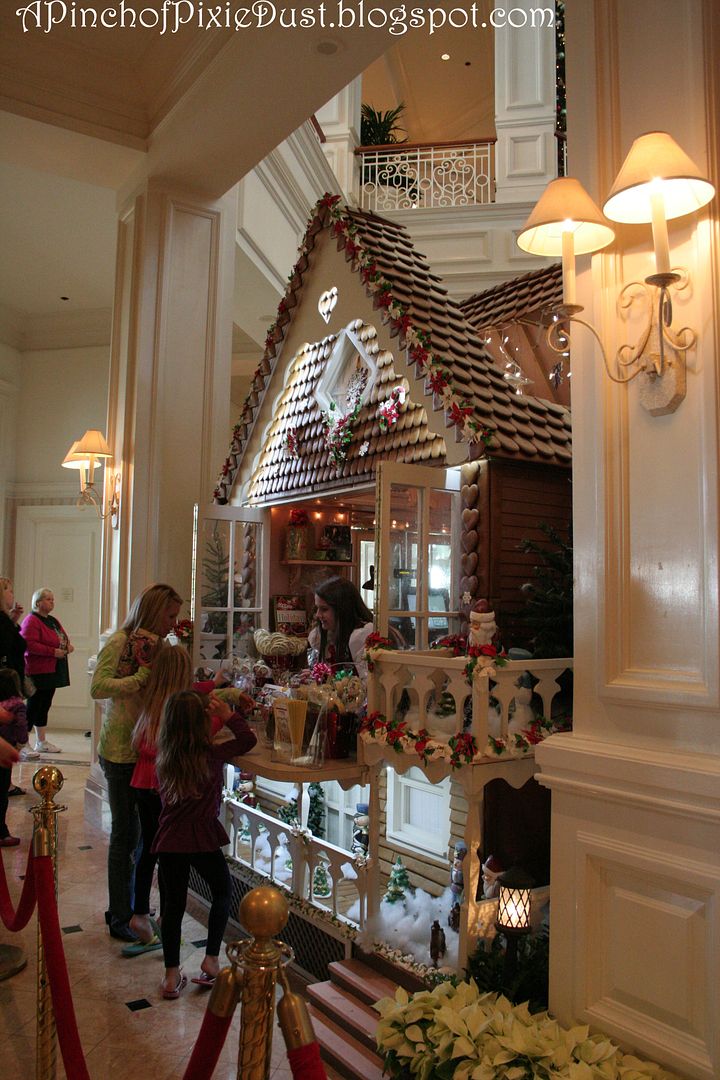 The decorations here are truly stunning, and in the life-size gingerbread house, you'll find a cupcake at the counter of tasty treats to buy...
Surprisingly it is NOT a gingerbread cupcake! It's actually
red velvet
, but it is quite delicious...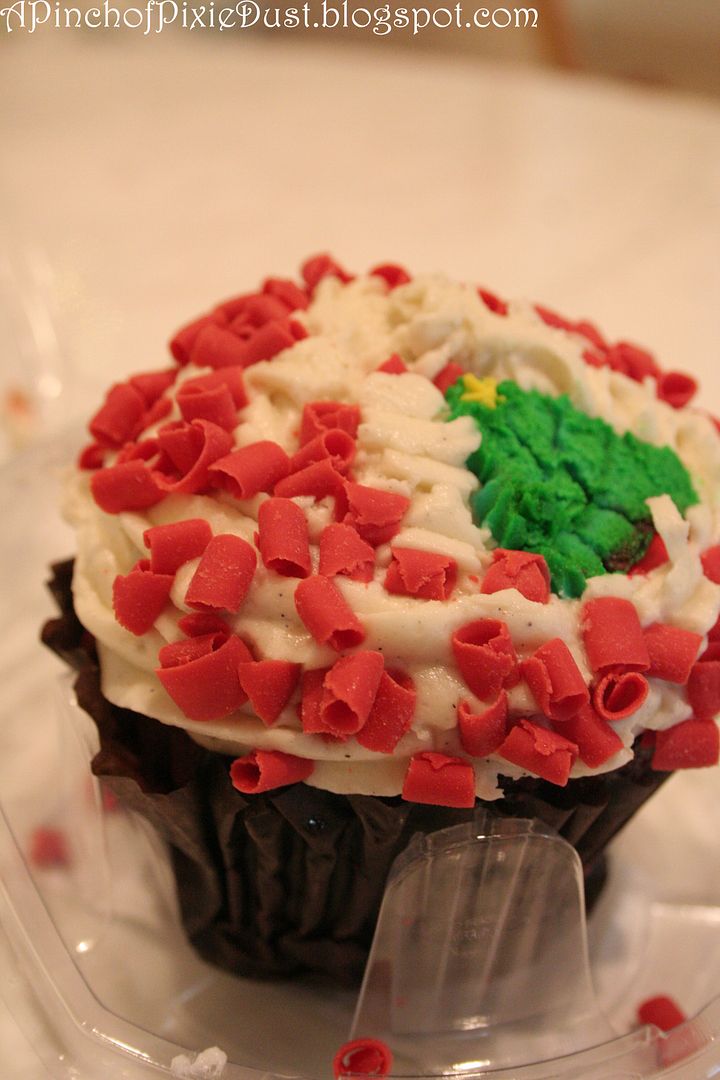 I love the little Christmas tree and the red chocolate shavings on top. The icing on top was so creamy and delish, and it has cream cheese filling on the inside, yummy!
If it
is
a gingerbread cupcake you're craving, however, you don't have far to go. Just hop across the Seven Seas Lagoon to Captain Cook's at the
Polynesian
...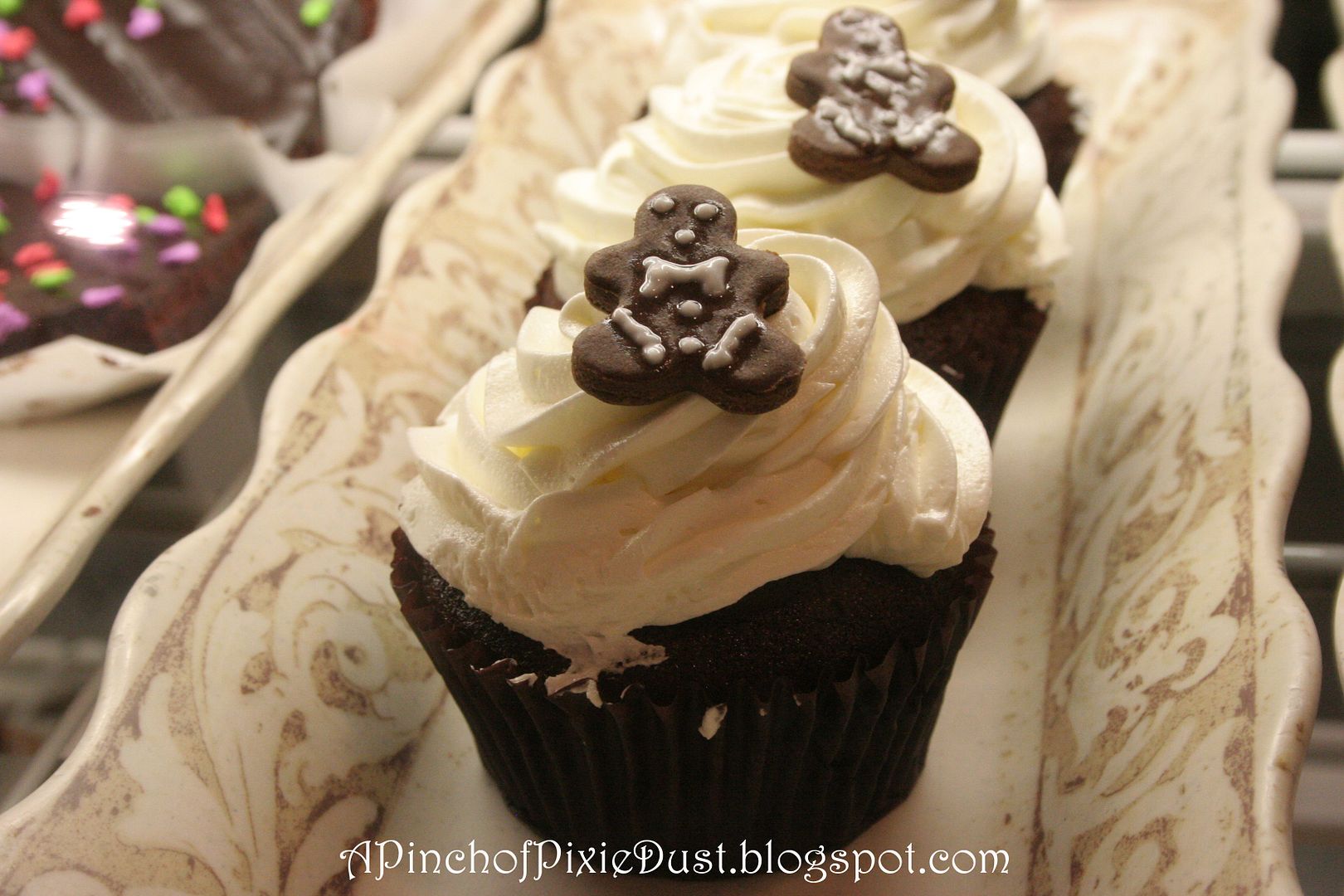 When I first saw this cupcake I thought it might be chocolate, but a cast member said it was gingerbread - it must be a pretty intense flavor since it's so dark!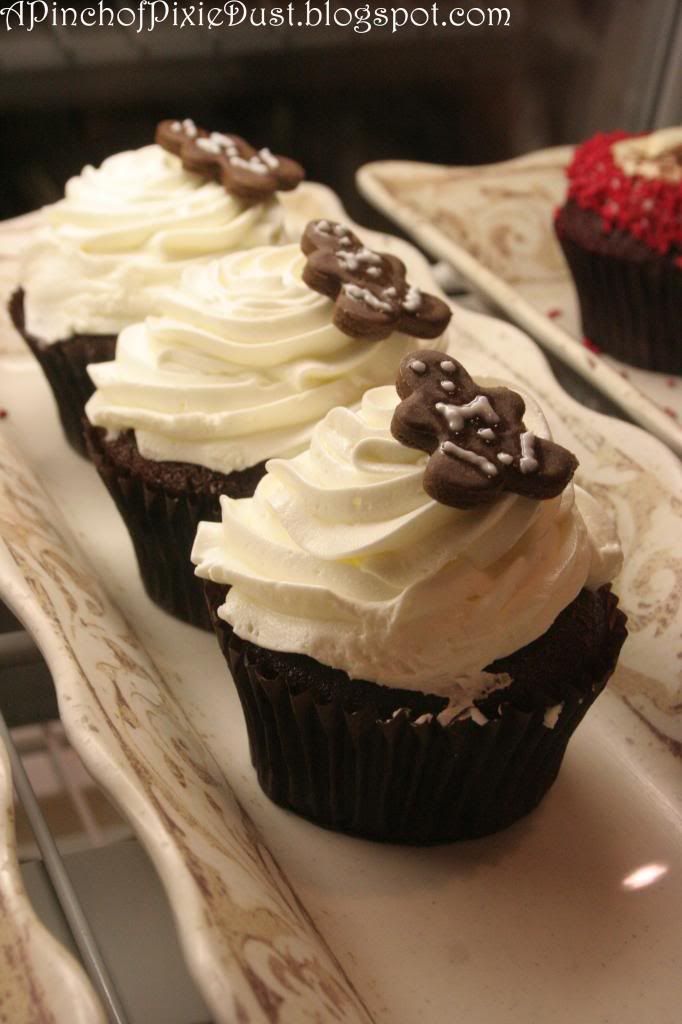 It was nice to see the gingerbread cupcake come back - they had it
last year
at the holidays as well! Note how the gingerbread man has a little bow tie - love it.
The
monorail resorts
all have pretty amazing holiday cupcakes. Next up, the
Contemporary Resort
and the
Contempo Café
...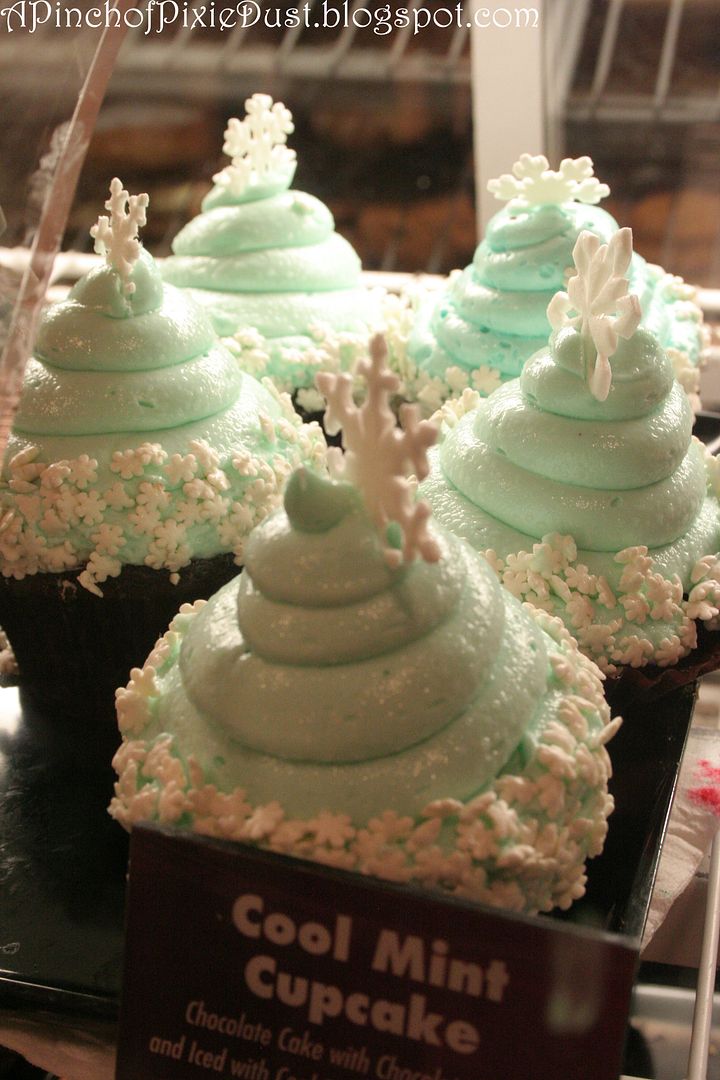 Here's another Christmas cupcake that may look familiar...the Contempo Café offered this
Cool Mint Cupcake
last year
as well. I love the snowflake on top and the sprinkles!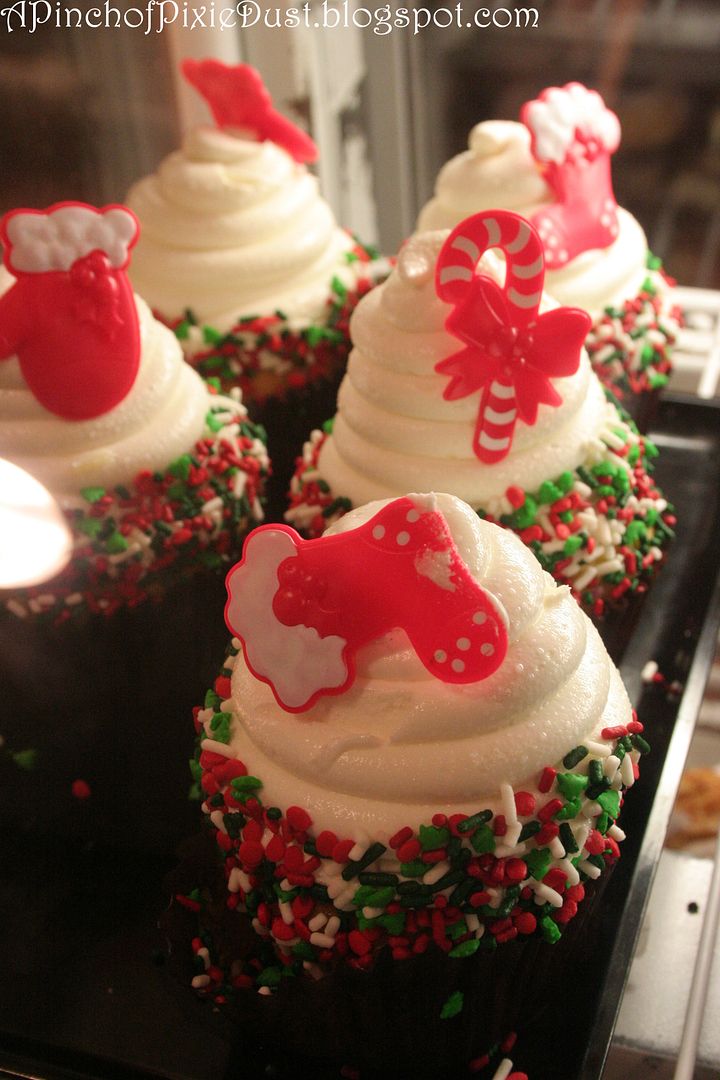 The
birthday cake cupcakes
at the Contempo have gotten a holiday makeover with Christmas toppers (instead of the usual Minnie and Mickey toppers) and red, white, and green sprinkles!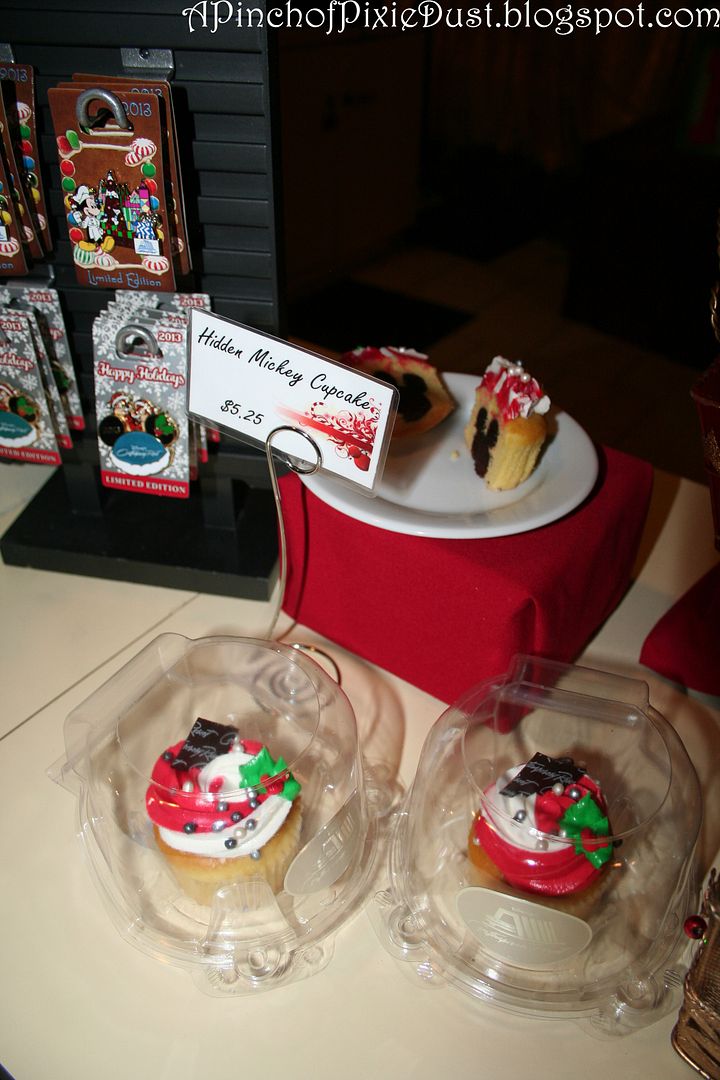 And if you're really in the mood for a new Disney cupcake, head to the
gingerbread shop
on the Grand Canyon Concourse. There they have a
Hidden Mickey Cupcake
with festive trimmings...
At $5.25 it seemed pretty expensive for the size (it was quite small), but that hidden mickey is pretty darn cute!
Disney cupcakes seem to be suffering from inflation. A typical Disney cupcake used to run about $3.99. At the
Boardwalk Bakery
and many other spots, they're up to $4.19...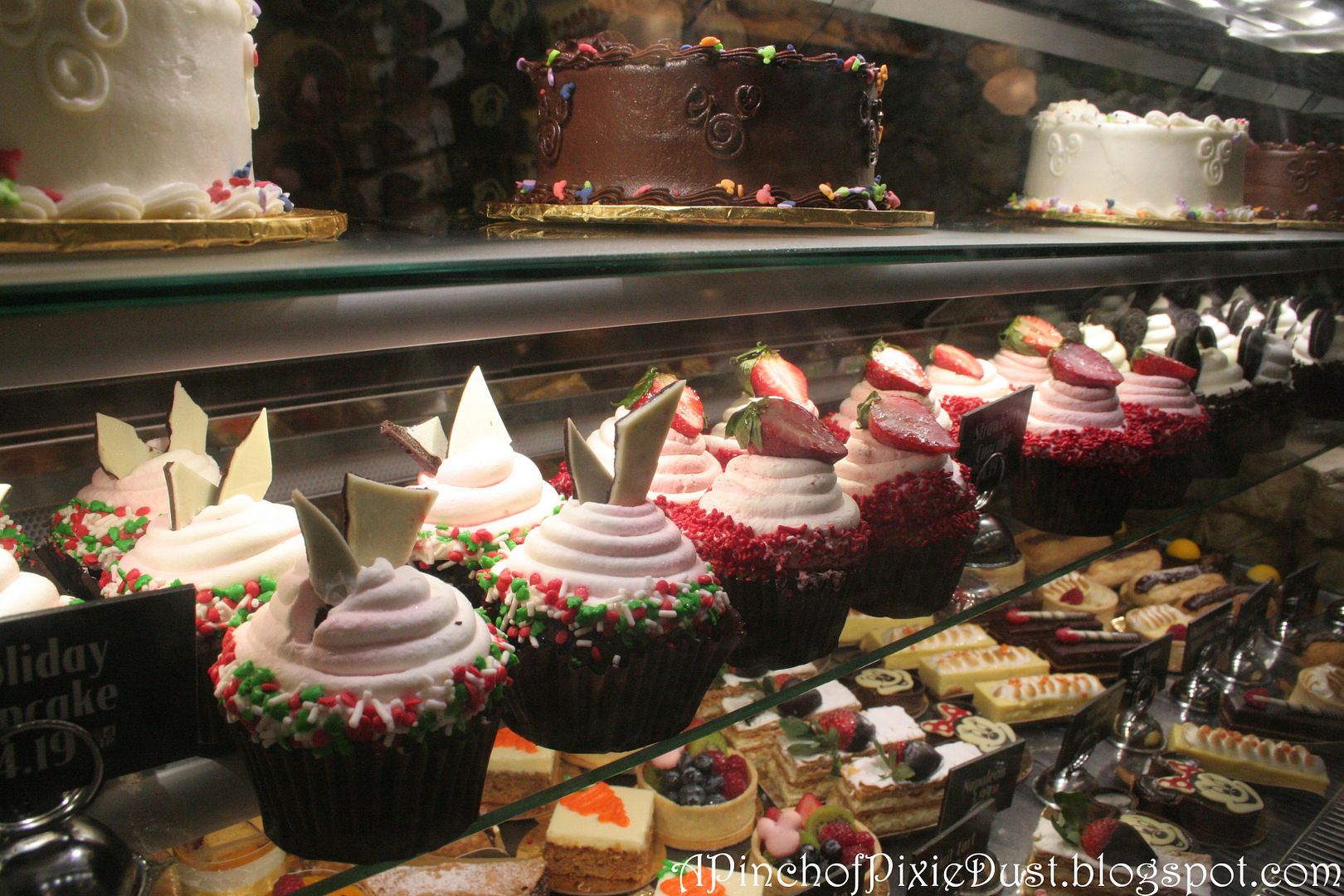 ...but these ones at least are still pretty huge cupcakes! I was glad to see the
peppermint cupcake back
at the Boardwalk...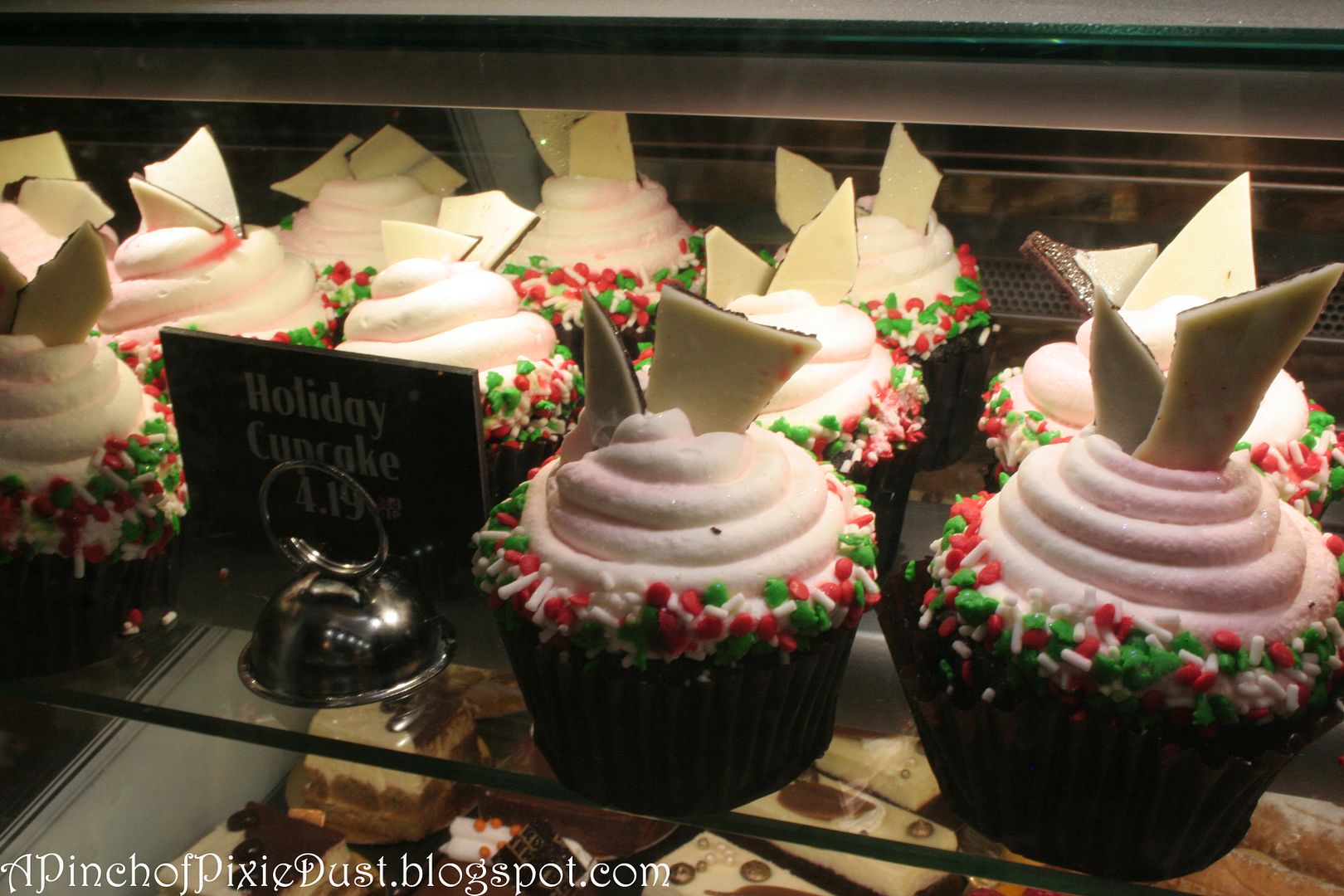 These holiday cupcakes are for the
peppermint
fans! They feature peppermint mousse, festive sprinkles, and big slabs of white and dark chocolate.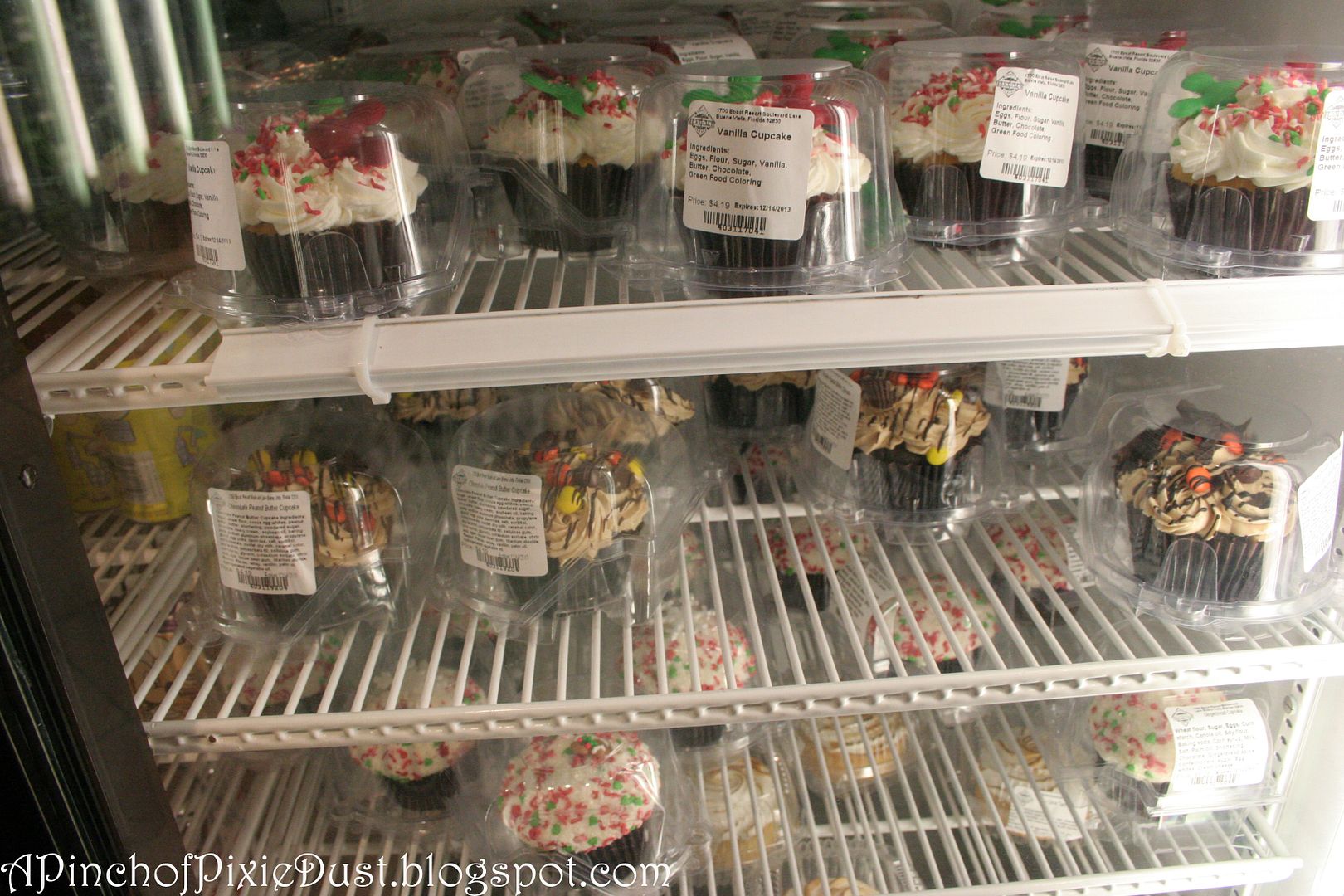 And as long as you're in the Crescent Lake area, you could swing by the
Beach Club Marketplace
to check out their holiday selection...
The Beach Club's
vanilla cupcake
is decked out with red and green Mickey balloons, and they also have a
gingerbread cupcake
...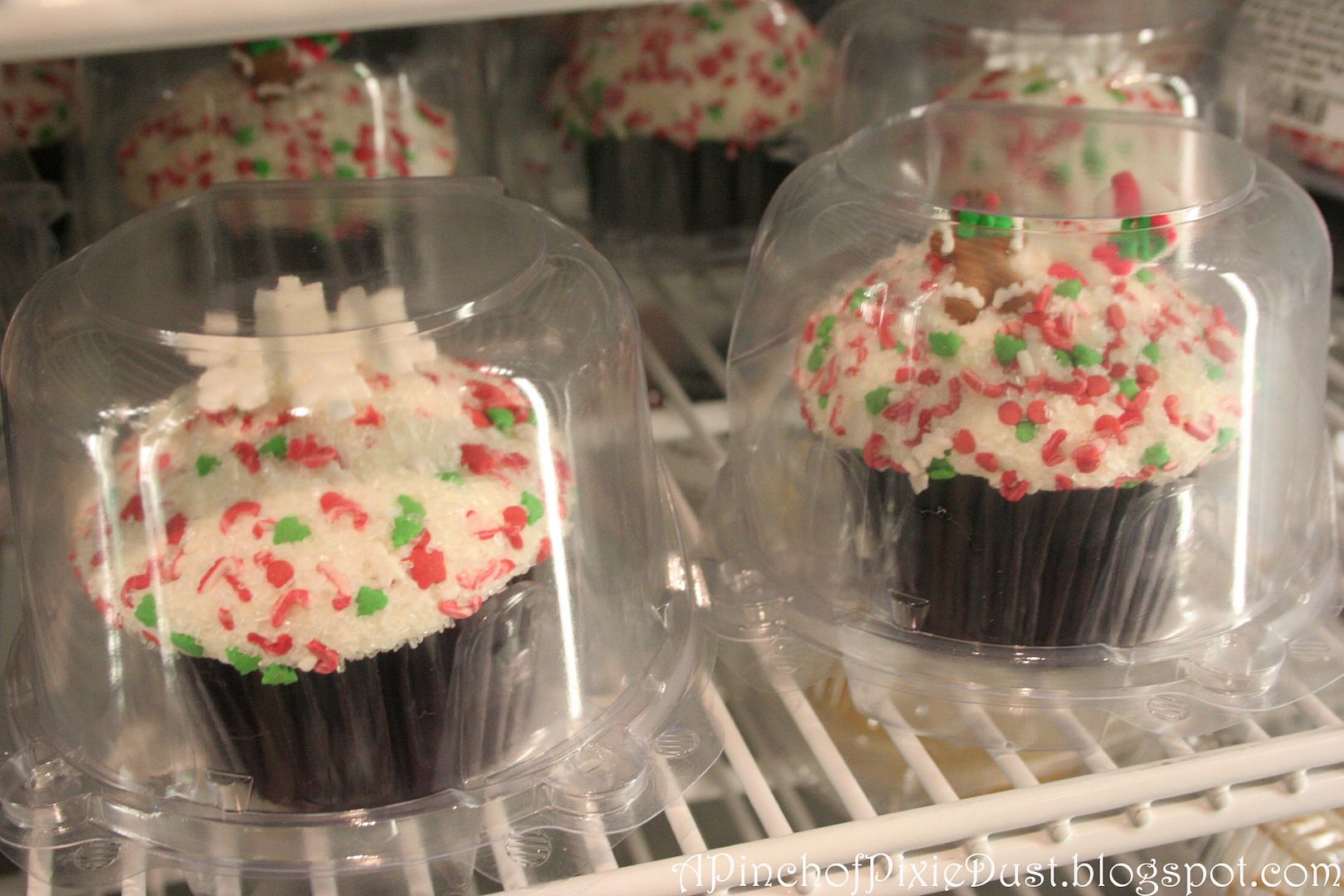 Love the snowflakes and mini gingerbread men!
I was hoping to get a glimpse of the holiday cupcakes at the
Main Street Bakery
at the Magic Kingdom, but sadly they only have them out during Mickey's Very Merry Christmas Party. There's a
gingerbread cupcake
and a
hot chocolate cupcake
, and Disney Every Day has
some photos
. For the rest of the day it's just the normal red velvet and peanut butter chocolate cupcakes.
I really don't get why they do that - surely they'd sell more cupcakes if they offered
some
sort of cute holiday one all the time? And they could still save one for the evening if they wanted something special for the party. As it is they don't put the cupcakes out until 7:30 - a half hour after the party starts - as if to make extra sure no non-party guests get to see them. :(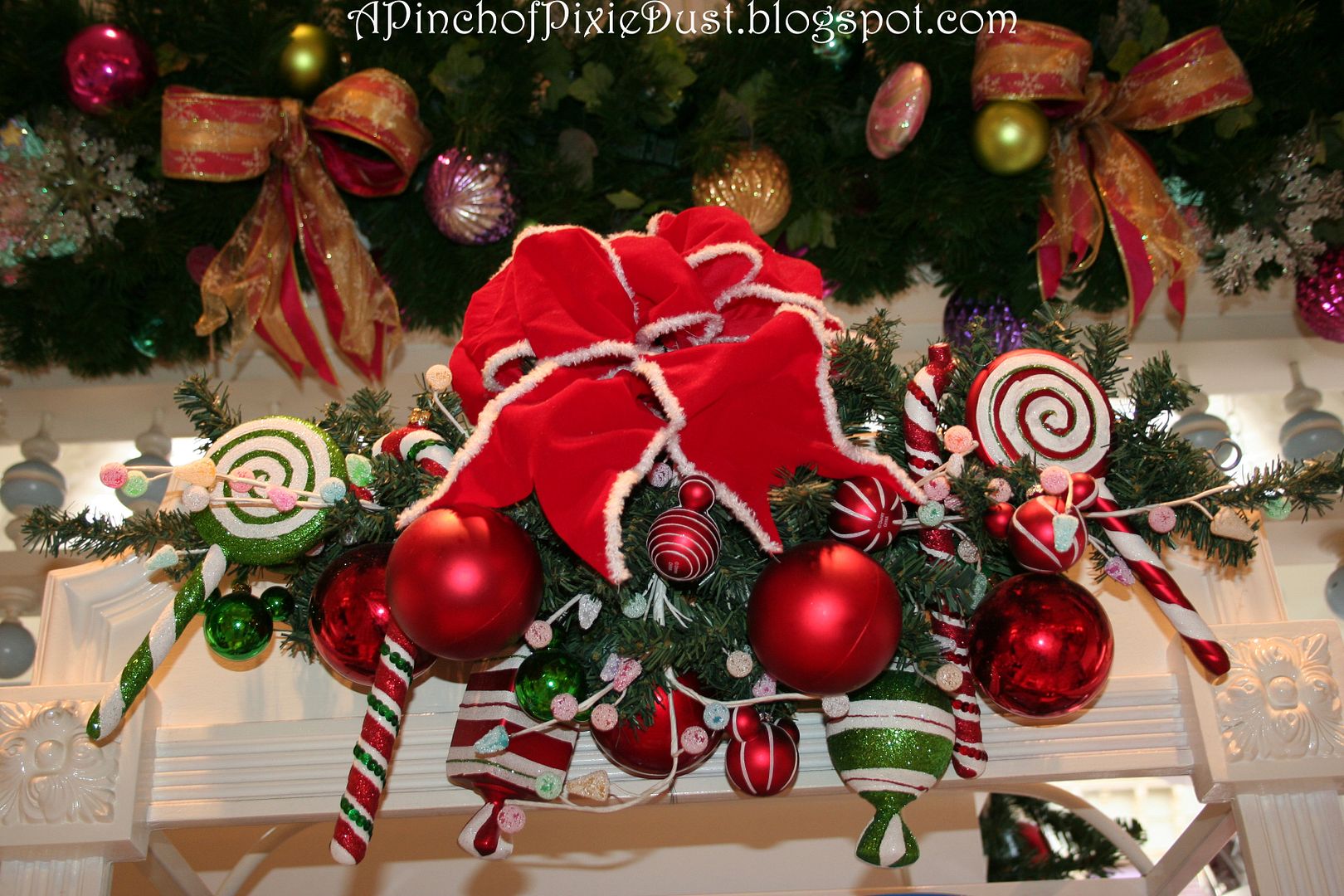 But if we look beneath the peppermint bows and candy-filled garlands at the
Confectionery
we'll find some lovely Christmas cupcake creations that are out all day...
I see LOTS of tasty treats, and right down there in the right-hand corner are what we're looking for!
They've got "
Holiday Specialty Cupcakes
" with
Minnie and Mickey Santa Hats
! They're $4.99 each and do count as a dining plan snack credit. You can actually find these same treats at
Big Top Treats
in Storybook Circus and at some of the other candy counters around the parks. Sadly the cupcakes at the candy counters are usually not as fresh as the cupcakes at some of the other bakeries and are often more bland and sugary in taste...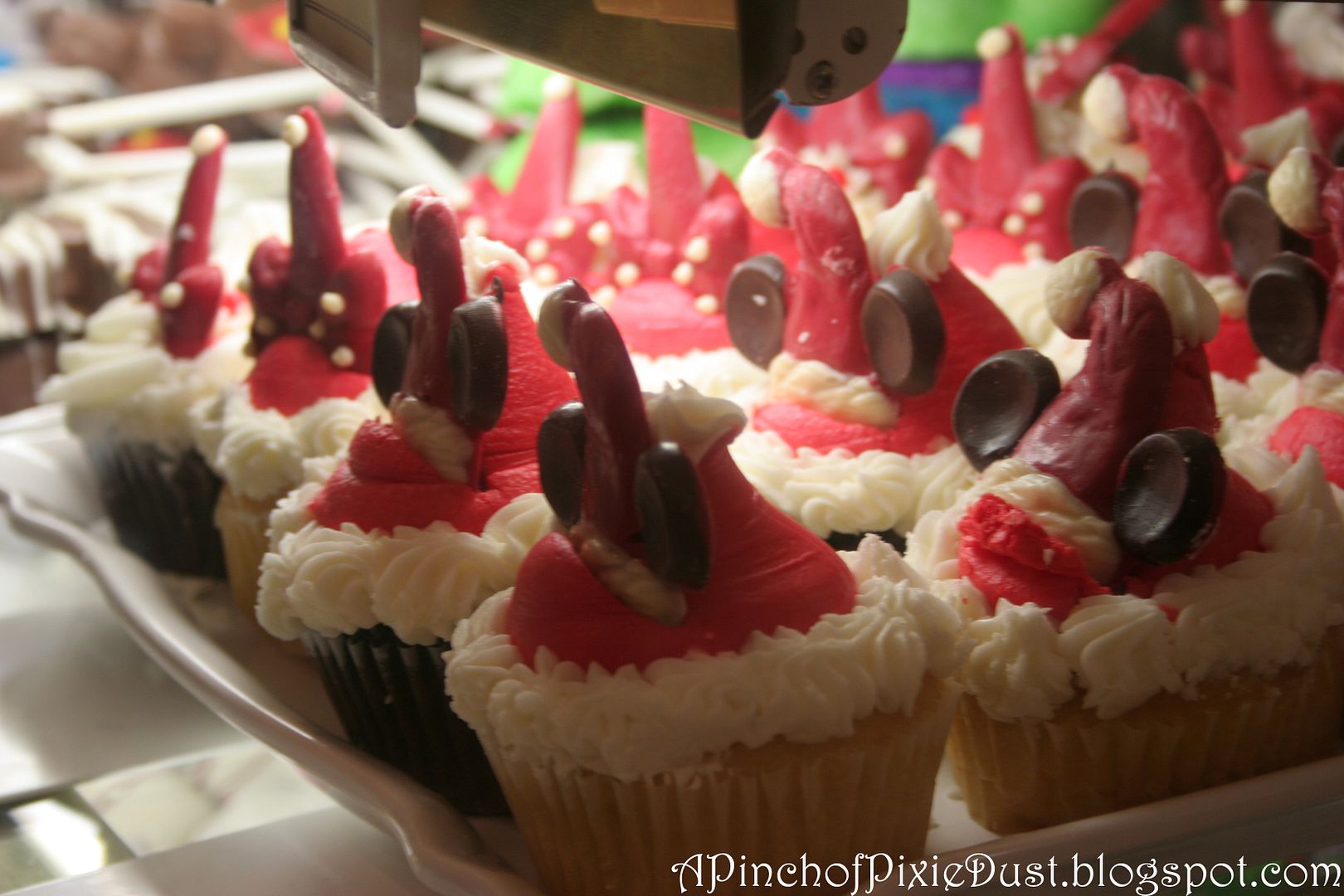 ...but they sure are cute! That Minnie Santa Hat looks suspiciously like the Minnie Witch Hat that topped some Halloween cupcakes earlier this year - I bet they used the same mold. And they have the same Mickey Santa Hat on the gingerbread cupcakes at
Starring Rolls
...
...or at least they did last year! And I didn't spot many holiday cupcakes out at Epcot (the
caramel cupcakes
in the Germany pavilion seemed to be gone, which made me sad), but last year they had some
mini Christmas cupcakes
for the Candlelight Processional.
I've also heard about an
eggnog cupcake
available at dinner at Be Our Guest Restaurant in New Fantasyland - sounds delish!
Will YOU be sampling any Christmas cupcakes at Walt Disney World this year?? Have you in the past? Share your favorite holiday cupcake in the comments! :)