If I had to pick a
favorite
piece from the many, many
holiday decorations
at Walt Disney World, I'm afraid I wouldn't be very unique or original...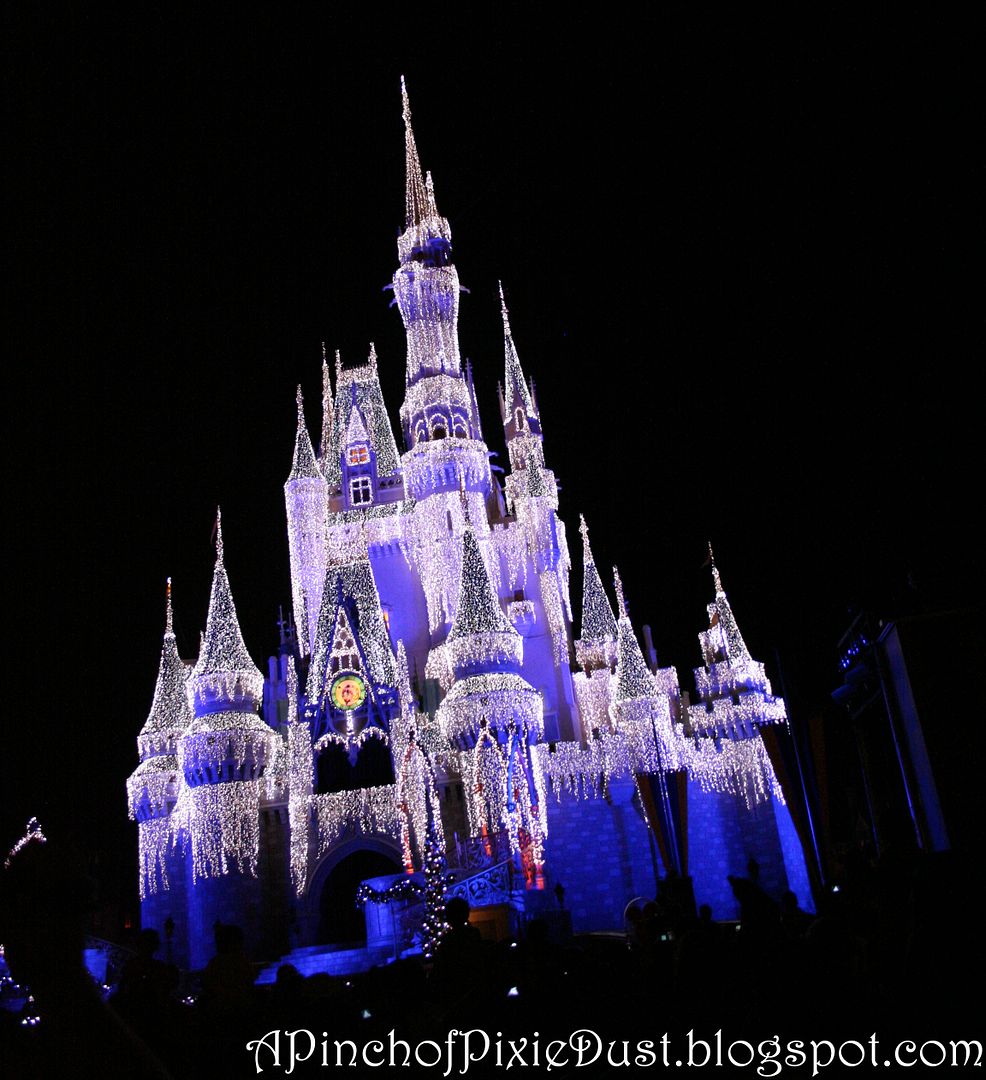 I would pick the castle lights
. I simply adore them. I could stare at the forever.
So let's take a trip today, shall we? Let's travel across the Seven Seas Lagoon as the Florida sun is setting in a golden blaze...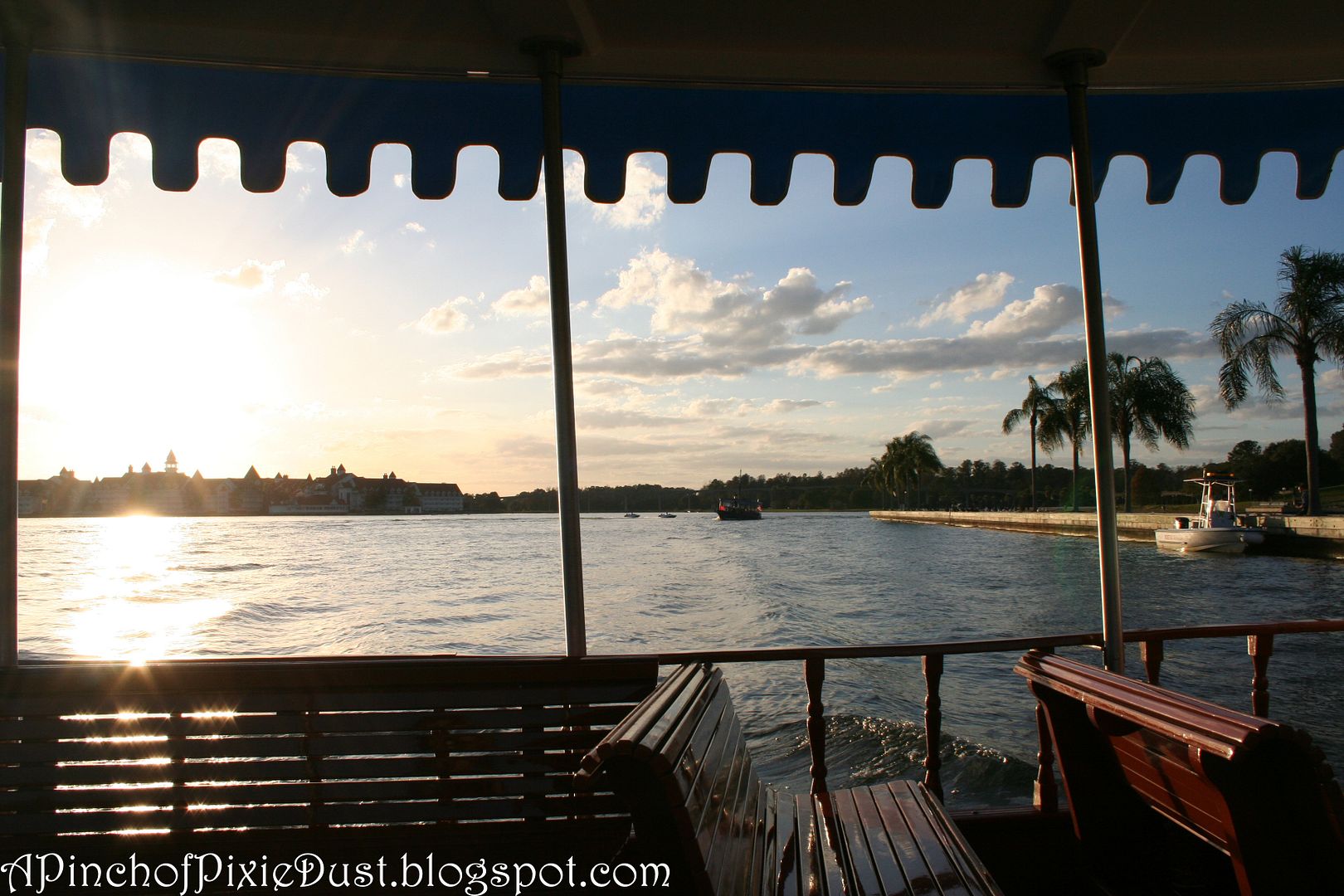 I love that photo. I don't know why, somehow it just takes me right back to that perfect moment when you step off the launch and all the Magic Kingdom magic is about to begin!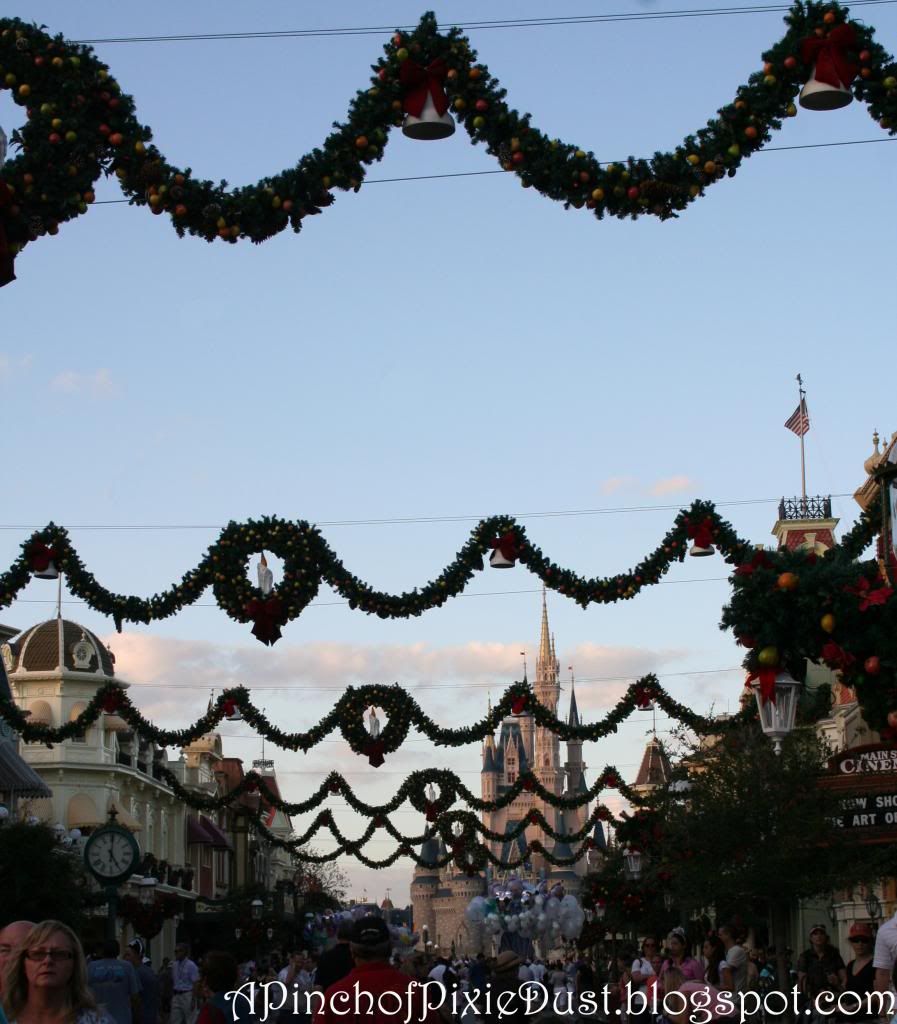 This post is going to contain lots of castle photos. You have been warned.

Let's stroll down Main Street and take a photo or two...
The Castle Sparkle Lights may be our main goal, but the big tree and those garlands going across Main Street are SO PRETTY TOO.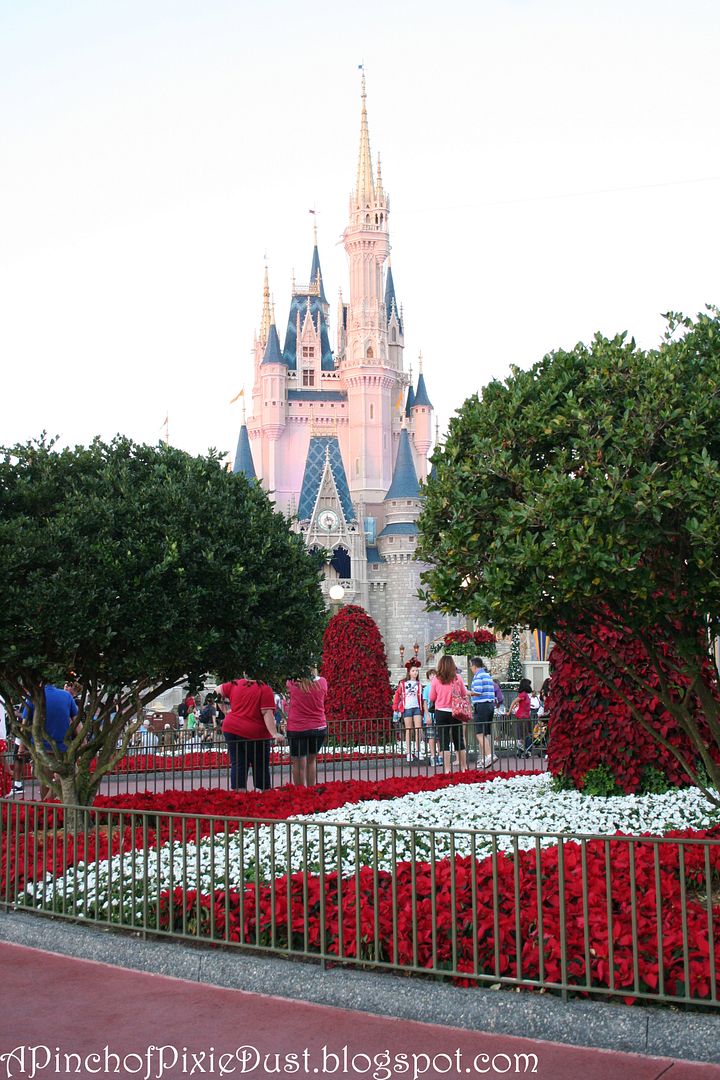 And that sea of poinsettias at the Hub. LOVE.
As night falls, we'll take up our position for the castle show. Because possibly the only thing more adorable than the castle lights themselves is the little show that goes along with it...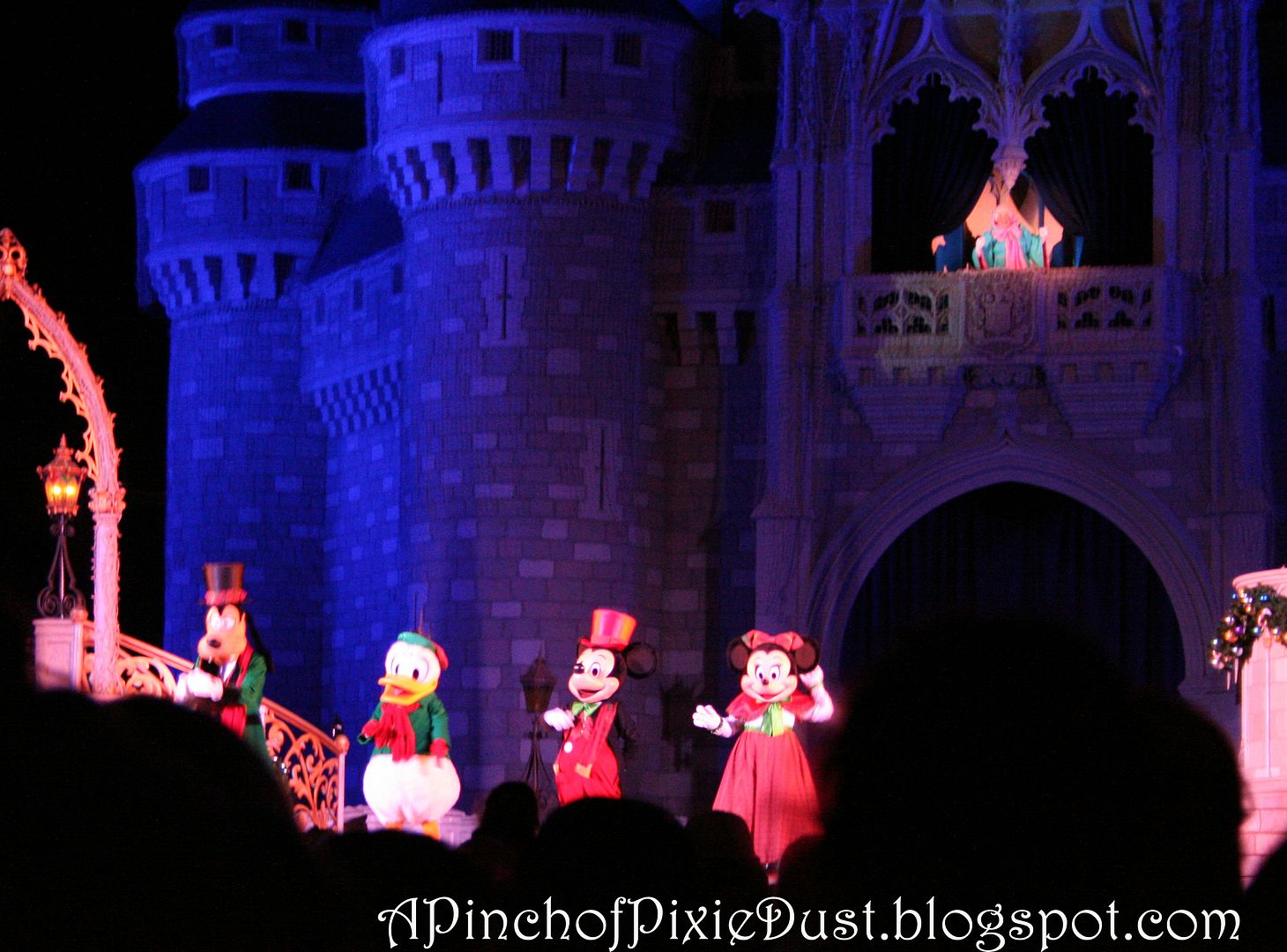 Mickey, Minnie, Donald, and Goofy all come out in their holiday spiffiest, trying to decide how to decorate the castle. That's when the Fairy Godmother comes out and suggests we ask the owner of the castle: CINDERELLA!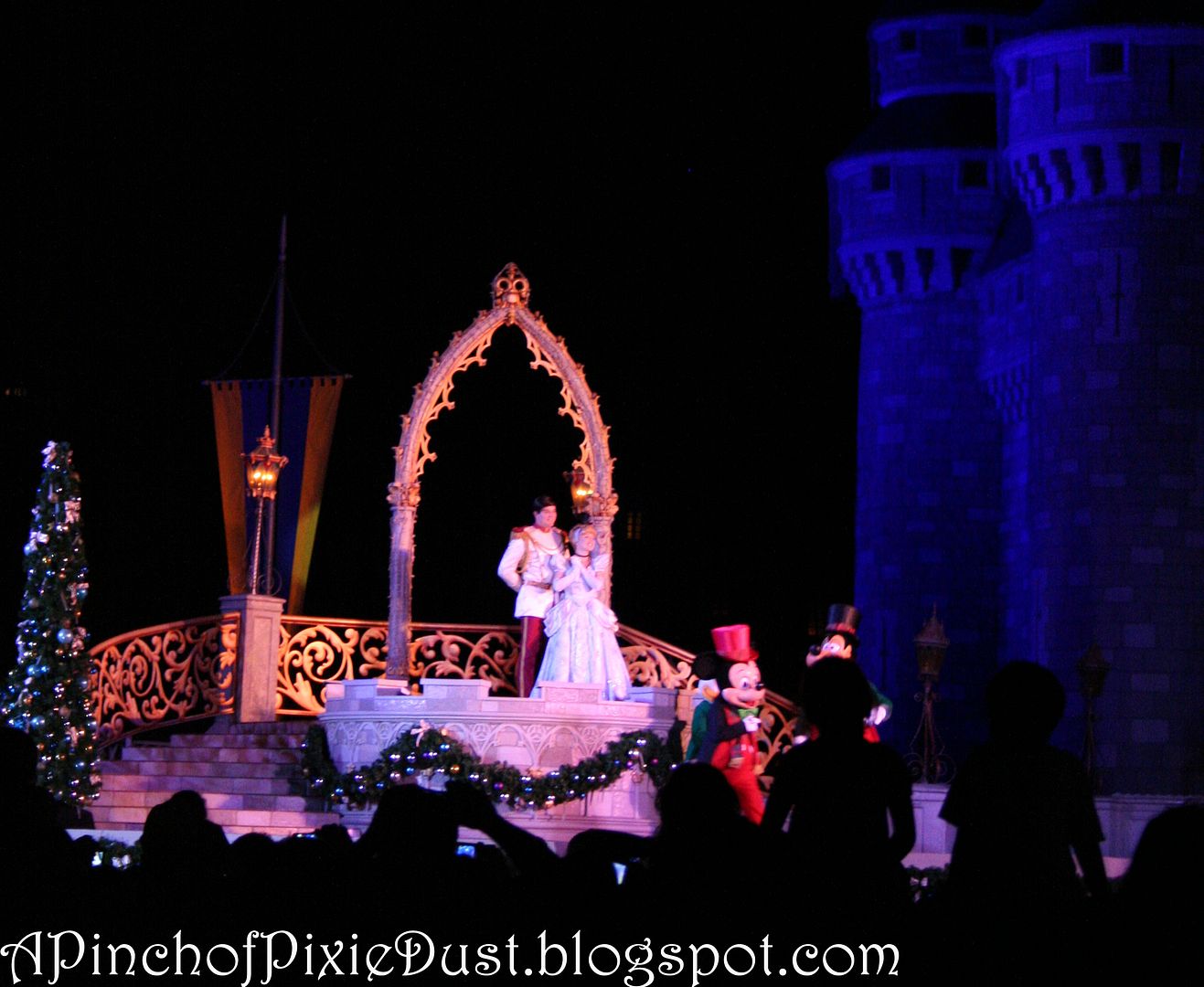 Sorry, Prince Charming. Everyone knows Cinderella runs the castle now.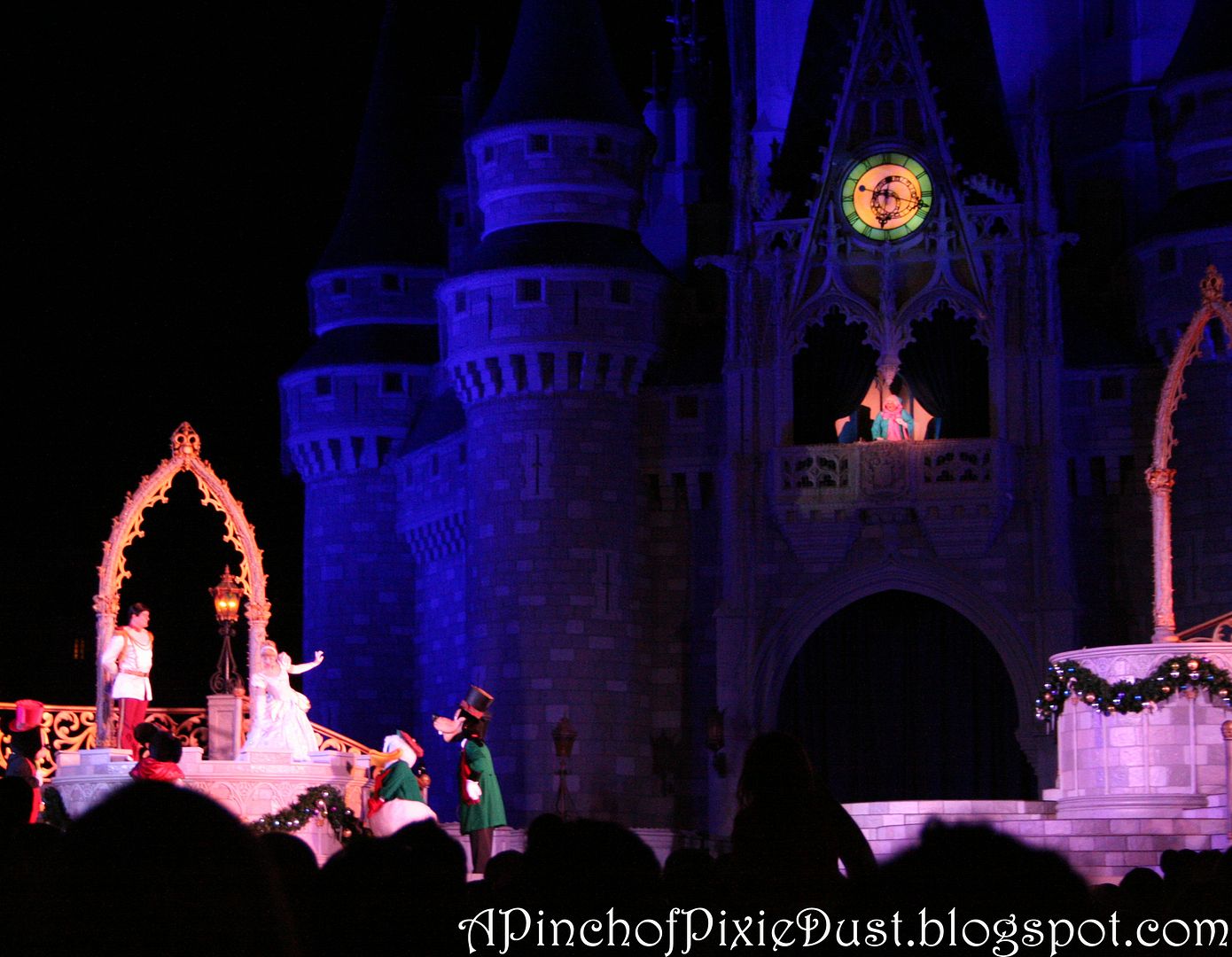 Cinderella then makes the best suggestion ever: she wishes the castle could be all sparkly, just like her shoes. Every little (and big) girl in the audience goes: SO MUCH YES.
Luckily the fairy godmother is ready to make the wish come true, and the transformation begins!!
Bit by bit the castle is covered in a shimmering cloak of pixie dust...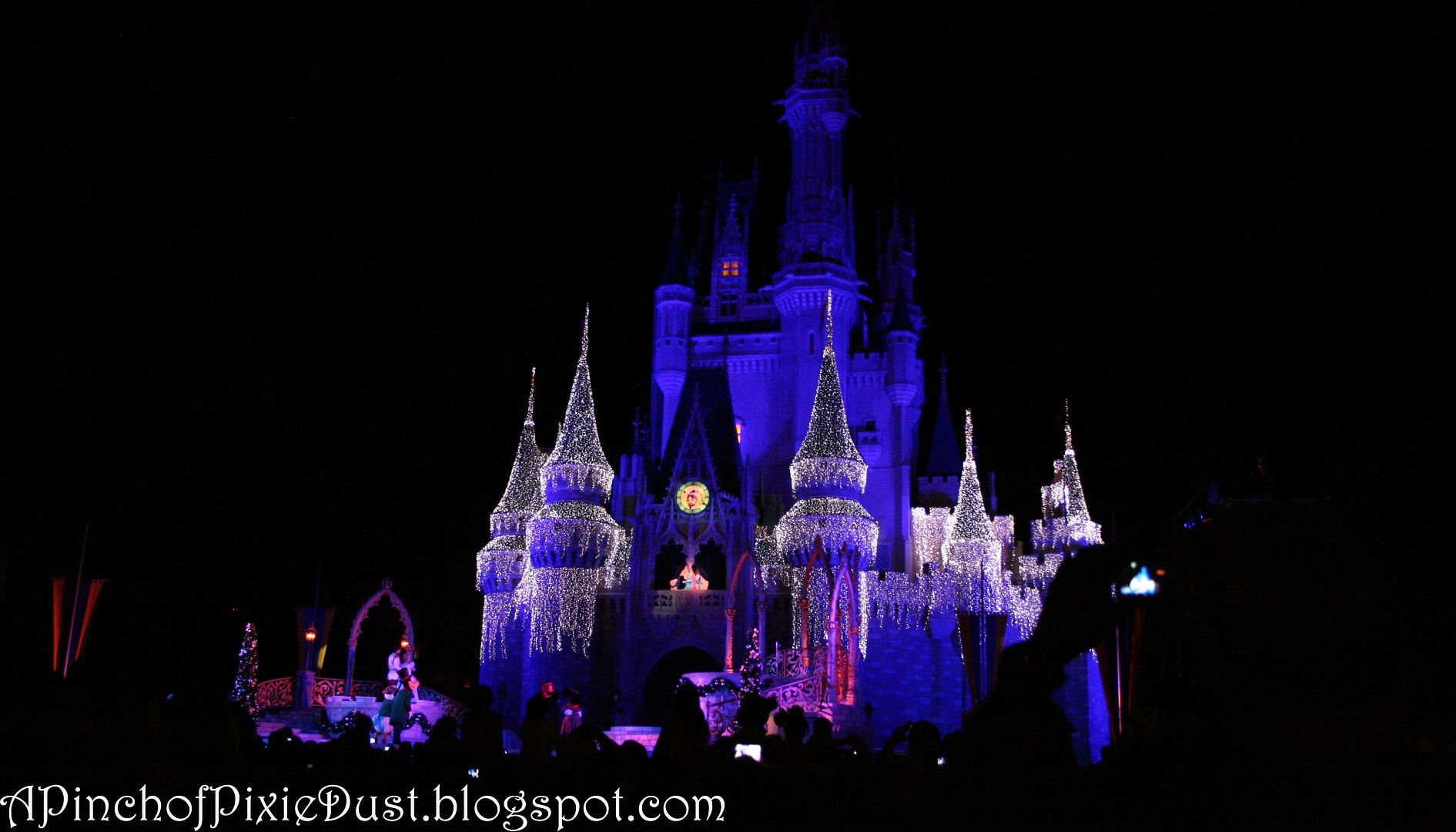 If you have never taken the time to see this show, I would HIGHLY recommend it. It's short, but it's so sweet and makes you feel like you've been sprinkled with pixie dust as well as the castle. :)

I love how the castle slowly lights up against the dark sky.
The Fairy Godmother is definitely boss.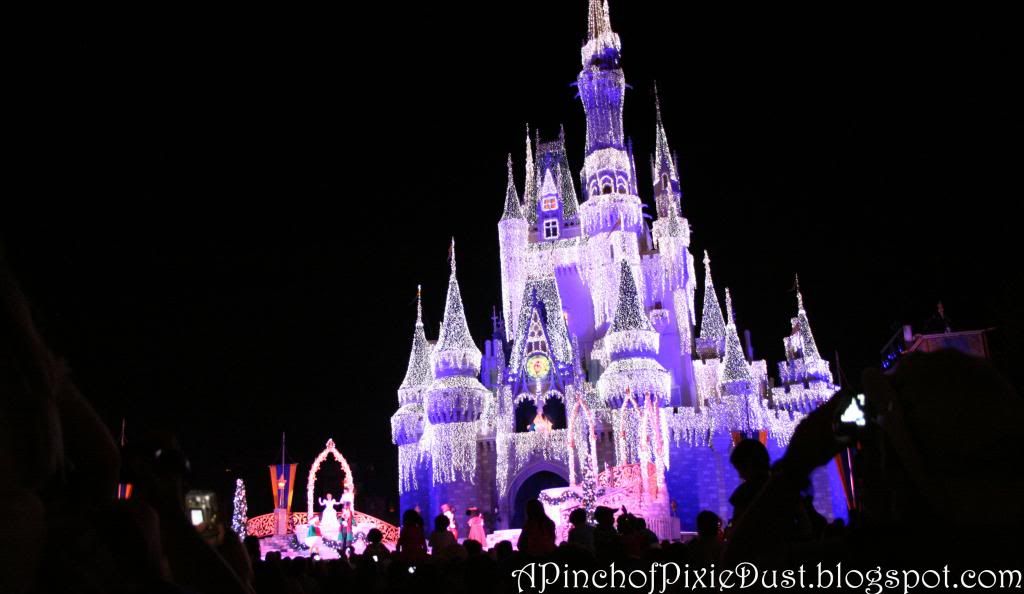 HOORAY!! All finished!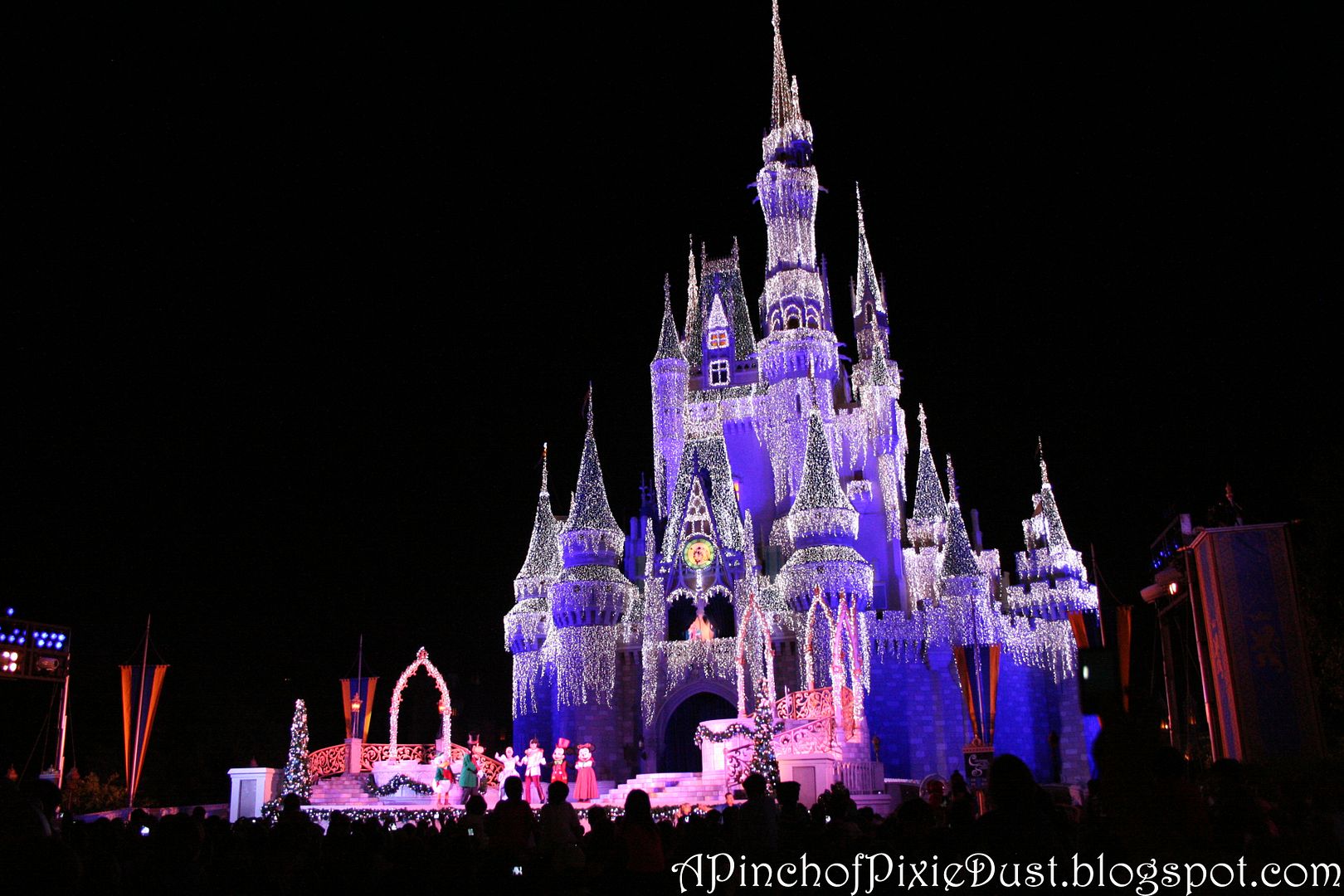 GORGEOUSNESS.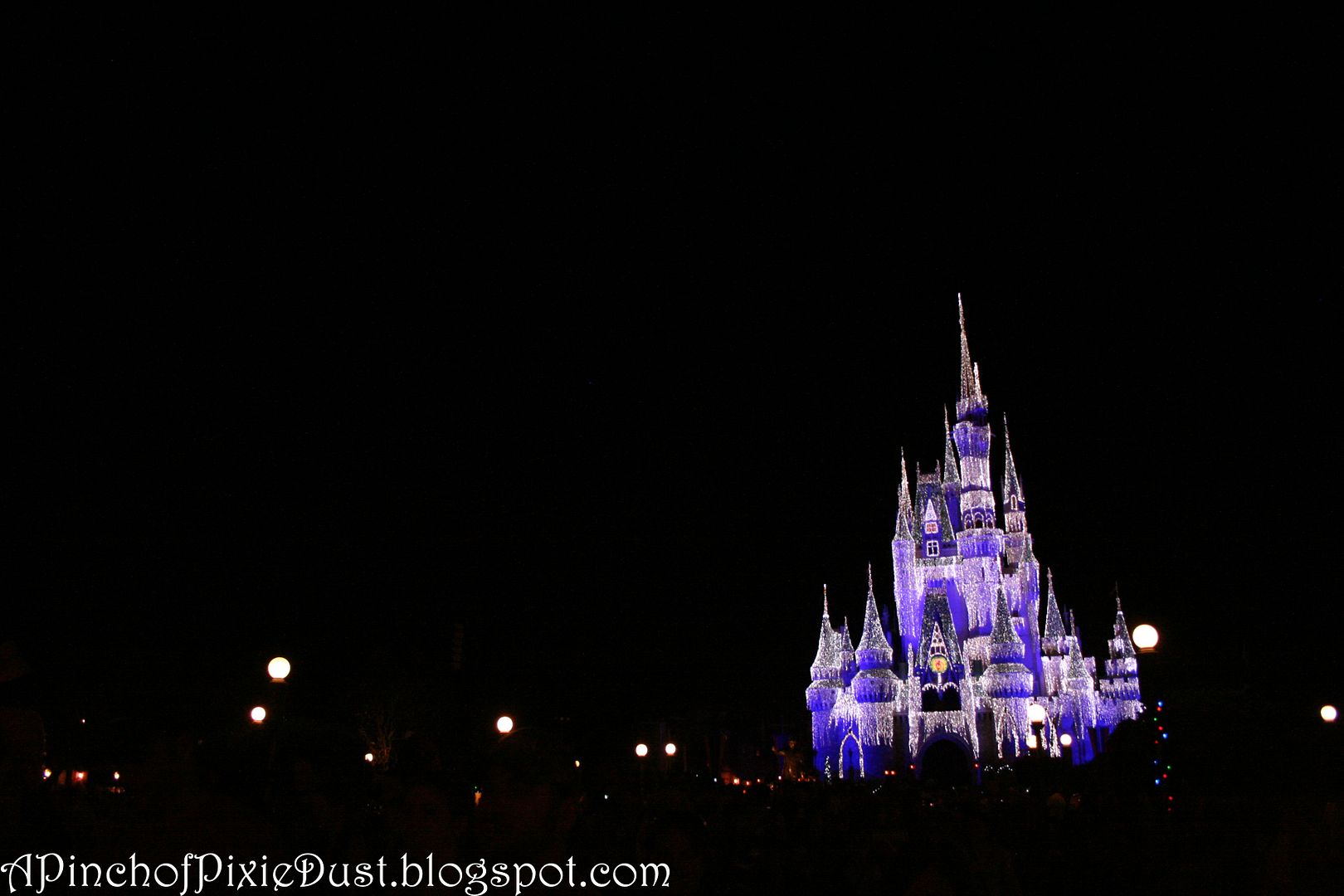 Yes, let's have a third photo. Because it's that beautiful. :) The holiday pixie dust had gone to my head, and as I floated back down Main Street, I found myself making an unexpected purchase...
I had been eyeing these
Snowflake Mickey Balloons
jealously for weeks, and at last I couldn't resist it anymore!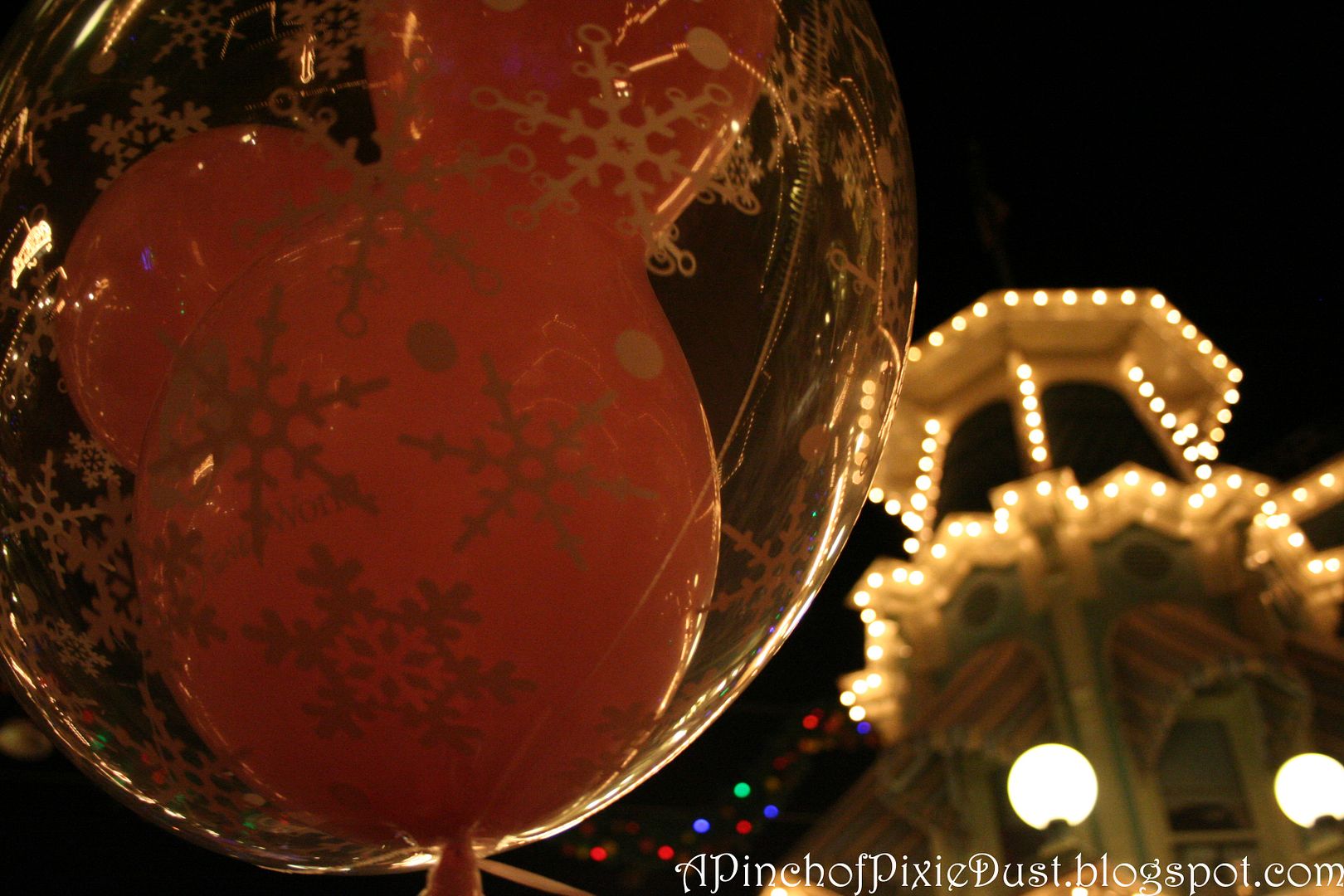 You can see the lights of Main Street reflected in the snowflakes and mouse ears! :)
The balloon actually was a great purchase - it stayed nicely inflated for weeks and was a really fun addition to the Christmas decorations in my room that year.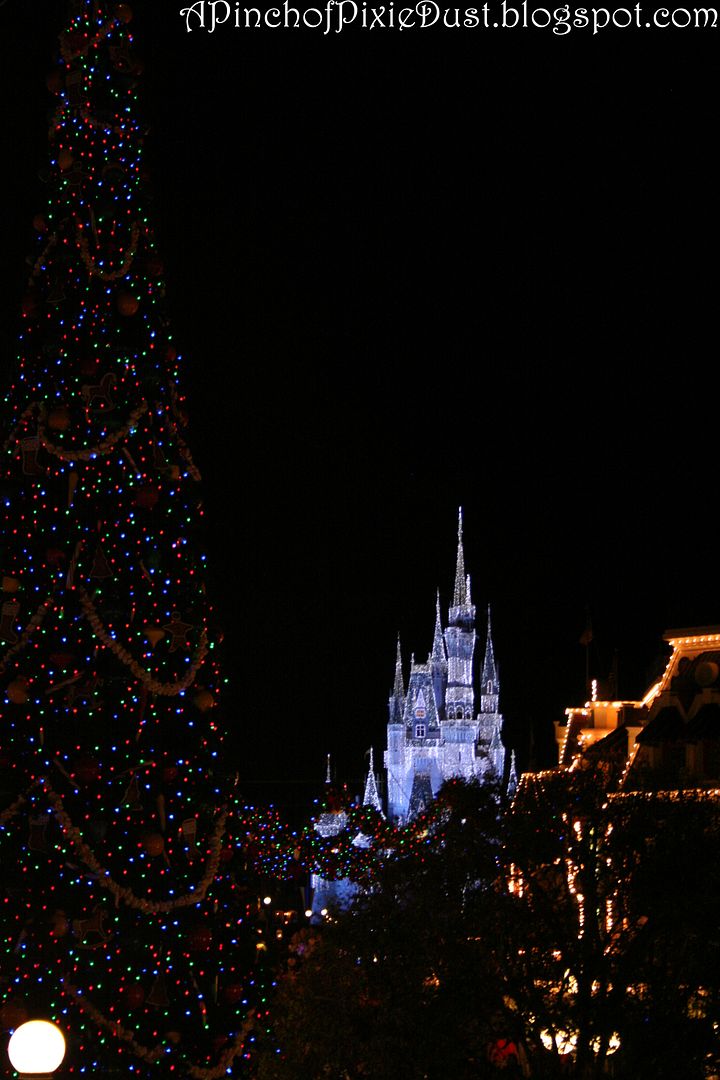 A perfectly pixie-dusted Disney Christmas kind-of night? Most definitely! :)