There's nothing quite waking up to a new day of adventure when you're travelling. When I woke up in
Etretat
on our last day in France, the Eastern sky was lighting up in pink and purple. :)
So pretty! First up we had to get some breakfast, but the one at the hotel was not included and was expensive. Why bother with their lame continental spread when we could find some tasty croissants right down in the town nearby?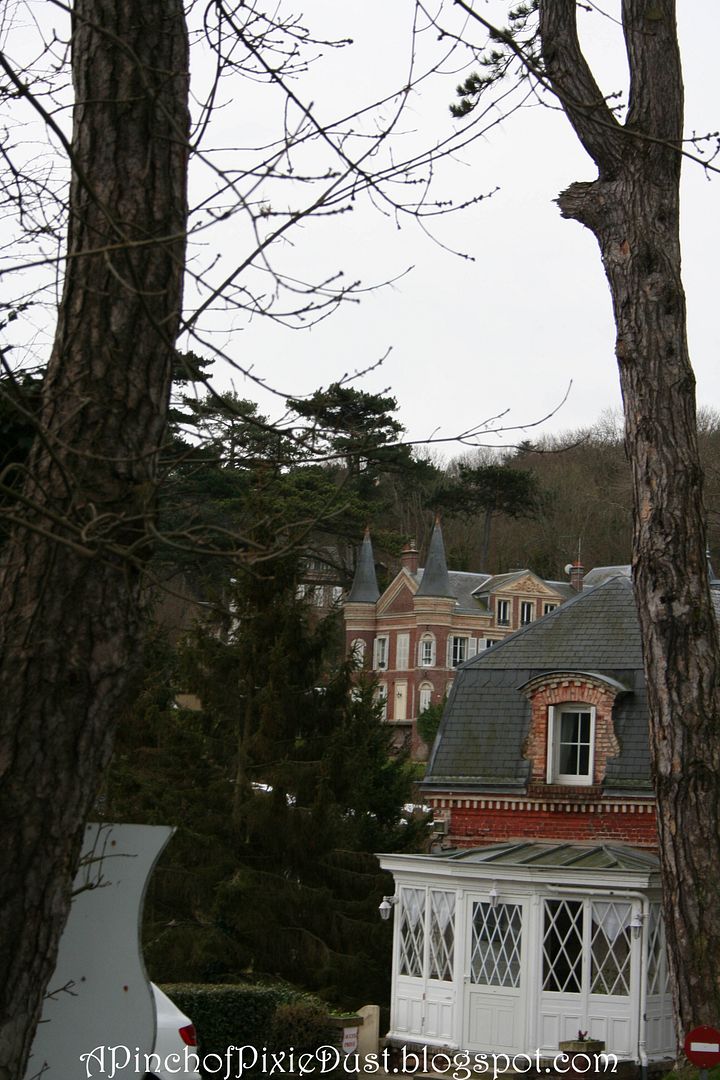 While the main attraction of Etretat is obviously the sea and cliffs, I loved the glimpses you would get of the town and all the interesting buildings climbing up and down the hills. Once we reached the main street, it wasn't long before we spotted a lovely-looking bakery. You basically can't throw a rock in France without hitting a charming boulangerie!
And you knew I was going to work a last patisserie into this post somehow, right??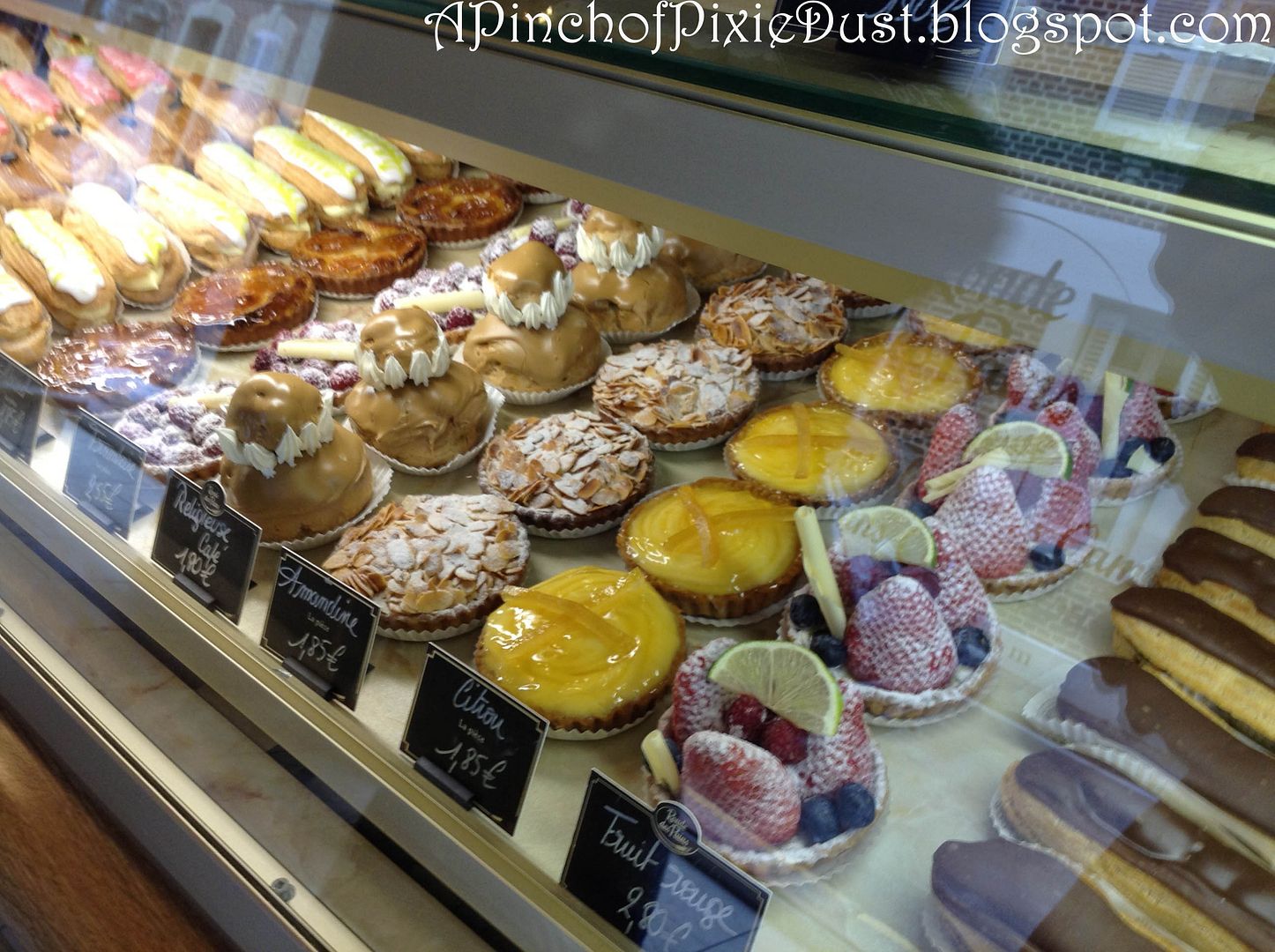 Maybe I should make some cute little labels for the food in my fridge with the names in french and prices in Euro and then I bet everything would taste better. ;)
And eclairs make good breakfast food, don't they? Nooo, actually I got a croissant for breakfast, but we did get one of those chocolate tartes religieuse (bottom shelf far right) for later, and it was SO good!
Thus, fortified, we were ready to go out and see some cliffs!!
You know you're at the edge of the world when you see a sign like this. "Toutes Directions" are that-a-way. Because everything in the other direction is SEA!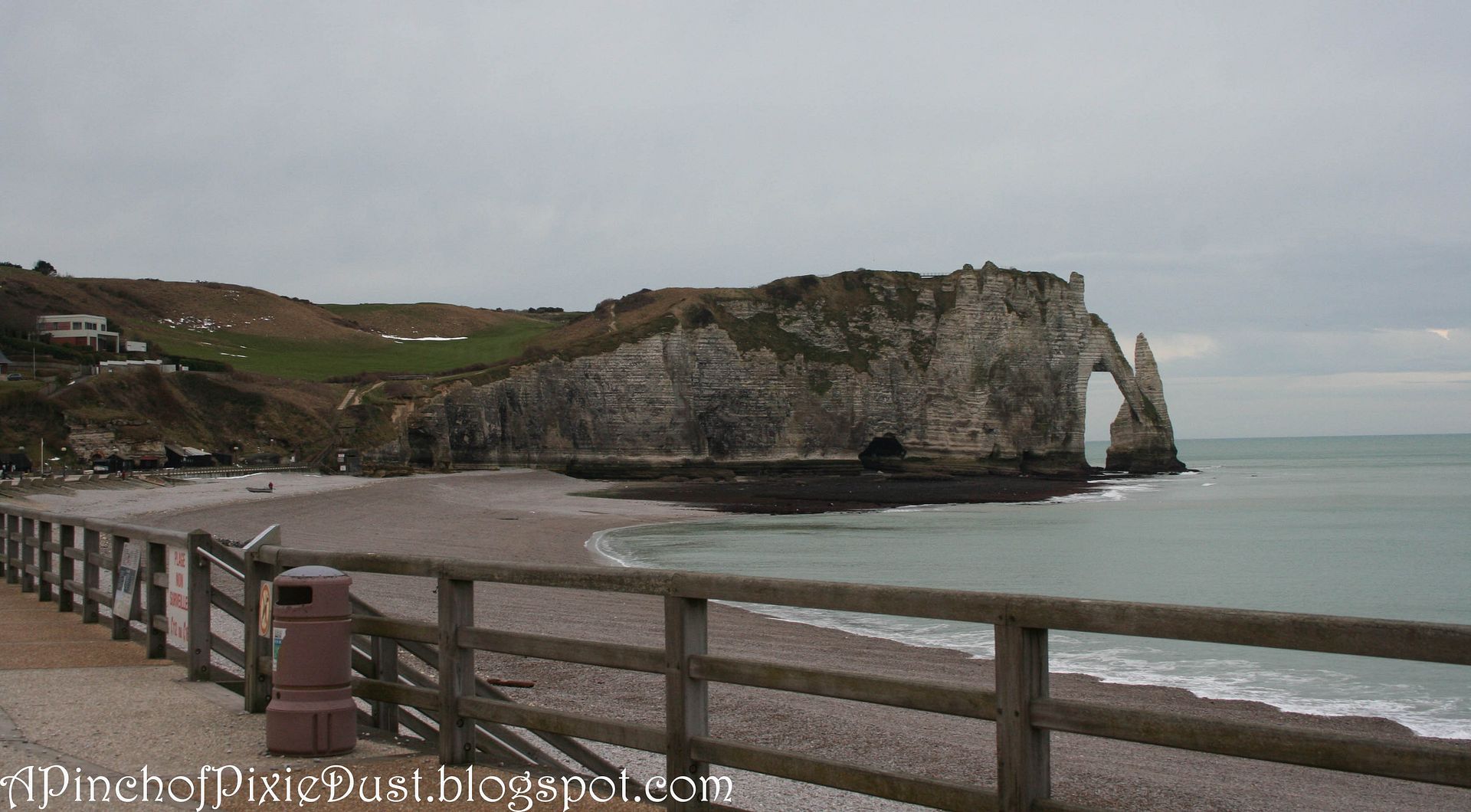 Fun fact: Monet painted these cliffs! The Epcot movie isn't the only artistic endeavor they're featured in. ;) There are two arched cliffs and one needle in one direction and one more arched cliff in the other direction...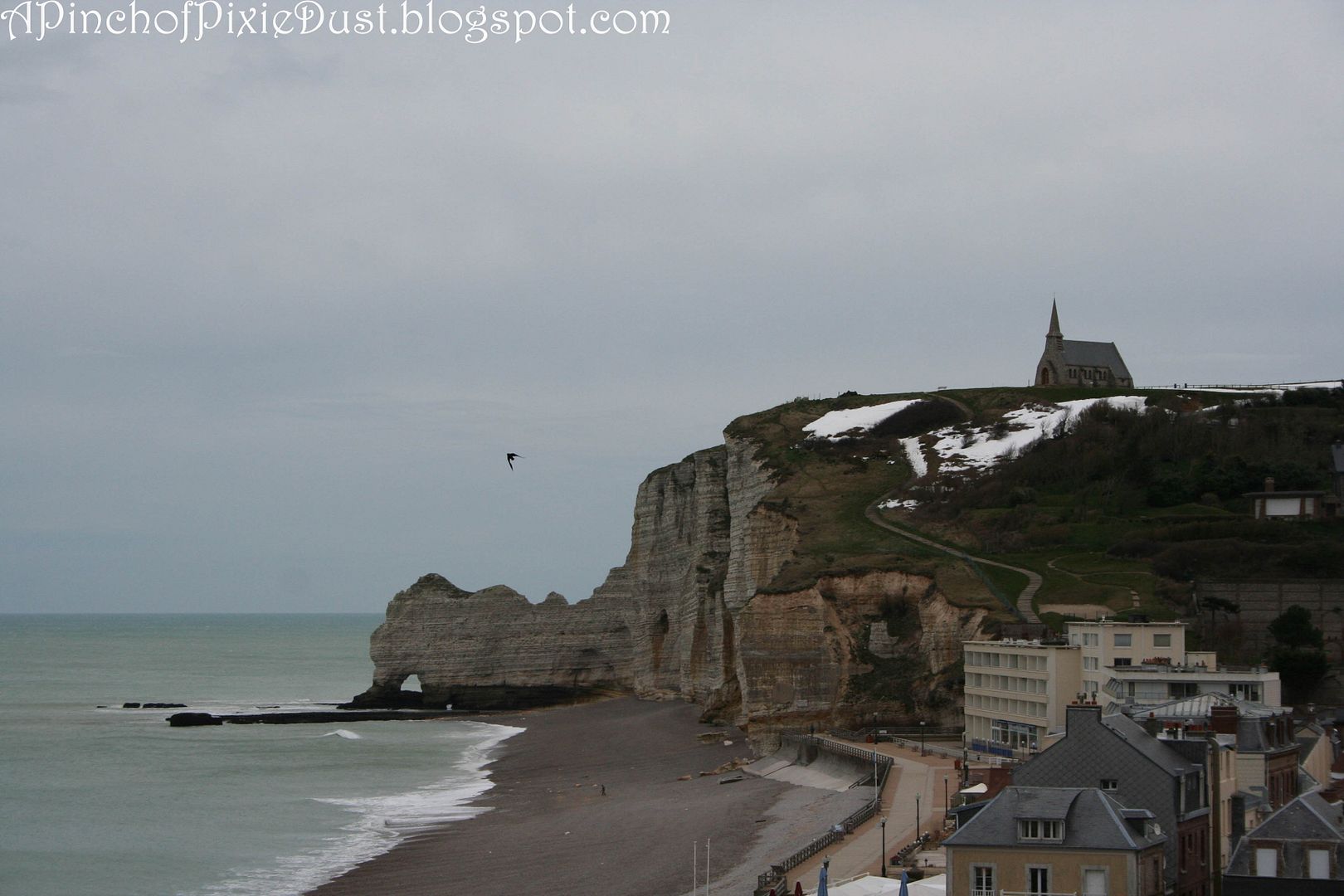 The cliff in this pic is called the "elephant cliff." I didn't see it until I heard the name, but it does rather look like an elephant! It was a very grey morning and very windy but luckily the rain held off on us! See that path winding up the opposite hill towards the church? That was our destination!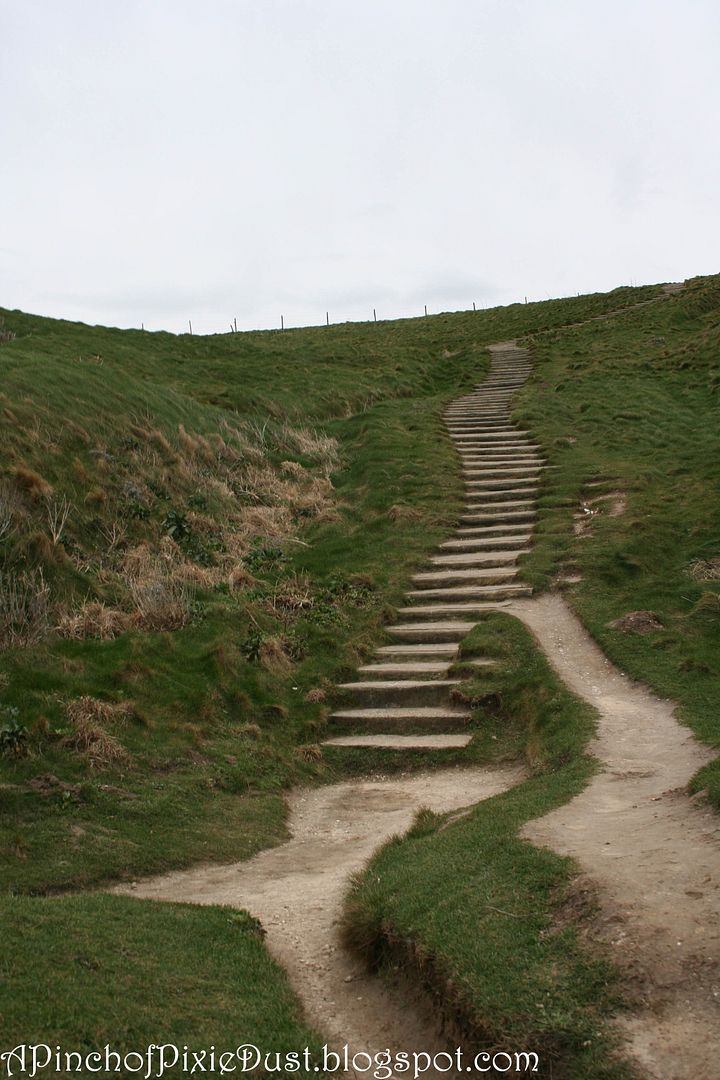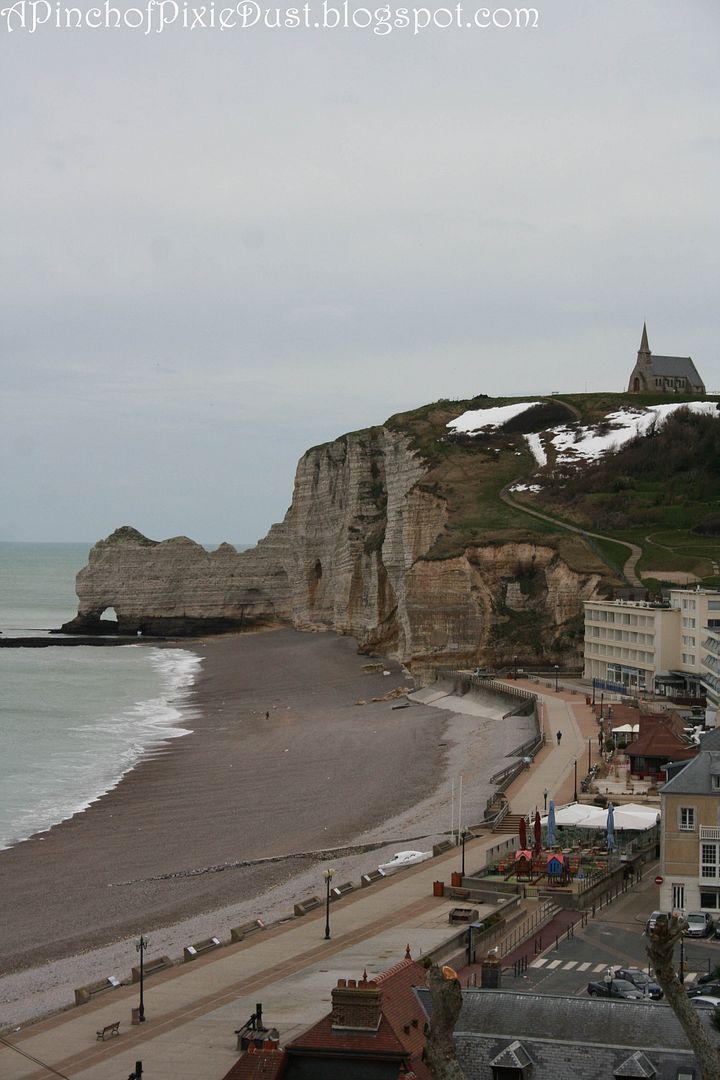 It was VERY steep, and half of it was through SNOW. But of course we had to have a stroll up there. It's where the cute old couple with the dog are walking in IMPRESSIONS DE FRANCE!!! And of course there's this view...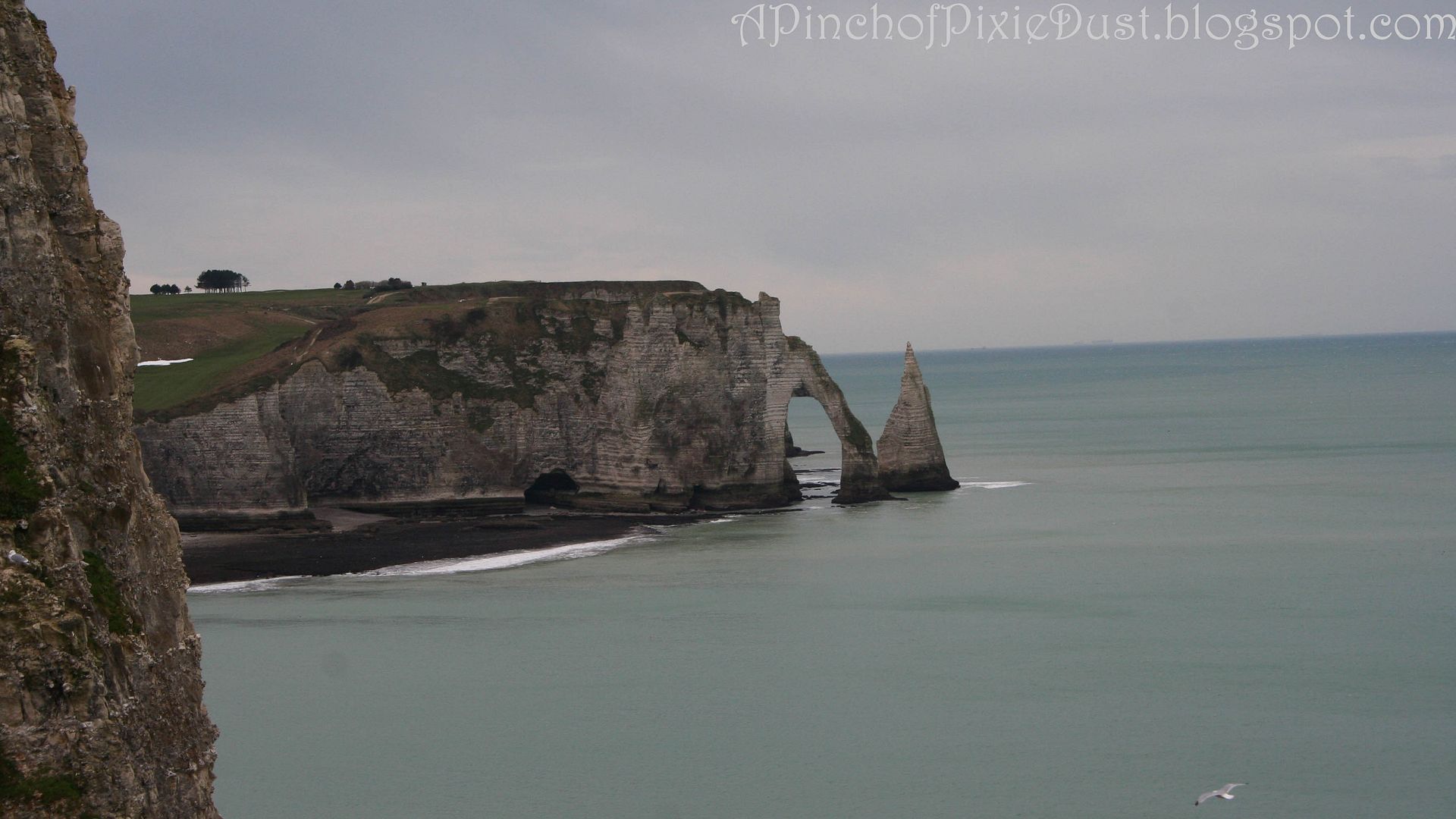 You can walk around on those cliffs as well; we were planning to head there next.
But first we admired the coastline of France for a little bit. But we were caferul not to get too close to the edge...
Yikes! That is a long way down! We stayed plenty away from the edge because it was SUPER windy, and we didn't want to get blown away. I did do a vlog, but you could barely hear me talking, the wind was so loud!
We made our way back down to the beach and then up again to walk along the opposite cliffs...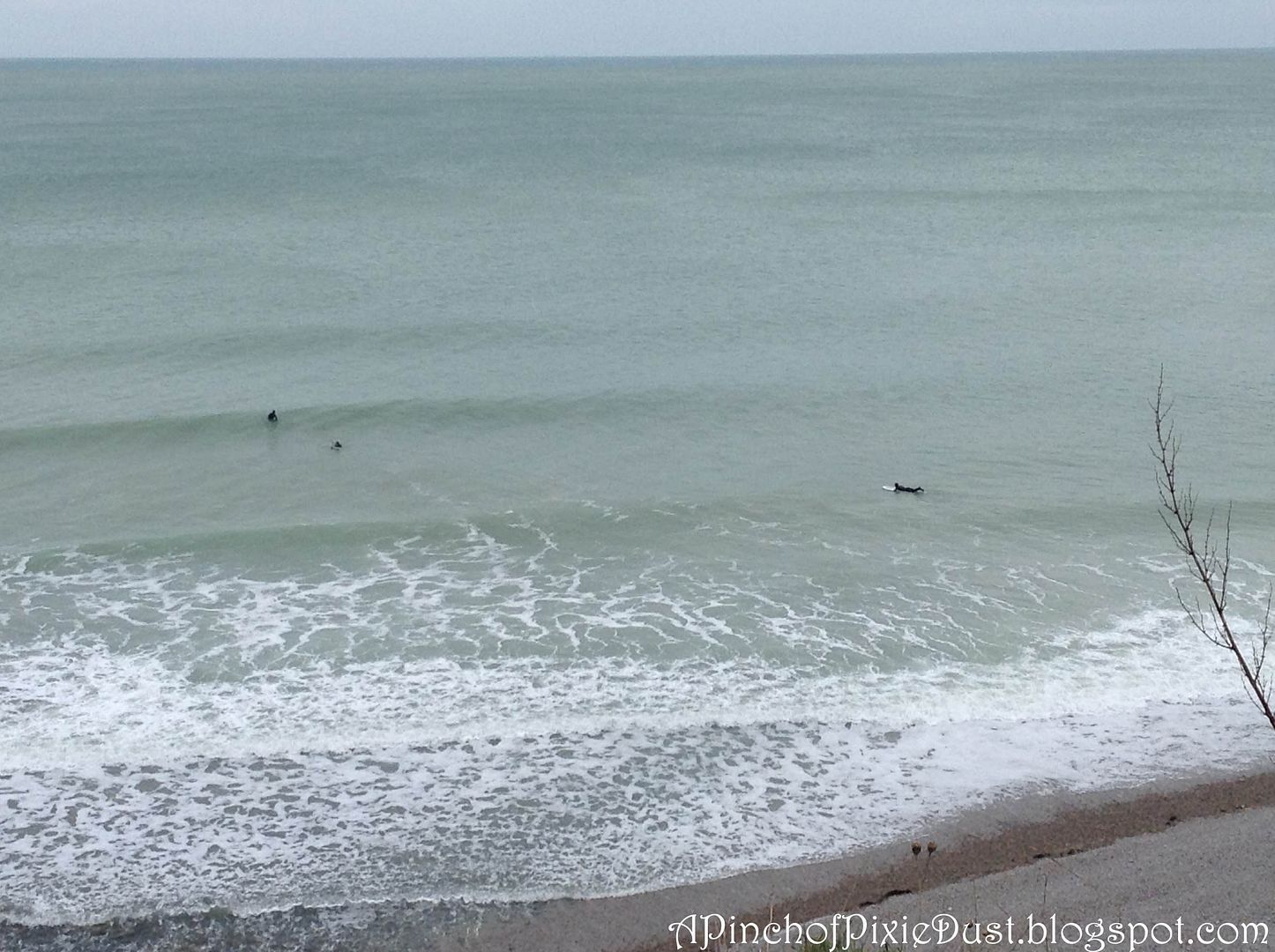 There were people surfing out there on that freezing day! Crazy!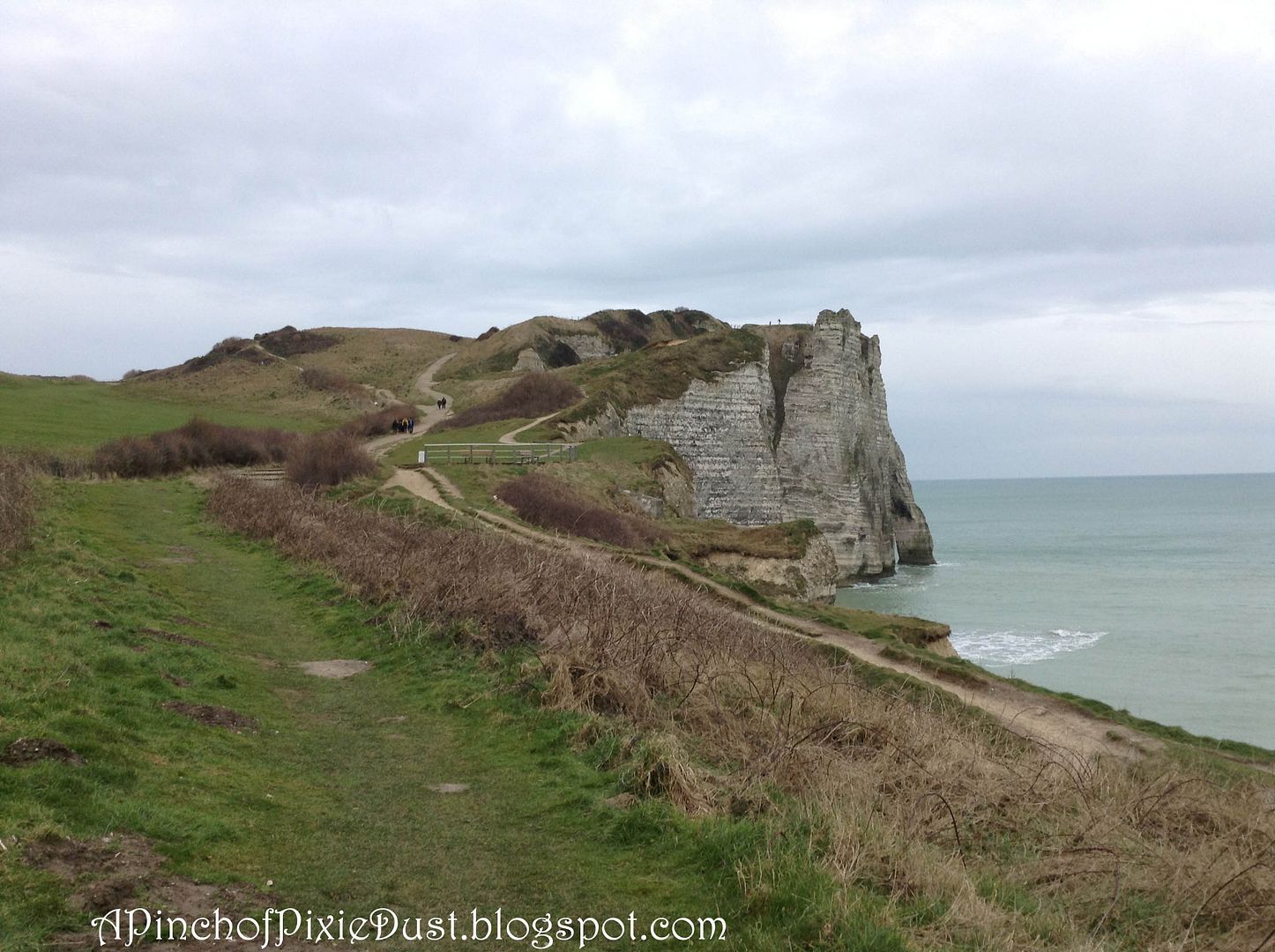 So we've seen two of the arched cliffs, but there's one more you can only see by walking up this path...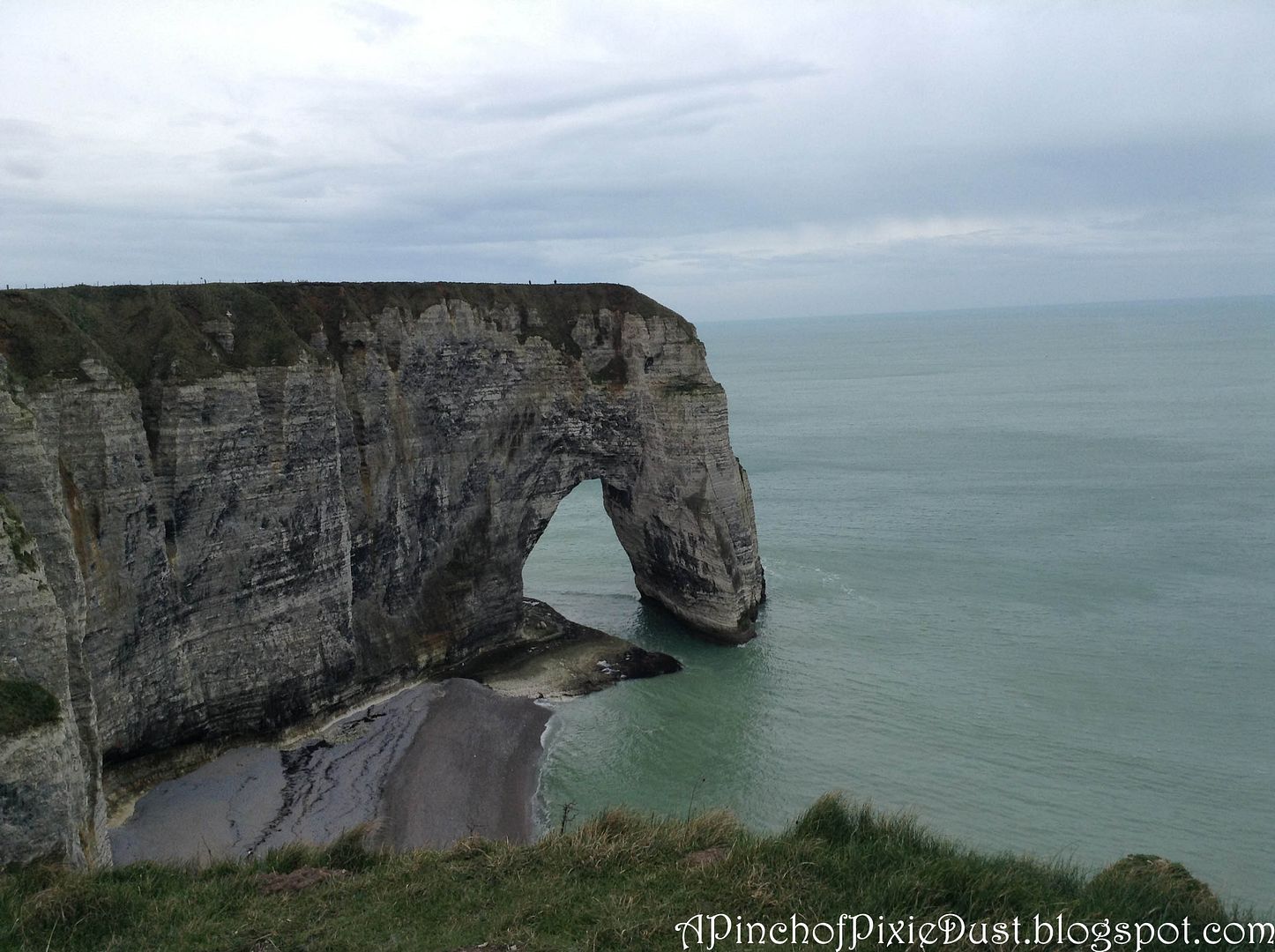 Monet painted this cliff too. :) See those tiny dots up on top? Those are people!
In spite of the noise of the gusts, I did do another vlog. :) You can kinda see all the nooks and crannies and crevices in the rock - there were all sorts of little bridges and caves!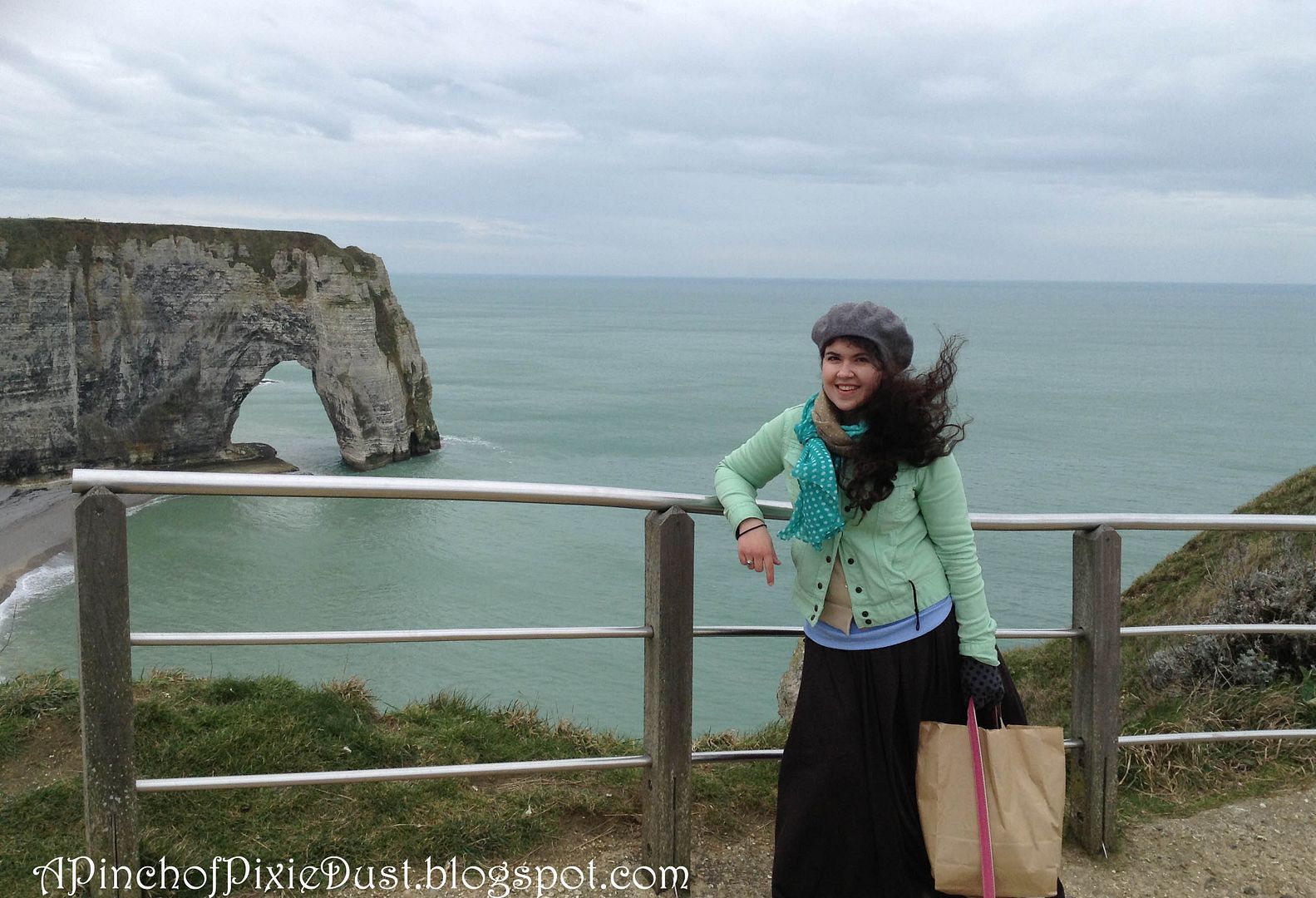 It may have been windy and cold, but it was an amazing morning stepping into Impressions de France. :)