You know that scene at the very beginning of the
Impressions de France
movie at Epcot? The theatre is black, the music begins, and the curtains very slowly open to reveal a vista of a
stunning French cliffside
...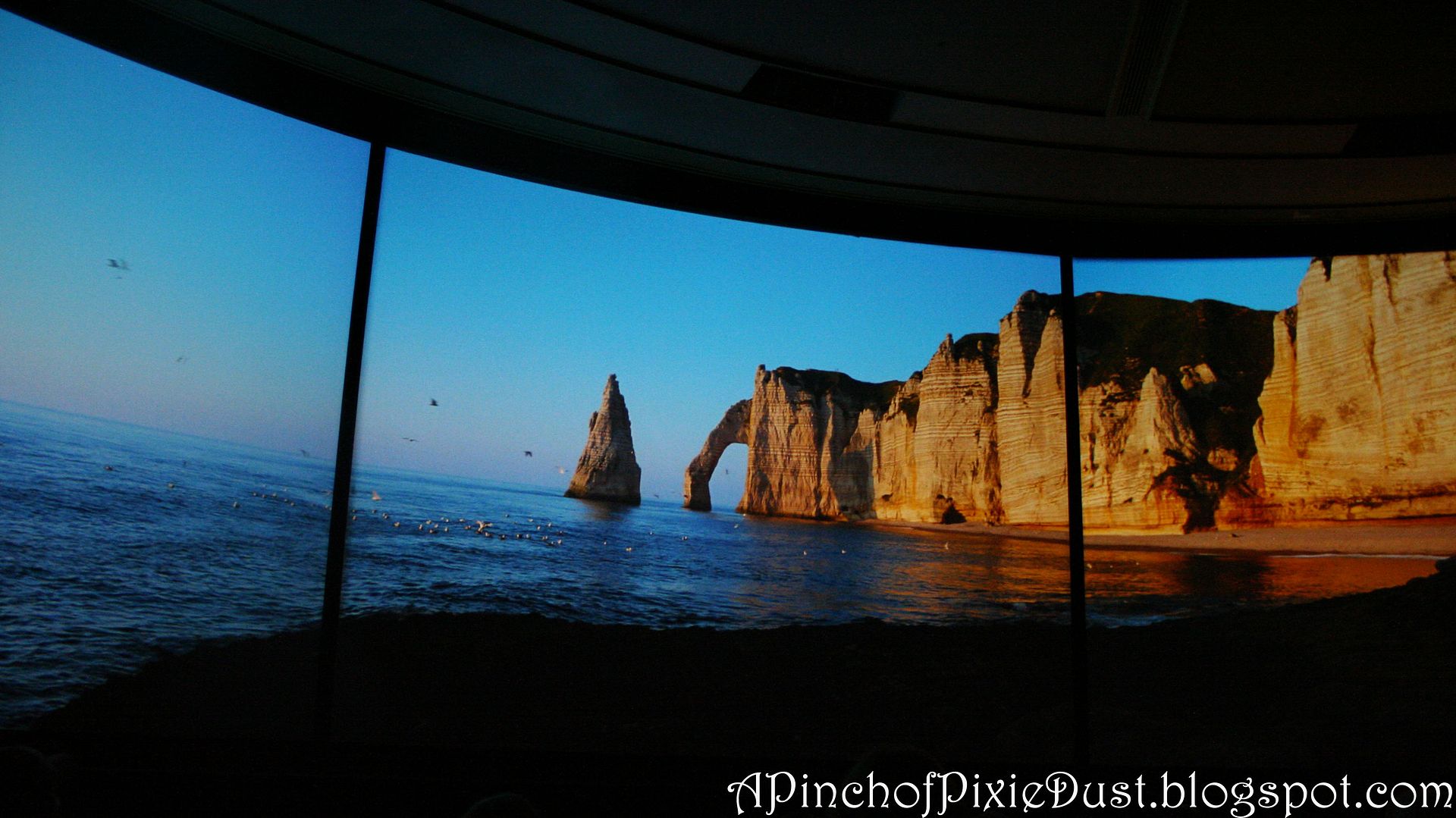 It's so striking, and I've seen it on the screen so many times that it almost didn't seem real to me. It seemed more like a fairytale place.
But I can now tell you it IS real, because
I have been there
. I walked on top of those crazy cliffs! They're called the
Cliffs of Etretat
, they're on the Northern coast of France, and they were the final stop on our Impressions-de-France-inspired trip this March.
As you may recall, we had just finished up a lovely two days exploring Mont St Michel and
St. Malo
, also in the North of France. Geographically speaking, the destination we were starting from (Mont St Michel) and the destination we were going to (Etretat) aren't all that far from each other. But railway-line-speaking, there is not straight line between the two. The thing to do is go to Paris and change trains there. I had planned the rest of our journeys in France so nicely, and the trains were very direct, but that last one eluded me.
Still, it's not such a hardship to have to stop back in
Paris
. And the trains going there are mostly high-speed and don't stop a lot. I even had some impossible hopes that we might have time to visit another amazing Paris patisserie, since there was a layover between trains.
I won't leave you in suspense. That was a vain hope.
ANYhow, our lovely hostel owners drove us to the charming little Dol de Bretagne station, and we departed in good time...
C'mon. How cute is this station? I just love France. And rail travel. Well, mostly I love rail travel. Not always.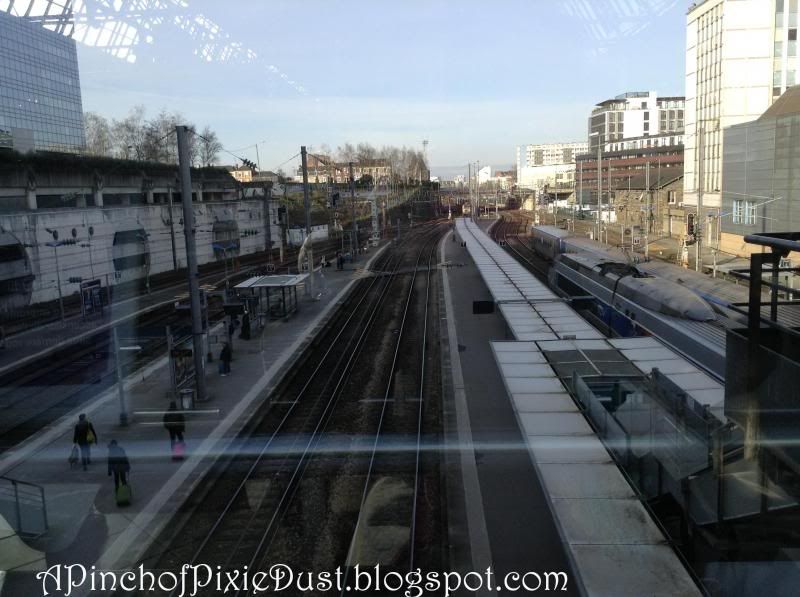 Things were still going well when we changed trains in Rennes. They had this big station over the tracks, and it was so exciting looking out at all the different lines with different engines going so many different, exciting places!
We made our connection and were speeding towards Paris, and then, as will sometimes happen on trains in Europe,
we weren't
. We were stopped for some mysterious reason. It was mysterious because I couldn't quite understand what the conductor was saying over the loudspeaker in French. I began to get a little nervous about whether or not we would make our next train, as evidenced by the fact that I only took one photo of the pretty French fields rushing by: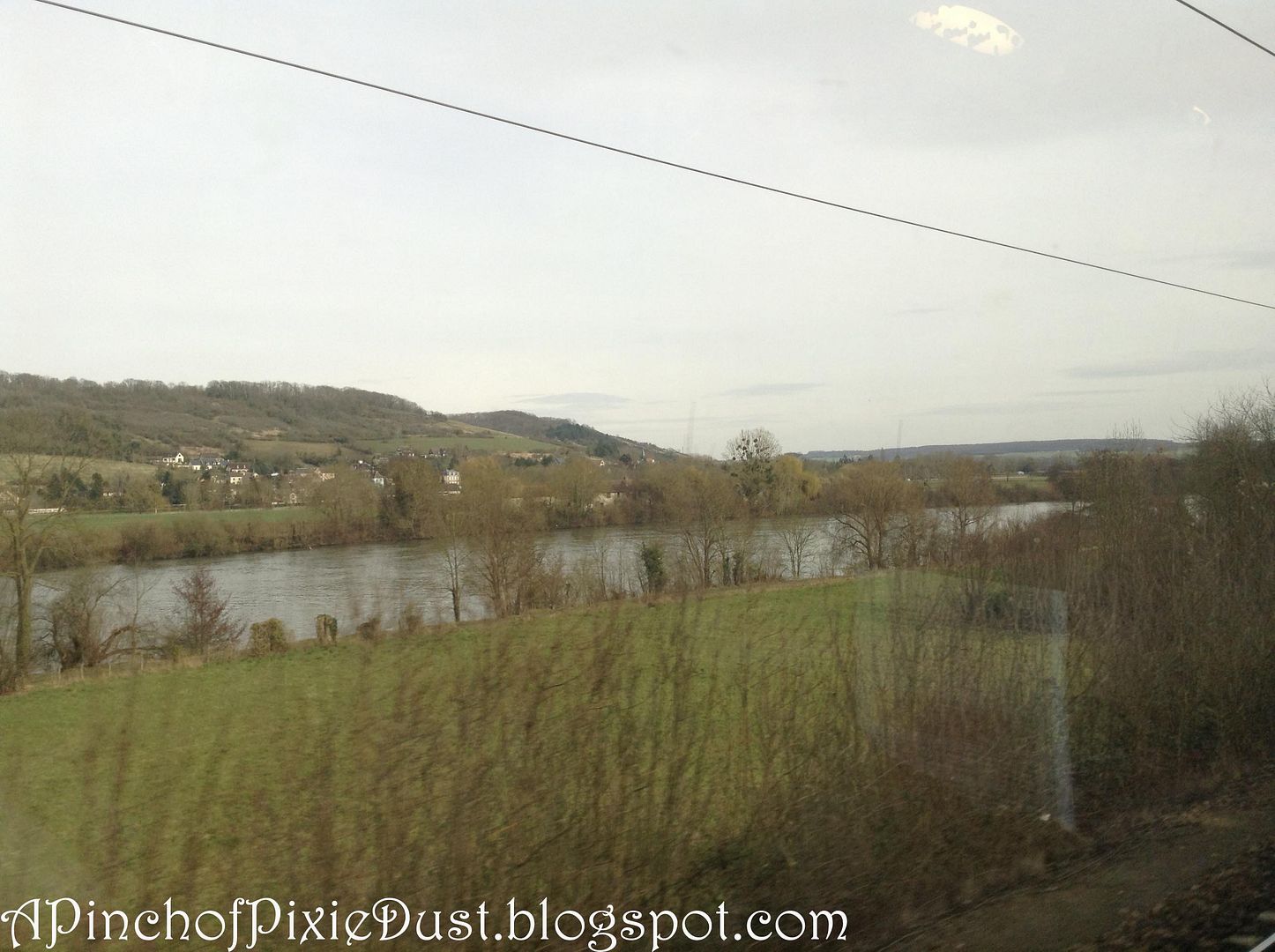 Isn't it funny how photography can work like that? When I'm deliriously happy, I'm snapping photos left and right of every small thing - probably half of them blurry and unusable, but they remind you of all the details and of how you felt. But when I'm stressed, I don't even get the camera out. So a lack of photos can remind me of how I felt in a moment too. ;)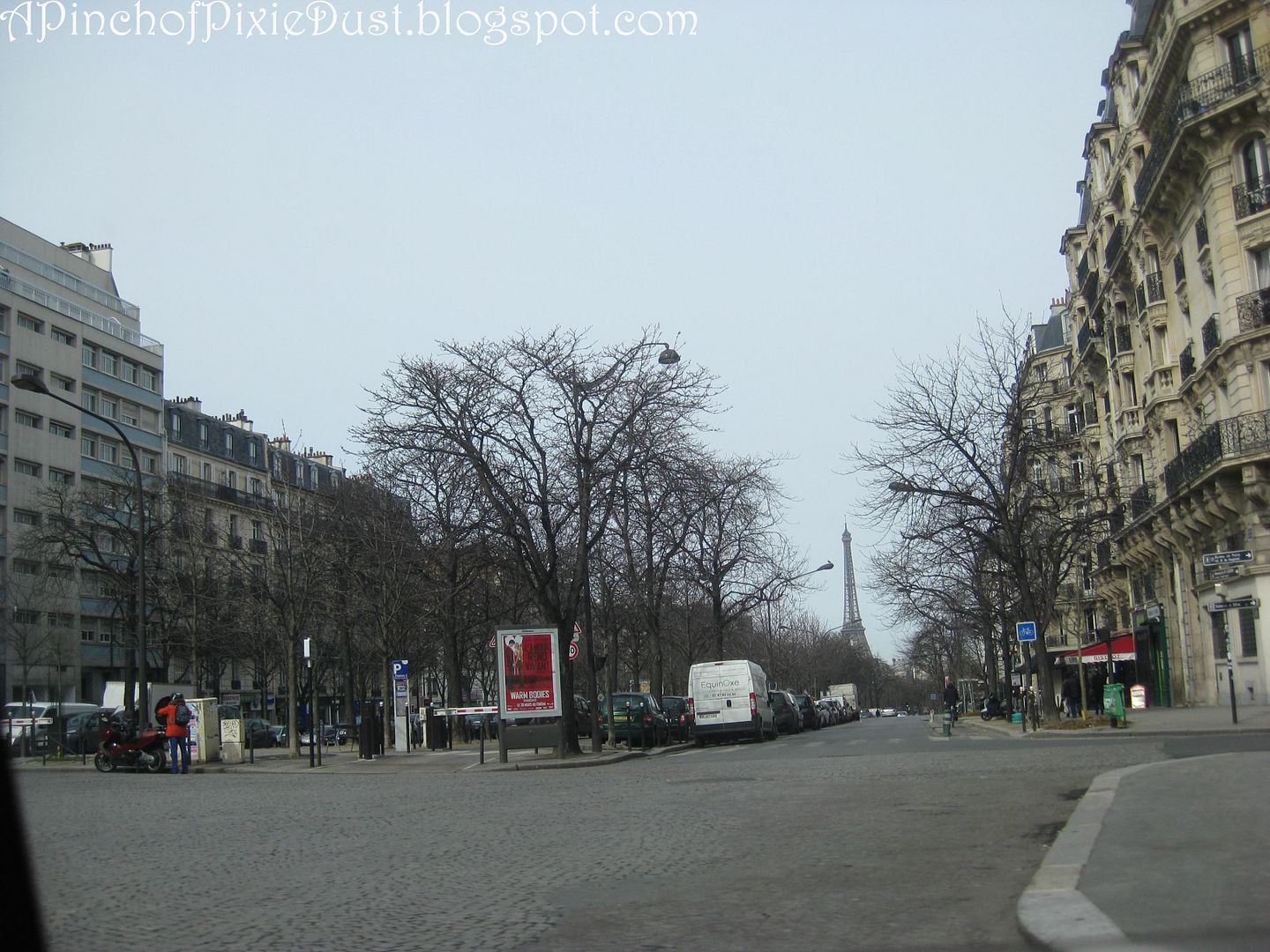 But once we were in Paris, I felt a little better and snapped a few more shots. Who could look at that and not feel better? :)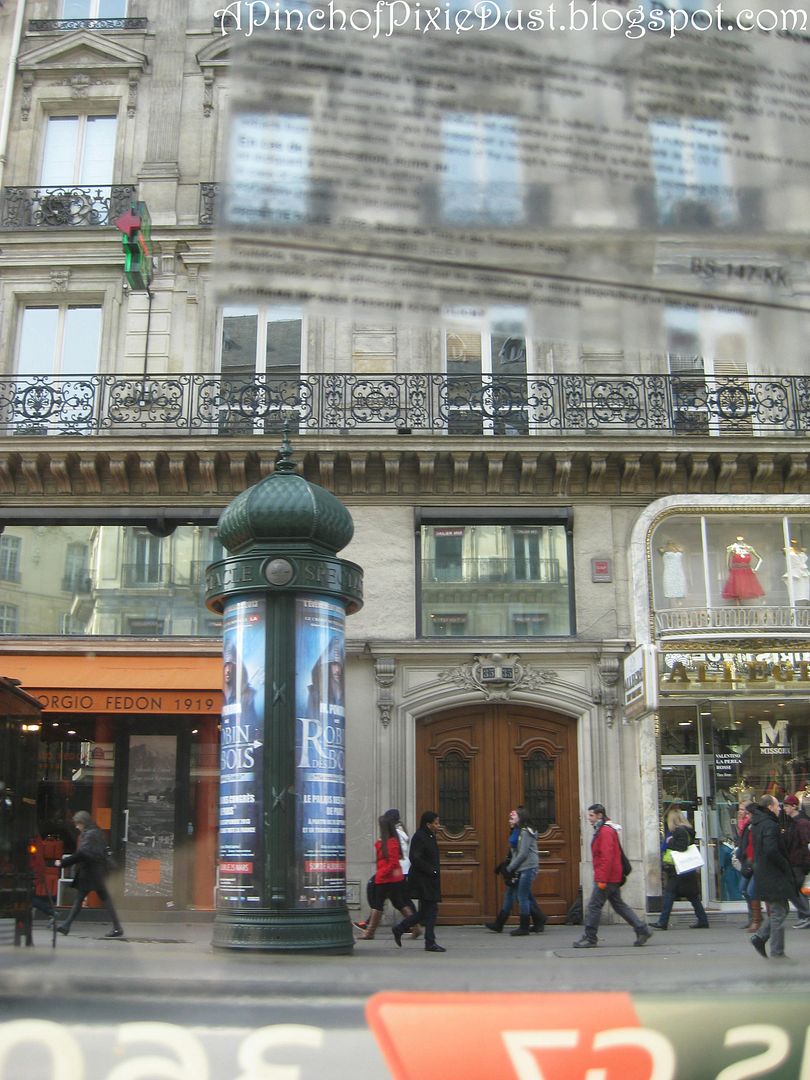 See that funky-shaped green announcement board? THEY HAVE THOSE AT EPCOT TOO!
Anyway. We were definitely late getting into Montparnasse, and we had to get across Paris to the Saint Lazarre station to get our next train, but we did have half an hour to get there, so I hadn't given up hope quite yet. Mama Snob suggested we take a taxi, which was fun because we got a
last glimpse of the city of lights
...but looking back, the metro would probably have been quicker. There was a ton of traffic, and we arrived at St. Lazarre too late. We missed our train by just five minutes! URGH!
After waiting in a very long line at the ticket office, a supremely unpleasant lady begrudgingly got us on the next train. She thought we should have stopped in Montparnasse to get new tickets since it was the train arriving in Montparnasse that was late. But there had been a chance we might have made it to St. Lazarre on time, so why would we have waited around at Montparnasse?
Random Aside: In spite of its potential for train troubles,
Montparnasse
a really fun word.
Ah well. One doesn't expect much cheerfulness or helpfulness from French ticket sellers anyway. It's almost more restful than travelling at Disney World or somewhere where you expect cast members to go above and beyond. lol.
So we had to sit around for an extra hour or so at Saint Lazarre, but luckily they do have lots of neat shops there. We found a Carrefour (grocery store) and picked up some snacks...
The Carrefour had really cute tiny lime green carts.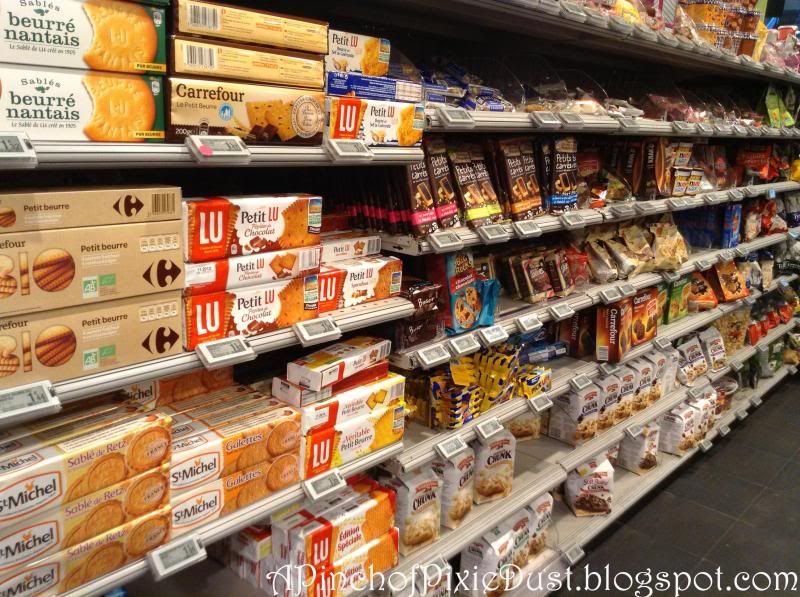 They also had a truly amazing selection of cookies and chocolates. You know that French brand that makes tasty jams called
Bonne Maman
? Well in France, THEY ALSO MAKE MUFFINS. We bought a package, and they were amazing. I have no photos to prove it, so you'll just have to trust me on this one.
I have no photos from our train journey. The woman at the ticket window, probably trying to be as spiteful as possible, had forced us to take
two absurdly crowed connecting trains
to Le Havre. The ridiculous thing is that the second train, the one we had to switch too, actually
was
leaving from Saint Lazarre, so if the lady had just let us board it in Paris we could have gotten seats! Grrr!
If you don't understand what I'm talking about, don't worry. I don't really either. It was just
beaucoup frustrating
. We had to stand for most of the long train journey, and as if to make myself as uncomfortable as possible, I was reading a terribly depressing book. It was called
Consequences
(I tell you so you can avoid it), and it was by the same author who wrote
Diary of a Provincial Lady
- that one you
can
read because it's really charming. But
Consequences
was truly dreadful. The girl is so miserable the whole way through, and there are these brief moments when you think it'll be better, and in the end she kills herself. :O
So as you may imagine, I arrived in Le Havre in no very good mood. We had to take a bus from Le Havre to Etretat, and originally we were supposed to catch the second-last bus of the day. I'm glad I left that wiggle room, because we did catch the
last
bus of the day. Once we were at last on it, and I was sure that we
would
be arriving in Etretat that night, I felt better. The bus took us along the cliffs for part of the way, and the last colors of a
brilliant sunset
were flaming over the Channel. Finally we wound to our stop and trekking up the hill to our hotel had our first glimpse of those famous Cliffs: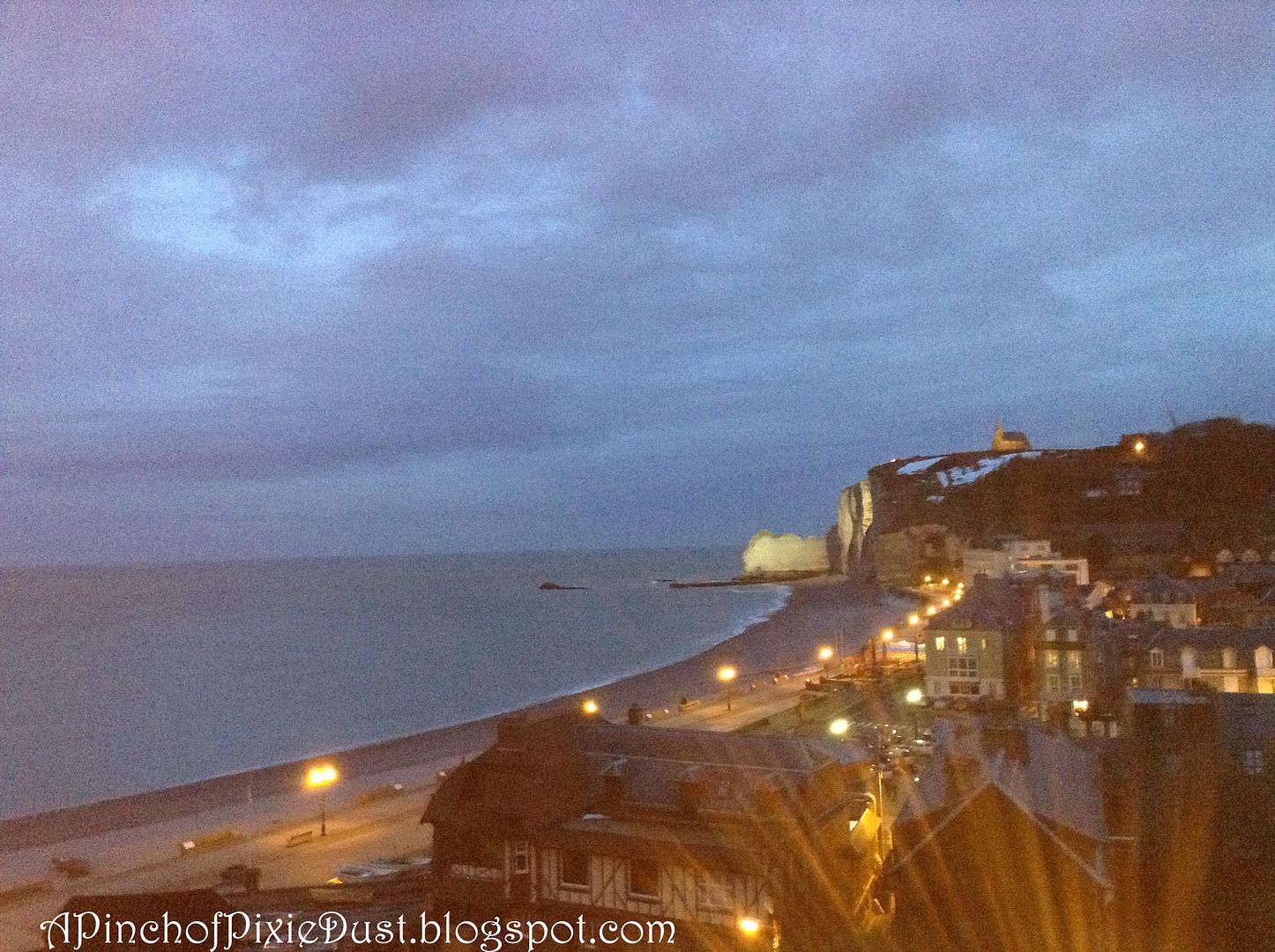 That
little church
lit up in orange on top of the snowy hill across the way is in the Impressions de France movie, and at the sight of it, much of my travel sangfroid and excitement came back. So naturally I had to vlog...
lol...I was really tired. And somewhat incoherent.
I was determined to reward my brother and I for our loooong day with a really nice dinner, but first we really wanted to get a better view of those cliffs before the light was all gone. So we headed back down the hill and to the rocky beach...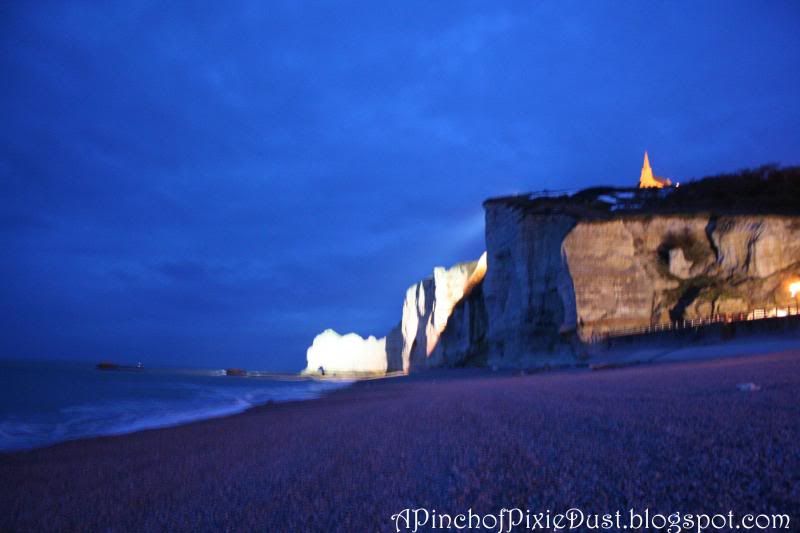 This was the view in one direction (Look! It's the church again!)...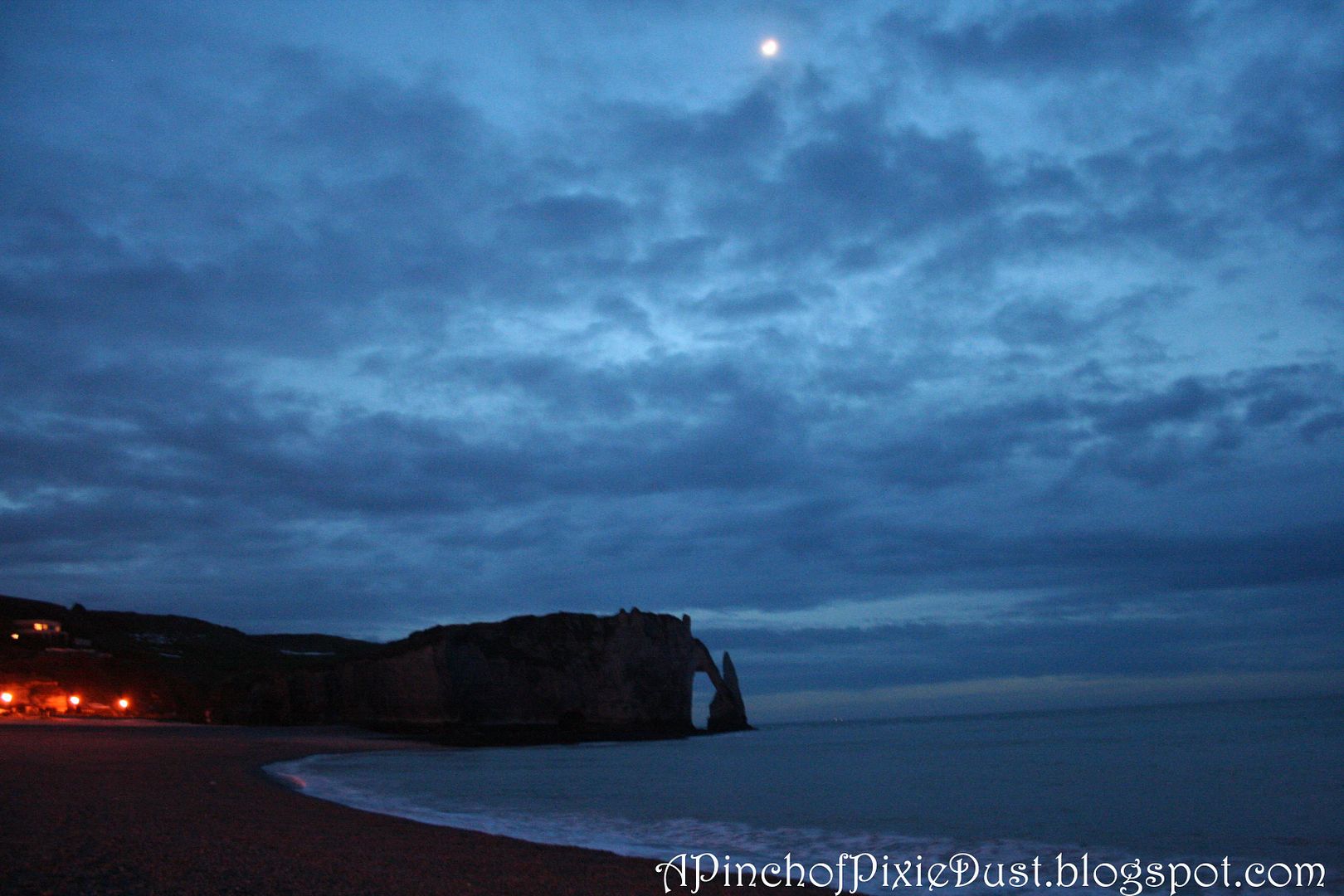 ...and this was the view in the other! Look at that moon! And THOSE cliffs are the ones that you see in Impressions de France!!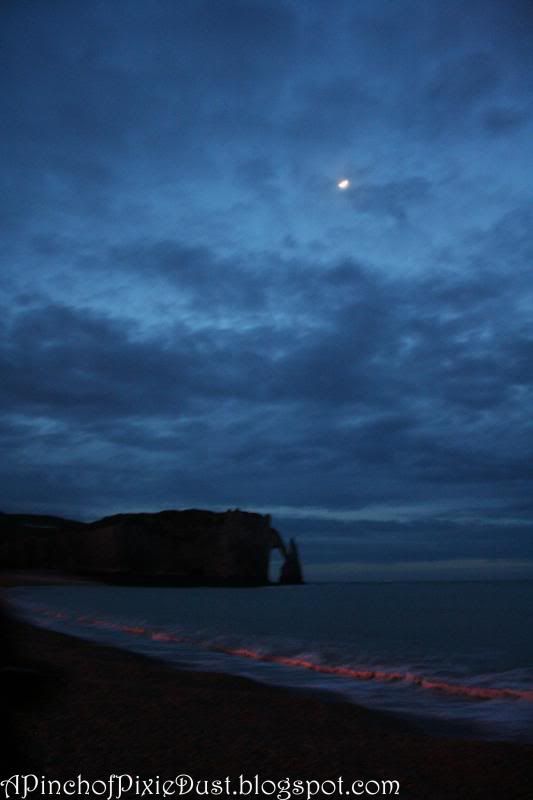 It was so lovely. Travel can be so fickle; but our luck turned that evening, and we stumbled across a really charming local restaurant just after leaving the cliffs...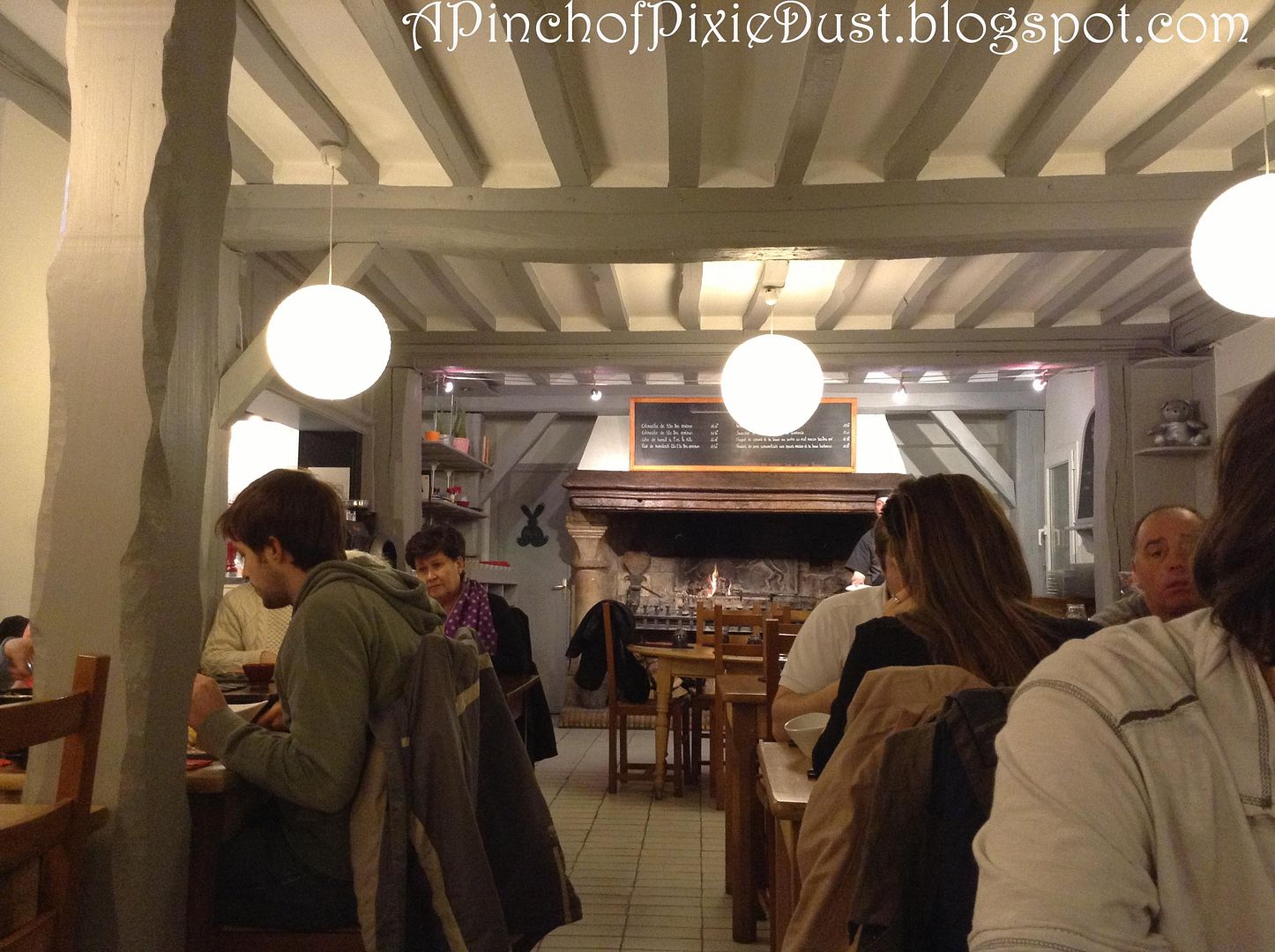 The fresh white with the grey beams is so darling! I want to paint my room like that some day. Of course first I'll have to find some century-old wooden beams to paint...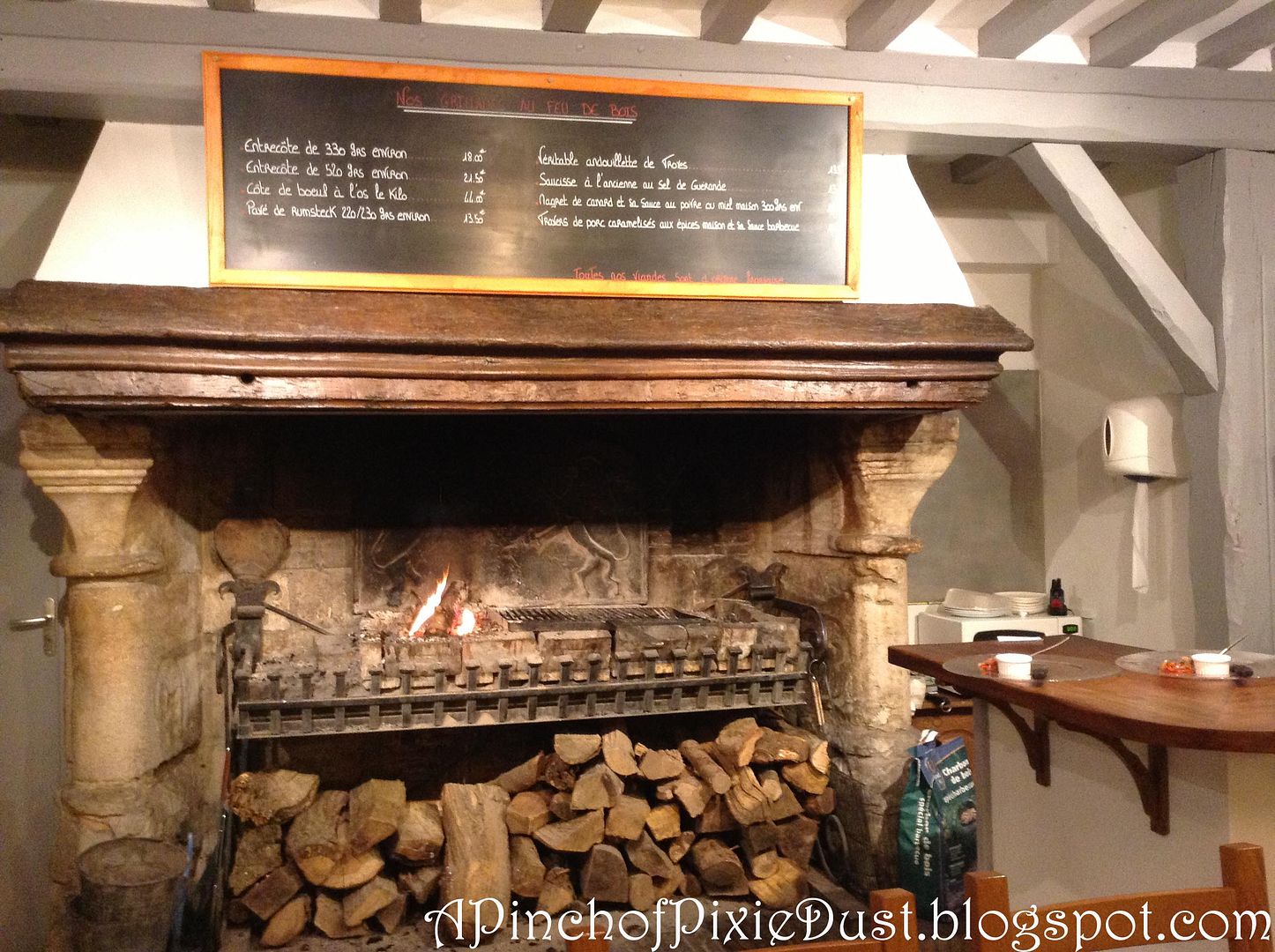 And just check out that fireplace! There was a chef back here, and they were cooking some of the meals on it! So cool!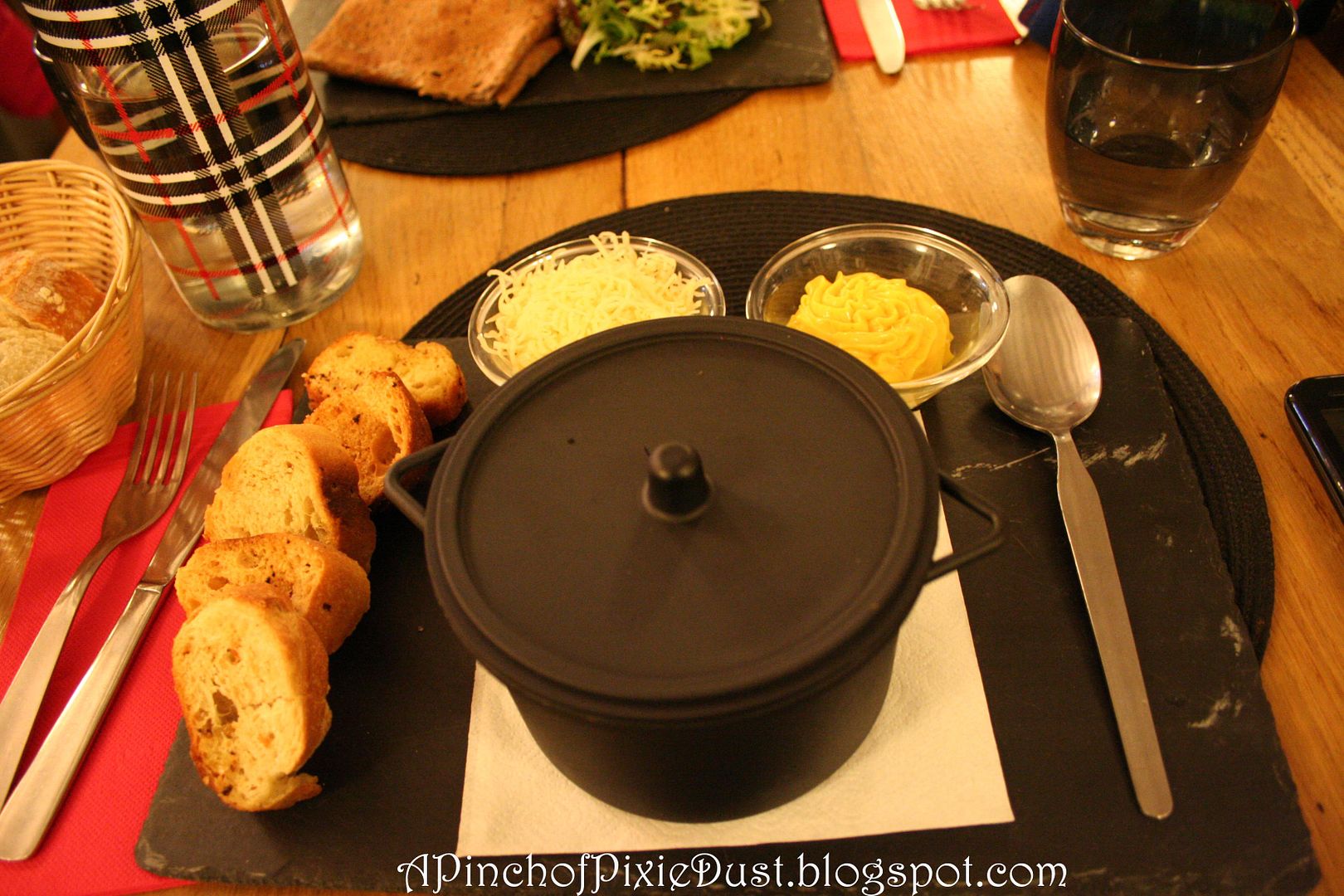 I decided to be adventurous and go for some fish soup. I'm not normally a seafood person, but I figured it would be fresh here, as we were right on the coast! In the background you can see my brother's savory crepe, which also came with a nice mound of salad. Lots of meals in Europe seemed to come with a big side of salad. Really nice!
My brother was not feeling so adventurous, and he also got some potatoes. LOL.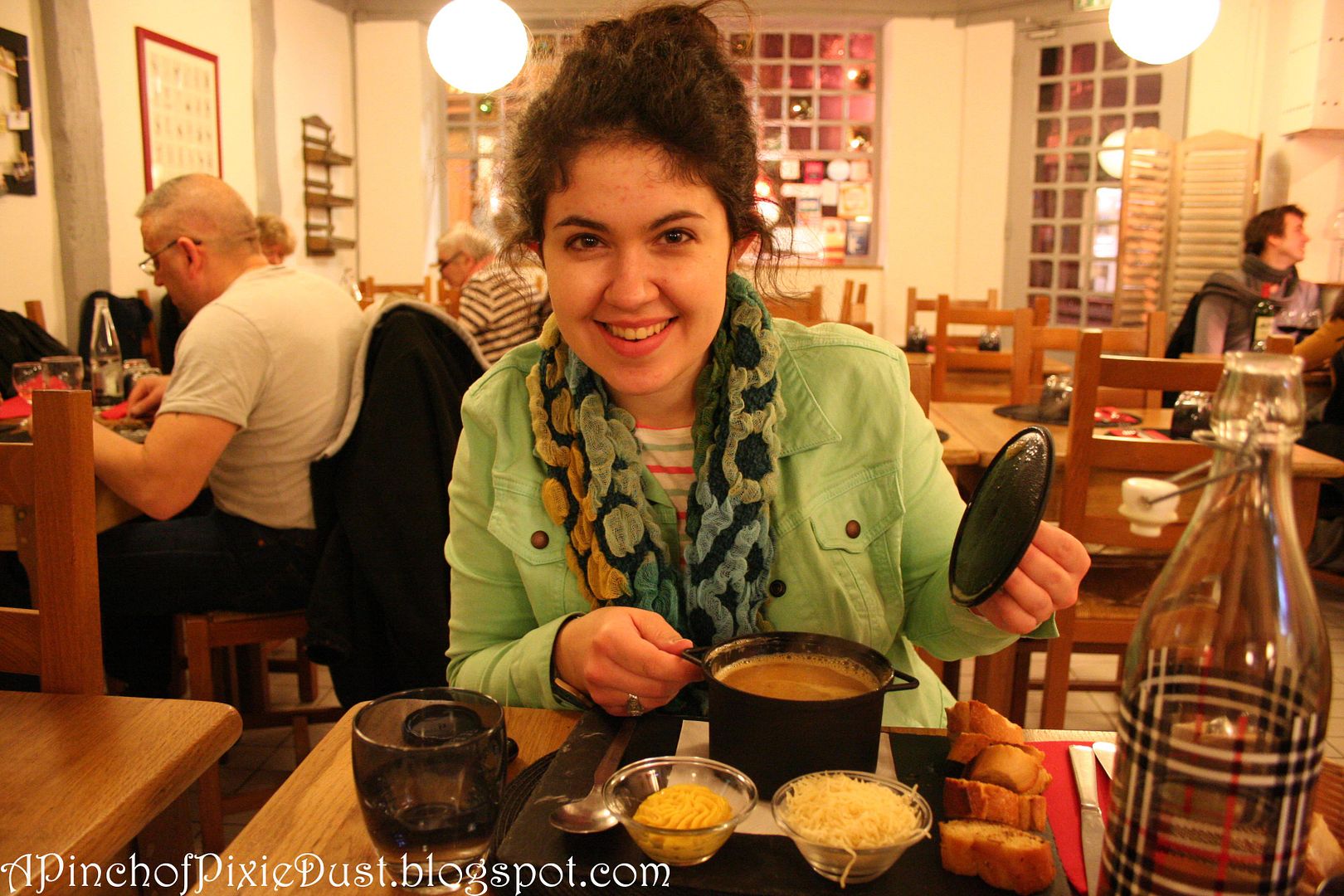 My soup came in a cute black pot with some bread and cheese and mustard. It was a very nice dinner to top off the day.
Then it was off to bed, our last night in France. But luckily we would have some time the next morning to explore those cliffs!