HAPPY MONDAY EVERYBODY!
I picked today's sweet treat not only because the dessert itself is pretty, but because its surroundings are so pretty!
Our quest for Disney deliciousness leads us to the palm-tree-lined pathways of the
Grand Floridian
and to...
...the Grand's newly renovated counter service restaurant,
Gasparilla Island Grill
! It sounds rather more elegant than
Gasparilla Grill and Games
, doesn't it? It looks more elegant too. Before the arcade games were right off the seating area, making the space very loud and not-too-inviting for a quiet meal.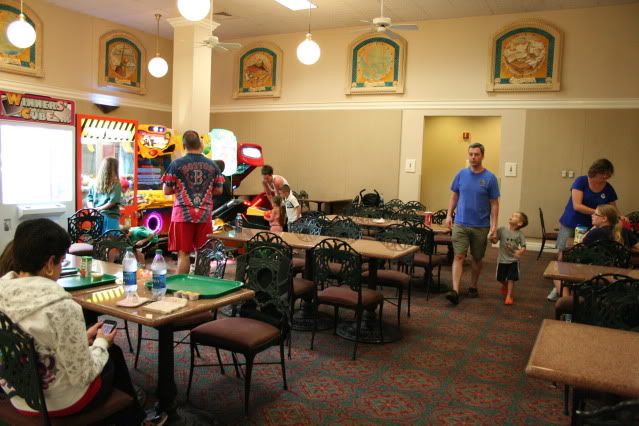 Above is what it used to look like. Now it looks like this...
I just love that fresh blue ceiling and the interesting light fixtures...
Very cool! It looks like a cross between a sailing ship, a hot air balloon, and a chandelier. And are those little nobs supposed to be
Mickey heads
do you think??
I love how bright and airy the windows make the space - and it is much more restful now with the pings and dings of the video games gone.
It's a much larger space now as well - they must have knocked out a wall to add this area at the back.
And for any arcade fans - not to worry.
Arcadia Games
can be accessed at the back of that back room!
But let's get back to the
eats
, shall we? The service area of the restaurant has basically the same layout - and the cupcake cases are in the same spot along the wall!
I wish they had given us some brand new cupcake to go with the brand new look. Maybe something with blue icing to go with that pretty new ceiling? Alas, the cupcake selection is
pretty much the same
as before.
The
German Chocolate cupcake
does look very pretty - I love how it has a little crown - but I just am not a fan of coconut. I like my chocolate plain and simple and untouched.
I have heard good things about this cupcake however, so if you're a coconut fan, I say go for it. I think the Gasparilla chefs
are
coconut fans,
because the other sweet option available that day was a
pina colada cupcake
.
MORE COCONUT. IT'S LIKE I CAN'T GET AWAY FROM IT.
Gasparilla does have a rotating cupcake selection, so on another day you may find the colorful
cherry-berry cupcake
or my favorite, the
s'mores cupcake
. YUM. Hopefully the next time I stop by the new Gasparilla Island Grill they'll have something more chocolatey - with that pretty new décor, it looks like the perfect quiet spot to sit and relax for a bit! :)