For today's
Sweet Treat
to start your week, I thought we'd travel back to France
.
:)
If you're keeping up with the
Emma in Europe
trip report I've been sporadically adding to on the blog, just know that I am almost finished with the posts from our adventures in France, and pretty soon we'll be moving on to England (HOORAY!).
But today we're still in
St. Malo
, because there is an absolutely be-ah-utiful little place that simply MUST be shared. I did do some bakery/patisserie/delicious eats research before we left home, but this one we heard about from the owners of
our hostel
. Whenever the hotel people seemed friendly and asked if we needed any tips about the town, my FIRST question would always be about the
desserts
. LOL.
In St. Malo, we were told to look for a little pink Gauferie and Sandwicherie (Waffle and Sandwich Purveyor), open to the air, called
MAISON HECTOR
. I forgot to write down the address, but I knew it was on one of the main streets in the Intra Muros, so everywhere we went that day, I kept my eyes peeled for a pink store front. At last we found it...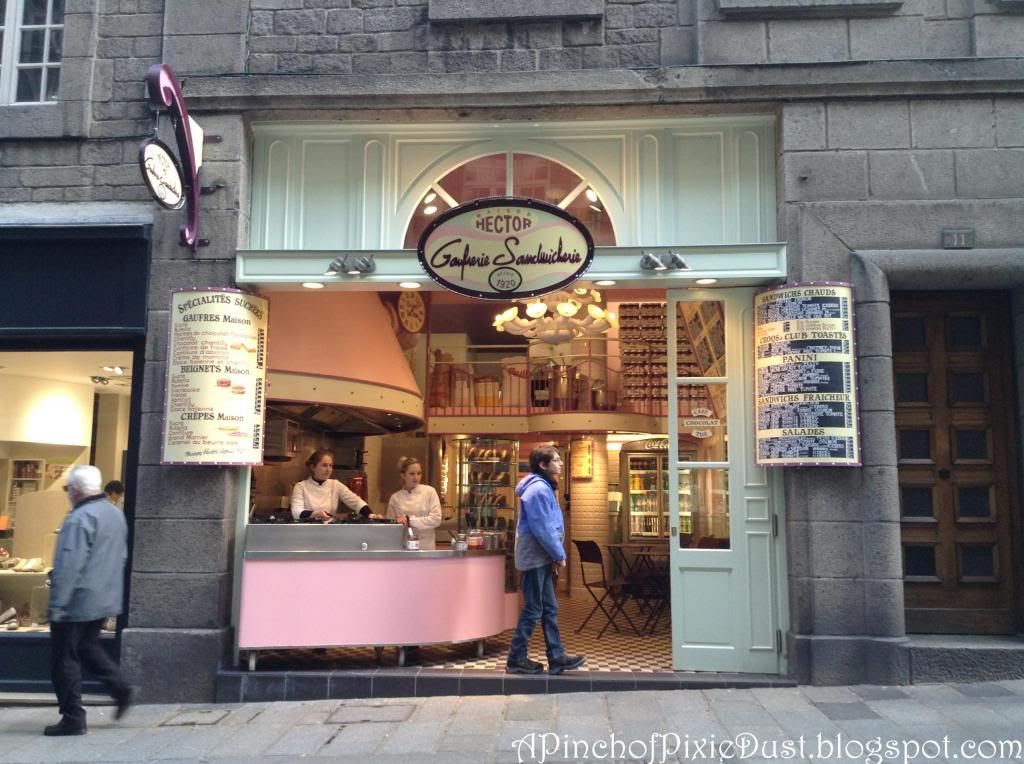 To be exact, it's a charming minty green on the outside, but VERY pink on the inside. There was a line stretching down the street most of the time we were there.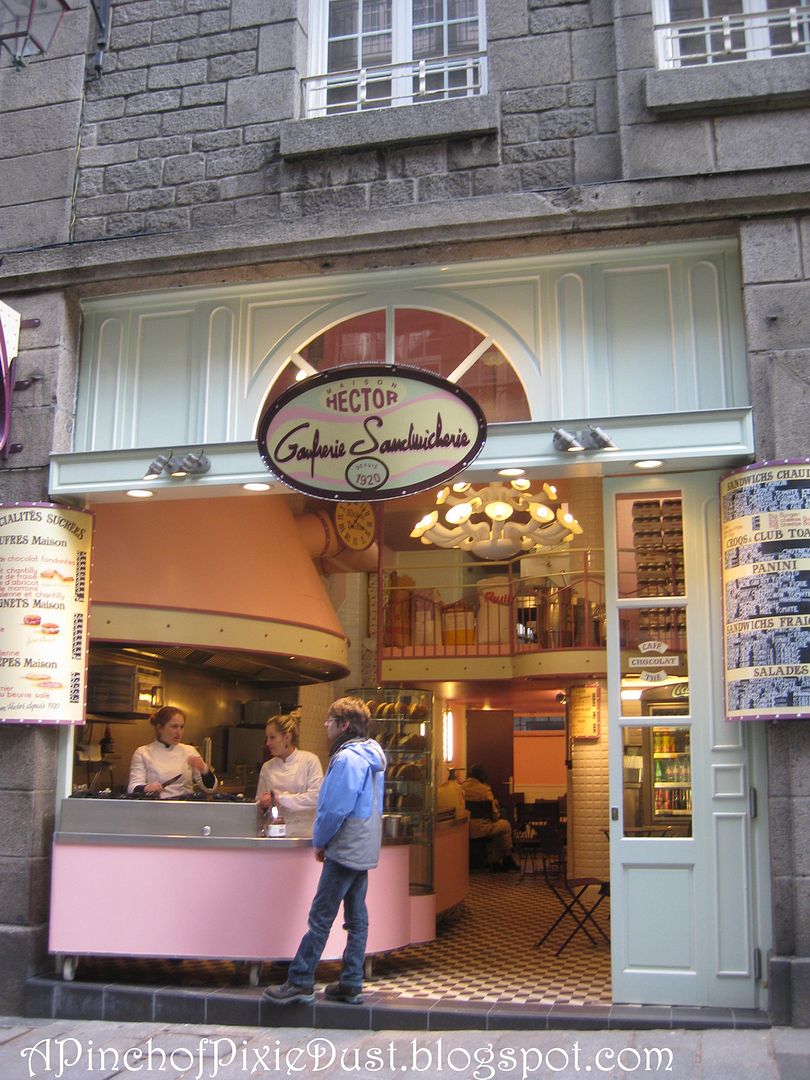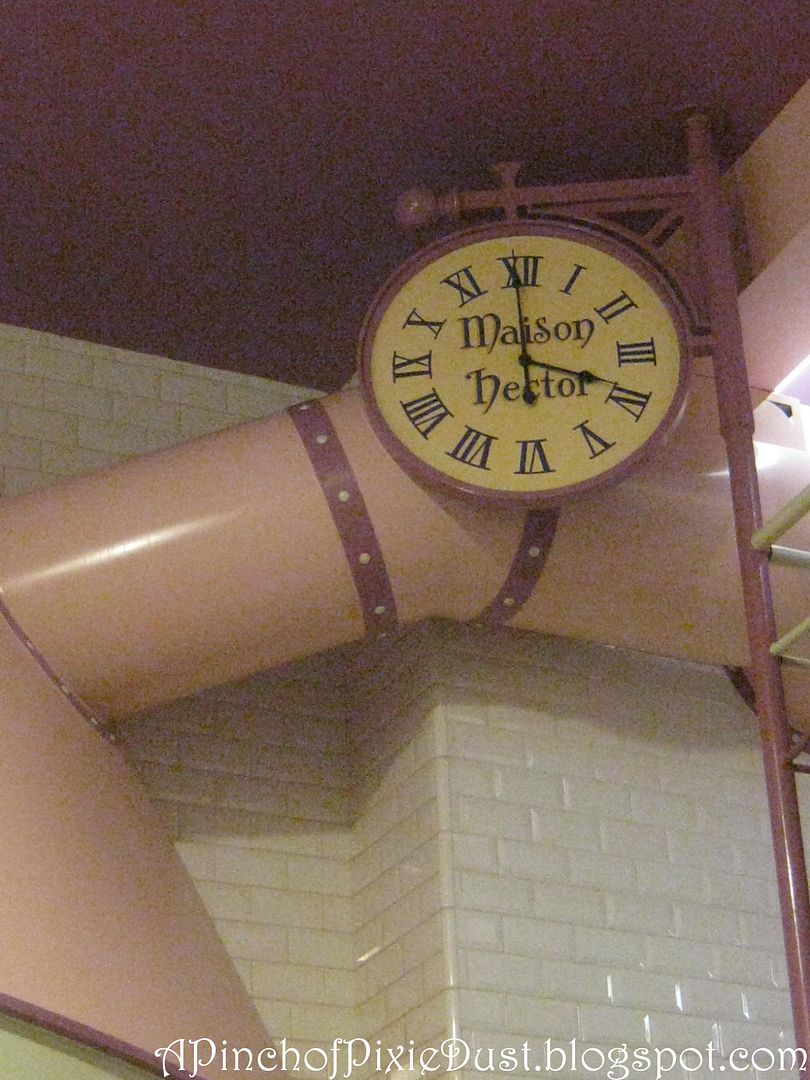 Right at that pink counter they were serving out freshly made crispy brown gaufres (
waffles
),
crepes
oozing with nutella, white cones of frites (
french fries
), and huge, sugary
beignets
.
OH MY GOSH LOOK AT THE SIZE OF THOSE BEIGNETS. We had been told to come for the
waffles with nutella
, so I knew we had to get a waffle, but suddenly I was also wanting a beignet. And when I looked at the big menu board, I wished we could get one of everything...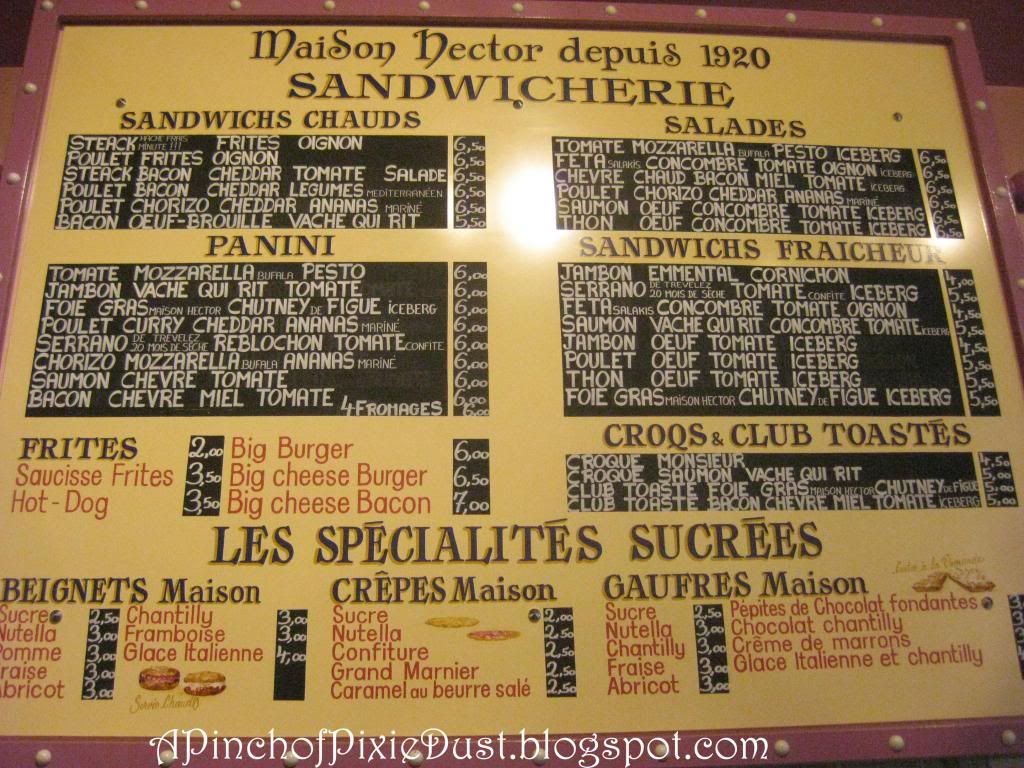 Don't all those sandwiches just sound lovely?? And the "
Les Specialites Sucrees
" - you could top your beignet, crepe, or gaufre with SO many different things. In the end, we decided to go with the house specialty topping, NUTELLA. How do I know this was the specialty of the house? Because there was a whole wall filled with it.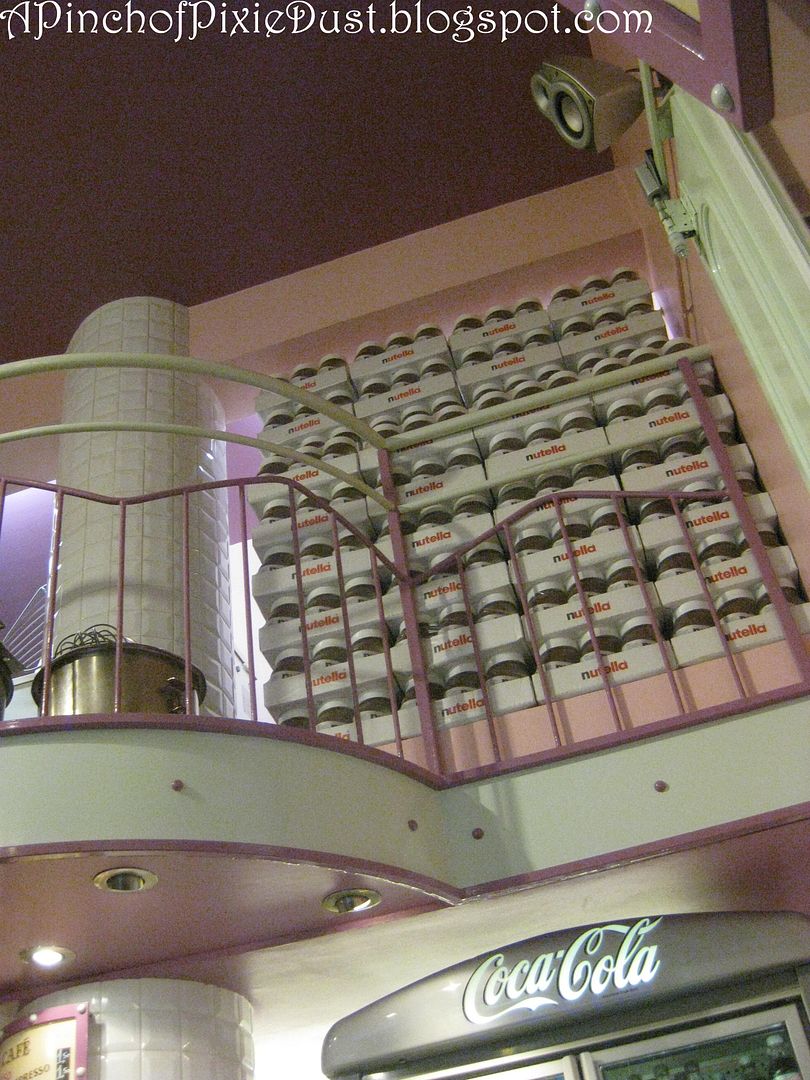 Now that is a beautiful sight. But then again, so was this: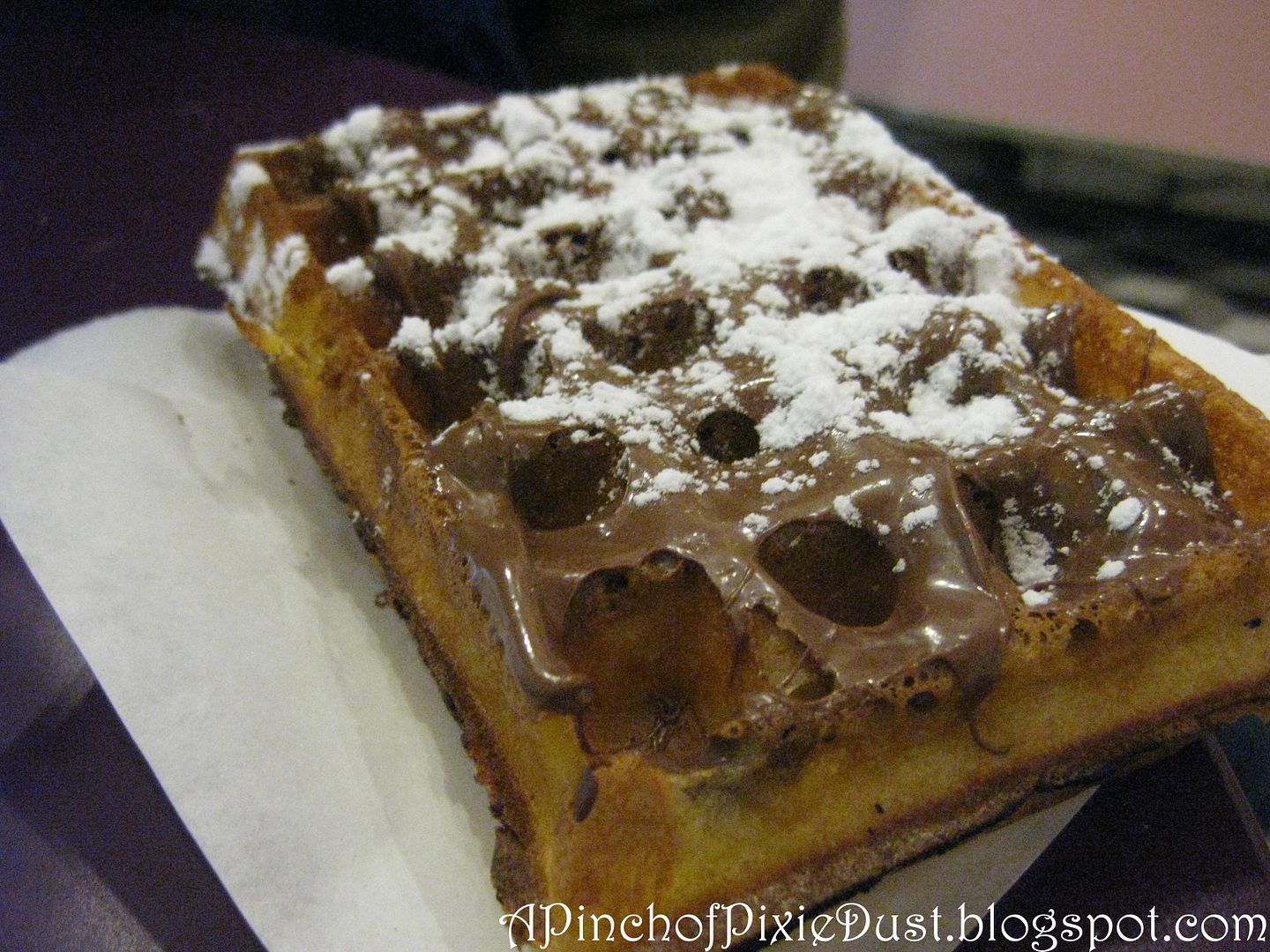 SO SO SO MUCH YUM.
In France, there are plenty of little stands where they sell waffles. Some of them you can tell are just run by somebody who doesn't really know anything about waffles but wants to make some money off the tourists. Others are run by people that know their waffles. Maison Hector was definitely of the second kind! That waffle came to us right off the grill, slathered in nutella and dusted in powdered sugar, and it was just about the most perfect waffle I have ever tasted.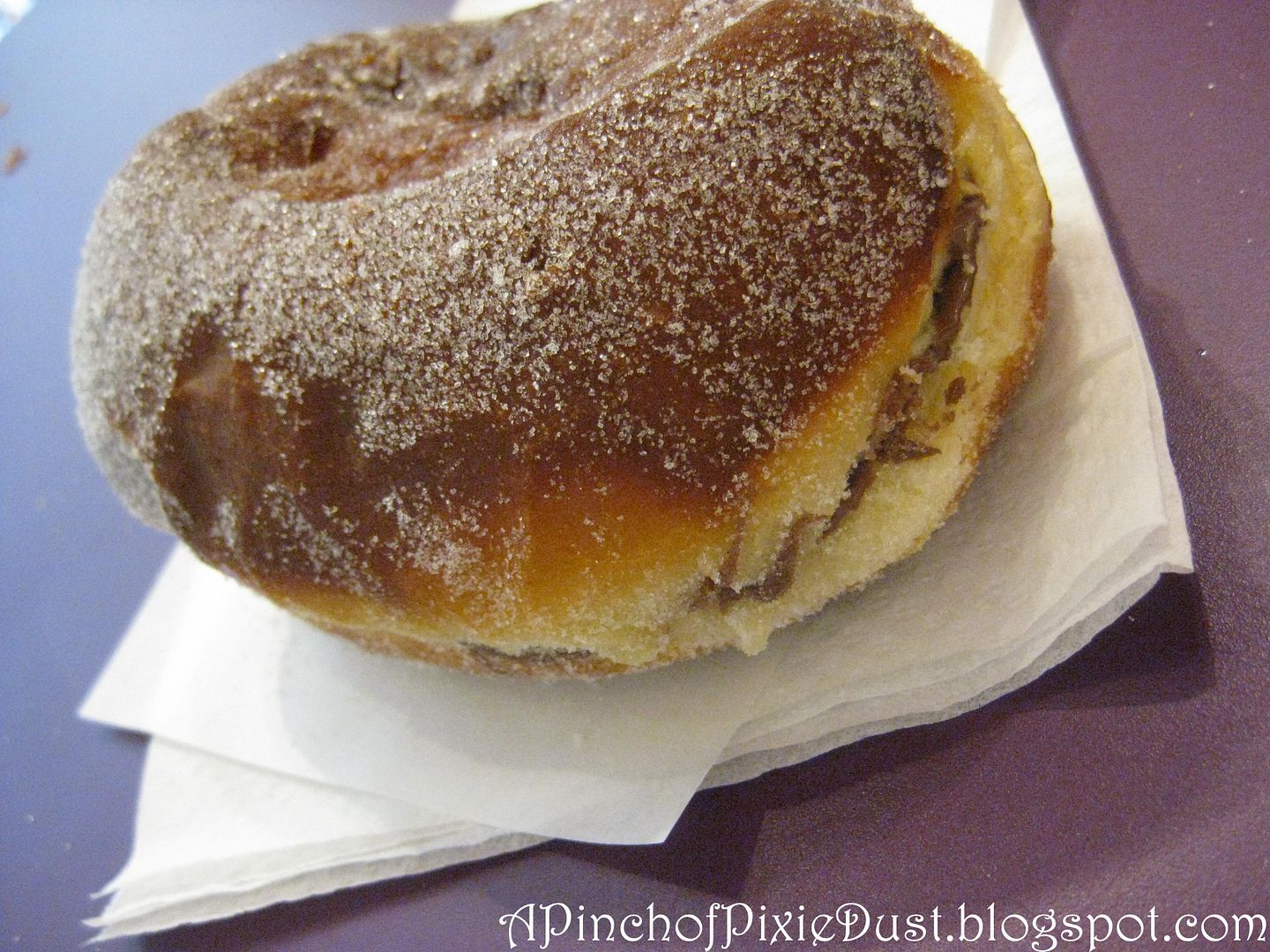 The beginets, alas, were not fried up right in front of you. But you could tell they were fresh, and when we ordered ours, the girl took a big donut out of the case, cut it in half, buttered it with nutella, and then put it in the microwave. So it was hot and melt-in-your-mouth delicious!
We also couldn't resist a cone of frites, and they were so hot and lovely - it was the perfect snack for a chilly day.
And, of course, I had to do a vlog too: