So...I feel bad that I missed my usual
Sweet Treat Monday
post yesterday. BUT, to make it up to you guys, I decided I would make sure today's post included
plenty
of
Disney deliciousness
!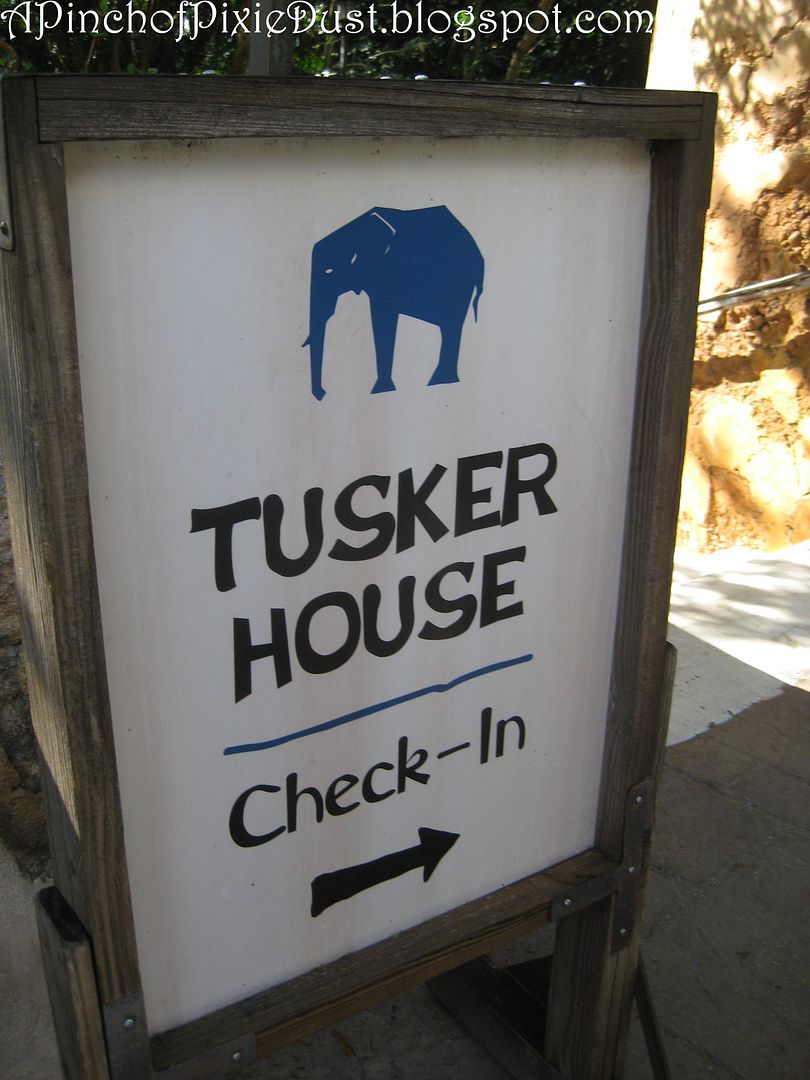 Does anybody else feel like going to
Tusker House
for lunch? I know I do! The bagel sandwich I'm eating pales in comparison to all the yummy dishes in the photos I'm about to show you...
Just finding your way to the Tusker House entrance and check-in desk is an adventure - you follow a variety of colorful signs, winding through a charming courtyard until you find yourself welcomed by this guy...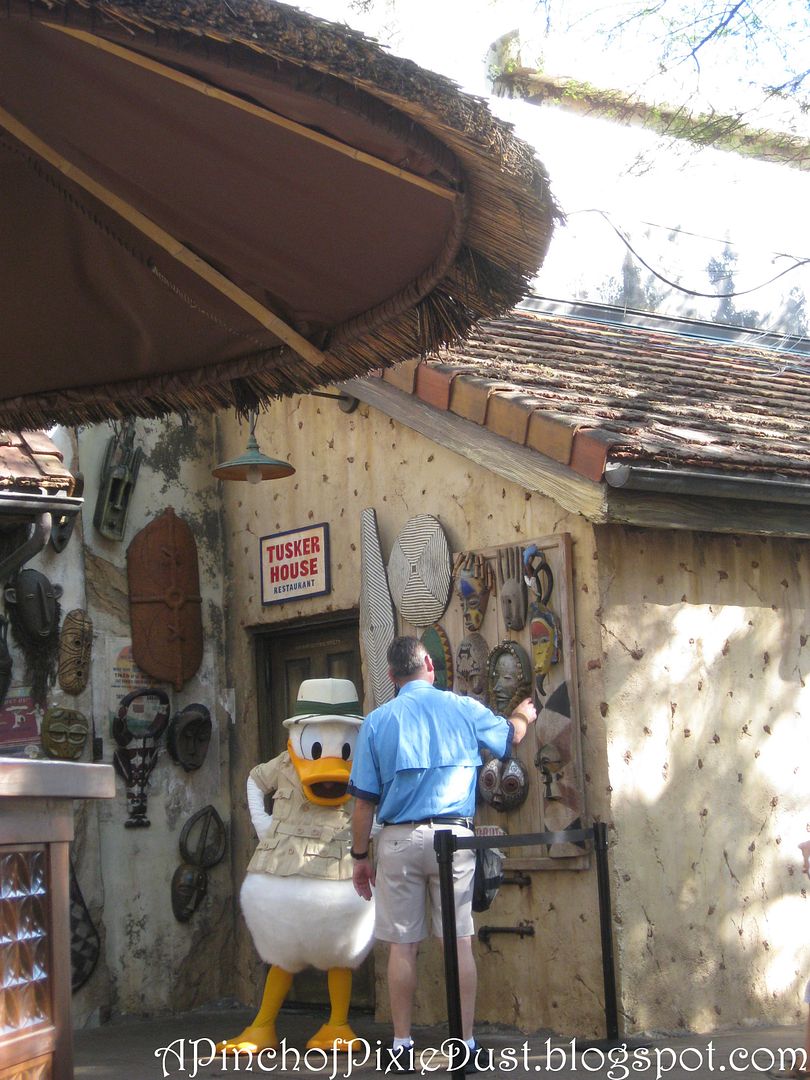 OH HEY DONALD! This IS a character meal, after all! Also note the hidden mickey on the door.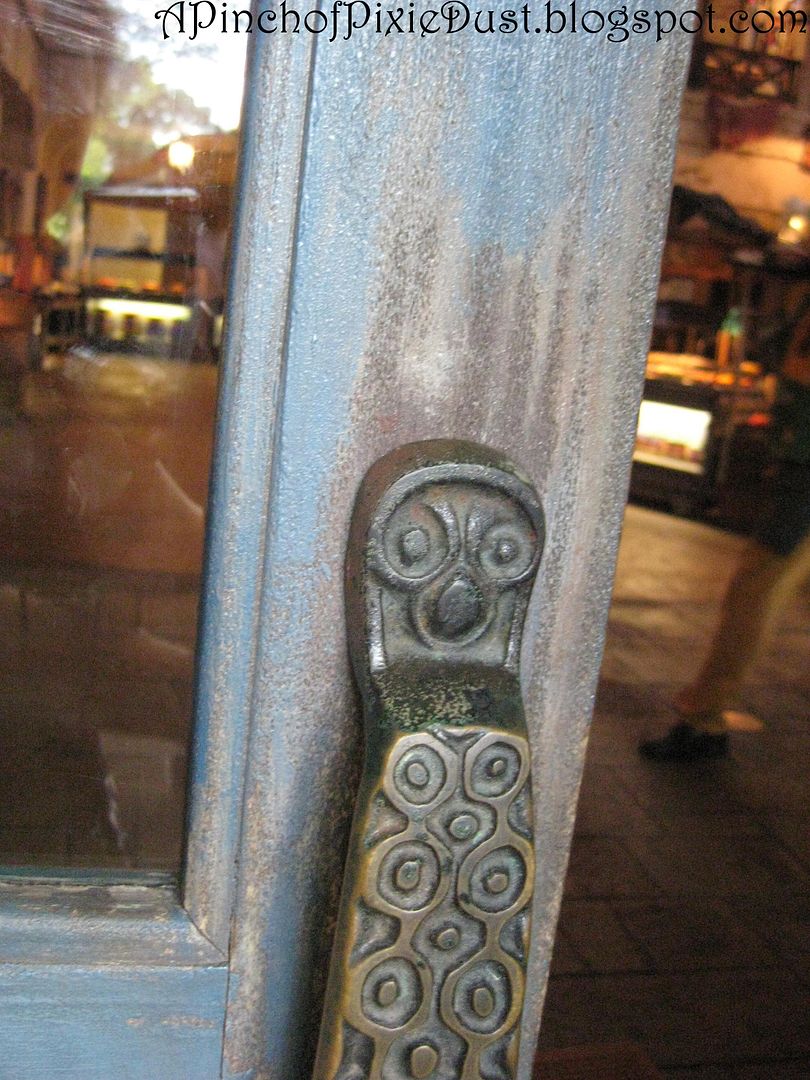 Love it!
Shall we go in?? I last ate at Tusker House back when I was a worked at Disney. My family was visiting for Christmas, and we wanted to go somewhere nice for dinner on Christmas Eve. We didn't want to go to one of the big parks because we knew they'd be jammed, so we chose
Animal Kingdom
and a new-to-us meal at Tusker House.
We hadn't been to the table service Tusker House yet, although we had been many times when it was counter service. Those chicken sandwiches were so delicious...
Tusker House Main Dining Area
It was certainly different to have the hectic pace of a counter service space replaced with the more sedate atmosphere of a table service! And it was nice not to have to fight your way to a table with a heavy tray of food.
I loved being back in Tusker House...all the details are just gorgeous, especially that "marketplace" ceiling!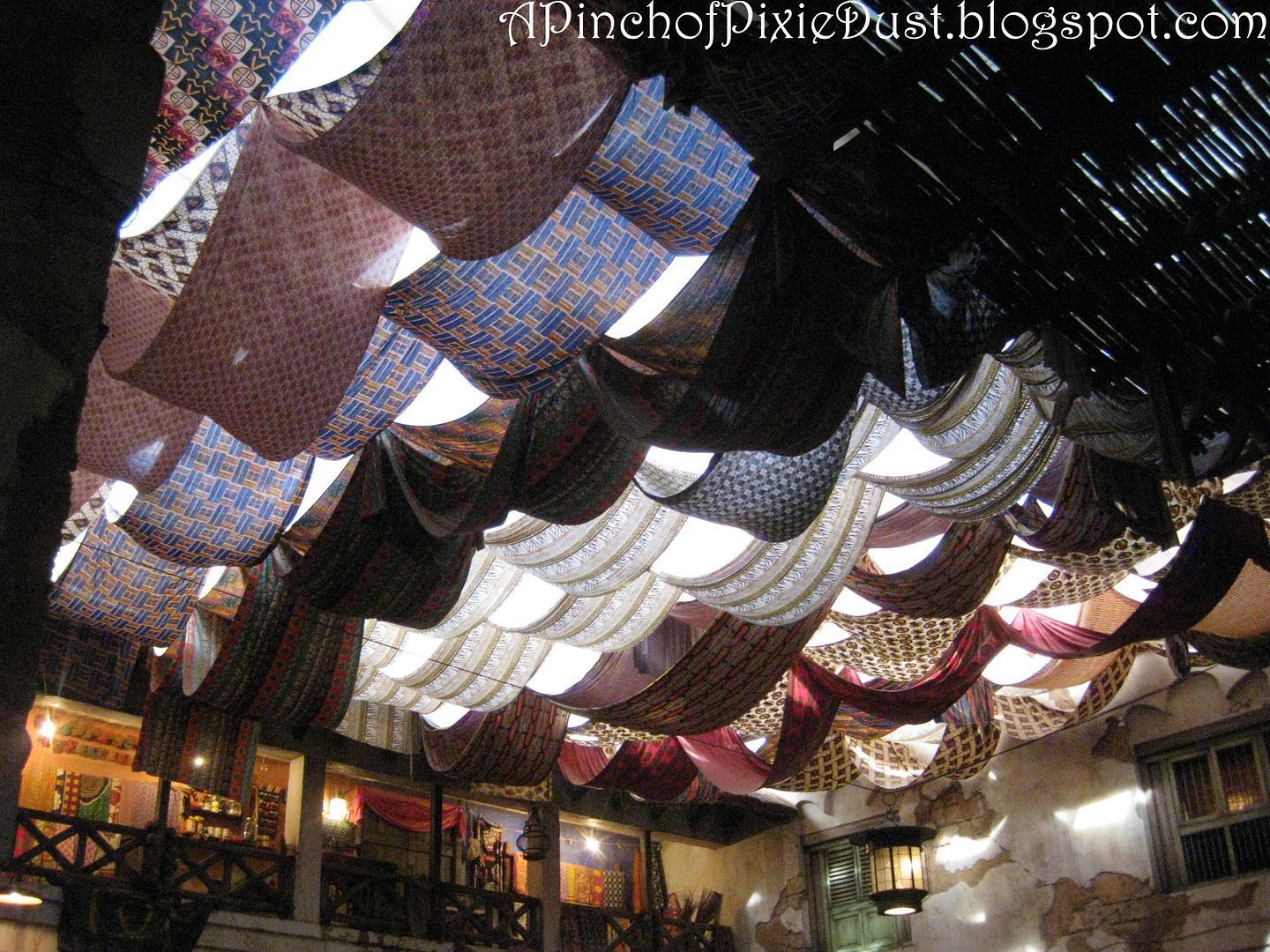 We were seated back in the "
school room
." It's a smaller room off to the side and a little bit crowded - I tend to think the main dining area is prettier - but it was all the same food and characters so it didn't really matter!
Some details on the walls in the School Room
Alright. Are you guys ready for some food?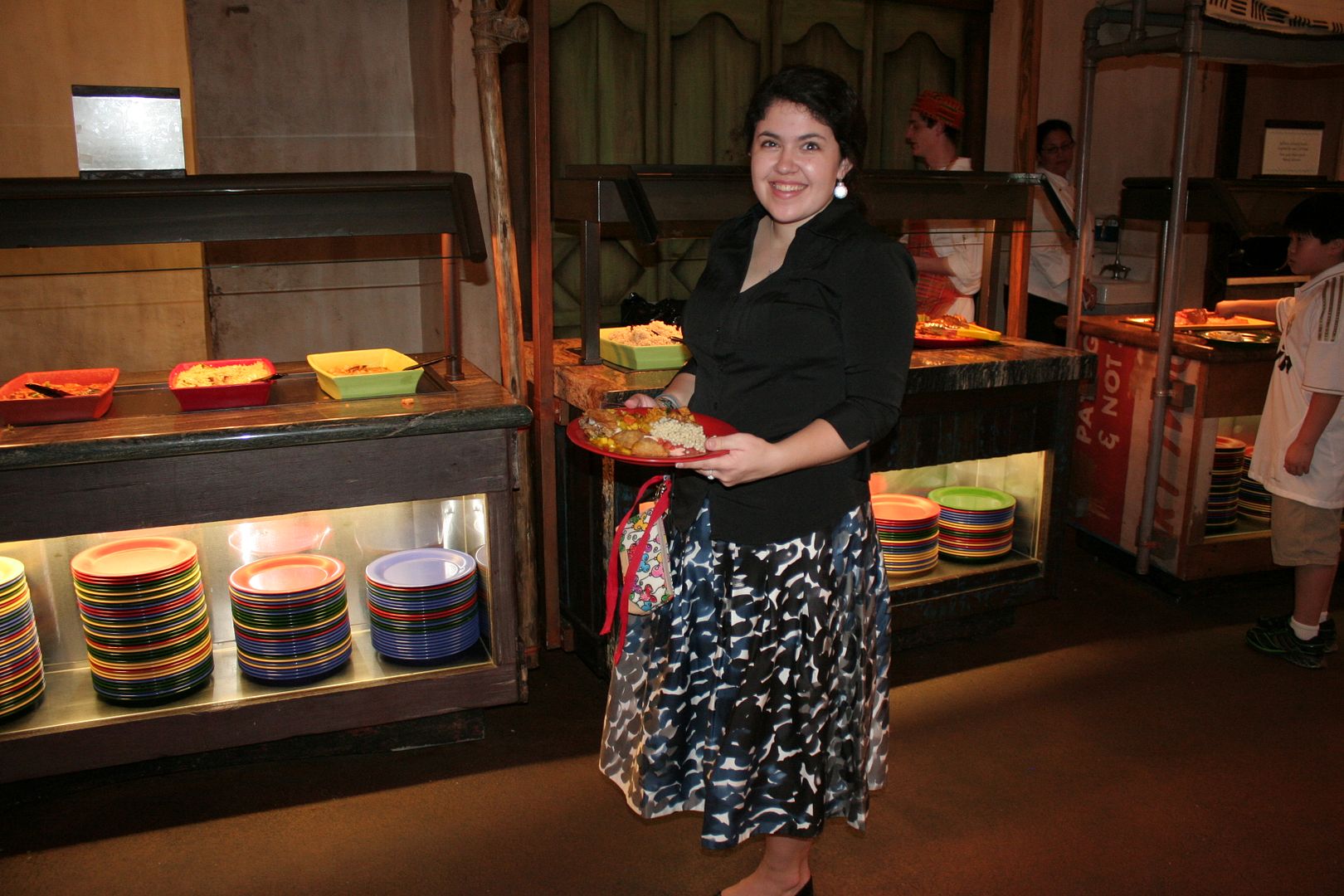 It's so much fun going around to fill your plate, because not only does everything smell and look and sound amazing, the décor is also gorgeous!
Above is the Spit-Roasted Beef Top Sirloin. MMMmmm...then they also had Kenyan Coffee Barbeque Pork Loin...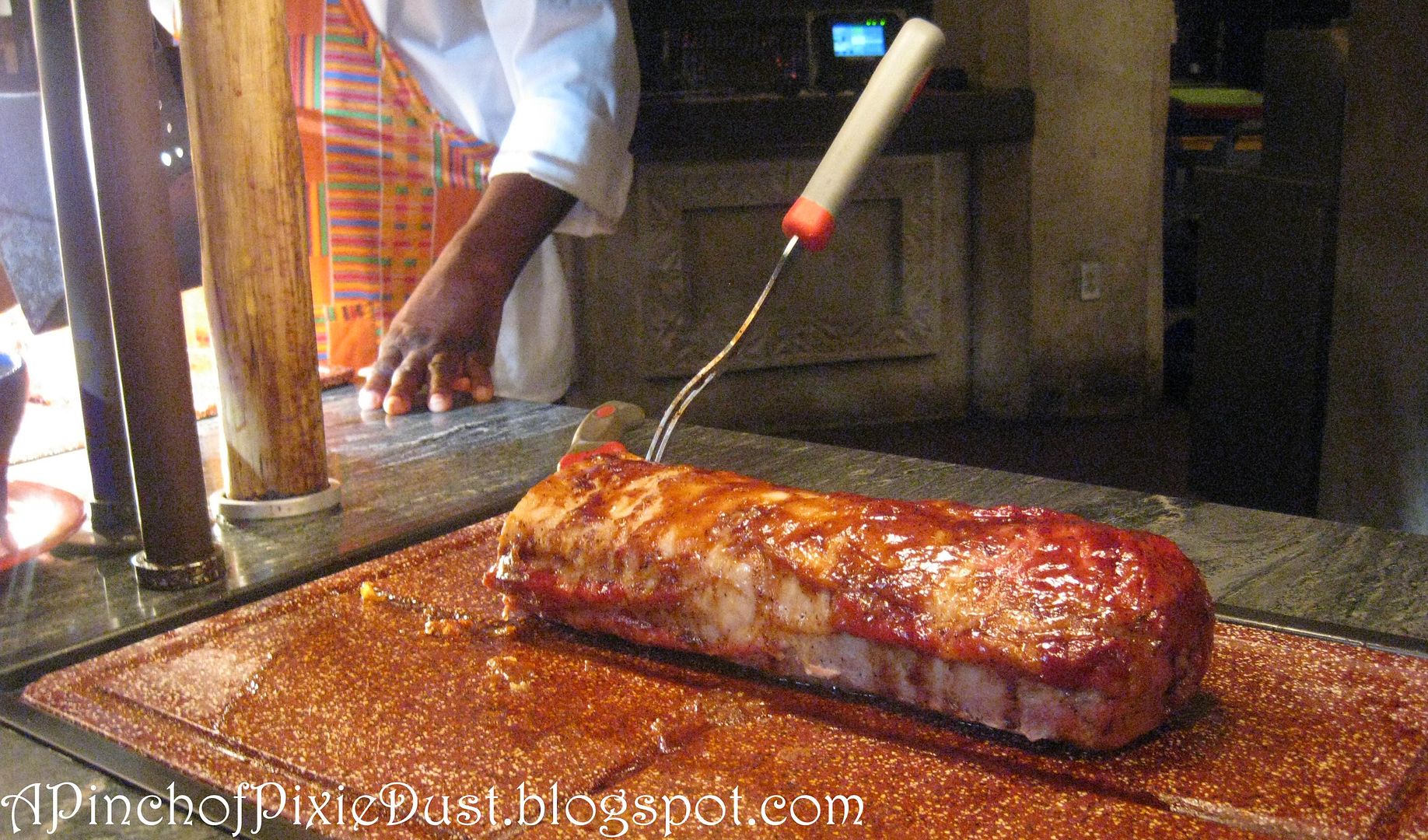 I should note that these all came from the "
wall of flames
." It said so right on the sign. Also present but not pictured were the spit roasted chicken and some Peri Peri Marinated Baked Salmon. Doesn't that just SOUND exotic?? Just like at
BOMA
, I was so impressed by the names and flavors included in the dishes...and luckily they tasted just as good as they sounded!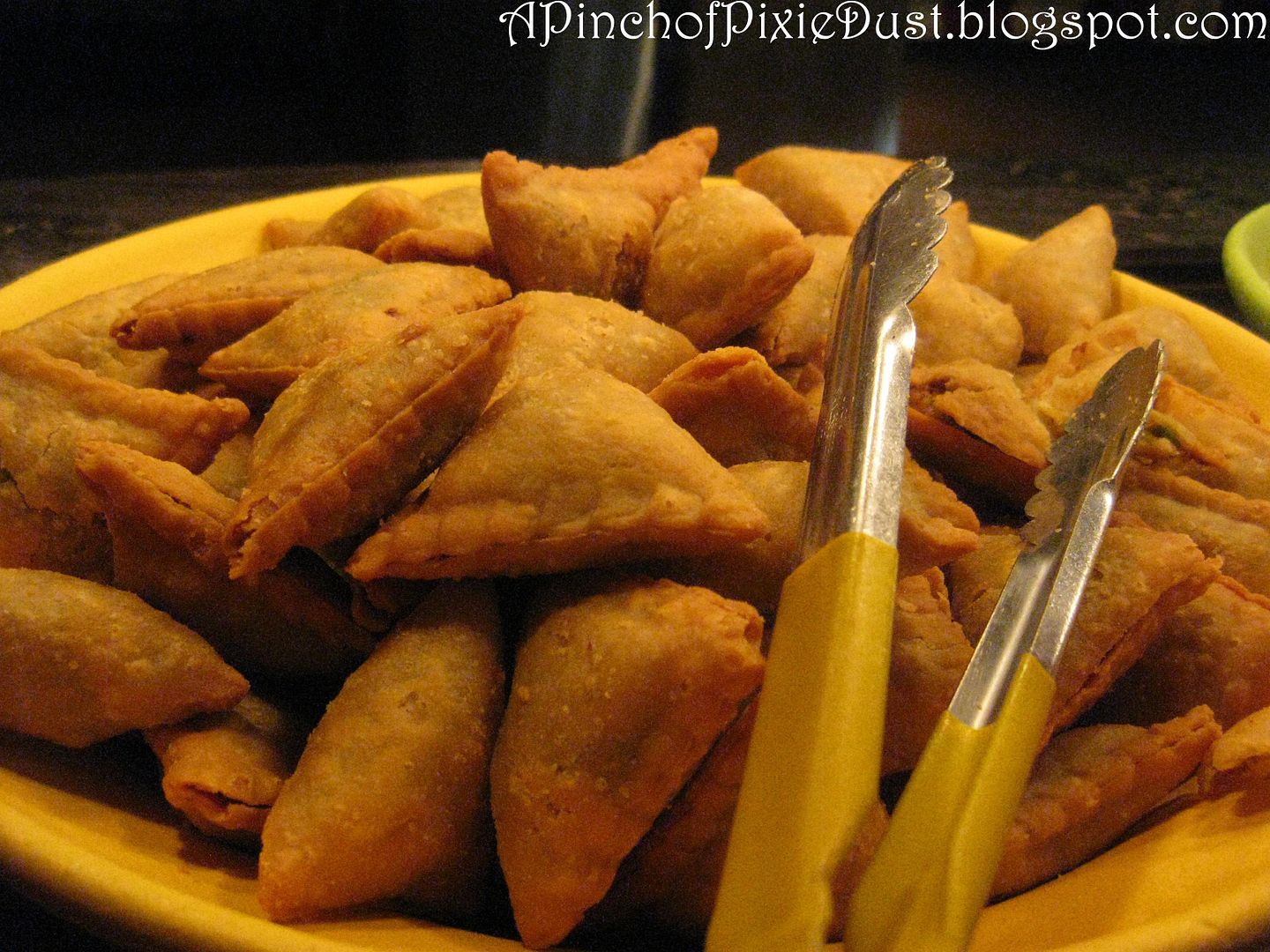 This is not too extraordinary - a potato and chick pea samosa. But it was SO GOOD. A little bit spicy and crunchy and YUM.
I was really impressed with the sheer number of different offerings...this is a meal you DEFINITELY want to come to hungry. Very hungry. Are you guys ready for this? Above are (going right to left) sweet plantains, Jolaff rice...
...spiced vegetable and tofu tandoori, pearl couscous with sweet basil...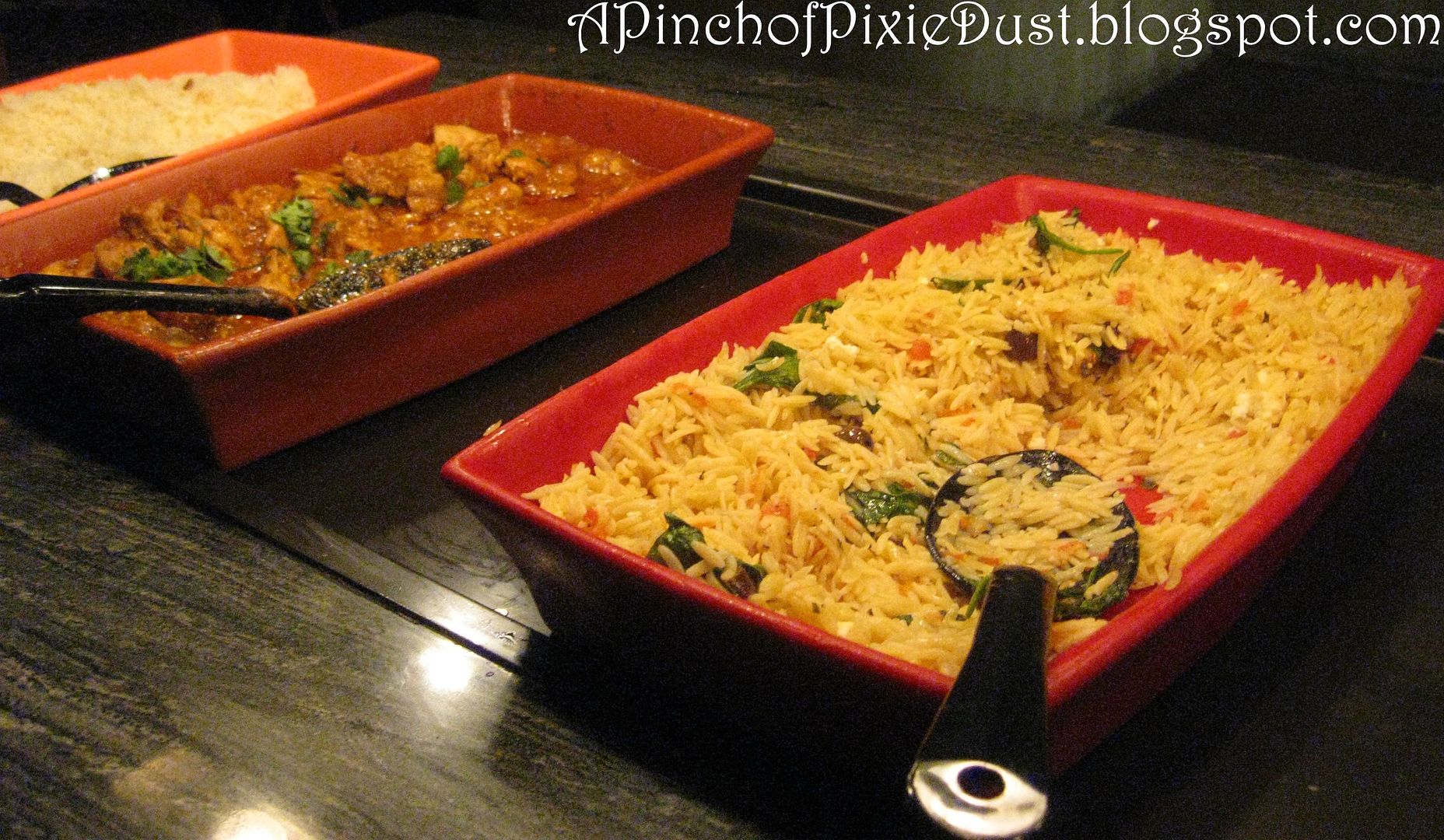 ...orzo pasta with spinach and tomatoes, Cape Malay curry chicken, basmati rice with toasted almond slivers...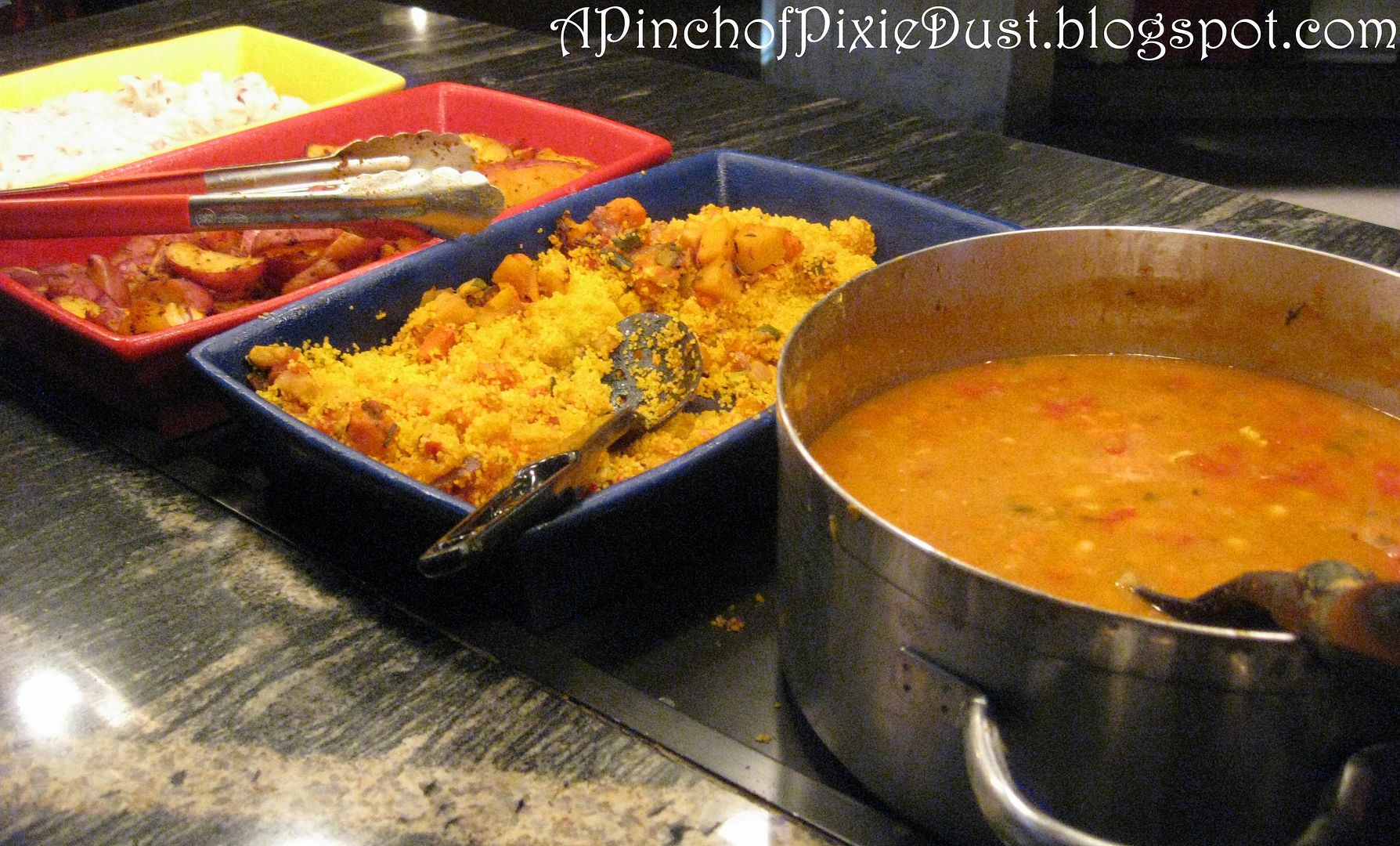 ...ham and bean soup, Marrakesh cous cous, roasted potatoes, and mashed potates & gravy (yes. you read that right. two kinds of potato). I made sure to take a photo of every single sign, because I knew there was no way I'd remember all the names: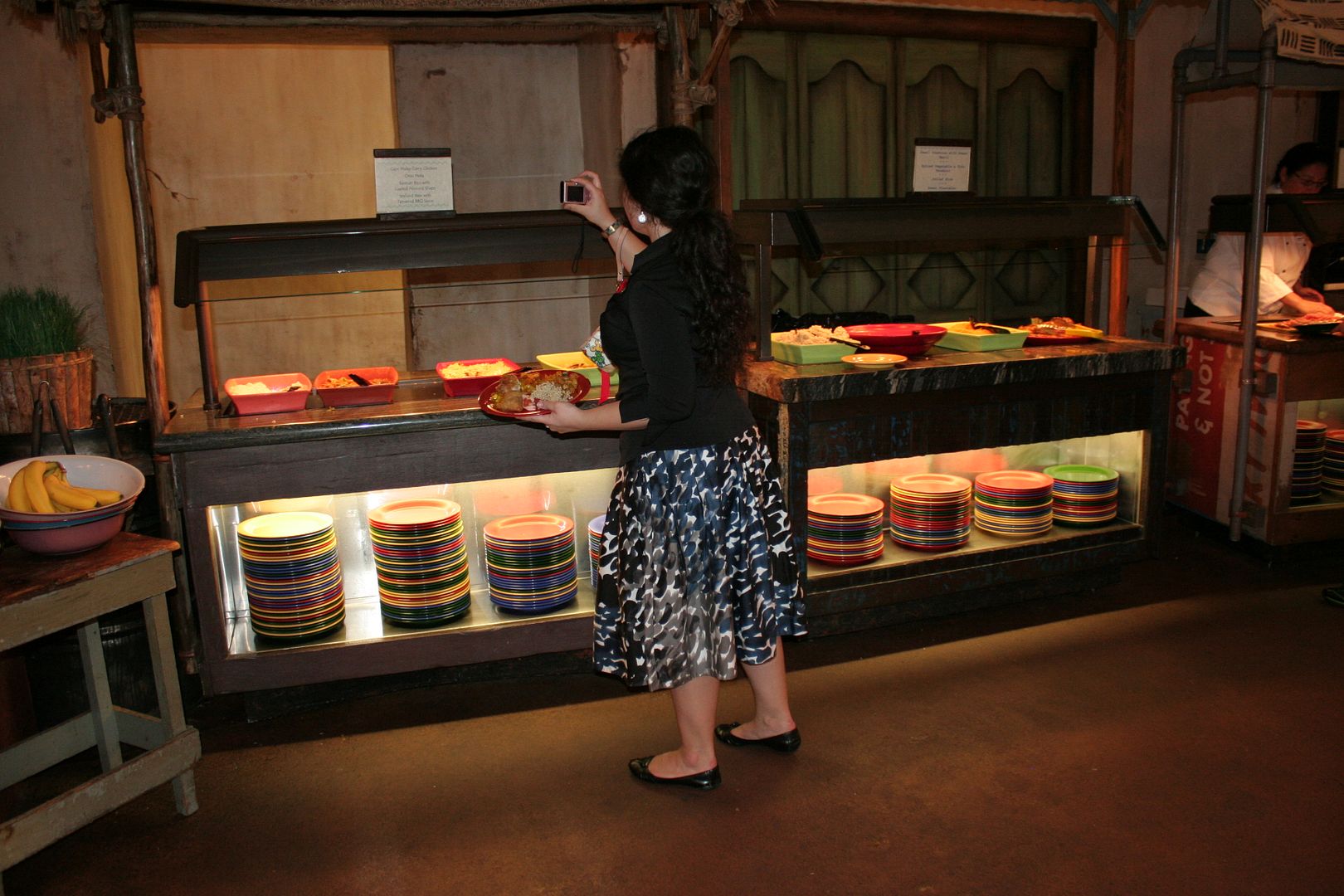 And then Mama Snob took a photo of me taking photos. So meta.
Apparently they also had (though I didn't get photos of it) Saffron-infused root vegetables and cabbage - I do remember trying that and it was DELISH - and also Seafood Stew with Tamarind BBQ sauce. Also...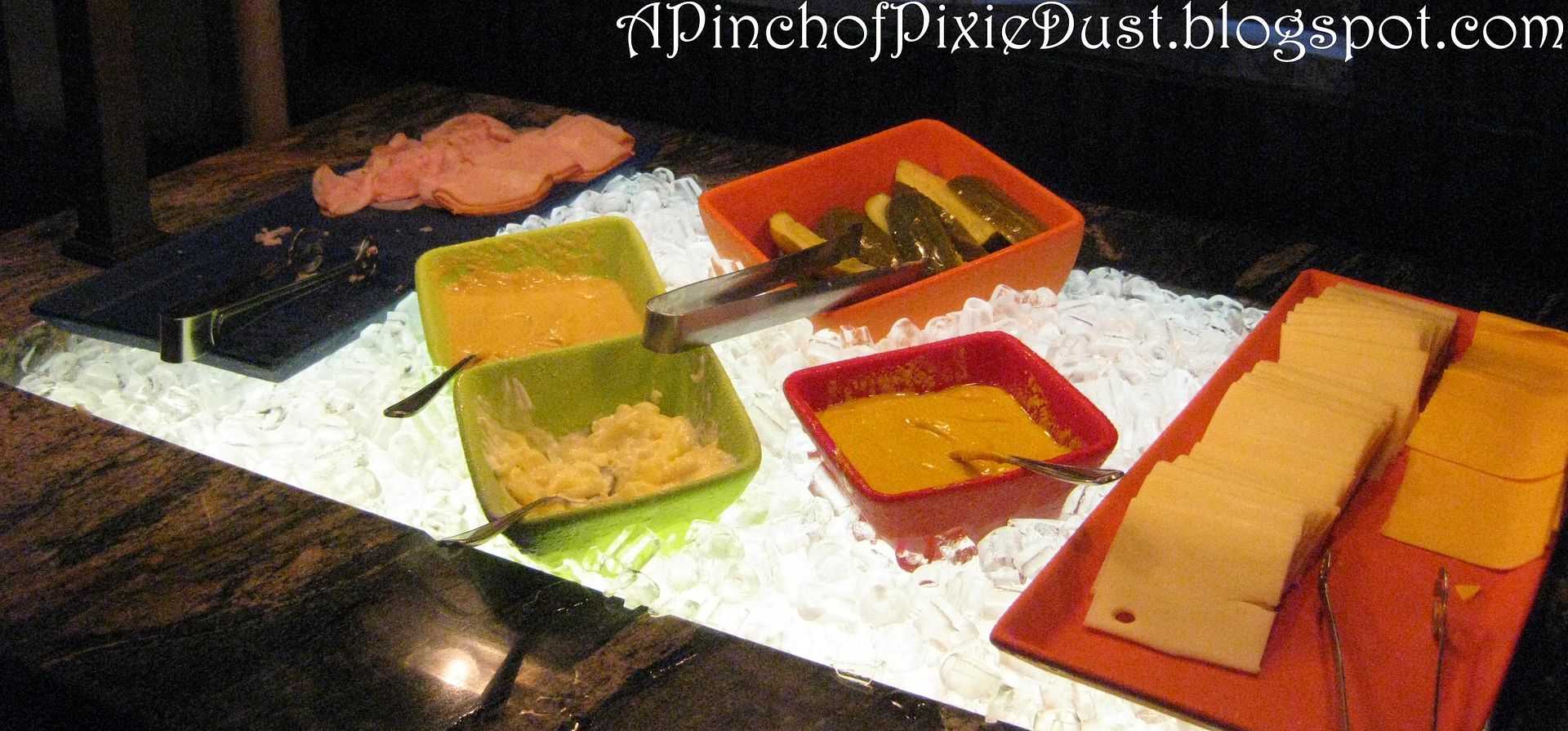 ...a variety of spreads and meats and cheeses. You know. Just in case you aren't stuffing yourself silly with all the other exotic foods and want to make yourself a ham and cheese sandwich. OH. And the
BREADS
...
Rolls of just about every conceivable description, crackers, pita bread. And I have to show you a photo of this next sign just so you'll believe me: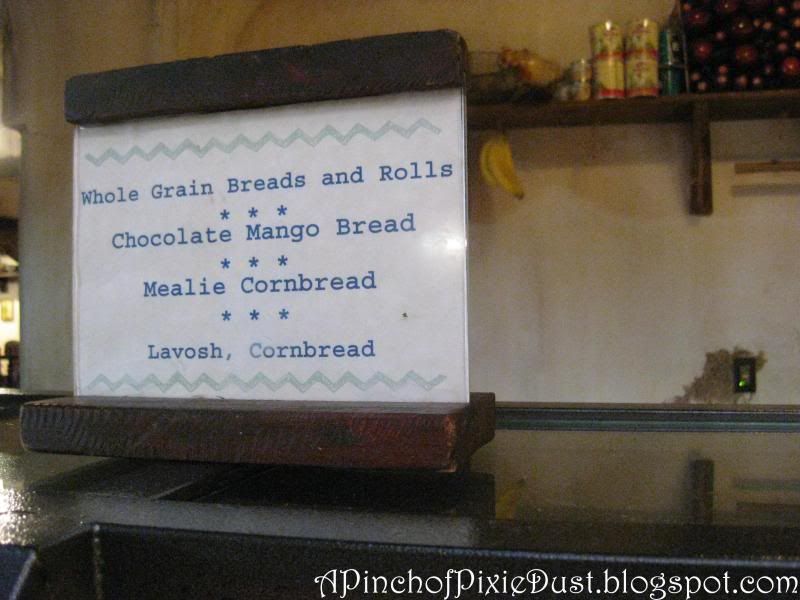 Do you see the second one down? CHOCOLATE MANGO BREAD.
It's the one on the right! Unfortunately I was just way too full to try more than a bite of it, but as far as I could tell from that bite, it was lovely.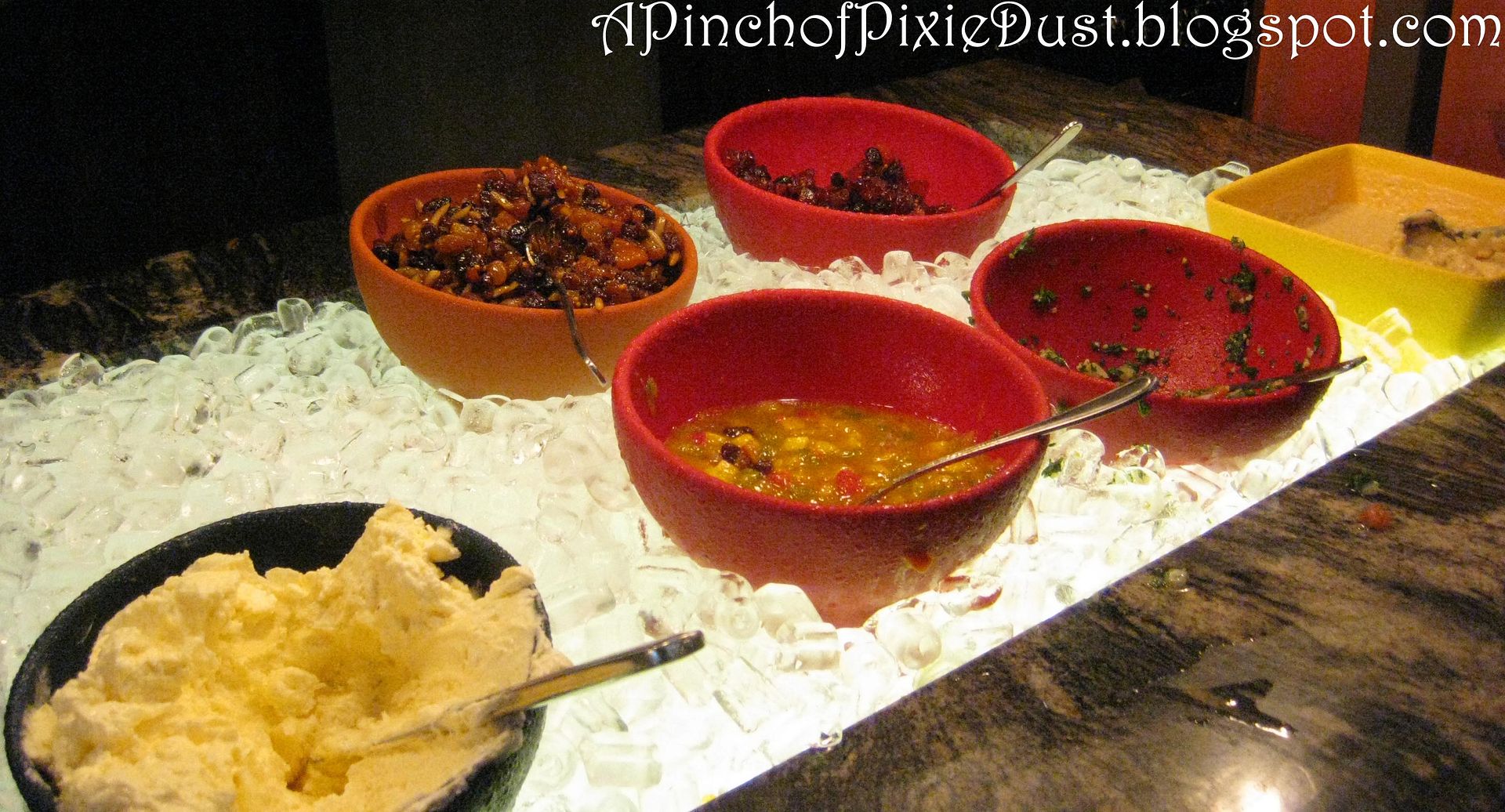 Oh, and then there were the
dips/spreads and cold salads
. Above we have Spicy South African Preserves, Blatjangs (your guess is as good as mine), Sambals (like a mango chutney?), hummus, and taboulleh.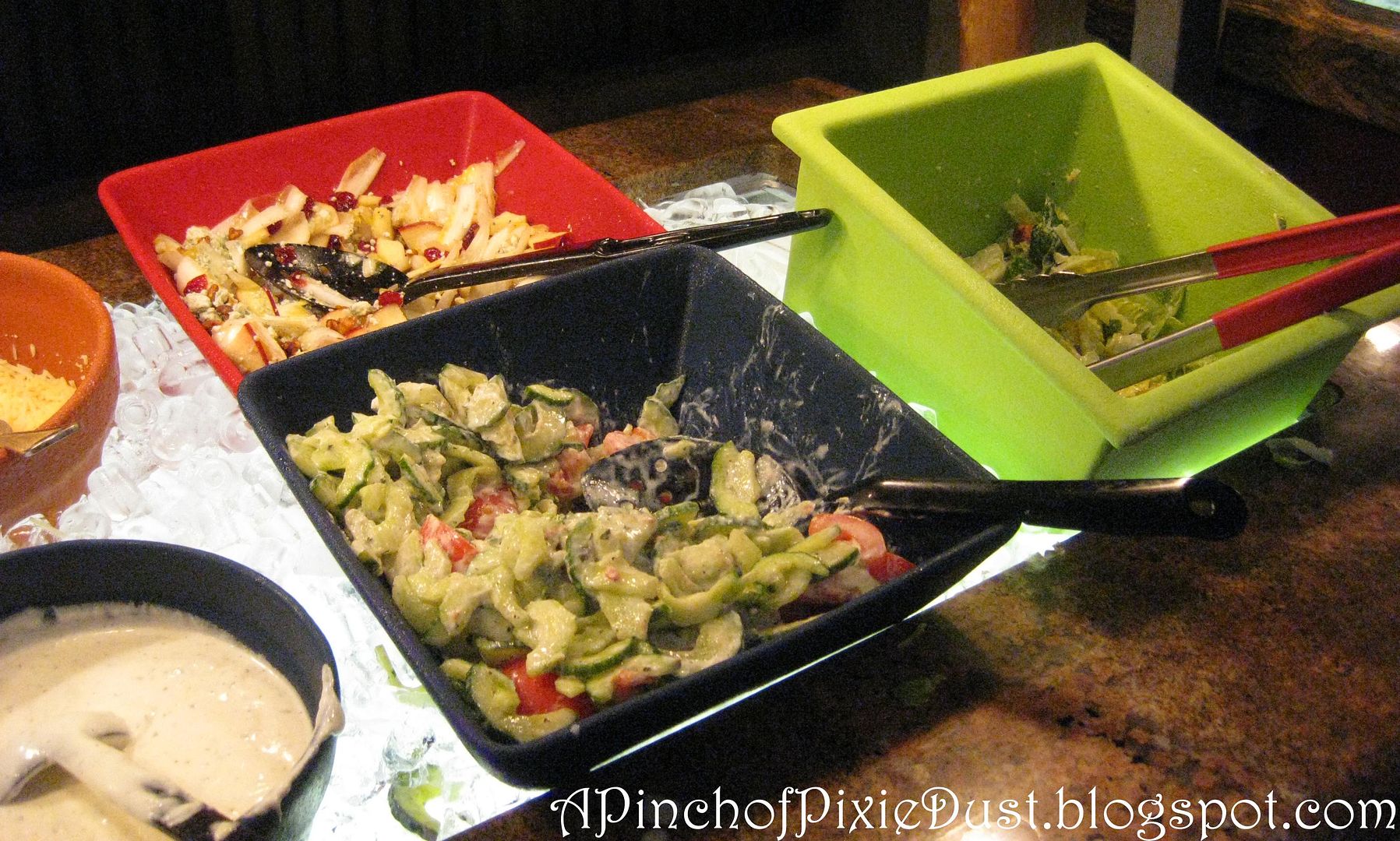 These were Apple, Endive, and Walnut Salad with Blue Cheese Crumble, Tossed Ceasar Salad, Tomato and Cucumber Salad with Fresh Mint and Yogurt Dressing, Mixed Greens with Ranch, Light Italian, or Balsamic Vinagrette. Also present were Fresh Green Bean and Red Onion salad, Tunisian Couscous salad, Curried Rice with Golden Raisins, and also fresh fruit.
Yeah. There was a 0% chance I was eating any fruit at that meal.
This was my plate. It was like a super-amazingly-delicious MOUNTAIN of incredible African flavors. And I seriously chowed down:
There wasn't a single thing I tried that I didn't like. A word to the wise: I had that wonderful Disney juice, POG with my meal. It was a mistake. It's too filling. There are times and places for POG, and at Tusker House, there are just too many other things to be hungry for.
But wait. There's more. WE HAVEN'T EVEN TALKED ABOUT THE
DESSERTS
YET.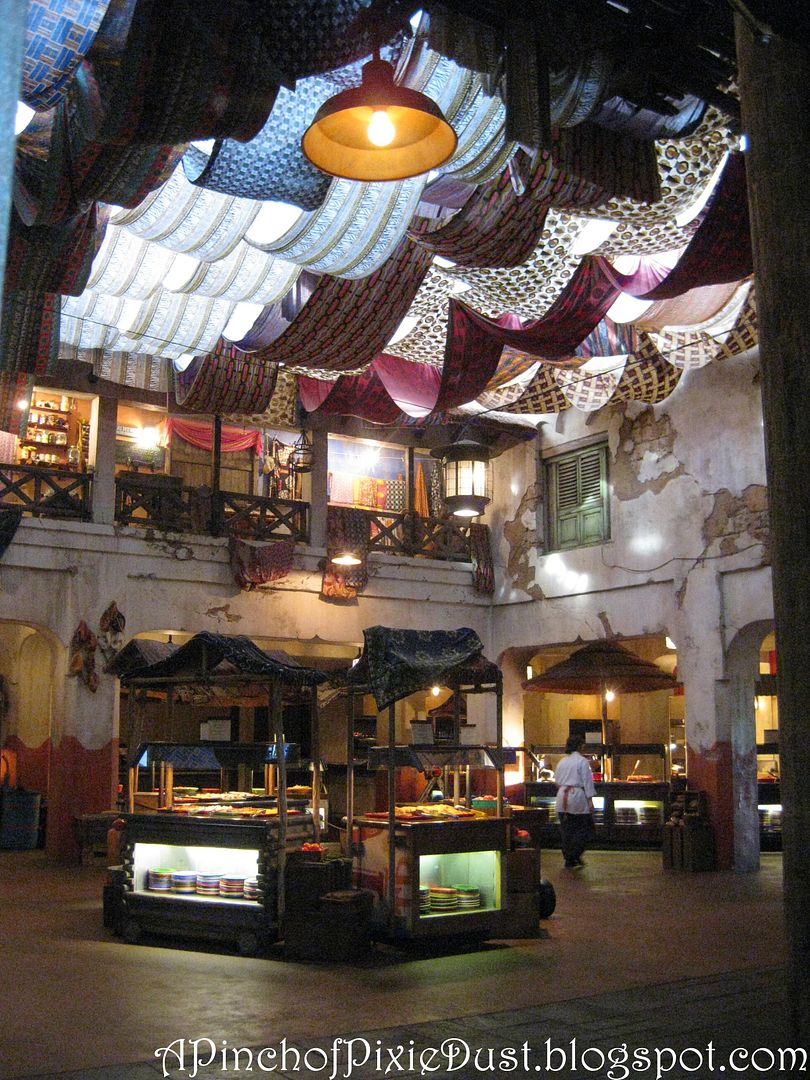 See those four little carts in the center of the restaurant? Those were ALL desserts.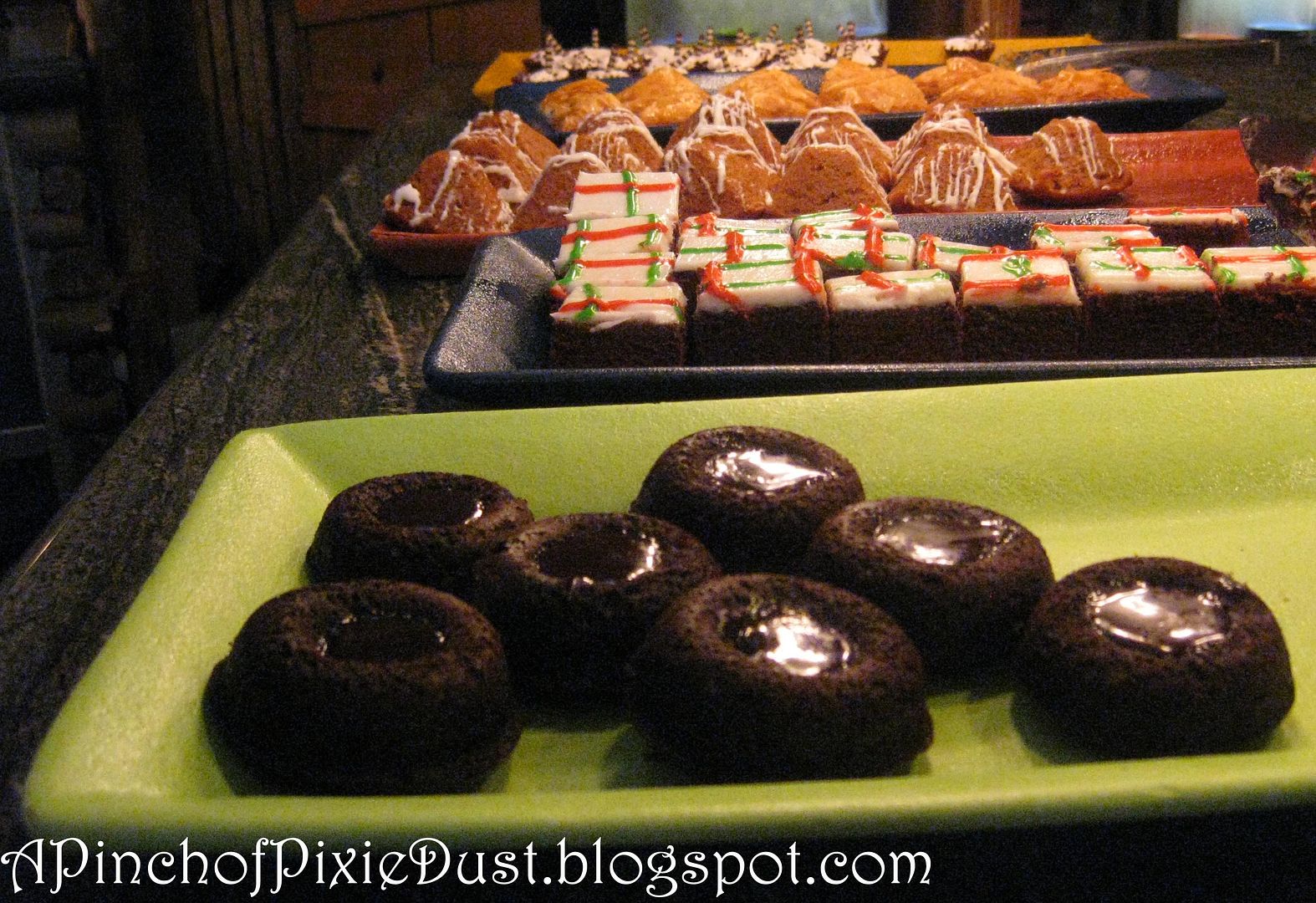 This photo is the ONLY ONE I don't have an accompanying photo of the descriptive signs for, so let's just guess. Little chocolate cakes in the foreground. More little chocolate cakes with icing behind them. The third thing back was a really, REALLY lovely little carrot cake pyramid. Oh yum. Off in the distance I'm also pretty sure I spot white chocolate mousse cups with a zebra stripe chocolate swirl.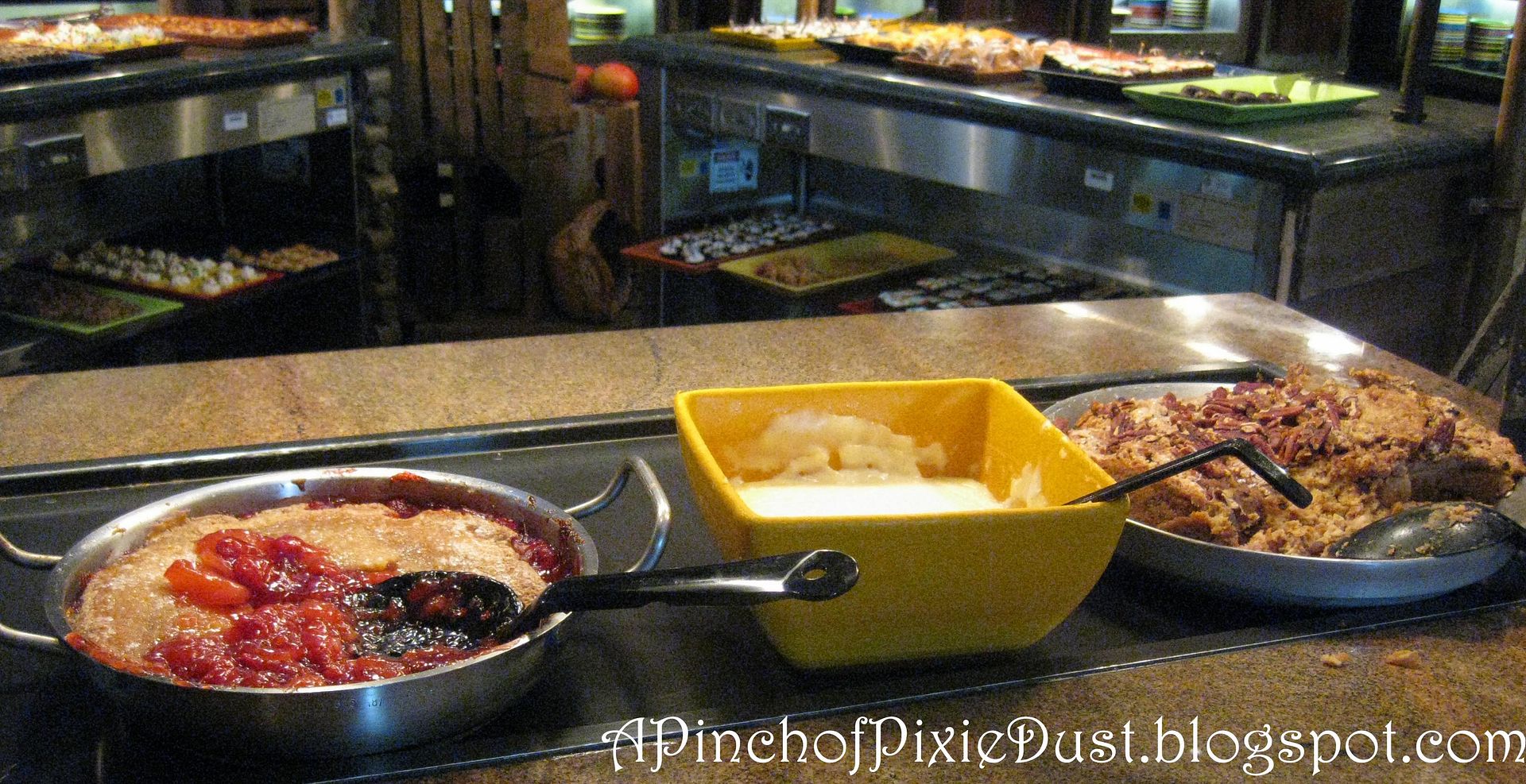 Fruit cobbler, bread pudding.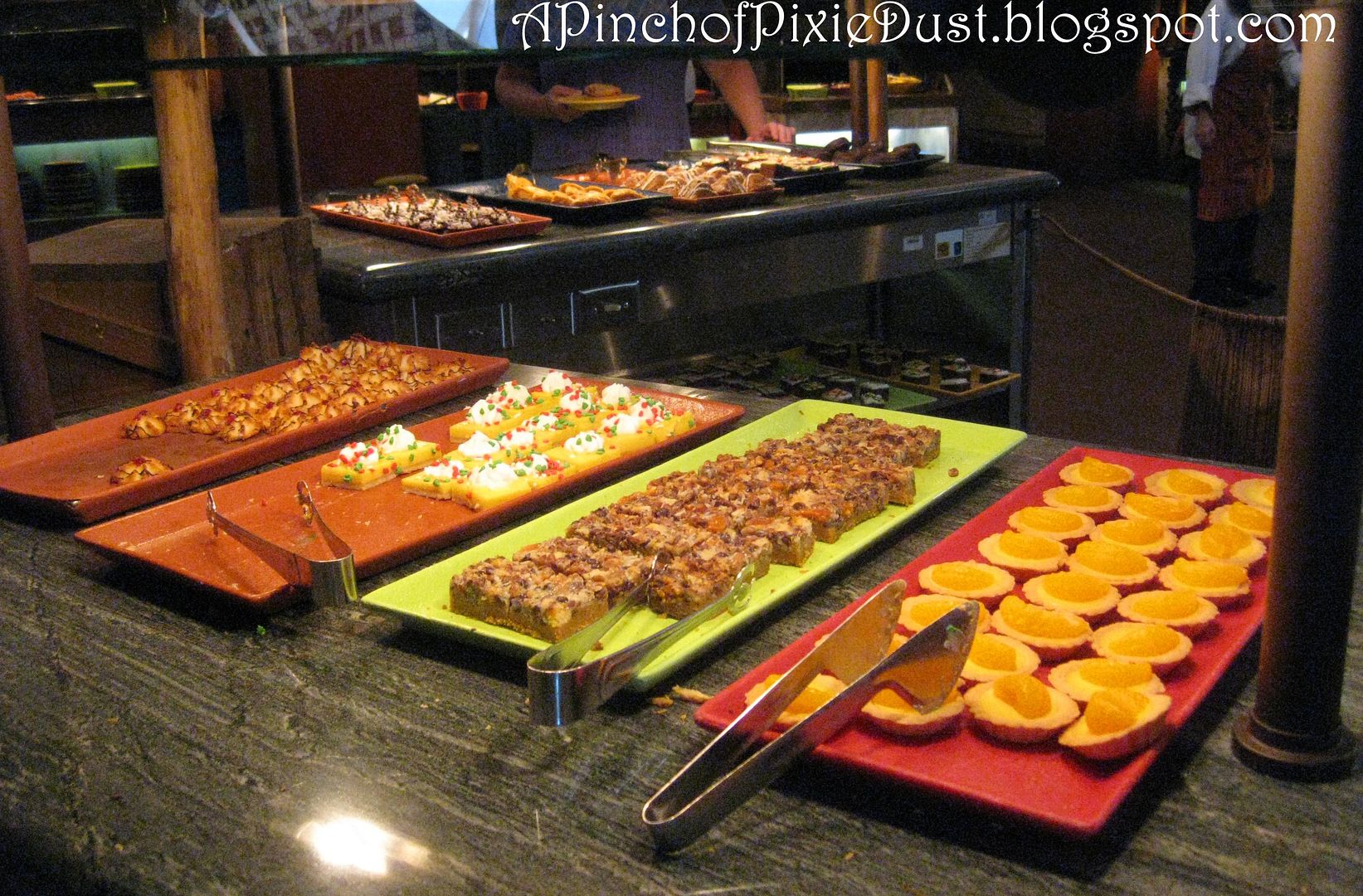 Coconut macaroons, lemon squares, pecan chocolate tarts, and passion fruit tarts. My memory of the desserts is somewhat indistinct, as I think I was going into a food coma by this point in the meal. They were very very tasty, although I don't think quite as tasty as some of the Boma desserts.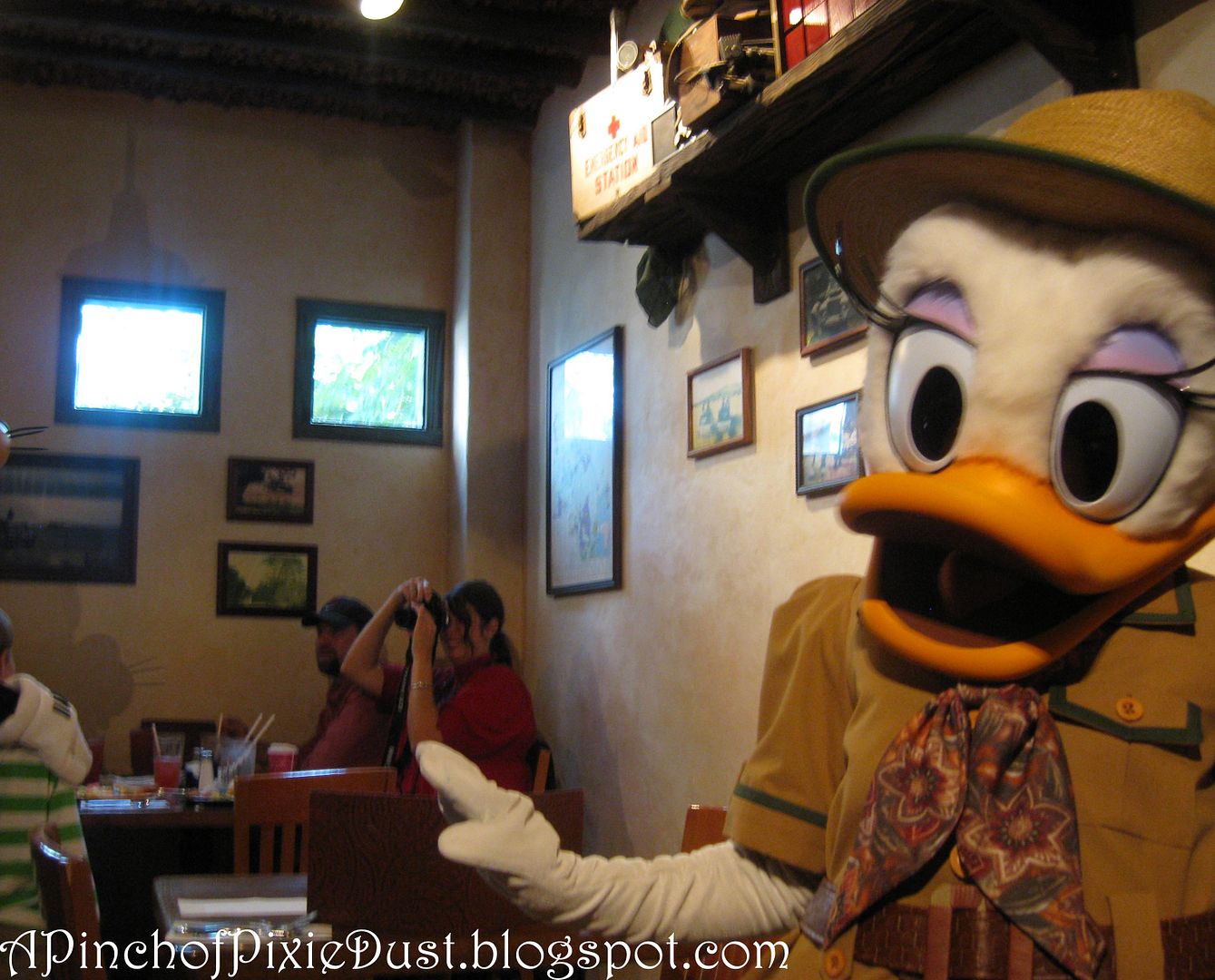 With all that food, I almost forgot about the characters! They were so cute too. I loved meeting Daisy in her safari gear, and Goofy is such a gentleman...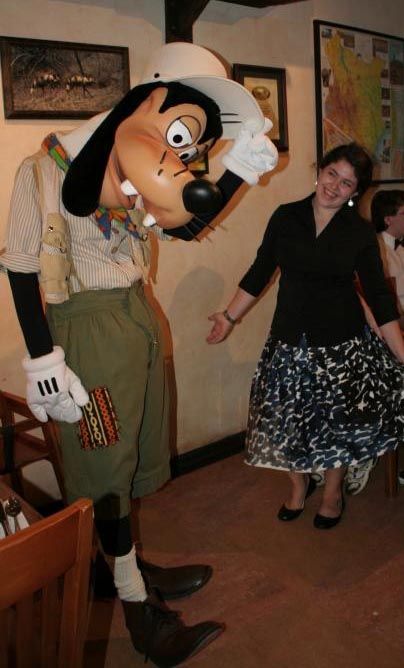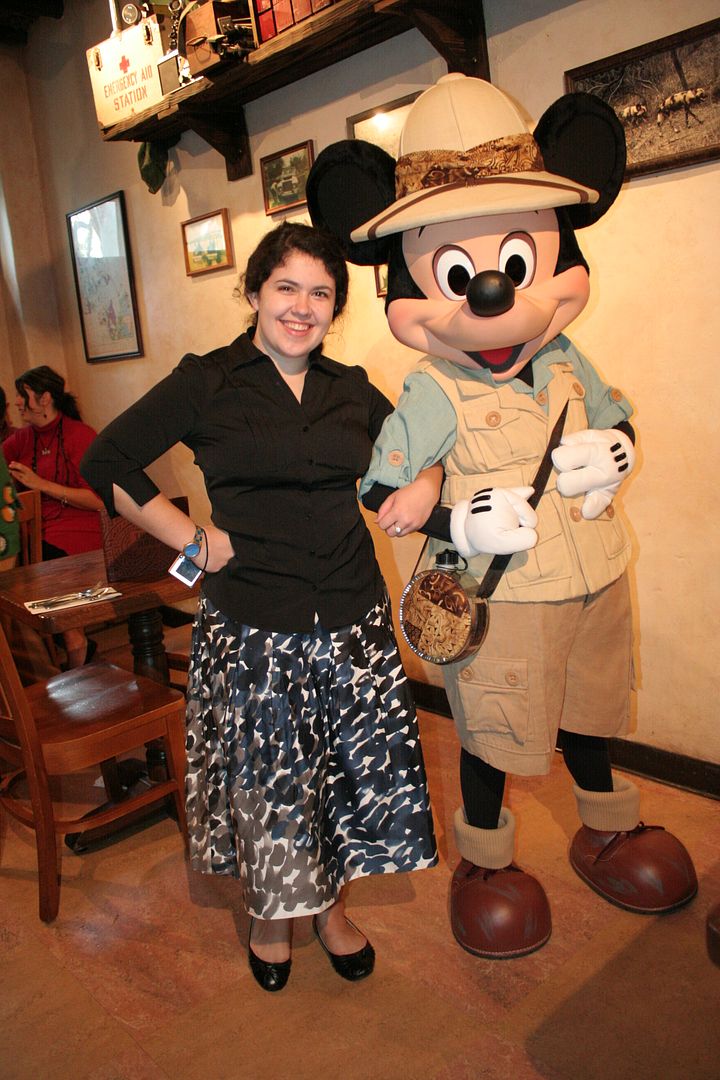 And then of course there's the main mouse Mickey there too! They even had a little parade with cute musical instruments...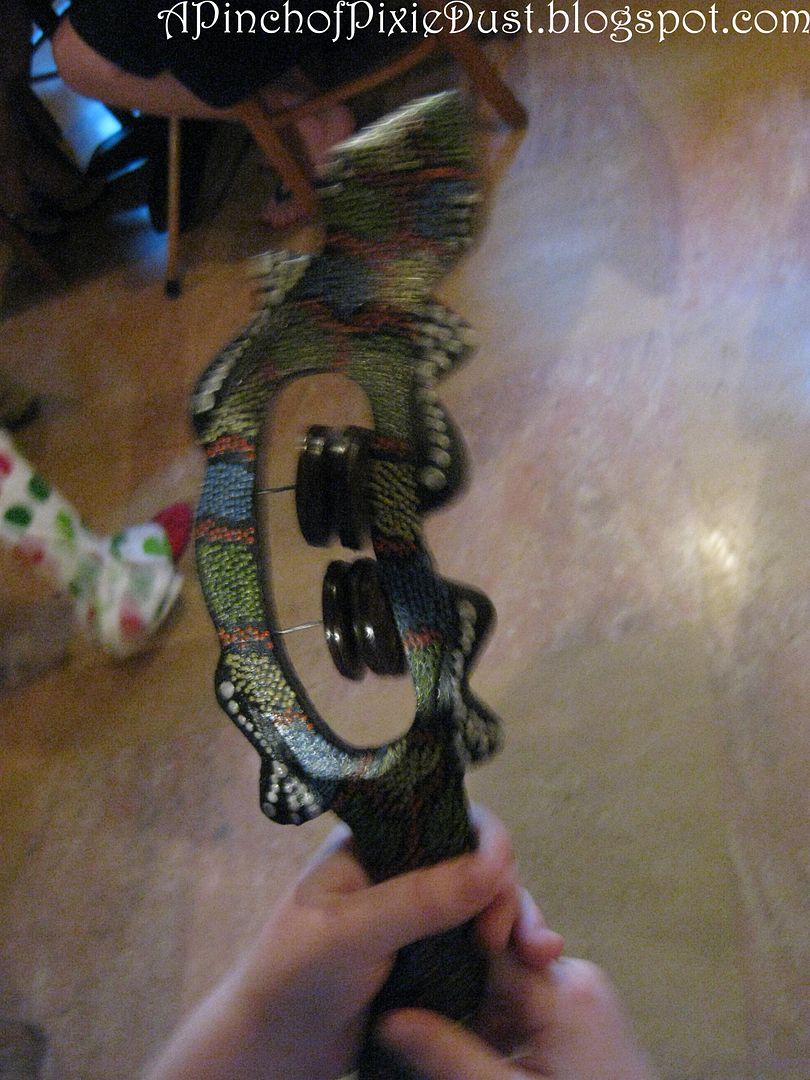 This was my lizard maraca. My little brother refused to march in the parade alone, so naturally I obliged. ;)
I'll admit it, I felt like someone had to roll me out of the restaurant by the end of the meal, but I just wanted to try everything! Not
every
Disney meal you go to is going to be a success, but it's fun when you do go to one that just really hits the spot. And Tusker House did that for us!