I've been reminiscing today on my
trip report
about that time I got to
chat about Jane Austen
with
Princess Belle
at Epcot, and it made me think about just how fun a really good character interaction can be. Unfortunately you may not get a
great
experience at every single meet and greet, but when you do get a good one, it makes up for all the duds!
So today's post is going to be full of some more fabulous
character pixie dust
- another princess this time, but not your typical princess. This one is a bold princess...a
BRAVE
princess...
I'm talking about MERIDA o' course!
Not only is she a super fun character to meet, but she has a gorgeous meet and greet area at the Magic Kingdom! The Enchanted Garden has been transformed into a Scottish hall, complete with tapestries and hangings depicting Merida and the clans everywhere...
This stylized artwork is so pretty, and the big oversized posters get you in a Merida frame of mind right away! I think my favorite was Merida's family tree...
While you're waiting you can admire the artwork, create some of your own (they have some coloring pages out for the kids!), OR learn how to shoot like Merida...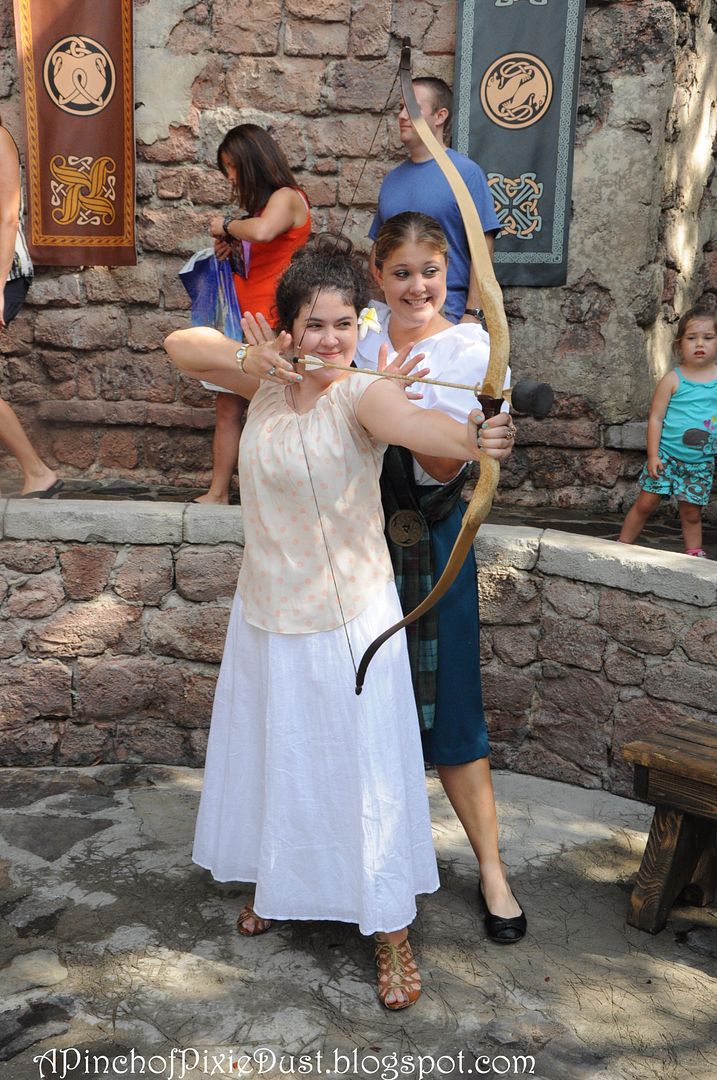 There are all sorts of shields are bows and arrows around - and there's also a bow and arrow with a target you can try out for yourself! OK, so technically it's for the kids, but this is Disney - so they let my older brother and I try it too! Let's just say I'll need a bit more practice before I have as good a shot as Merida. ;)
We paid Merida a visit during a summer trip in 2012, just a few weeks after
Brave
came out. So the Merida from the movie was fresh in our minds...and the Merida we met was EXACTLY like her!
She was so good - she came bouncing over to meet every single family before they could even get to her and started chattering away, telling us stories about her horse Angus and her brothers...
...and then her brothers the bears popped right out of the wagon behind her! They're audioanimatronic, so they actually respond to Merida and you - they grunted resentfully when Merida suggested they stole her apples!
But it was Merida herself who impressed us most. Even her movements and mannerisms were identical to the animated character. She told us the story of when Mordu bit her dad's leg clean off - CHOMP! - and it was like watching that scene from the movie come to life! We all just stared at her, awe-struck.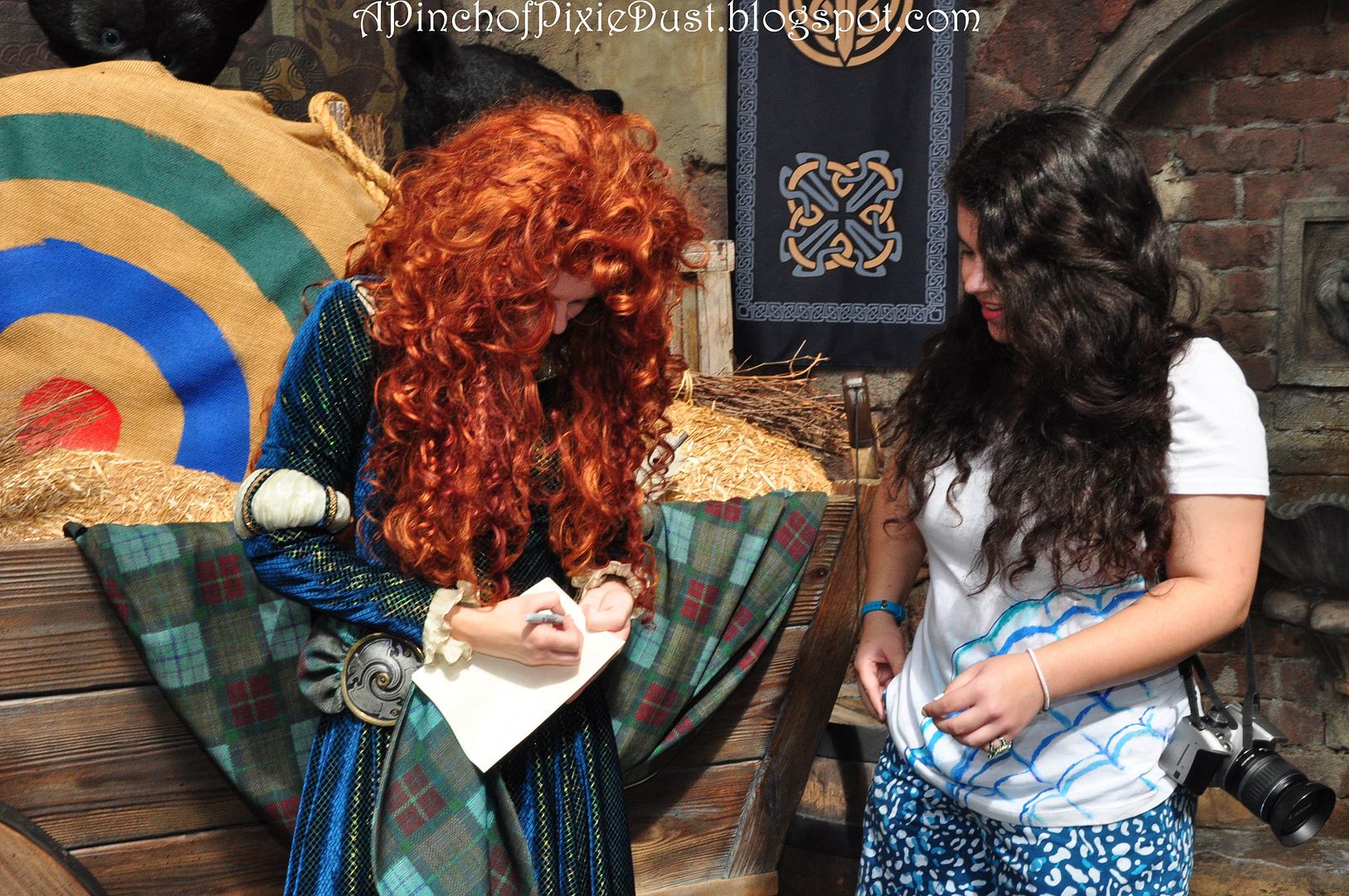 I saw Merida before my big haircut, so we commiserated about our big frizzy curly hair!
She loved my shoes - she said they looked like
wisps
!! Now I call them my wisp shoes. So whenever I wear them, wherever I go, I must be following my fate, right? ;) It's kinda a comforting thought!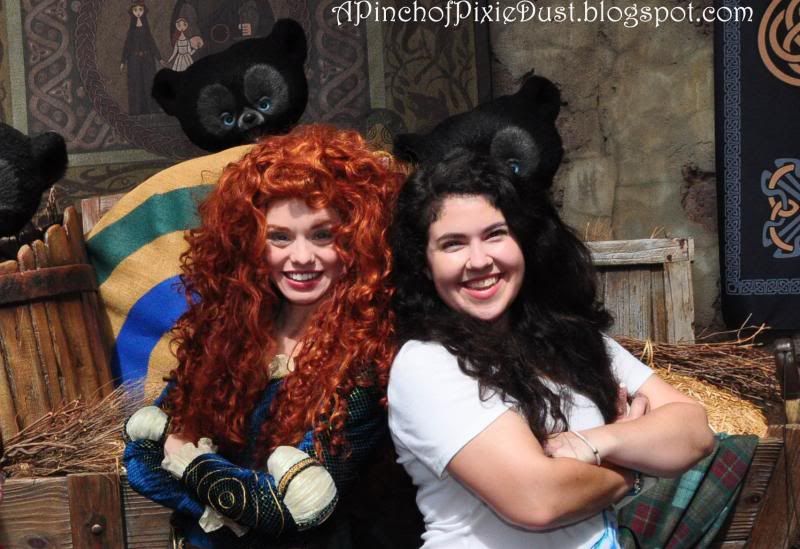 Just this past summer, when we were passing by Merida's hall, I'm pretty sure we spotted the same Merida. Unfortunately the line was really long...it stretched all the way up the path towards the Wishing Well - the best time to meet Merida is when the line is
inside
the hall, then it's probably less than 10-15 minutes. But just watching from the outside, we could see Merida skipping about, then collapsing in her chair as if she were exhausted.
Such a fabulous Merida!