I like the
idea
of camping.
I'm a fan of the Great Outdoors. Fresh air and lovely trees. That's great.
I can make a mean s'more. That part involves chocolate, so you know I'm in.
Hiking can be nice. Campfires are cozy.
It's when you get to the "roughing it" part and the "no running water" and the "bears (or gorillas if you're on Jungle Cruise) potentially breaking into your tent" that you lose me.
HOWEVER, as we all know, at
Disney World
things which in the real world would be difficult or painful become surprisingly easy and comfortable.
Just think. People stand in line for hours to get pushed into a briar patch.
I may not be up for real-life camping, but
DISNEY camping
, where I can stay in a
treehouse
, complete with a darling little woodland kitchen and woodsy décor, is right up my alley.
Have you guessed where I'm talking about yet??
Today, my friends, we are going to check into and have a look around the
Treehouse Villas
at
Saratoga Springs Spa & Resort
!
This is a DVC property, so renting points (if you're an ordinary Disney goer like us) is a good option. It can be difficult to snag a reservation - there aren't very many treehouses, and they fill up fast! Also, it can be on the expensive side. The villas sleep nine people - so for once there's plenty of hotel space for everyone in our big family!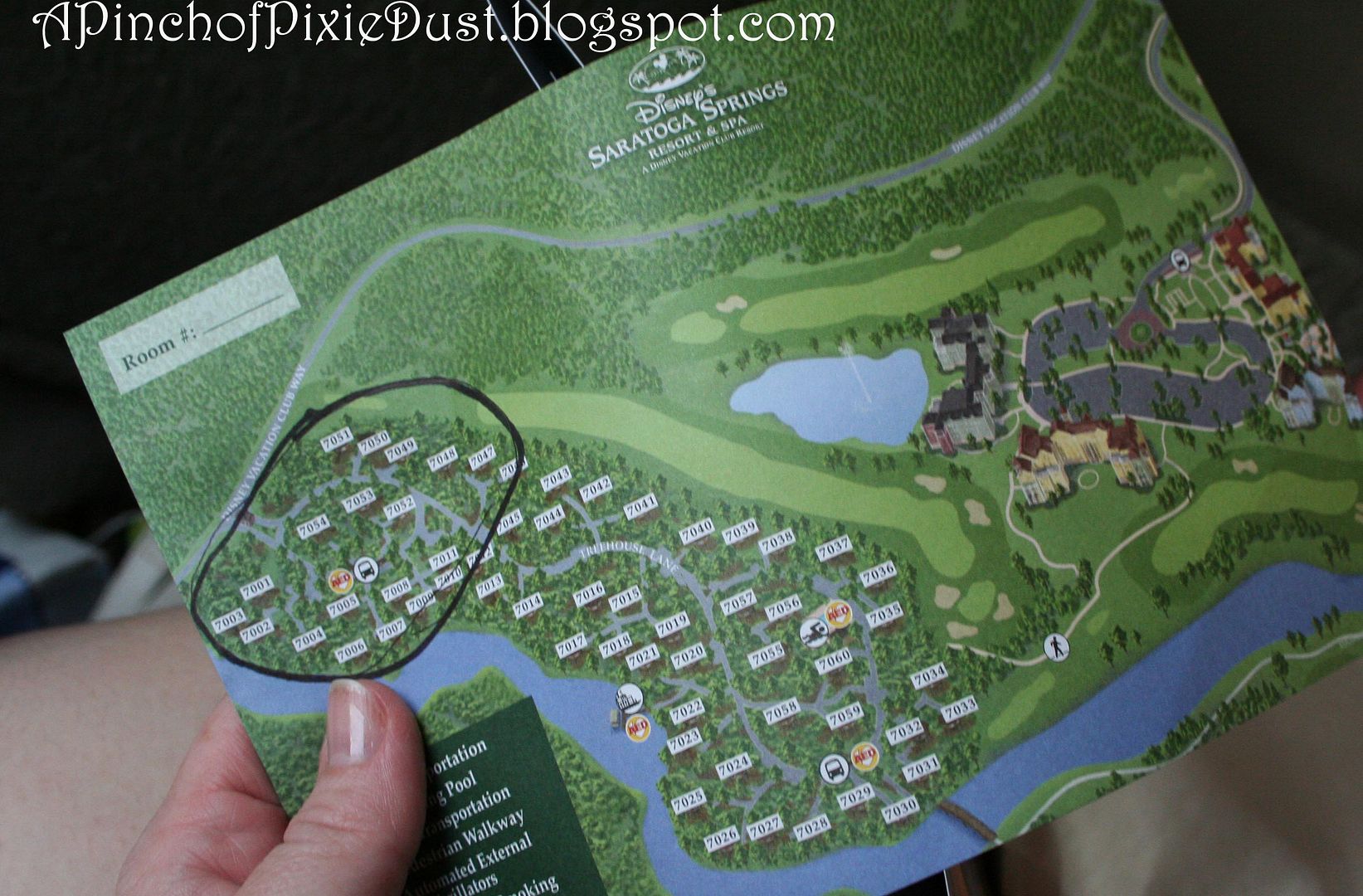 If you're staying in the treetops, you check in at Saratoga Springs, then drive back out to the main road (Disney Vacation Club Way) and over to the Treehouses' entrance, turning down the aptly named Treehouse Way. You can see the very windy, wooded lane where all the treehouses are on the left in the above map. On the right you can see that some of the Saratoga Springs buildings are quite close, and there is a walking trail - but it's a bit of a hike all the way to the lobby.
A few more transportation factoids: there are bus stops in the treehouse areas, so you can hop a bus back to the Grandstand at Saratoga. Each treehouse technically is only entitled to one parking place, which is kinda absurd considering there could be 9 people in a treehouse, but there are a few extra places around.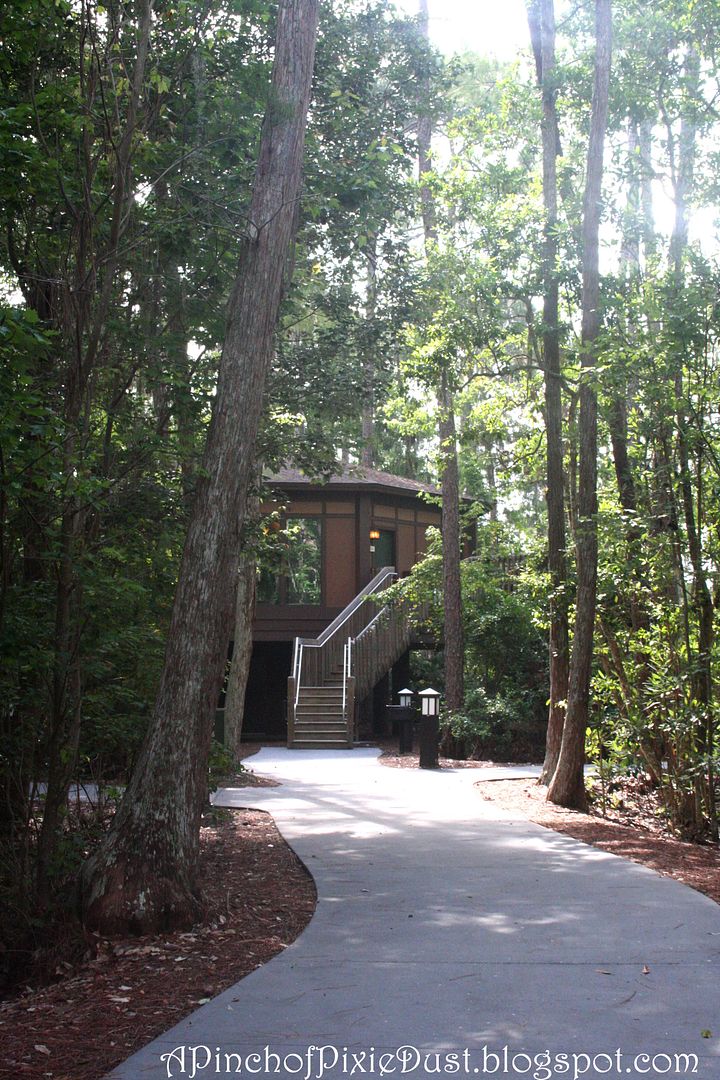 SOOoooooo...shall we head up the stairs and check one of these treehouses out??
It's so cool to look out over the treetops and see other houses tucked amongst the greenery. One time when we stayed here, our treehouse was close to the river, and we could watch the Sassagoula Steamboats going back and forth! Another time we were close to the Treehouses' small pool...
It never got too busy or noisy, which was good. :) But let's get inside the treehouse itself!
You enter into the main area of the treehouse - combined kitchen, living room, and dining room. The kitchen counter is right ahead of you to your right.
I'm about to become enthusiastic:
you have been warned
.
But seriously, this is just about
the most darling kitchen ever
. I WANT THIS KITCHEN. Check out that lovely high slanted roof. And there are little lanterns everywhere. And the russet and goldenrod plates.
I don't even mind doing dishes in this kitchen. That's saying something. Also, let's just take a moment to appreciate the flagstone floor: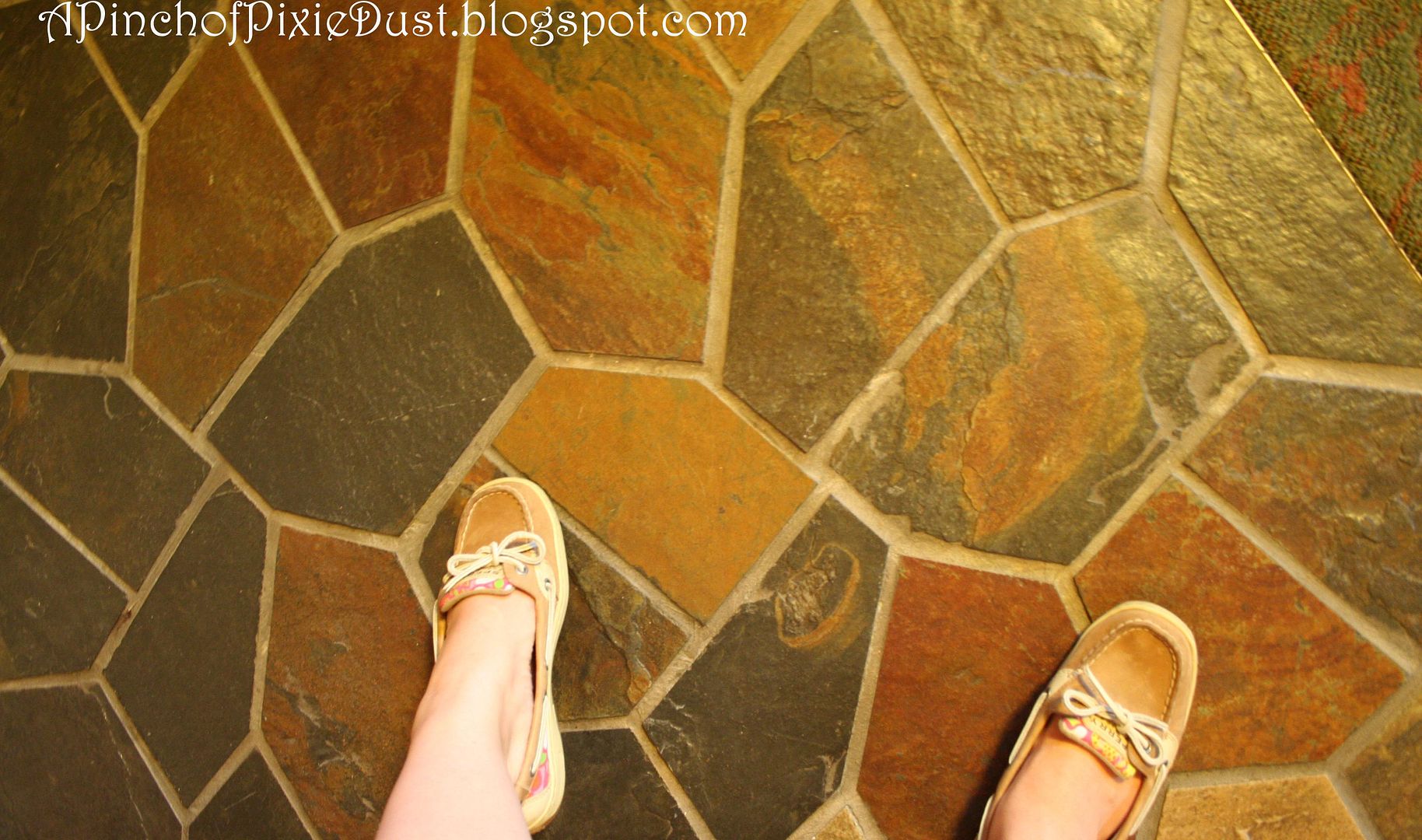 So classy. And did I mention the dining table? To your left when you enter is this big dining table with these cool chairs...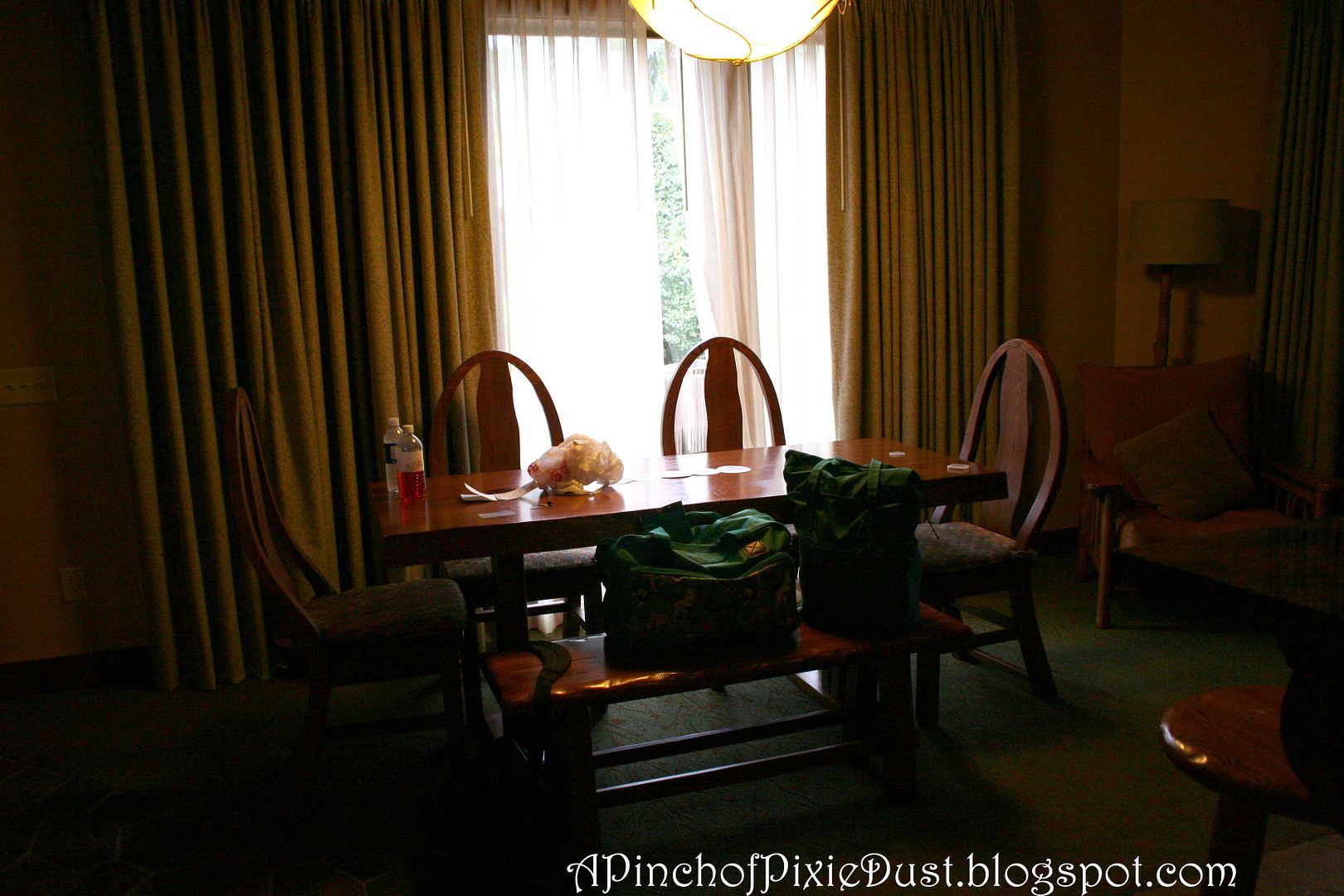 Note the funky chairs and rustic bench. LOVE IT.
(It's the perfect surface for catching up on your trip journal).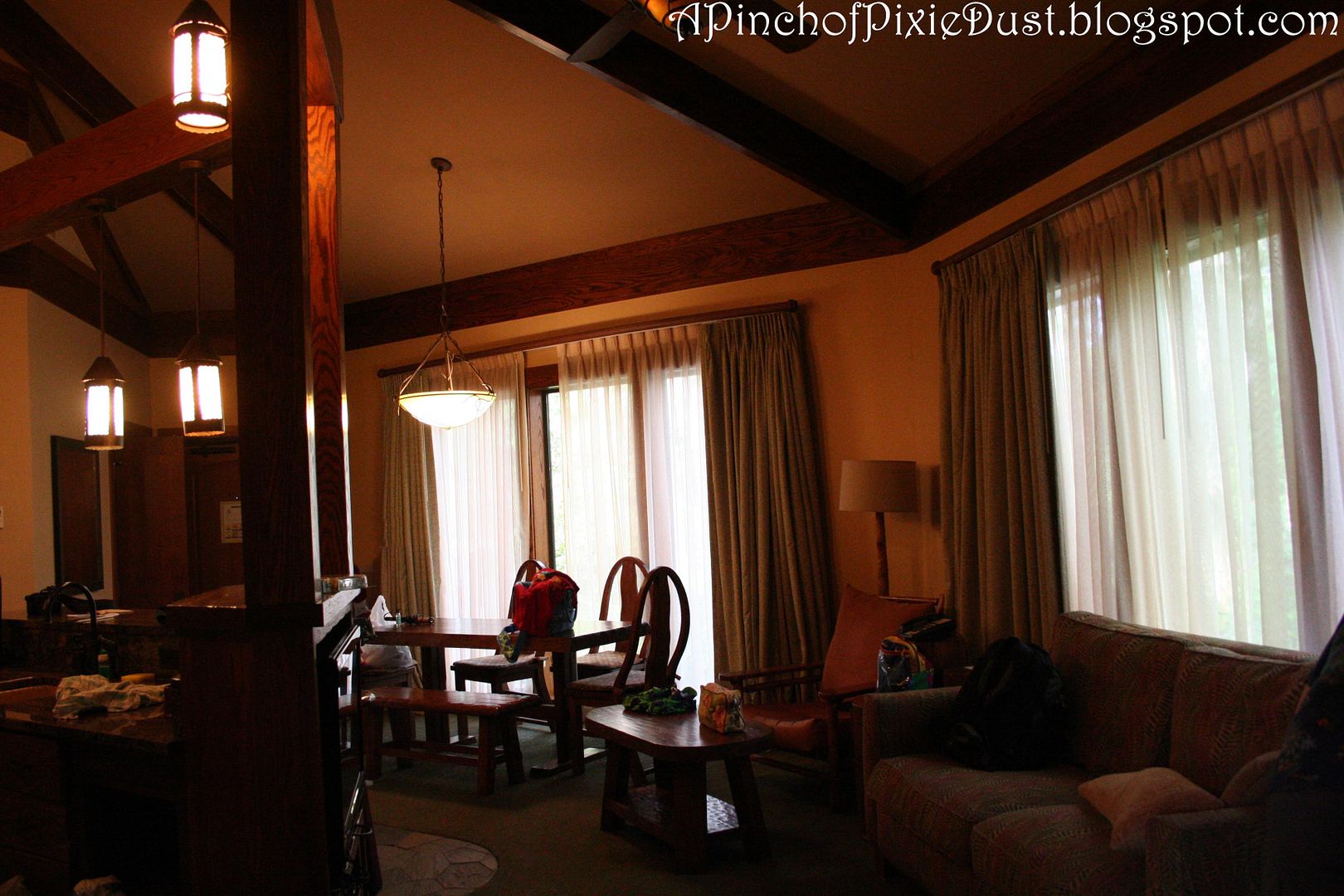 Beyond the kitchen and dining table is the living room area - here's a pic taken from the other end of the space, looking back towards the door. It's so nice how it's all connected and open - it feels so airy and light with those
giant windows
. You also really feel like you're in the treetops with the trees always in sight just out the windows!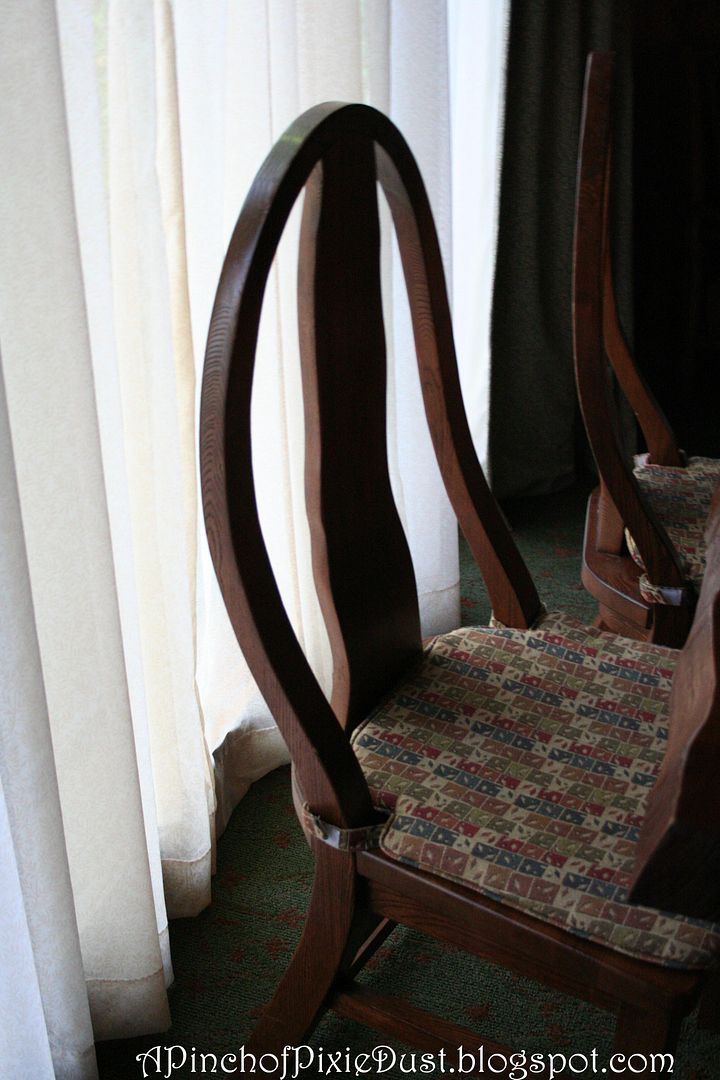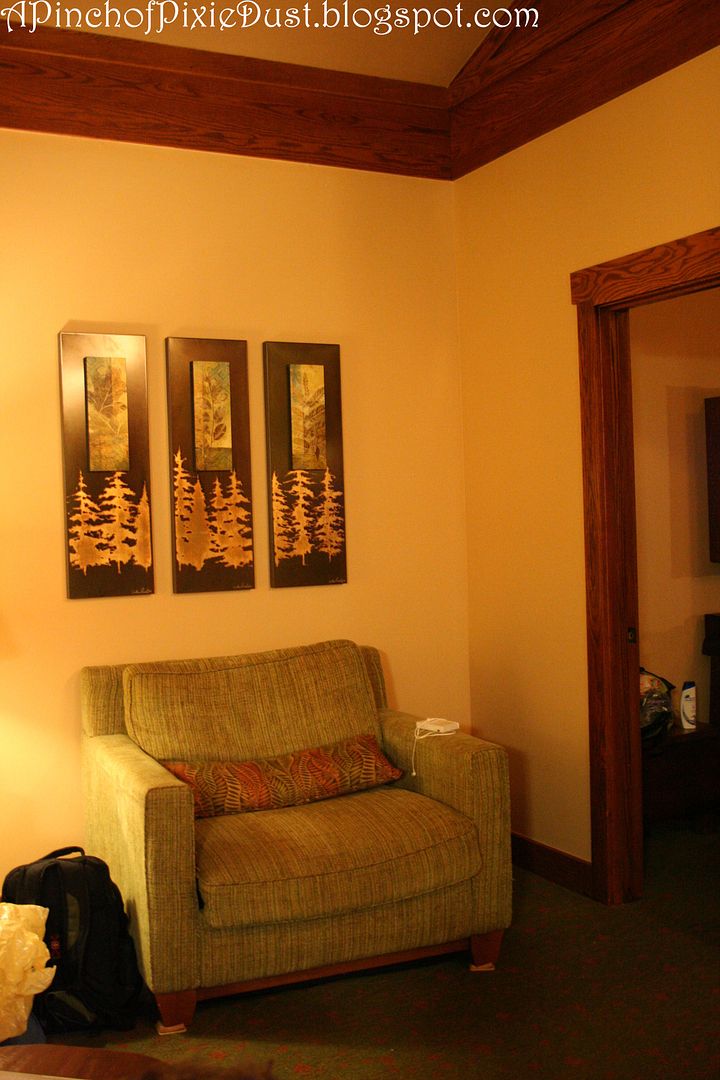 Some assorted shots from around the main room. How cool is that multi-tier tree trunk table? Also, the green chair folds out into a single bed. So cool. The couch folds out into a twin bed as well. And then of course there are three lovely
bedrooms
. The master is beyond the couch and kitchen, at the far end of the treehouse. It looks like this: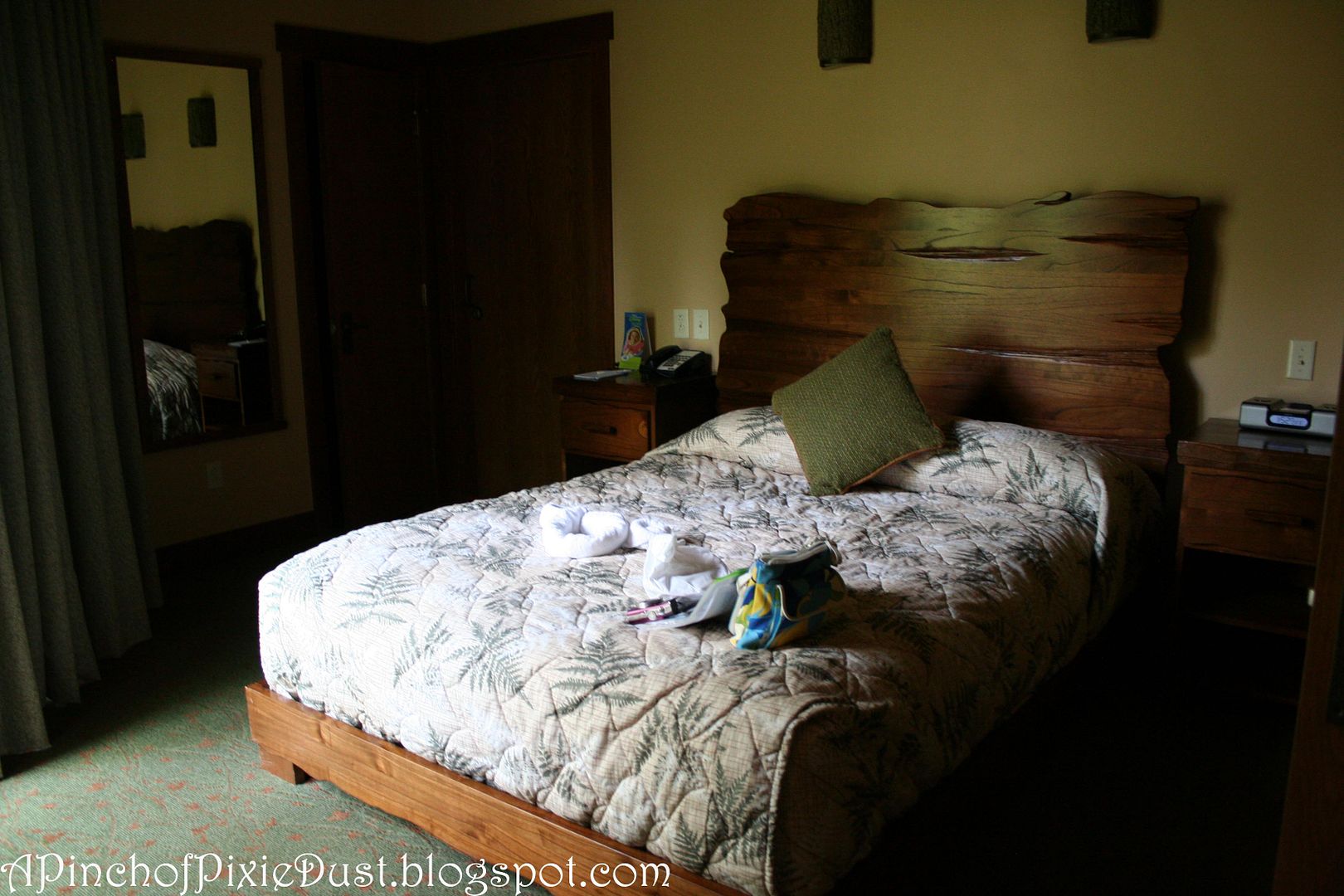 Love that rustic headboard. And the pine branches on the bed. Also note that the carpet is green like pine needles on the forest floor...only much softer. There is also an adorable writing desk in this room: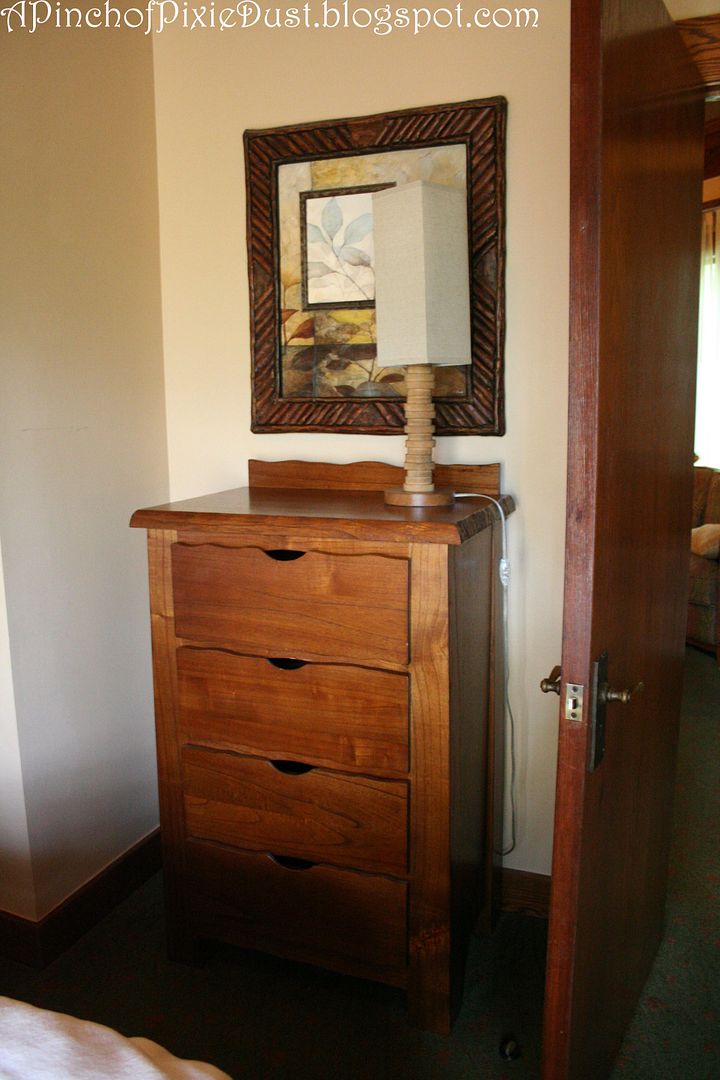 I LOVE all of the design choices in the treehouses. Everything is on theme, but nothing is too in your face.
See? The master bathroom manages to be swanky and rustic all at once.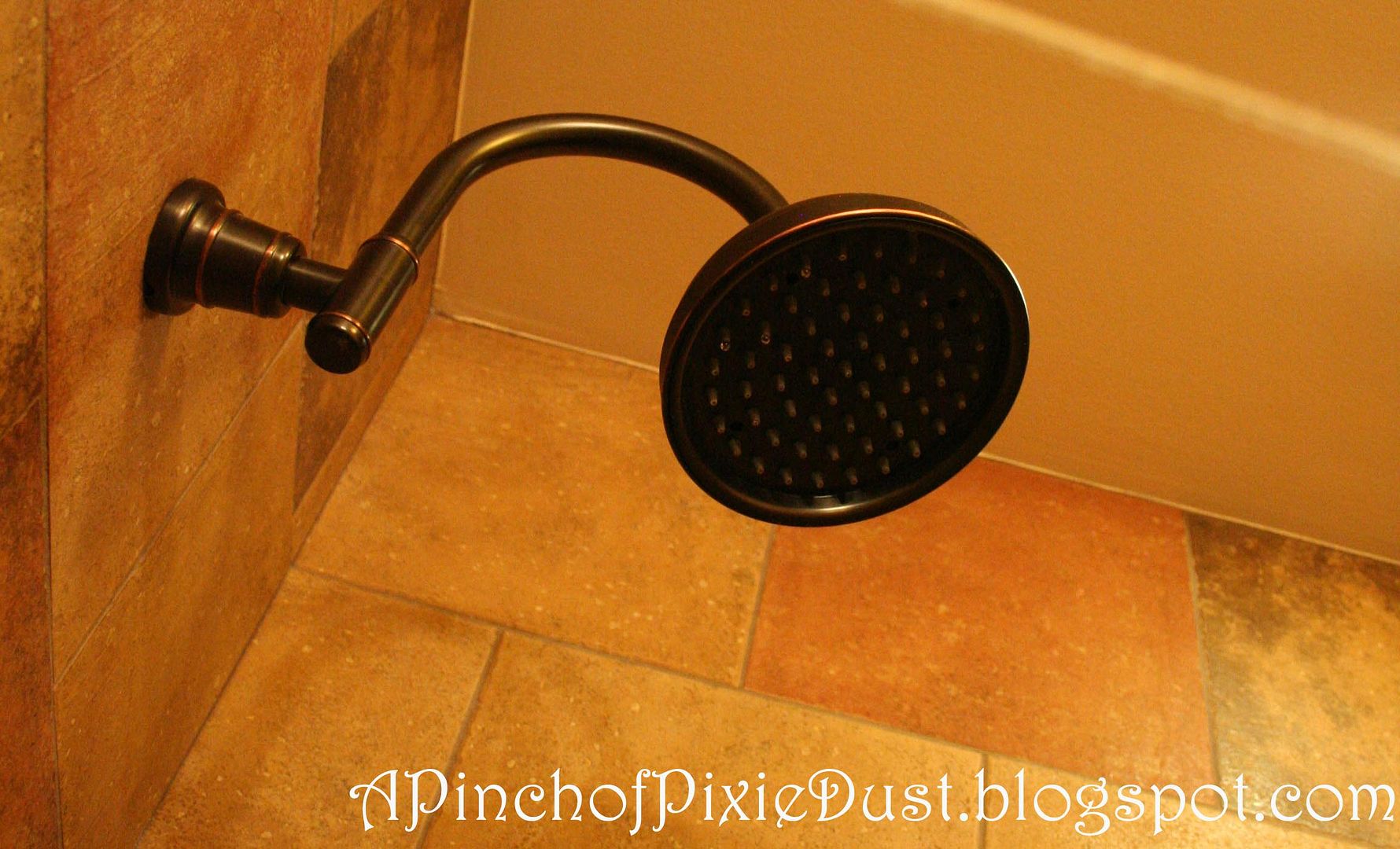 AND THE BATHROOM FIXTURES. You guys. They were amazing. First of all there was the most wonderful shower head known to man, shown above. It's like a gentle rainfall. And then there's the faucet: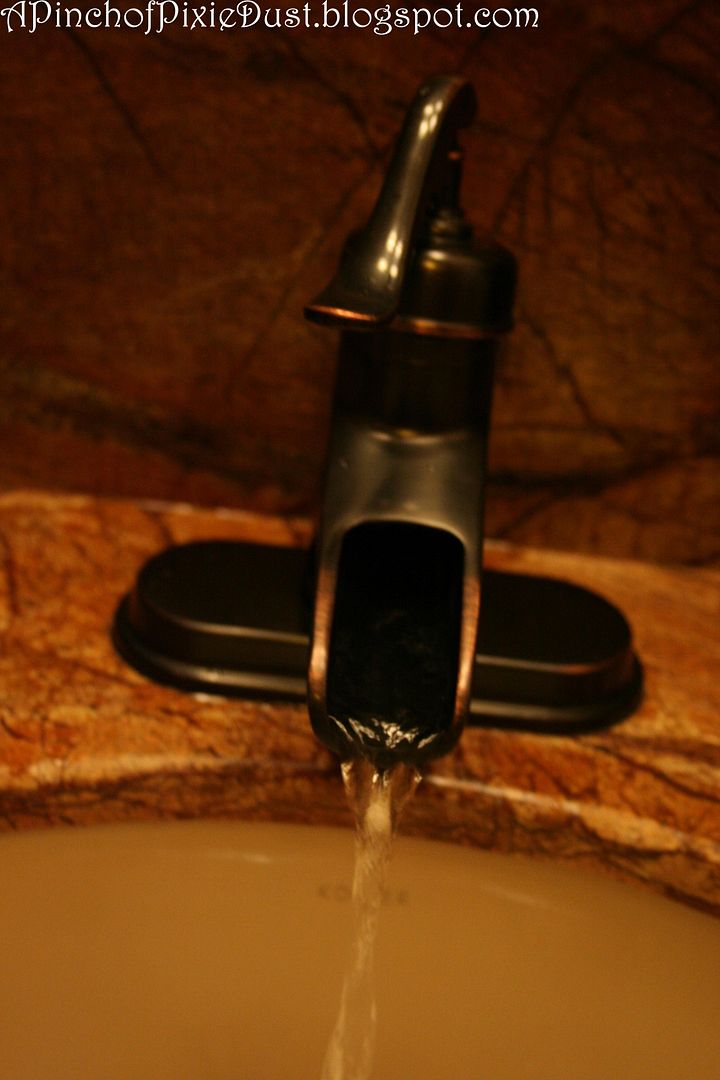 I felt like I was panning for gold
every time I washed my hands
. It was just way too cool.
And yes. I know. I'm gushing about hardware. But I can't help it.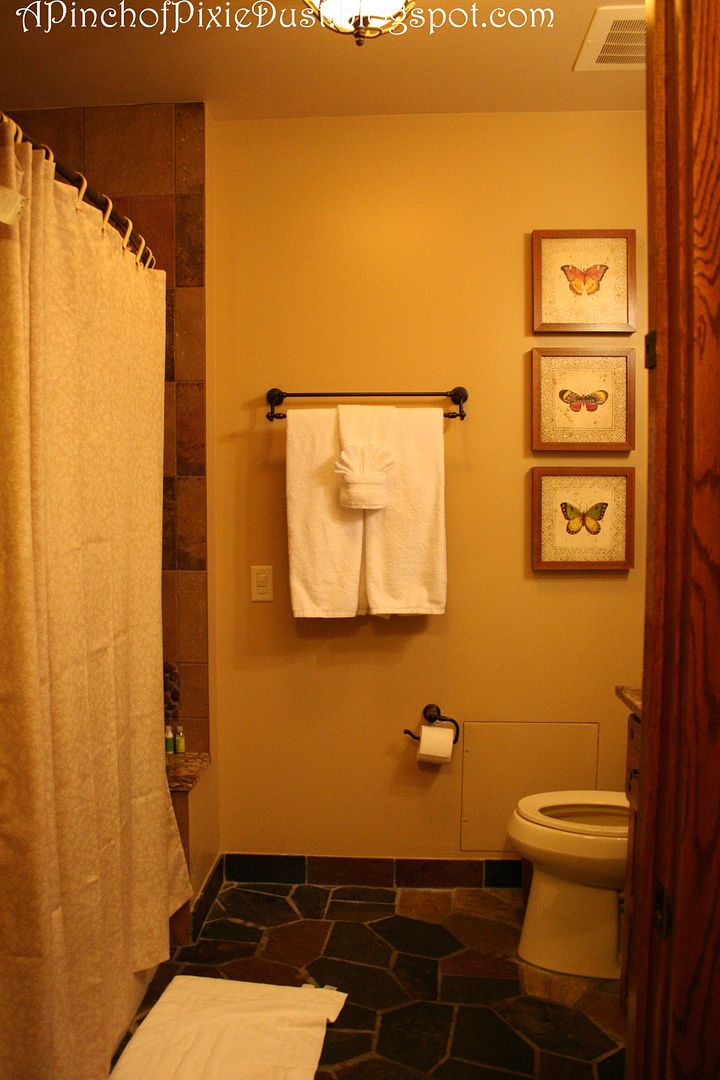 So there was one bathroom connected to the master, and above are some pics of the second, smaller bathroom located down a little hallway just off the kitchen, on the other side of the treehouse: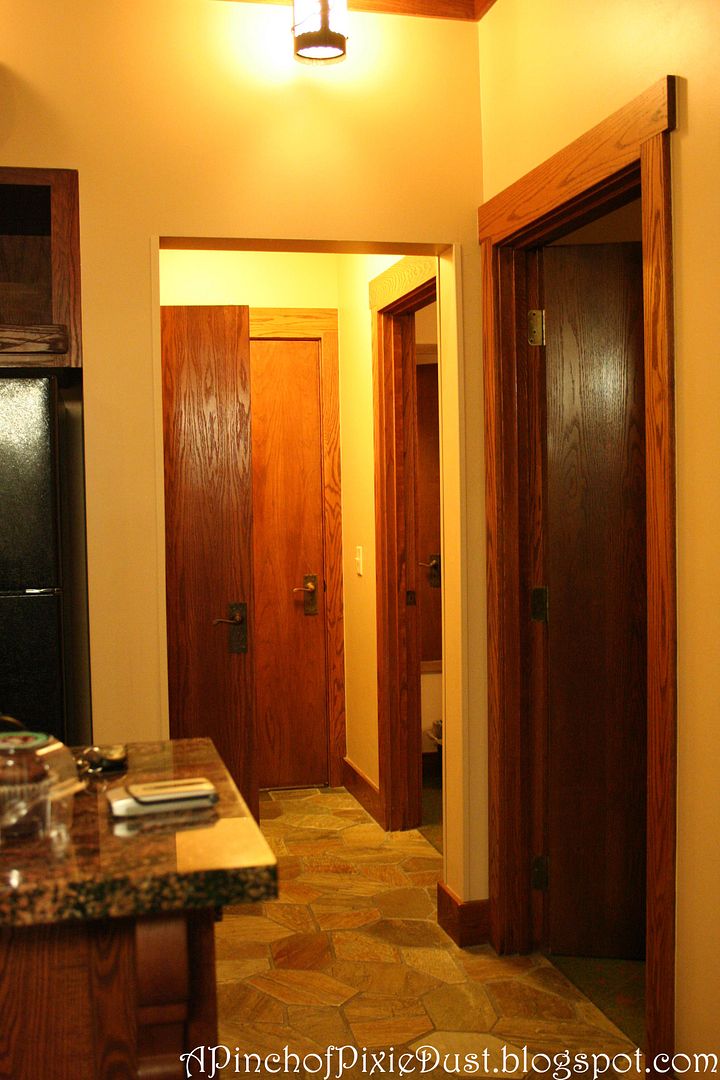 The treehouse really did feel like a mini house in some ways - there are four doors in the above photo, leading to two bedrooms, one bathroom, and a closet with my mom's favorite treehouse feature: a
washer and dryer
! Somehow I don't have a photo of that marvel, but Mama Snob loved it!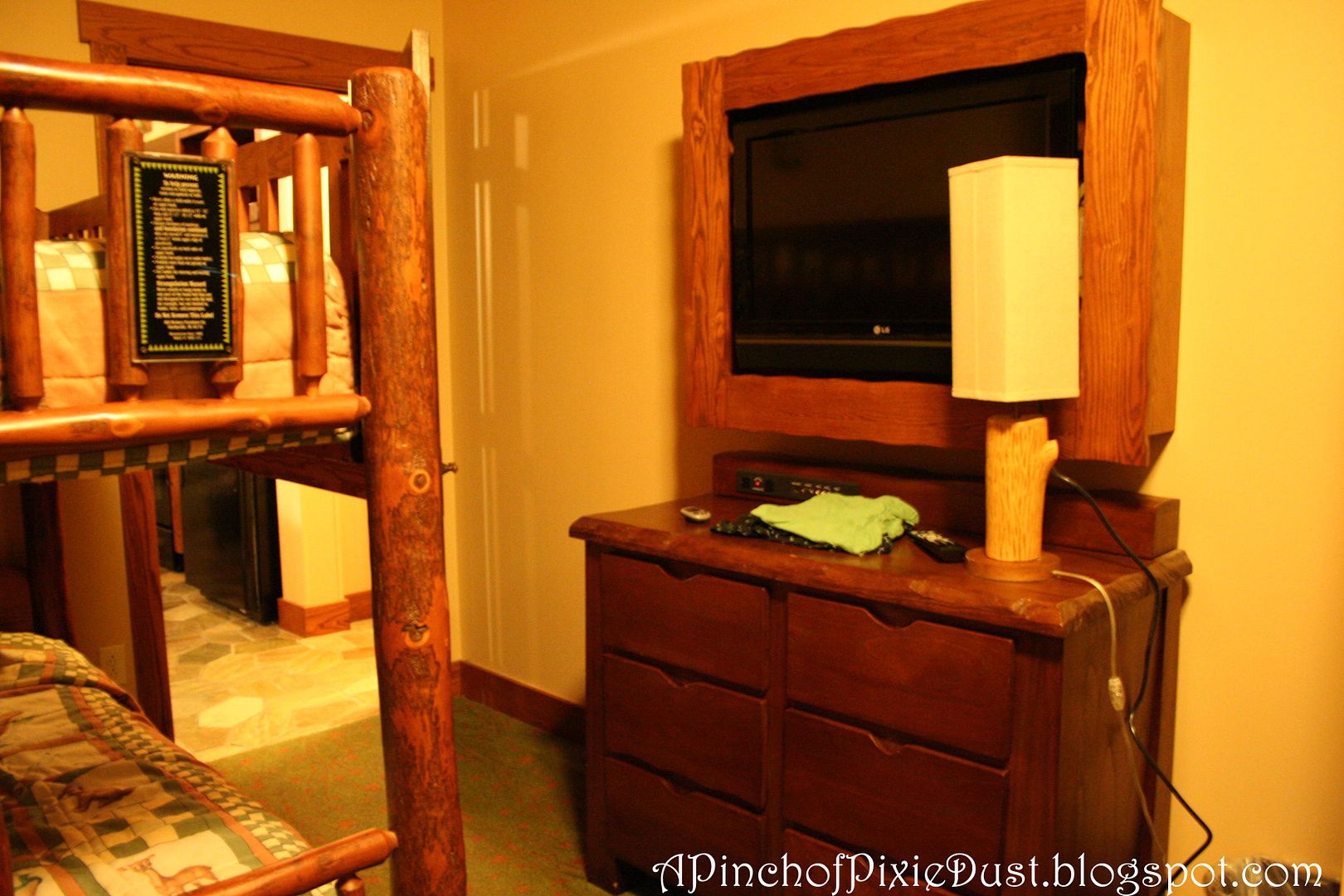 What my brothers loved best was the bedroom with
bunk beds
. I just asked my ten-year-old brother Dart what he liked about the treehouses, and he said: "Each room has its own special tv." ;)
For some reason this photo reminds me of that quote from Jane Austen: "Shelves in a closet (or rather corner!), happy thought indeed!" And there was even inspirational artwork...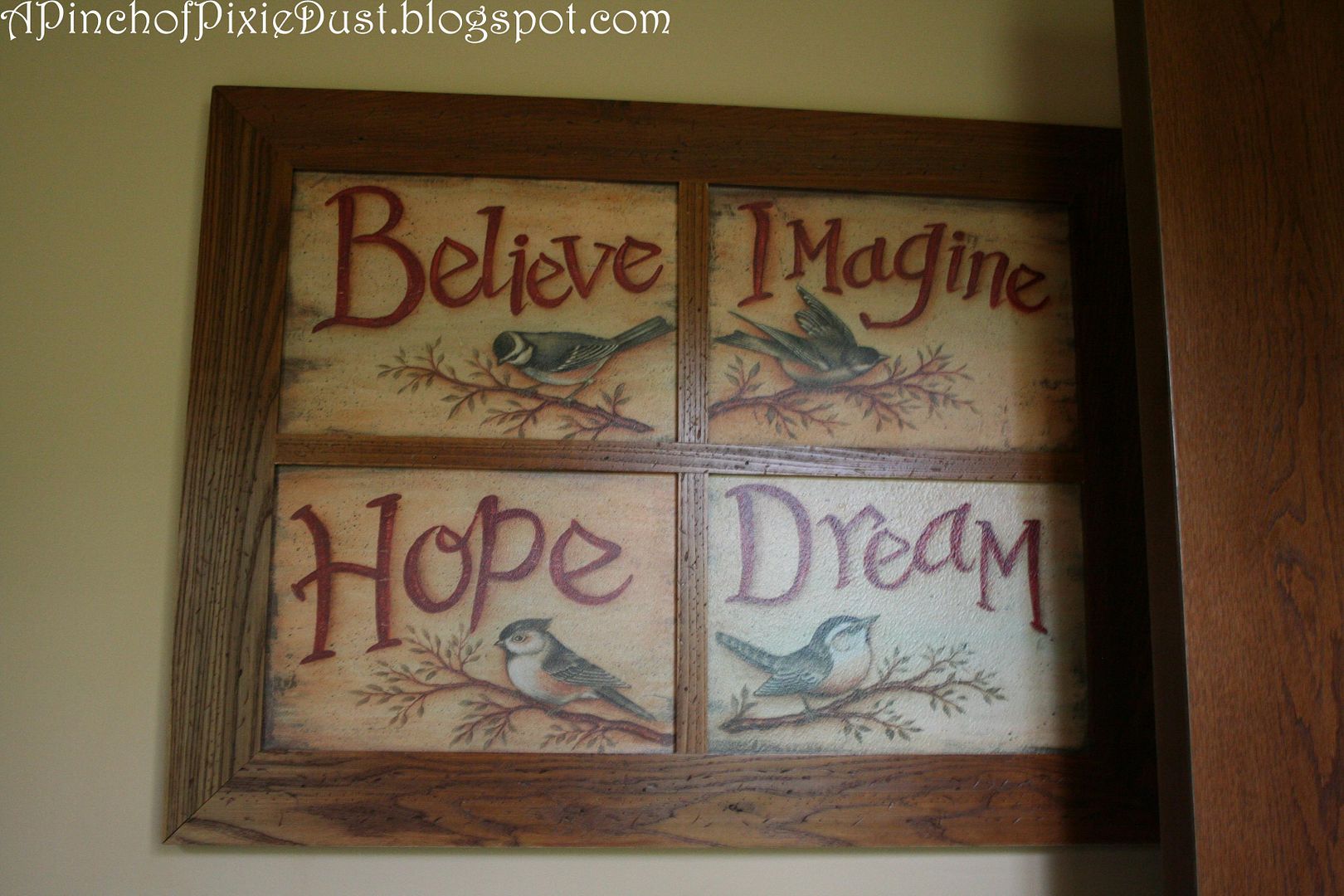 Doesn't it look like Snow White's forest friends put this together? Too cute.
The other bedroom was my FAVORITE room in the house. It's in the corner, so it has tons of big windows, its own tv, a lovely little dresser, a nice sized closet...
SERIOUSLY, CAN I JUST MOVE INTO A DISNEY TREEHOUSE?!??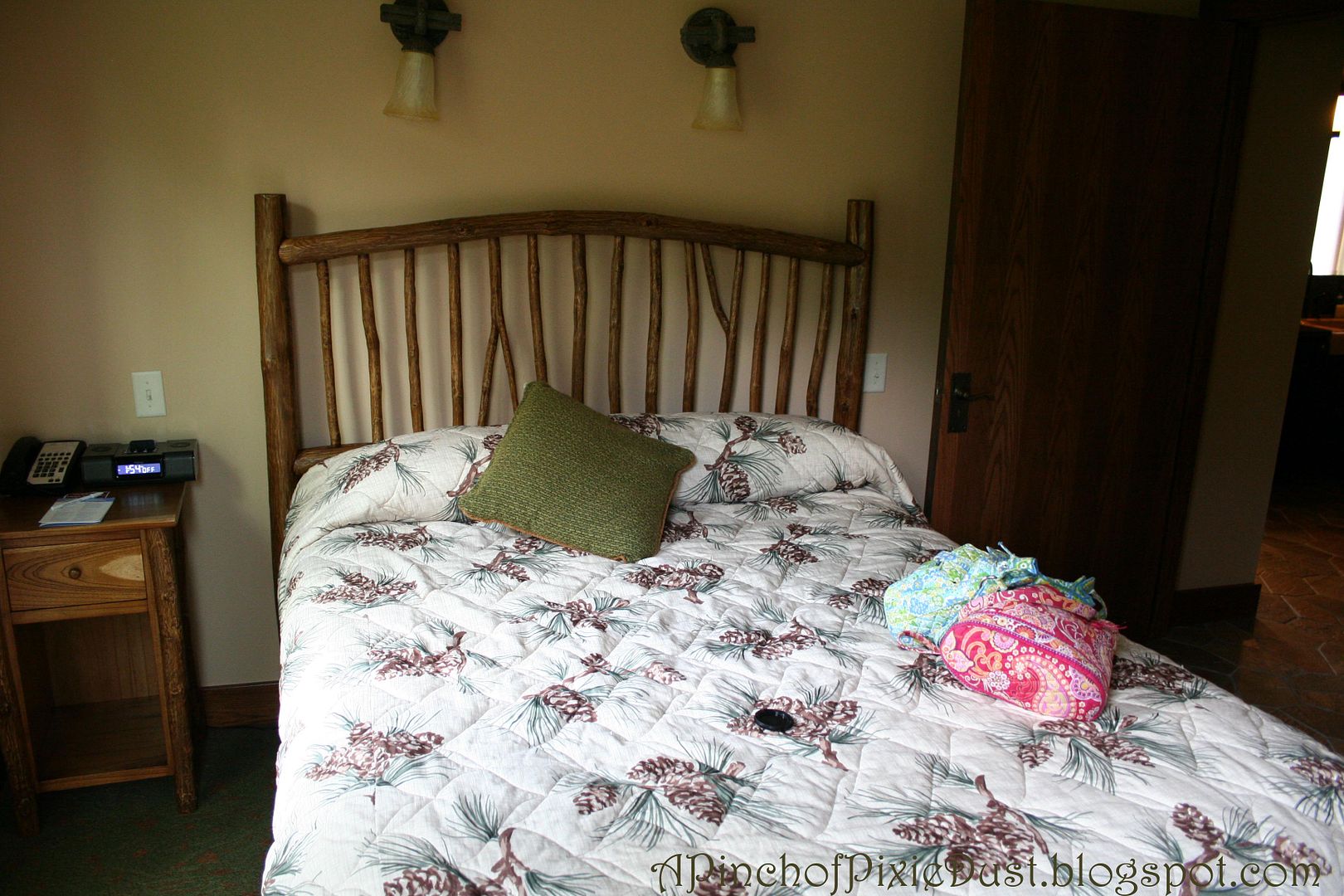 Ahhhhh...if only.
Oh, and the cherry on top?
There's a hidden mickey on the window.
When my family stays in the treehouses, it's usually just for a night or two, but we plan to spend the whole time hanging out in the treetops. We check in super early (you're more likely to get into your room/treehouse sooner that way...if there was a treehouse that was empty the night before, you might even get in first thing) and then just relax. We stroll over to use the pools at Saratoga. We take the boat to Downtown Disney and get some Earl of Sandwich to take back to our charming kitchen. We bring a few groceries along and fix ourselves up a nice breakfast.
What I like best is just sitting and dreaming amongst the treetops in that little corner bedroom. :)
Have you ever stayed in the Treehouse Villas or thought about staying there? Let me know in the comments!