Cupcakes taste better with Mouse Ears.
I'm pretty sure it's a scientifically proven fact.
And luckily for us, there are plenty of Mickey Mouse cupcakes AND Minnie Mouse cupcakes at Walt Disney World...
Aren't they adorable?? They're all included in my
big guide
to all the Disney World cupcakes, but I thought it'd be fun to focus today on just the two Main Mice!
1.
If you're on a quest for Mickey cupcakes, my advice would be to make first for the
Boardwalk Bakery
for the first mouse on our list:
This is the
Oreo Bon Bon Cupcake
, but c'mon. We all know those aren't oreos. They're mouse ears. This is such a lovely treat - chocolate cake, light light icing, oreo cream filling. Yummmm...
2.
Minnie Mouse fans, don't worry. I've got you covered too:
The
chocolate mousse cupcakes
at
Captain Cook's
at the Polynesian Resort are topped with two cookie ears AND a darling little pink bow. And Captain Cook's does offer a Mickey version as well...
3.
You'll also find Mickey and Minnie cupcakes together at the Contempo Café at the Contemporary Resort:
These are called
birthday cupcakes
, and the cake inside is colorful, sprinkle-filled birthday cake! These days they're topped with Mickey and Minnie face rings, but since they've still got the mice, I think they still count as mouse ear cupcakes!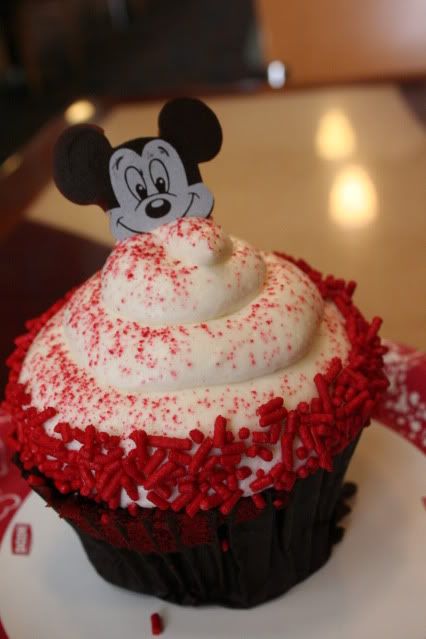 Don't head away from the Contempo Café just yet, because Mickey is represented on another classic: a lovely
red velvet cupcake
! The ears aren't oreos, but Mickey is made of chocolate, so I have no complaints.
4.
In the
dessert case
at Art of Animation's food court,
Landscape of Flavors
, you'll find another Mickey smiling up at you.
I have to admit that taste-wise this isn't my favorite cupcakes. It's a pretty ordinary vanilla, but then it's always popular with the kids, and it gets major points for cuteness!
5.
When it's holiday time, the Mickey Ears come out in force! These
Santa Mickey ears
were atop a Christmas cupcake at
Starring Rolls
last year...
So festive! I think it was available elsewhere in the park as well...
And these green and red Mickey and Minnie's we spotted at the Main Street Bakery. I can't wait to see what Christmas creation the new
MSB Starbucks
has this year!
I did spot another chocolate cupcake with vanilla icing and Mickey oreo ears over on the Disney Food Blog's
review
of the new Fountain View Café Starbucks at Epcot, but I haven't tried it yet. Other than that, I think we've got all the Mickey's and Minnie's covered. Can you guys think of any I missed?
So do you think you'll be trying a Mickey cupcake on your next trip? Share your Mouse Ear favorites in the comments! :)