An ageless symbol of France: MONT ST MICHEL
Proud, full of grace and symmetry...rooted firmly to the ground, yet dedicated to the spirit...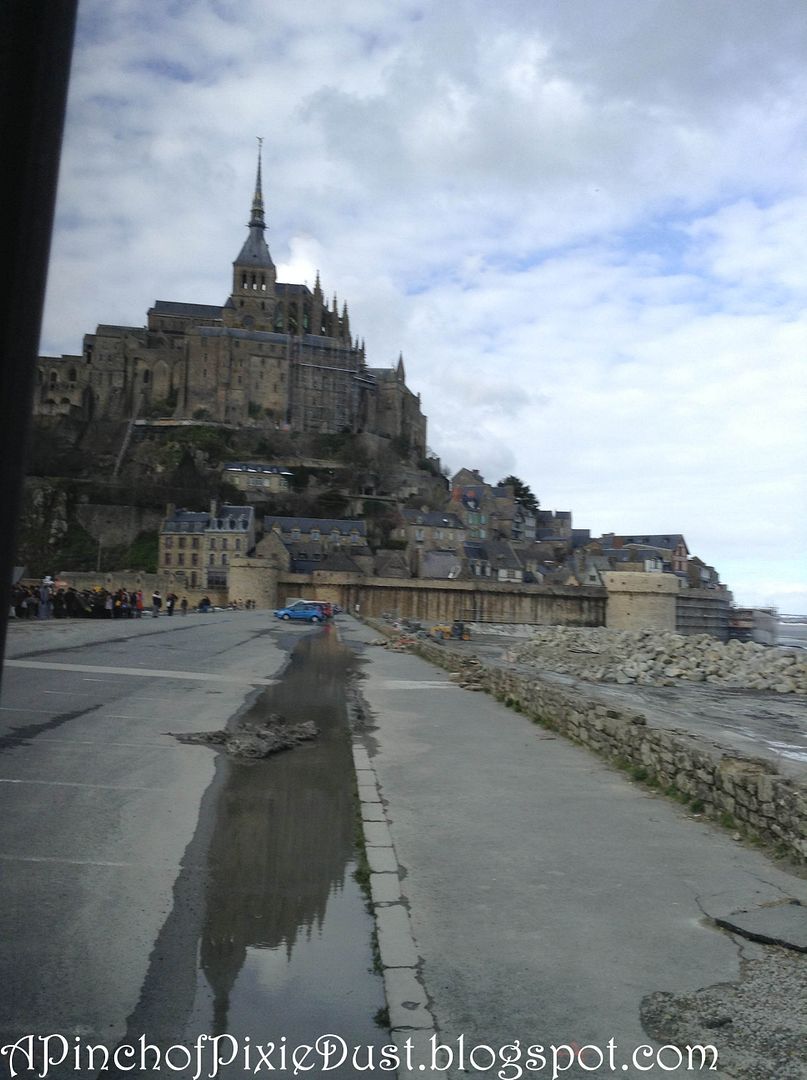 You better believe the words from the Epcot movie were playing in my head when our
wanderings in France
brought us to the magnificent monastery/abbey/town/rock that is
Mont St Michel
!
For
over a thousand years
there has been a monastery here and pilgrims have been crossing the sandy bay to visit. Just let that sink in for a minute.
OVER A THOUSAND YEARS.
Being there in person was like walking into a page from my high school French textbook - it was so exciting not just to look at the iconic outline against the sky but also to follow the winding paths and actually start climbing the streets!
I noticed some narrow openings in the wall that looked like they were meant for cannons. In the vlog, I was thinking aloud that they couldn't be for cannons, since this was a religious place.
I was forgetting how much war and religion were intertwined in the middle ages - those openings were definitely for cannons. The medieval fortifications and gates and towers you pass are pretty impressive - Mont St Michel has had to defend itself from a variety of invaders over the ages!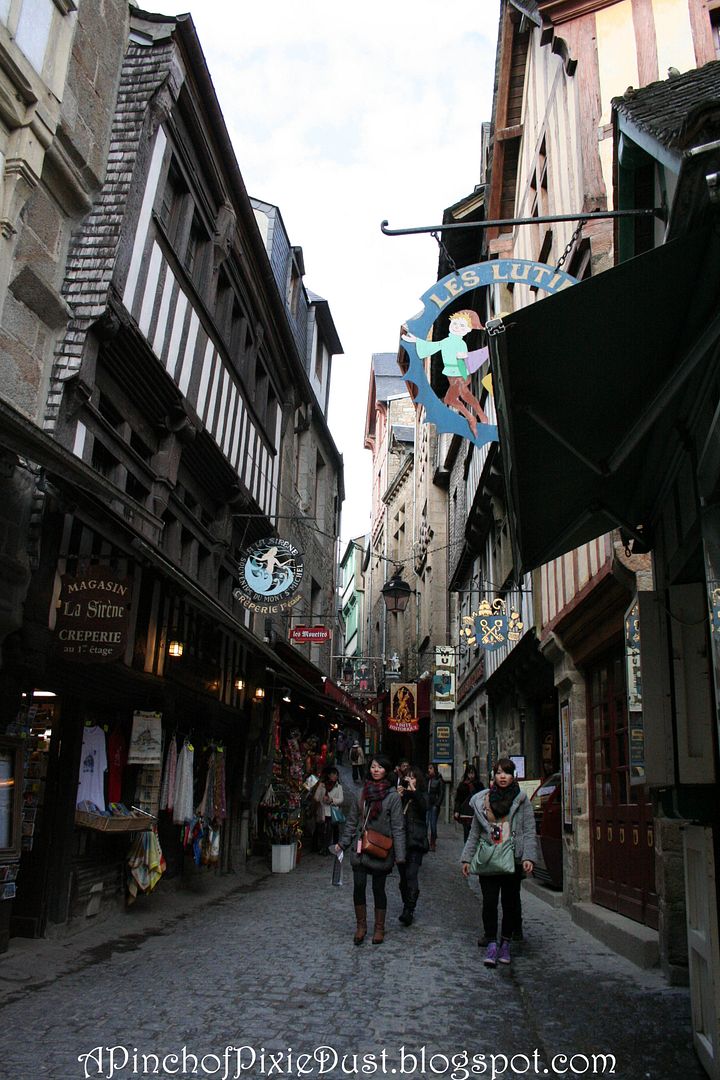 To reach the monastery and abbey at the top of the rock, you have to go through a maze of serpentine medieval streets, now packed with "touristic" shops and cafes. One of them is
La Mere Poulard,
famous for its omelets...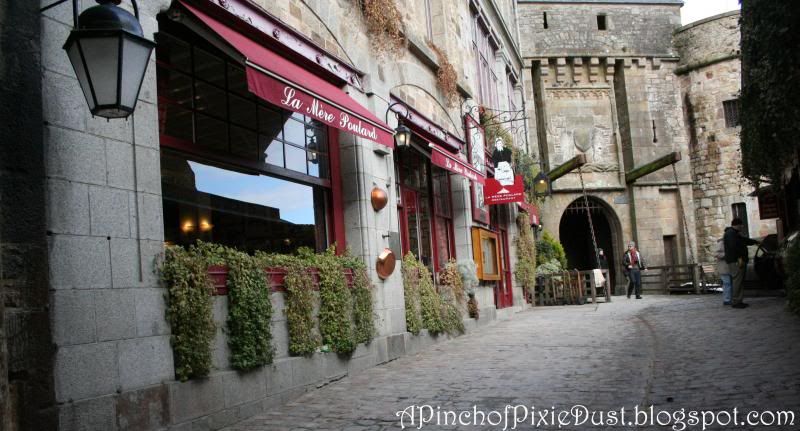 Samantha Brown goes to La Mere Poulard in one of her
Passport to Europe
episodes. Being a huge fan of Samantha Brown, I naturally wanted to stop there - but what she didn't mention was that the omelets cost 20 EURO. That's like 30 US dollars. I'm all for spending a little extra money for a really wonderful memory, but I'm sorry. No omelet is worth 30 dollars.
Omelet-less, we continued our climb. There are several different stairs you can take up - we didn't have a map, we just kept wandering
up
and figured we would eventually reach the abbey. We were right!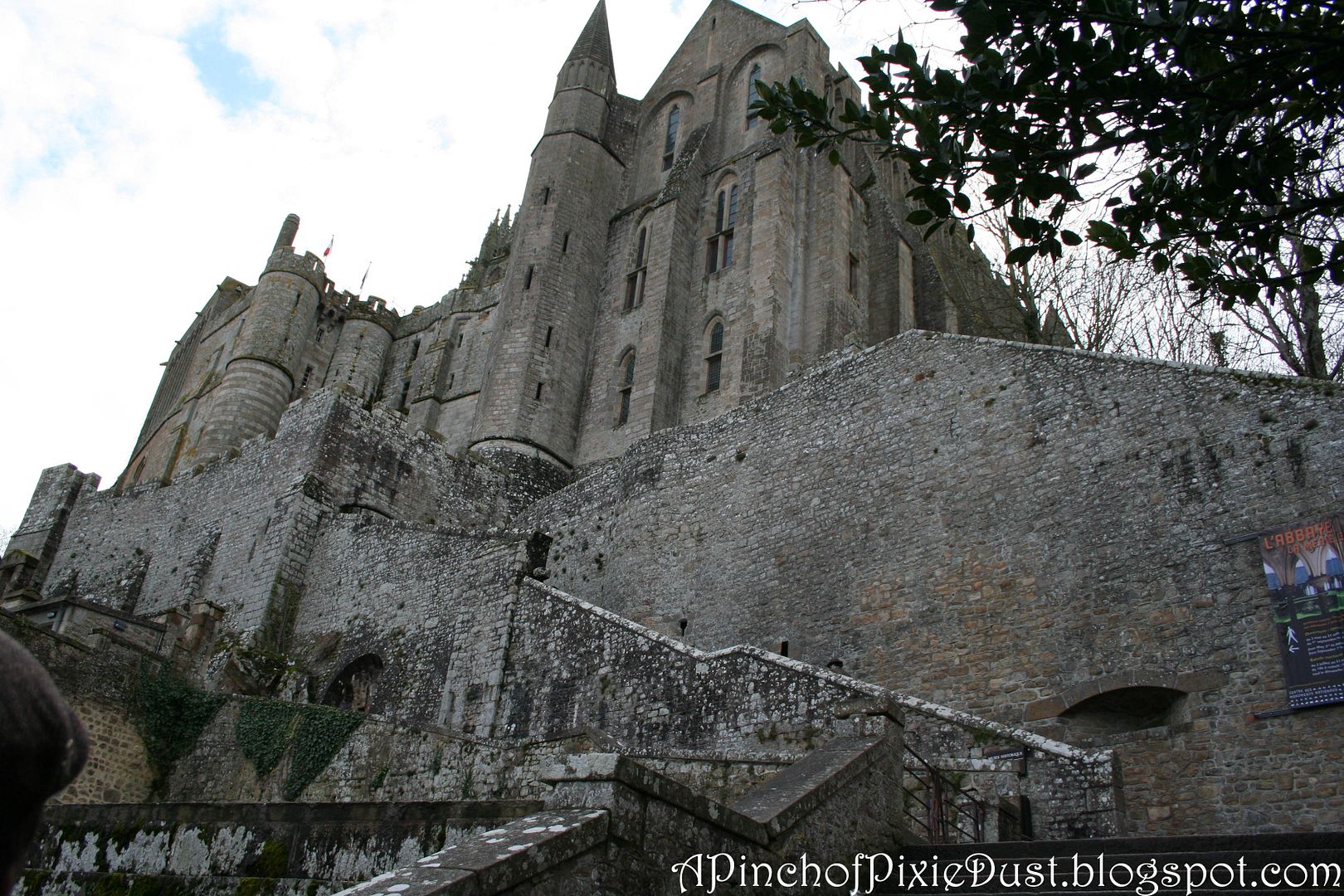 As you ascend over the rooftops of the town, the view of the bay and the flat Brittany countryside is really something...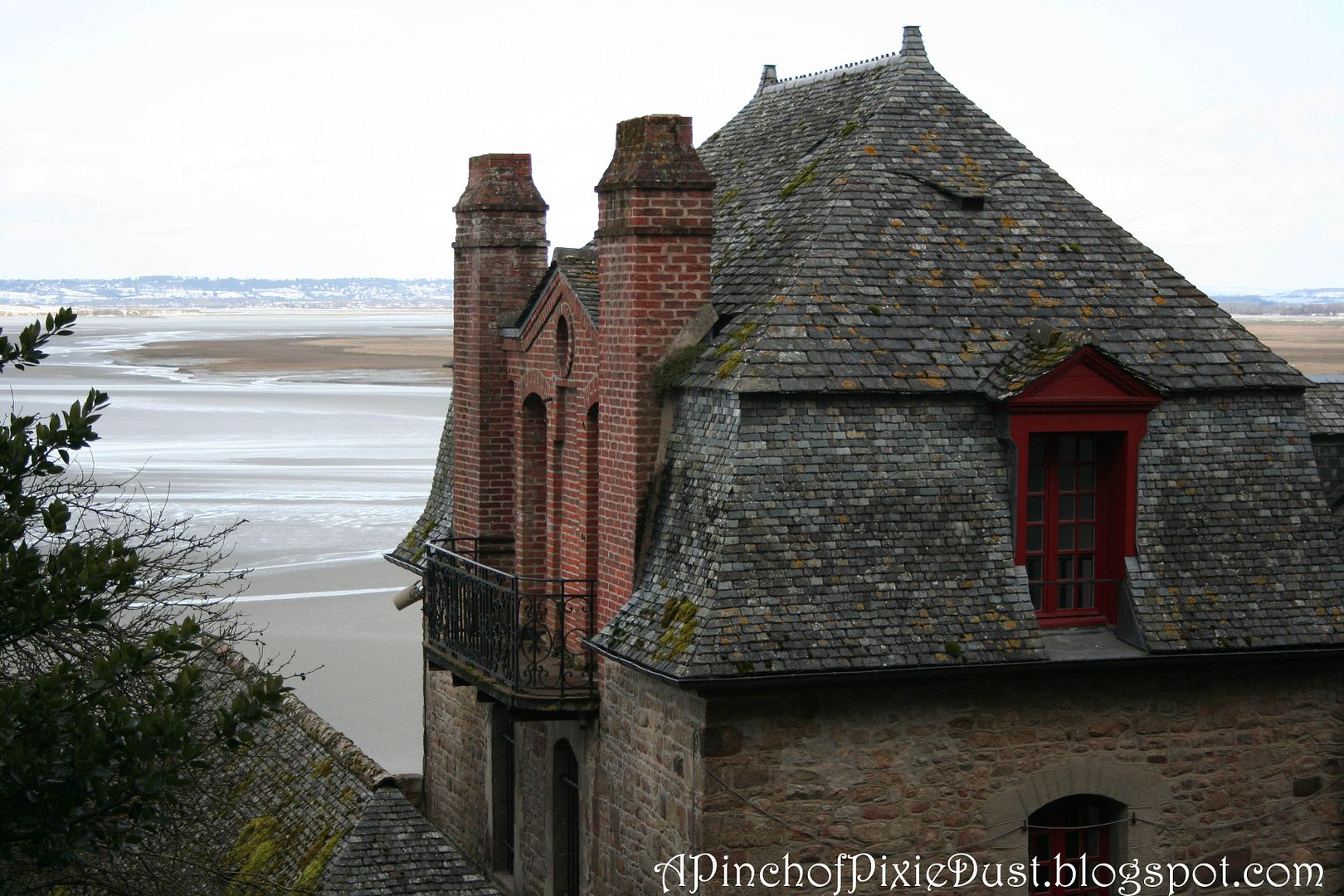 Although I can't actually be sure if it was the view or all the climbing that left me breathless!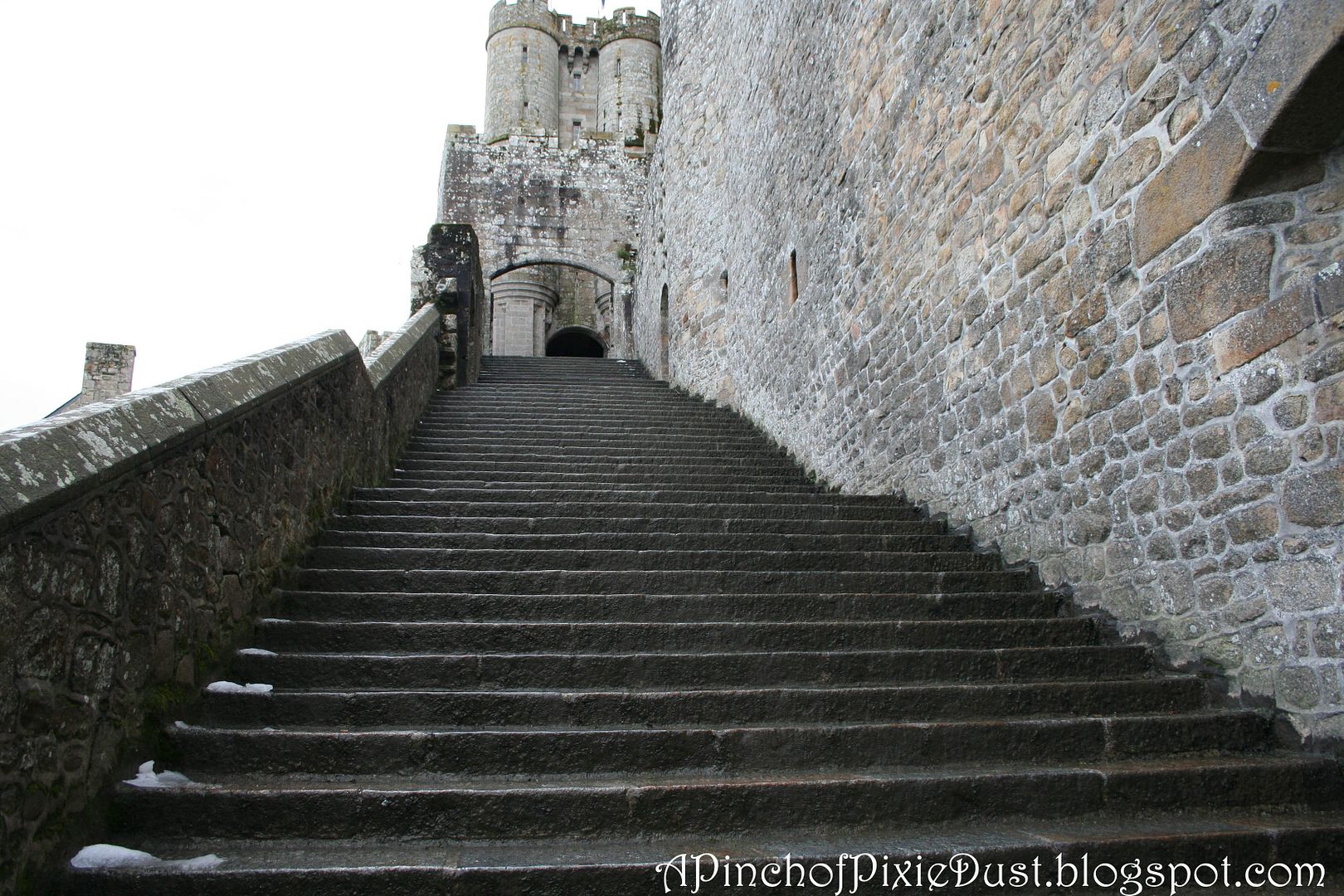 ARE WE THERE YET???
Once you reach the abbey, you can buy your ticket and stop in the gift shop to catch your breath before you embark on yet more stairs. The monks that lived here must have been in SUPER good shape. But then they did get to enjoy this
lovely cloister
...
This was not the first or the last cloister I would fall in love with in Europe. :)
Notice the snow on the bushes? It was SO COLD. We were glad to scurry up into the comparative shelter of the church...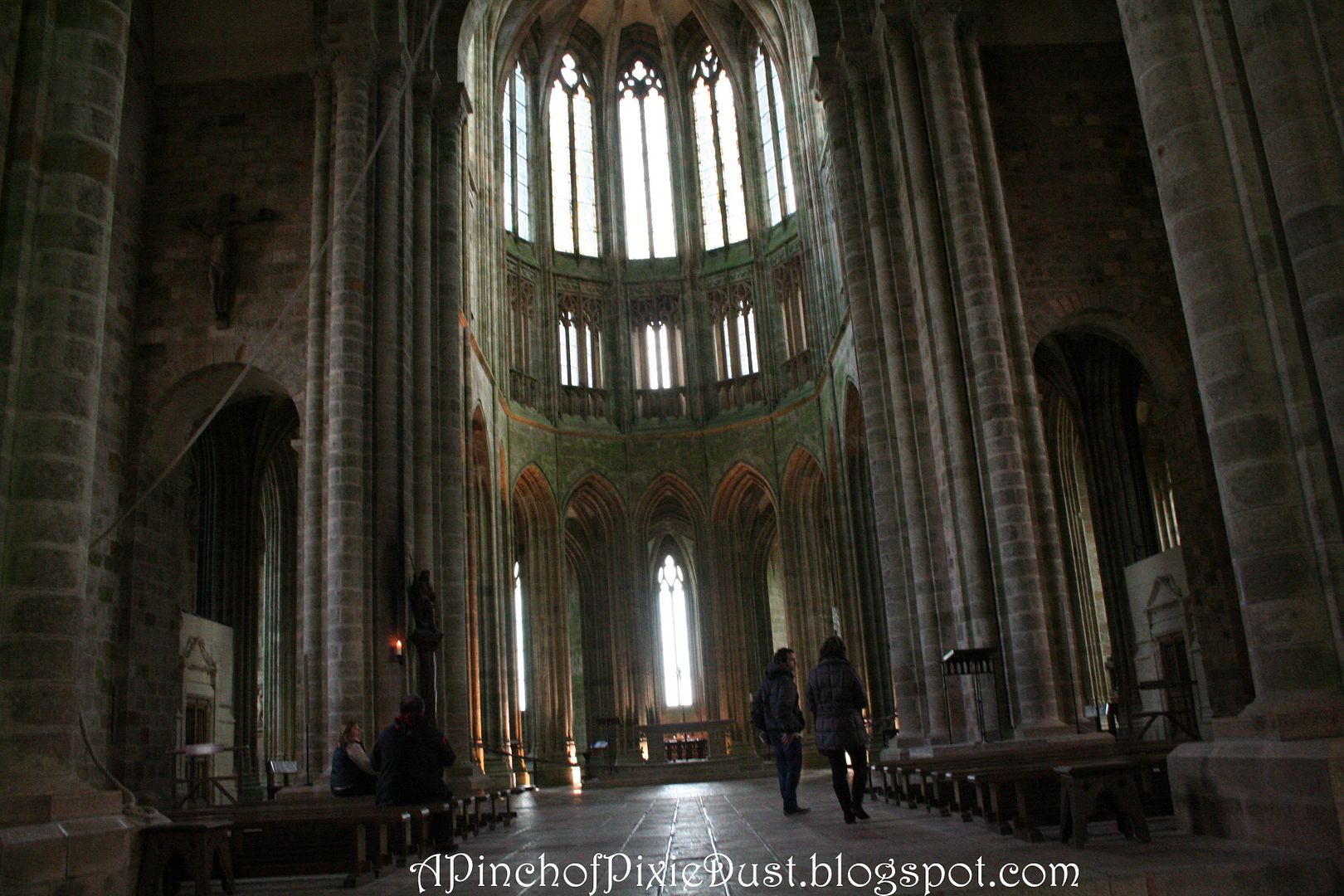 The Abbey is rather grey and very old - but as in so many other old churches, you can just feel the peace seep into your soul as soon as stand gazing up.
My brother cleverly noticed how clearly you can tell which part of the Abbey was built when based on the style - if you look in one direction there are rounded arches and pillars in the
Romanesque
style, and in the other are pointed arches and soaring
Gothic
ceilings!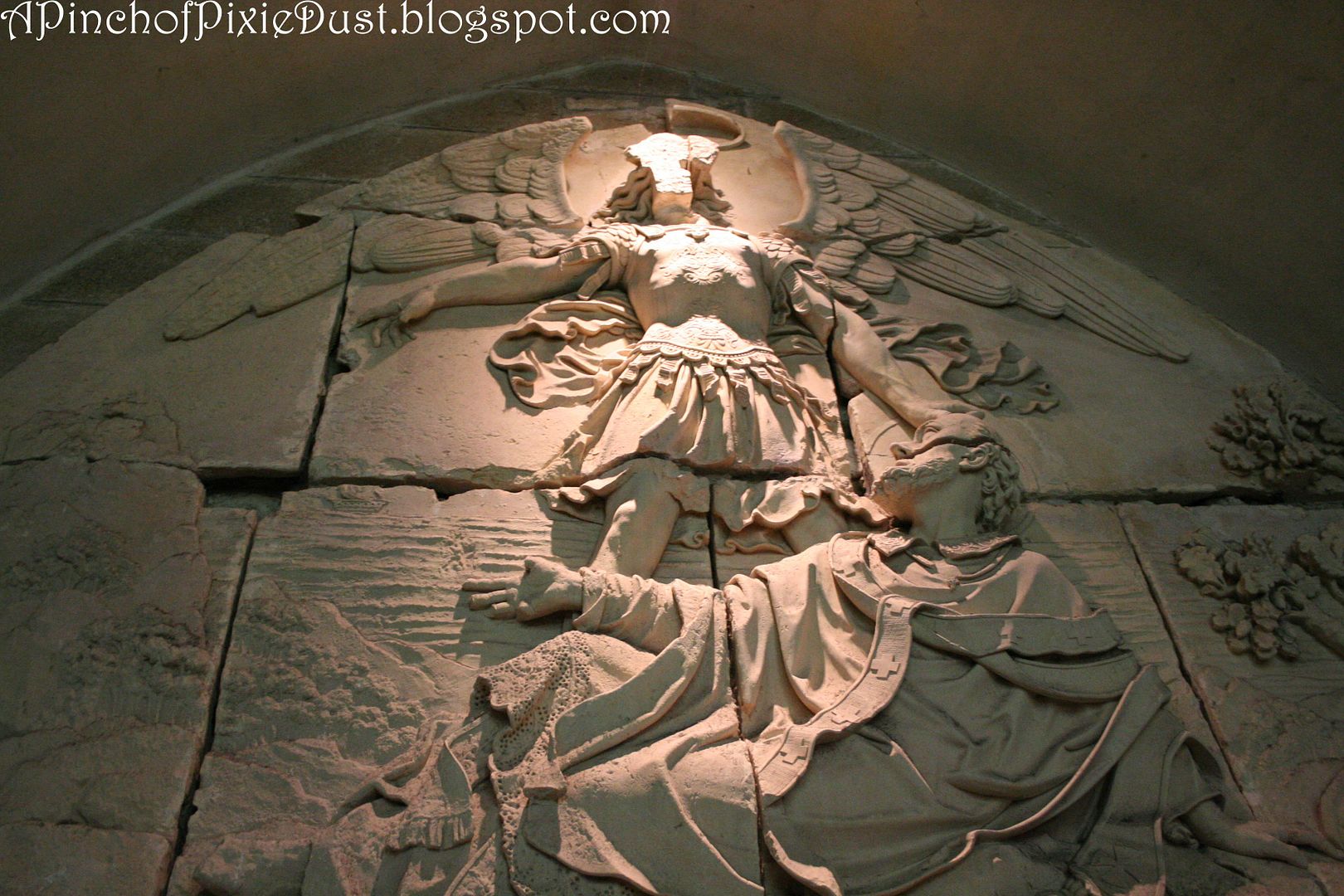 I love all the works of art you'll discover unexpectedly in Europe's abbeys and cathedrals. This piece depicts Michael the Archangel appearing to St. Aubert in the year 708 and telling him to build Mont St Michel. You do have to wonder why they would pick a rock out in the middle of a bay to build a church on, but if St Michael said then it makes perfect sense!
The details on that sculpture were gorgeous...just look at the details on St. Aubert's vestments...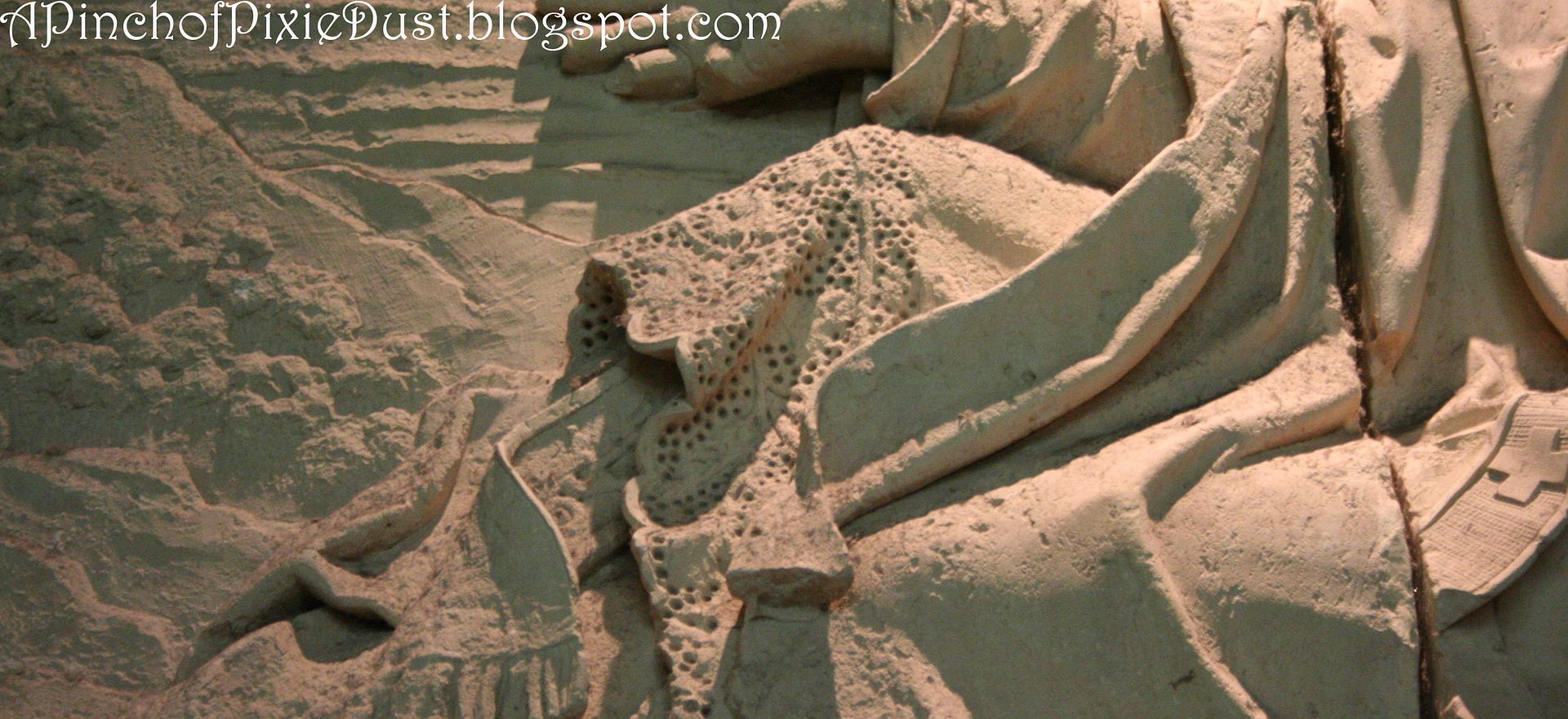 Next we wandered through the rooms used in by the monks in ancient times, and even they were beautiful...
Imagine having these arches in your dining room. This space also had the most perfect acoustics! My brother and I stood there about ten minutes just marveling at it...I may or may not have sung a few Latin chants as well as the Notre Dame Alma Mater...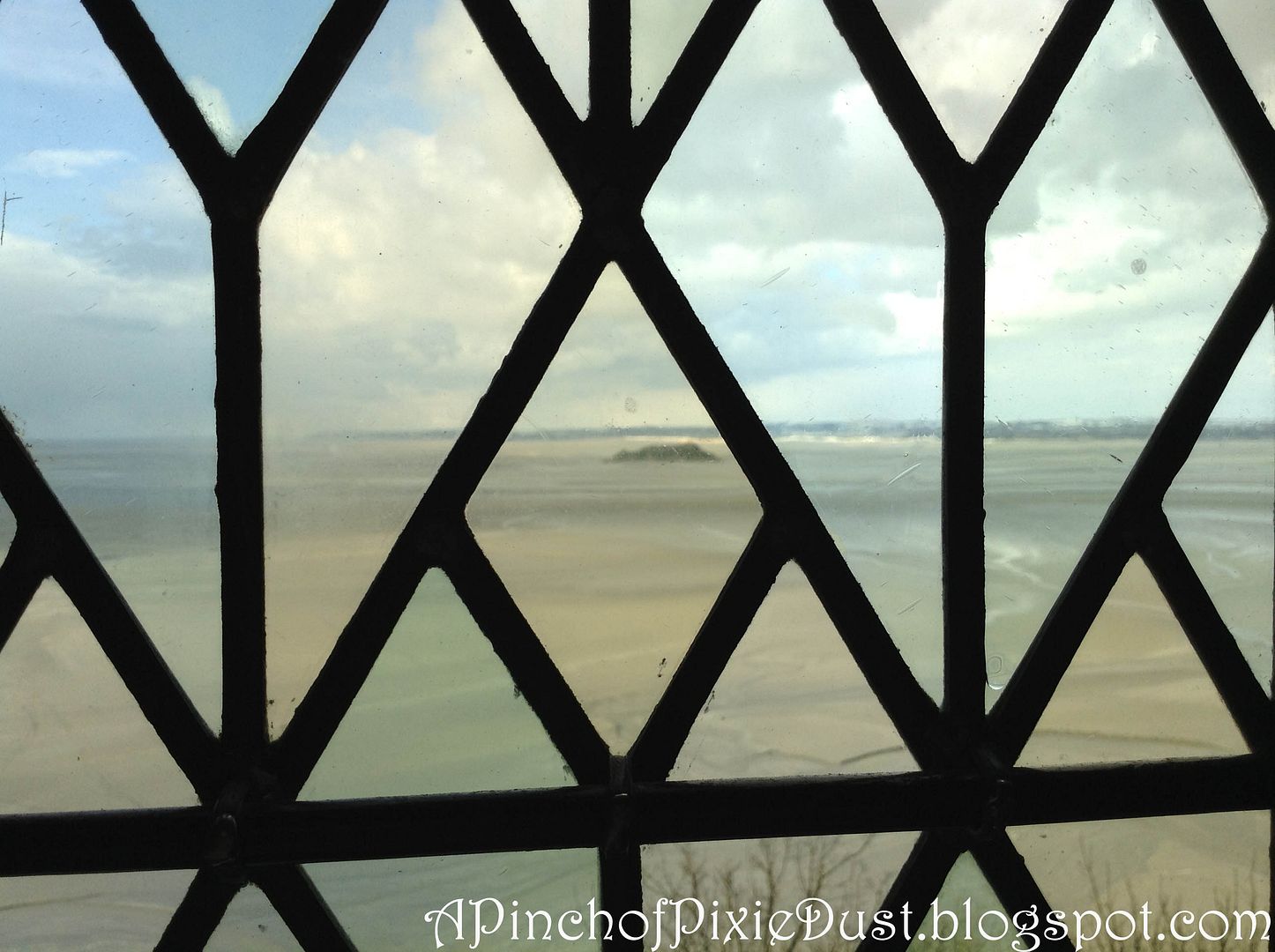 Every window had a view of the sandy bay and the distant countryside. It was all grey and blue and green...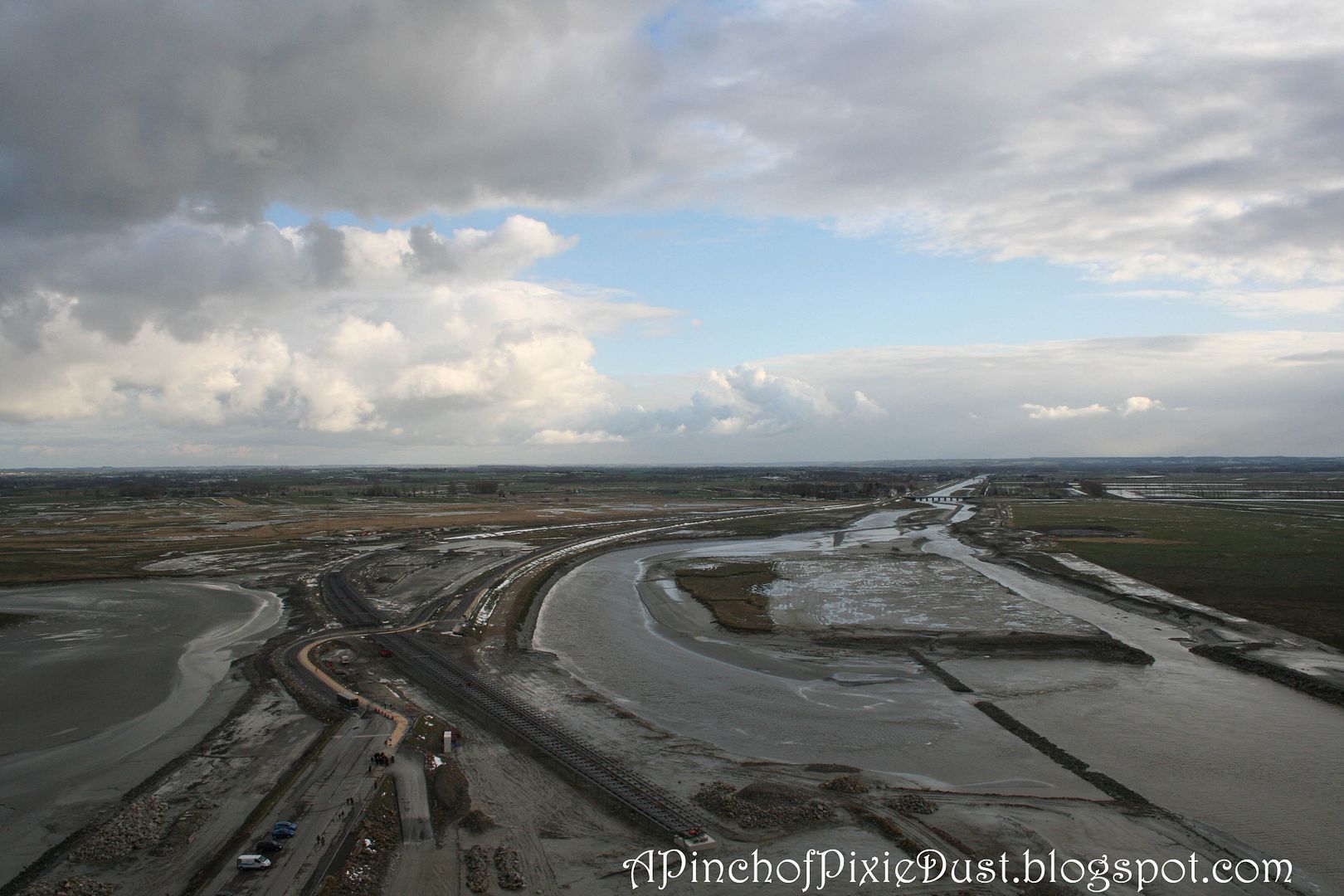 Looking back towards the mainland and the parking lot and hotels! The tides still come in to fill the bay around Mont St Michel with water at times, but they've built a long causeway - you can either walk or take a shuttle. We took the shuttle - it's a long walk and it was cold!
Apparently the silt has built up in the bay, so it doesn't fill with as much water as it used to. But they're actually working on removing the silt to restore the Abbey to its more island-like state! There'll still be the causeway and all the tourists though!
We visited Mont St Michel later in the day, and it was really nice to have it mostly to ourselves! I would've liked to stay for vespers in the Abbey, but we had a ride to catch. It's lovely that it's still a living church, though. At one point as we were climbing back down towards the gift shop, we saw a priest come out of a room up the stairs, getting ready for vespers. After going through all the empty monks' rooms, that was just reassuring to see.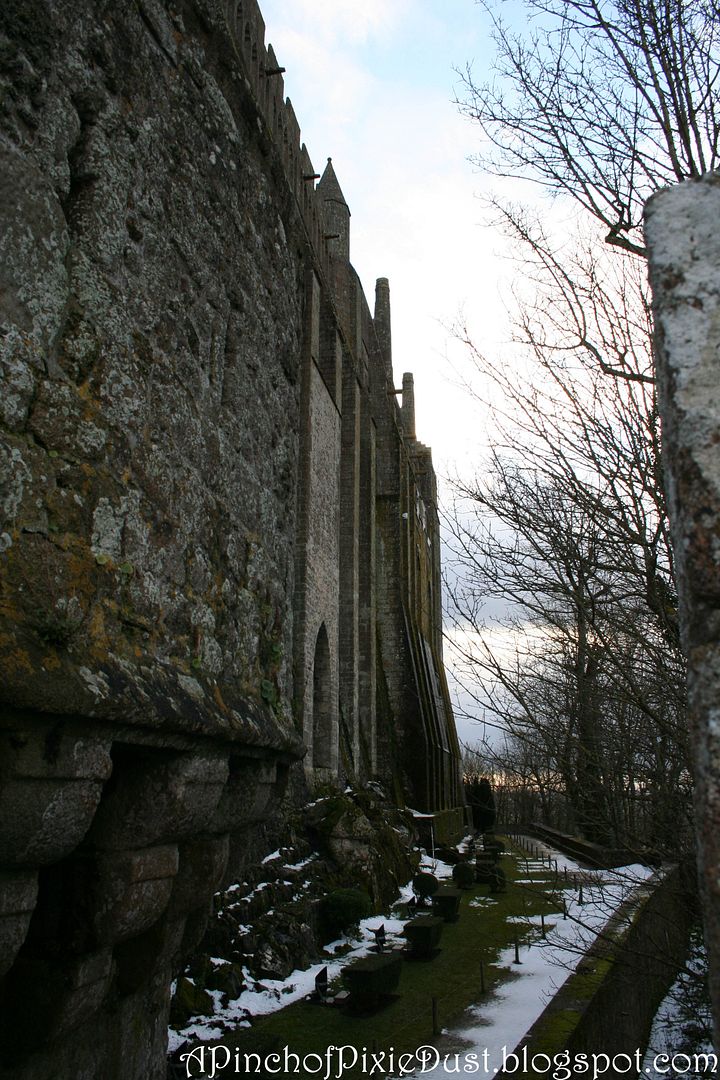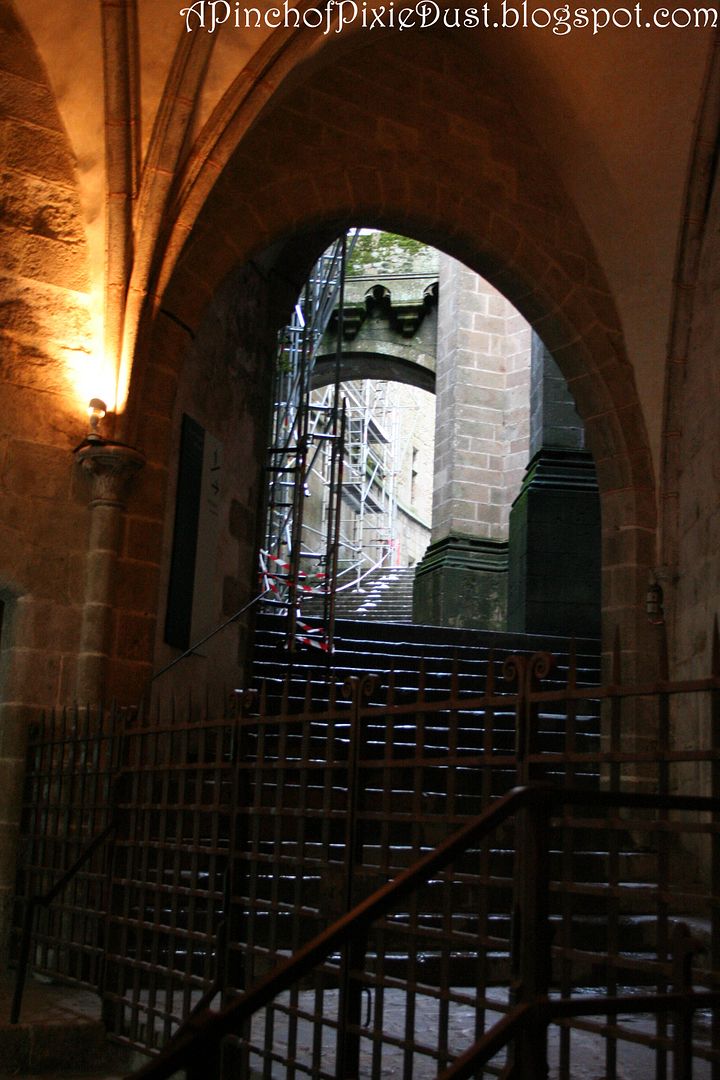 Some parts of the abbey - like the walk around these outdoor gardens - were closed due to all the ice and snow. It'd be nice to go back in the summer and explore more of it!
Soon it was time to climb back down all those steps! This time we took a route that went around the outside of the island, behind the buildings...
We discovered a beautiful secluded little park, and it was so fun to notice the little quirks of the Mont St Michel rooftops...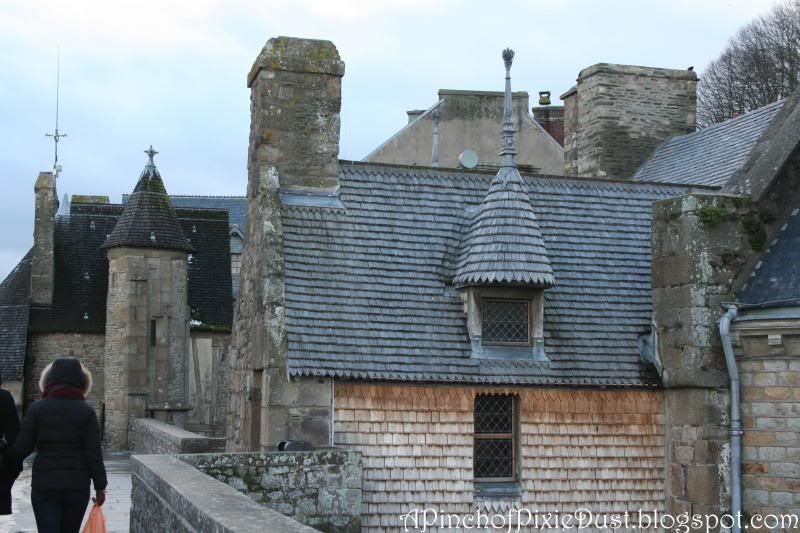 I love that little dormer window! And even beneath our feet there were things to marvel at...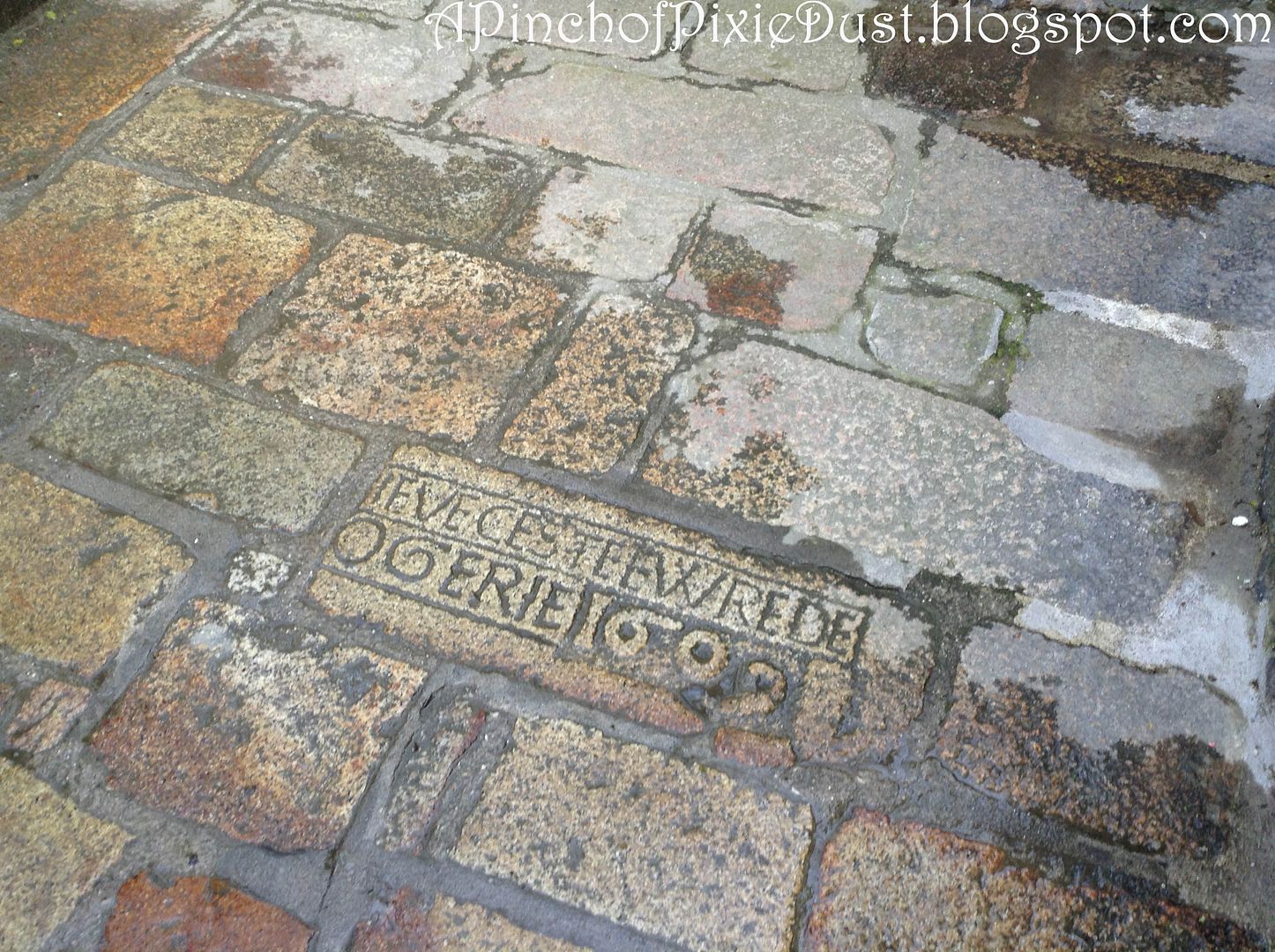 That stone was put there in 1609. And compared to how long ago the Abbey was built, that's fairly recent.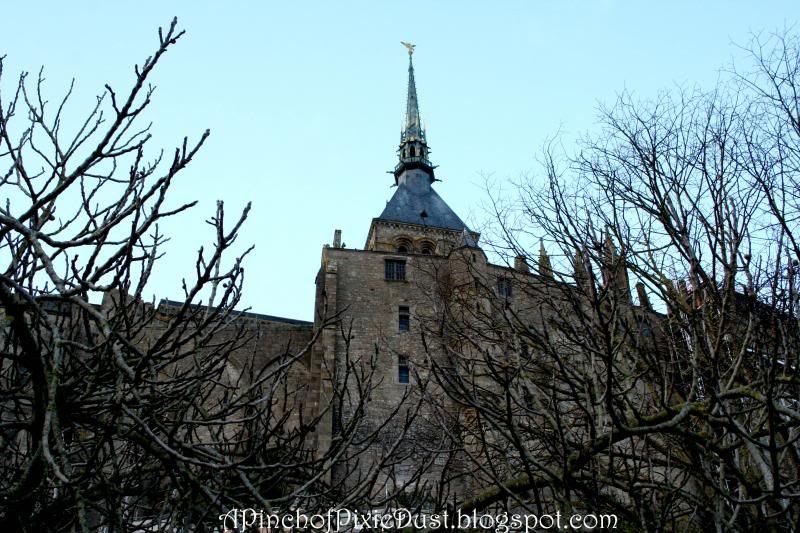 Always you had the spire of the Abbey rising up above you!
SO MANY SO MANY STAIRS!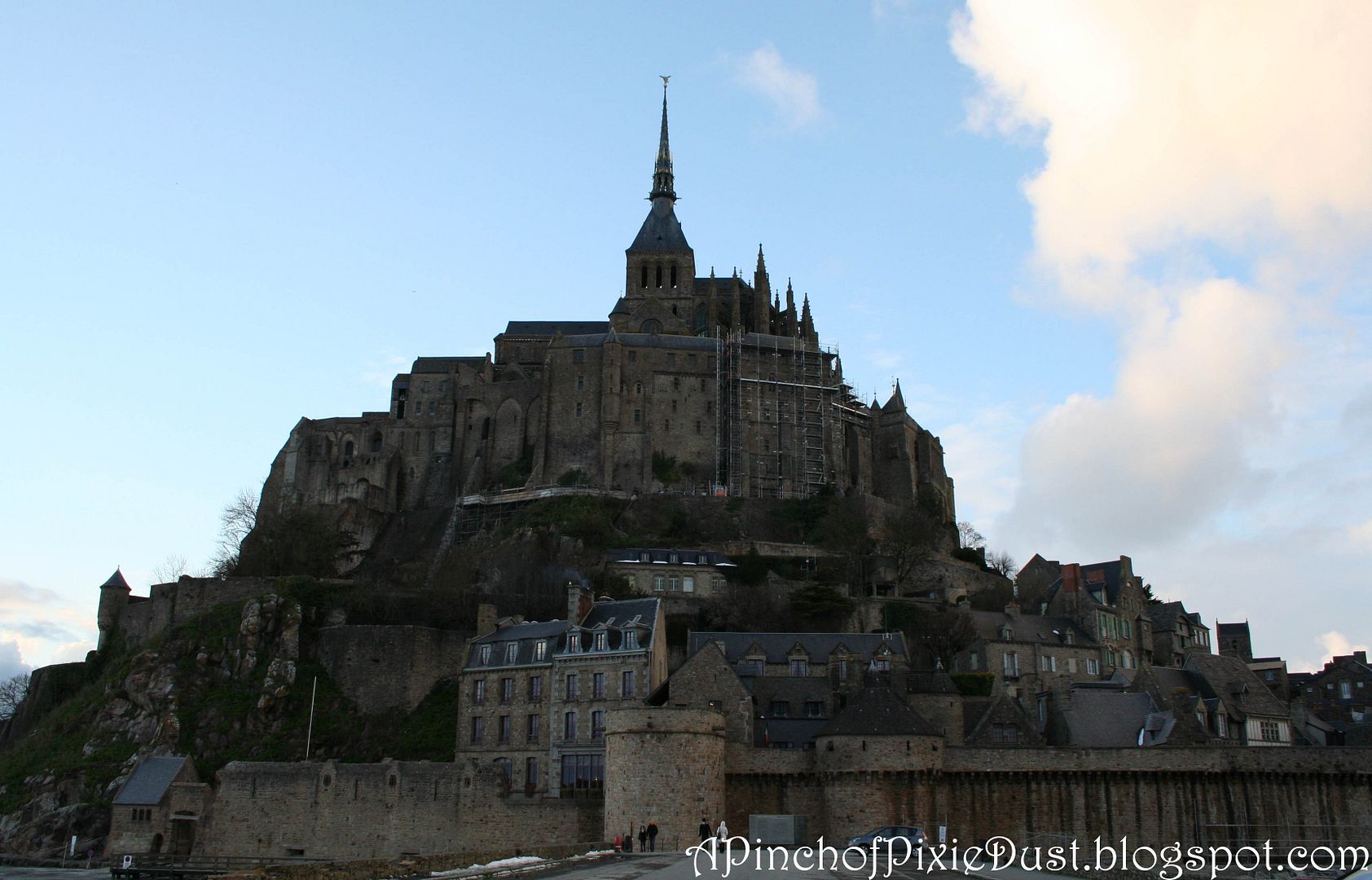 Once we reached the bottom, we had to stop and gawk at the monument just a little bit more...
I did not even touch that sky with photoshop, I promise you.
OK, this one I photoshopped a tiny bit - just to make it even more dramatic!
Across the bay there was a little overlook with benches - and the only show is to watch the sky and the water and that beautiful monument across the way.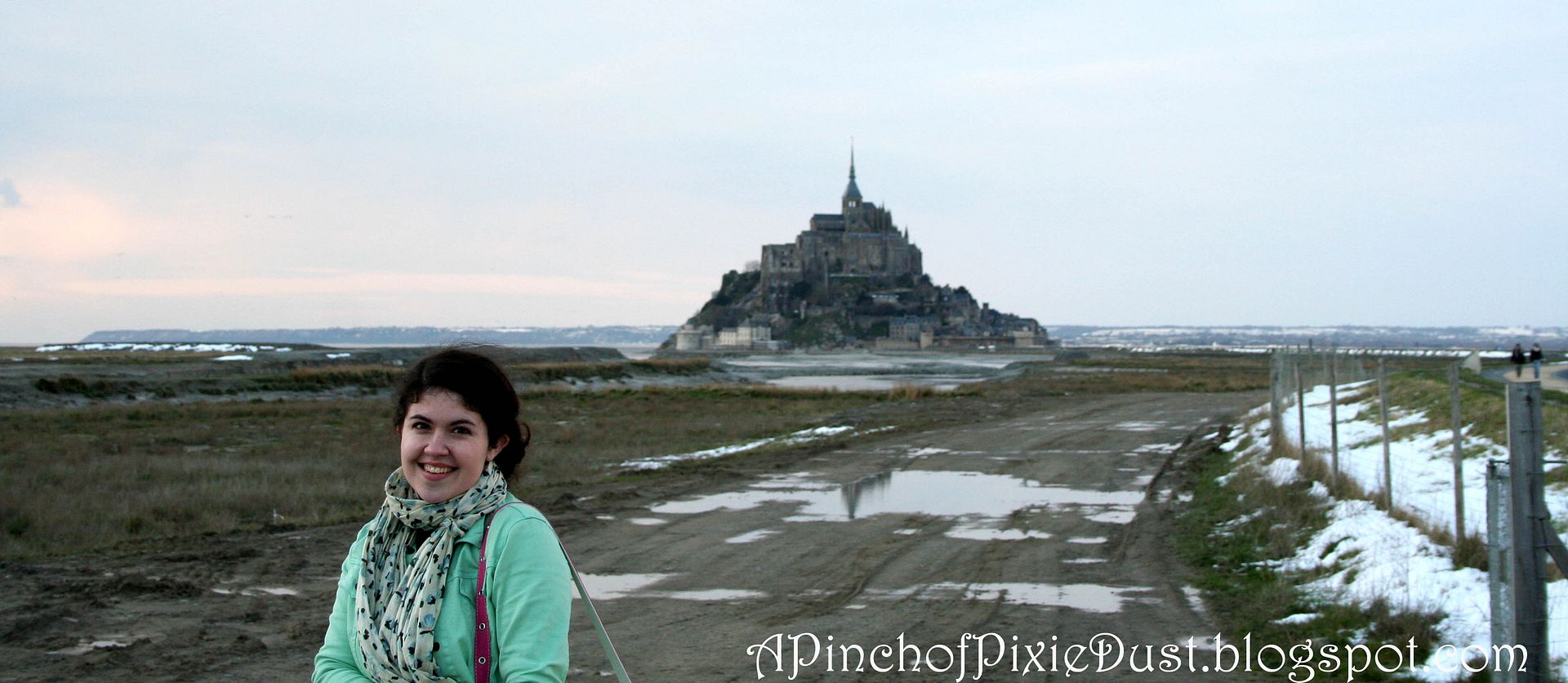 Full of symmetry and grace? Oh yeah. That and so much more.