I have to admit it:
character meet and greets
have never been very high on my family's Disney World To-Do Lists.
This is less because of any personal disinclination and more because I have
four brothers
. Even the baby of the family has now reached an age where he has to be bribed into being in a photo with Minnie Mouse, let alone giving her a hug.
I know. LAME.
I think meeting the characters can be super fun - the face characters especially sometimes have
the most hilarious things
to say. The long lines of the meet and greets do often deter me...but occasionally I get to sneak one in!
And with the
Princess Fairytale Hall
in New Fantasyland opening so soon, I thought I'd make today's post about a
PRINCESS
meet and greet.
Let's face it. They're the coolest anyway.
One afternoon this summer, I was strolling through the France pavilion with two of my brothers. We had just stopped off at the amazing new
Boulangerie-Patisserie
and were pretty much ready to head out of the park...but I noticed from afar that the line for
Princess Belle
was quite short.
Usually, if an Epcot character line is short, it means that probably the line is closed and the character is going in soon. But I figured it couldn't hurt to ask, so I dashed over.
THE LINE WAS OPEN.
I hopped in it and gestured madly to my brothers to come QUICKLY!
It was less than a two minute wait to meet Belle. On a crowded June afternoon. That was some massive pixie dust.
Belle has always been my favorite princess. We're both brunette. We both love books. So as soon as it was our turn I had to tell her how much I love the Beast's library. We were chatting about reading, and we both started to ask each other at the exact same moment,
"What's your favorite book?"
It was totally adorable. She is SO my long-lost sister.
Belle's favorite book, in case you're wondering, is
Sleeping Beauty
(far-off places, dazzling spells, a prince in disguise!).
My favorite book is really anything by Jane Austen, but I said
Pride and Prejudice
because that's the easiest answer.
Then.
THEN.
Belle said she also loved Pride and Prejudice.
AND THEN.
She said the Beast reminded her of Mr. Darcy.
I just about died. Two of my favorite things in the entire universe COMING TOGETHER. I think my face was one big grin.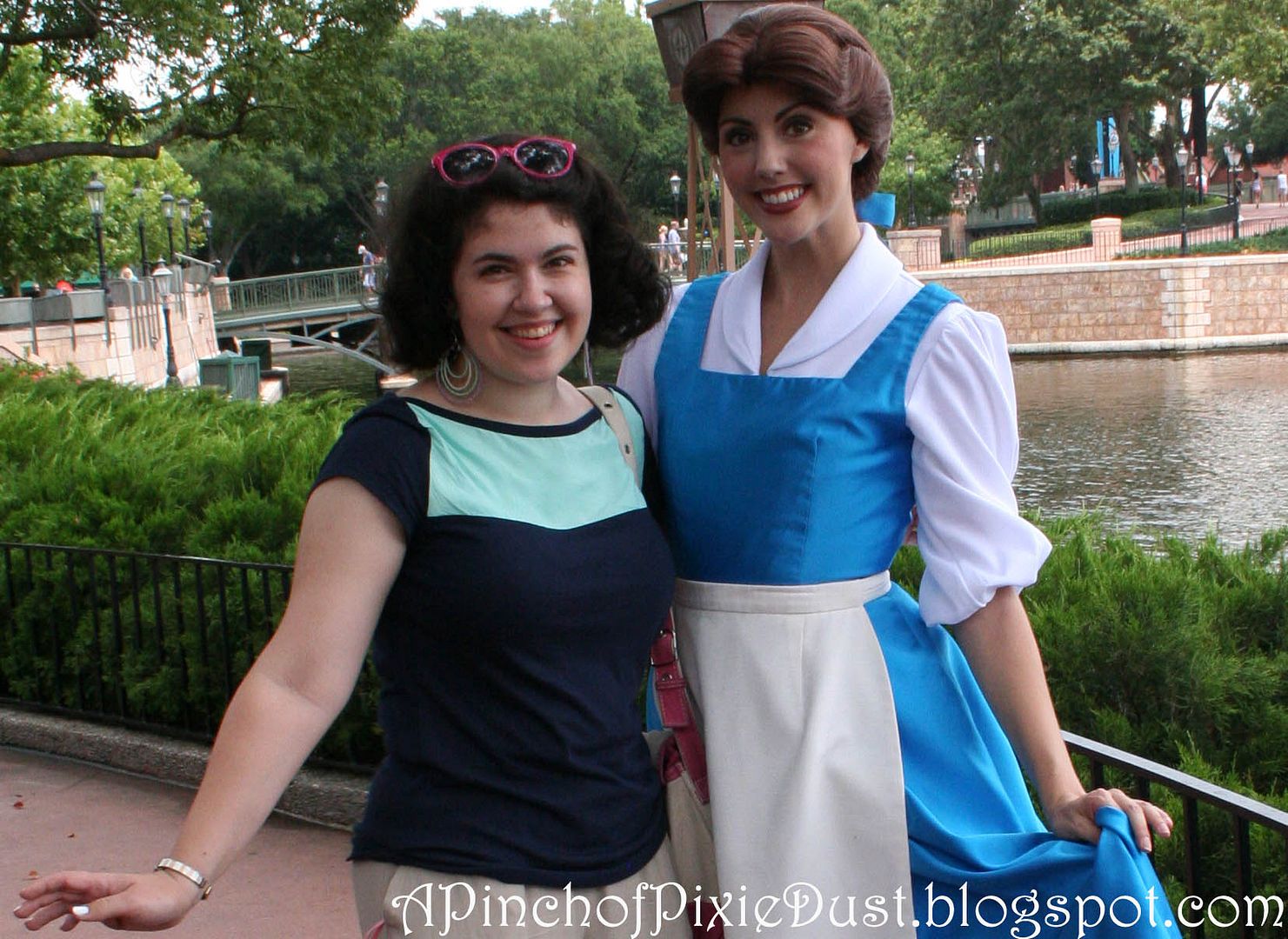 But the fun wasn't even quite over yet!
I had been really hoping to get a character saying hello to three little princesses and a certain
fabulous blogger
I know, so I asked Belle if she'd mind being in a vlog.
I had no idea what the policy was on this and thought she might say no...
Well not only did she say YES, she was so sweet and said more than just a quick hello!
As you can see in the rest of the vlog, I was kinda geeking out.
It was definitely one of my favorite meet and greets ever. BELLE READS JANE AUSTEN. I still can't even get over that part.
We are totally BFFs.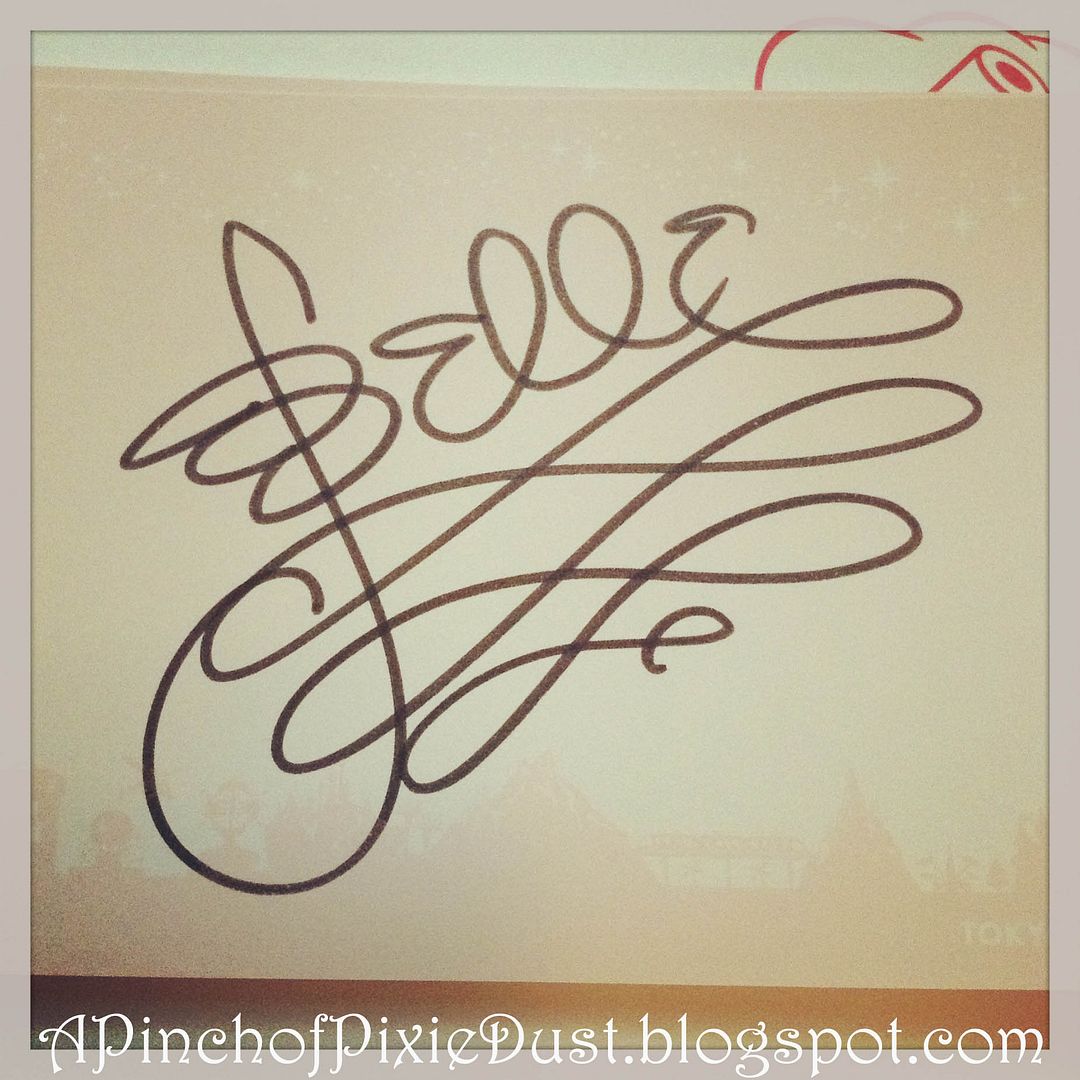 Have you had a favorite/memorable princess meet and greet? Be sure to share in the comments! :)