This weekend I am off to not one but TWO weddings - on the same day no less! Luckily one is in the morning, and the other is in the evening. They're both dear friends from college, so I'm so glad to be able to go to both!
One of the friends lives near me and recently came over for the weekend, so my mom and I decided to throw her a little bridal shower - you may have seen me tweeting about it. Her sister already threw her a beautiful bridal shower in their hometown, so we thought we'd keep it small...or miniature, if you will!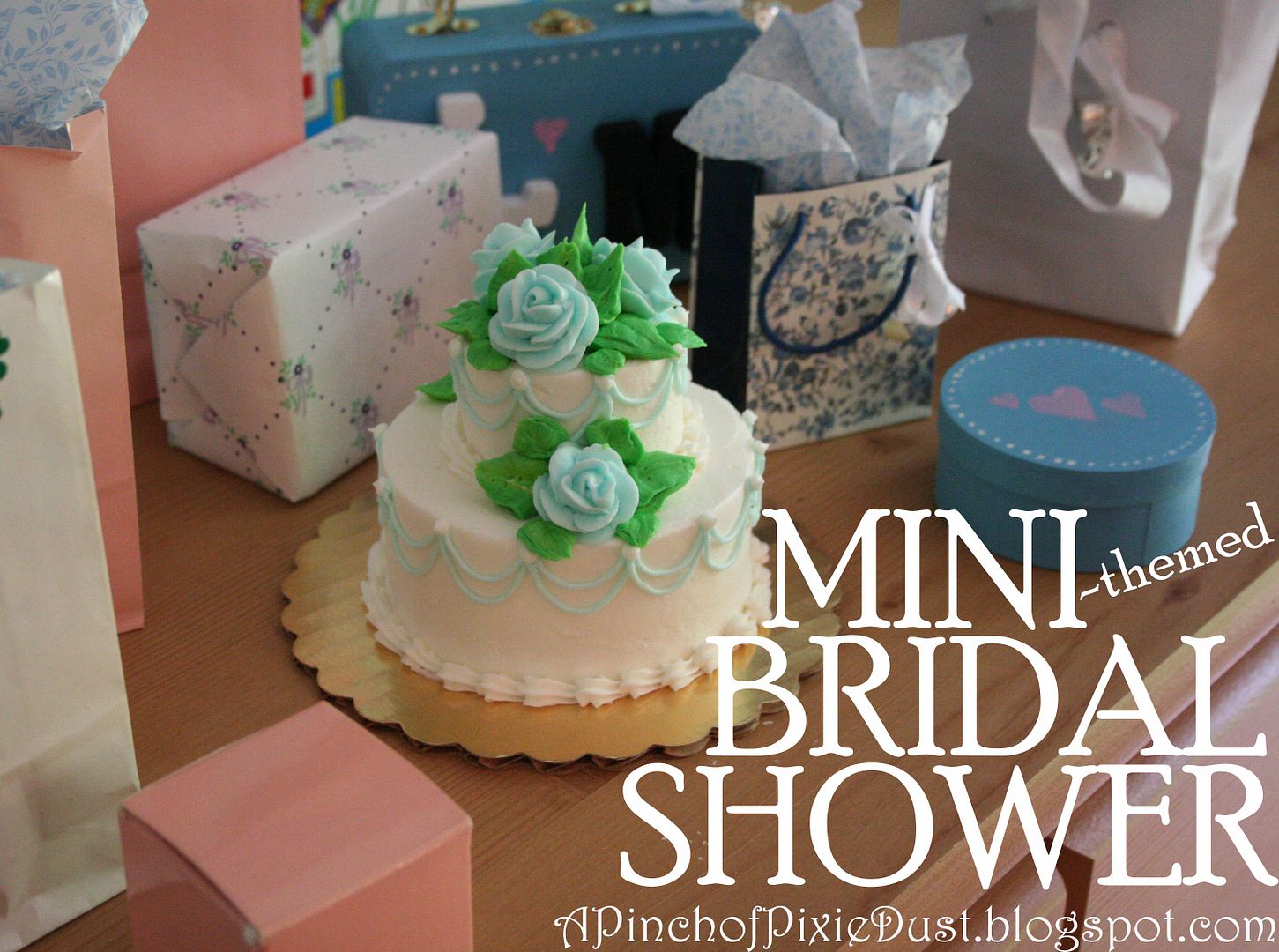 MINI was the theme of the bridal shower, and it was SO much fun to plan! We went to Party City and A.C. Moore looking for tiny presents and tiny plates and cups. They actually had a whole "
mini cocktail party
" section at Party City, which I was pretty impressed by. Some of the tiny dishes reminded me of the dishes they serve desserts in at Disney World club levels!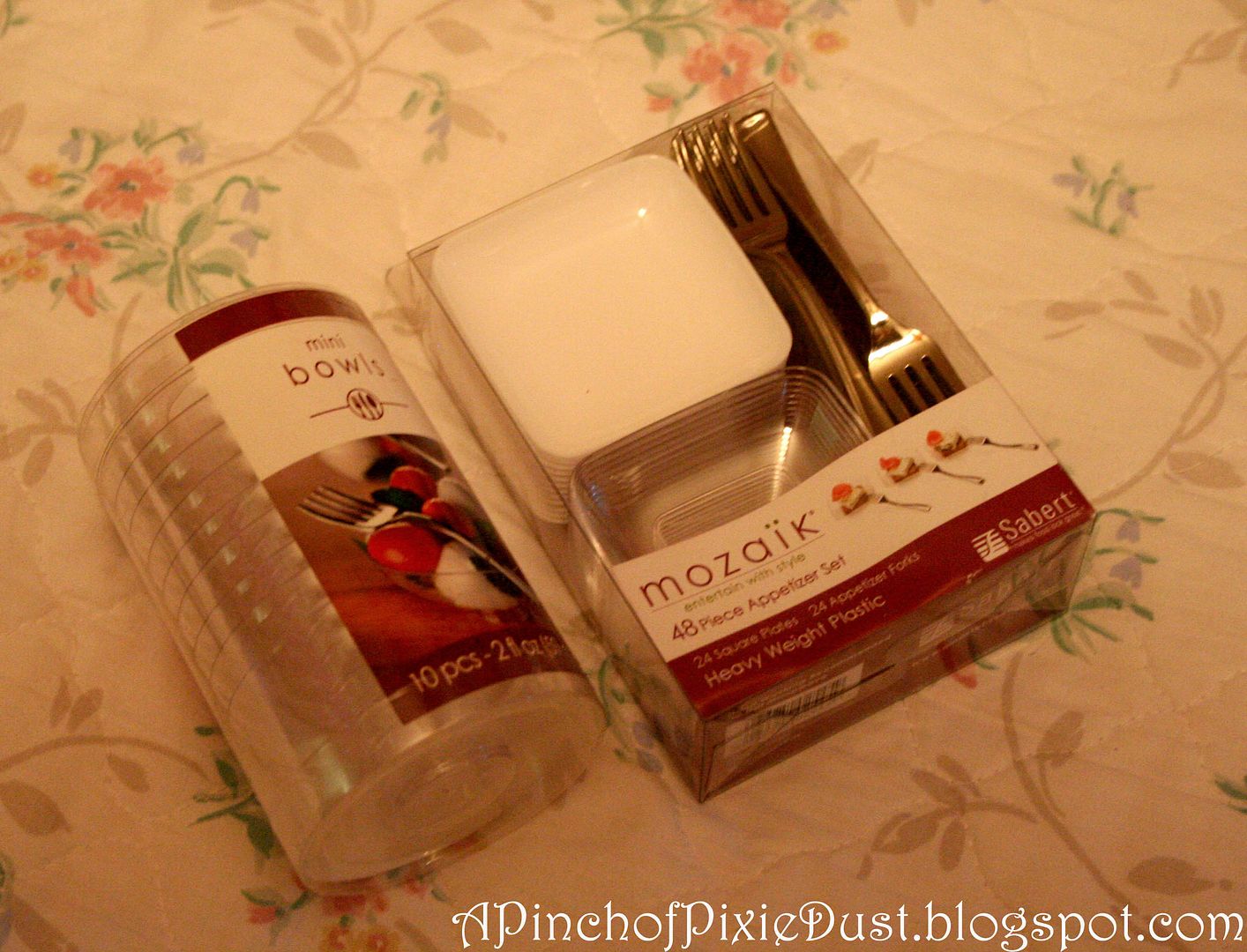 We got some tiny bowls and tiny plates and forks. They look doll-sized, like American Girl doll-sized...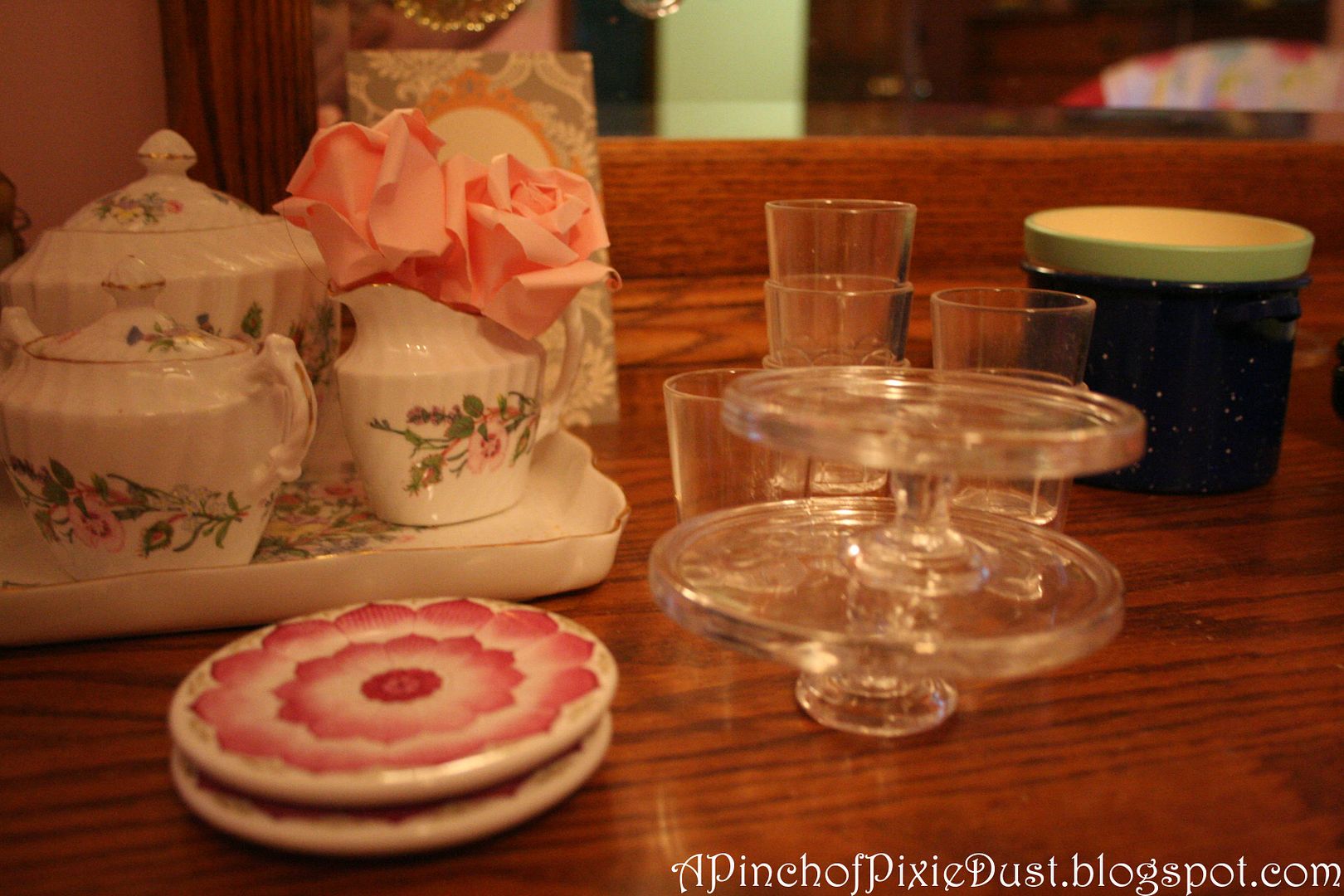 ...which inspired me to raid some of the boxes in the basement to see if we could use any American Girl supplies as tableware! We did end up using a few of the serving dishes!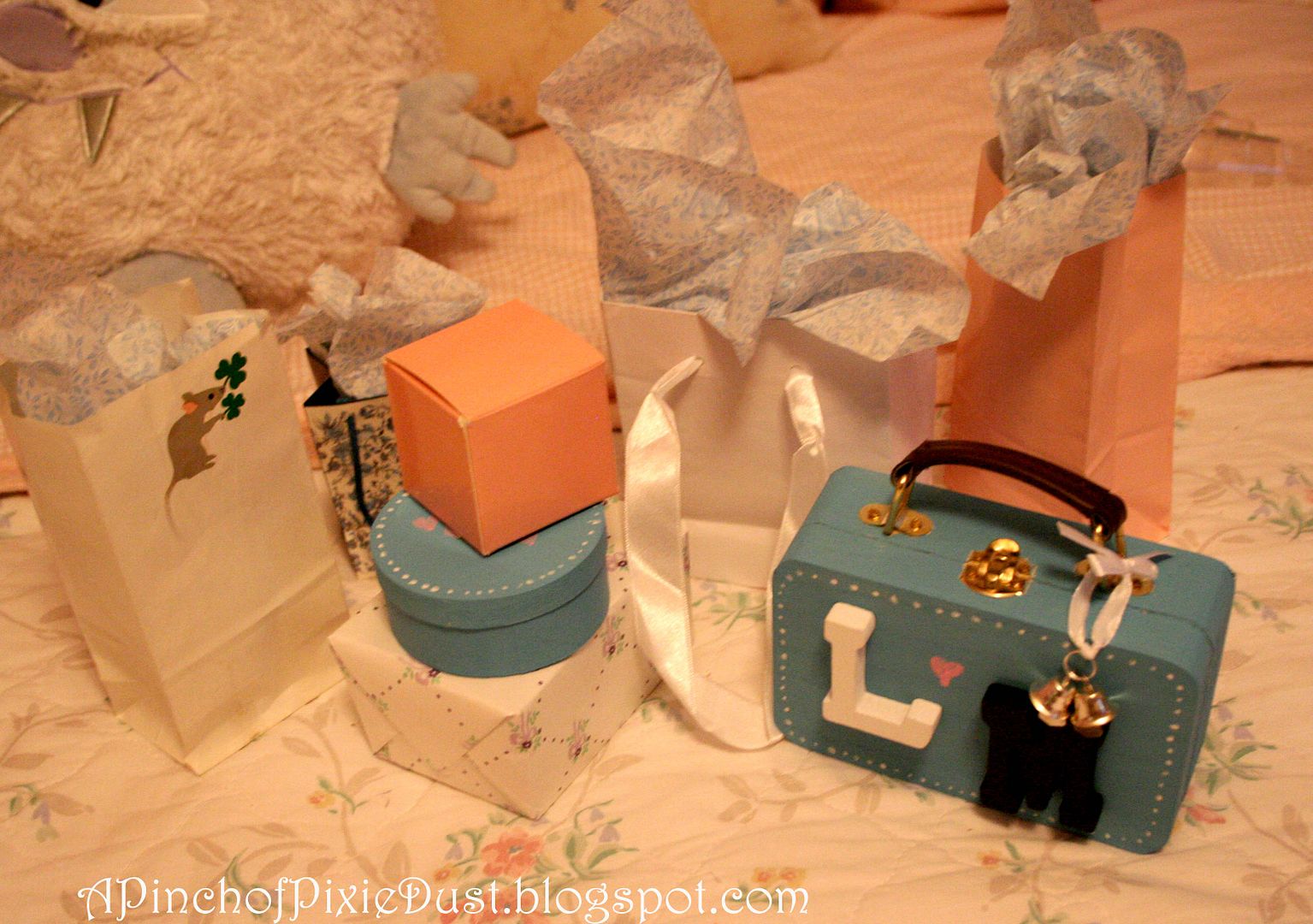 Here were all of the mini presents (also note the Expedition Everest yeti photobombing there. lol.). We wanted to have a whole bunch of them, but they were all just really small things - a candle shaped like a wedding dress, a little photo frame, a tea strainer, a tape measure, a little rubber stamp. Many of the presents we found in the wedding aisles at the shops - I guess they were intended as wedding favors, but they worked perfectly as gifts too!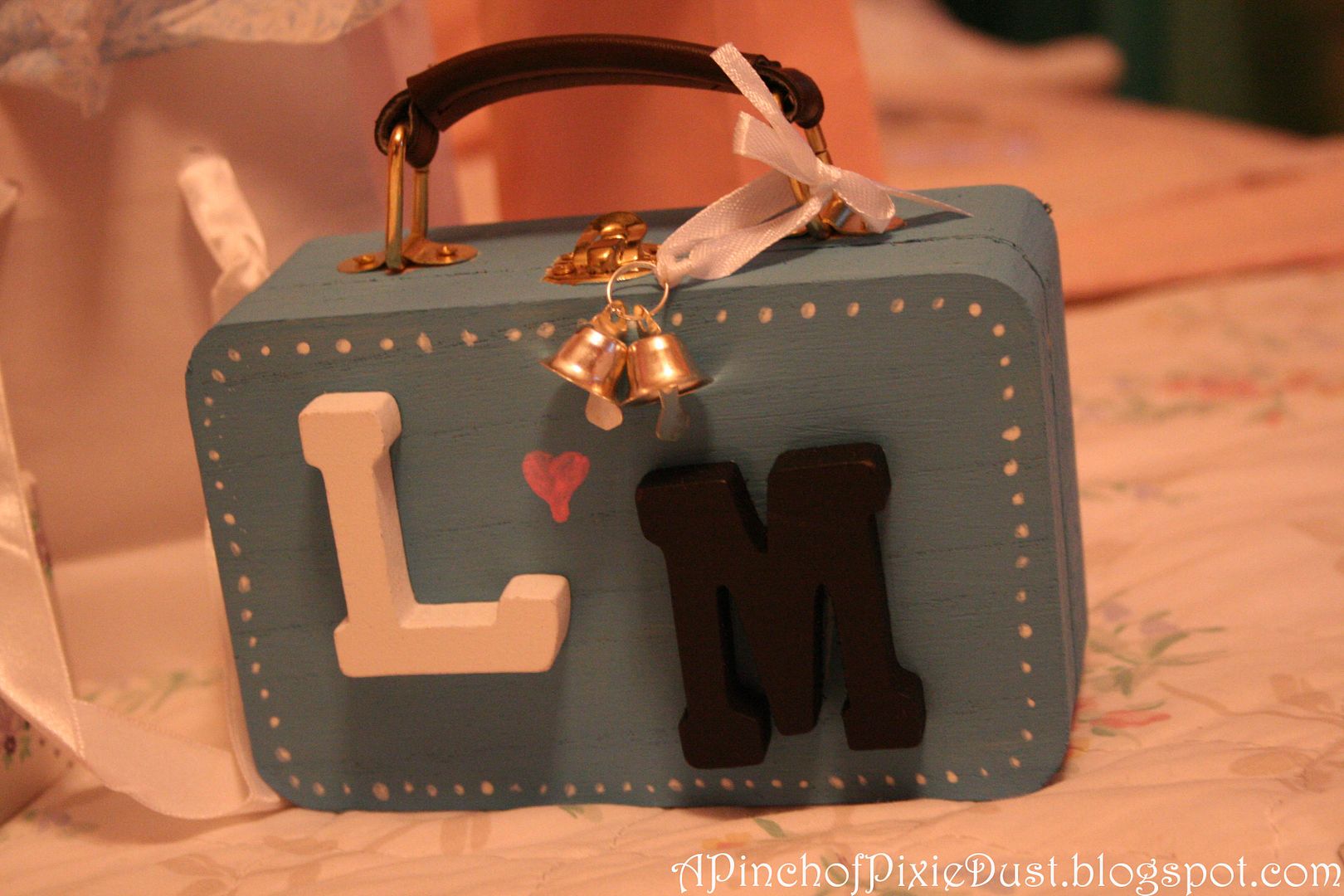 My favorite present was this one - I got a little wooden case from A.C. Moore (it was maybe 2 dollars), painted it light blue (her wedding color!) and added their initials. I also added some little wedding bells and a heart - rather adorable, if I do say so myself.
We filled it with some tiny white nail polish and a mini hand lotion!
The presents were really fun to assemble, but so was the food...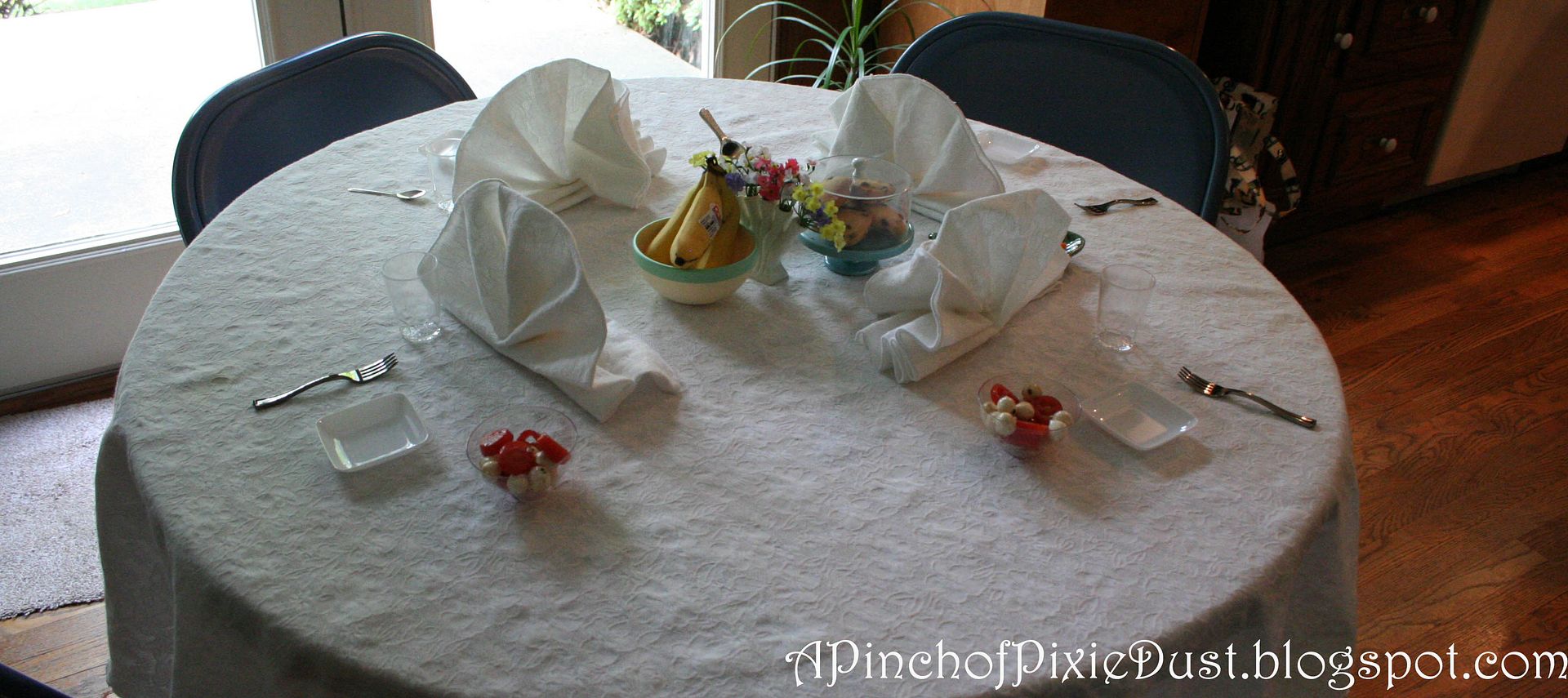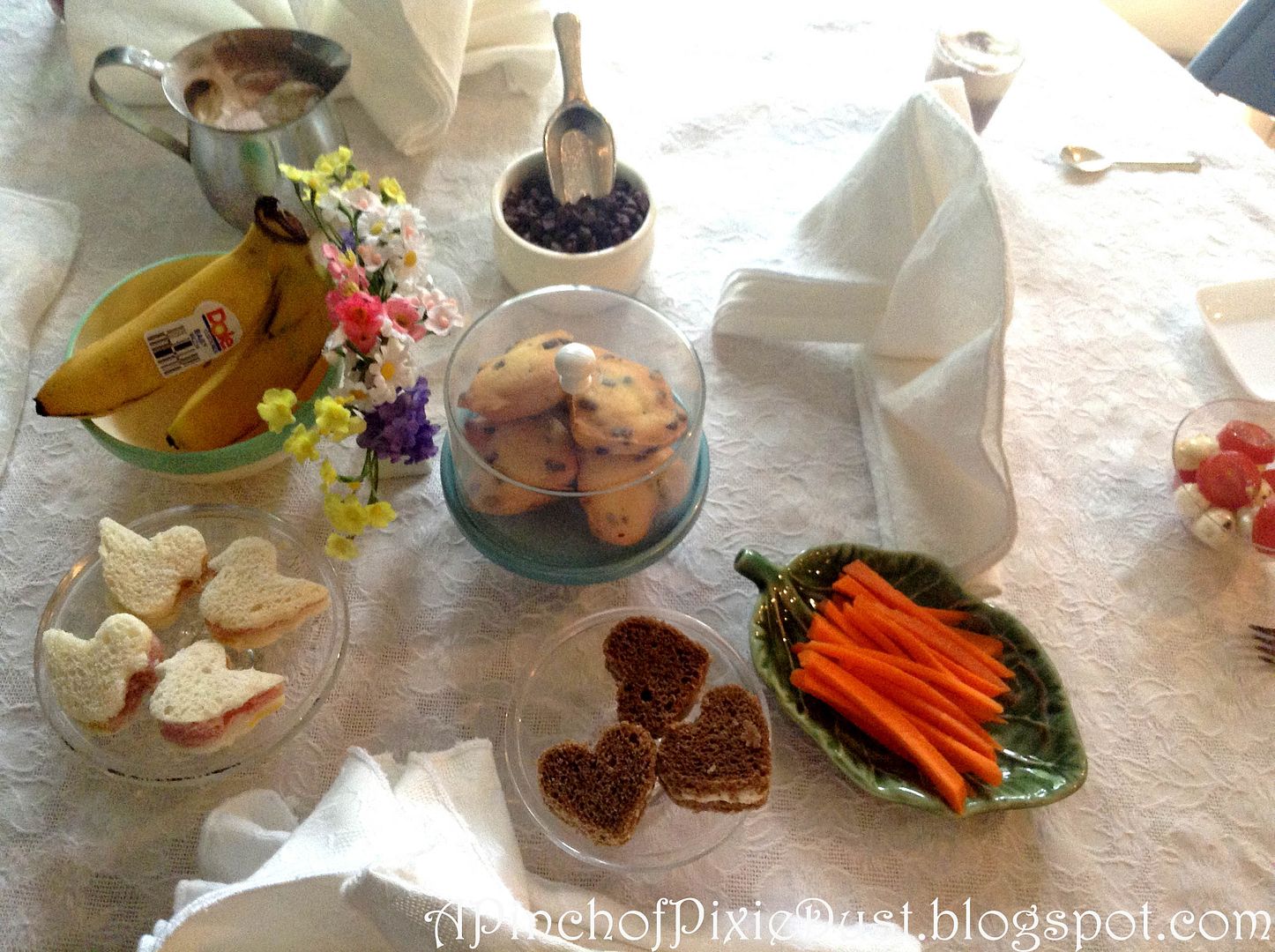 One of my brothers looked up how to do fancy napkin folding and did the fan fold for us - wasn't that nice of him? Also note the flowers on the table - American girl again!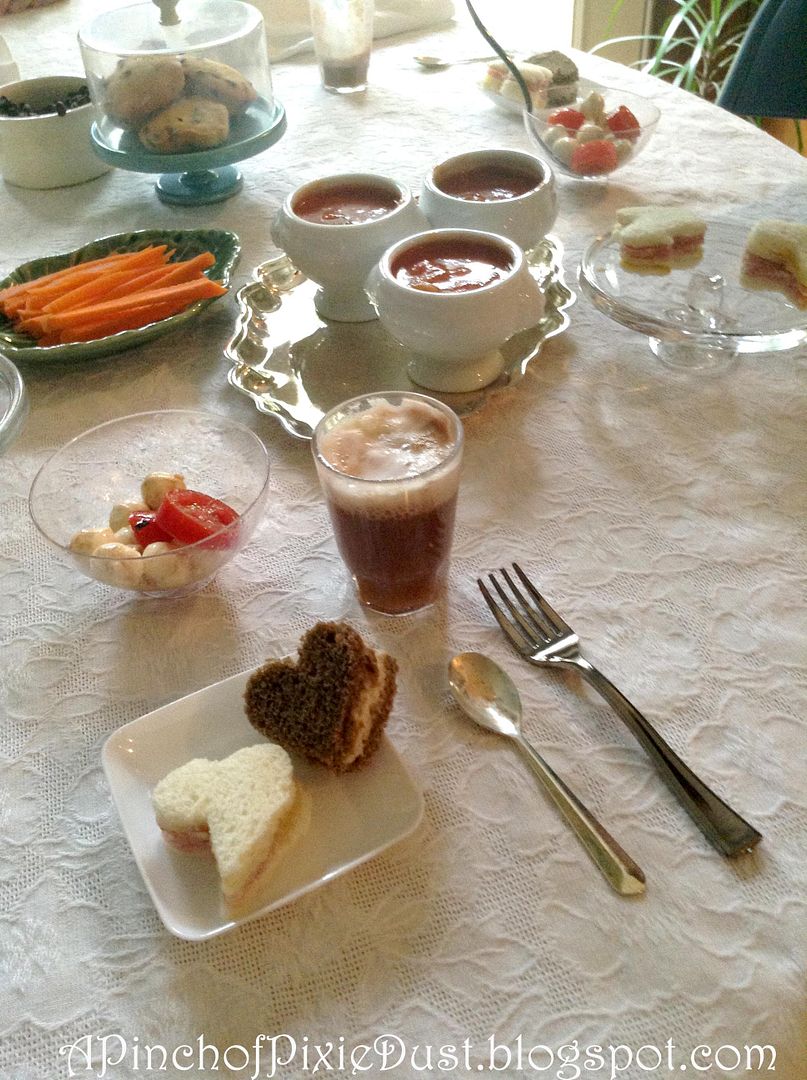 We even had SOUP! It was at least a five-course tiny meal.
Here were all of our mini offerings...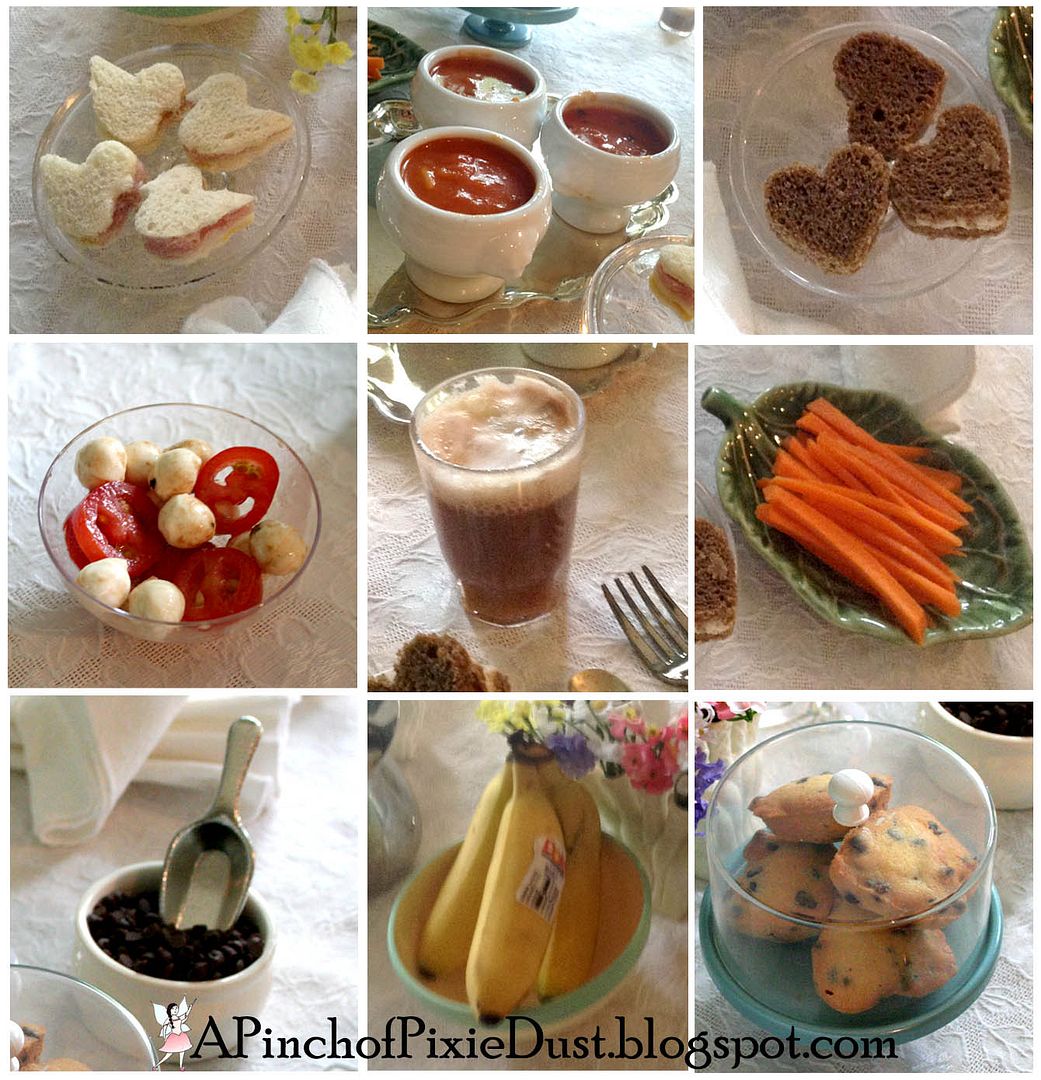 From top to bottom, left to right:
-tiny tea sandwiches cut as "love birds"
-little tureens of tomato soup
-mini heart-shaped sandwiches
-tomato and mozzarella salad made with cherry tomatoes and piccolini mozzarella balls
-a tiny root beer float
-carrot sticks cut to small size!
-mini chocolate chips
-mini bananas (who knew they sold/grew banas that tiny?)
-tiny heart-shaped cakes
And I haven't even gotten to the best part, though you may have noticed it in the first photo...THE CAKE!
How FULLY AWESOME is this?? It's like a mini wedding cake! And look at the roses! And the leaves!
And little blue swags - incredible! The cake came from a lovely place called the
Bakery Nook
. We had stopped by the Bakery Nook earlier in the summer and noticed they had some
tiny one-layer cakes
. So I decided to call them up and ask if they could put a little cupcake or something on top to make it two-tier. Not only did they say they could, they also added flowers in the right color and just made it completely gorgeous!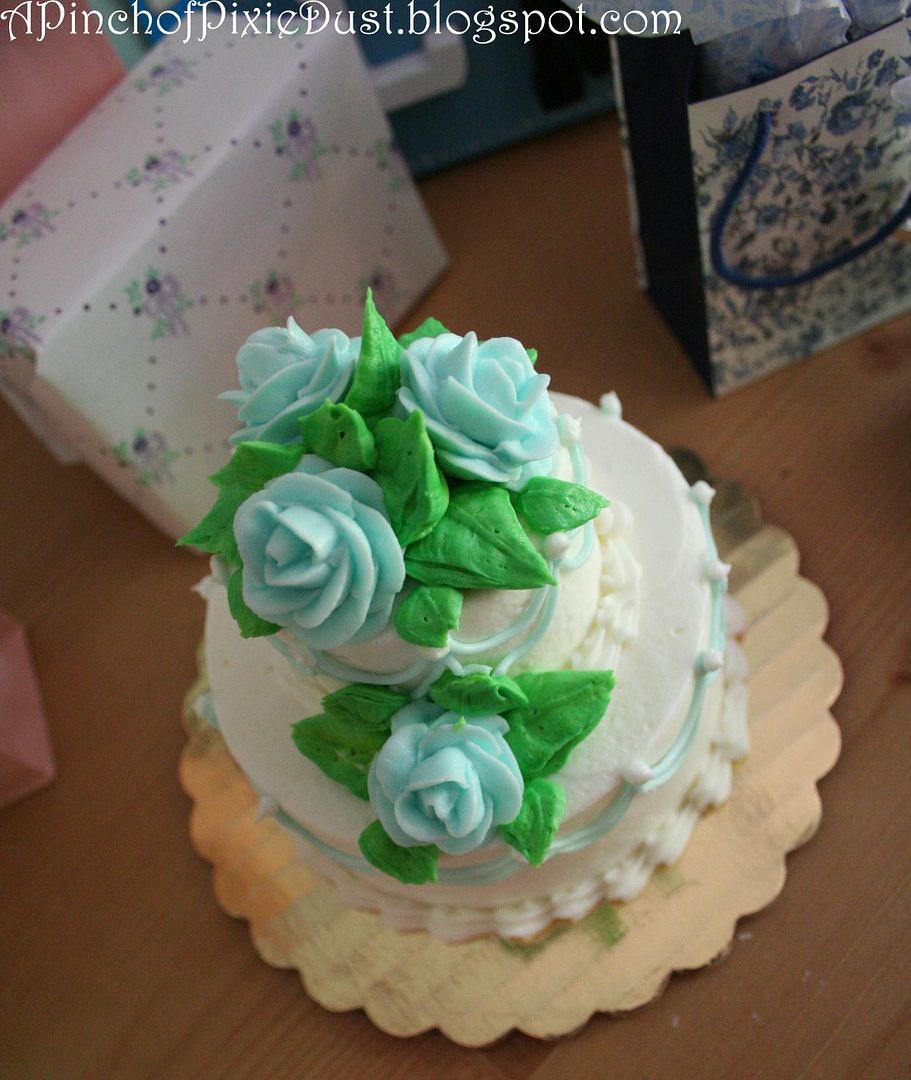 Someday, at my wedding, I don't want a big wedding cake. Instead I want to serve each person one of these, their own mini wedding cake! It wasn't even all that expensive...a little less than $10. And the detail was just amazing. We gave the bride-to-be the top layer to take home and eat with her groom-to-be, and we ate the bottom layer...
Not only did it LOOK adorable, it also TASTED delicious! No fake ingredients here - real buttercream and lovely, light cake. YUM.
I'd say it was a fully successful bridal shower! And if you'd like to hear more about it, be sure to check out the vlogs:
Bridal Shower Preparations - http://youtu.be/4VYYAQ-PFG0
The Mini Shower! - http://youtu.be/iOMvsb6yDR8