When we last left off on our European adventuring, I believe we had just finished a perfectly lovely
brasserie breakfast
in the city of Nantes.
My dad loves trains of all descriptions and always asks about the locomotive, so I always take a picture of them for him. These trains were very colorful!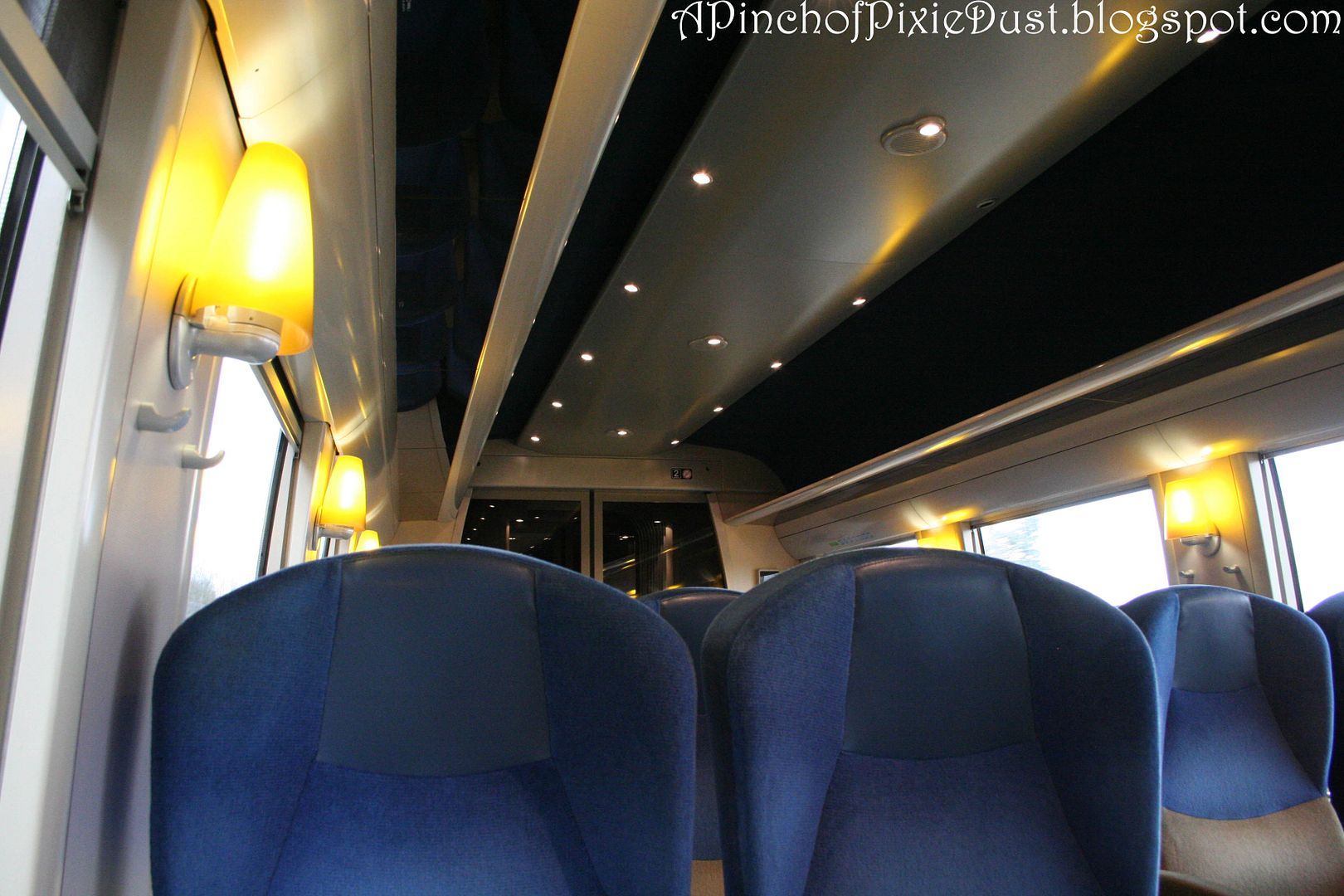 Here's the inside of the train...rather more subdued, but very cozy! I like the wall sconces - and look just below them. There were even coat hooks on this train!
There were also chocolates on the train - but we had actually brought those ourselves. We had picked up a few at that pretty
chocolatier
in Nantes, and they were the perfect snack for the journey!
Today we had
good train luck
...there was still snow in northern France (where we were going!), but it didn't affect the schedules - thank goodness! As you can tell from the photos, we got back to the station early and were first on the train. That meant I had time to VLOG:
I loved that little "doo-do-do!" noise, and the French voice announcing things that I mostly could not understand about le teh-jay-vay! (TGV).
Vlog number 2! Don't you love the charming screenshots youtube randomly chooses to freeze on? LOL.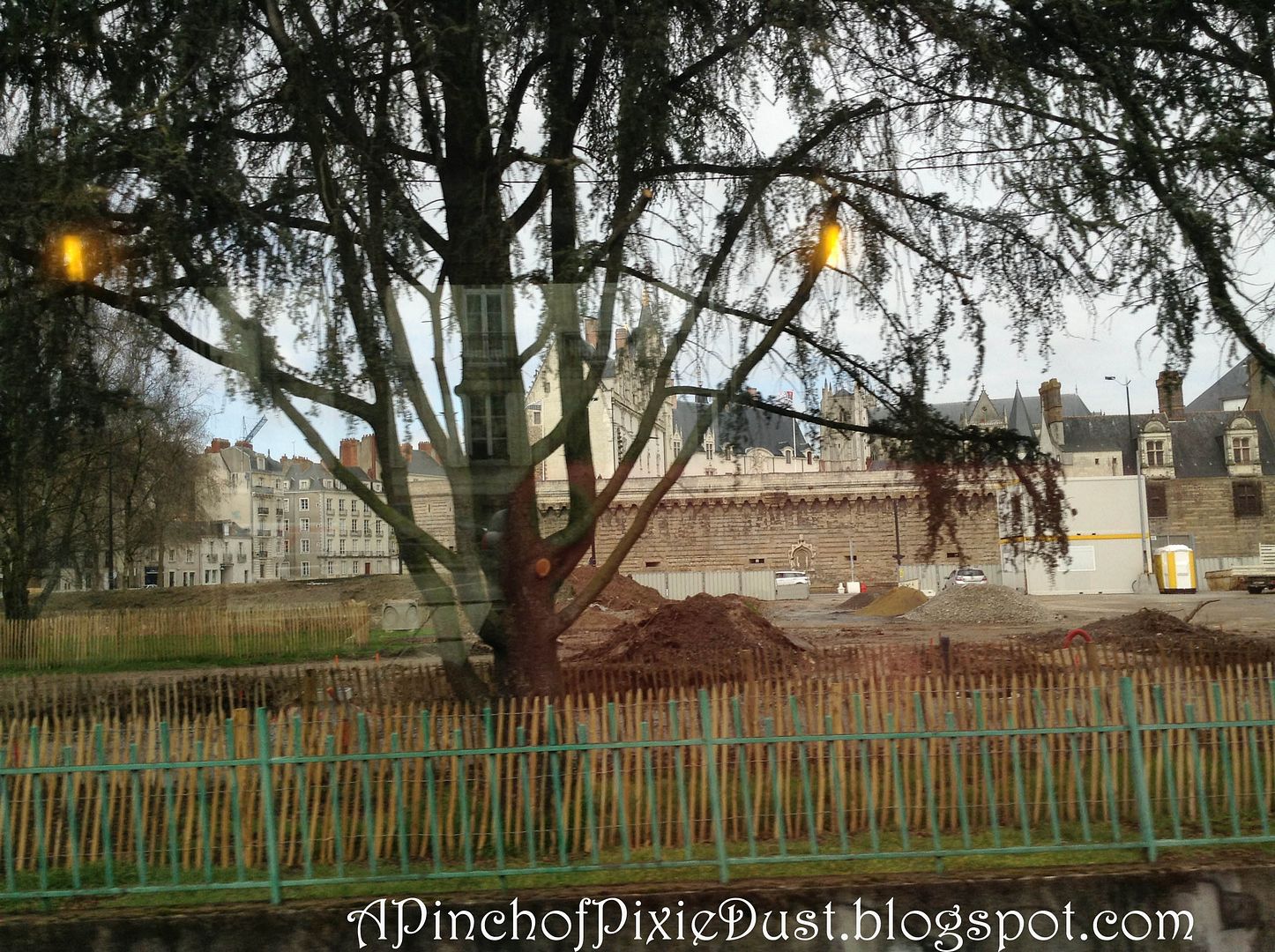 Soon our TER (that's a regional train, I believe -the TGV's usually go greater distances and faster!) was taking us away from Nantes and its city castle towards, as I mentioned in the vlog, the city of Rennes, a city in Brittany, France not far from the incredible monastery-perched-on-a-rocky-island that is Mont St. Michel.
If you don't have a car, as my brother and I didn't, getting to
Mont St. Michel
can be a bit tricky. There are three cities with train stations nearby that you can aim for: Rennes (the biggest of the cities), Pontorson, and Dol de Bretagne. There are various busses and tourist transportation from these three, but the options were more limited as we were travelling during the off season. We ended up staying at an
amazing hostel
where the owners provided transportation. They were picking us up at Dol de Bretagne station, so we were changing at Rennes to get on a train to Dol.
If you're not actually planning a trip to Mont St Michel, that was all probably a bit confusing. But if you are, hopefully it was helpful!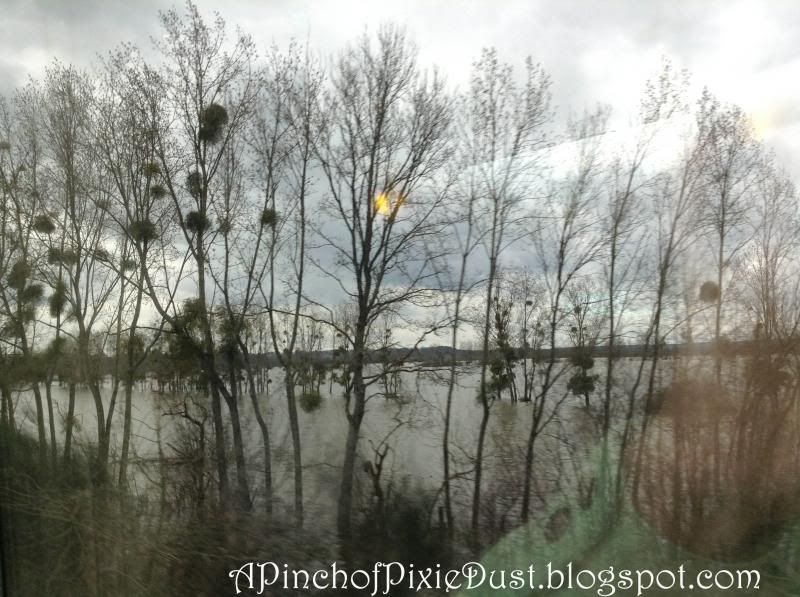 ANYway, it was a very pleasant train ride from Nantes to Rennes. We passed more of those crazy mistletoe trees! I never knew mistletoe grew in those fluffy round spheres like that. Since the tree branches were still bare we could really see them!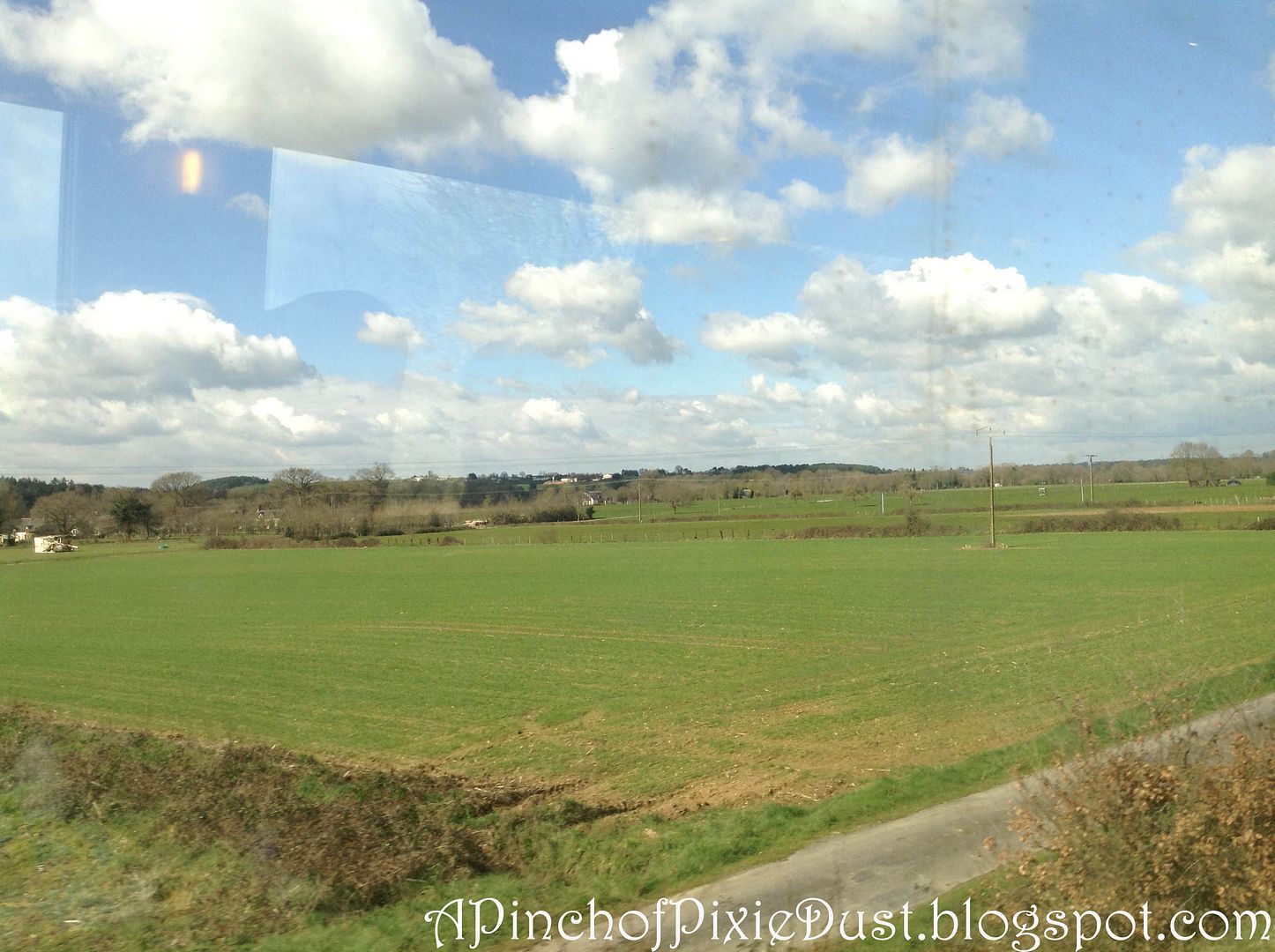 We passed through foggy patches and then into brilliantly sunny stretches of countryside...I wondered rather anxiously whether it would be grey or blue at our destination, but luckily it was blue!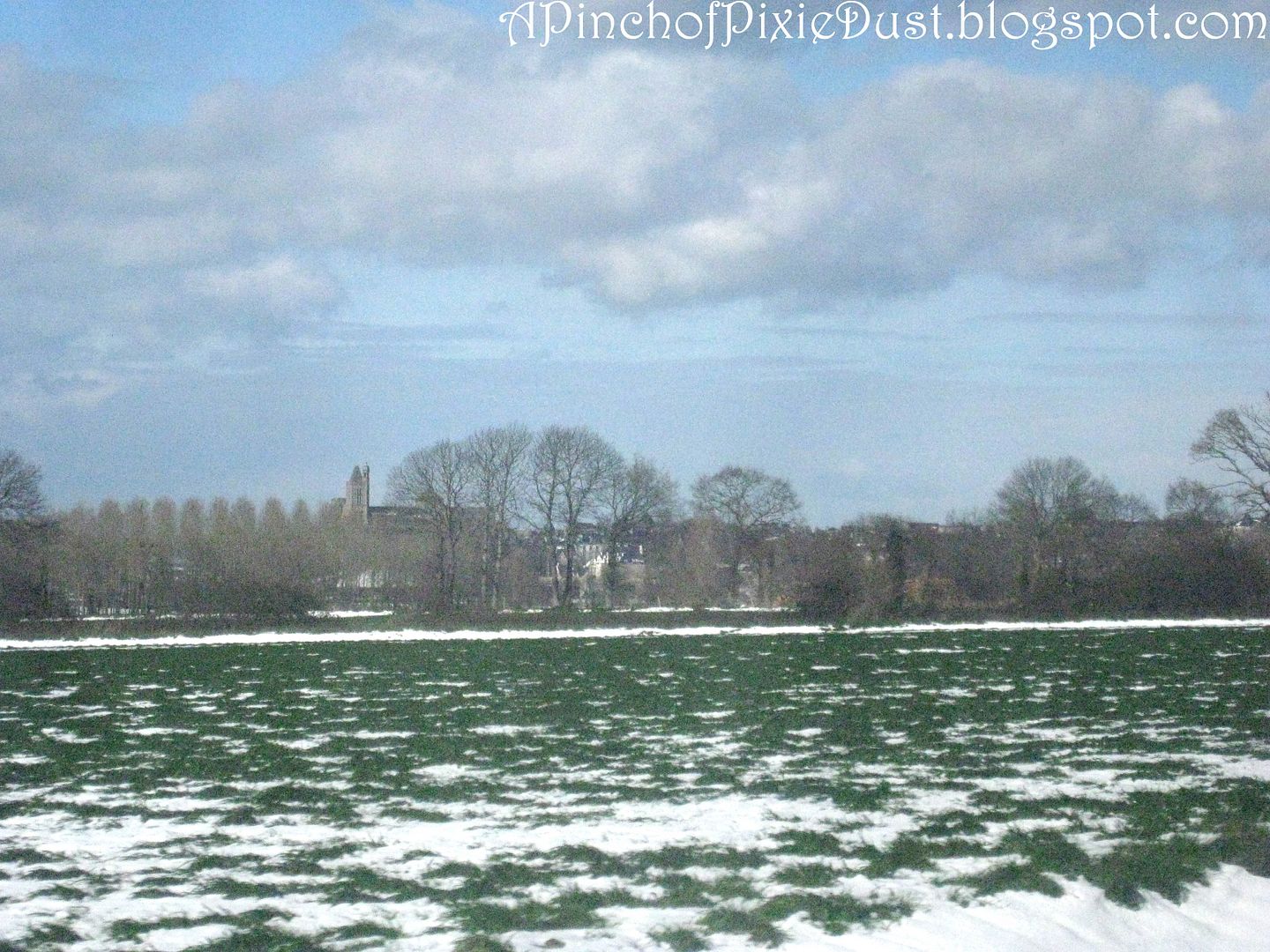 Well, blue with patches of white snow - but I'll take it!
Once we arrived in Rennes we had an hour before the train that would take us to Dol de Bretagne. We found our way out of the train station and looked about us at the town.
I don't know if you can tell very well in this photo - but do you see the building directly across with red and white timbers? There was a sign on it announcing to the world that it was a CREPERIE.
I looked at my brother. My brother looked at me. Without so much as a word, we moved with one accord across the street. We had but one thought: to the CREPES!
Breakfast felt far enough away that the prospect of a nice, warm crepe was HIGHLY appealing. Especially when served in such a cute space...
Red and white checkered cloths and big coffee cups everywhere. Those inspired me to order a café crème: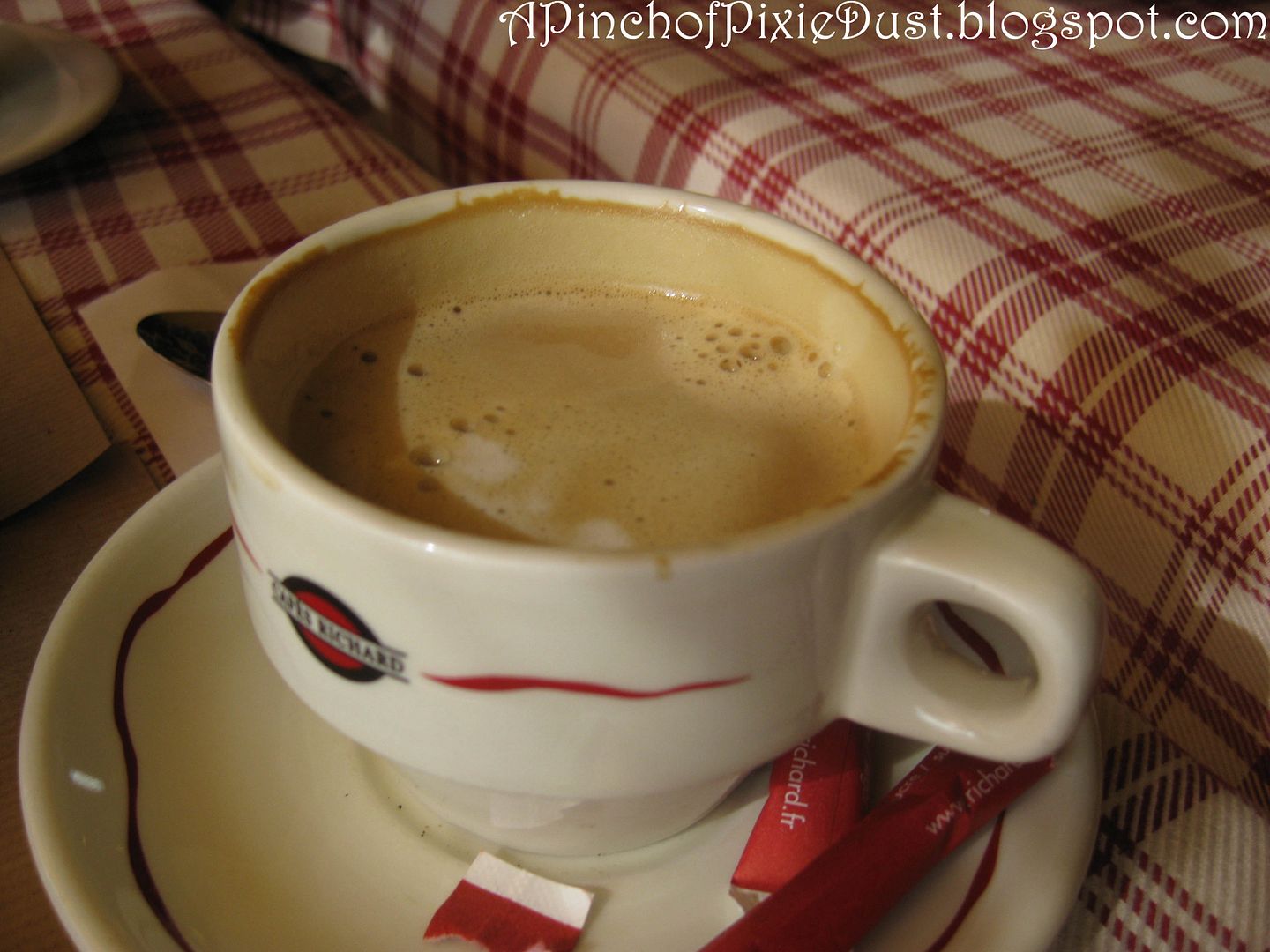 It needed rather a lot of sugar, as it was quite bitter, but it was still lovely, and I just felt so French drinking it. My brother was even more European - he ordered JUST café (which is basically expresso) and didn't put in any sugar!
At least the crepes were nice and sweet...
MMMMMMMMMMMMMMMmmmmmmmmmmmmmmmmmmmmmmm...perfect for a chilly day after a long train ride!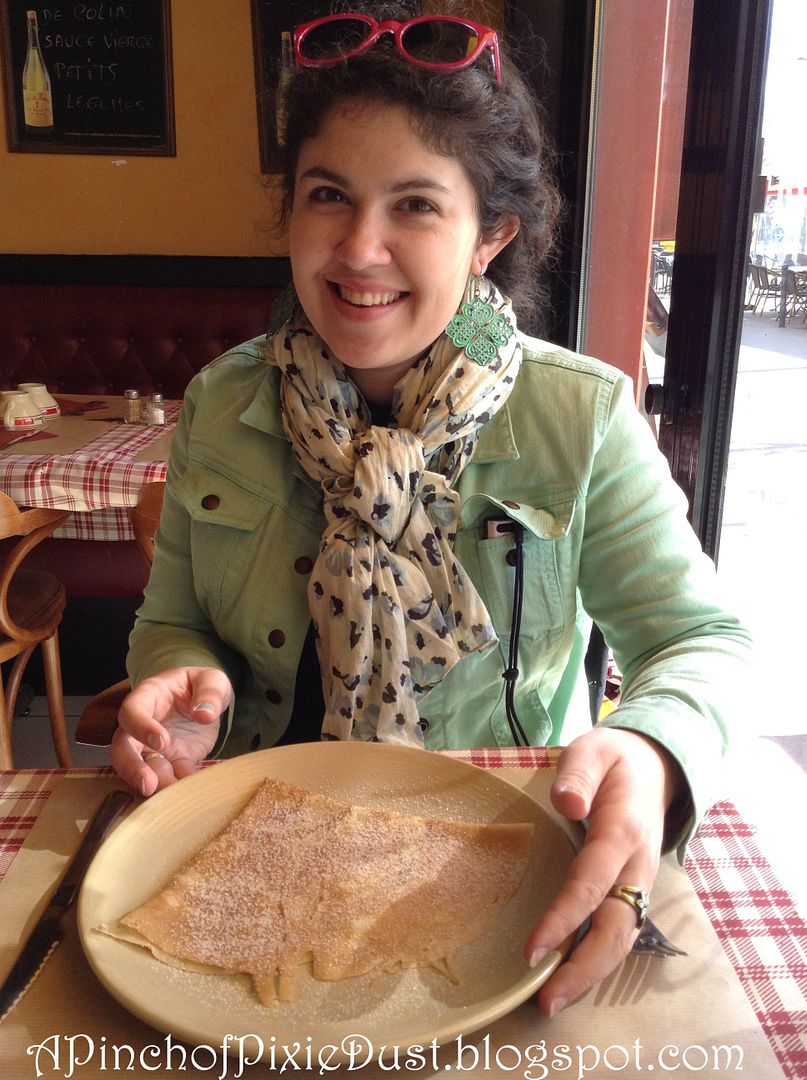 Guys. I could really go for a crepe right now. lol.
OF COURSE I DID A CREPE VLOG!
Our snack lunch lasted just the right amount of time - we scurried back over to the station and boarded our train. It was a very short ride to Dol, and Paul - one of the owners of Au Bon Accueil, our B&B, was already there to pick us up.
He was great - friendly and informative and very British (which made me excited, because we were heading from France to England in just a few days!). Paul drove with total nonchalance over rather icy and snowy roads - the snow that had stopped our trains the other day had hit Brittany pretty hard. Apparently the busses to Mont St Michel weren't even running! But Paul fearlessly took us to the hostel where we met his wife Jane (the other very friendly owner!) and dropped off our stuff, then back into the car - there was still enough daylight for us to be able to explore THIS: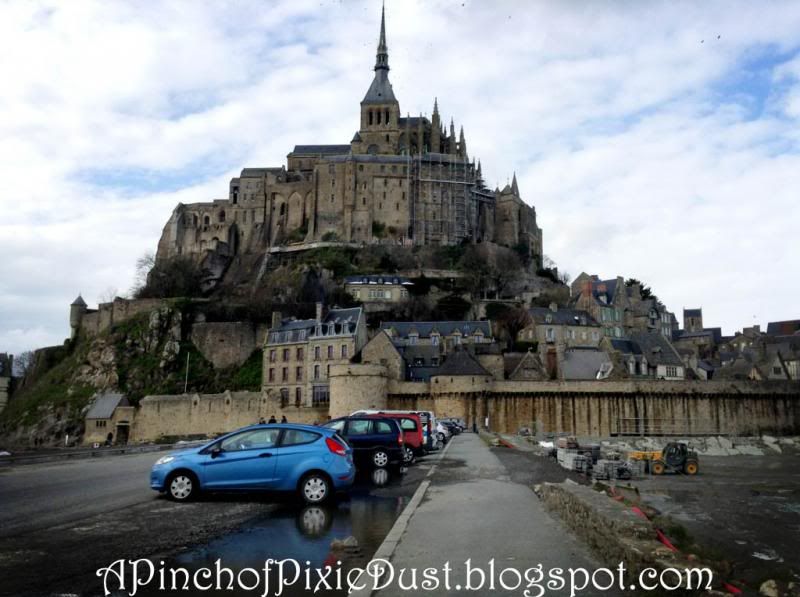 MONT ST MICHEL!