Today's quest for Disney Desserts takes us to a certain bakery case at the Mara Food Court at the Animal Kingdom Lodge.
...more specifically...to the very bottom shelf...
...where we'll find some BRAND NEW CUPCAKES!
There are two WILD new tasty treats here! I was so excited to find these, because the Animal Kingdom Lodge is one of the few deluxe resorts that had been missing a deluxe cupcake! Previously they had just regular old chocolate and vanilla cupcakes, but these new ones are so much more exciting!
As I mentioned in my vlog, the only downside to the new cupcakes is that there are already so many tasty things at the Mara...zebra domes, pawprint brownies, etc...
I also spotted a peanut butter brownie that looked pretty amazing. Ahhh...it's so hard to decide what to get!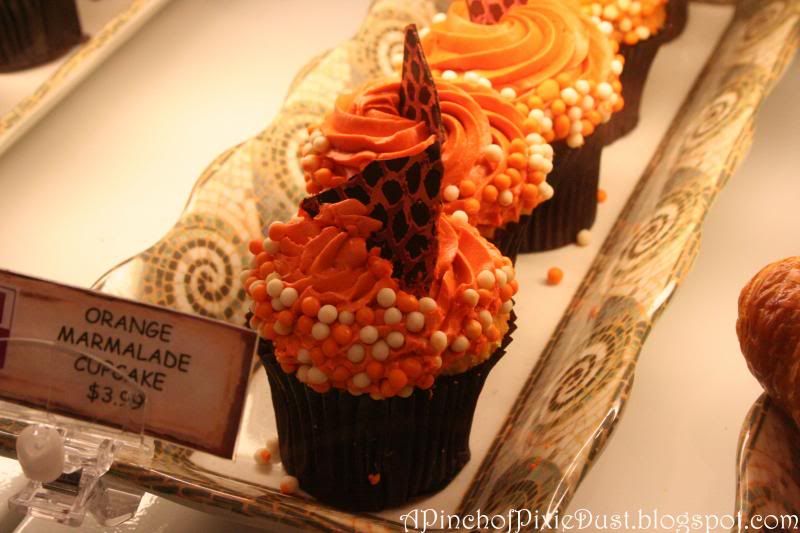 But let's get back to the cupcakes. First off, there's an orange marmalade confection with a fabulous giraffe print slab on top! I would really like to try this one at some point, because it sounds delicious! But in the end, unsurprisingly, the chocolate choice won out...
This is the chocolate butterfinger. The butterfinger cupcake over at Starring Rolls is one of my favorite Disney cupcakes of all time, so I had high hopes for the Mara version. It did not disappoint.
Although...I almost didn't want to eat it because it was so beautiful!! I don't think they could have swirled that icing any more perfectly.
And the little chocolate pebbles?? They were SO delicious.
The cake itself was wonderful - rich and dense - and the fluffy vanilla icing went with it perfectly. Inside there was a little dab of chocolate icing/filling, and the pebbles added the perfect finishing crunch.
The only thing that puzzled me about this cupcake is that there was nothing that screamed butterfinger about it. Maybe the chocolate pebbles had been made from butterfinger bars? Don't know, but it was still delicious!
Will you be trying one of the wild new cupcakes the next time you're at the Mara?