**October 2013:
Find some new Fastpass+ and Magic Band tidbits here!
**
**January 2014:
Read about our MagicBand and Fastpass+ Experience
**
One of the (many) fun things about our Disney trip this June was that I got to see the beginnings of the new My Magic Plus system that is just starting up at Walt Disney World. So I thought I'd share some of my early impressions here!
Believe it or not, it's a small world (did you know that technically that ride is never spelled with upper case letters?) is now a fastpass. CRAZINESS. But then that is only one of all the crazy new things going on in the parks with the Fastpass+ and My Magic+.
The first thing you will notice is the TURNSTILES. This we did get to experience (I even vlogged it), and I thought the new touch system was really neat: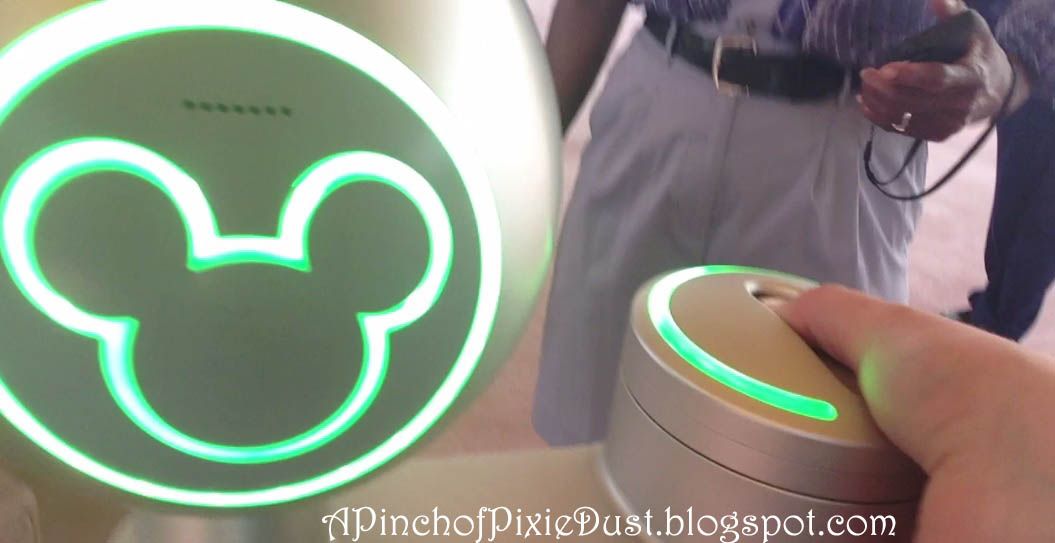 This is what the turnstiles now look like - magic golden orbs with a glowing Mickey head. You hold your card (or Magic wristband!) up to the Mickey, do your finger scan, the orb makes a cute little thinking noise, then Mickey glows green and does a magical chime and you're in!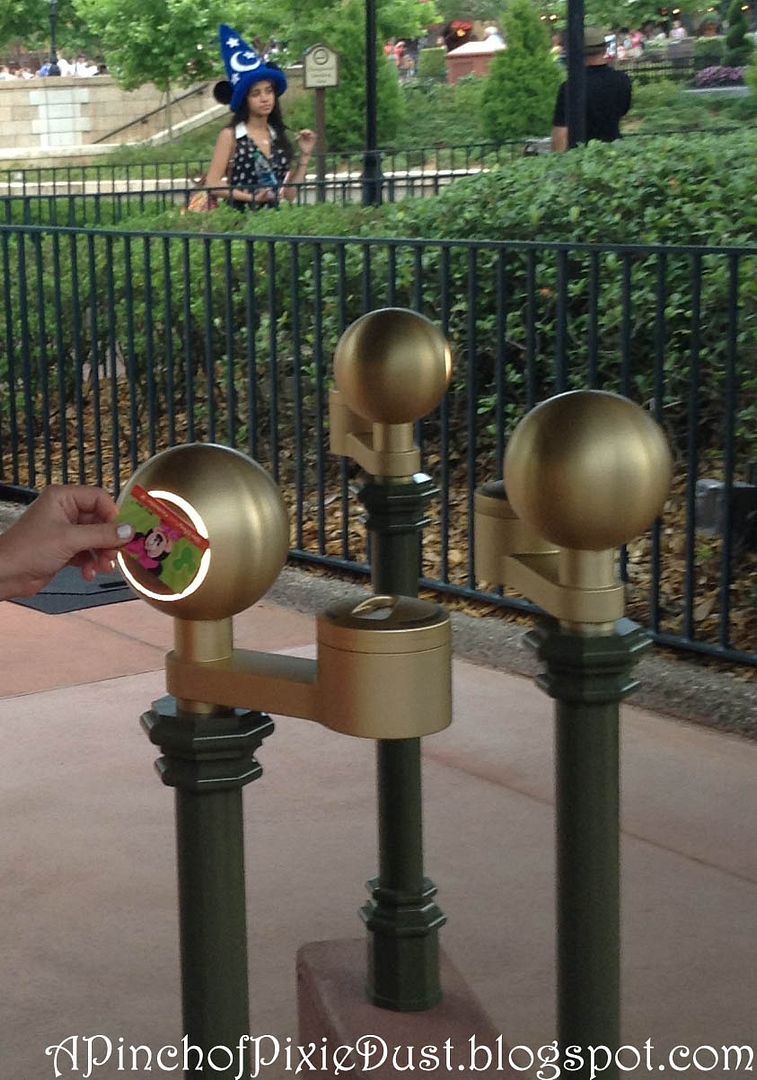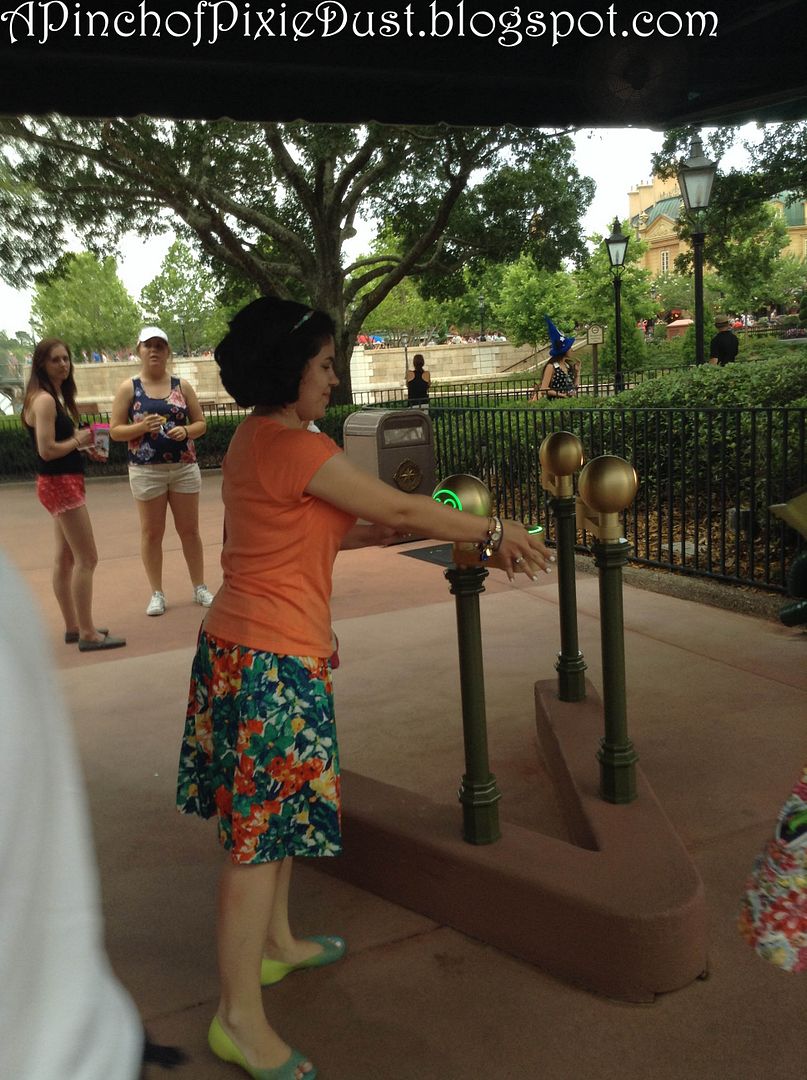 If there's a problem, Mickey will flash blue (I thought it was funny they stayed away from red...I guess they thought blue was more calming, so you won't get stressed if there's a problem with your ticket!). The cast members at the turnstiles now have tablets so they can monitor everyone coming in - you may even find that they magically welcome you by name!
Currently it looks like about half the turnstiles are the new Mickey orbs and half are the old slide-it-through kind. There were cast members with signs out front directing you where to go if you had the new ticket vs. the old ticket.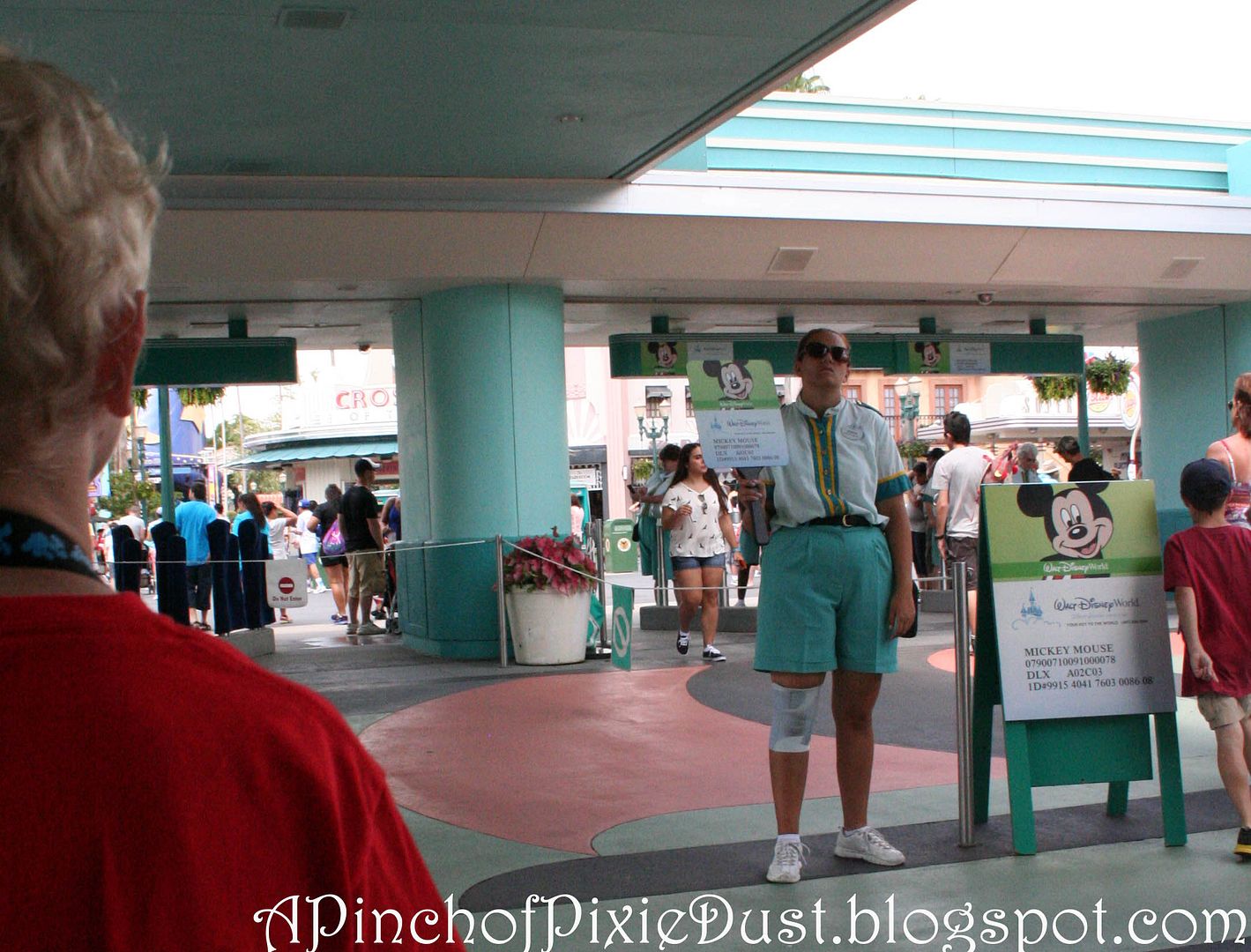 This girl looks SUPER excited to be welcoming you to Hollywood Studios, doesn't she? lol - poor thing, it was really hot out. I wonder if they'll eventually replace all the turnstiles or keep a few of the old ones? If you're a cast member using your maingate card to get friends in, you still have to use the old turnstiles.
Fastpass+, one of the biggest new things about the new system, had not yet started up when we were there. With fastpass plus you can basically reserve three fastpasses per person per day in advance, up to 60 days before your trip. It sounds like it'll have to be for three different rides, and you can use the My Disney Experience app to choose them.
I love it's a small world, but seriously. Who is going to pick a fastpass for that over a fastpass for Space Mountain? Or Peter Pan? Maybe there are some hardcore fans, who knows. Can you see those pillars under the arch?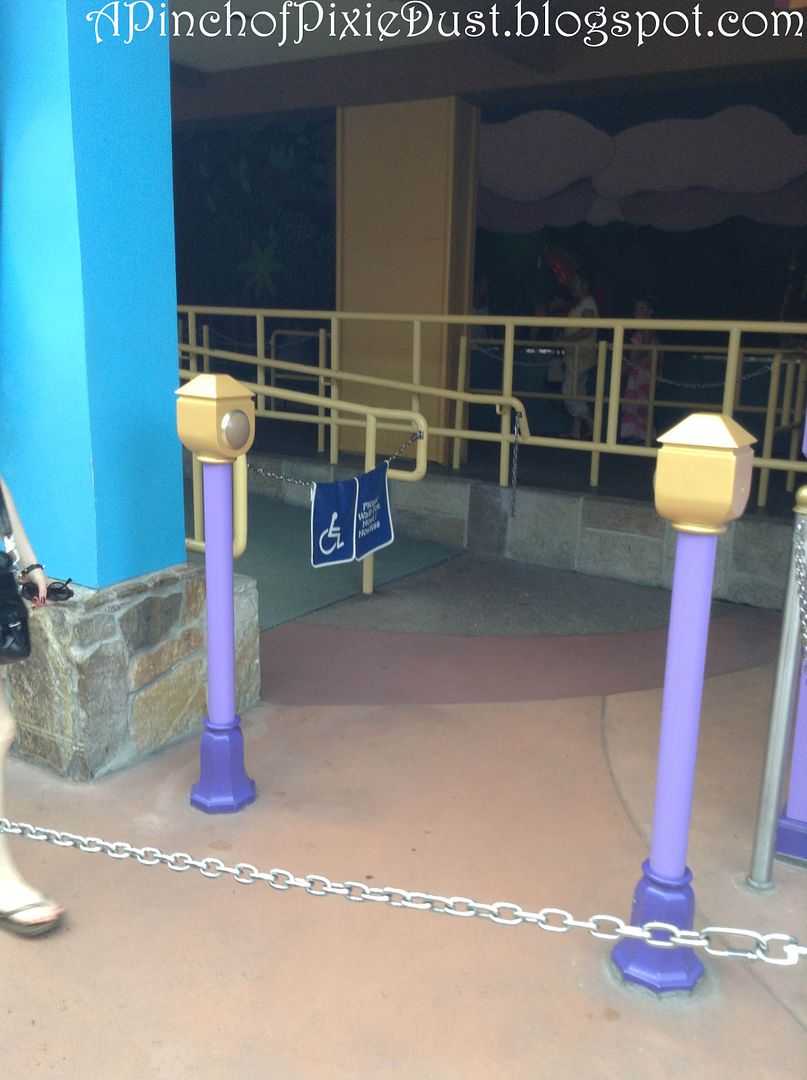 Here they are at the entrance to the Peter Pan's Flight fastpass line. Your fastpass plus choices will be loaded onto your ticket or MagicBand, so you'll just touch it to the sensors on the pillars and go through!
A whole bunch of rides around all the parks seemed to have these pillars set up, though not yet in use, in June.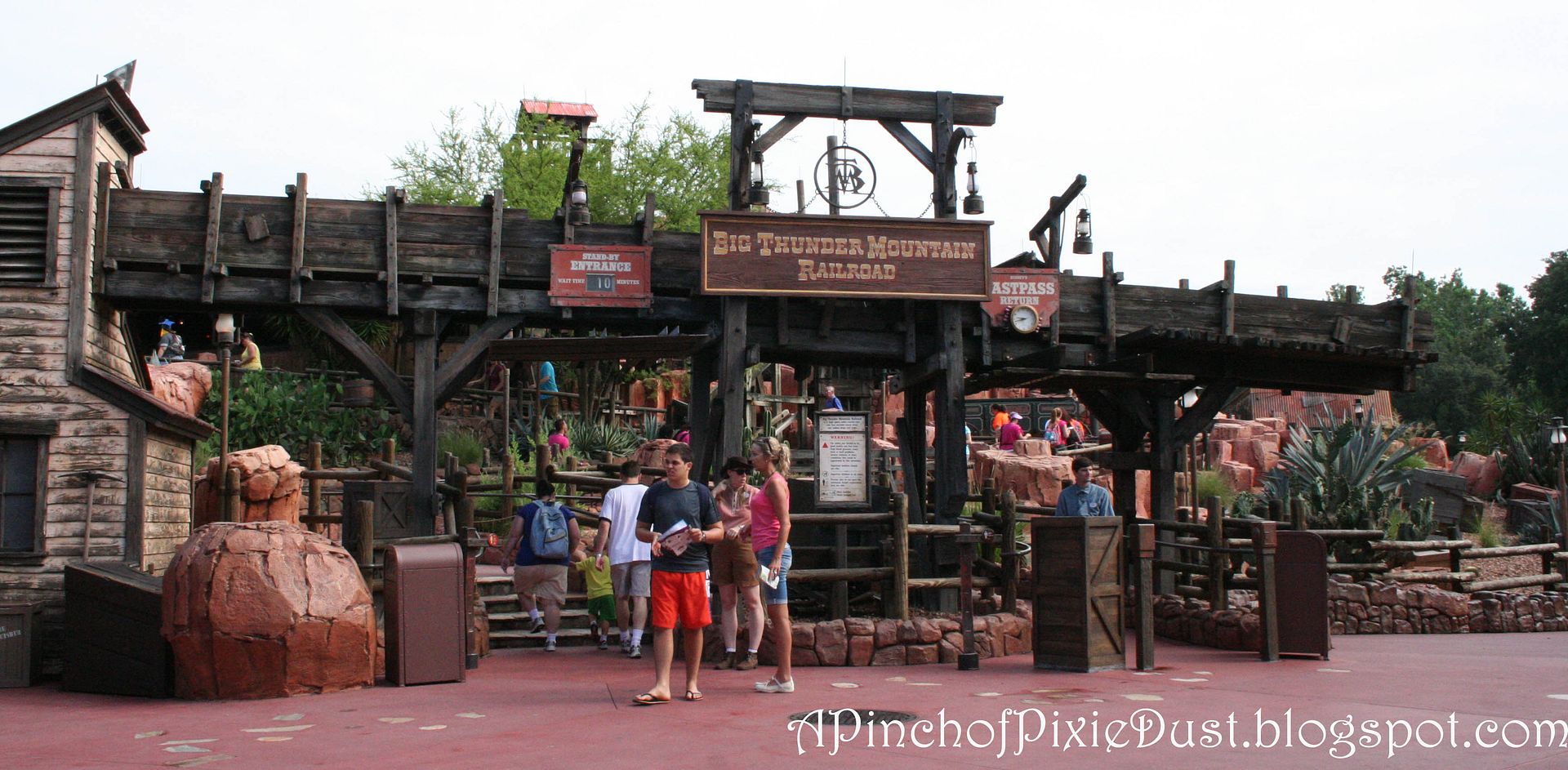 You can see the two brown sensors by the crates to the right in front of the Big Thunder fastpass line.
What I really want to know though, is how fastpass plus is going to affect the regular fastpass system. I mean, what if you didn't reserve in advance or don't have a device to use the My Disney Experience app on? I'm betting you'll still be able to get fastpasses day-of at the attraction (right?), but will they still be paper slips? Will they now load them on your ticket/MagicBand? And I'm sure day-of fastpasses will now be harder to get with people reserving the prime times in advance. It'll be really interesting to see how this all works!
The MagicBand madness had not yet started at the beginning of our trip, but towards the end of it, they started testing the wristbands at the Contemporary and the Animal Kingdom Lodge...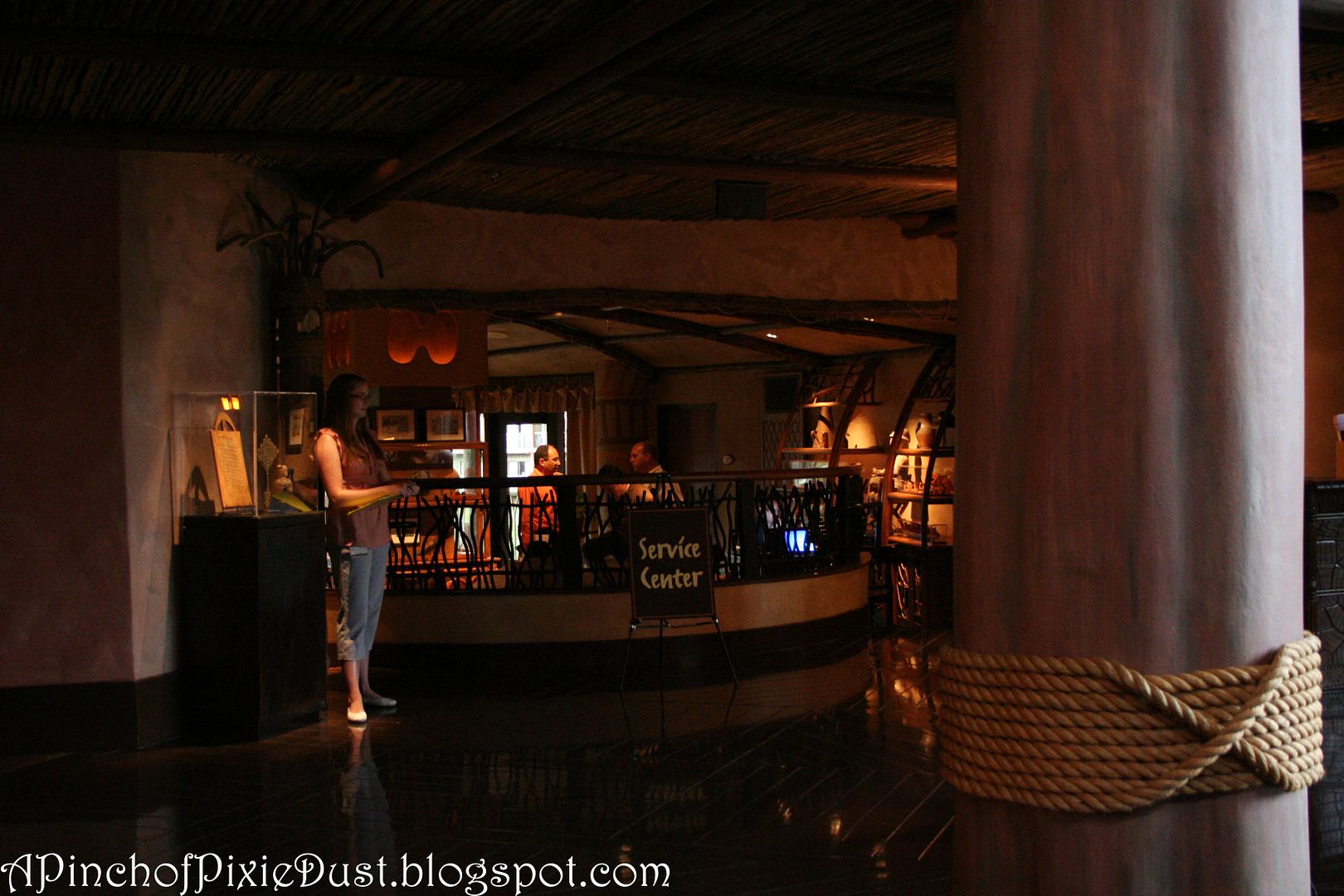 We were actually staying at the AKL (though sadly weren't picked for testing), but it was fun to see it going on. They had closed off the Sunset Lounge and had it filled with computers and things. Every so often you'd see a family wearing the bands walk by!
I proceeded to Zawadi, where I had heard from twitter there were Magic Band accessories newly on display...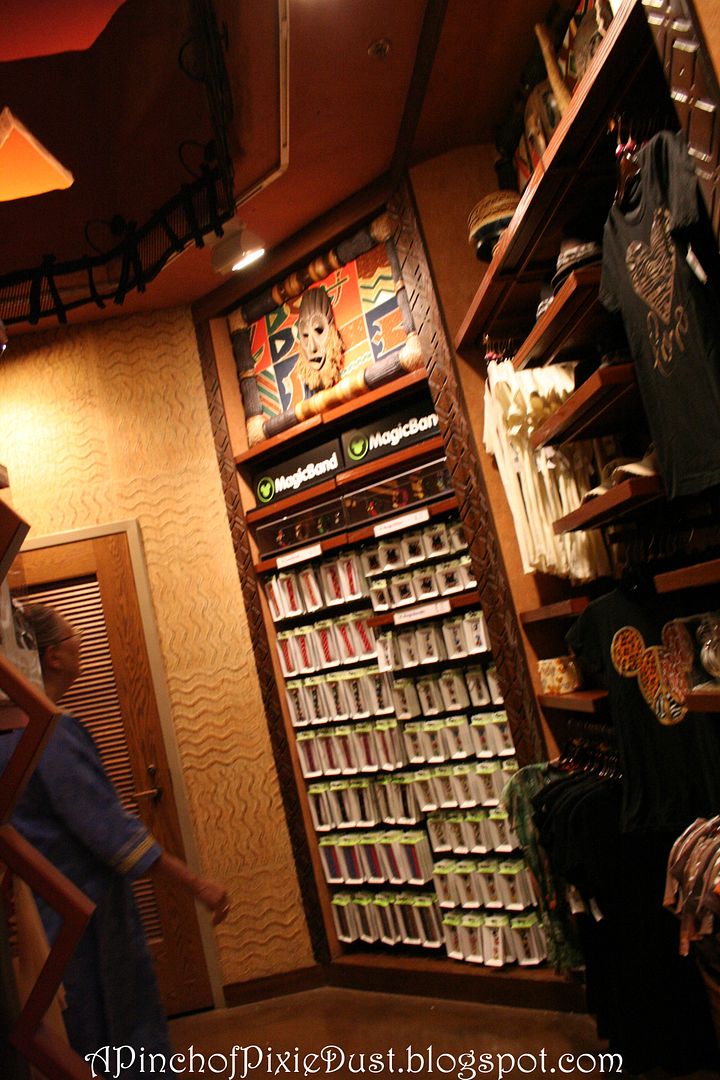 Oh, Disney. Making money off of just about everything. Apparently they were selling these at the Contemporary as well. You can seriously bling out your MagicBand with all this stuff:
To the left you can see the cloth covers that you can slide over the MagicBand, and to the right are little jibbits (called magicbandits!) that you can decorate the band with.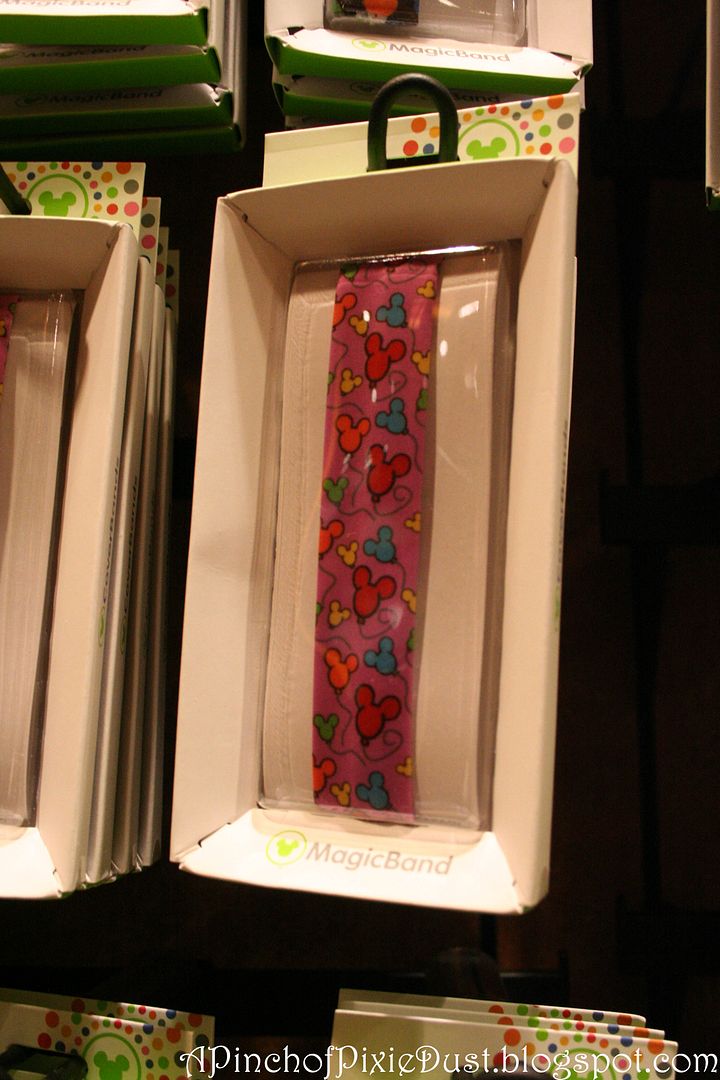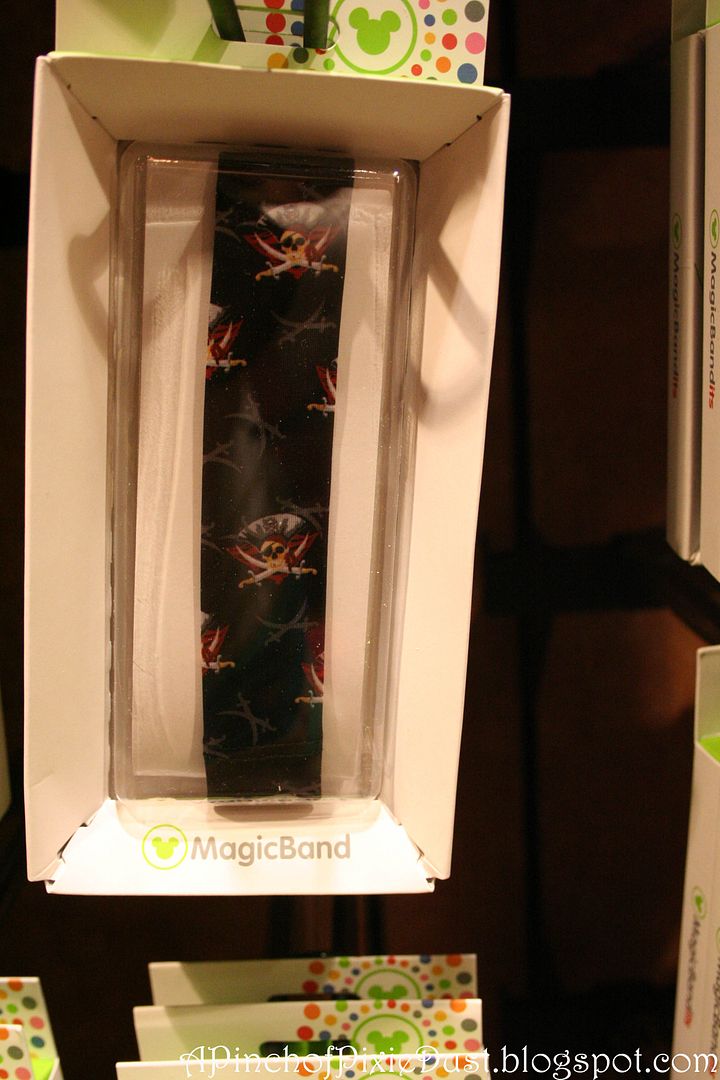 For the covers they had Mickey balloons, pirates, and princess themed ones. You could buy individual covers ($6.95) or you could buy them in packs of three ($15.95).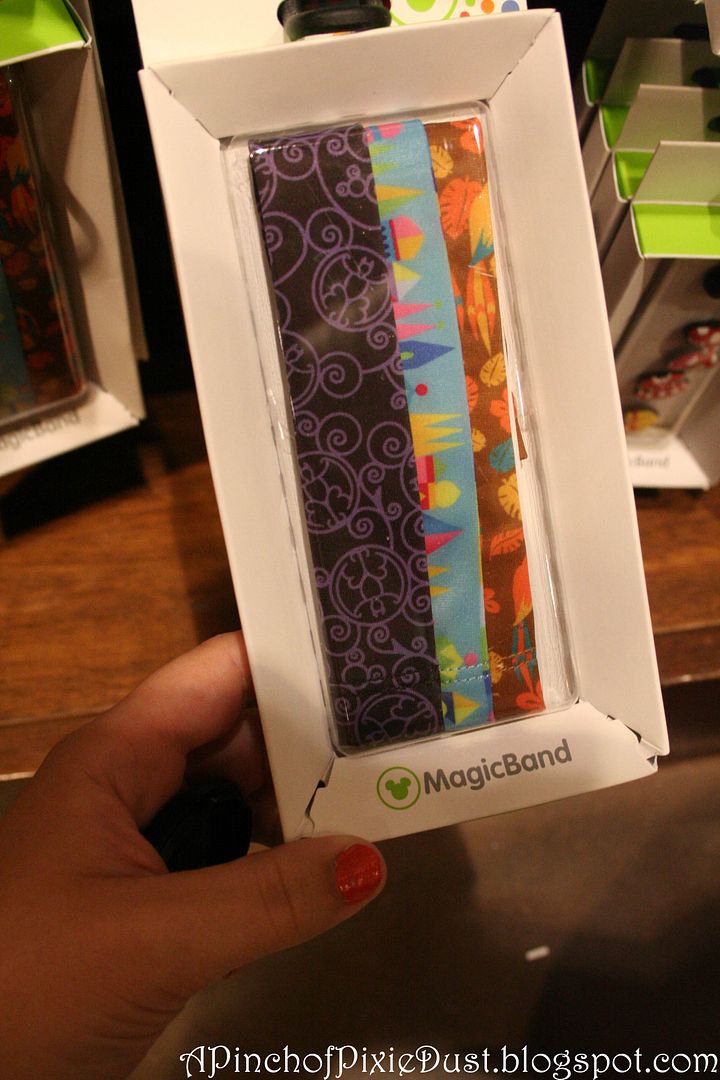 These three were themed after park rides - the Haunted Mansion, Small World, and the Tiki Room!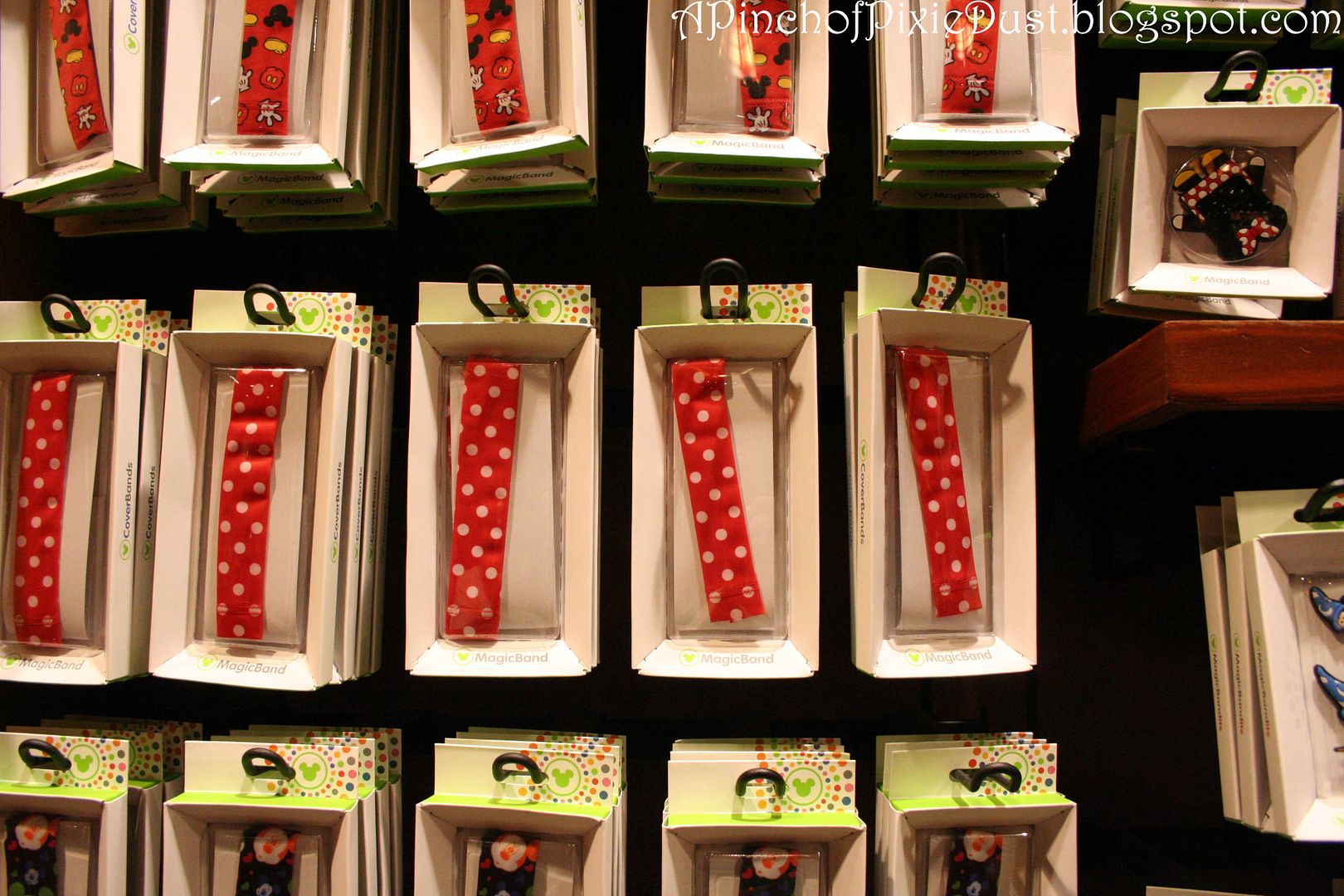 I did like the patterns they had out, but I feel like you could also get really creative and make a cute cover on your own. Crafters, take your marks!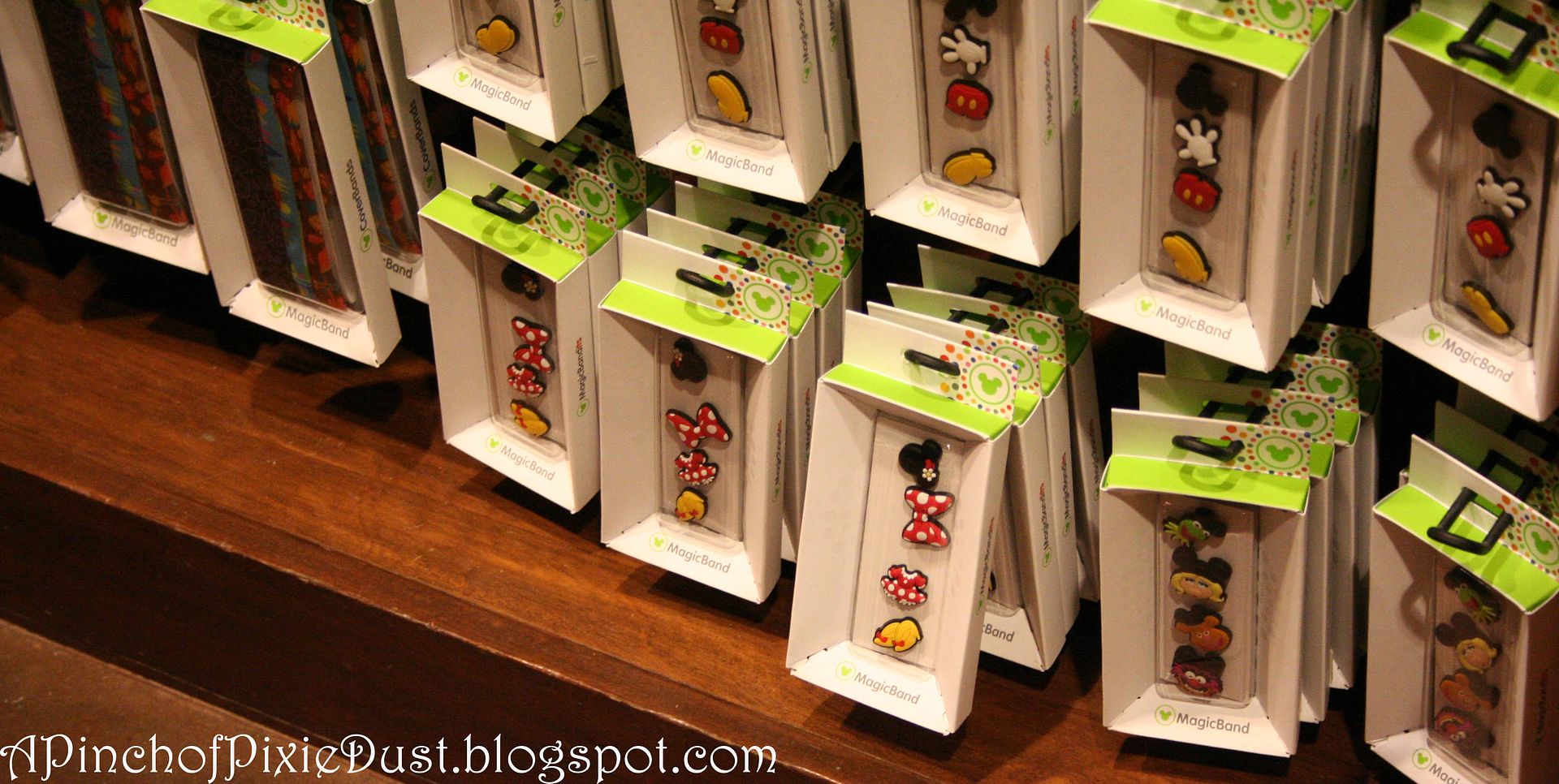 The magicbandits might be harder to reproduce, but they did have a fairly wide selection - here are Mickey, Minnie, and you can see the muppets in the lower right corner.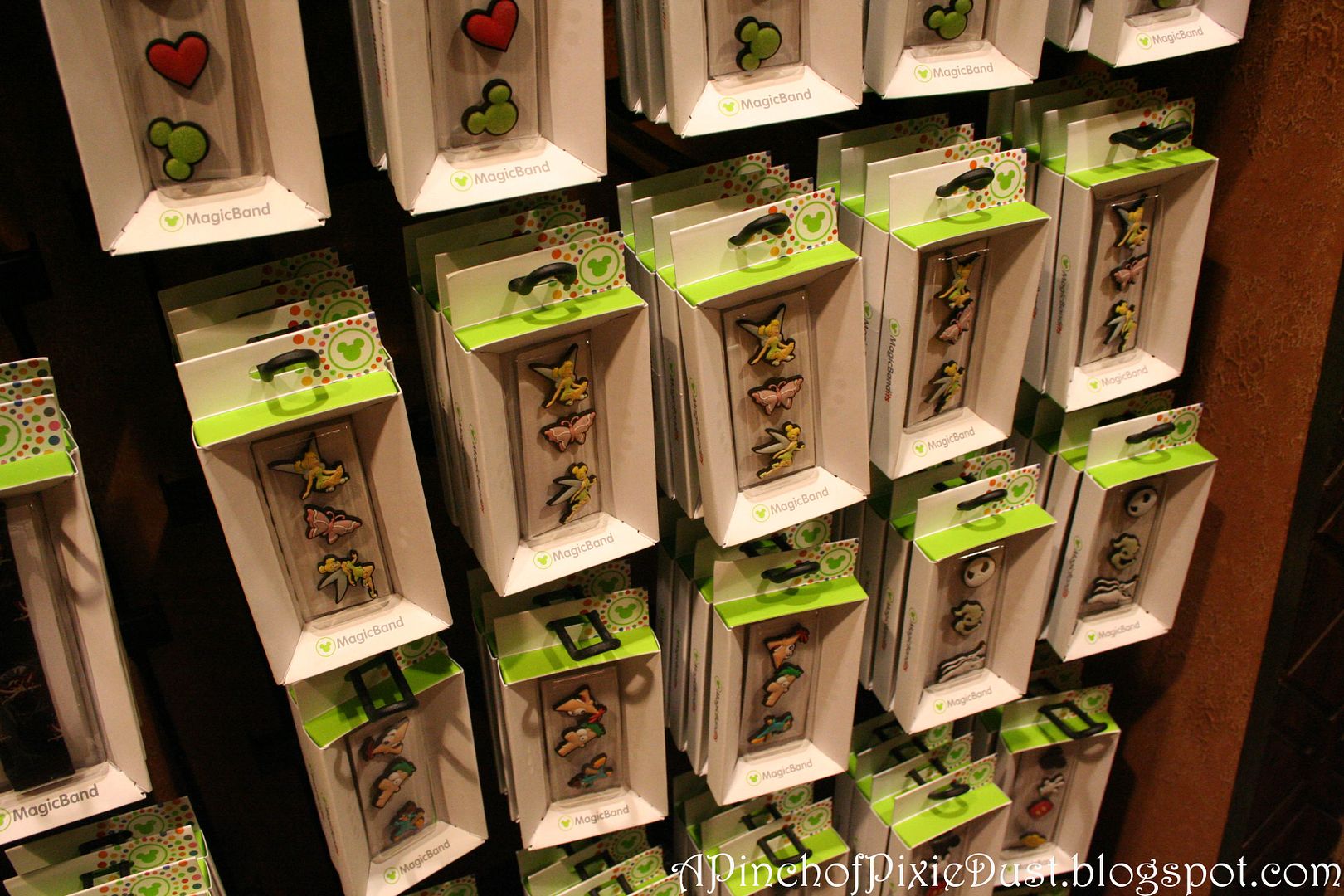 Here's Tink, Phineas and Ferb, and Jack Skellington.
They cost $6.95 for a pack of three or $8.95 for a pack of four.
They also had these sliders that went over the chip on the MagicBand.
You can see the slider on the MagicBand in the upper left (sorry the photo is so terrible...the strawberry was not cooperating). As you can see, MagicBands do come in a variety of colors. I read somewhere that you have to pick the colors in advance, and if you don't you'll just get grey ones at check-in. I also read that if you lose your MagicBand more than once you'll have to pay $50 to replace it, but maybe that was just for passholders...
As I haven't actually used the MagicBands or Fastpass Plus, I'm reserving judgment for the moment. The new stuff does seem neat, although there's a big-brother-is-watching kinda quality, the way they'll now be able to keep track of every little thing you do in the parks, when you do it, and who you do it with, that I'm not sure I like. And I don't really think I'll be shelling out the big bucks to decorate my park ticket, even if it is now a bracelet/MagicBand. I would like a pink one though. ;)
What do YOU guys think? Are you excited for the new system? Have you tried any of it yourself?? Post in the comments! :)