Whenever I walk up to the Magic Kingdom gates, put my ticket in, and skip through those turnstiles, I feel like I'm heading to a party.
I think this is partly due to the fact, that, as I'm walking down Main Street, I often find there really is a party going on up at the castle - the Dream Along with Mickey Show somehow magically seems to be running whenever you enter the park! It really adds to the atmosphere, even when you're just walking by. But it's certainly worth stopping to watch too!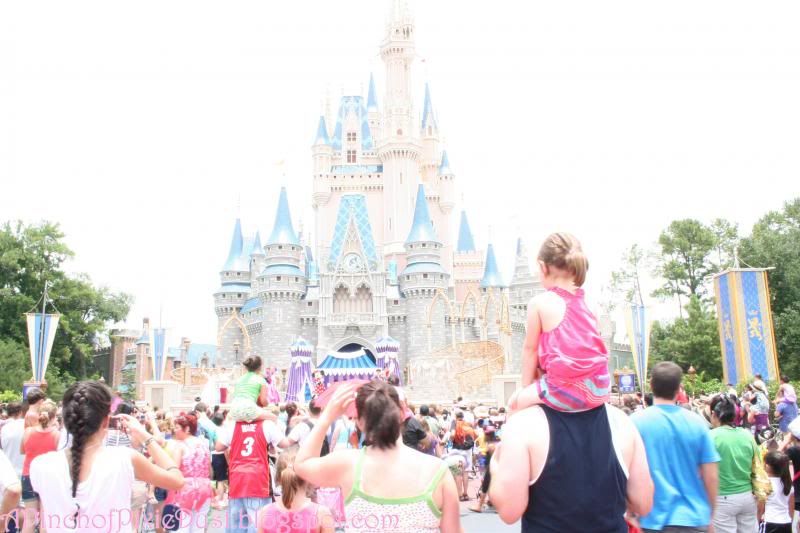 I LOVE the music for this show. It's a little cheesy, but whenever you hear it, you know you're at Disney!
"Join the party - a CASTLE party! You're all invited, so come and join the FUN!"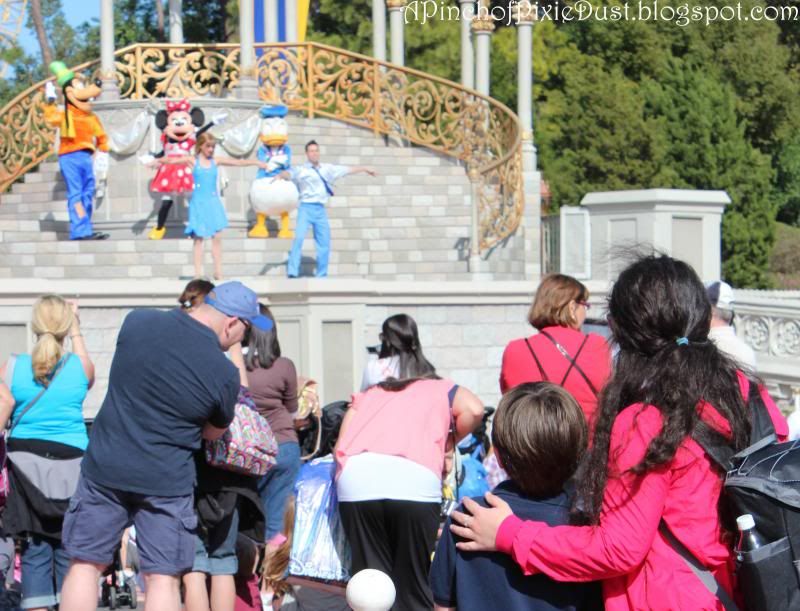 Another thing I love is the part at the very beginning where Mickey asks for everyone to shout out their dreams. When I was watching with my little brother, he called out he wanted to be a ninja! So cute.
The best place to watch is front and center, but if you're walking along the side paths into Fantasyland or Frontierland, you can get a glimpse of the characters before they step on stage, which is also pretty fun. You can even sometimes hear the show from across the Seven Seas Lagoon - it's EVERYWHERE!
A castle show isn't a castle without some princesses! It's Cinderella's castle after all!
Cindy and Aurora look very elegant in this pic, and just check out the way Snow's Prince's cape is flying!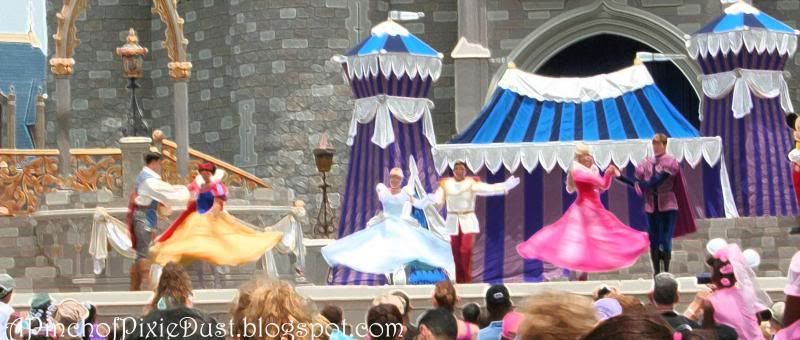 This pic was already blurry, so I photoshopped it up to be artistically blurry - lol! But look at how swirly those skirts are!!
I kinda miss the old Cinderellabration castle show...now that was a Princessapalooza!! But this princess scene is pretty adorable as well. I love when Mickey asks Minnie to dance...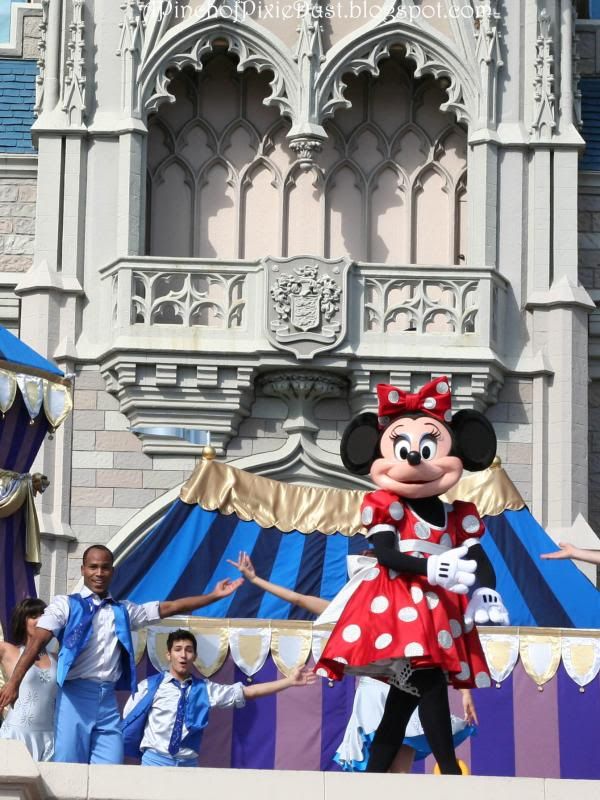 The characters in the show are so good. They have so much energy and pizazz, and the way they move - it looks like they've walked straight out of the cartoons!
And the way Donald and Goofy pull out some pirate dress-up costumes? Love it.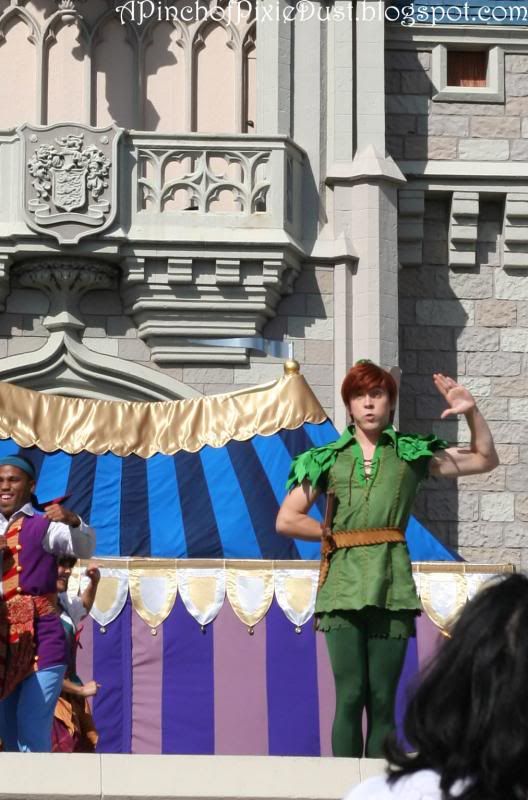 Haha...why do I have a feeling Peter's fingers are crossed behind his back when he's taking that pirate oath?
Even the dancers do a great job, and I love how perfectly their outfits match the castle behind them! If you're walking along Main Street during the show, you may see regular cast members quietly dancing along...if I worked on Main Street, I would totally memorize every dance move too!
The Fab Four! I'm lucky the shutter didn't go a second later for this pic...it looks like Mickey's about to blink! That's the one bad thing about characters who move and talk...normally you don't need to worry about Mickey or Minnie blinking in a photo.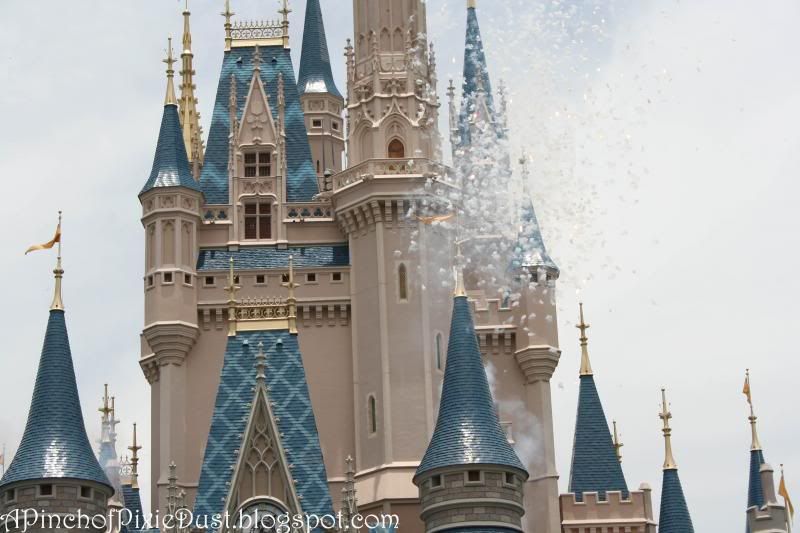 Just look at the PIXIE DUST! I love the fireworks that go off at the end.
How can you not be in a perfect Disney mood after watching the castle show?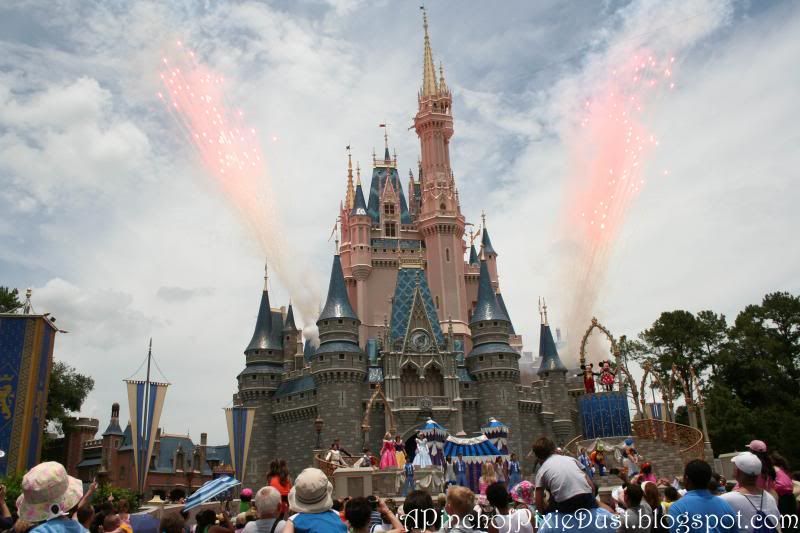 "Take the dream with you, wherever you go...and find the dream inside of you!"