HAPPY WEEKEND GUYS!
When I used to work at Disney, I never knew when my 'weekend' was going to fall - it usually wasn't the normal Saturday and Sunday - but I would always celebrate it by getting out to explore a resort or park.

After a morning at the MK, a boat ride over to the Grand Floridian was just the ticket for a relaxing afternoon! The strains of the orchestra or piano, that soaring atrium, all the pink and cream elegance. Ahhh...
At the Grand (as at just about every other Disney resort), there are almost too many quiet corners and charming armchairs to choose from. The one that this update is dedicated to might be one you walk right by at first...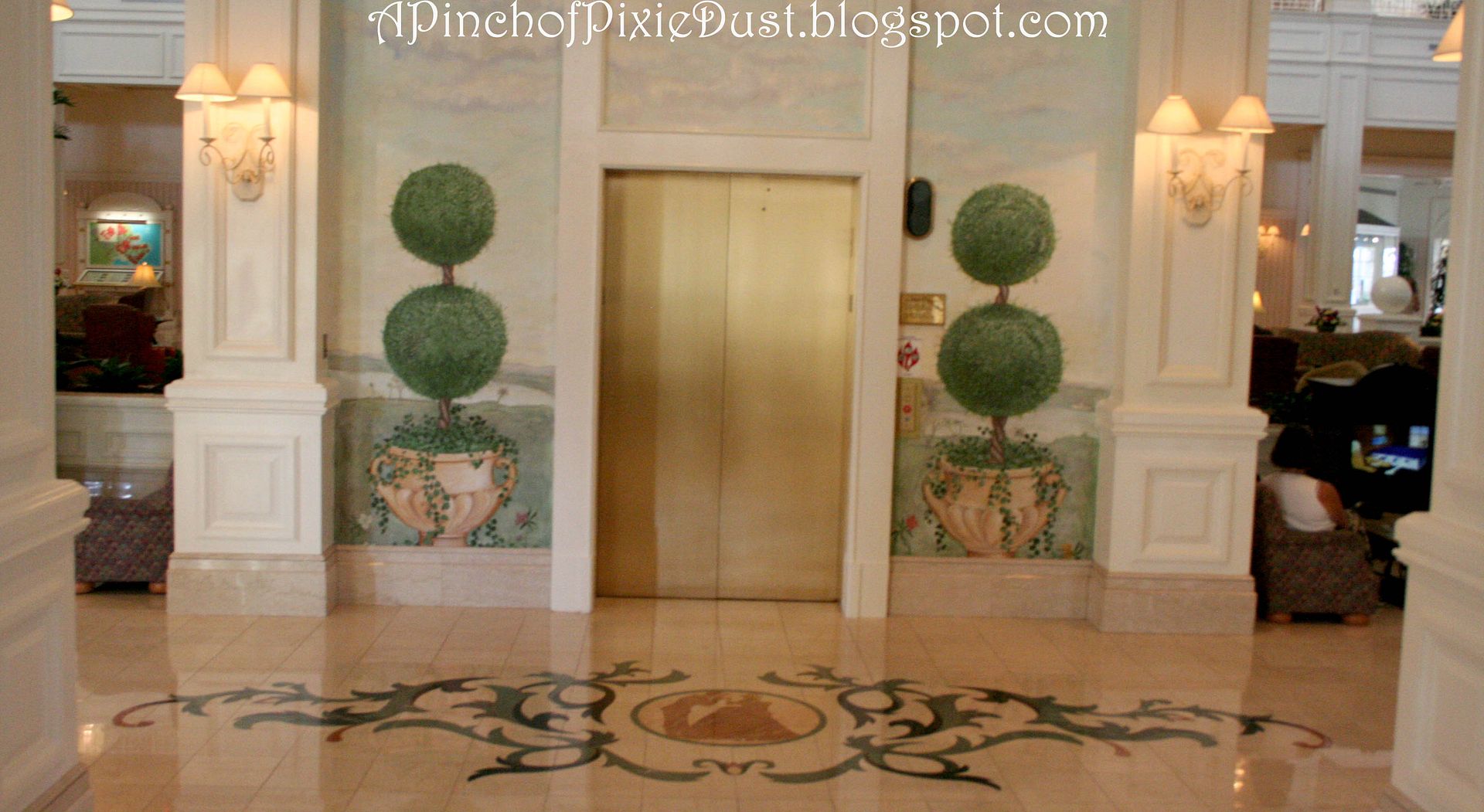 If you get to the elevator right in front of the Grand staircase, then you've gone too far! (Although, as an aside, can be just appreciate the adorable Cinderella scene on the floor here?)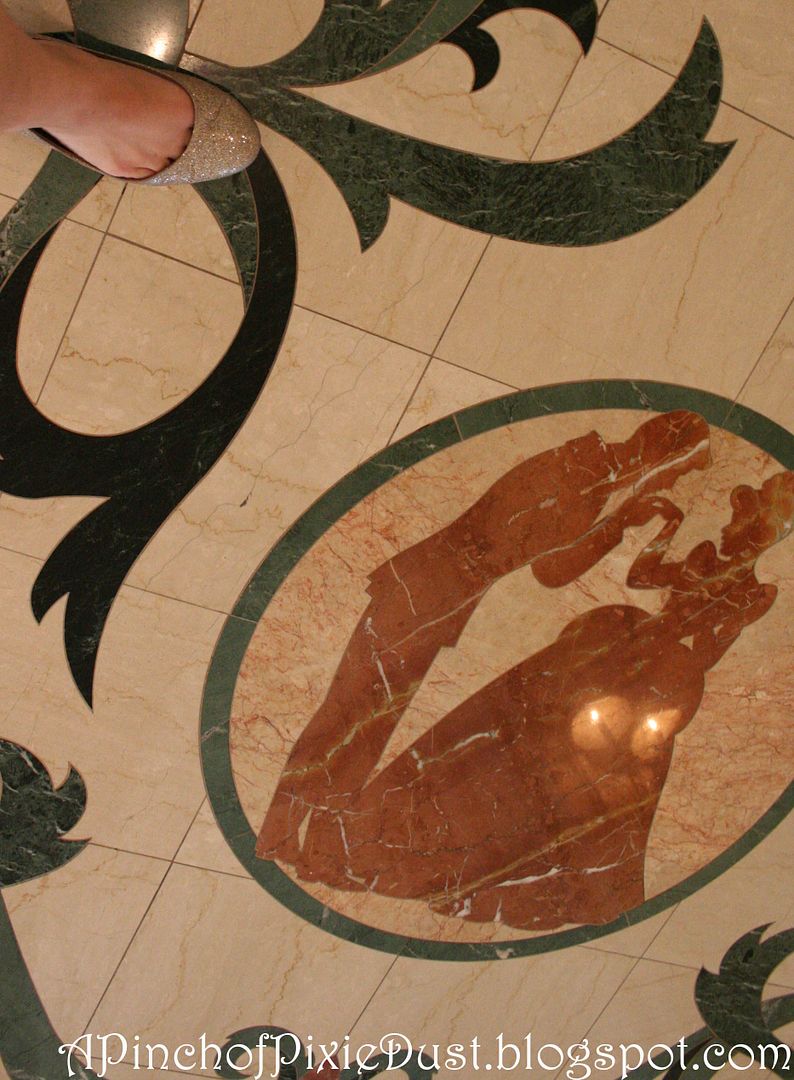 Seriously, how sweet is that?? That's my favorite moment from the whole film, when he surprises her, and she's all shy, and he kisses her hand and and...
Sorry. Weren't we talking about Disney princesses??
No, it was quiet corners you say? Oh.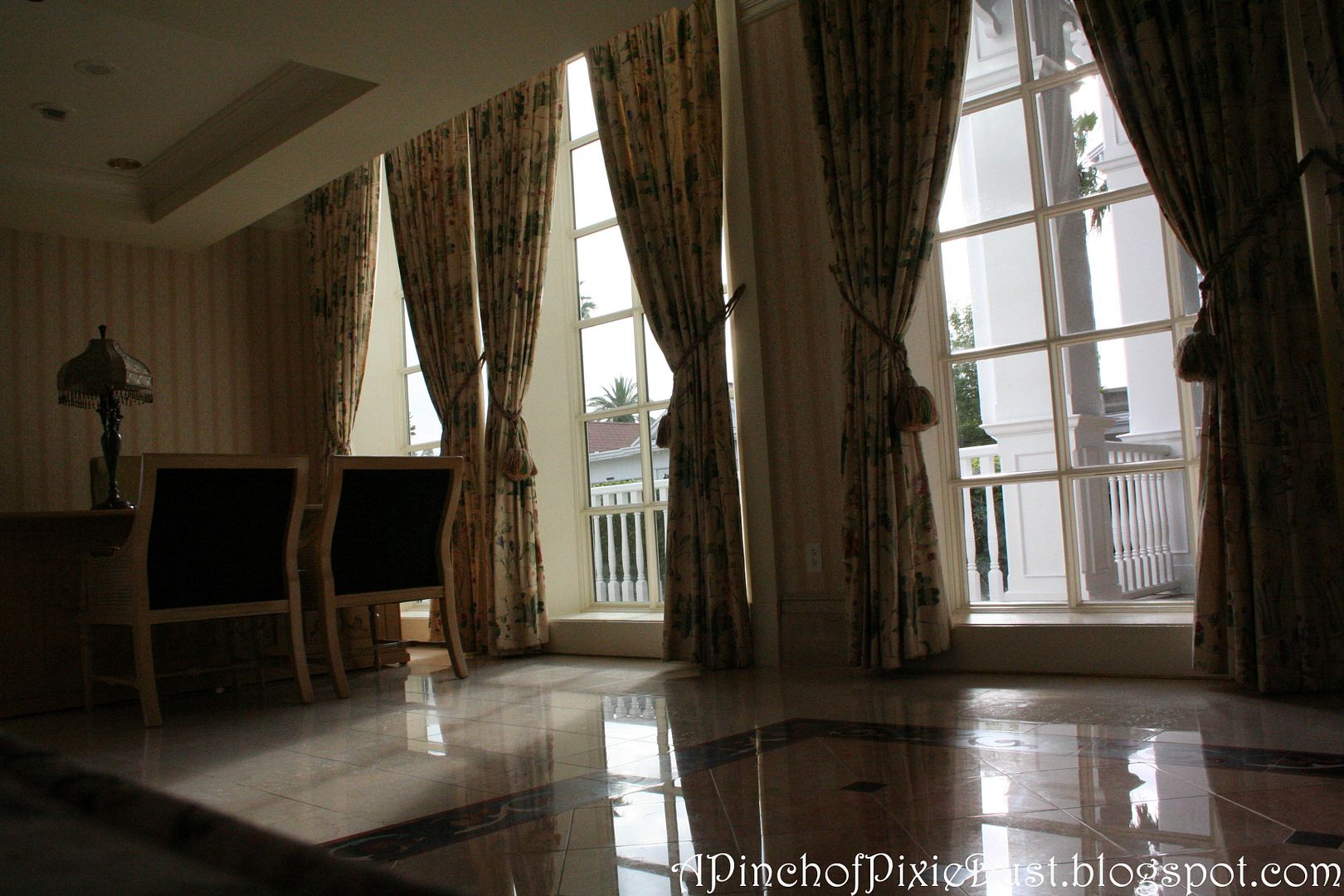 Here we are! No, it's not that desk (I think that's a back-up concierge desk, though it's most often empty). This is actually the view you'll get when you sit in this little quiet corner of the Grand.
Don't you just love those big giant windows?? They're on either side of the grand staircase, almost tucked behind it, and THIS is the bench I like to sit on.
Yes, I took a close-up of the bench's upholstrey. Isn't it pretty?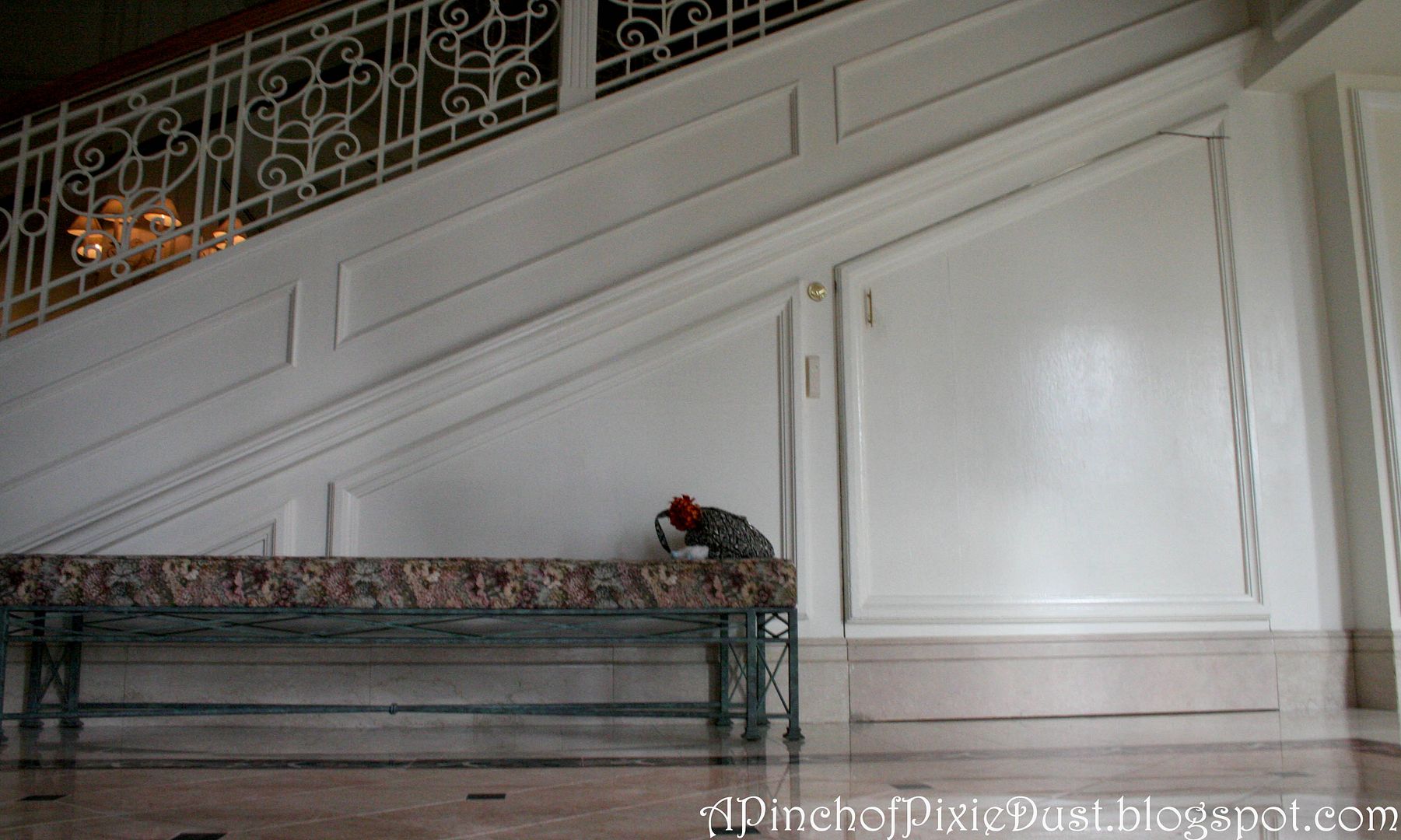 The people-watching potential is always something I take into consideration when choosing a spot to set up camp. This one is EXCELLENT. First of all, do you see that sort-of triangular section of the panelling, just to the right of the bench?
Well, IT'S A SECRET DOOR.
I'm not even kidding you.
I was fascinated the first time a cast member just materialized from beneath the staircase! Do you think they kept Harry Potter there before he broke out and ran away to Universal? Hey, if I got to live underneath the Grand staircase at the Grand Floridian, I would not be complaining.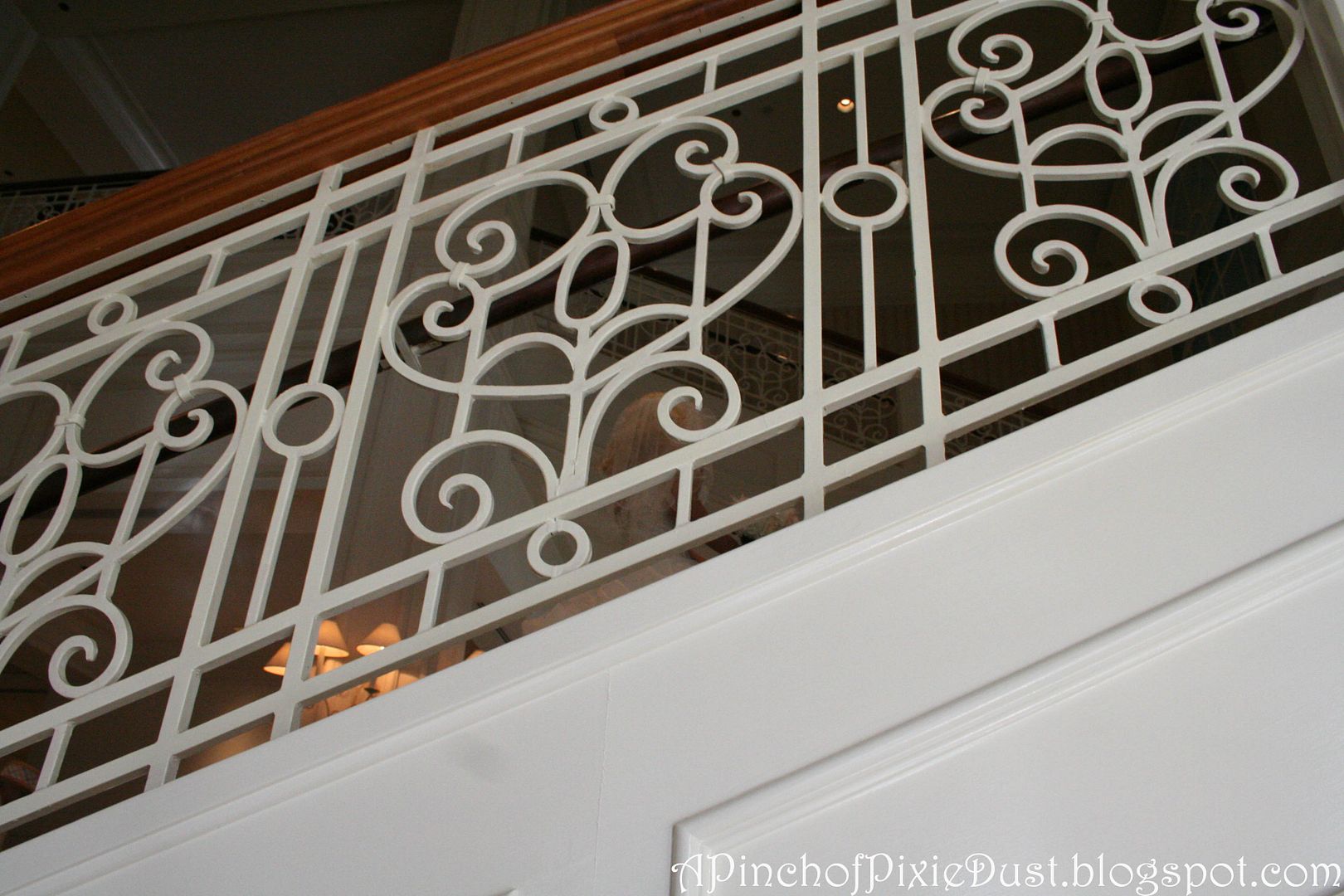 The secondary perfect people-watching part of this spot is that there is a constant stream of brides and grooms going by! If you look carefully through the railing, you'll see there was a bride standing there when I took the above pic!
The stairs are a prime photo spot, and I think Disney coordinators must designate this as a meeting place, because every half hour, a new wedding party seemed to be assembling right nearby my bench. It was so fun to watch, the grooms and groomsmen shaking hands, the bridesmaids looking either sweet or surly depending on the dresses they were wearing, the florists arriving with boxes full of boutonnieres and bouquets!
From that lovely bench across from the windows, you could watch them all go by - the wedding parties, the cast members, the regular guests. But it wasn't too constant a stream of humanity to become unpleasant. It still felt like a secluded spot.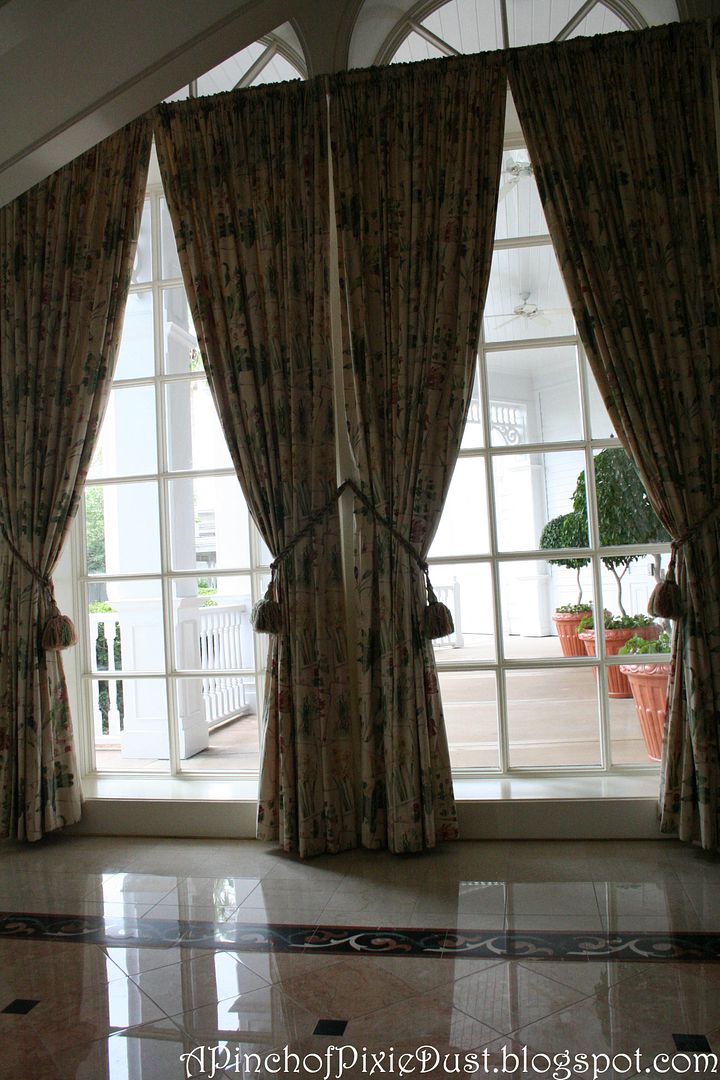 And when they were all gone, it was just you and those big windows and the Grand. Pretty perfect way to spend a weekend afternoon!