Awhile ago, as you may recall, I posted about the dinner buffet at BOMA, a restaurant so good that you simply have to refer to it in ALL CAPS.
Well, my friends, there is another such restaurant at Walt Disney World, and it is 'OHANA.
Or, to be more specific, DINNER at 'OHANA. (We've tried breakfast there recently and were not impressed, but at dinner we were blown away!!)
So having told you how amazing it is, I will also warn you to go in with only moderate expectations. This was our first visit to 'OHANA, and having heard so much hype about it on the DIS, I was sure I would be disappointed. Which made it all the nicer when, instead, I found I loved it!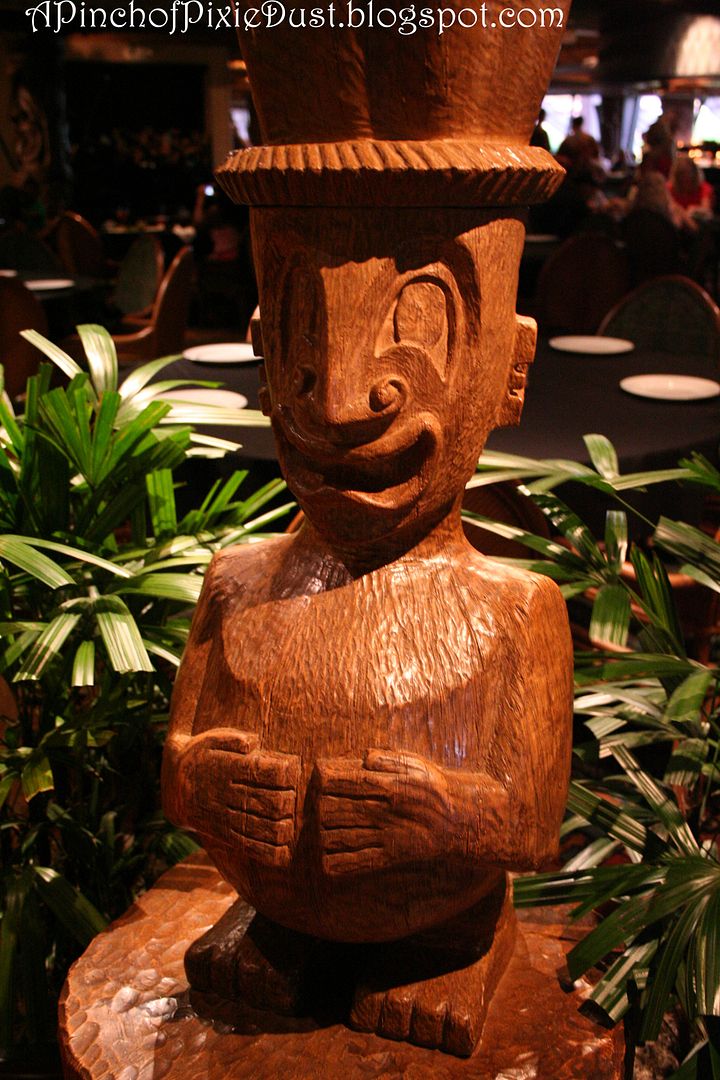 One of the many tiki gods welcoming you to 'OHANA.
So I'll try to keep my enthusing to a minimum, to help any first-time-Ohana-goers out there keep their hopes down. lol! And I did post about this on my trip report, but it's so good I had to share it twice!
We checked in at the podium around 5:30 and very soon our pager was going off! Our "cousin" greeted us, taught us to say Aloha (c'mon, we're so already experts at that ;) ), grabbed some bread from the bar, and took us to our table.
I love how everybody is dressed in their tropical best - my family was all dressed in Hawaiian shirts as well. It makes it feel immediately like a party!
Passing by the grill...do you see all those big giant skewers of meat?? They would bring them to your table and serve them fresh and hot right onto your plate. But we'll get to that in a minute...
We had seen them clearing off a six-top in the corner by the window and asked if they could squeeze in one more chair so we could sit there, and they did. Yay! The tables by the window are definitely the best, since you get to look out on this palm tree wonderfulness:
Our table was behind the big giant grill, so it was in a nice quiet corner of the restaurant. It meant we didn't get to see a lot of the interactive dances and coconut races (though we could still hear it, and we could have walked over to participate), but that suited us fine.
Now to get to the food! We start with the 'OHana Welcome Bread. I wanted to like this, but somehow it just tasted like ordinary white bread to me - I couldn't taste the pineapple coconut flavors. Maybe it would be better warm? It was just room temperature for us.
You also start out with a big bowl of greens as well as three unique kinds of dressings/dipping sauces:
They were: peanut sauce, chimichurri sauce, and pineapple sweet and sour.
We had a tag team of two waiters serving our table, and they were both absolutely fabulous, keeping drinks refilled and offering more food ('OHANA is an eat-as-much-as-you-like kind of place!).
So we're munching on our salad, mellowing into a tropical mood with the surroundings, and then our waiters deliver a feast to the table:
And this is technically just the appetizers/side dishes. CAN YOU BELIEVE THAT? You see before you a ginormous skillet filled with delicious chinese noodles and lovely steamed broccoli as well as two bowls brimming with chicken wings (VERY yummy) and pork dumplings (like pot stickers and SUPER tasty. I could've eaten just those all evening). There was so much food it made you feel giddy and slightly guilty all at the same time.
My Mama Snob is not a big fan of meat, so she requested the vegetarian option. She got some nice crispy pita bread with three kinds of tasty hummus to supplement her appetizers.
Soon the skewers, prepared over that big oak fire, came to the table. Alas, I was so excited I never got a good picture of this; basically your servers bring the three-foot long skewers completely covered in pork or shrimp or chicken or beef, fresh from the grill, right to your plate and they slide off whatever you'd like.

"2, 3, 4?" The server would ask. Then when you asked for two, he'd give you four!
I think the chicken and the pork were my favorites. I did bravely try the shrimp as well, but seafood isn't really my thing.
In case you're curious about the Vegetarain main entree, the above was it! It was a big bowl of roasted veggies, potatoes, and tofu. Mama Snob enjoyed it very much.
SO MUCH FOOD. There really was just so much of everything, it was kind of overwhelming. And we haven't even gotten to dessert yet!
Now you KNOW dessert is going to a pretty important part of any meal for this Disney Snob, and the 'OHANA dessert was just. incredible.
May I present to you 'OHANA's bread pudding. Trying to name my favorite Disney dessert is like trying to name my favorite Jane Austen novel - I can't really do it. There are too many that I love. But if I really, really had to name one, it would be either Liberty Tree Tavern's Ooey Gooey Toffee Cake; or 'OHANA's bread pudding.
It was just utterly, utterly amazing. The perfect amount of crunch, the perfect amount of chewy and moist, the perfect amount of sweet. But the bread pudding isn't amazing all on its own. Oh no, you've got to include the banana caramel sauce.
In my trip report, I called this the nectar of the gods, which I think it most truly is. SO WONDERFUL. I didn't expect to love this dessert so much - I mean, it doesn't even have chocolate - but I absolutely adored it.
(I know I told y'all to keep your expectations lower earlier, and this is probably not helping. lol. sorry.)
Our server also brought us an extra bowl of ice cream. "Life is better with ice cream, friends," he said.
We made a valiant effort to finish the bread pudding, but it just wasn't possible. Really I could've eaten just bread pudding for the entire meal. AHHHH. So good.
In conclusion, the atmosphere, service, and food made for a fabulous first experience at 'OHANA for us. Have you been to 'OHANA before? Share your thoughts in the comments! :)