Considering how the palace of Versailles is featured in Epcot's Impressions de France (you know...when the guy pops the cork on the wine bottle and then we cut to all the fountains??), OF COURSE my brother and I had to travel there during our recent Impressions-inspired trip!
I even partially chose our hotel location to be near the RER C, the train line that goes out to Versailles from Paris. So on the morning of day II of our travels, we rose early, found a quick patisserie, and then strolled over to the Javel station.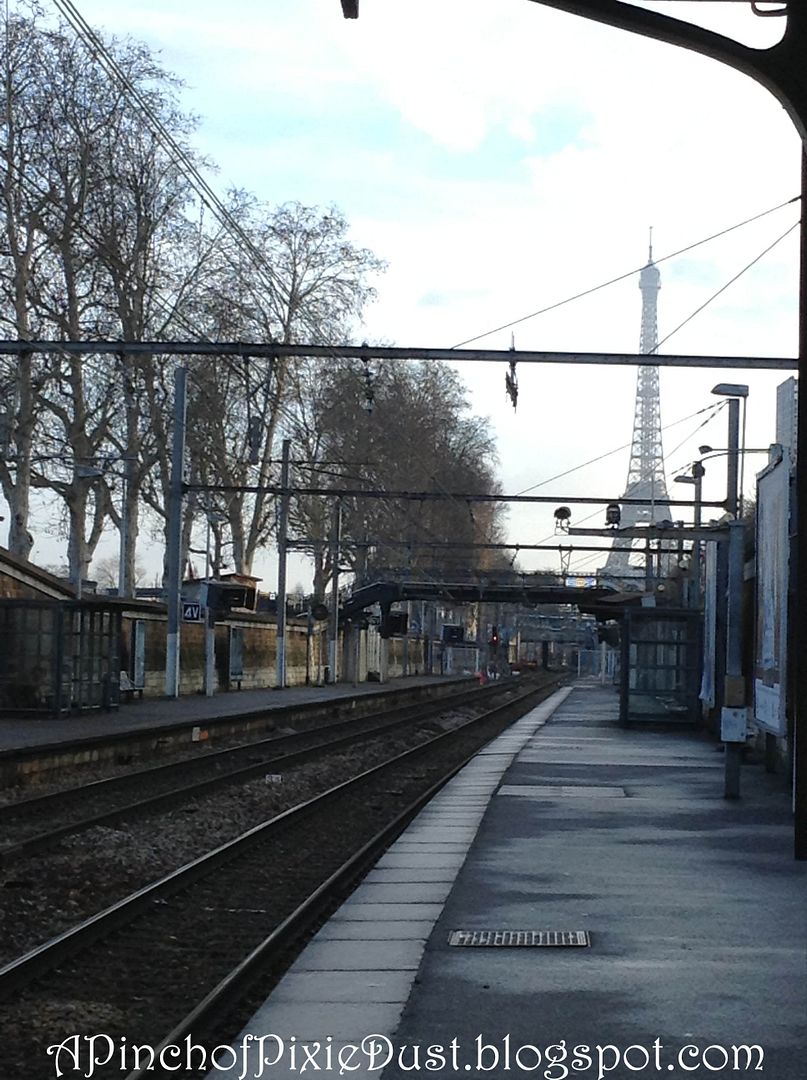 You could see the Eiffel Tower down the track. EPIC.
It was about half an hour journey to Versailles Rive Gauche. It's the last stop on the line, and it seemed like everyone on our train was going to the palace as well! There were people right outside the station directing everyone towards Versailles (a 5-10 min walk from the station). I found this to be slightly suspicious, and as it turned out the people were trying to direct you a touristy shop right on the way to the palace where they would try to sell you overpriced tickets. I had ordered our tickets online beforehand and gotten a 2-for-1 deal. Oh yeah. Those Disney planning instincts come in handy! ;)
It was only 9:30 - and Versailles had just opened at 9, but already it was crowded enough and would be even more crowded once we got inside. If this was what it was like in March, I'd hate to think what it's like in the summer! Paris itself and the rest of France were relatively quiet, but Versailles was the exception.
We had our ticket all printed out, so the only line we had to wait in was security, which was quite short. You aren't allowed to bring food or drinks into the palace, though you are allowed to take them into the gardens. We brought a baguette and drinks (ORANGINA) to have a picnic lunch, but luckily there was a bag check where we could leave them - they even had plastic bags to put the food in, which was great since I didn't want to leave my purse and that was the only bag I had.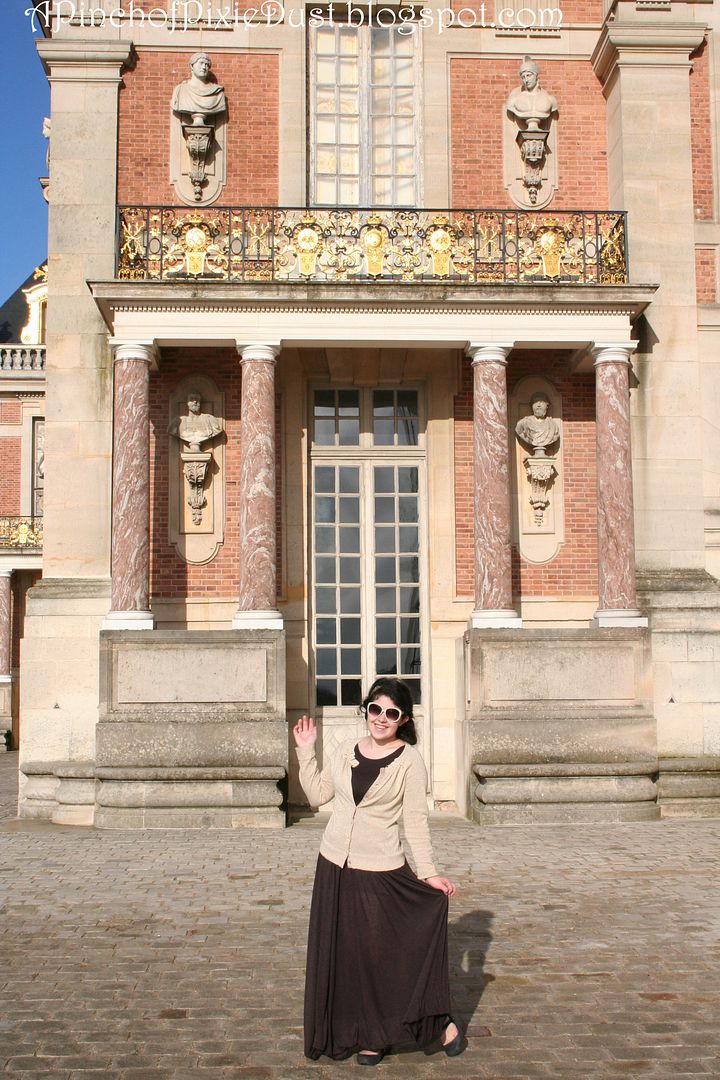 I dressed my royal best for Versailles, naturally!
We picked up our audioguides (which were free...or included!) and sauntered through the majestic rooms.
It was pretty darn incredible. I mean, just look at the size of the logs they have to use in those fireplaces! Those aren't even logs, they're like small trees! (And just imagine what Mr. Collins would have to say about THAT fireplace!)
There were so many, SO MANY gorgeous tall windows letting in the light. And the view out over the gardens was gorgeous...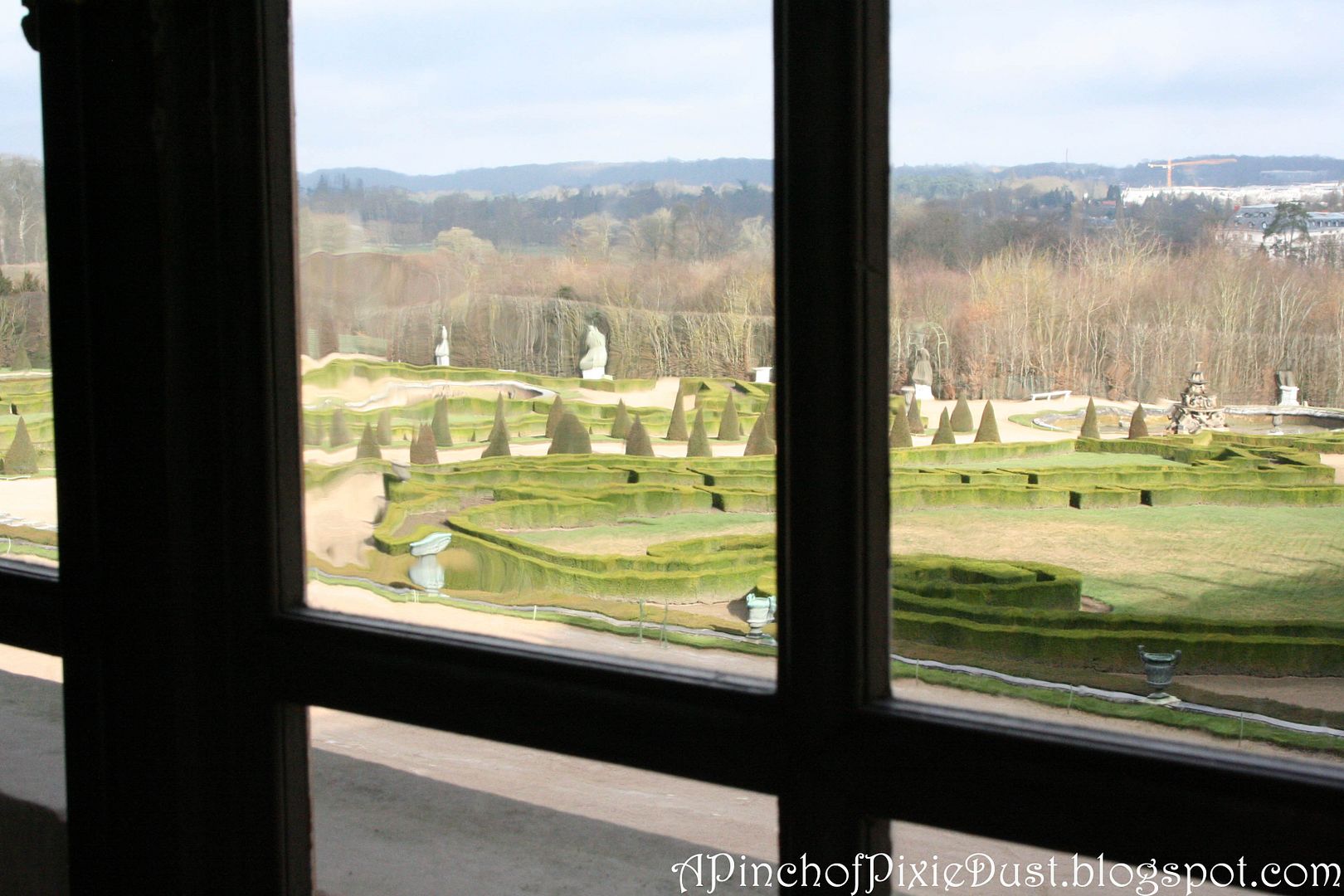 And look at those hills beyond - just lovely!
Soon we made it to the Hall of Mirrors! In Impressions de France it's empty; for us it was full of large Japanese tour groups. Ah well. It was still spectacular.
When you stood at one end looking down there was just an impossible number of chandeliers. I wonder what they would have looked like with real candles glimmering!
Next we proceeded to the royal chambers, including Marie Antoinette's bedroom which was overwhelmingly floral...
I do love those delicate sprays of flowers, but there's just so much of it! It is certainly grand, but I found my favorite room was a much smaller, more modest little library in the Dauphine's chambers...
lol, well for Versailles this was modest anyway! I absolutely loved the carving and molding on the walls.
How gorgeous is that?? I want to have a library like that. Europe gives you such unreasonable housing and design dreams. ;)
I think we spent about an hour and a half exploring the palace, which was plenty of time. Then it was out into the sunshine of the gardens:
All the lovely daffodils coming up! I was so thankful the day was nice so that we would be able to wander around in the gardens and not be worried by rain or cold.
We strolled down through the gardens, noshing on our snacks and heading for the Trianon Palaces at the far side of the grounds. So Versailles was actually just the public palace of the king and queen, and they had their own private palaces - the Grand and Petit Trianon - at the other end of the gardens! Our tickets included admission to those as well, so that was our next stop.
I'm pretty sure this fountain is in Impressions de France. That's awesome. Sadly the fountains wouldn't be turned on until later in March.
I underestimated the size of the grounds at Versailles. They're HUGE. Half way to the Trainon palaces my feet were aching - we'd been walking around indoors for hours as well - so we stopped to sit by the water and catch our breath for a bit.
The Grand Trianon (once we got there!) was very nice, but the Petit Trianon was my favorite. Marie Antoinette used to live here and created the little hamlet where she could play at being peasant.
Parts of the Petit Trianon made you feel like you were out in the French countryside, not at a palace! Behind the palace the grounds just stretched on and on...
Just off in the distance you could see some quaint thatched rooftops. THAT, my friends, is the hamlet. I basically fell in love with it on sight!
I mean just look at that house! Doesn't it look like it should be Maurice's cottage? And that's only ONE of the cottages in the hamlet - there were at least half a dozen, each cuter than the next.
They're all situated around a little pond/lake - which of course has a charming lighthouse/tower perched next to it.
Now obviously it was not good for Marie Anotinette to be pretending to be a peasant when all the real peasants were dying of starvation to fund her extravagant lifestyle, but it's hard not to get swept away by how beautiful the hamlet is. You can tell they must have had the best architects and designers working on this, because there are so many lovely details.
Love those windows just peeking out from under the thatch!
Hey! It's like the grass roof in Norway, or the one in Fantasyland!
The cottages had orchards and gardens behind them, and there was a barnyard as well.
It was lovely then, even with all the brown, bare branches - I can only imagine what it must be like now! I would love to go back someday to see it in the summer.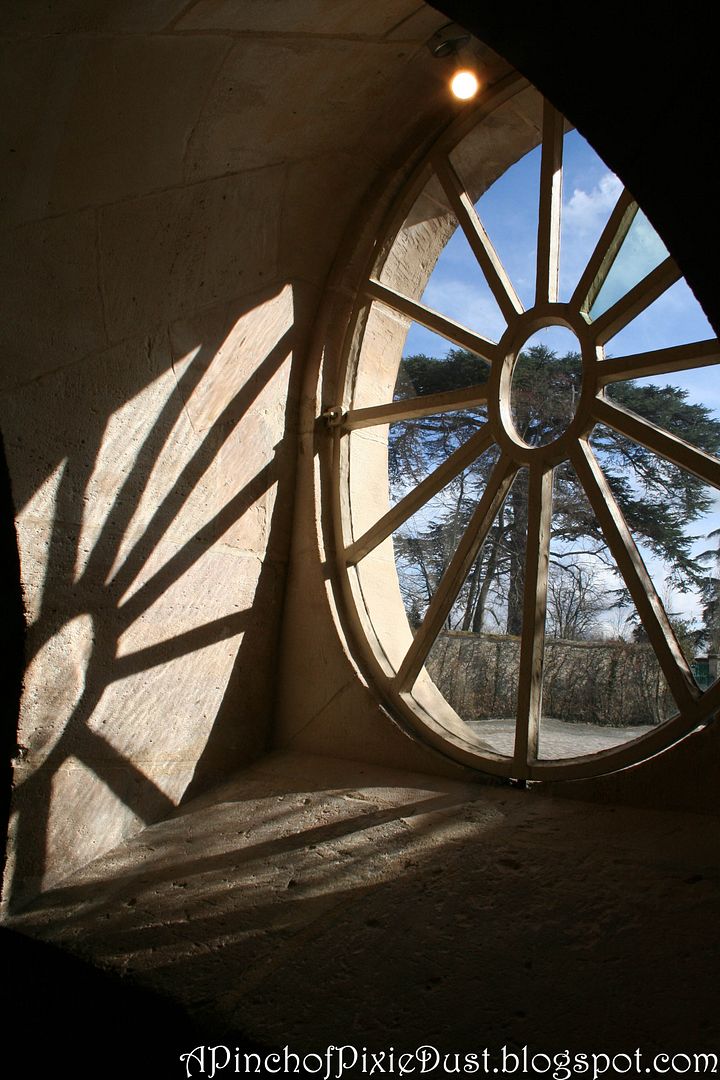 The attention to detail was definitely Disney-worthy! I feel like the animators must have come here or looked at photos for inspiration for the Beauty and the Beast movie, because I felt like I had stepped into it! This felt more like Belle's Village than the one in New Fantasyland does!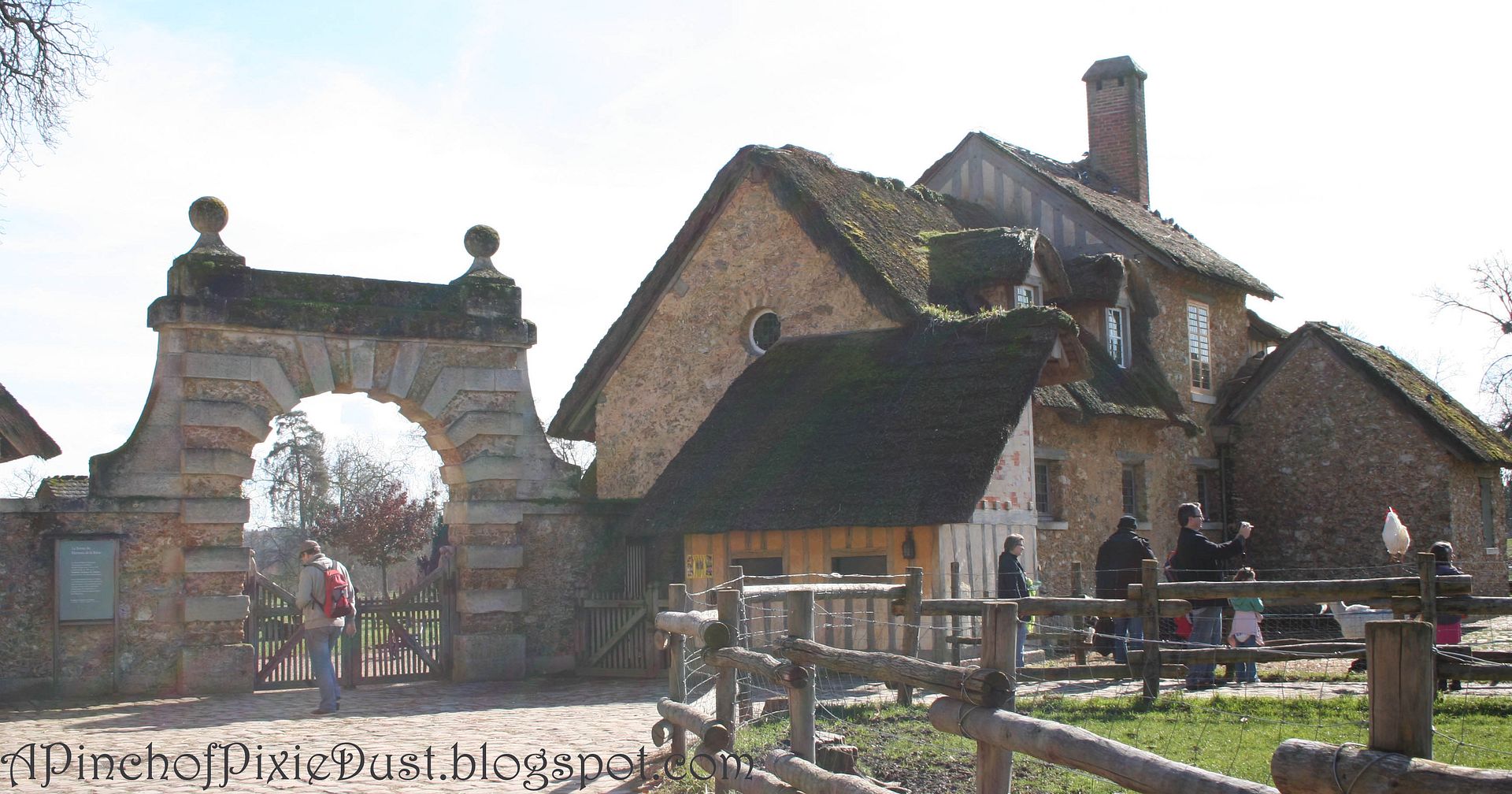 Can't you just imagine Belle strolling through here, singing and feeding the chickens?
Maurice could store his inventions in that shed. Actually, I think that shed is for the cows. It did seem to still be a working farmyard, and there were pigs and chickens everywhere. Another family was oohing and aahing and spent about ten minutes taking pictures of a rooster. I was busy going into raptures over hidden passageways and old timber towers:
I mean, nothing against roosters, but seriously. You can see them anywhere. This is VERSAILLES! Just look at how many epic staircases there are, for goodness sake!!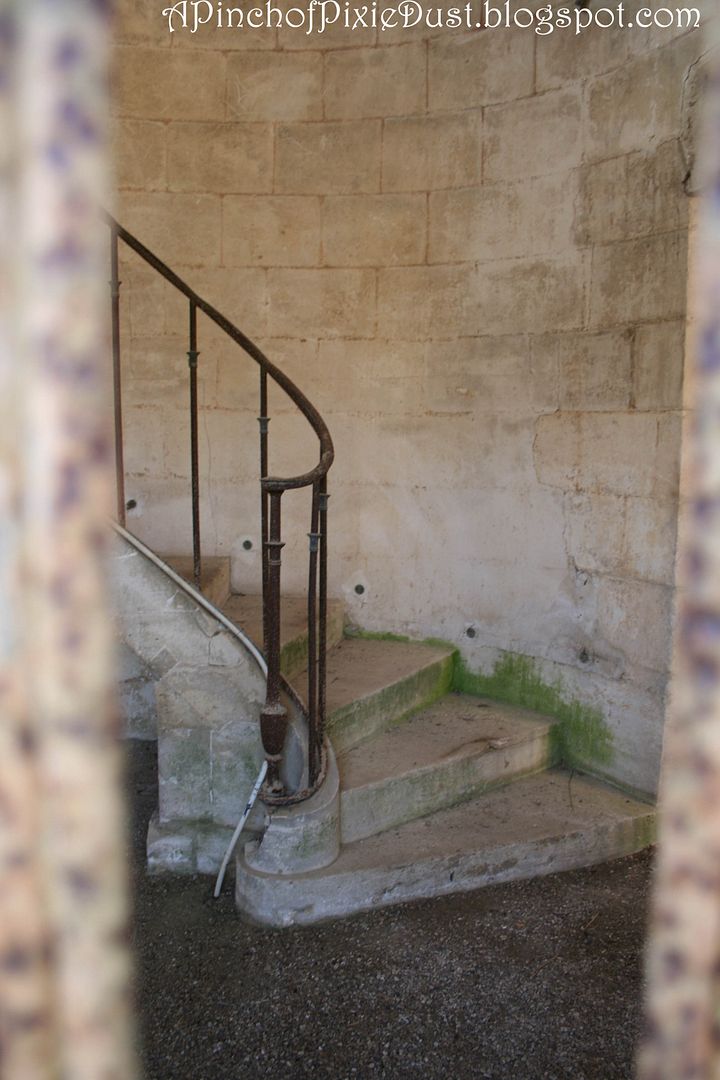 Maybe I should be an architect instead of a writer. I just love all the interesting designs. Imagine what this staircase must have looked like when it was in good repair:
OK, I'm almost done with the photos, I promise. I know I did a short update on the Hamlet before, but those were just ipod pictures, so I couldn't resist sharing a few more and revisiting it...
Look at how that one house has a little room sticking out over the water. Can I just live here?? Please?
This one was my favorite, and I really do think it must have inspired Belle's cottage - at least the stairs and the water wheel. Don't you think? Maybe?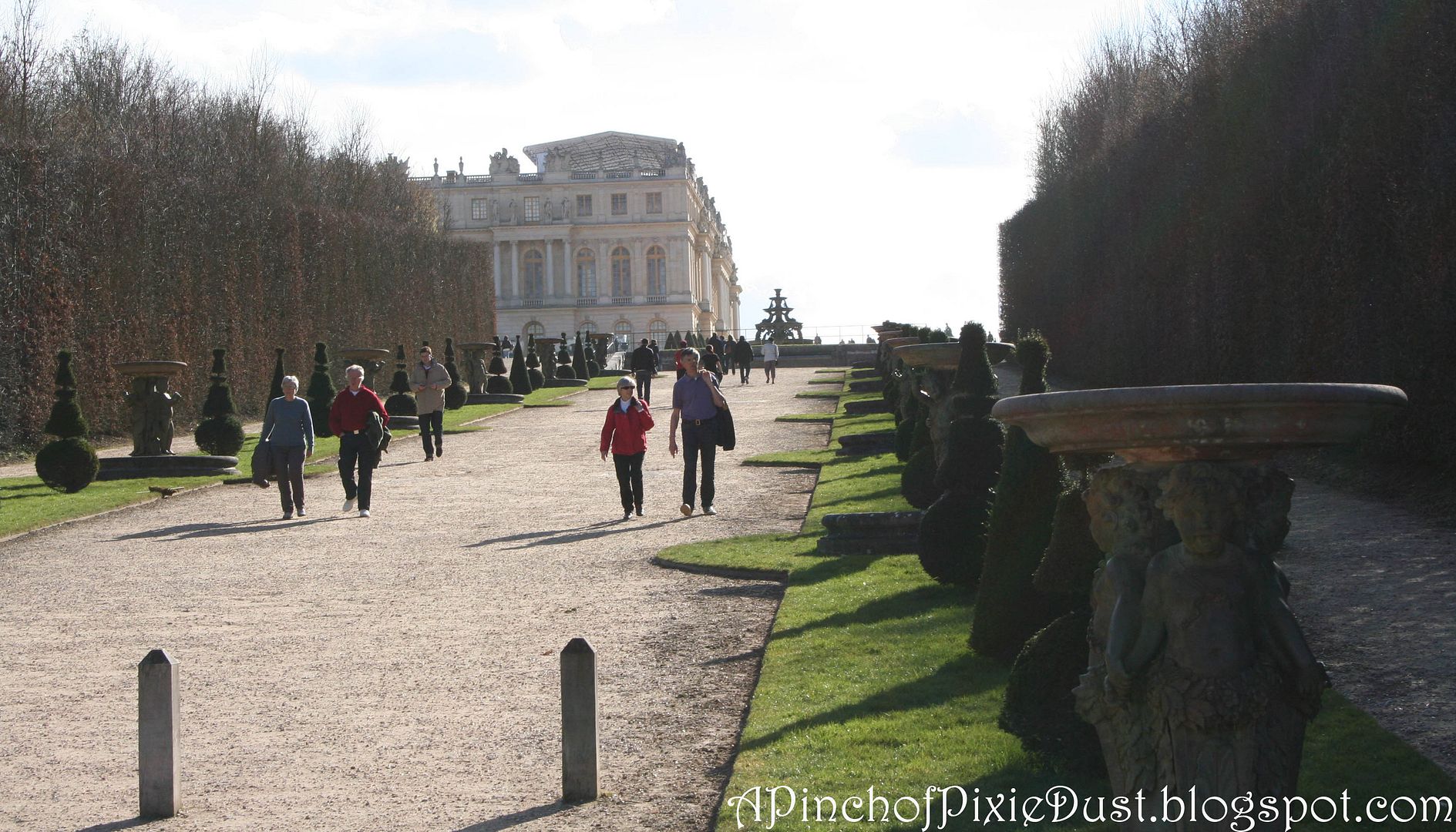 Alright, last photo - promise! This is when we had finally navigated the gardens again and were leaving Versailles. Although by the end of I was a little weary of all that opulence (I mean, how many shrubberies did the king really need??), it was a spectacular sight, definitely not-to-be-missed!