Happy Weekend, lovely blog readers!
I'm celebrating my Saturday night by dancing around to One Direction with my little brother (he's nine and thinks he would be a great sixth member of 1D. Also, side note, I feel so hip because I just worked the phrase"1D" into a blog post).
Well that's one way I'm savoring Sat. - the other way is by reliving Wishes by doing a new Where to Watch Wishes post! Ready for a look at yet another fab Disney fireworks viewing spot? This time we're going to a place where monorails glide by...
Yes, you read that location right. Contemporary Stairs. You probably had one of two reactions when you read that:
1. Wait, what?
or...
2. Ahhhh, yes.
The outdoor staircases on the Contemporary Resort's North side are one of my favorite spots to watch Wishes. It's (almost) never crowded, you get a really unique, different perspective from above, and you don't have to have a park ticket!
Those great big windows at the Contemporary mean that you could theoretically watch Wishes from inside, but the glass warps the fireworks a little, so you wanna be outside. Walk all the way up to the window, turn to your left and find the door in the corner leading out to the terrace.
Now you could actually watch Wishes just from that fourth floor terrace (in the pic you can see it from above, where the flower pots are out the window). There are a few benches, but honestly they fill up really quickly, and that terrace gets fairly crowded with last-minute watchers. If you really want to feel like you're watching Wishes in a world of your own, climb a few levels up.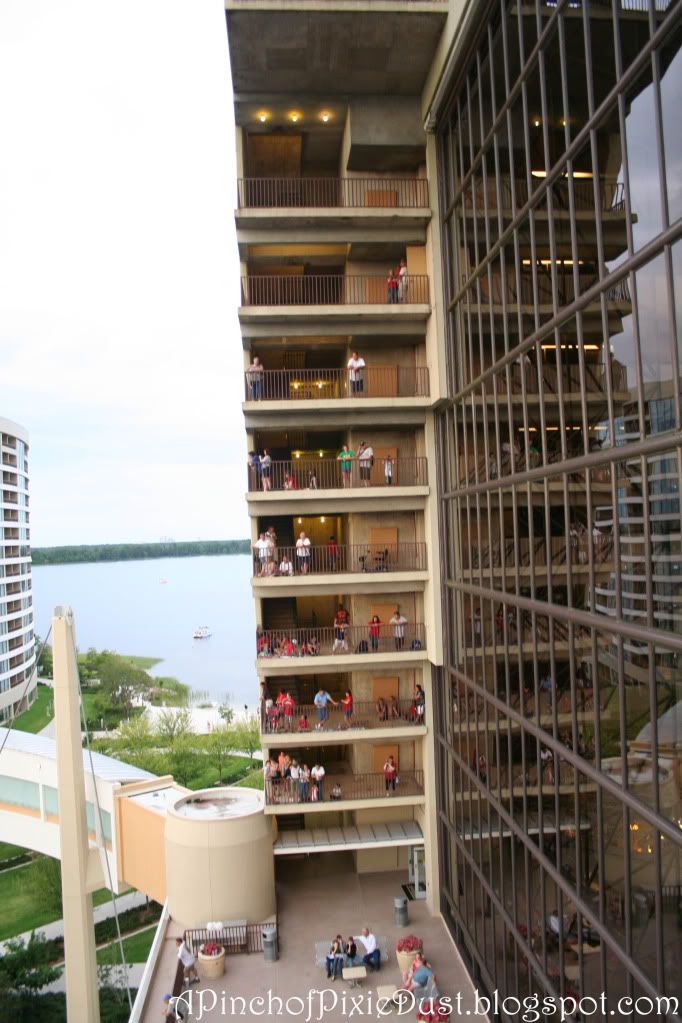 There are stairs on both sides, so you could watch from either - I recommend the stairs on the west (left) side, because there's less in the line of sight between you and the castle!
None of the outdoors stairs are blocked - you can go all the way up to the terrace outside the California Grill on the roof, and there's no gate to stop you (at least there wasn' the last time I was there!). Except for that door on the concourse level, though, the doors leading back into the resort are locked.
If you're staying in a room in the tower with a Bay Lake view, you can just run out of your room and sneak out the door to the stairs to watch Wishes from this spot - just remember to prop the door with something so you can get back in!
Of course, you don't have to be a guest at the Contemporary to watch from here! You can head out after dinner, or just after a visit to the resort!
A quick note: parking at the Contemporary (unless you have a reservation at a table service restaurant or a room reservation), is pretty much impossible these days. I think there must be some curmudgeonly managers at the resort right now, because even at really slow times of year, when there are scads of empty spots and you really are going to eat at the Contempo Cafe and not sneaking over to the MK, the security guards often won't let you in. It never hurts to try of course, but know that you might get turned away. In my experience, they have a much more Disney attitude about parking at the Polynesian, so you could always park there and monorail it., or if you're staying at another resort you can just take resort transportation to the MK and walk over.
Sorry. That note wasn't as quick as I thought. I've been doing a ton of research for my trip to Europe lately, so I guess I'm just in an informational mood - lol!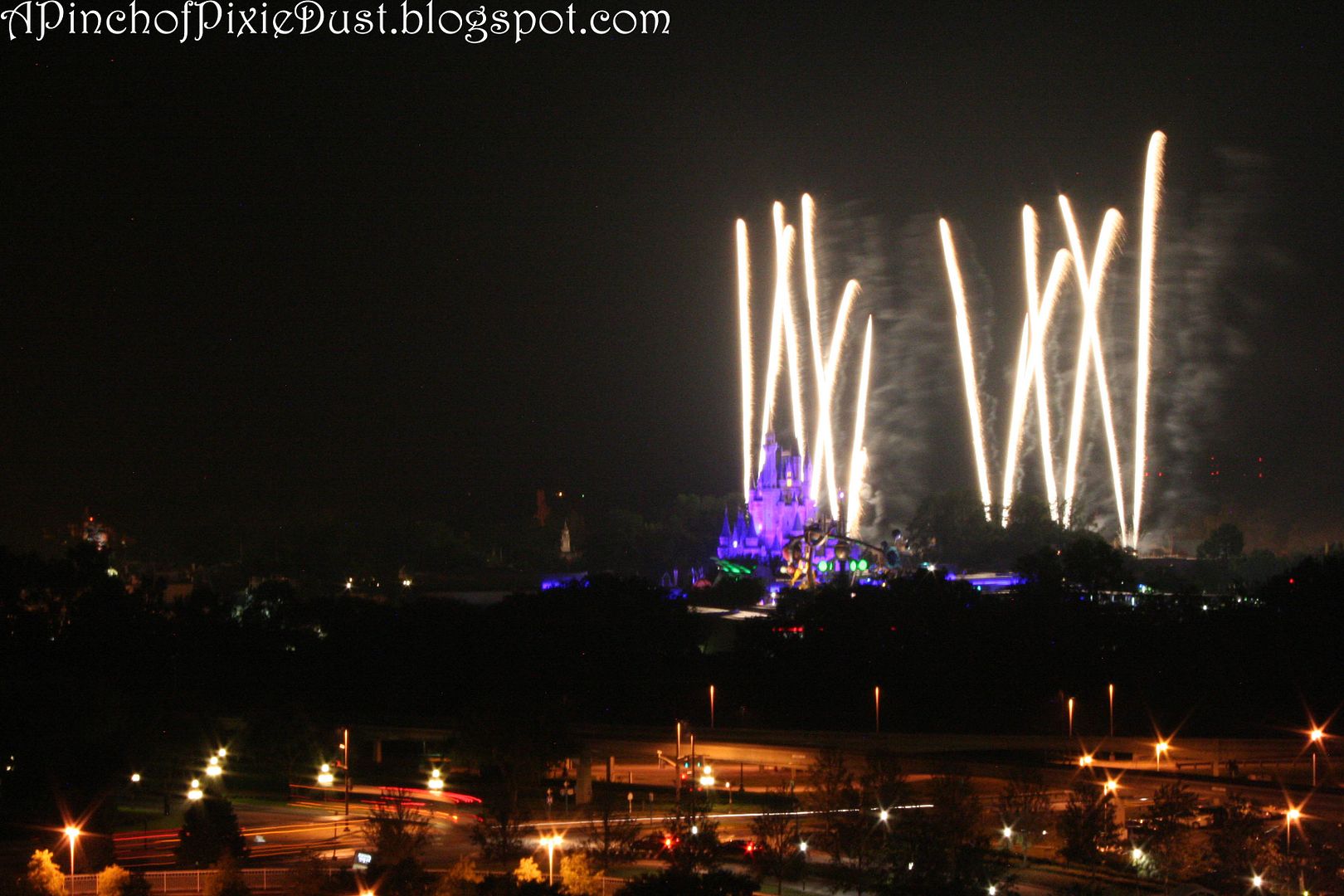 ANYway, on with the show! The great thing about this Wishes vantage is that the Wishes soundtrack is played on that balcony off the concourse. If you only go up the stairs a few levels (say seventh or eighth), you can still hear the music! I tend to feel Wishes is only half itself without the music, so that's a major plus in my book.
An artsy shot. When you start looking for odd spots to watch Wishes, you'll find that there are actually lots of icons that Wishes seems to be going off behind. From this view, it looks like they're framing Space Mountain!
In this pic, it looks like Space Mountain is under attack!! AHH!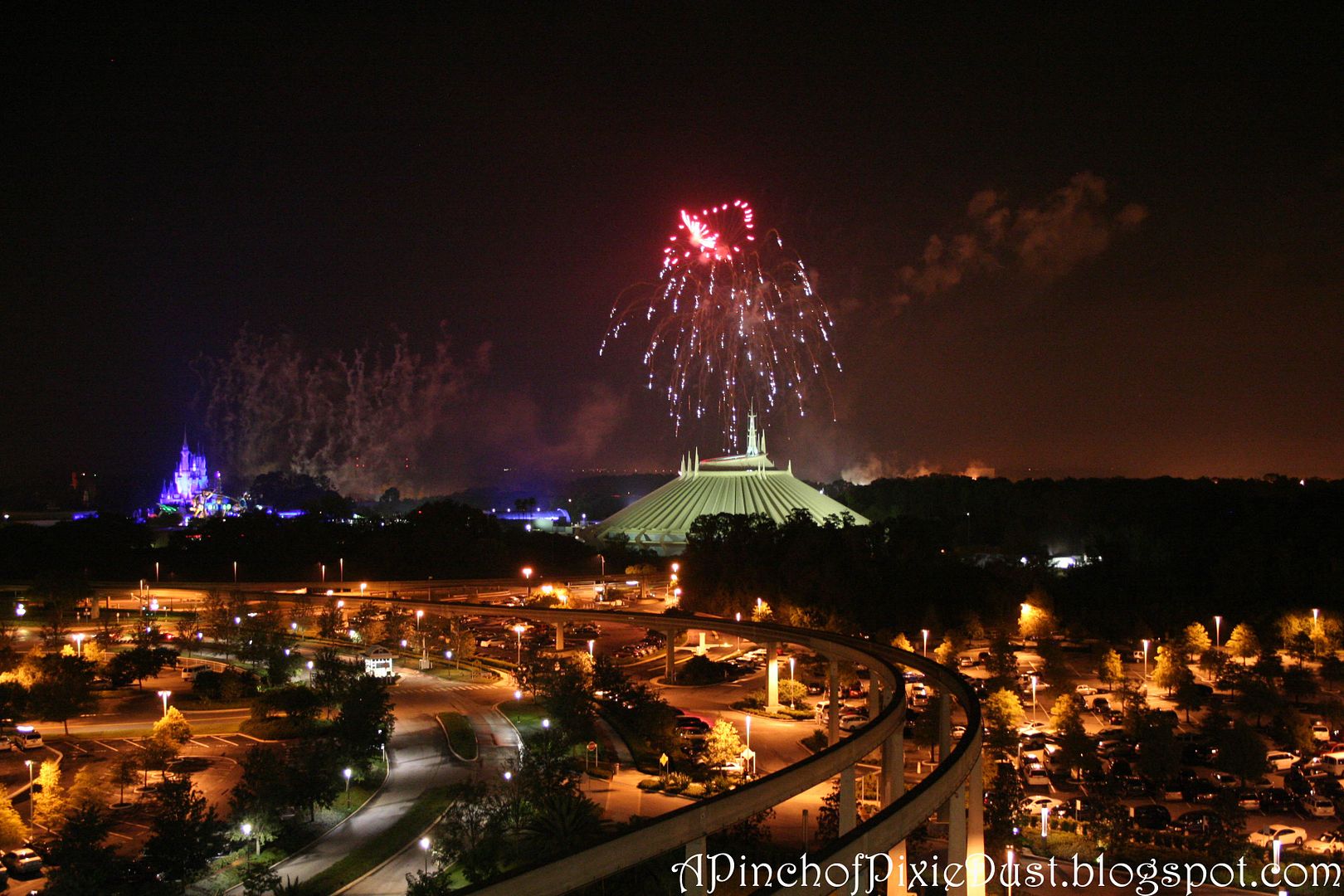 Now. This is an interesting view of Wishes, but it's not a perfect one, and there are some things that could distract you. The monorail tracks (and monorails) are running right below you, and spread out between you and the castle is the Contemporary parking lot - usually fairly quiet, but there are buses coming and going. I find I zone in on the castle and the fireworks once the show starts, and all that Disney hustle and bustle below me is just a fun backdrop for it, but it may not be your cup of tea. Just a warning.
It's not a bad spot if you're looking to get some neat pics of Wishes and didn't bring a tripod. You can steady your camera on the balcony railing - just keep the strap around your neck and DON'T let go!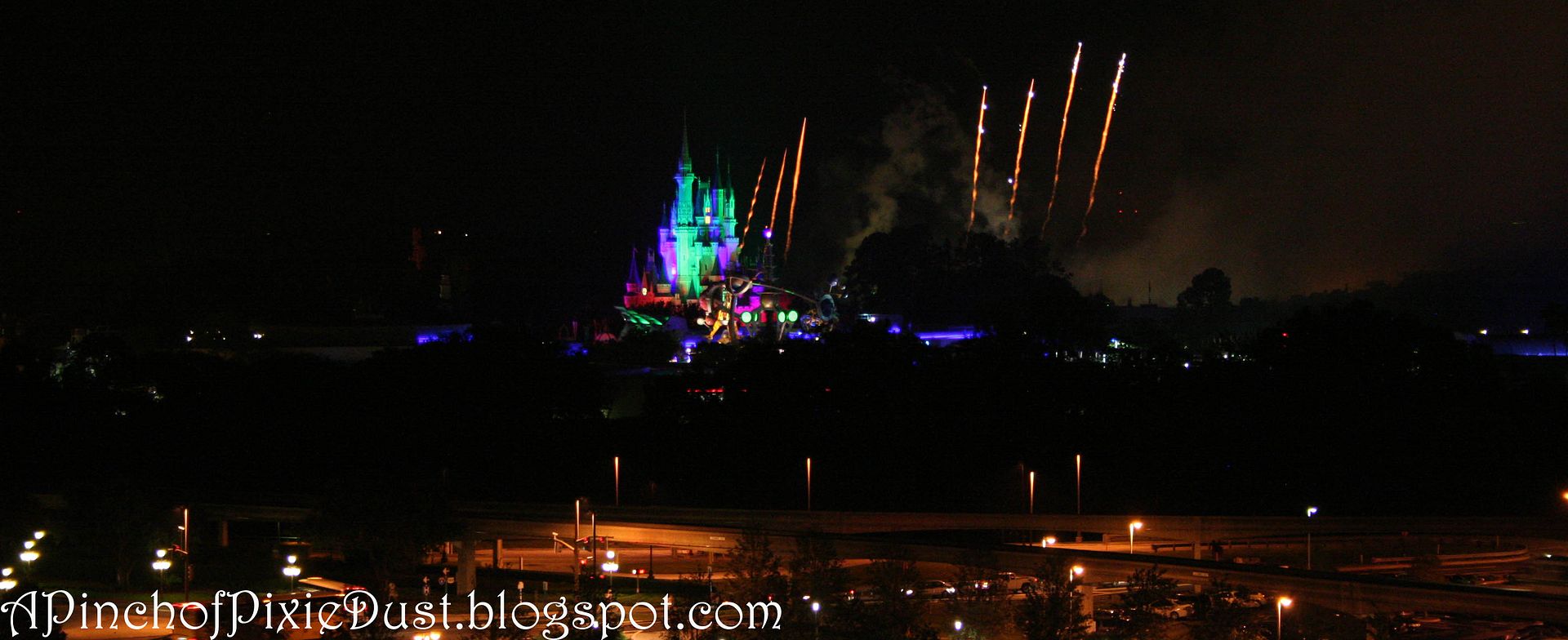 Just a few more photos to cap off your Saturday night...
Love it when all those streams of pixie dust go soaring into the sky!
And, of course, the golden weeping willows. I have to say those look pretty spectacular from the Contemporary stairwells.
Have you ever watched Wishes from this spot? I'd love to hear your thoughts in the comments! :)