Today is a very special Sweet Treat Monday! Why, do you ask?
Because today we've got A Pinch of Pixie Dust's very first guest post!
Everybody, please welcome Marissa! She writes the fabulous Oh, Just a Few Gallons of Pixie Dust! trip report over on the DISboards and has got an absolutely delectably delicious cupcake from her TR to share with us today.
When I read about this cupcake, I was seriously drooling over the screen. It wasn't there in January, but the CM's said that was because they still had out the holiday cupcakes - so hopefully it should be back soon! Without further adieu, here's Marissa.
On my most recent trip to Disney, at the end of July and the beginning of August, my family was staying at Bay Lake Tower.

I knew all along that I HAD to try a cupcake from the Contempo at some point. They all looked delicious! They had Red Velvet, Strawberry Lemonade, and… CHOCOLATE PEANUT BUTTER CUP.

Now listen. I am basically a chocolate and peanut butter FANATIC. I think it is the best and most GENIUS combination to grace the planet.

I've always loved it. My favorite candies are Reese's cups and peanut butter M&M's. That shouldn't come as a shock.

"Hey, you got peanut butter on my chocolate!"

"You got chocolate in my peanut butter!"

NO ONE IS MAD!!!!

Yeah, I'm a bit of a nut. It's okay though. So basically, when I saw that cupcake, you'd best believe that's what I was getting.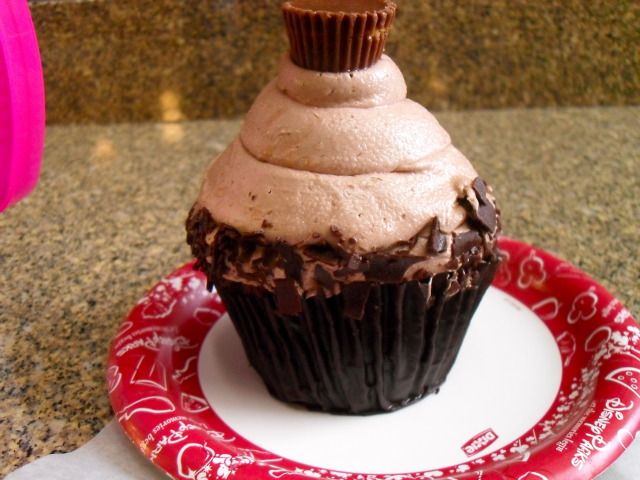 I'd never heard of anyone having one before. I took it upon myself to see what it was all about. (Yeah… all in the name of research. You're welcome.)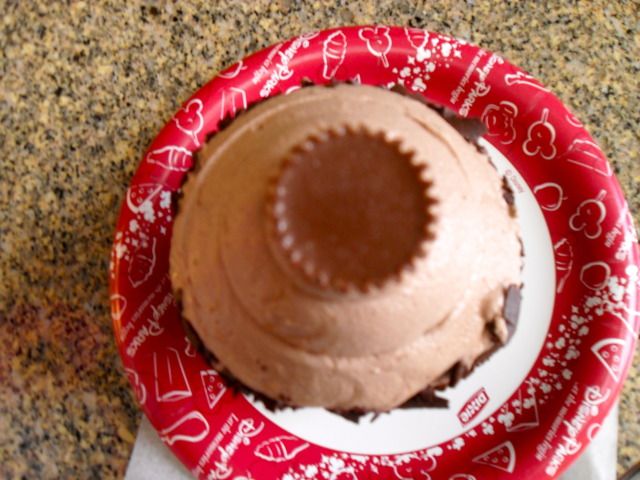 I cut it in half, and I made sure to get a fork-full of ALL THE LAYERS (and thankfully there was no MEAT in this dessert… Friends reference, oh yeah.)
I took a bite.

Then the Heavens shined upon me and I sang a song of joy.

Listen, yall. THAT CUPCAKE IS A GIFT FROM THE HEAVENS.. OH MY WOW. I mean, just, WOW. It was absolutely delicious.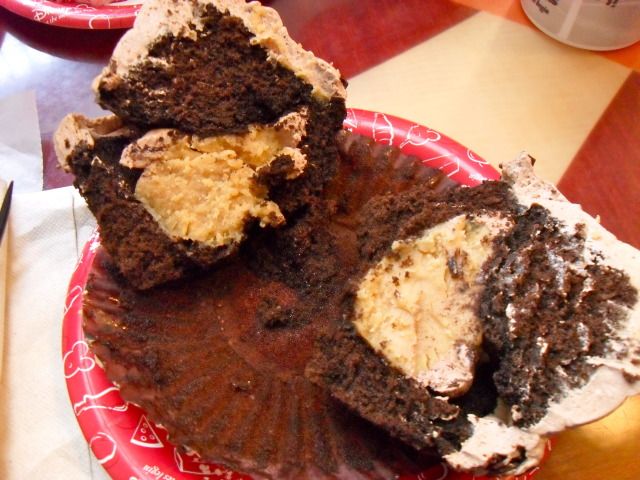 Let's talk about it. The cake part was a delicious, moist devil's food cake. It was amazing itself. The filling was basically what you would find inside of a Reese's cup. It was a bit heavy, but wonderful. And the icing? OH, THE ICING! It was a light milk chocolate icing that was the most perfect icing I'd ever tasted. It wasn't too light (like whipped cream icing, I can't stand that) and it wasn't too heavy. It balanced out the heavier filling and it MADE the cupcake. Top if all off with an ACTUAL mini Reese's cup, and I was a very happy girl.

All I'm saying is, if you have never had one before, you must.

Okay… I don't know if you realize just how important this is… how can I make this clear?

HOP A FLIGHT TO DISNEY RIGHT NOW AND GO GET A CHOCOLATE PEANUT BUTTER CUP CUPCAKE AT THE CONTEMPO CAFE!!! DO YOU HEAR ME? GO NOW!!!! DO NOT PASS GO, DO NOT COLLECT 100 DOLLARS (unless that's how much it would cost for the flight), AND GET YOUR HINEY MOVING TOWARDS THE MONORAIL, STAT! THIS IS NOT A DRILL, SOLDIER.

So, I don't know if you can tell, but I enjoyed that cupcake.

According to a lot of my Disney loving friends who have gone to get that cupcake recently, it hasn't been there. It's a little bit concerning, but I'm holding onto hope that it will be there next time I go! Either way, I don't think you can go wrong with a cupcake from the Contempo Cafe at Disney's Contemporary Resort!