There are lots of lovely touches in New Fantasyland, but one of my very favorites is not a ride, not a shop or a restaurant or a character. It comes at the very beginning, and it puts you in a perfect Fantasyland mood...
I LOVE the gates to the New Fantasyland. It's funny, because they're something you would ordinarily walk right by, but they're so gorgeous. I hope Disney always continues to put thought and effort and detail and beauty into the things you walk right by, because that's what makes Disney so magical.
So today, instead of rushing right by to all the new stuff inside New Fantasyland, we're going to pause and just admire the gates and castle walls and turrets for a little bit. Above is the view you'll have if you approach New Fantasyland from the front, from the carousel/castle side.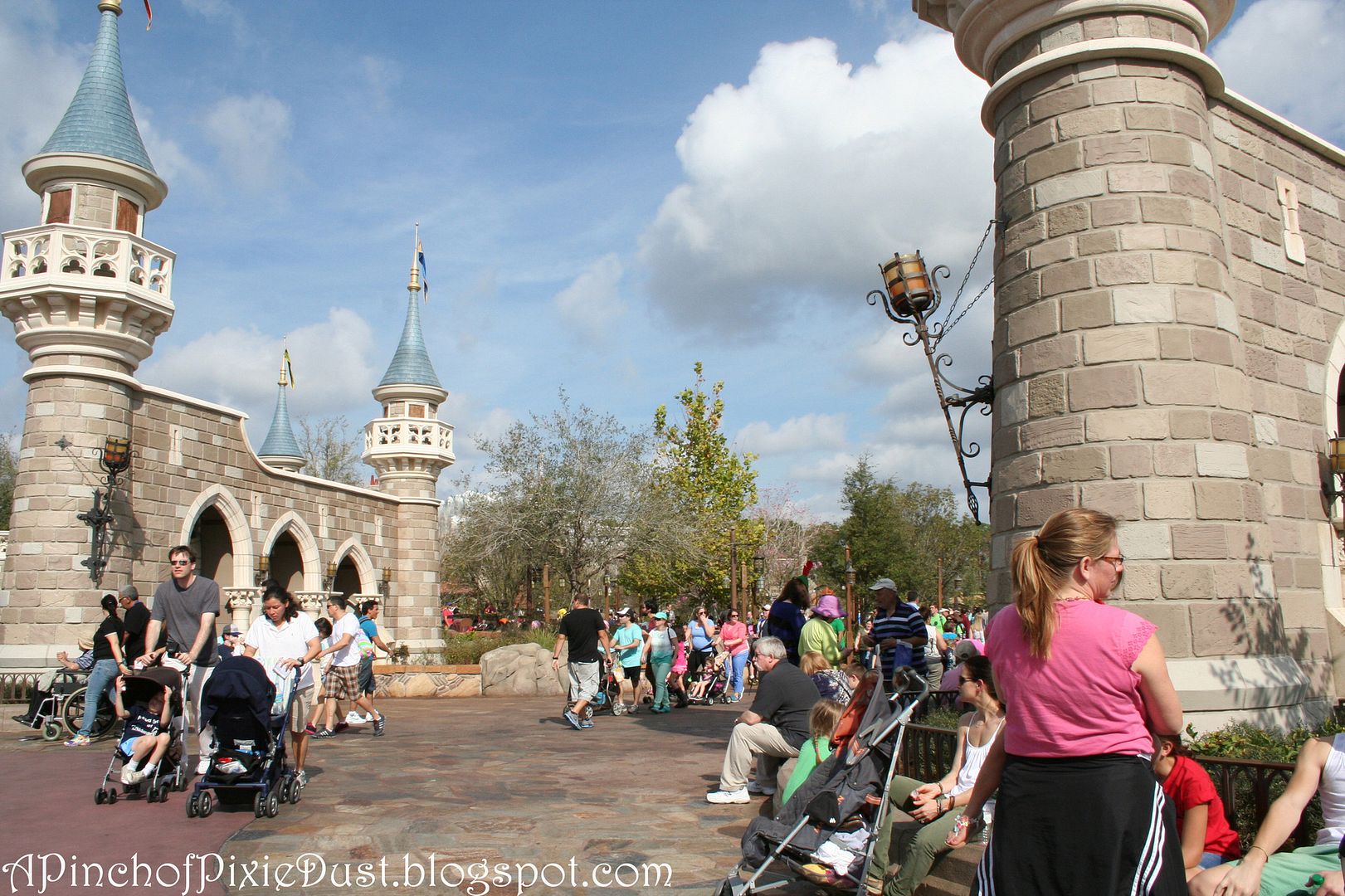 Another view from the front. If you approach from a different direction though, say if you're walking towards New Fantasyland from the tea cups and Winnie the Pooh, then you'll get an entirely different view...
From the original concept art, I thought the wall would extend the entire length of New Fantasyland, but the walls and gates stretch from Pinoccio's to the Friar's Nook, with plenty of archways and space to walk through, so you don't get too much traffic congestion.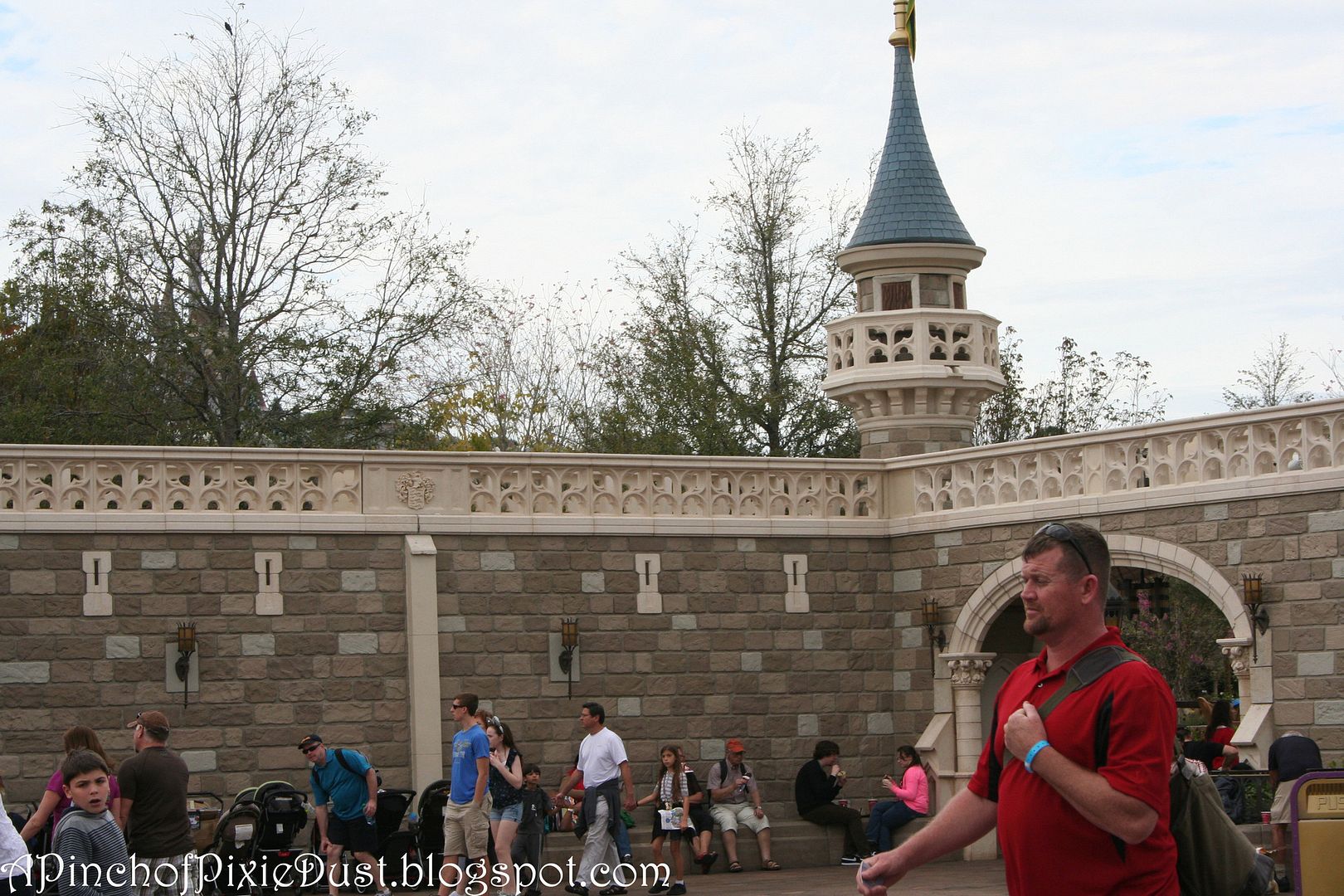 Here's the wall stretching away from Pinoccio's. They cleverly built a ledge along most of the wall for extra benches/seating!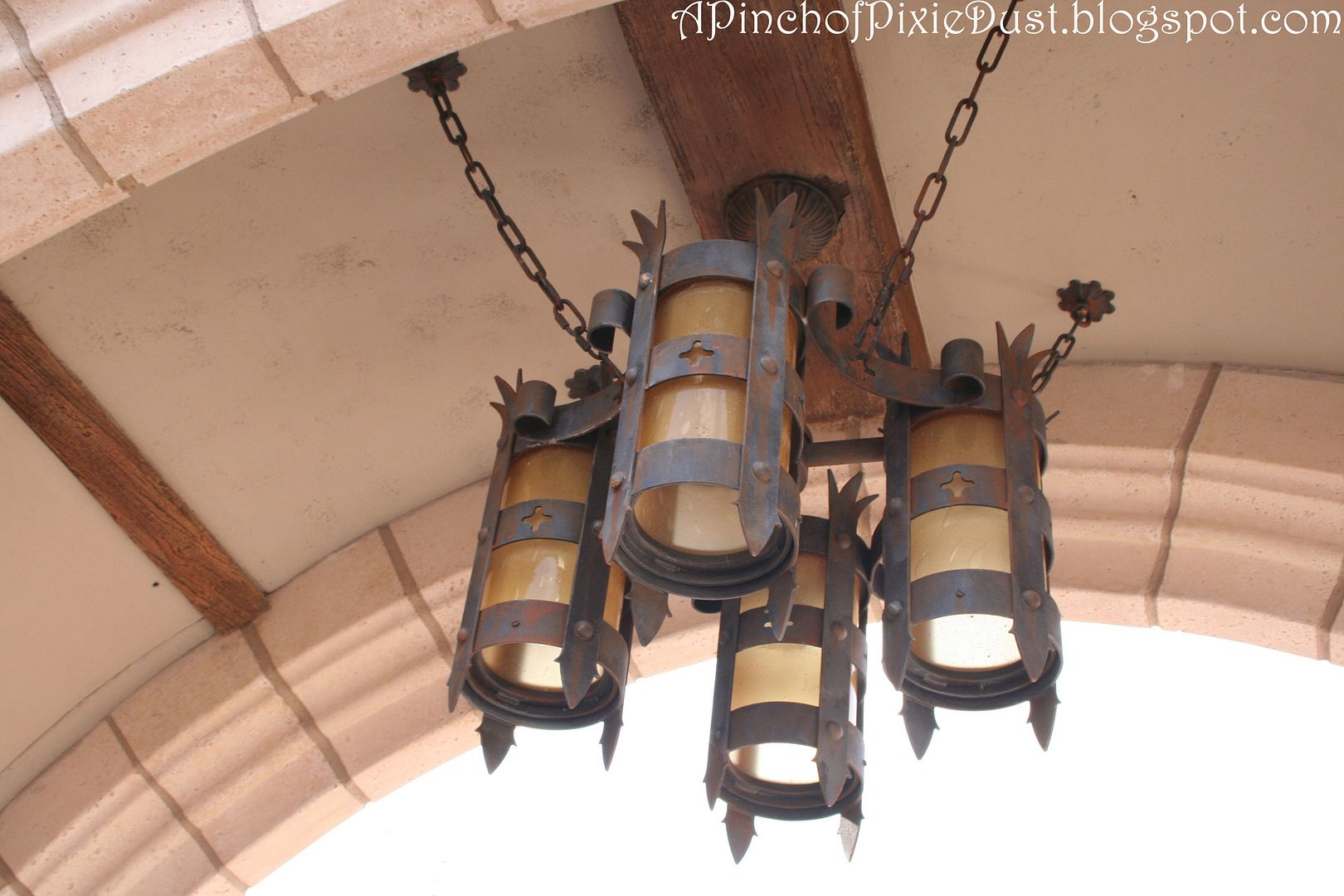 I love all the details...like these medieval chandeliers hanging inside the arches!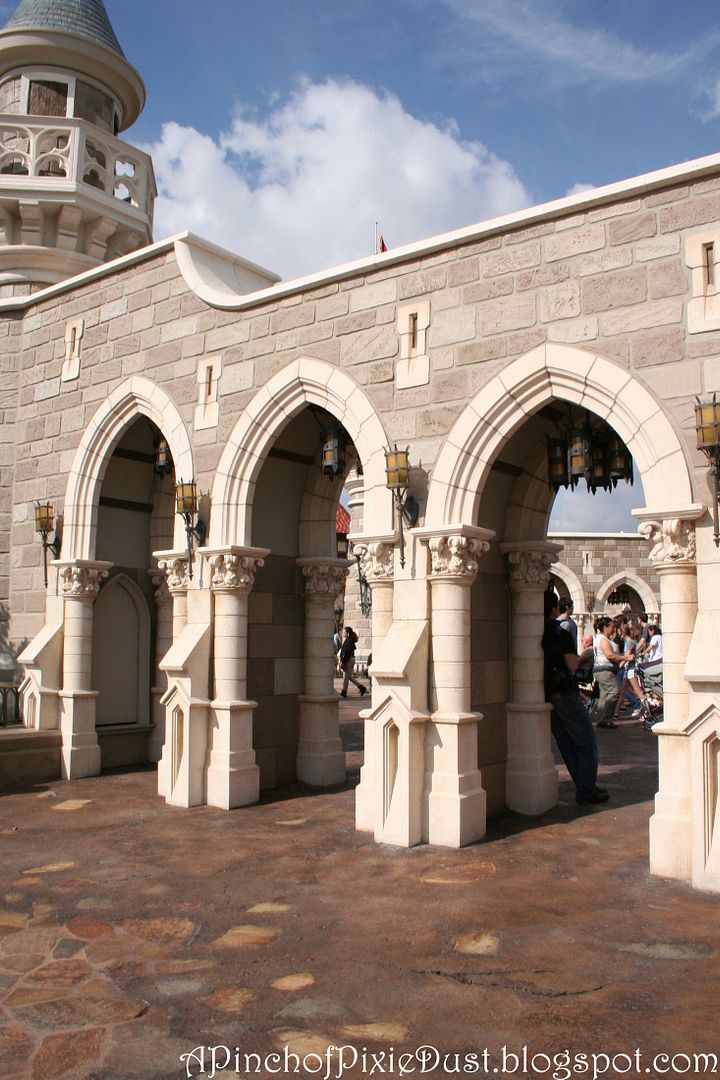 You might be wondering if the columns holidng up the arches are ionic, doric, or corinthian. In fact they are squirrel-ic
Seriously, though, these little squirrels at the top of the pillars might be my favorite detail of all. They look so enitrely, adorably delighted. They seem to be saying, "Hey! You're at the Magic Kingdom today! So are WE! Isn't it FANTASTIC?!!"
I love the torches hanging from the castle walls too!
I love how the arches stairstep up higher and higher in height. And check out the slits for the archers to defend Fantasyland!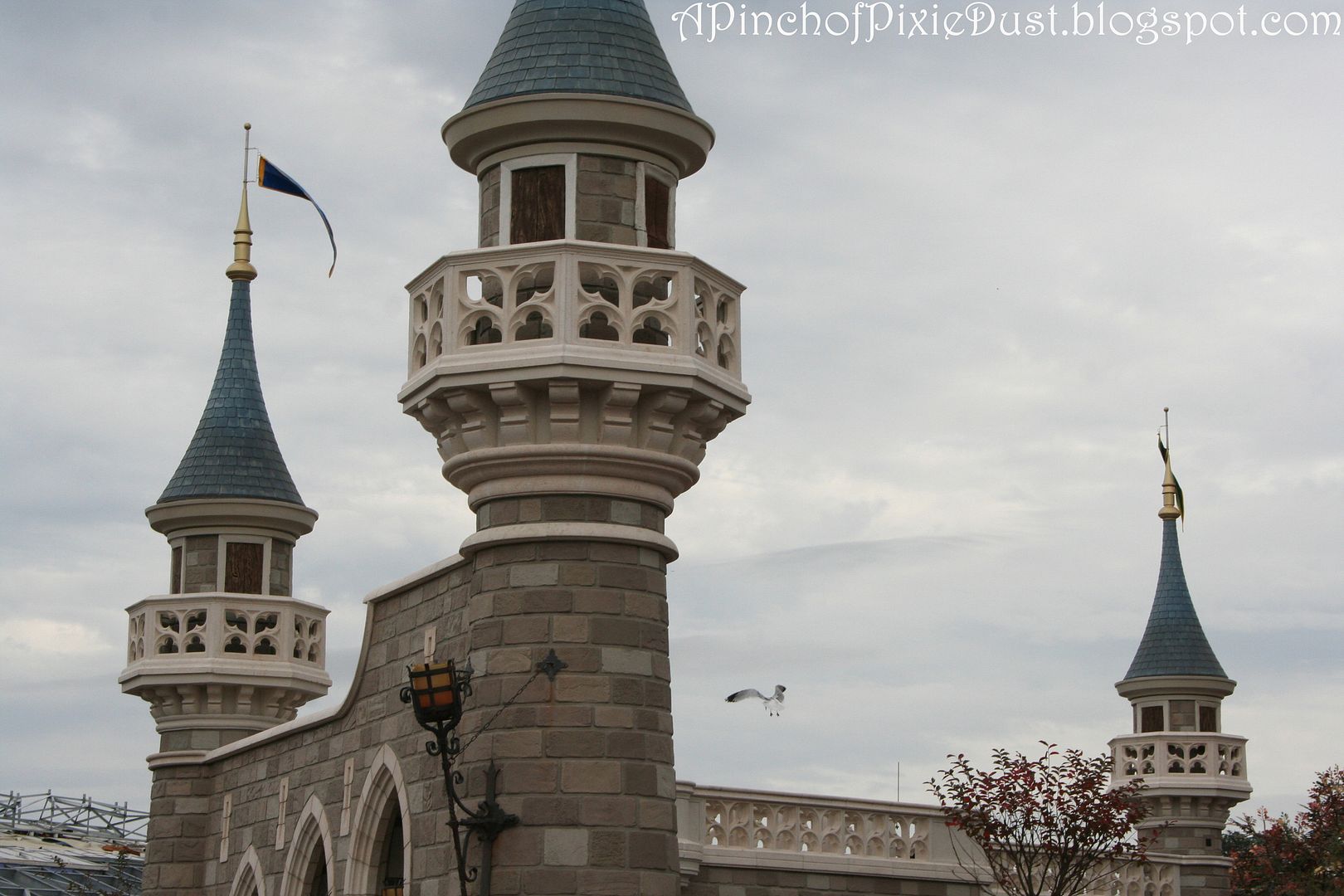 Can't you just imagine some regal guards patrolling up there?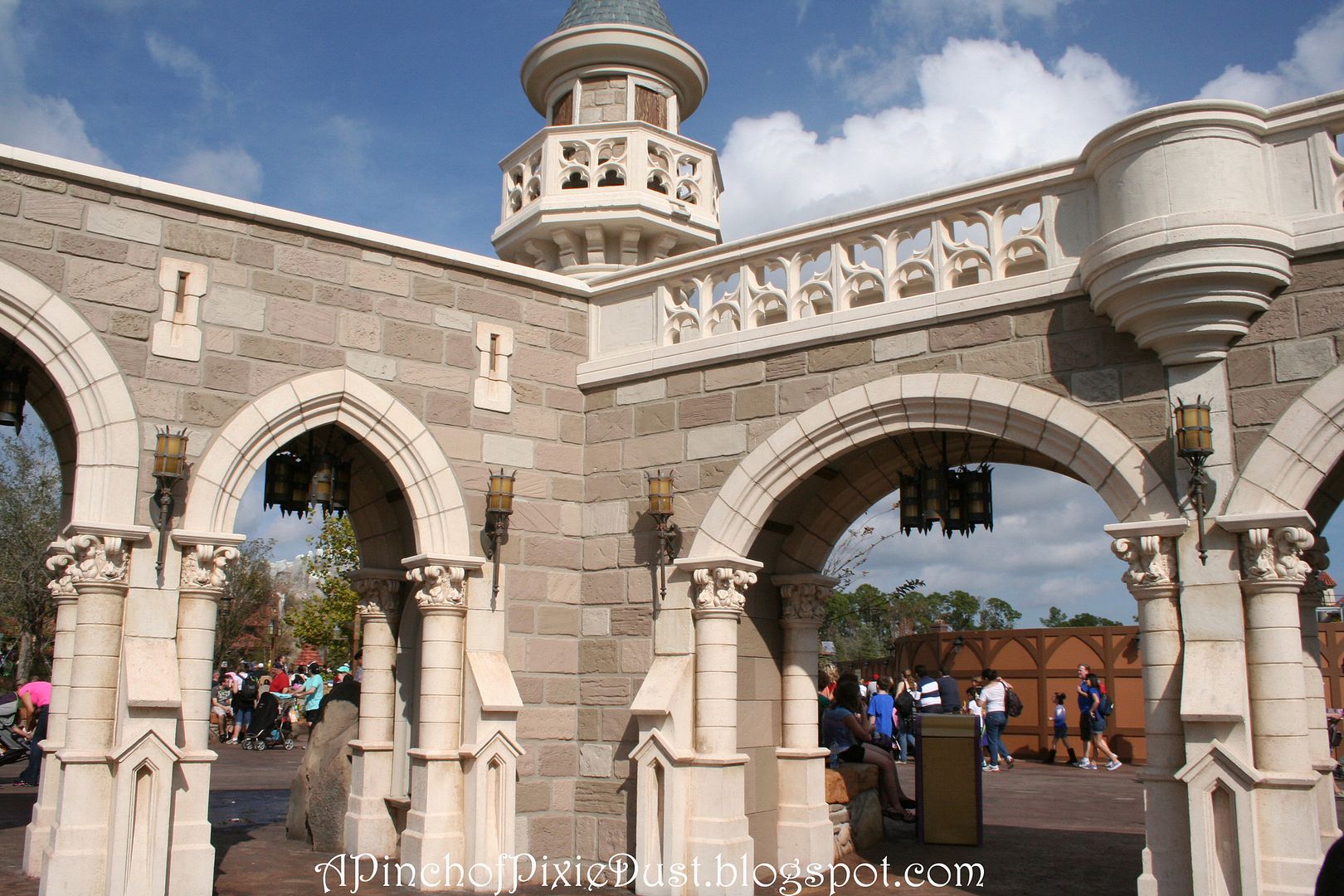 Another part of the success of the gates is how well they mirror the castle. They don't compete with it, but they blend perfectly!
The view of the gateway from behind is my favorite, with the castle in the distance - so many blue turrets!
Definitely a perfect place for a stroll and a wonderful new addition to the Magic Kingdom!