And since Christmas is right around the corner, I thought we'd celebrate on the blog with a few decorating pinches of pixie dust...
And since we're on the subject, why not start with the Beach Club? I took SO many photos of decorations last year - at the Polynesian, the Boardwalk, the Grand Floridian, and more. But looking back through old photos, I realized these Beach Club pics had never reached the blog!
I love the approach the the Beach Club - can you spot the wreath hanging from the pool house by the Villas?
The Beach Club is so lovely in its creams and blues at any time of year, and at Christmastime it's like they sprinkle it with an extra coat of sparkly golden pixie dust.
I love the starfish and golden bows and beads!
The Beach Club trees are like a glimpse under the sea. If you want the view from on top of the waves, you should check out the trees at the Yacht Club!
I've always had this fantasy where, if I were rich, I would decorate each room in my mansion like a Disney resort. Imagine how fun it would be to do Disney-inspired decorations in your own house!
The Front Desk had some pretty swags...
One of the main attractions of the Beach Club decorations is the gingerbread carousel. People used to come into the Boardwalk thinking we had the carousel - we had a Stitch-inspired gingerbread house, but the carousel has always been the Beach Club's! There were four chocolate horses on the carousel...this was Wonderland...
Then there was Captain, Holly, and Pepper. I don't know how many decorations will still be up when we head down to Disney on January 1st, but it'd be fun to stop by the Beach Club and see if the horses were the same or different!
Look at their gorgeous tails of chocolate curls!!
There was a list of all the materials that went into this masterpiece. I love the faces on the little gingerbread men surrounding the list - how cute are they?
Of course, Disney isn't going to pass up this opportunity to sell you some gingerbread too. ;)
I love how Disney decks the halls - even within one resort, there are slightly different flavors of decorations in each area.
And here's a sandy scene from the shop windows!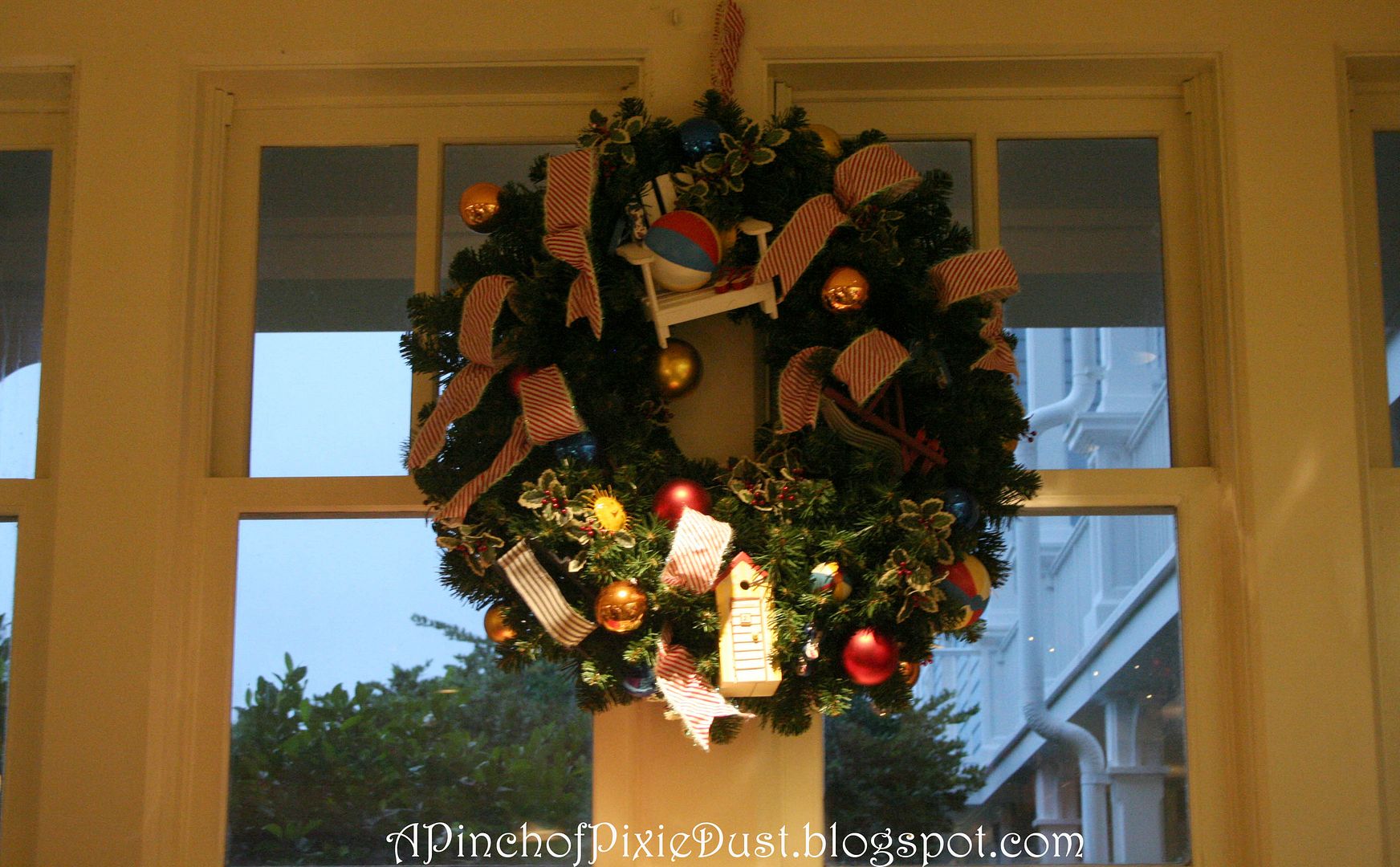 Above is the wreath from the gift shop. The lobby was a little more sparkly and sophisticated, while the gift shop had bright colors and beach balls!
I want to know - which resort would you pick to inspire your holiday decorating??