It's astonishing to contemplate how many worlds there are within Walt Disney World.
There are the parks. There are the resorts. There are restaurants and rides, shops and shows, lobbies and club levels. You pass through many of these worlds on any given Disney trip, but there's one world I haven't often entered:
The world of the Conference Center.
Unless you're visiting Disney World on business or attending a conference, you probably wouldn't think to visit the conference center, whether you're staying at a resort that has one or not.
But if you're looking for the world of quiet corners at Disney World, these are definitely spaces that you want to check out!
Today we're going to have a nose around the Contemporary Conference Center!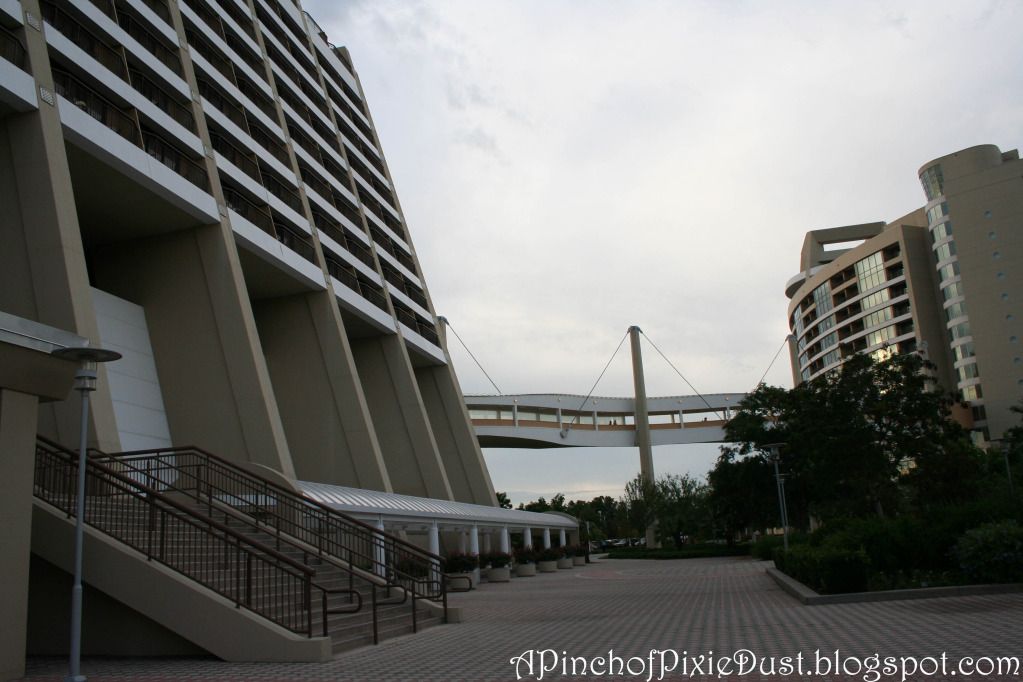 It's on the second floor of the resort - you can go right up those steps in the photo to get to it. And if you've ever taken the escalators from the lobby to the concourse, then you've passed through it!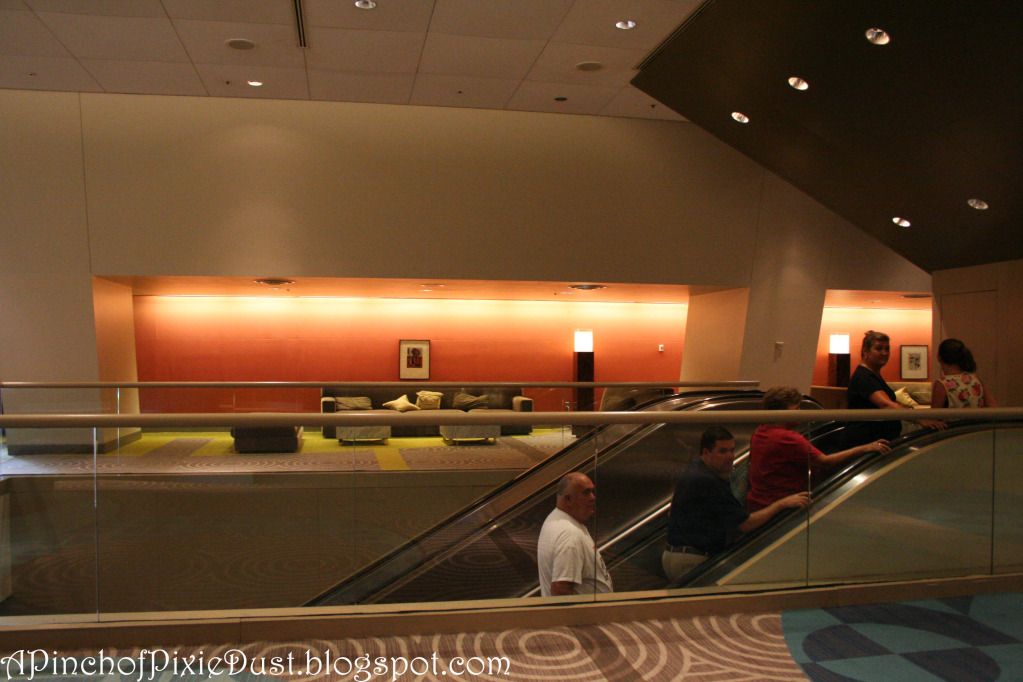 If, instead of making a beeline for the concourse, you explore the second floor, you'll find plenty of nooks and corners that are a perfect place for a mug of coffee and a book!
All along that orange wall are these plush velvet couches and chairs...
I love the subdued metallics on the pillows and on the couch. Those couches are seriously PLUSH - super comfy and the fabric is the kind of velvet that you just want to stroke all day long like a kitty cat, lol!
Just imagine sinking into your contemporary chair, soaking in all the details, like the modern paintings, funky wood lamps, and marble slab tables.
I know I've enthused over Disney floor coverings before, but I'm about to do it again -- how cool is that carpet? The bright aqua and lime are the perfect splash of color against the more neutral walls and furniture.
Side Story: I would love to design Disney carpets. But I don't think it's always the Imagineers that do them. At the Boardwalk I once checked in a group of designers from a firm in New York who were redesigning all the curtains and bedspreads at the resort. Interesting!
Now obviously when a conference is going on, the conference center won't be such a quiet or peaceful place to hang out. But it seems that most times I have passed through conference centers, I've been the only one there.
At the Contemporary it is slightly more busy, because you have people checking in for dinner at the California Grill and also all the traffic from the escalators, but that just gives you the chance to people watch! Often I like to get dinner from the Contempo Cafe and come down here to eat in peace. Definitely a cozy corner to add to the list!
Wishing everyone a magical weekend!
Totally Random Tidbit: I've heard that a HUGE amount of Disney Resort guests, well over half, are not just ordinary vacationers, but are visiting Disney as part of a group or conference!