So before I left Florida, my family came down for a fabulous week of Disney fun; and during their visit we got to stay at the brand new Art of Animation Resort.
I had heard good things, but I was not prepared for how utterly gorgeous it would be - I took about a billion photos! I'm going to break them up into multiple posts and profile different sections of the resort, and where better to begin than the lobby!
Just turning into the resort I felt a surge of excitement. There aren't a lot of places at Disney that I haven't been, and while I love revisiting my favorites, it's so thrilling to see something entirely new!
My attempt at a panoramic! The entrance is so colorful and pretty, with the giant drawings of Lightning Mcqueen, Ariel, Nemo, and Simba - the four main characters from the four movies featured at the resort. Also loved the long swirly paintbrush squiggle going off above the buses!
One of the first things you see when you enter are these larger-than-life, vibrant film strips covering the wall to your left...
The drawings are all so bright and sweet and soft!
Once you can tear yourself away from all the adorable paintings, you might notice the awesome, funky chandelier...
Each one of those leafs is a black-and-white drawing from the four Disney movies! After gawking at that for a few minutes you'll turn to the right and see THE LOBBY.
Even though I'd seen pictures before I came, I was totally blown away!
The imagineers did a totally fantabulous job on the Art of Animation front desk - it was like walking into a rainbow or an artist's palette.
These new "individual" front desks are an interesting concept too. I heard about them at my own front desk before I left...the CM is supposed to come out from behind the desk to greet you and come out again to give you your packet (like how they come around the counter to hand you your shopping bag at fancy stores). Apparently if the new desks work out at Animation, Disney will be extending them to more resorts.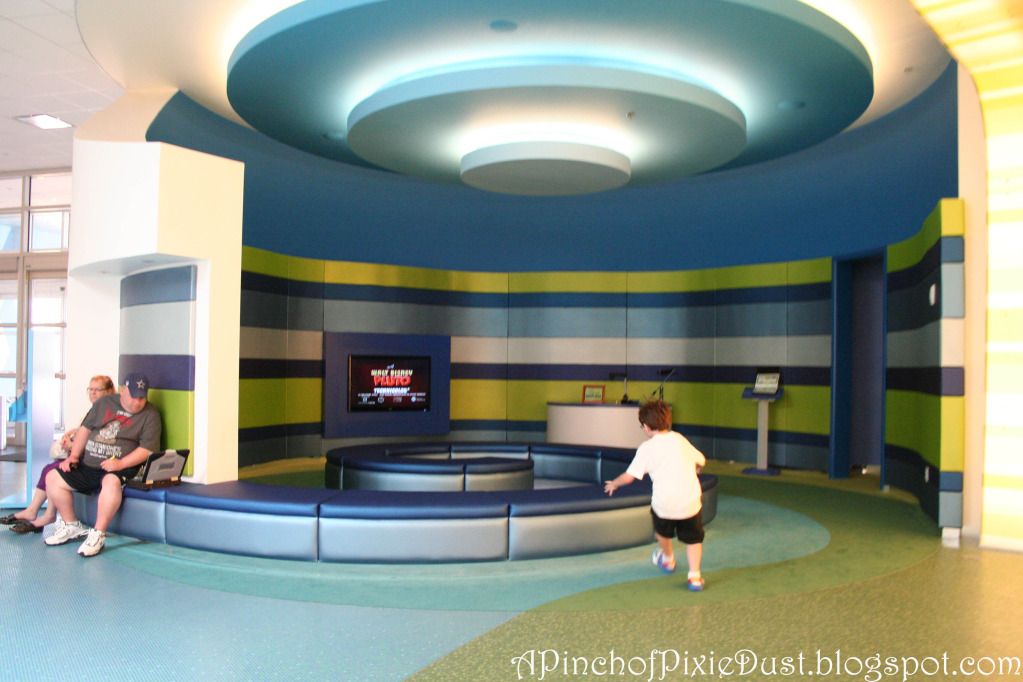 Here's the children's area, located at the far end of the lobby from the entrance . You can also see my little brother Dart who may or may not be running up, about to leap over one of those benches...lol...
So to one side is a glowing, glittering rainbow and to the other, the wall is totally covered in Disney concept art!
I absolutely adore concept art...often the sketches are just as beautiful as the art in the movie...so I fell in love with this wall immediately!
I was tempted to take a picture of each and every sketch. Luckily for you readers and my camera's memory card, I resisted. ;)
...but I still did take *a few* pictures! Isn't Dory hilarious??
And when it comes to princess concept art, I'm simply lost!
My favorite sketch, though, had to be this one of Guido. The Look. I just love it. :)