Happy Monday peoples! All ready to attack the new week? Well I hope you're at least ready for some creamy, cold Disney goodness!
Today we're heading to Downtown Disney and that "Ghirardelli" spelled on in glittering letters atop a chocolate-covered building!!
The Ghirardelli Ice Cream and Chocolate Shop is popular! I love the mural and all the chocolate pipes running along the ceiling inside.
There are so many interesting ice cream concoctions on the menu at Ghirardelli that it can be hard to decide. I thought I would go with something simple and classic but utterly CHOCOLATE.
I ordered a single scoop of Ghirardelli chocolate ice cream in a chocolate-dipped waffle cone ($4.50) with whipped cream (.50 extra).
A five-dollar ice cream cone has a lot to prove, but boy did this one prove itself: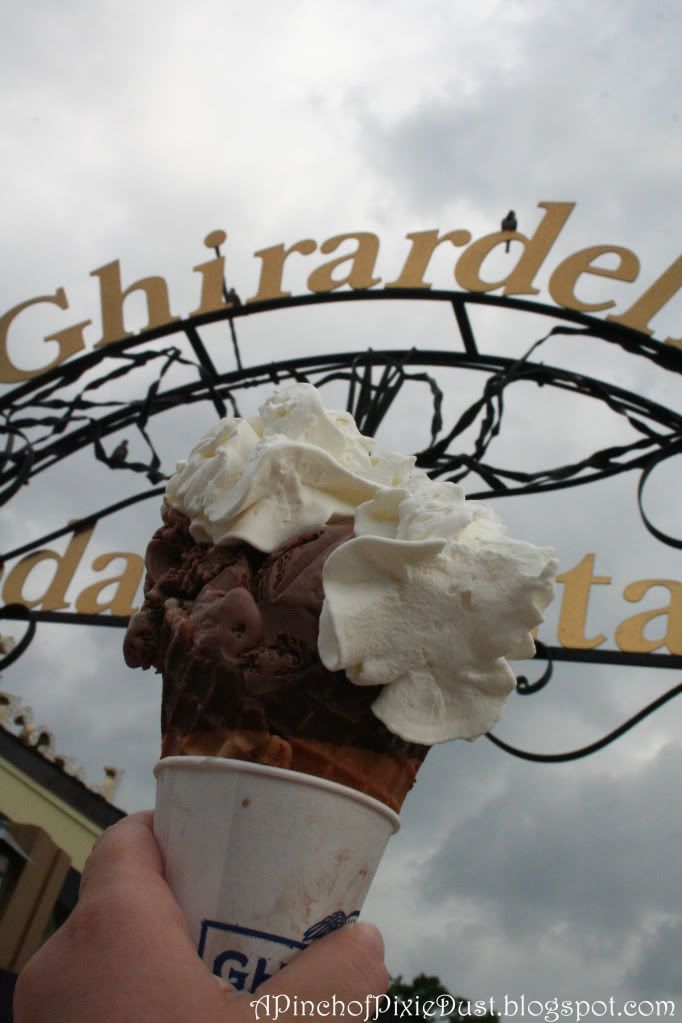 It was basically the most beautiful ice cream cone I have ever laid eyes on! I mean, look at all that frothy, creamy, REAL whipped cream -- SO much worth the 50 cents. And we haven't even gotten to the CHOCOLATE yet. It was all gourmet (aka seriously delicious and rich) ghirardelli chocolate.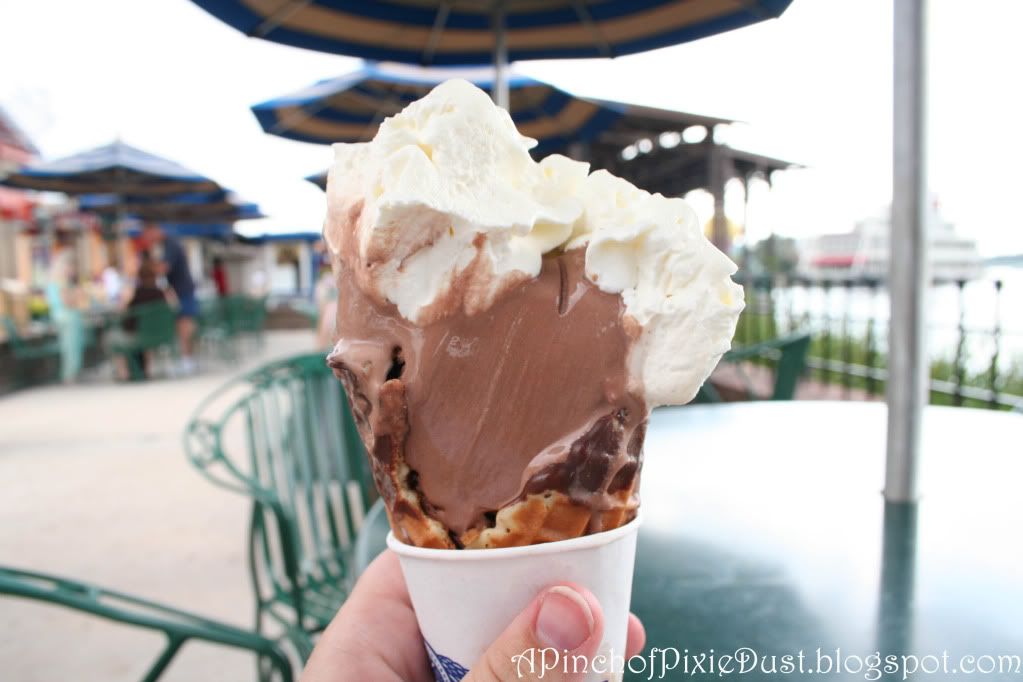 If this is one scoop, I can't even imagine what two scoops would look like! And they filled every inch of that cone with ice cream, it was incredible!
Seriously. It was practically as big as my head!
When I first got my cone at the counter I almost thought it must be a sundae - it came in a handy little plastic dish. Another thing I like about ghirardelli is that they have a tap water sink by the napkins. Admittedly the cups are the size of dixie cups, but at least they're there! Eating ice cream always makes me thirsty.
Last bite! Even in the very last tip of the cone there was a little bit of (albiet melted) chocolate ice cream. The ghirardelli ice cream cone is an amazingly delicious experience. I had only one regret:
Next time I won't wear a white shirt that shows chocolate stains!