I KNOW! I couldn't believe it when I first heard it a few weeks ago, but it's true! Coronado Springs' Pepper Market eatery now serves a buffet breakfast and lunch.
One afternoon my brother and I went over to investigate this buffet business...
There are so many palm trees at Coronado. I love it!
The breakfast buffet goes from 7 to 11, and lunch is from 11:30 to 2:00. $14.99 for breakfast and $16.99 for lunch. Those are pretty incredible for Disney buffet prices, and I've heard that you can use counter service credits from the dining plan for the buffet!
The dining space was fairly empty that day, and I asked if we could be seated under these cool awnings by the window.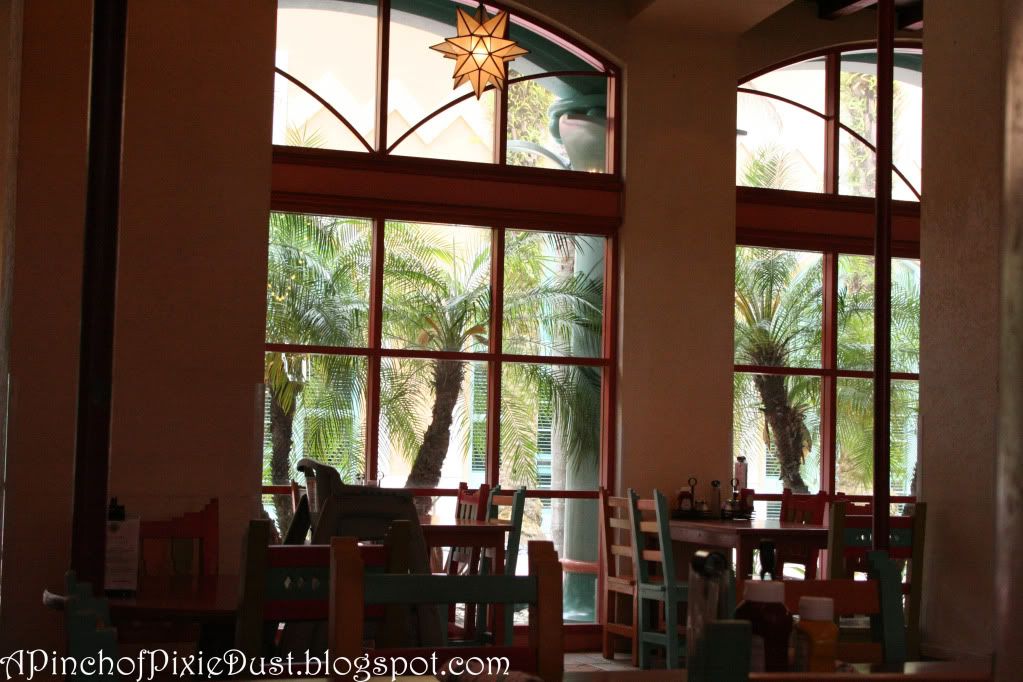 I love this little corner of the Pepper Market...the chairs in tropical pastels, the star lamps above, the palm trees right outside the window...I could sit here all day!
But we aren't here to look at coral-and-aqua-colored furniture! Let's get to the food!
Black bean salad and cucumber salad...
More salad materials...I always like the look of the fresh greens and funky vinagrettes at the salad portions of buffet, but I don't like to have salad at a buffet because stomach space is at a premium and must be reserved for more delicious things. ;)
The pasta sounded so good on the sign but were slightly uninspiring in themselves. They weren't untasty, but they were a little dry...I think they'd been sitting out awhile.
With its more expensive buffets, Disney does a good job at keeping things well-stocked and fresh. But when you get to the good deal buffets like the Pepper Market or the breakfast buffet over at The Wave, it's best to go early or the food isn't at its peak. My brother and I went towards the end of the lunch hour.
This was the kiddie selection...fries and chicken nuggets, mac and cheese, spaghetti, and a dish of something else that could be chicken or some kind of potato...or something else entirely...I can't quite tell...
Some savory side dishes and the carving station...the selection and amount of food on this buffet was very impressive, especially considering the price and considering it's Disney!
Once you got beyond the pasta and pizza, appearances began to improve. The Sandqich Station was quite impressive. They had basically every hot sandwich and cold wrap that is on the menu over at Cafe Rix, and they were quite tasty.
The selection of Mexican food was also quite good...they had make your own fajitas and/or tacos, with beef, chicken, beans, and spanish rice.
There were also quesidillas and spicy burrittos. The burritos were really good...pretty spicy, but flavorful, with a soft tortilla.
But, oh. Friends. We haven't even gotten to the desserts yet! Look at all those trays of BREAD. They had bagels, bread for toast, muffins, croissants, cookies, and more.
And it was kinda fun to look at the price board and know that you could have whatever you liked, it was included! But my absolute favorite part was this beautiful case:
These were the same cakes they have at Cafe Rix, only a little smaller, and you could get as many as you wanted!!!
....strawberry shortcake...
...this was chocolate, and they also had the
oreo cake
that I tried a few months ago.
They had little churro-type donuts that were really tasty!
I would give the Pepper Market lunch buffet very high points for value and selection. You just do not see that much food for $17 at Disney World. The quality isn't as high as other Disney restaurants, but it's still quite good. I'd say it's definitely worth a try!