For the most up-to-date list of Disney cupcakes and the locations they're available, check out the Cupakes of Disney World page!
TODAY, guys, is a special day. For the last nine months, I've been scouring Walt Disney World to bring you a different magical cupcake every Monday.
Well. Today is going to be the Cupcake Monday to end all Cupcake Monday's.
I have put together from my wanderings, for your edification and delectation, an Ultimate Walt Disney World Cupcake Guide.
This isn't just a top 10...this isn't just my favorites...this is a list - complete with photos - of 50 (that's fifty) cupcakes of note; that's pretty much every single cupcake available at Walt Disney World Parks and Resorts. Ready?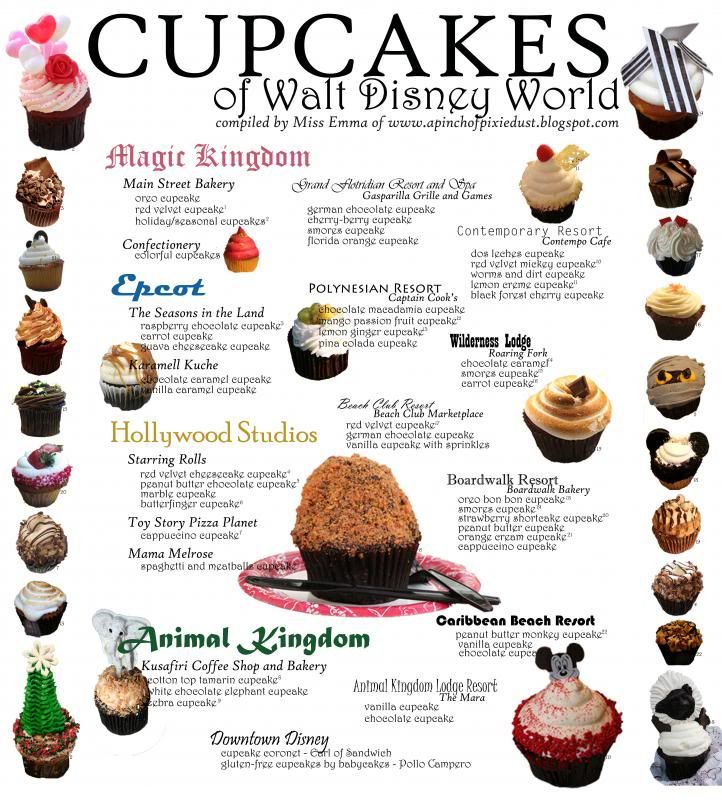 If you click to see the full-size of that image, or print it out, you'll see that each cupcake has a little number next to it, so you can figure out what it is and where it's from! Unfortunately I wasn't able to fit in a photo of every cupcake, but I tried to at least list in type all the big cupcakes that I've seen at various times at various disney bakeries.
Especially at the resorts, you will probably not find all of the cupcakes listed above together on one day. Selections often rotate throughout the week or throughout the seasons, and sometimes change at a moment's notice. For instance, on any given day, the Boardwalk Bakery will probably have three or four of the six types of cupcakes I listed available.
Many of the cupcakes on the list I have blogged about at some point or other, so if you're looking for a more detailed description, have a peek in the archives. At the bottom of this post is a handy index of sorts to all the various cupcakes I've featured as well...
Now when I said this was the Cupcake Monday to end all Cupcake Monday's, I meant it quite literally -- this is going to the last Cupcake Monday post, at least
for awhile.
But not to worry, I'm going to start up with a whole new category of tasty, summery Disney World treats next Monday! And if I end up finding a new cupcake...well maybe I'll sneak that in somewhere too!
**By popular demand, the cupcake guide is now available as a POSTER! Check it out:
https://www.etsy.com/listing/102077767/cupcakes-of-walt-disney-world-poster
Magic Kingdom -- Main Street Bakery
Epcot
Hollywood Studios
Animal Kingdom
Downtown Disney
Resorts
Boardwalk Bakery (I've had so many posts on this one it needs it's own category!)