You can't talk about the best chilly treats at Walt Disney World for long without mentioning The Plaza Ice Cream Parlor!
It's right there on Main Street, in the center of it all, kitty corner to the castle!
The Ice Cream Parlor was closed for a few months in the winter for refurbishments; and my older brother (who works at the Plaza Restaurant, right next door, but not closed), was constantly setting guests right who were looking for the Ice Cream establishment and were getting confused!
(although, the Plaza Restaurant actually has some tasty ice cream sundaes too...)
Luckily the Ice Cream Plaza was open when I went there a few weeks ago. I had heard about a cute kid's cone that had little circles of chocolate on top to look like mickey ears. You don't have to be a kid to order it, and it's quite reasonably priced ($2.69).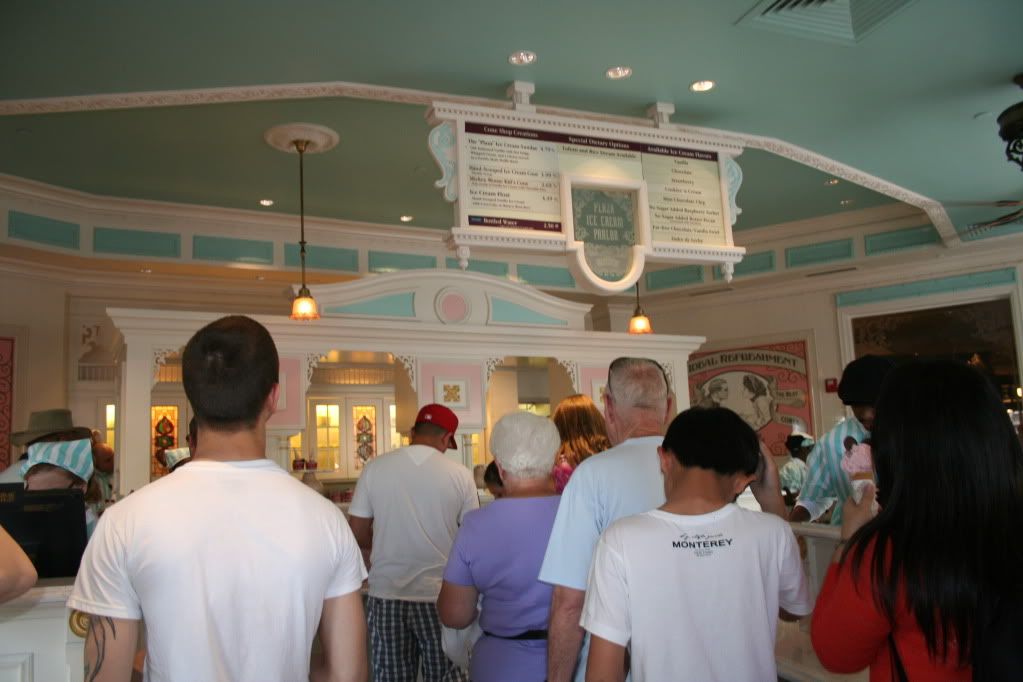 The Ice Cream Parlor is a lot like the bakery...there's always a line, but you know what you get will be good! And having to wait doesn't even matter - you get to admire the sweet cream and robin's egg blue and light coral decor!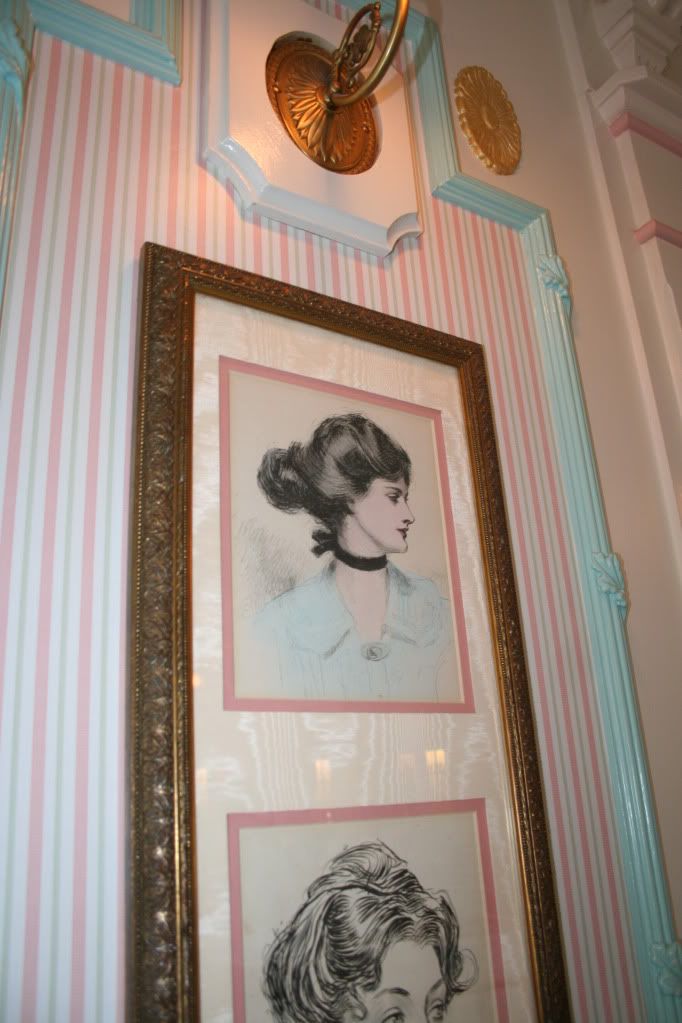 Also fun to notice are the Victorian era Gibson-Girl type portraits on the walls. Why don't girls wear their hair like this anymore?? So pretty!
Love the heart-shaped railings in the windows. Also love how everywhere you turn at the Plaza there is a different cute tableau -- framed by the window, family groups and friends gathered round the table and their ice cream cones...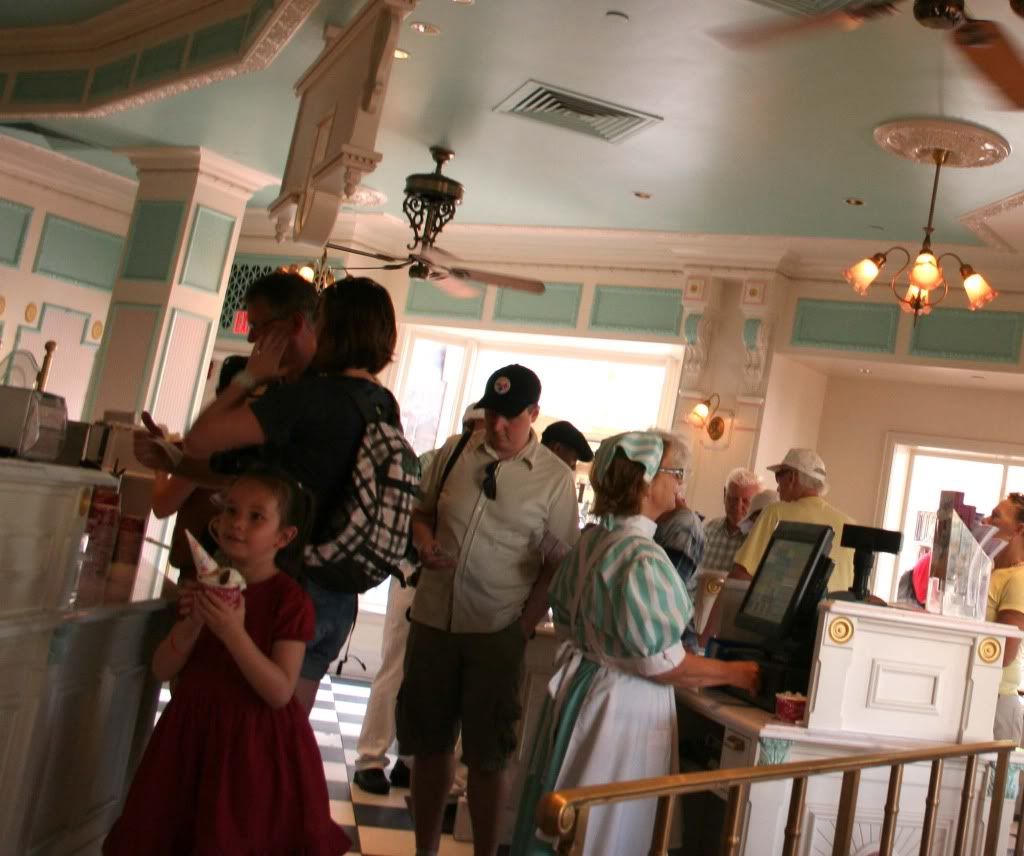 Or a sweet little girl carefully carrying her treat!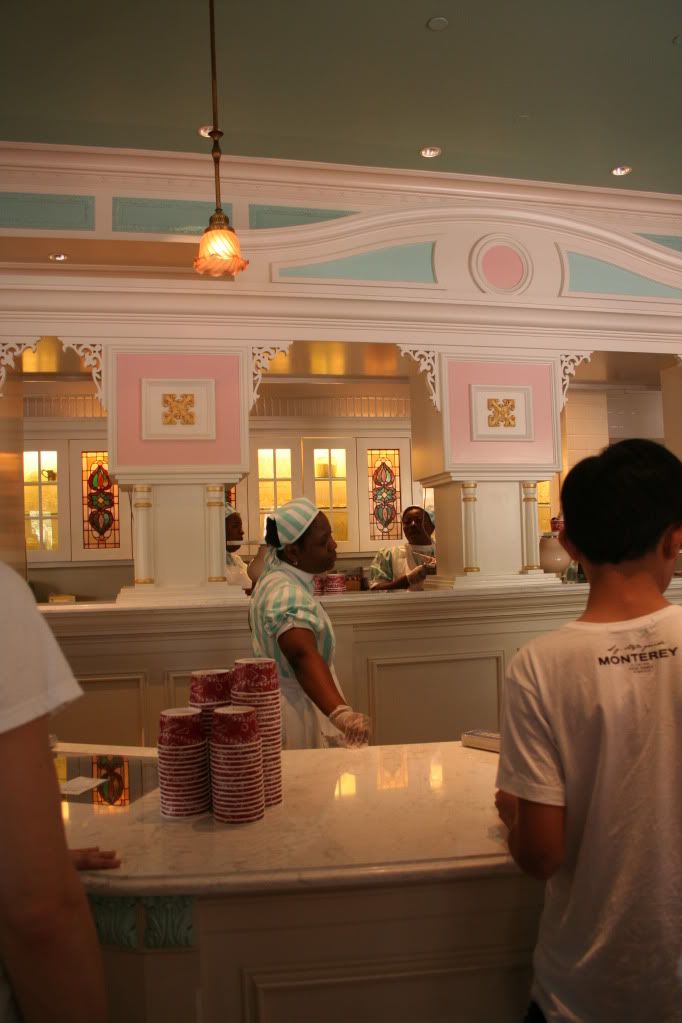 Love the stained glass behind the counter!
Also check out the fun holder they have for finished ice cream cones! That one's mine!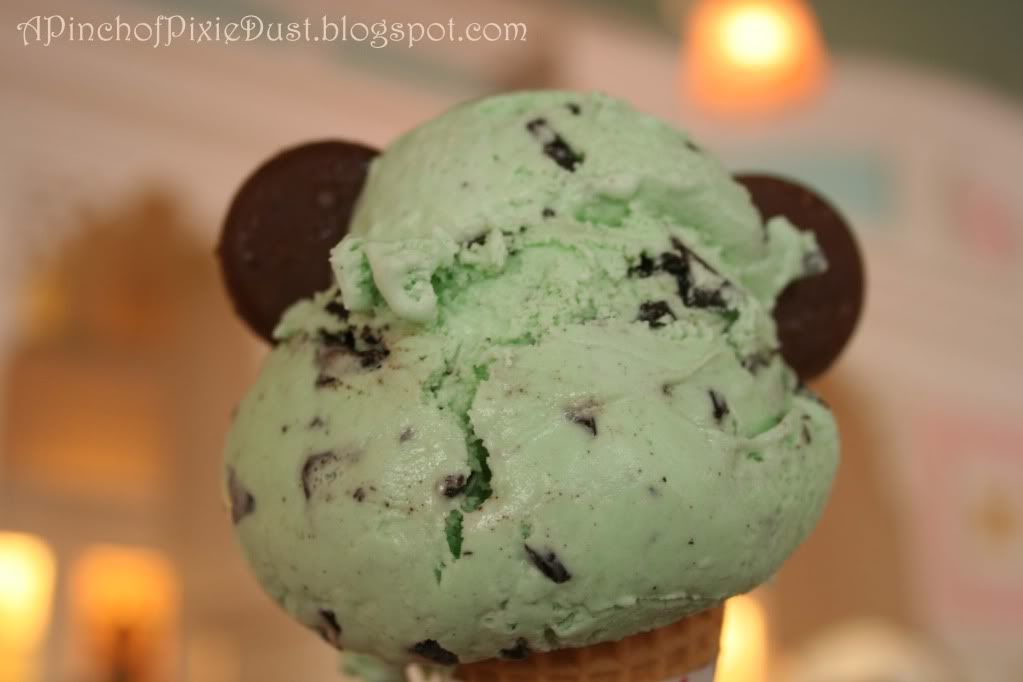 YUUUUUUUUUUUUUUUUUUUUUUUUUUUUUUUUUUUUUUUUUUUUMMMMMMMMM
On the menu, the Mickey Mouse Kid's Cone claims to be "one scoop of vanilla ice cream," but when I ordered it, I was asked what kind of ice cream I wanted. Mint Chocolate Chip please! Also, those chocolate discs for the ears were made of really good chocolate!
Ice cream cones from the plaza are pretty much perfectly designed for strolling along Main Street...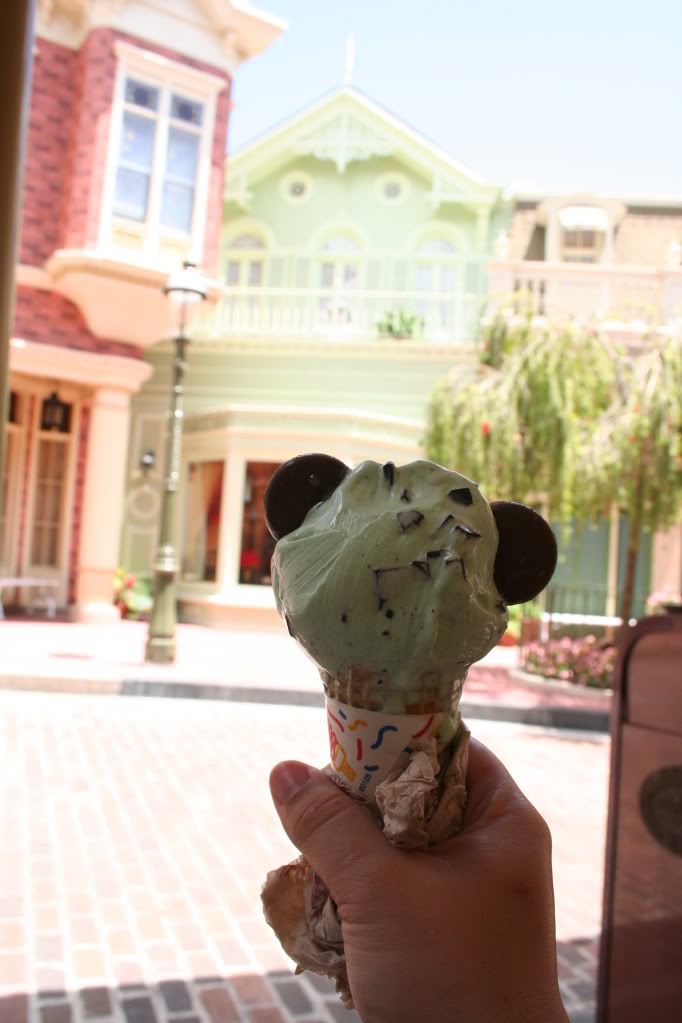 I found a mint-colored building that EXACTLY matched my ice cream flavor. How much more pefect could you get?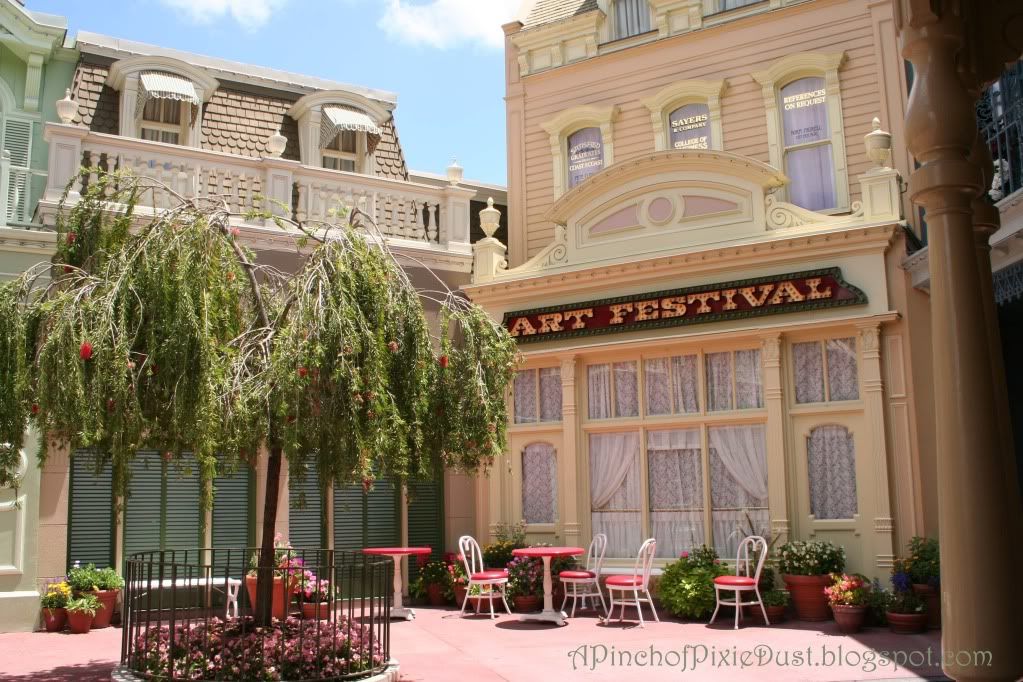 This little alleyway was right next to the Jeweller's on Main St., and was the perfect cosy spot to polish off my chilly treat!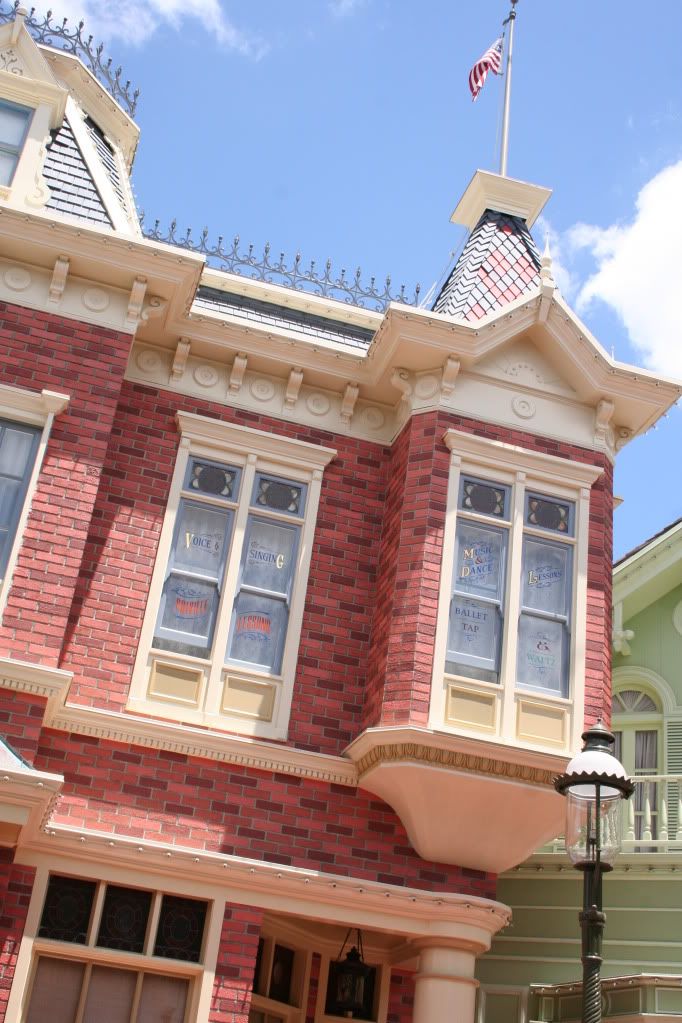 The Move It, Shake It, Celebrate It parade even passed by as I was finishing up. The perfect place to enjoy a Main Street chilly treat!