Today's quest for quiet corners takes us to la belle France...
This is one of my favorite countries in World Showcase. It's so beautifully laid out, and so full of details and fun little nooks and corners.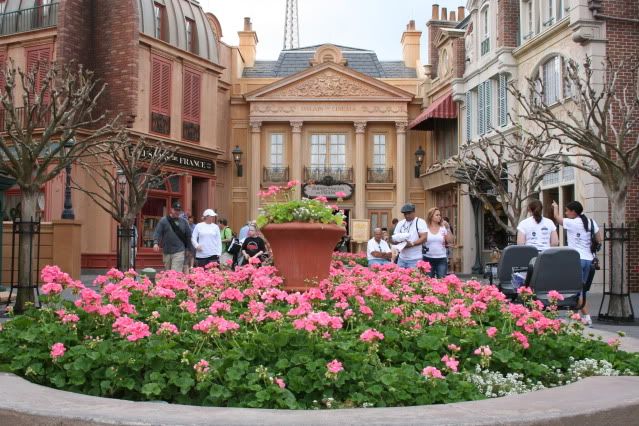 ...and don't even get me started on how much I love Impressions de France, the movie. I see it practically every time I come to Epcot, and I could recite all the scenes by heart.
"Among gentle spirits of the air...my France awakens with the early dawn..."
But NO, I must stay focused, this post is NOT about what a truly stellar piece of cinematography Impressions de France is. (Don't laugh! I'm serious. mostly.) It is about the quiet corners within the France pavilion! Although, I have to say, that having a little movie to go to or a charming shop to look in right near by, can really enhance the value of a quiet corner enormously.
ANYway.
The little metal tables and chairs around and about this little courtyard, tucked back by the Patisserie, are amongst the pleasantest places to sit. There's ample opportunity for people watching, you can gaze up at the interesting architecture...you can munch on a treat from the Patisserie...
The only drawback to the Patisserie seating is that it doesn't really qualify as a quiet corner of Walt Disney World. Unless it's a quiet time or year, or you come first thing in the morning.
From about 1 o'clock (or even earlier!) on, the Patisserie has a solid, long line that stretches out the door. Then the tables around the shop become a hot commodity, because people need a place to sit and eat - and you've got hoards disgorging from the movie theatre, and it just becomes a mess.
The Patisserie is only an 11 AM sort-of place.
If you find yourself arriving after then, however, you've still got options. You can brave the line, and then take your Patisserie treat elsewhere. Wind back around to the long flower bed in front of the entrance to the theatre. Now look for the Parfumerie. Go through the little archway, and you will find yourself in a truly quiet, cosy corner...
It is so pleasant and pretty back here...plenty of ledges to sit on, shade from the trees and the buildings, and still some pretty surroundings to conetmplate...
Princess Aurora used to do her meet and greet back here, but lately she's moved further down the garden, which is great for seekers of cosy contemplation!
Darling little round trees/shrubberies: another thing (along with oversized tea cups) that I'm adding to my someday dream garden...