Probably you've heard about it...maybe you've experienced it yourself...it's this new Sorcerer's of the Magic Kingdom game they've got going on. Disney started testing it back at the beginning of the year, and now it's officially open. At first I thought it was just like the Kim Possible Missions, but it's actually a little more sophisticated!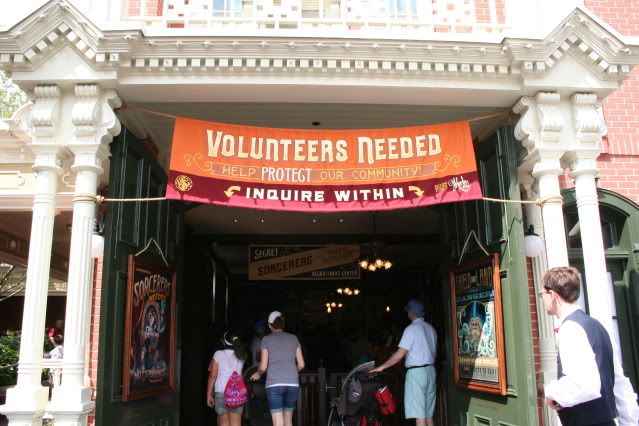 Your mission starts at the Main St. Fire House, where Merlin will show you the ropes of spell casting and tell you all about the Disney villains who are plotting against the Magic Kingdom!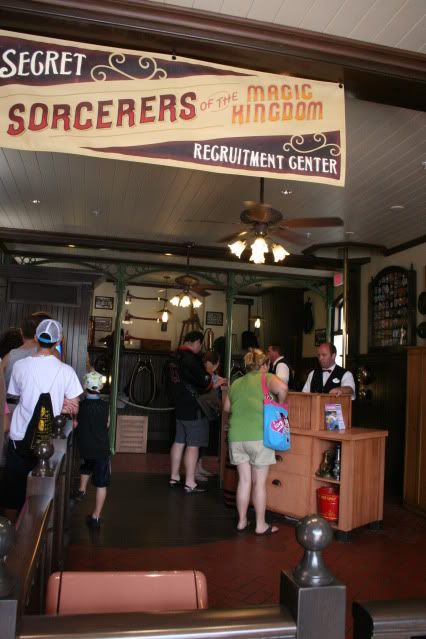 You'll get a special "key" card as well as five spell cards. The spell cards are where it gets addictive, but we'll get to that in a minute.
You also get a map with all the "portals" in the Magic Kingdom marked on it. In his introductory video, Merlin tells you which portal you should go to first. Sometimes the portals are obvious -- sometimes they're a little more hidden. Here's the Emporium portal, hidden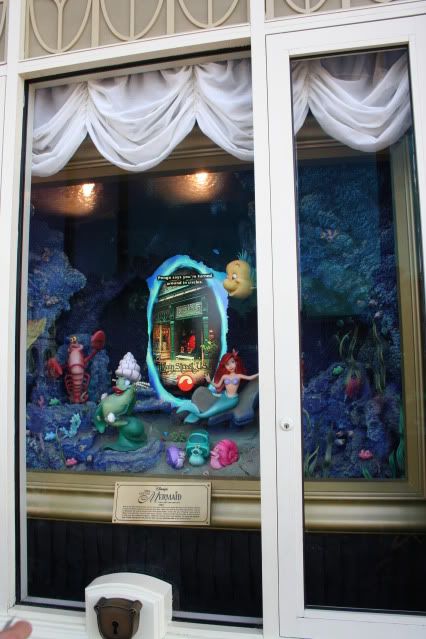 See that little keyhole at the bottom of the pic? You hold your key card up to that and then the portal springs to life (shown in the pic on the right) and you hear about your mission, battle the baddies, etc. On Main St. we were helping Pongo and Perdita defeat Cruella de Vil.
Two more portals in the Main Street area, in the Cinema and by the train station...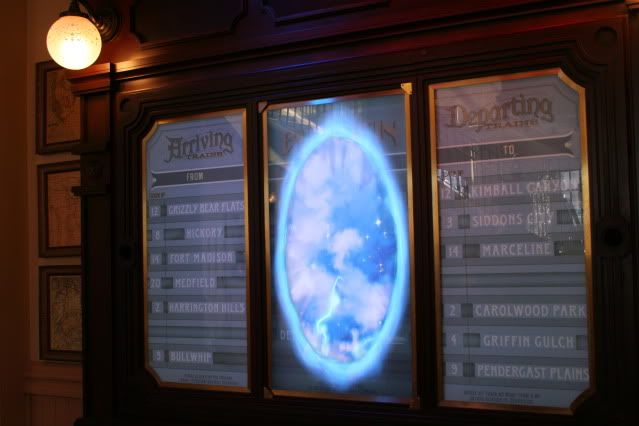 See how the Train Arrivals/Departures board transforms into a portal? Pretty cool!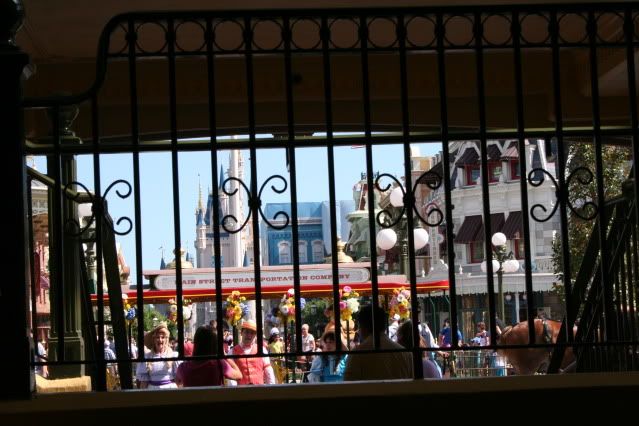 One fun thing about the Sorcerer's game is that you get to enjoy the different lands more. For instance, when I was going from portal to portal on Main Street I was unintentionally following the trolley show around -- I've never stopped to watch it before, so that was fun!
Some of the portals are also tucked away in really pretty areas...like this little be-flowered alley by Uptown Jeweler's...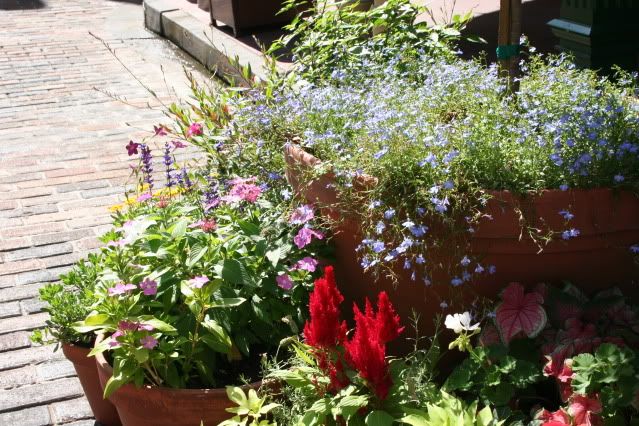 And if you find yourself getting lost and can't find the next portal, here's a hint: this little "circle of power" is on the ground in front of every portal -- so even if the portal is kinda hidden, the medallion is in plain sight!
So the adventure sends you from portal to portal in each land, using your spell cards against the villains until you defeat them! And when you finish the mission in one land, you're sent to a portal in a new land to start a new mission. There are four different lands, each with its own mission: Main Street, Fantasyland, Adventureland, and Frontierland/Liberty Square.
Different villains are threatening the different lands, so you'll see different characters on each mission: Main St. had the 101 Dalmatians; in Fantasyland it's Ursula stirring up trouble, etc. etc. I heard that Disney did all new animation for these videos, and some of them are quite neat!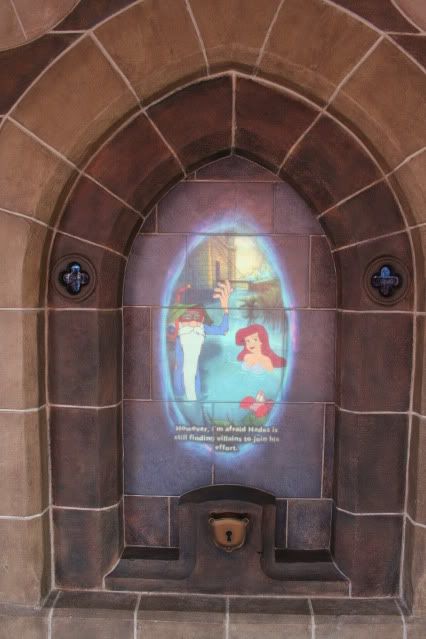 And one fun thing about the animated videos is that the missions all take place at the Magic Kingdom -- so in this portal, you can see Ariel is swimming in the moat with Cinderella Castle behind her!
Now I've heard that after you finish the missions in all four lands you get to "start over" as it were and be bumped up in difficulty level to re-do all the lands. I think you might get to see all new videos/missions when you go up in difficulty level, but I don't know for sure as I've never done it! The nice thing is that you don't have to do this all in one day. Your key card saves your progress in the mission, so you can come back a day or even a week later and pick up where you left off.
Each mission maybe lasts a minute or two; so if there aren't very many other people playing the Sorcerer's game in your land, you can finish them quite quickly. But the game is getting pretty popular, and sometimes there are quite loooong lines at the portals.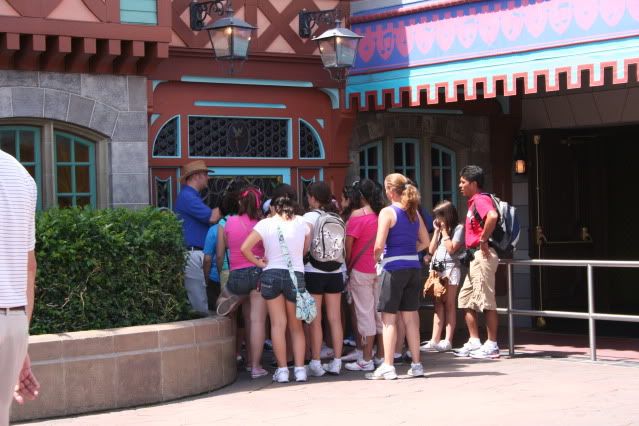 Also since the portals are tucked away, sometimes people will block them without even knowing it! For instance, a cast member with a tour group stopped smack dab in front of the Fantasyland portal I needed to get to and proceeded to have a 10 minute lecture. DUDE. Let me through -- don't you know I'm a sorcerer? lol!
But I haven't even gotten to the most fun part of the game yet -- the spell cards!
Each spell card features a different Disney character -- here are all the princess ones I've got so far! At the portals, sometimes you get to cast a spell -- you hold up one of the cards and watch: the spell on the card comes to life on the screen. If you hold up Aurora's Rose Petals, then the villain gets deluged in rose petals - if you hold up Cinderella's Magic Ribbon, they're wrapped up in purple ribbon. Very neat!
And the REALLY neat thing is that every day you can go back to the firehouse and get a new pack of five random spell cards - for free. You almost never get free souvenirs at Disney, so the fact that you can collect these awesome cards for free is probably the most exciting part of the game for me -- lol!
There are 60 cards total. Often you'll see other guests at the portals with whole stacks of cards, and often they'll ask if you'd like to trade - very fun! When Disney was still testing the game in January, there were actually a total of 70 cards. Cards 61-70 they later took out of the mix - rumour has it Disney might start selling them as a booster pack.
So what do you all think of the new game? Will you be enlisting to become a sorcerer on your next visit? :)