Sooo....I'm afraid it's been awhile since I've done a "cosy spots around Disney" post. I did mean to try to make it a weekly theme, every Saturday, like cupcakes on Monday.
But something always seemed to get in the way: the family calling on skype...or a cricket that somehow got into the laundry room (oh the joys of living in Florida!) and was chirping SO LOUDLY I couldn't hear myself think and had to hunt it out and vacuum it up (sorry cricket).
But at last I have a quiet Saturday night on which to write about quiet corners at Walt Disney World, and as one of my favorite quotes from George Eliot goes: "It is never too late to be what you might have been."
It is also, I presume, never too late to blog what you meant to have blogged! Ready?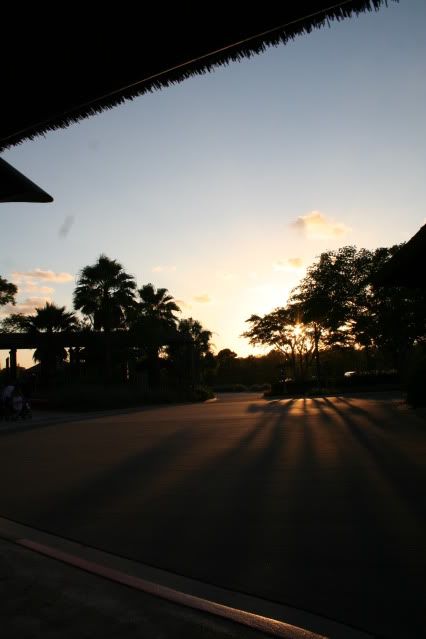 Can you guess where it is? I know this photo is very ordinary, but the sky is just so pretty. One night not too long ago I was walking up to the lobby of this place to find a quiet corner. Already the surroundings looked auspicious -- the evening sun was glinting gorgeously in the sky, making the palm trees into an elegant silhouette...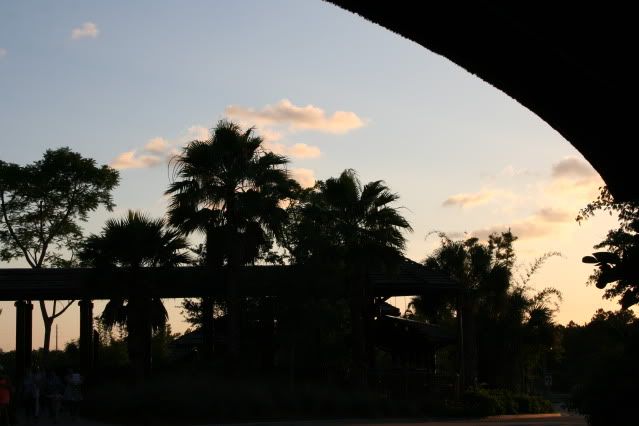 I bet you know where it is now! There's been a very Animal-Kingdom-Lodge-ish sort of mood on the blog lately, hasn't there? We've done Jambo House so now we might as well do Kidani! I love those lanterns all over the place...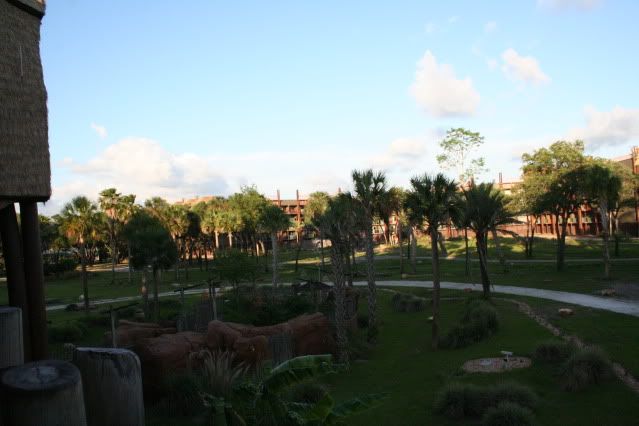 The first place I went was one of the balconies off the lounge to have a look at the sunset over the savanna!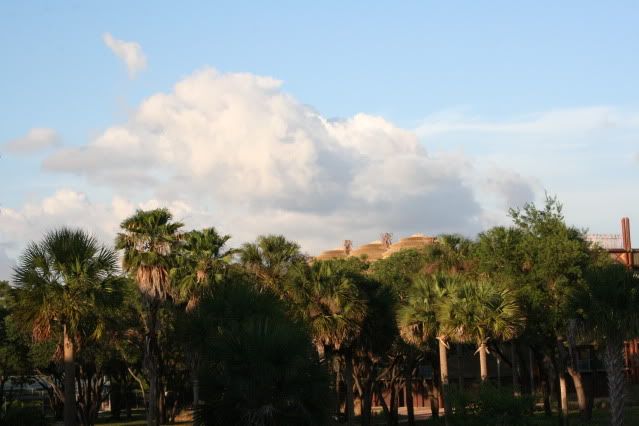 palm treeeeeeeeeeeeeeeeeeeeeeeeeeesss!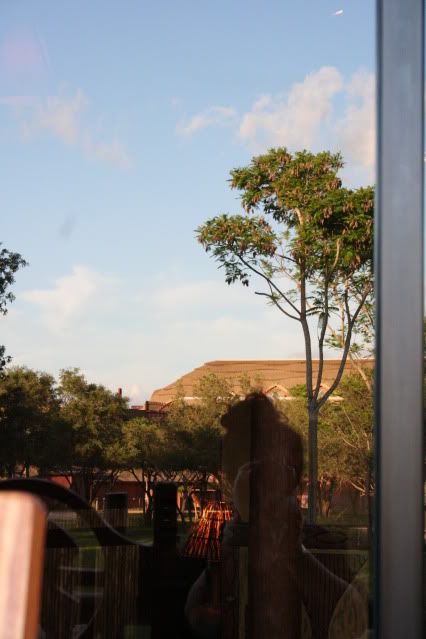 I loved the lamps out there. It was mild out that day, and very windy -- the lamps were actually blowing about quite a bit!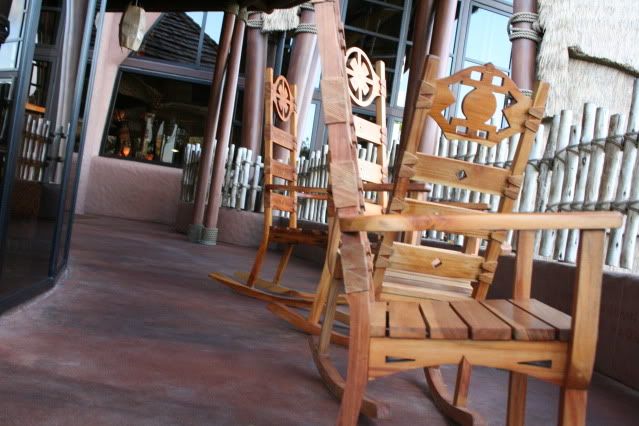 African-style rocking chairs are rather nice. Not quite as nice as a hammock, but still.
If you know Kidani, you'll know that the balcony I was on is just off of this lovely little lounge. I think it might be called the library, but there didn't seem to be any books in it, so then again maybe not. I really like how Disney Vacation Club properties all seem to have their own comfy rooms like this...the Wilderness Lodge Villas have a really nice one too, with train displays and big leather chairs.
I love how the lamps on the left look like tribal boats sailing off into the sunset. Being a lighting/lamp designer at Disney World must just be boss, especially when it comes to places like Kidani.
There were multiple cosy nooks for my several books and I to ensconse ourselves in this little lounge. I could sit bt the window...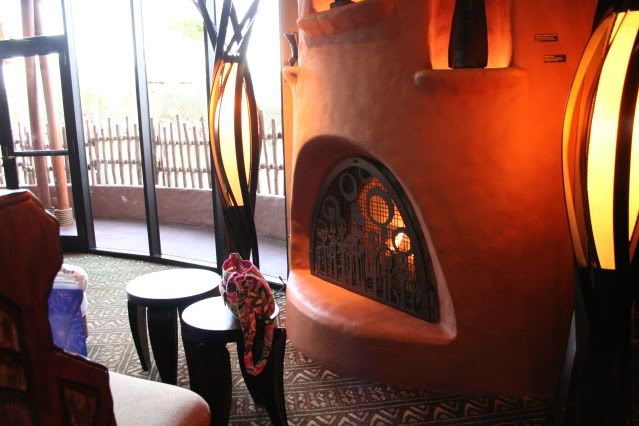 ...or I could sit snugly before the fireplace.
Creative fireplace screen designers must also really have a great time at Disney...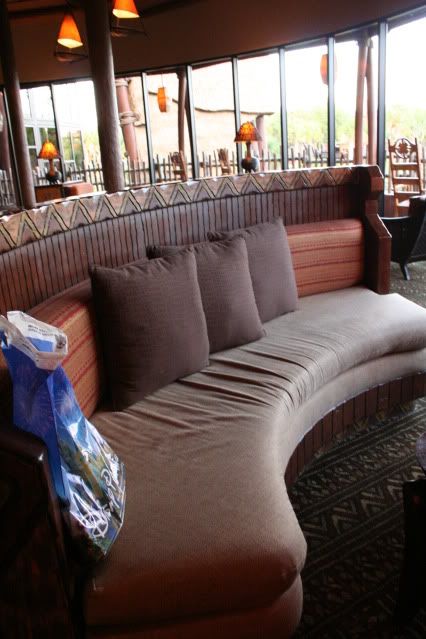 The best cosy spaces at Disney are the ones where you can change your seat and enjoy the space from several different perspectives. This lounge definitely had that! And it was so quiet -- barely a single other soul came in the whole time I was sitting there. It was late afternoon/early evening...so maybe they were all at dinner?
Shortly before I left some cast members did come in and set up all these drums as part of kids' activity...it was SO quiet though, that they didn't get many kids!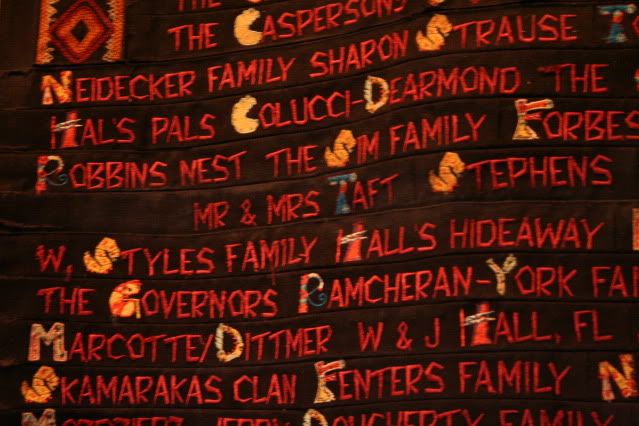 A fun feature in this savanna-side lounge was a tapestry full of the names of the very first families who signed up for DVC at Kidani. I love the script they used, and the creepy crawlies turned into letters - so fun!
We'll end with a quote (there are so many good quotes scattered around Kidani!): "Friendship doubles joy and halves grief." :)