SO. I believe in my
last update
I promised more Jambo House and more Mara: here it is!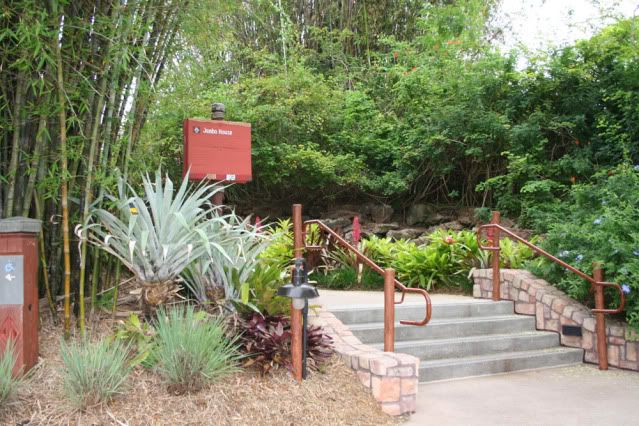 I love how, as soon as you start walking up to the Lodge from the parking lot, you're immediately surrounded by foliage and the soft sounds of African music...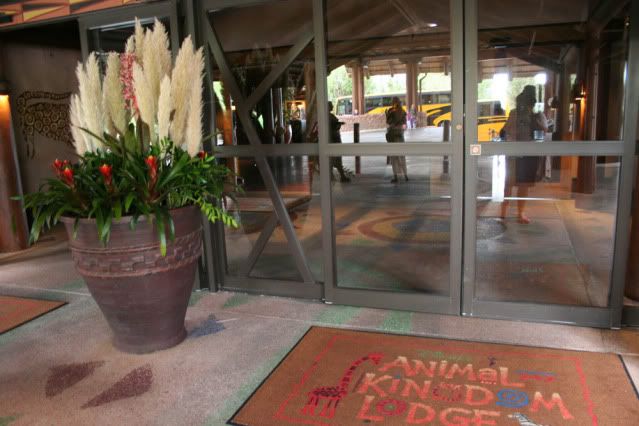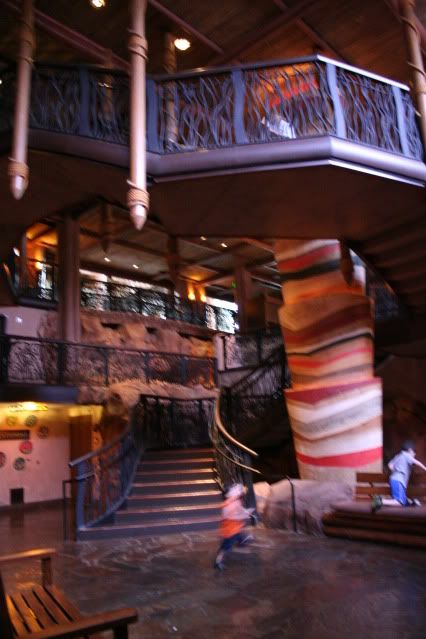 The Animal Kingdom Lodge is such a fun place to just have a wander. I love it when guests come to me at the lobby concierge desk looking for suggestions of how to spend the day - there are obviously a TON of fun things they could do, but heading over to the AKL to explore (especially if they haven't been there before) is one of my most frequently offered suggestions!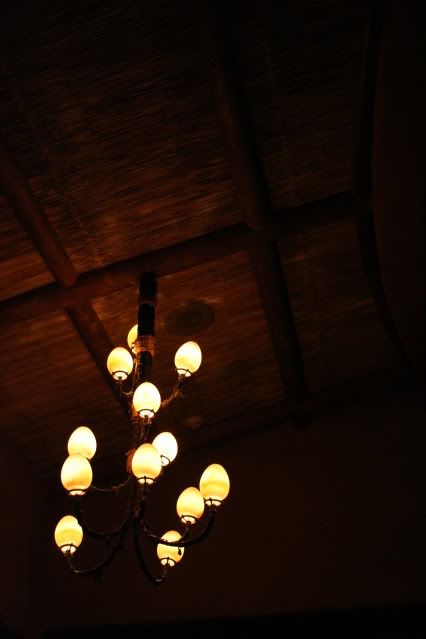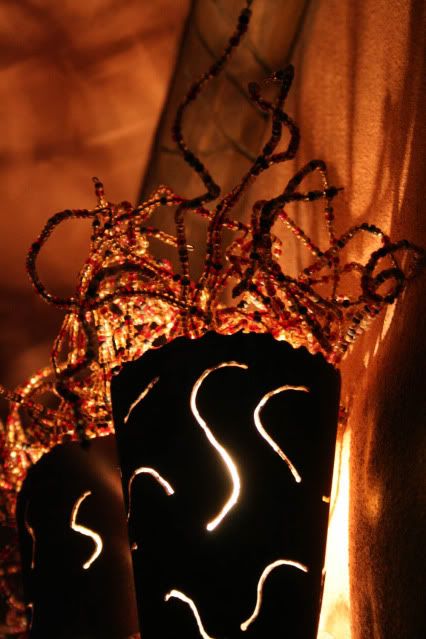 Also, they have the coolest lamps EVER here.
Even the shadows these lamps cast are epic!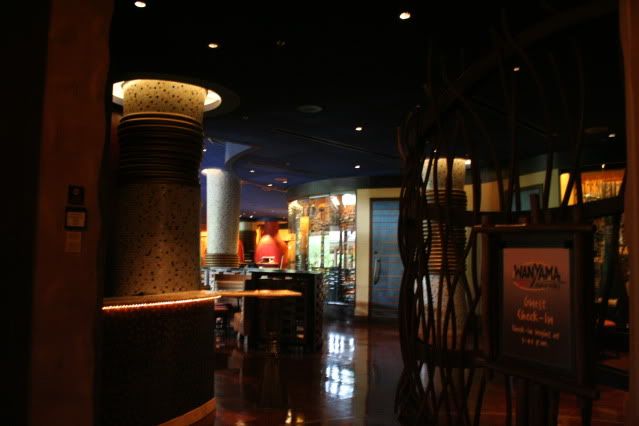 JIKO! I would really like to go back here one day...
BOMA! I actually went to dinner here not too long ago with some cast member friends, but still -- I want to get back sometime!! SOOOOoo delicious. I only wish I could get an extra stomach or two for places like Boma...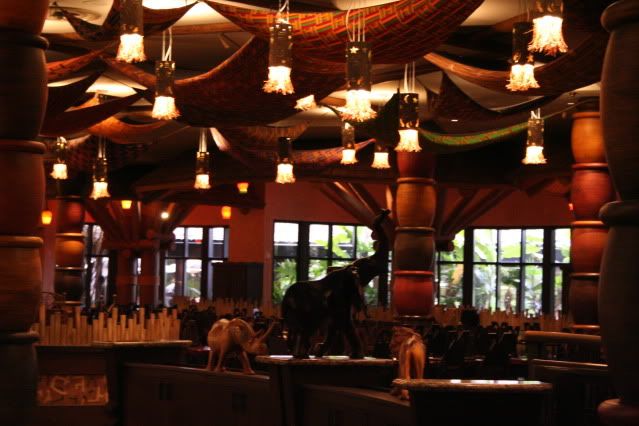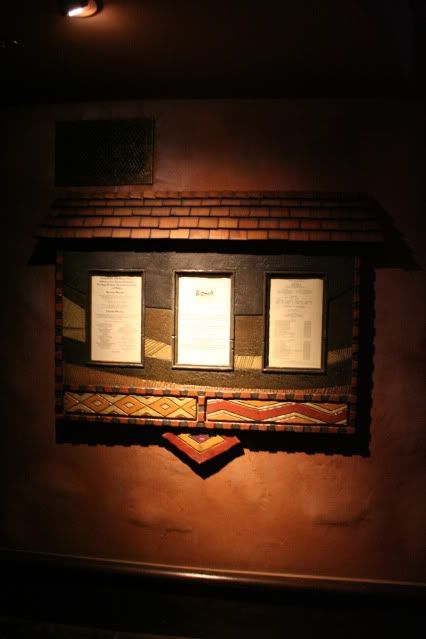 Funky African wall art and bench plus the menu board for Boma. lol...we're almost to the Mara, I promise! But you guys know me...I like the throw in a little extra description -- before I can tell you about the food, you've got to be there...walking through the whoosh of the doors into the gorgeous lobby, down to the first floor, past Jiko, past Boma, then out into more lush greenery...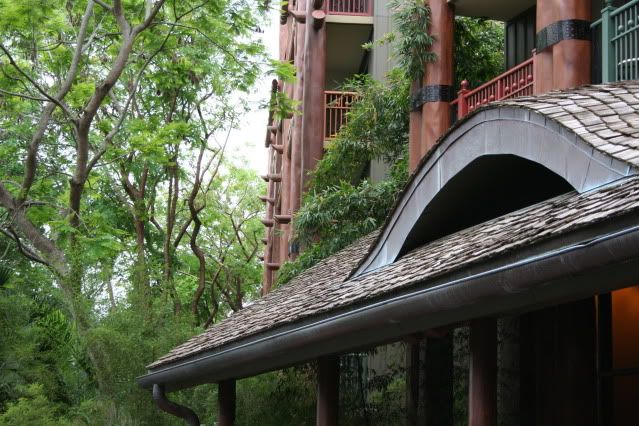 I could snap photos here all day long...there are so many interesting vistas!
Although...I don't want to wear y'all out to much with AKL pics, as I'm still at Jambo House in my never-ending
trip report
back on the DIS as well! **I am determined to finish that thing, btw. In fact, there'll be a new update on it today!
SO LUSH! This pic was taken from my table...I sat outside, not in the seating area around the baobob tree that's immediately outside the doors of the Mara, but just beyond that...
It was a rather cosy spot...but what I loved best about it was this curtain of delicate purple flowers hanging right next to me and over me!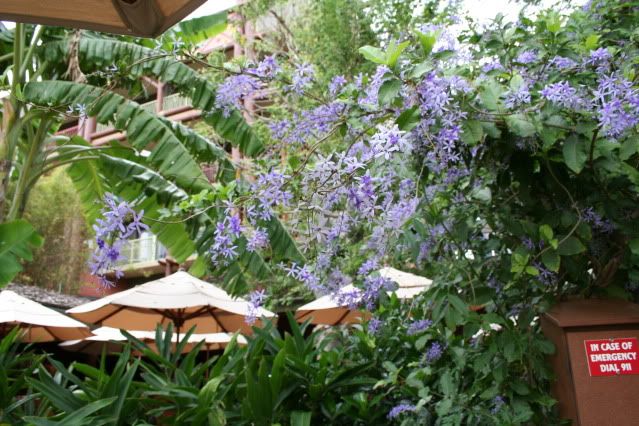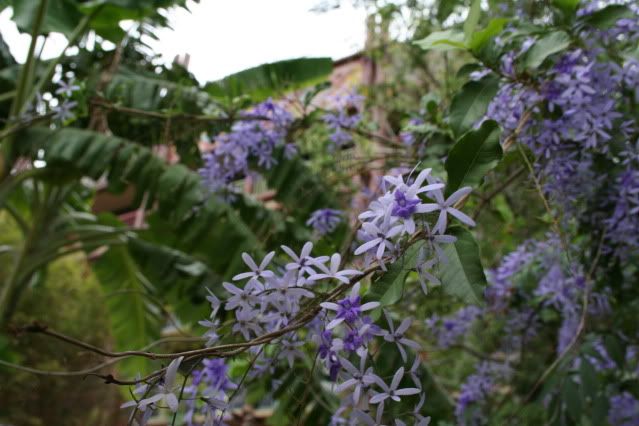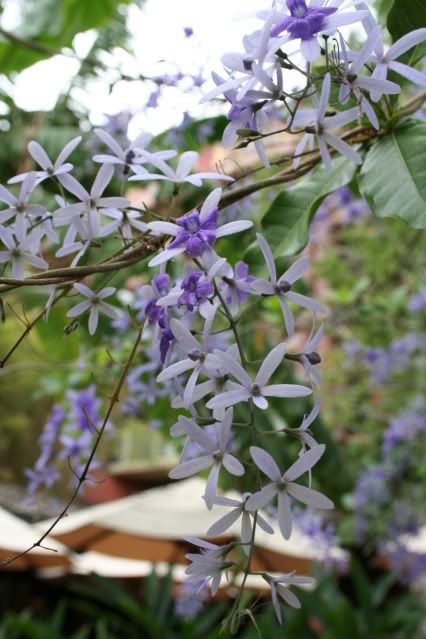 They were so glorious...I couldn't stop snapping pics! But my delicious, exotic lunch was before me, so of course I had to put down the camera to dig in!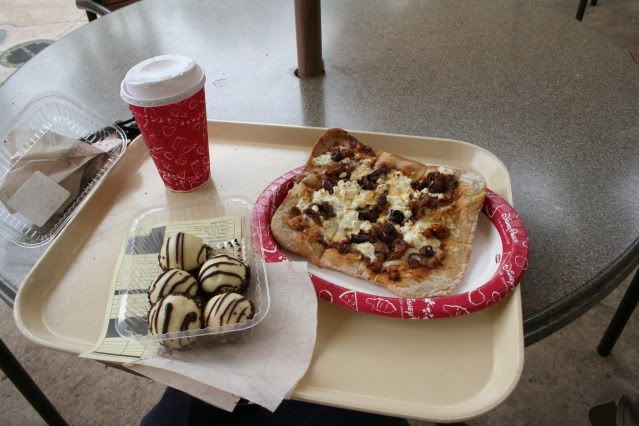 Today's selection was ice cold water (lol), a delicious container of zebra domes, and a scrum-diddly-umptious pizza with kalamata olives, sun-dried tomatoes, and goat cheese.
Usually I go with the chicken pizza with corn, mozzarella, and that green, spicy, yummy zough drizzle. But I'm SO glad I branched out because the olive pizze was AMAZING! I'm drooling just thinking of it. It's not exactly a flavor combination you would expect, but it was SO good!
A friend of mine was joking lately that the one food Disney does not know how to do very well is Pizza, and I would have to admit -- some counter service places do have awfully lackluster pizza. This one, however, was a delicious exception!
And then of course...there were the zebra domes...
Oh Zebra Domes...you're so tasty...so creamy...so Animal-Kingdom-Lodge-y.
Being able to dash over to the Mara for dinner on a whim? Definitely one of the perks of working at Disney! :)