I'm gonna be honest here guys...I'm running out of cupcakes!
I have two or three left, and then I think maybe I'll switch over to some other tasty treat for Monday's! But for now, onward!
There has been one cupcake on my list that I only got around to trying recently. It's from the Animal Kingdom. Now I knew they had awesome cupcakes at that park, because I've tried one of them before (aka the amazing cotton top tamarin cupcake). But that cupcake I had just gotten at a coffee stand. I had heard tell of a bakery in a little village in Africa called Kusafiri...
First of all, can we just take a minute to appreciate what a fully FABULOUS name "Kusafiri" is for a bakery??? It's almost...not quite...but almost, as good "Kringla."
ANYwho...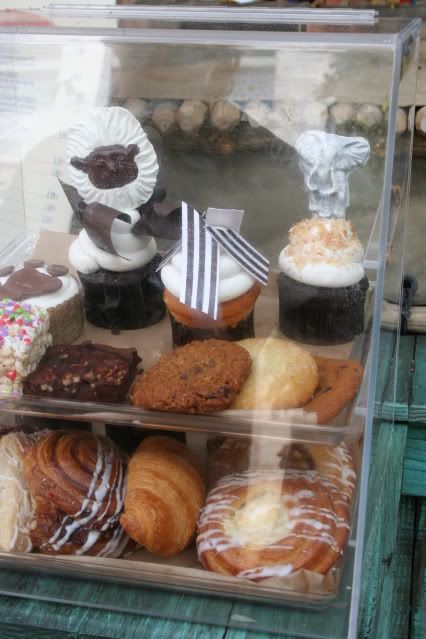 Now the cupcake I had initially read about and had in mind was the zebra-something cupcake; but then I saw the selection and felt my resolve begin to waver.
I mean, look at all this stuff!! First off, there's the cotton top tamarin (second from the left), which I considered getting again as it was so delish the first time. Then there was a totally ADORBSable elephant looking at me with big, loving eyes on the right. And let's not even get started on how glorious the brownie looked...
Described as: "fresh-baked brownie topped with chocolate fudge and buttercream." It was the same price as the cupcakes ($4.25 with tax). It did look lovely, but I was there for a cupcake!
Still, if you're at a place called "KUSAFIRI" do you really want a plain "Yellow Cake with Buttercream Icing and Chocolate Shavings," even if it is called a zebra cupcake. Not that it wasn't good, I don't doubt it was. But vanilla on vanilla just doesn't cut it for me.
So instead I went with the White Chocolate Elephant Cupcake: "Rich Chocolate Cake filled with chocolate cream, topped with a Light Buttercream and Toasted Coconut." And don't, on any account, forget the darling elephant lollipop!!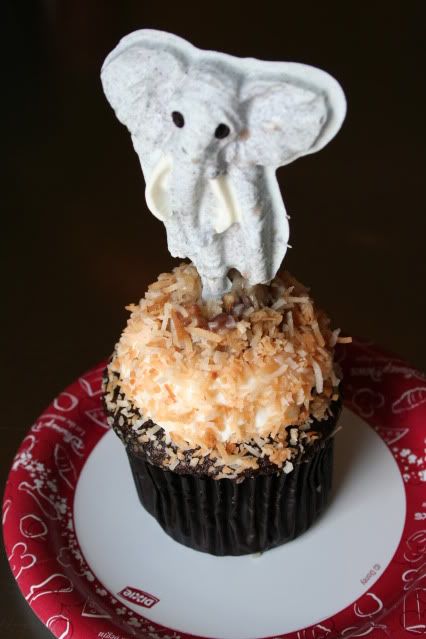 I named him Alyosha (naturally). And let's face it: the main reason I bought that cupcake was for the elephant. Because normally toasted coconut would send me running for the hills. There was also a little dab of some sort-of pecan paste right on the top, maybe holding the lollipop in place?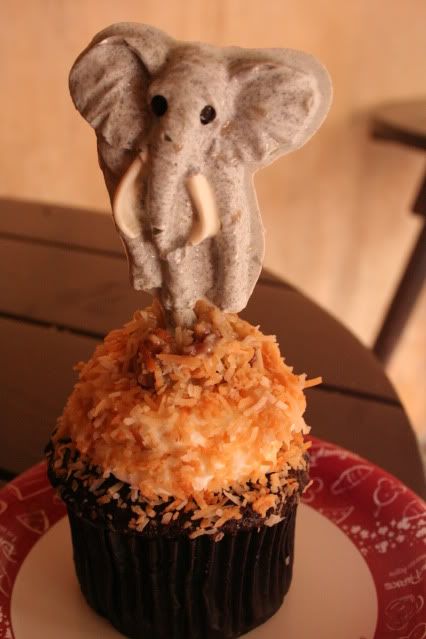 He's soooooo cute!! Look at those eyes!! Now it was sadly a *very* hot day when I bought this cupcake, and as we all know, cupcakes and heat: just don't do it. Air conditioning is practically as essential to cupcake consumption as a fork, and sadly the AK is lacking in the AC department. So I used my tried and true method of putting the cupcake in a cup to preserve its shape, then bringing it along until I located a good spot for cupcake snacking.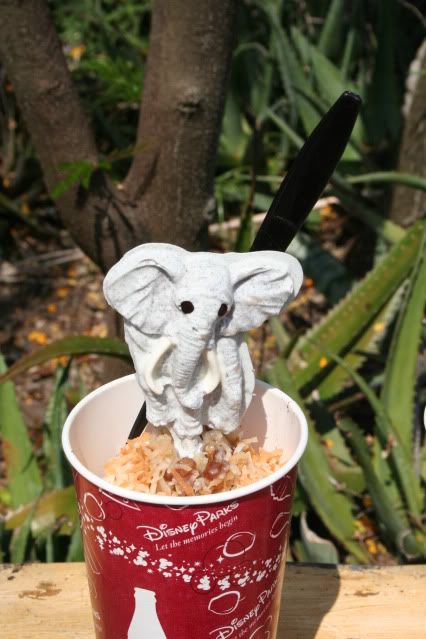 The cupcake didn't quite fit all the way in the cup, so Alyosha was sticking out so that he could see what was going on.
Now, sadly, I never really did reach a suitably restful place in which to eat my cupcake. I just ate it as I was walking around. The buttercream was very good, as far as I could tell from the coconut pieces I was busy dodging; and the chocolate cake was as rich and delicious as it had been in the cotton top cupcake.
The only thing I couldn't find was the chocolate cream advertised in the middle. I would love to hear if other people got this cupcake and whether or not they had a chocolate cream center. Admittedly, it was hot and crowded, and I was eating the cupcake out of a cup -- but still, it seems like it's usually hard to miss the filling in a cupcake.
Also a source of bepuzzlement is why it's called a white chocolate cupcake - maybe because the elephant lollipop is made of white chocolate?
What the lollipop is made of is something, however, which I shall never be able to tell you -- because I intend to keep my elephant lollipop forever. He rules over the butter and milk in my fridge now, and I'd say he's quite content with his new savanna. ;)
Random trivia tidbit: Kusafiri is the Swahili verb meaning "to travel." You may have heard the noun form of the word, meaning journey: "safari!"