One of the parts of Epcot Flower & Garden that I love best are the Disney fairy topiaires. Tinkerbell and all her friends come into bloom along the pathways of Future World, and it is so pixie perfect and pretty!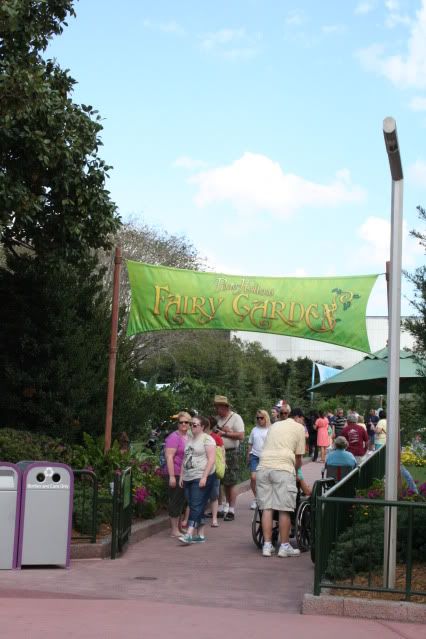 Ready to enter Pixie Hollow? The first fairy friend you'll meet is Silvermist!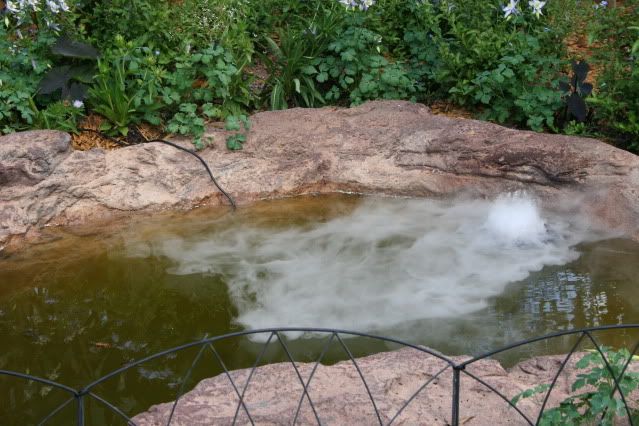 Silvermist is the water fairy, so she is surrounded by little ponds. Every so often a little stream of fog or mist spreads over the pond -- like the fairies are skating over it, such a cute touch!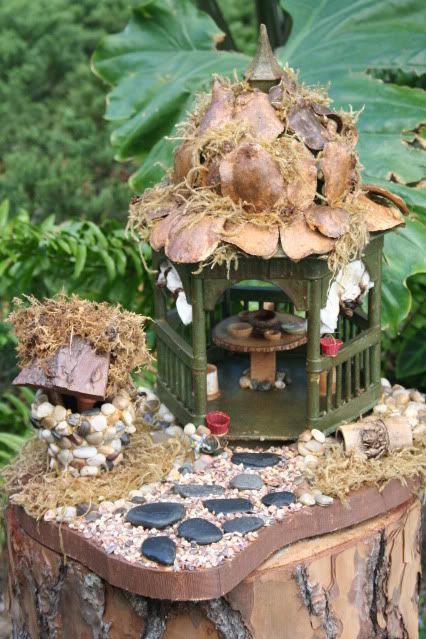 More cute touches! They had little fairy houses (like the one on the right) scattered throughout the gardens. They were like tiny pixie dollhouses...I want one! lol! Also loved the little pixie ship in the pic on the left.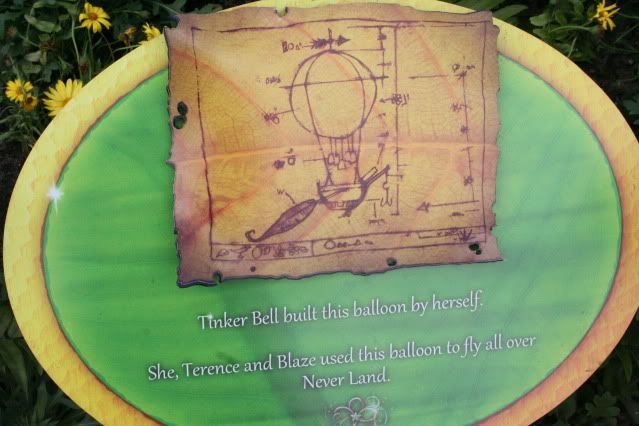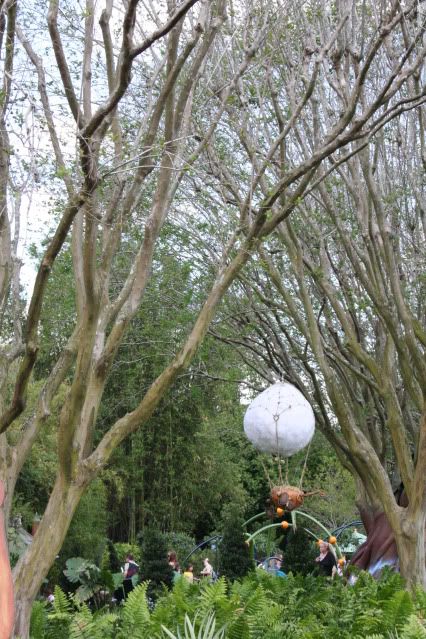 Another mode of magical transportation they had in Pixie Hollow was this little cottonball air balloon. I think it's from one of the Tinkerbell movies.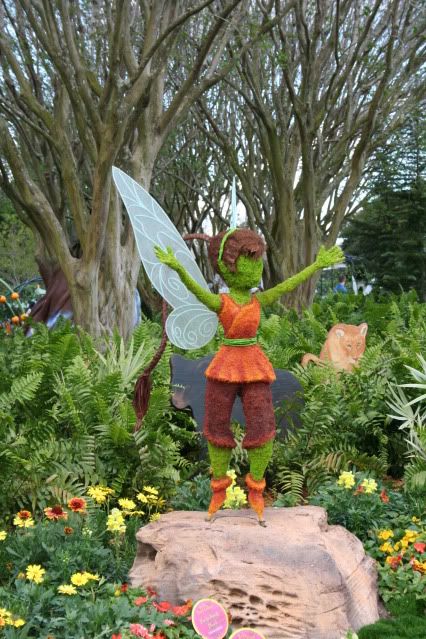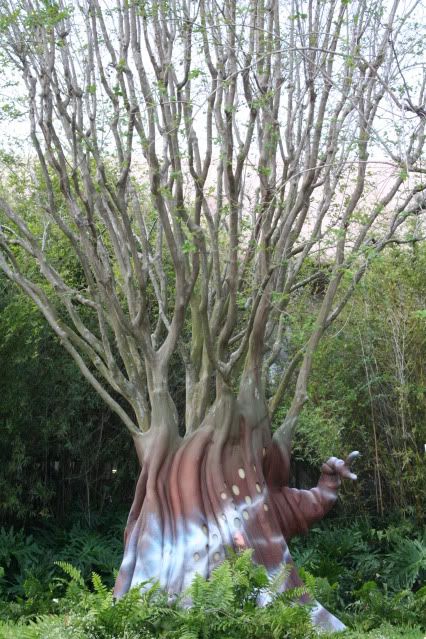 Fawn, the animal fairy, and a sparkly tree.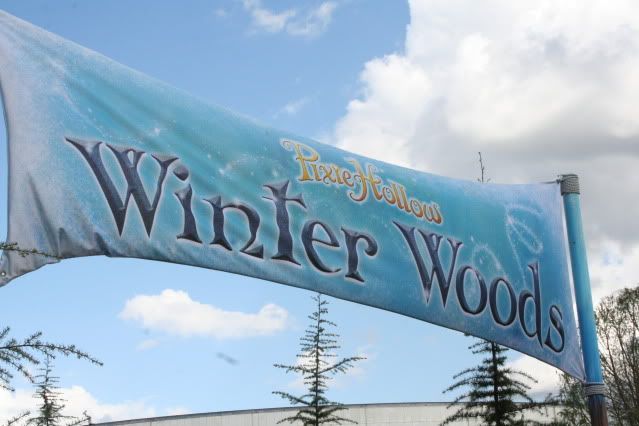 There's a new Tinkerbell movie coming out that must take place in the "Winter Woods," so they were promoting that.
Of all the pixie dollhouses, my favorite, hands down, was this one, Tinkerbell's house! At first they had it right up against this black fence, which made it impossible to get a really good pic of it. But later they moved it back a bit...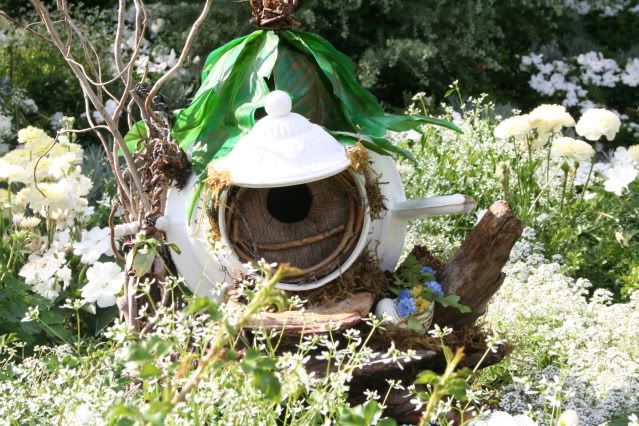 I want to live in a teapot! Well, not a fairy-sized teapot; but a human-sized teapot would do! ;)
Another view of Tink's cosy house!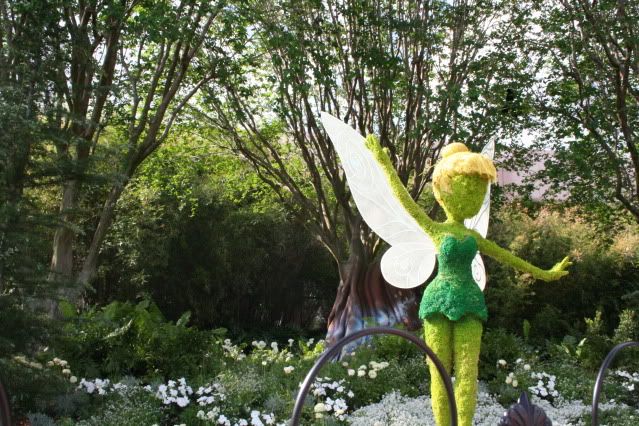 The girl in green herself!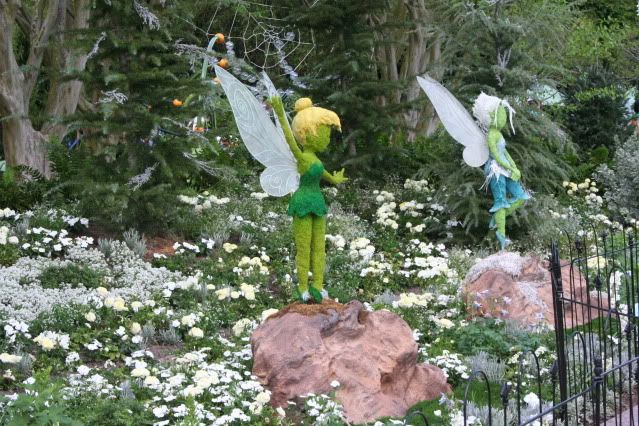 Tinkerbell and her new friend from the Winter Woods -- I think her name is Periwinkle.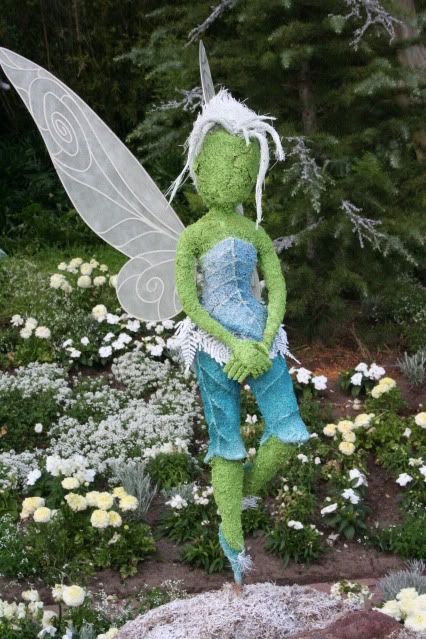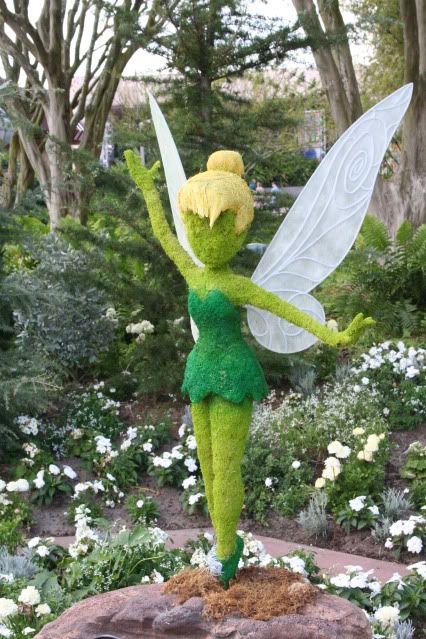 So so pretty! When I have my own garden I want some pixie topiaries to put in it, lol!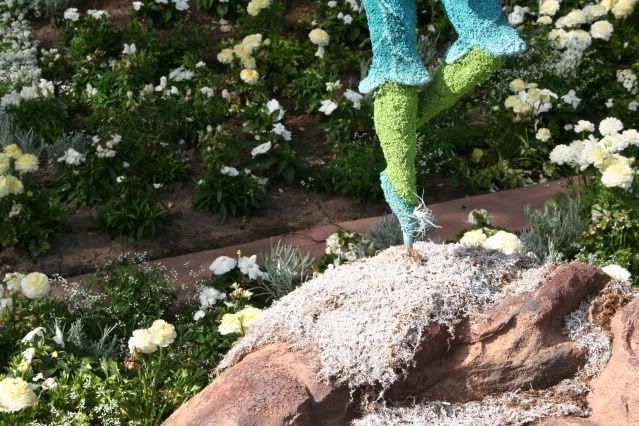 I LOVE how detailed the topiaries were. Look at Periwinkle's darling shoes!
Tinkerbell and Periwinkle, since they're in the "Winter Woods," were surrounded by a bevy of beautiful white flowers.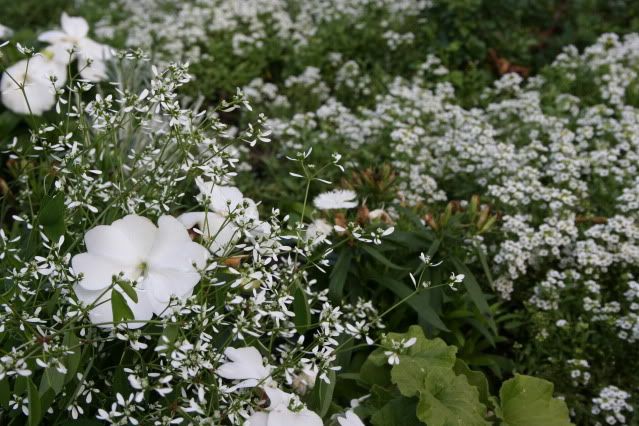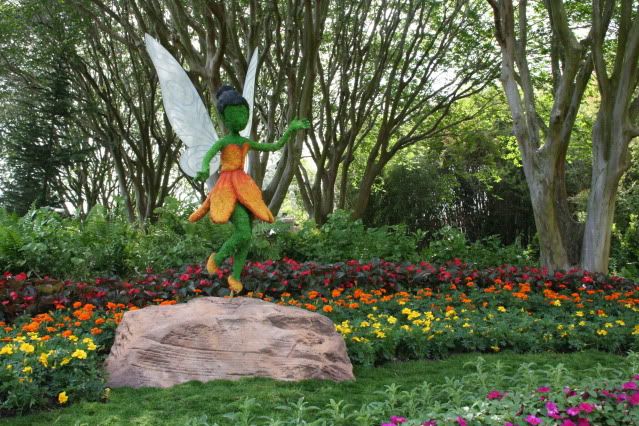 Iridessa, the sunshine fairy!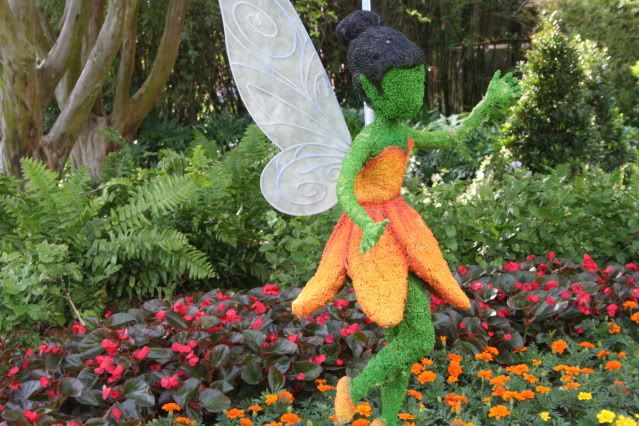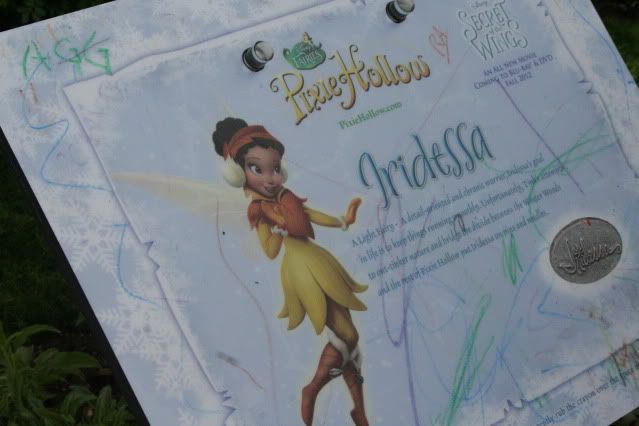 Each fairy had a little plaque next to their topiary, saying who the fairy was. It also had a little silver autograph that you could use a crayon to rub a copy of it onto a little map you got a the entrance. From the look of this plaque, there were one or two crayons that lost their way!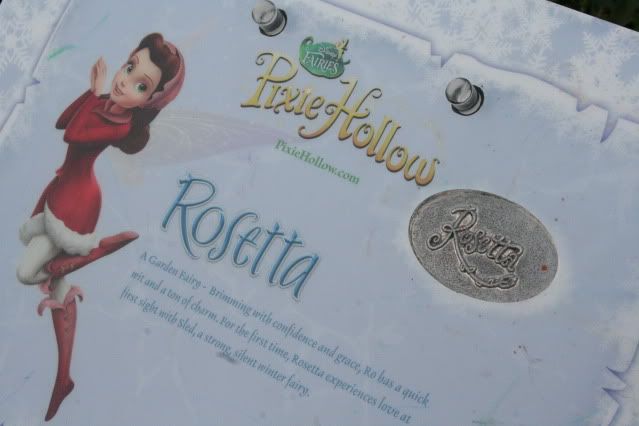 Here's Rosetta's plaque and autograph. It was so funny to watch the little kids using their crayons to rub off the little autograph. Some would go to town and scribble so hard that they got nothing at all. Others would ever-so-carefully and softly color and get a beautiful autograph.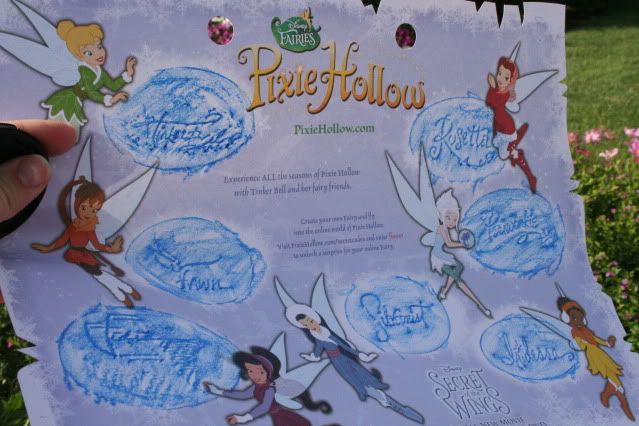 ...and yeah, I'll admit it, I totally did one too! And I also have to admit that some of the kids did a better job than I; it's hard to rub lightly but not too lightly, lol!
Two more of Tinkerbell's friends: Vidia and Terrence. Yes, I'm twenty-three, and I know all their names. Is there a problem with that? ;)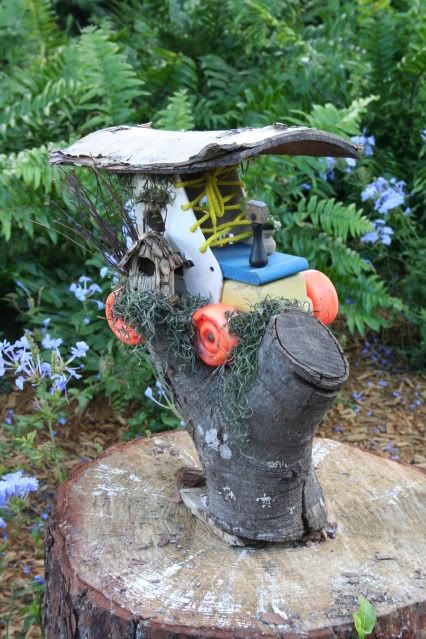 More fun pixie dwellings!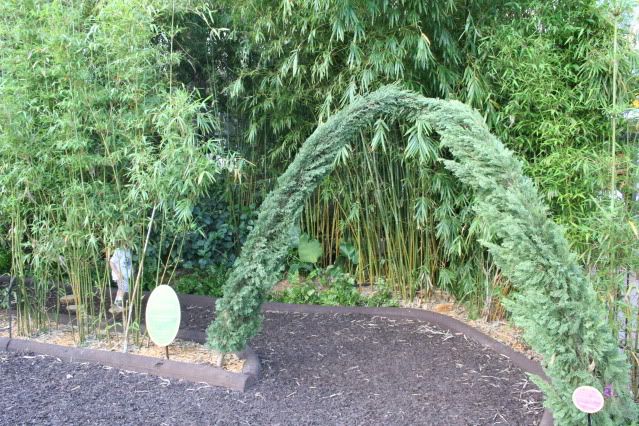 There was a playground in the midst of all these pixie topiaries, and I did not get a pic of it. But this is one feature of it I thought was cool...a little bamboo tunnel!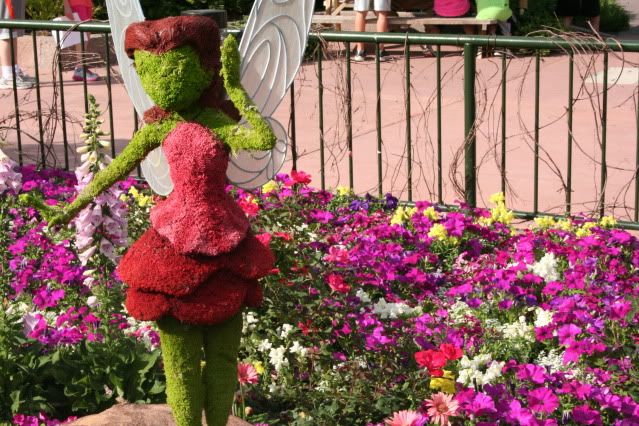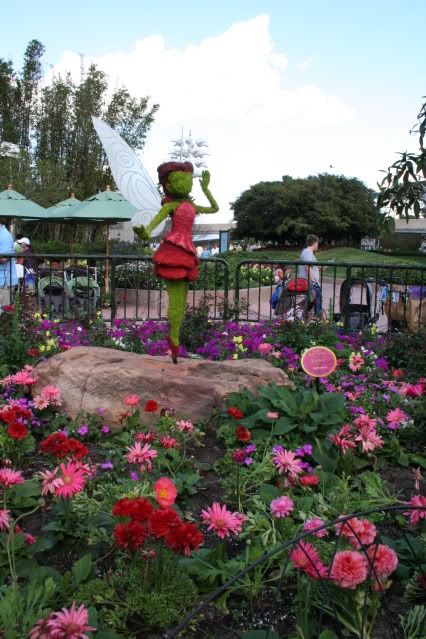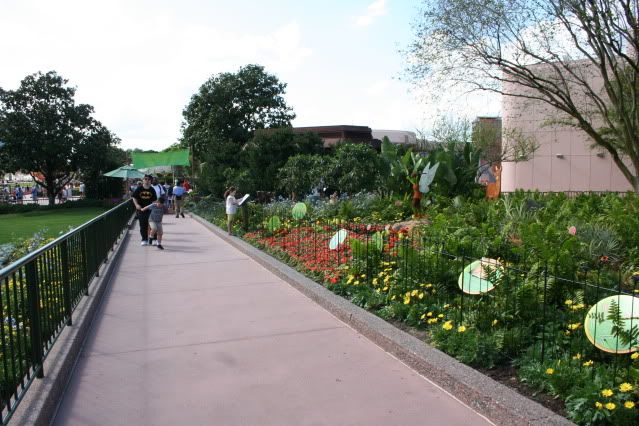 And now, friends, you can say you've walked through Pixie Hollow...at least virtually! ;) Hope your day is full of pixie dust!