One morning I woke up and made an incredible discovery: in these eight months I have been living at Disney World, I have not once had tonga toast for breakfast.
Obviously this was something that needed to be remedied immediately!
So that very AM I hopped in the car and drove over to the Polynesian.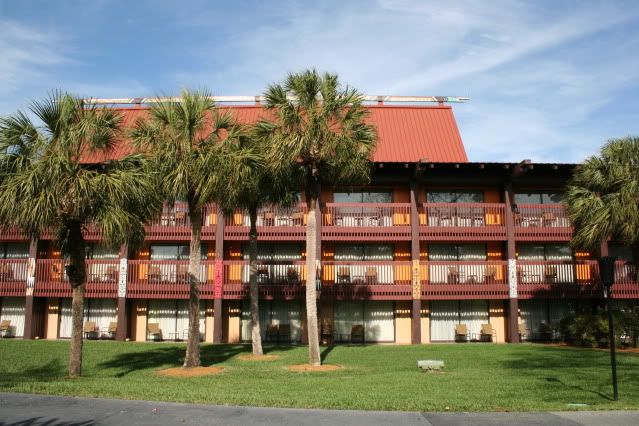 Have I ever mentioned that I love this place? Really? I have?? Are you sure? ;)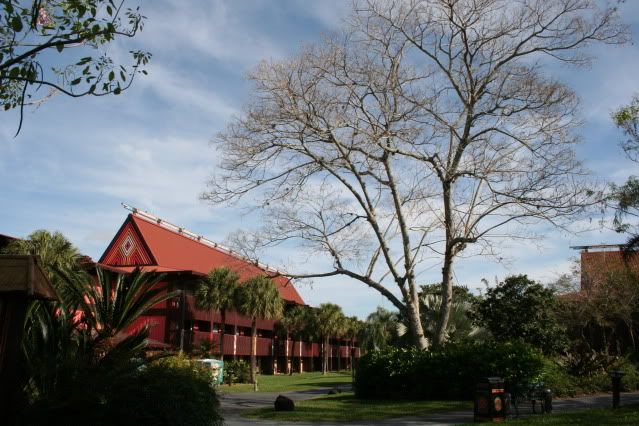 When you come across a bare tree at Disney World it's so odd! I discovered an extra odd tree I had never noticed before. I'm not sure if it was a cocoa tree or what, but it had these pods...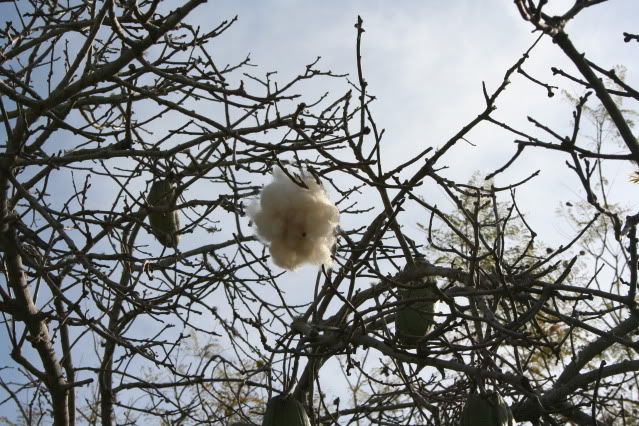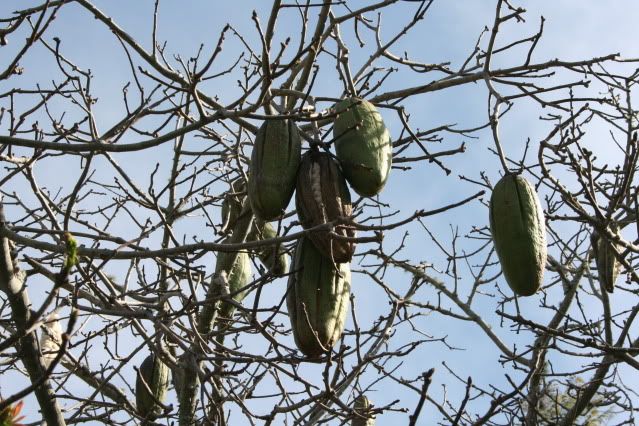 ...and some of the pods seemed to have turned into fluffs of cotton. Very strange.
I love just taking a stroll around the Poly before or after going to Captain Cook's.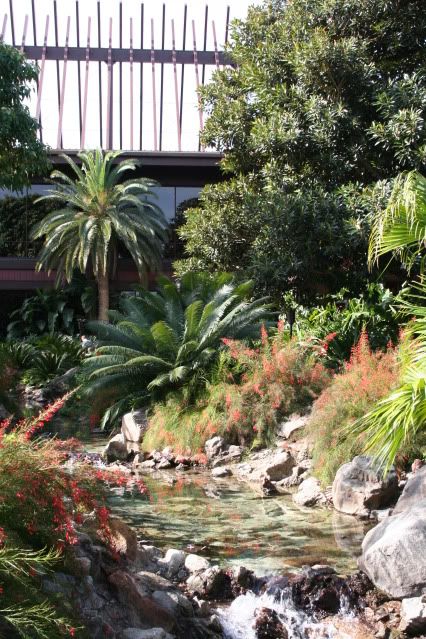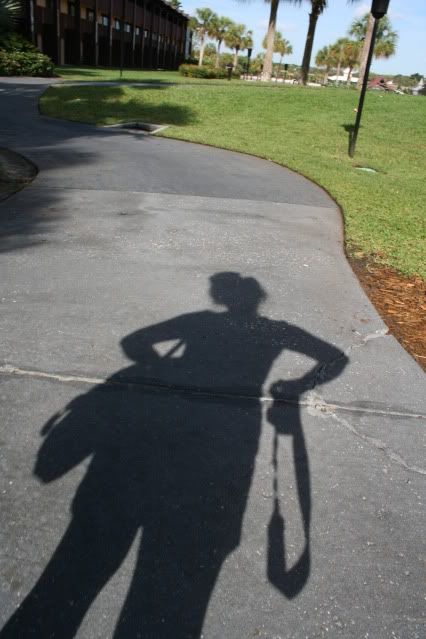 A pretty, tropical pond and a happy, snobby shadow!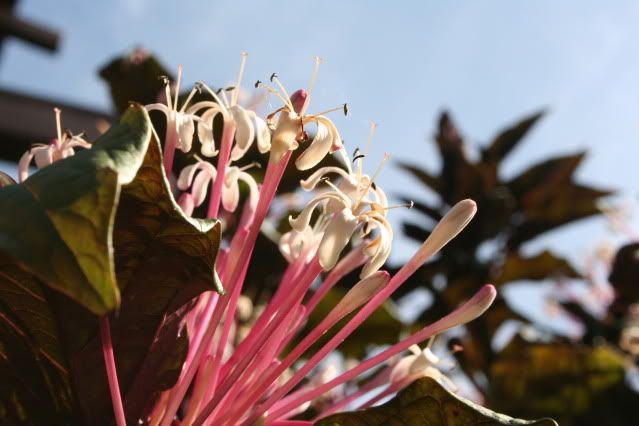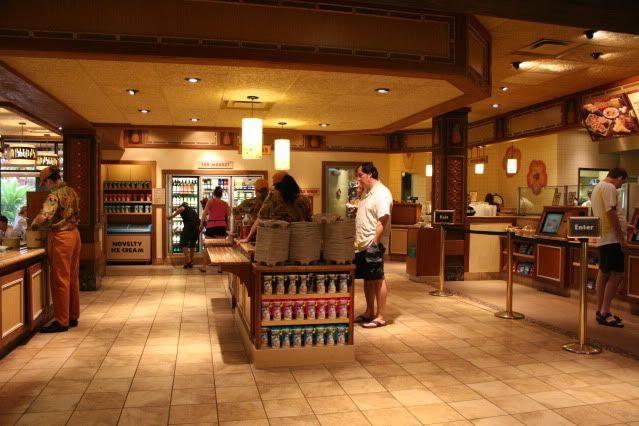 Soon I left the tropical splendour of the outside for the tropical splendour of the inside - of Captain Cook's!
See? More beautiful tropical flowers!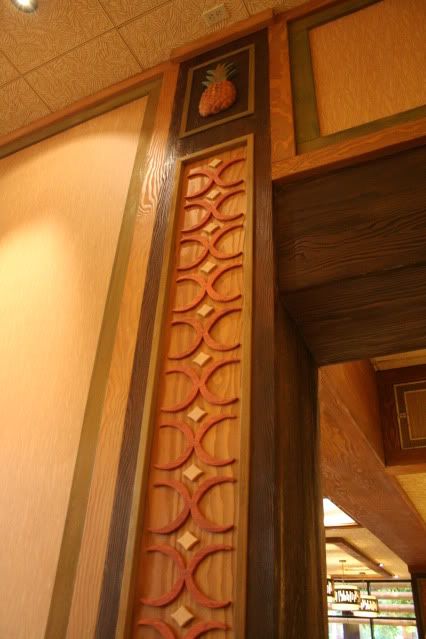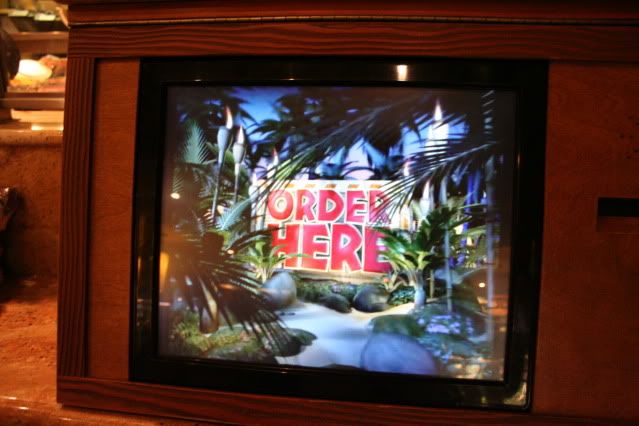 ...and one thing I absolutely ADORE about Captain Cook's is that when you place your order you go on a magical tropical tiki adventure through the rain forest.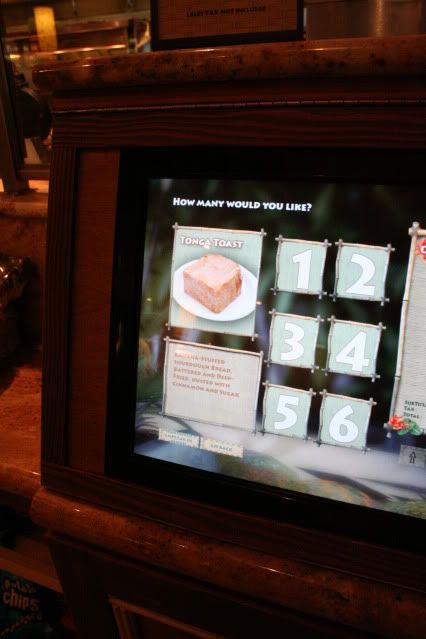 Today's adventure led to: the Tonga Toast.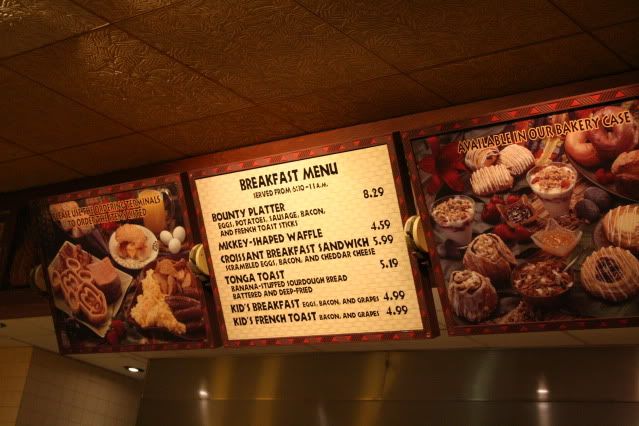 After you've paid for your meal and are waiting for it to be ready, you have the opportunity to stroll around and look at all the delicious things you didn't buy but still could...
...like basically everything in the bakery case. YUM.
The kitchen, where Captain Cook cooks.
Looking into the seating area by the drinks machines...
...looking into the other seating room. I usually prefer that one...I love those tropical flowers carved in the wood!
Then at last my buzzer started buzzing...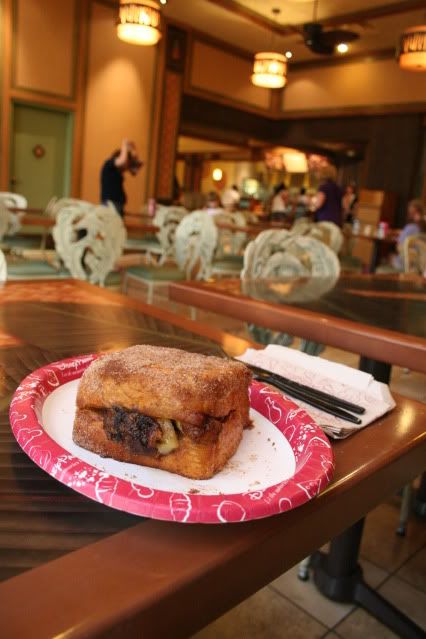 The Tonga Toast was ready.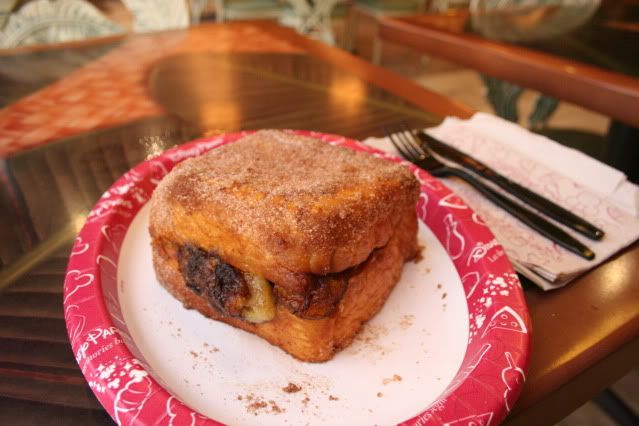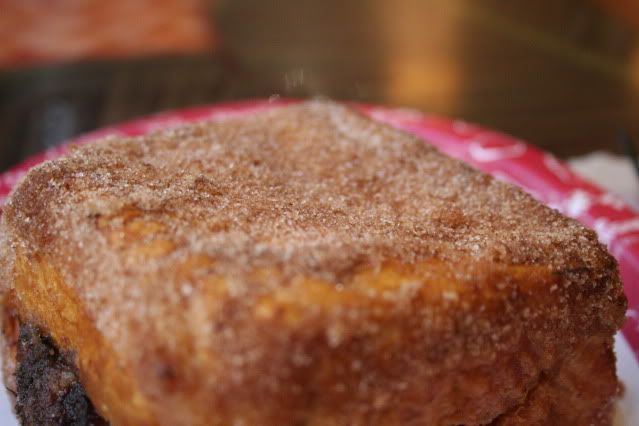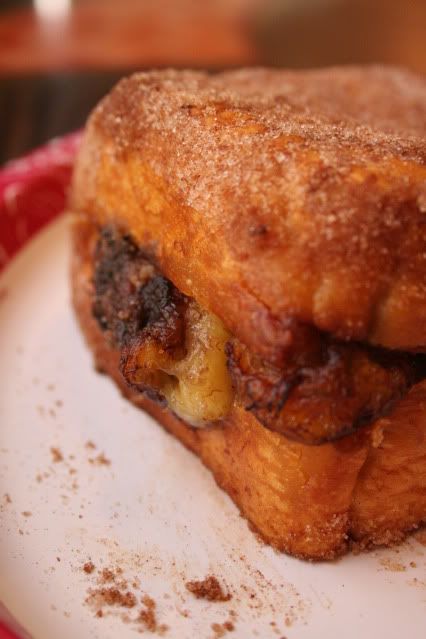 YES YES YES -- Eat it already, girl! So I stopped taking pictures and took a bite.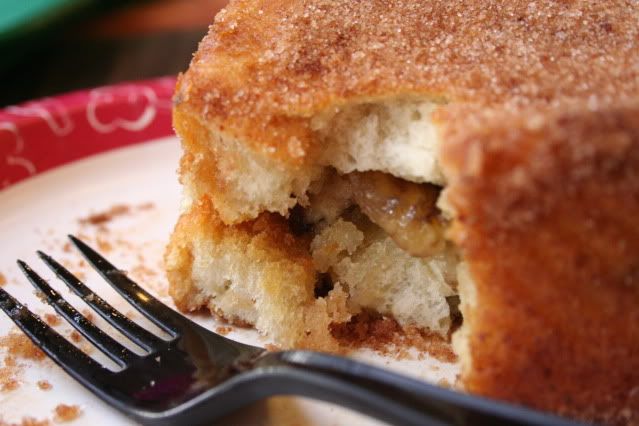 ...and it was soooooooooo delicious.
It was perfectly sugary and crispy on the outside and soft and moist and banana-y on the inside and SO fried and unhealthy -- I was probably consuming all my calories for the coming week, but I couldn't even think about that.
It was around 10:30 when I got to Captain Cook's, and I hadn't had anything all morning, so I thought I'd be able to finish it. But then I got half way through and began to feel full. Luckily I had Yo the Yeti along...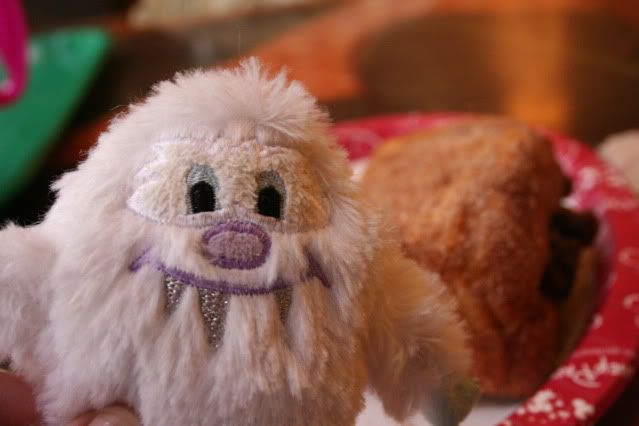 That yeti was all ready to dig in with his sparkly teeth.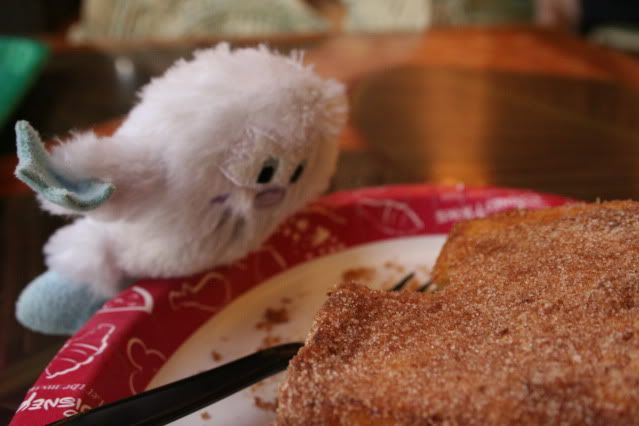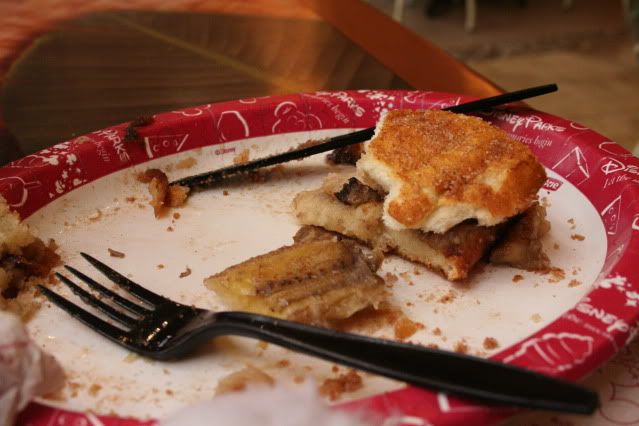 Yet even with our combined efforts, this was the best we could do. There is just SO much of it. I would highly recommend splitting it. But I would definitely recommend trying it, even if you have to tackle it on your own.
Tonga is one of my favorite kinds of toast. :)