One of my dearest friends who reads my blog paid me a very high compliment a few weeks ago. She said one of the things she likes about the blog is that my posts are mostly happy and positive.
That just made me glow.
I do try to keep my posts sunny and positive, because that's the way I would like to be - if not all of the time, then at least most of the time! If I'm perfectly honest, I'll have to admit...there are some dark moments, even when you're working at the source of the pixie dust. There's negativity from fellow cast members, from the occasional grumpy guest, and from myself too - and it can be hard to shake it all off!
So it's nice to leave it behind when my fingers fly over the keyboard working on a blog update, or when my I'm pouring through photos to decide which to upload. Creating a new post sets me free -- when I get to write or frame an interesting photograph or work on something with my hands, it's easier to take all the frustrations and things you can't change and just. let. go.
And you know, when life isn't coming up roses, then sometimes it just needs a little help, and maybe you can make the roses yourself!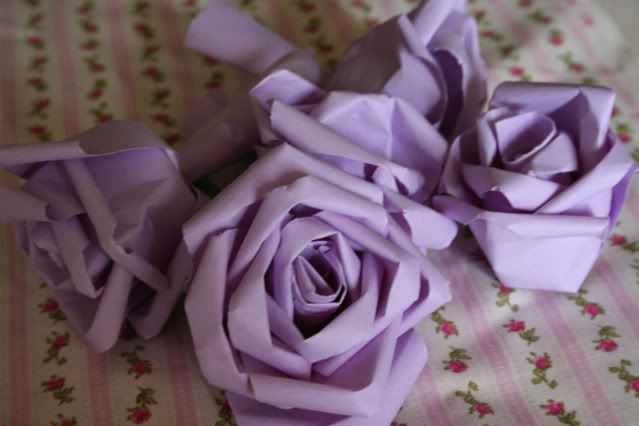 ...quite literally as it may happen! Here's one instance of how I've been (at least trying!) to change negative to positive lately. I *love* making these little paper roses while I'm on the front desk or concierge desk. A fellow cast member taught me how; now I'm addicted! I make them in red and purple and yellow, and each has a little stem, so I hand them out to the little princesses I see walking by.
It's so cute to see the reactions -- often the moms love them even more than the girls. "Oh, her middle name is Rose!" they'll say. Once I got the sweetest lady - she had surprised her two daughters at the last minute with a Disney vacation, and I gave them each a rose. She LOVED them, she was amazed I had made them myself; said you never get anything handmade anymore, you couldn't buy these in the shops. Luckily I had one extra one, so I pulled it out and made sure she got a rose too!
ANYwho, I've been working on a very special rose project of late. My resort recently had an art competition - you had to use recycled materials from your work location to make some sort-of object d'art. So I decided to use some of the unimportant recycled papers to make a bunch of roses and create something special, something with a little MINNIE in it. Here's what I came up with: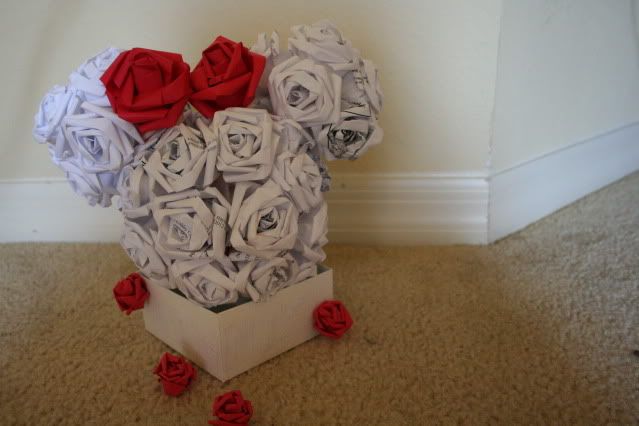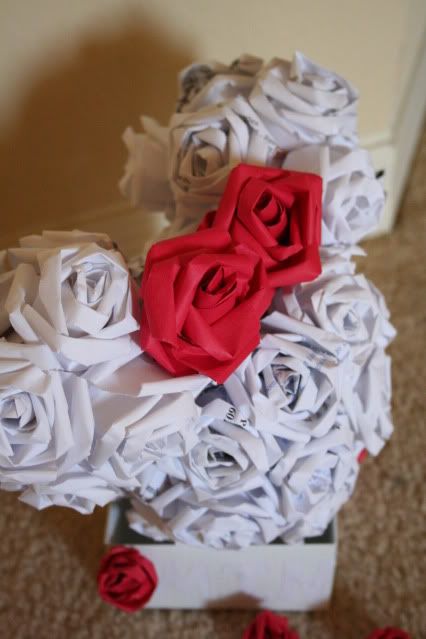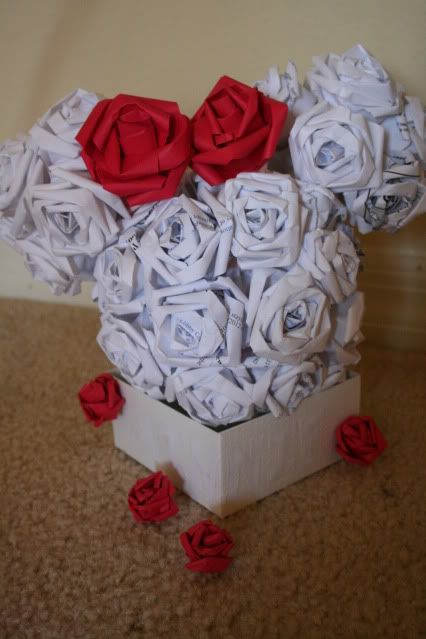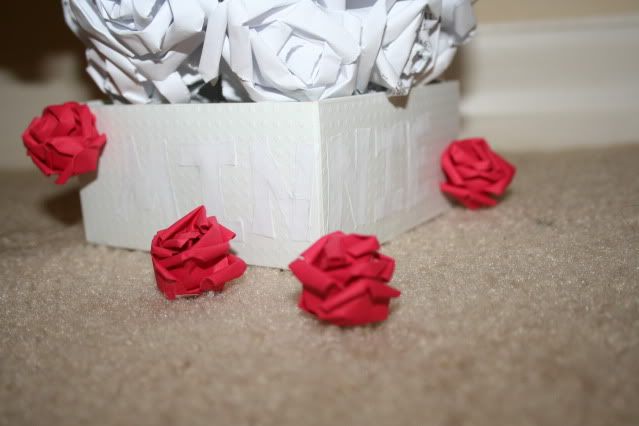 Like it? I thought it turned out rather well. It takes about 3-5 minutes to make one rose, and there are roughly 4 dozen making my my Minnie head, so it did take rather awhile. But it was really fun to make it!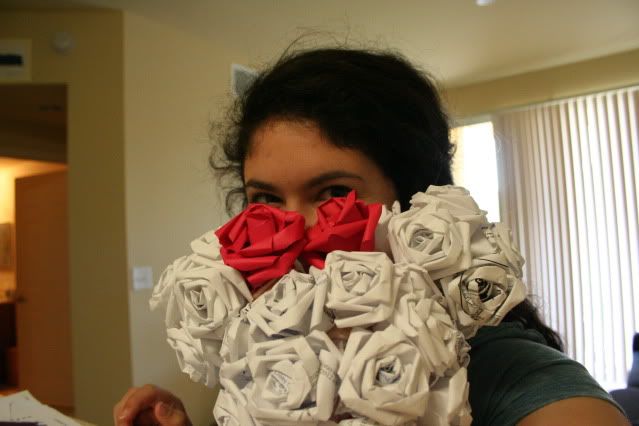 I was so impressed with the other entries as well...our merchandise locations made a gorgeous diorama of Wall-E and Eve. There were other lovely paper sculptures, a waterfall complete with potted plants, and one of the restaurants used some old kegs to make a huge basketball hoop!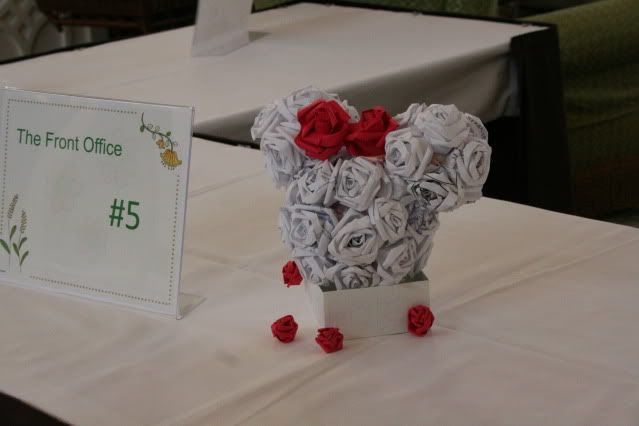 I wish I'd gotten photos of the others, but I was early dropping mine off, so the others weren't out yet. The Wall-E one took first place. Out of seven entries, I got fourth. Not too bad!
So for anyone out there that's been in a negative funk lately (and believe me, I know how it feels!), here's hoping some roses are headed your way soon! :)