Today's cupcake is a STAR!
...because to get to it, we have to go THE MOST star-studded park: Disney's Hollywood Studios!
(or MGM, as it will ever fondly remain in our hearts!)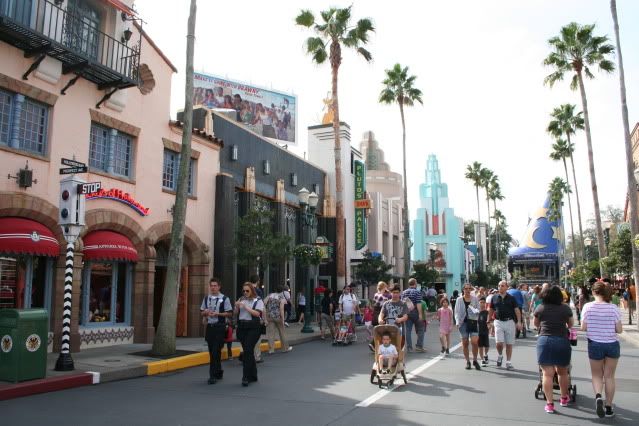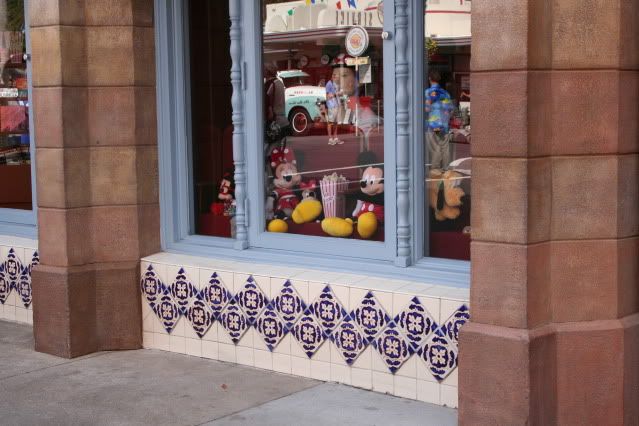 I usually don't stop to look at the shops on Mickey Ave...but there actually some really beautiful details, like those tiles below the blue windows...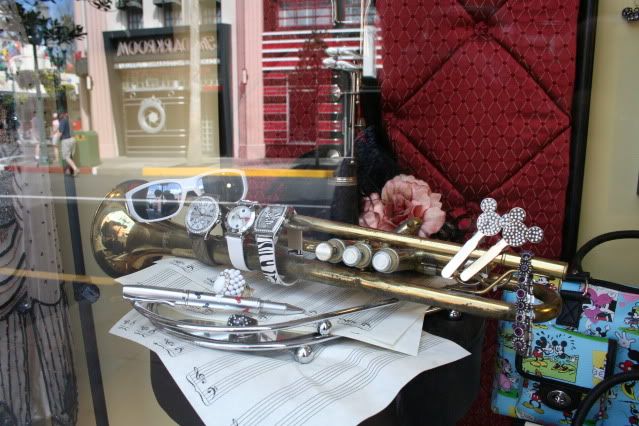 Or this blinged out trumpet I found IN the windows. As a girl trumpet player, I fully appreciated this!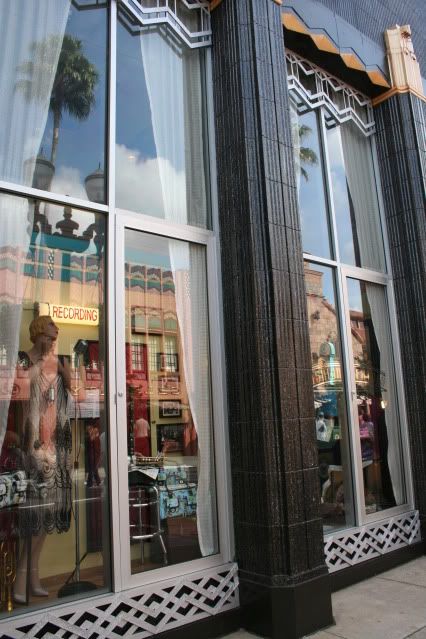 I've always been a fan of the 20's/30's era that DHS evokes.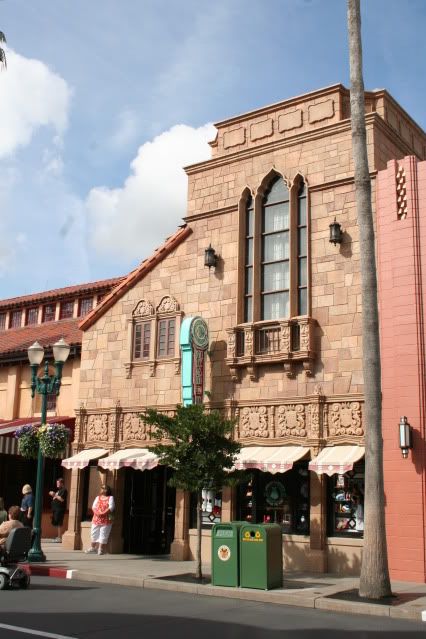 Take a look at the picture on the right, particularly the big window. Doesn't it look like a church window? I wonder what the theming of that building is??
Now as you true cupcake connoisseurs make have noticed, we are slowly making our way toward the main sugary attraction...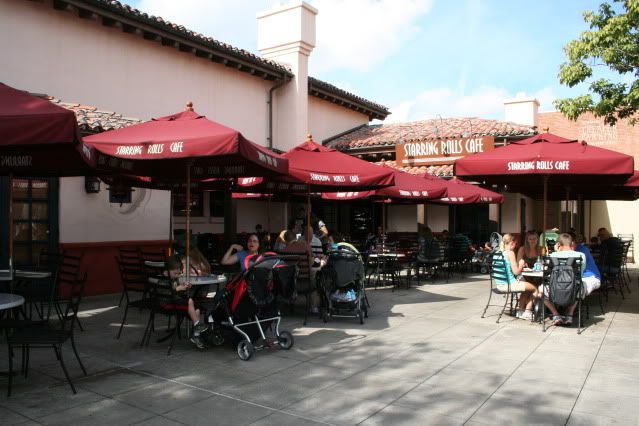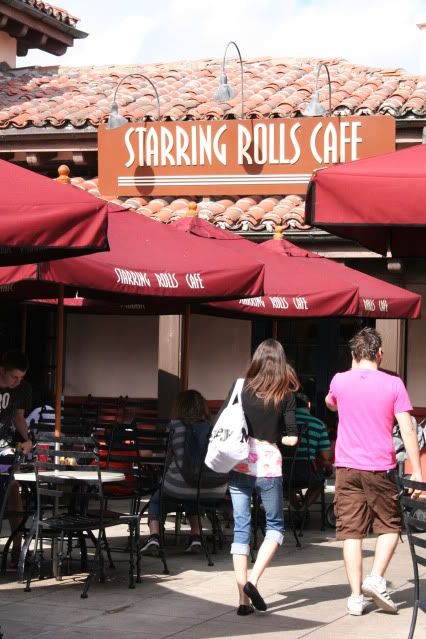 Yep! Today's cupcake spotlight is turned on the one and only Starring Rolls Cafe! The cupcakes here have been pretty hyped, most especially one certain butterfinger cupcake. I had tried the chocolate peanut butter cupcake on a previous occasion and been less than impressed. But I was eager to see what this one would be like.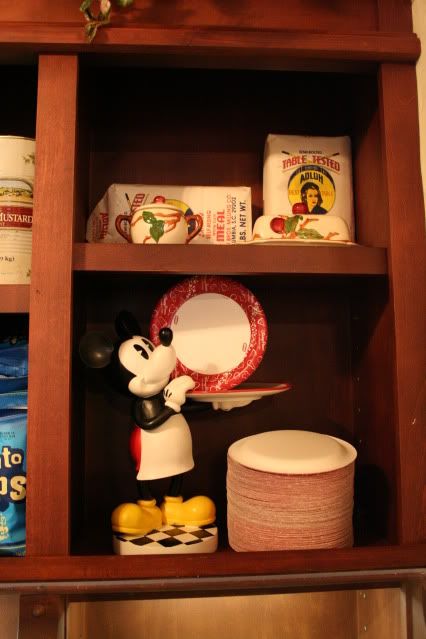 Mickey was on hand to offer me a plate! ;)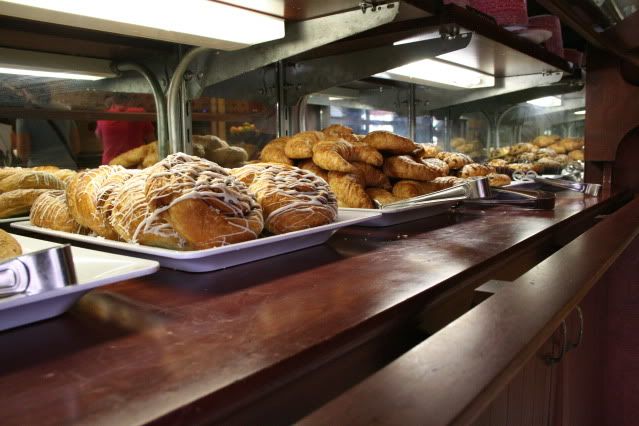 Sorry cinnamon rolls, not today!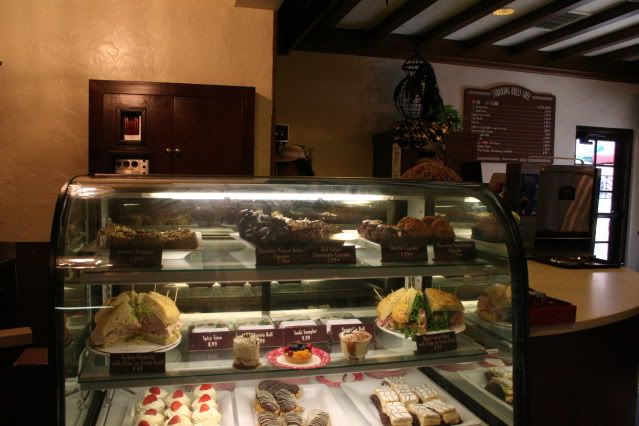 There they are! The stars themselves! Did you know a lot of the lovely desserts (cupcakes included) in that case count as snack credits? Good thing to keep in mind if you're on the dining plan!
Red Velvet Cheesecake Cupcake: something to come back for!
But today it was all about the Butterfinger!
I paid for my cupcake and stopped to grab a fork and napkin...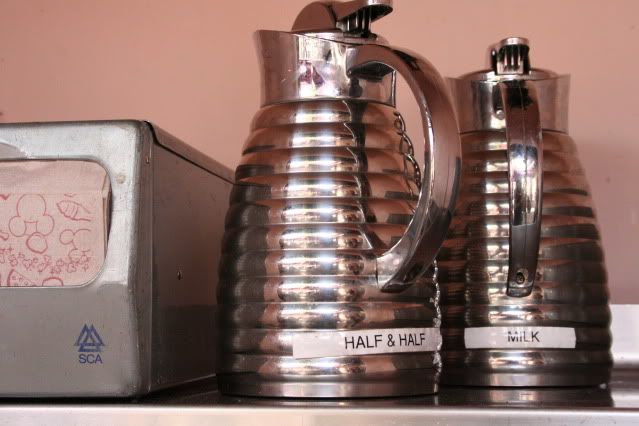 Even the creamers have a fun art deco vibe!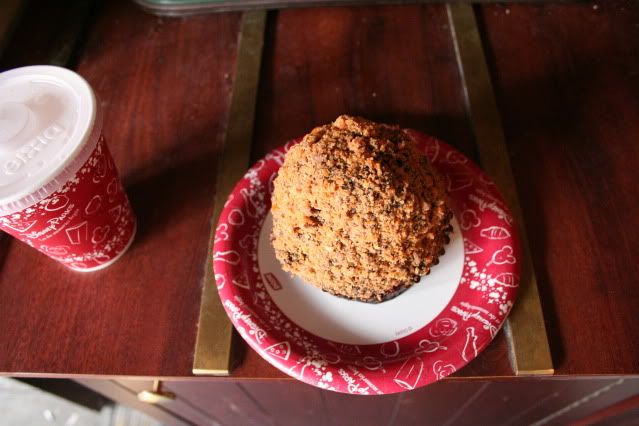 Looking goooooddd... I've sat at the outdoor tables by Starring Rolls multiple times, so I decided to go in search of a new cosy spot to sit.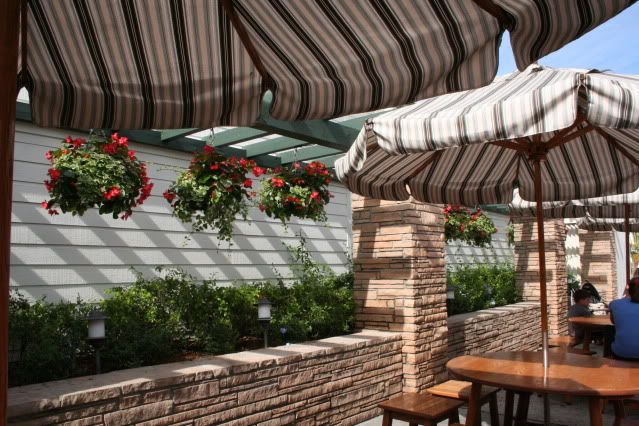 My destination was the back corner of the seating area for the Sunset Ranch counter service restaurants, right off Sunset Blvd. I found this darling wall with hanging flowers. It wasn't too busy yet, and it was clean and shining and bright, perfection!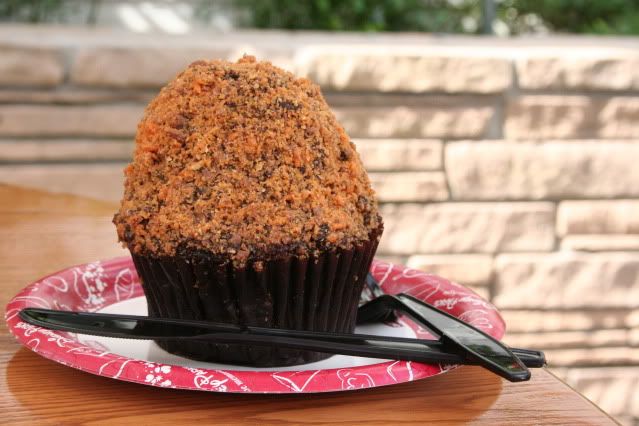 But how would the cupcake be???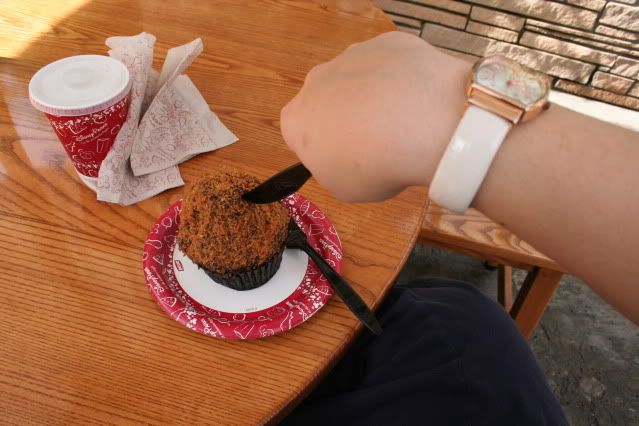 I was surprised when I began to dig in that the outside was a hard shell...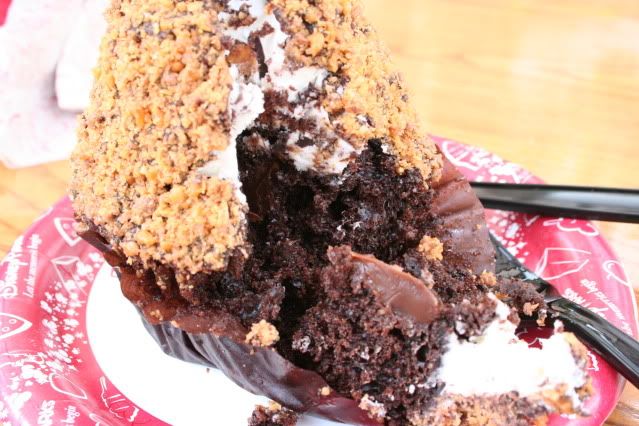 OH. BOY. Guess what: the cupcake WAS perfection. The cupcake was chocolate, with a little bit of chocolaty filling. Then there was this LOVELY white icing, then that icing had been dipped in chocolate to give it this LOVELY thick coating, then that chocolate had been dipped in butterfinger crumbs.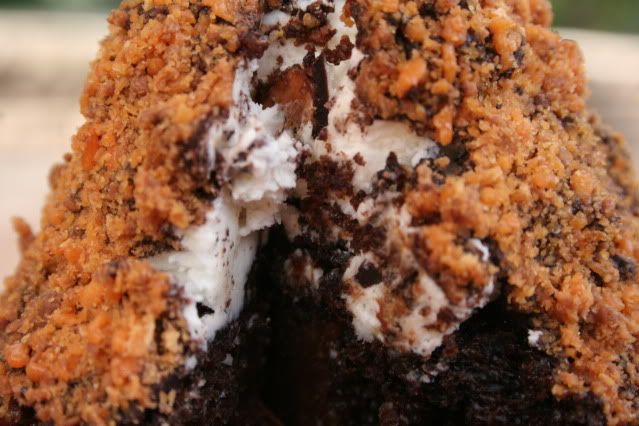 It was pretty much one of the most delicious things EVER. I know, hyperbole never gives you an accurate idea of how good a thing really was, but I would certainly put this cupcake up among my TOP favorites.
I sat munching and writing and enjoying the sunshine, and it was just an entirely perfect way to spend the morning. I was working a late shift that night, but I didn't even mind after having such a nice start to the day!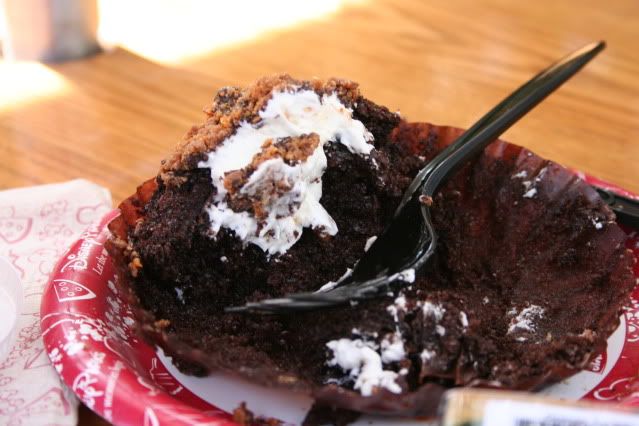 I'm glad that Disney gives us so much value by making their cupcakes expensive but HUGE -- but once again, I could not finish it. I used my tried and true method of putting the rest in a paper cup, then had it on my break. YUM.
Two last pics to leave you with some Hollywood glamour! I love the pic on the left. lol, who me, a star?? Well, I can be a snob! ;)