So when we left off with a very-snobby one-more-disney-day, we were just leaving the Magic Kingdom, giant cinnamon bun in hand.
I hopped on the monorail and went to...can you guess?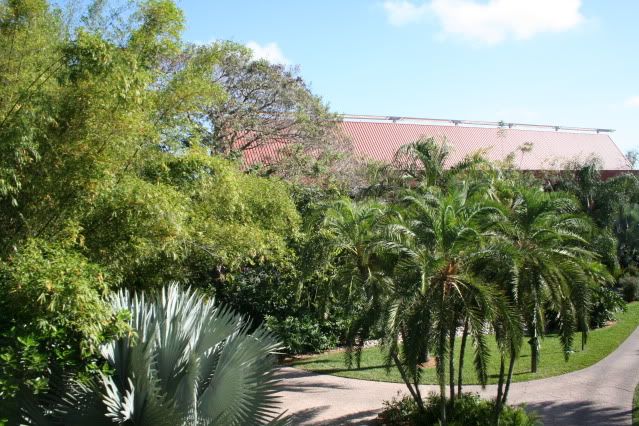 C'mon...you know my one more disney day wouldn't be complete without some POLYNESIAN in it!
It is just so beautiful here. :)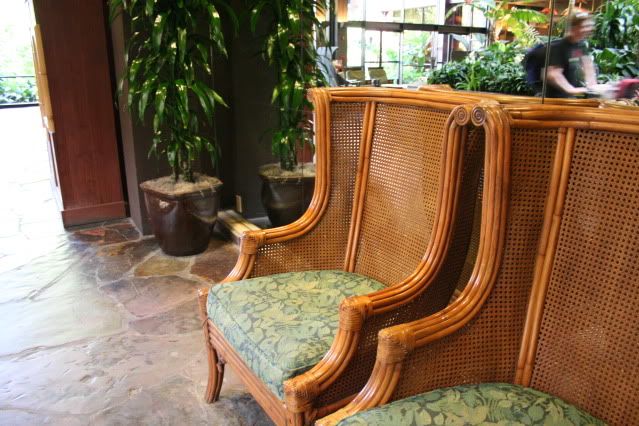 After being on the go since 6 AM, it was nice to just sit and be quiet amongst the tropical foliage. I sat in one of these chairs writing letters for a good half an hour.
It was fun to watch the passers-by...lots of little kids dashing about, some all adorably attired and matching, the way my Mom would have had us dressed for a Disney trip when we were little! The weirdest thing I saw walking by, though, was a grown man with a little video recorder.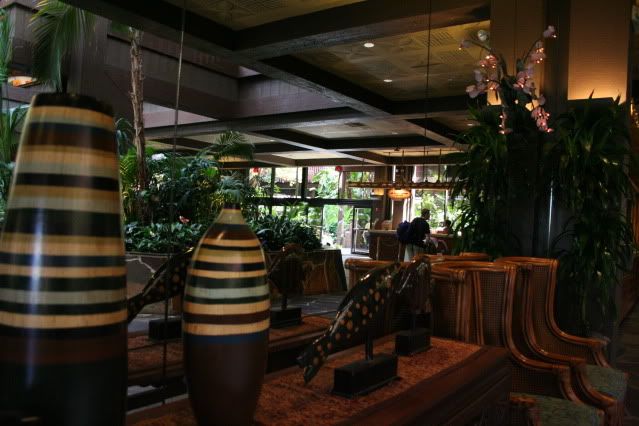 You know how there are mirrors all along that wall of the Polynesian, behind the chairs in the picture? Well he just kept walking back and forth video-ing himself in the mirror, and he would say, "Here I am...Here I am again...There I am once again." It was so bizarre.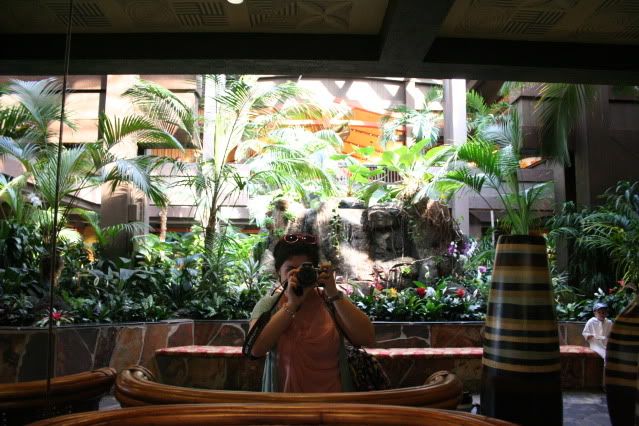 Here *I* am...LOL.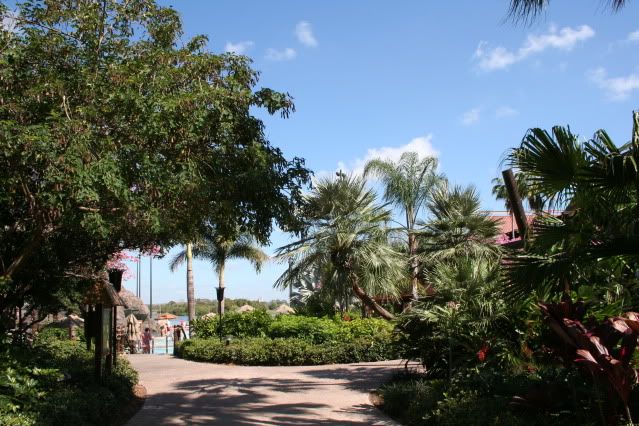 Ah, my glorious Polynesian. After a bit I decided it had been too long since I had been in a hammock, so it was out to the beach! The day was perfect...there have been a few cold spells here in Florida, which I always relish because they're a novely. And then when the warmth comes back, you can appreciate it again! In fact, it was *almost* too hot on the 29th, but luckily there was a cool breeze.
It would be so much fun to do an engagement shoot here (or wedding shoot for that matter).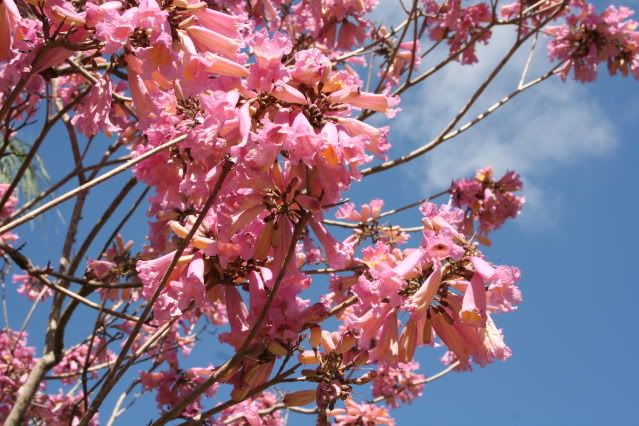 The Florida seasons are more messed up than anywhere I've lived before...but it seems like you can always spot the spring. :)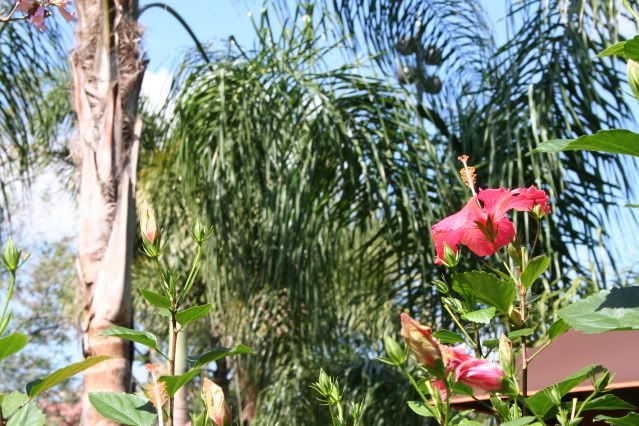 I didn't get any pictures in my hammock because it's good to just be lazy sometimes, and that's what I was doing. I sat in the hammock not on the main beach, but just over on the other side of sunset point. I had the loveliest nap, I didn't want to leave!
But I did have some chores to do back home, so I walked over to the TTC and drove back to the apartment. That was not, however, the end of my Disney day. Not by a long shot.
I was planning on meeting friends back over at the Magic Kingdom later in the evening, so I was saving my strength!
The One More Disney Day buttons they were giving out!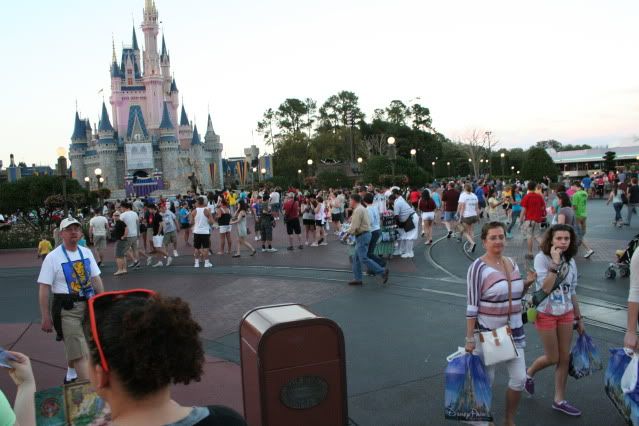 Back to the park! It was around 6pm when I took this picture, and it was crow.ded. My friends and I wanted to play the new Sorceror's in the Magic Kingdom game -- kinda like Kim Possible Missions, only you have a key card and then various attack cards, then you take them to portals around the park and battle the bad guys.
The attack cards all have Disney characters on them and they're ADDICTING. Like Pokemon cards, you want to get them all. And people have really started getting in to collecting them. There was this little girl we saw at some of the portals, only about 12, who said she had all 70 cards already. (Every day you can get 5 new cards...they're saying that Disney is going to start selling booster packs of the cards as well). Anyway, the lines at all the portals were really long...like you had to wait about 20 minutes to do just one step in your mission. Then you'd get sent to another portal and wait another 20 minutes. It's a really cool game, I just wish the waits weren't so long that night.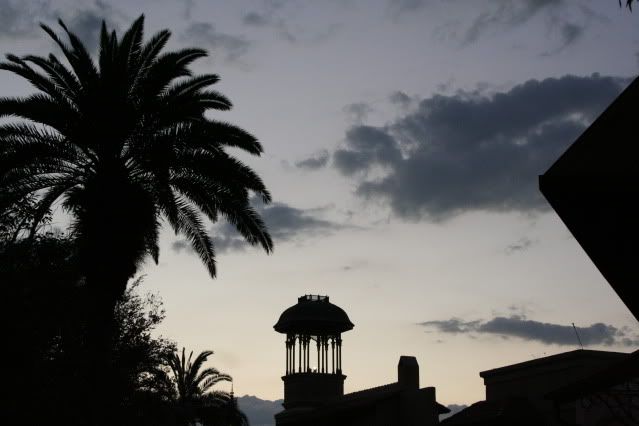 The sun setting over Adventureland as we sorcerors battled our way to the portals.
Eventually we gave up, the wait was just too long and it was getting dark. So we mosied over to Tomorrowland and rode the TTA, got a cream cheese pretzel from the Lunching Pad (pretty yummy, especially when it's piping hot), did the Laugh Floor with no wait.
The Speedway from the TTA.
In general, however, the lines were super long and the park was VERY crowded. People were filling the Hub and Main St. for the 10 o' clock parade at 7 o' clock. I guess they'd get to see Wishes at 8, but still - MADNESS.
This is Piglet, Pooh, Tigger, AND Eeyore. There were some pretty cool characters out...the princes were out with their princesses, and I heard the chipmunks were also out in their jammies (like Minnie and Mickey). But we just couldn't stomach the lines. It was 60 minutes for the fairies. At 9 o'clock at night.
Finally we decided to snag a spot in Fronteirland to watch the Main St. Electrical Parade from. We got lucky and got a really good one too, and it was 9:45, so we only had half an hour to wait.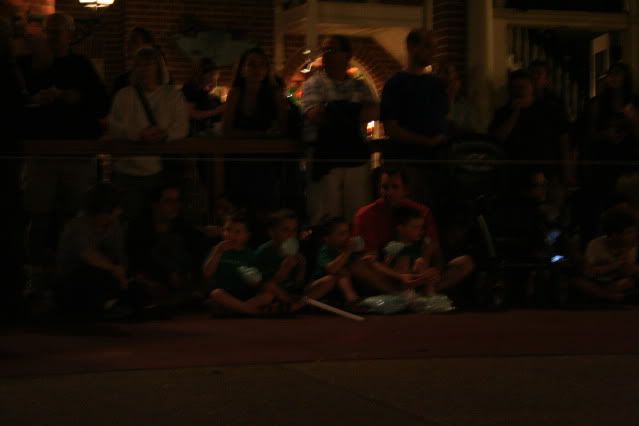 Adorable family of 4 little boys sitting across the street munching cotton candy. My friend and I were trying to decide which ones (if any) were twins.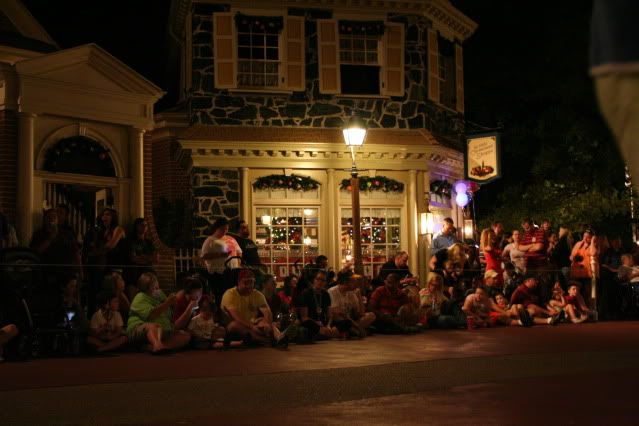 Almost time for the parade to start!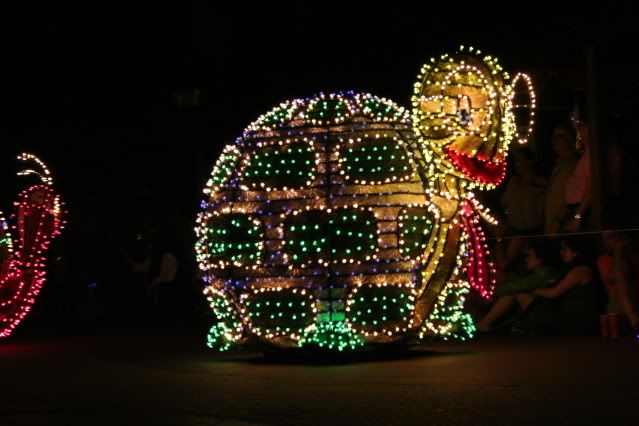 Adorably Dressed Mice! I'm guessing the kudos goes to Cinderella...she makes all their clothes, right?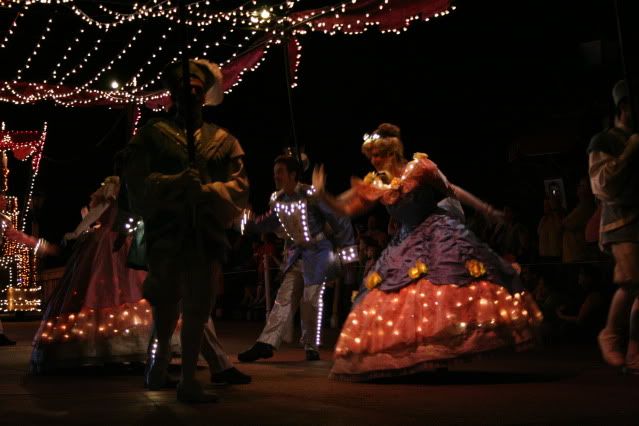 ...and the Royal Court bringing up the rear!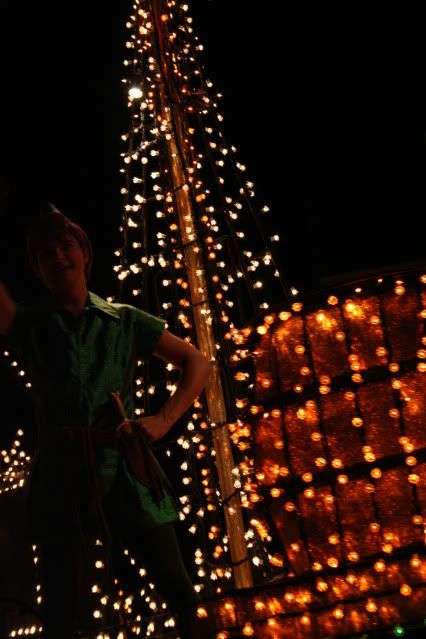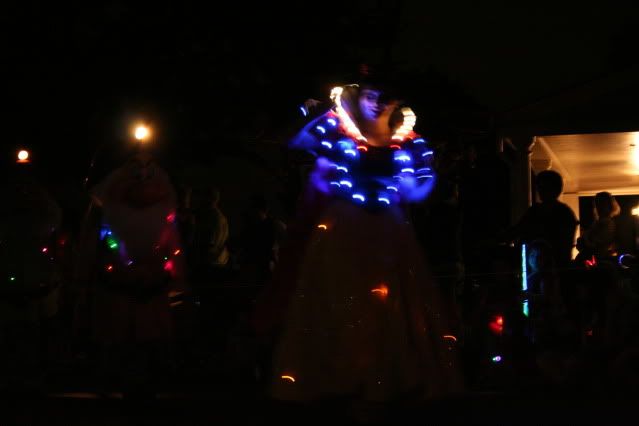 And finally...I couldn't resist getting a pic of a GIANT twinkling CUPCAKE! lol!
We ducked into Hall of Presidents and had a little nap to wait out the post-parade crush. I wanted to stay til late...after all, the MK was open until 6 AM the next morning. They had all those cool characters and a dance party on the castle stage at 1 am. But I just couldn't do it. I was bushed, and I had to work the next morning. So this Cinderemma left the ball early and went back home.
Still, I'd say I put my One More Disney Day to good use. :)