I'll admit it, I've been slacking lately on the blog. Some days just seem to take everything out of you, and all the energy you can muster goes into pulling up hulu.com and watching "Once Upon a Time," or "The Voice," or on a particularly trying day, it's gotta be a Jane Austen movie, lol!
ANYway, tonight I'm forcing myself to be a good blogger, dig into the ever-growing backlog of photos and stories I have to share with you guys, and get a post up!
How about some tales from Epcot's Flower and Garden Festival...sound good? Cool, in the words of my friend Stacy, let's hit it!
Flower and Garden has always held a special place in my heart. During my high school years there were two summers when we had a Disney trip at the beginning of May, right after I had finished my AP exams. Both years we caught the tale end of Flower and Garden. Maybe it was the pretty, princess-y topiaries everywhere, maybe it was my euphoria at having the tests done, but I was enchanted.
So this year I made sure to visit Epcot on the very first day of the festival, March 7th!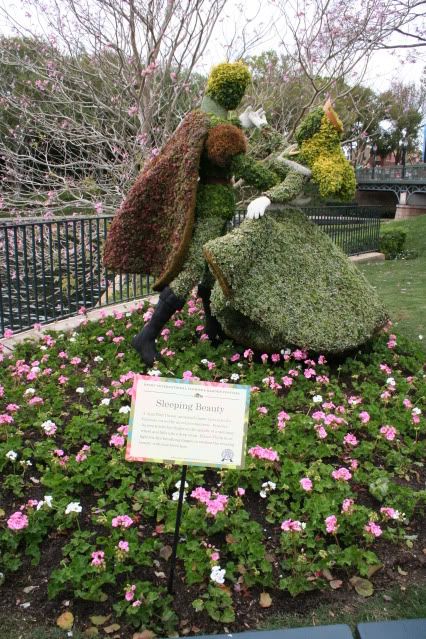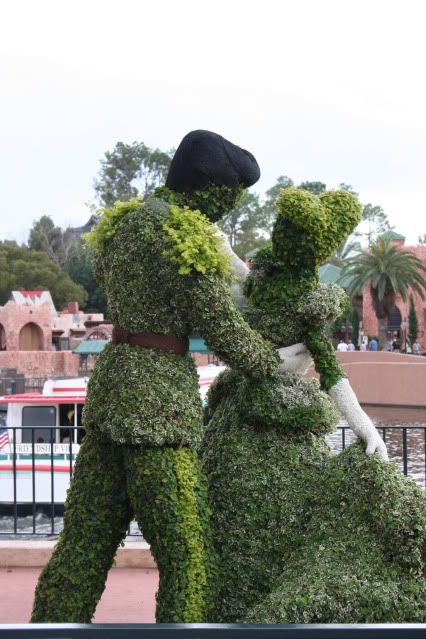 The very first thing to greet me on the bridge to France (I entered via International Gateway) were these two twirling topiaries! They had actually been out a few weeks before F&G started.
Sigh...it's ridiculous that a patch of ivy and green leaves can make your heart melt, but put it in the shape of dancing princes and princesses and it works on me! This picture has been my desktop background pretty much since I took it. It makes me think of this lovely scene, which is one of my very favorite scenes in all the Disney movies.
On the 7th there were some new princesses: including Belle and the Beast!! I just love Belle, look at her white gloves! And I don't think I've seen that topiary of the Beast before...
It was pretty much impossible to get a good photo of both of them because there were SO many other people taking pics...
I'm definitely going to try to go back early some morning and get some better shots, without people in them!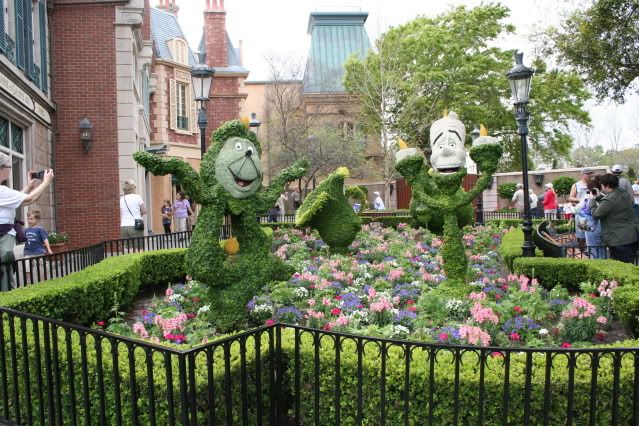 I was also totally in love with the topiaries of Belle's friends!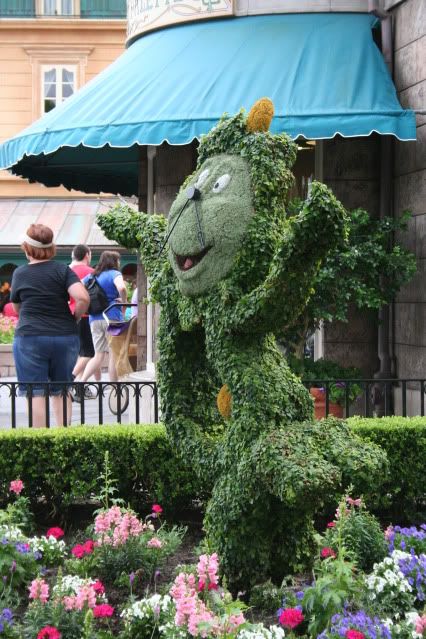 Although Cogsworth looks uncharacteristically jolly, wouldn't you say?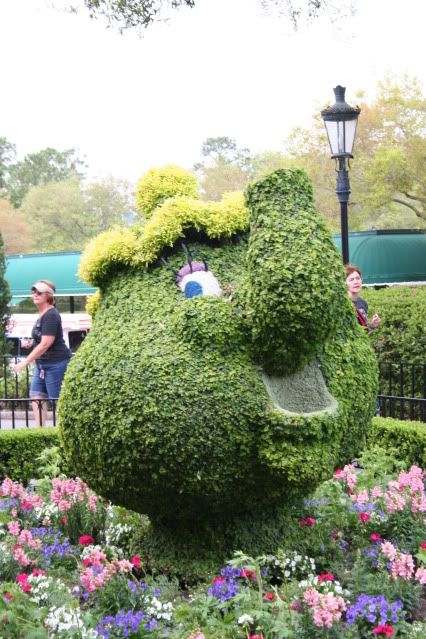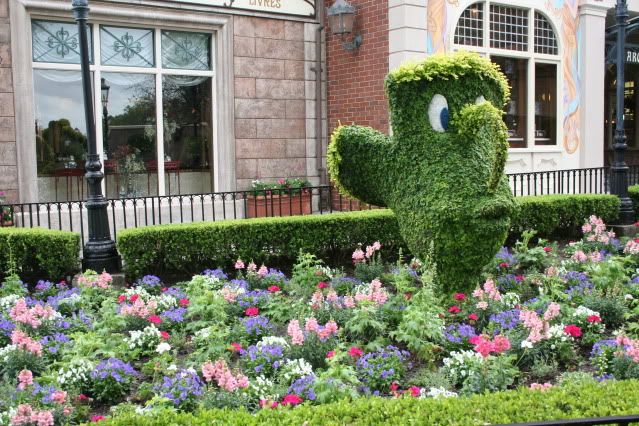 Even the bed of pink and purple and green beneath the topiaries is so pretty!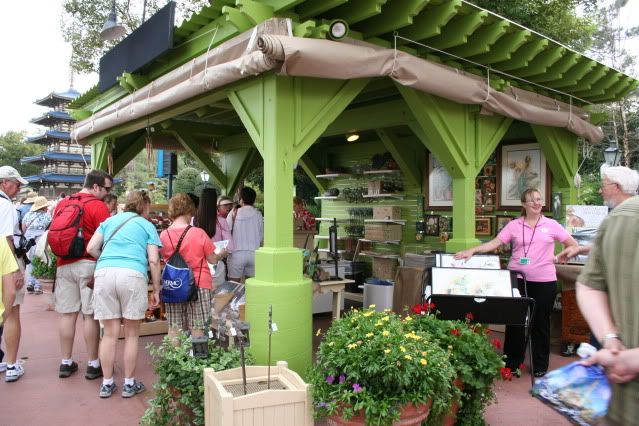 One of several festival booths selling gardening things.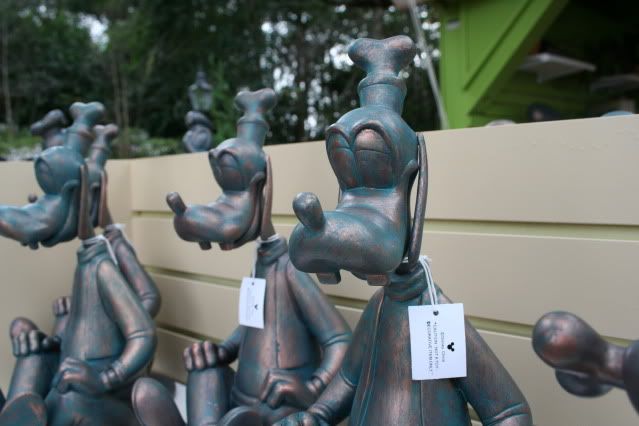 They had plenty of Disney pixie dust to add to your garden!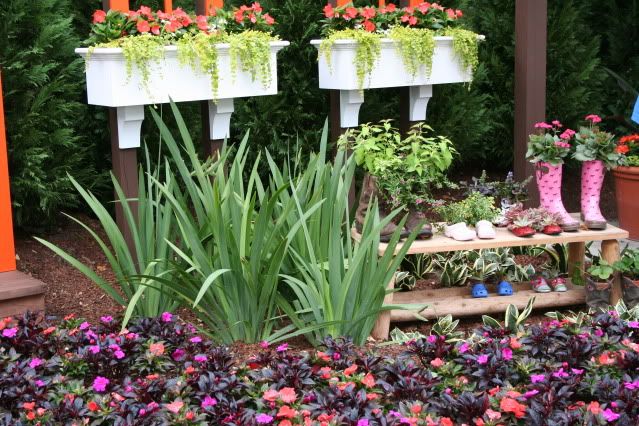 In addition to the little shops, there were also educational displays added throughout World Showcase. Note the creative potting options suggested here (like rain boots and crocs!)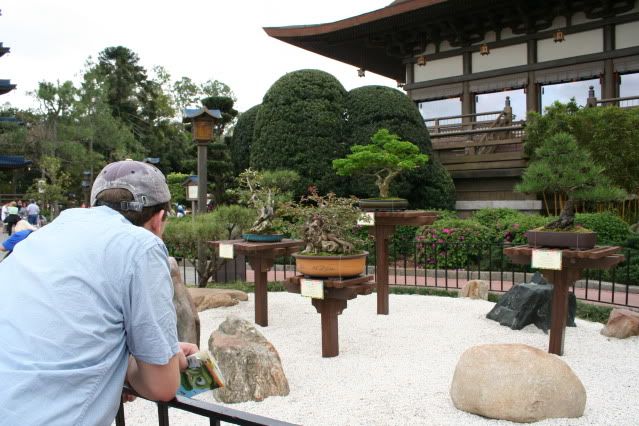 Moving on to Japan...Aramis (my older brother) loves Bonsais!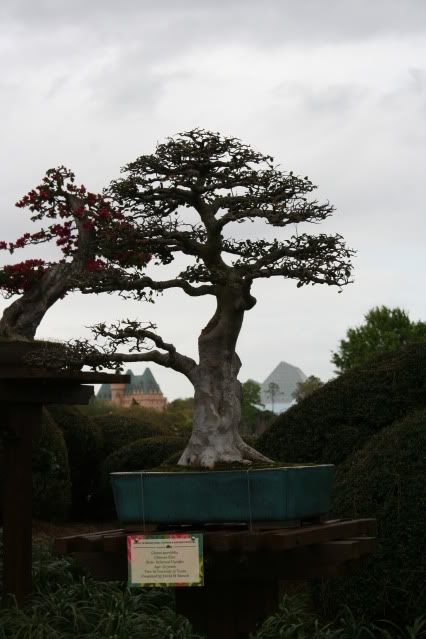 And these bonsai trees were really amazing!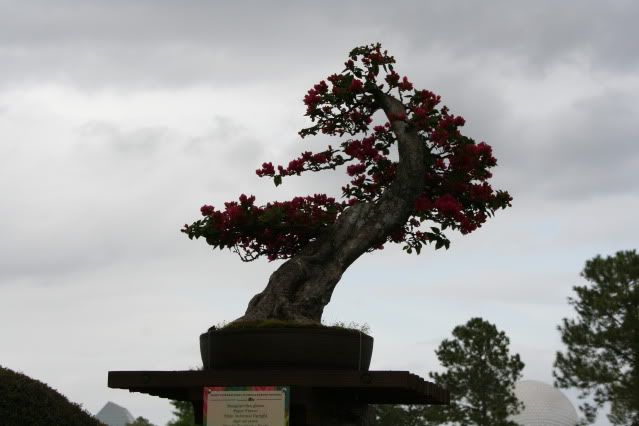 The flowering ones are especially lovely!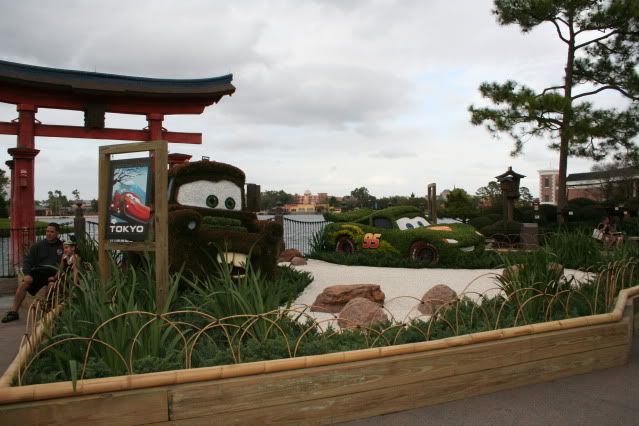 Also racing through Japan were Lightning Mcqueen and Tow Mater!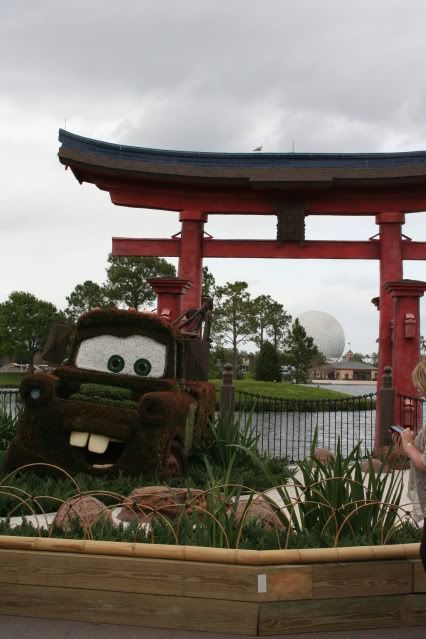 lol...doesn't it look kinda like Mater photo bombed this pic??
The All-American topiaries of choice were some friends from Toy Story!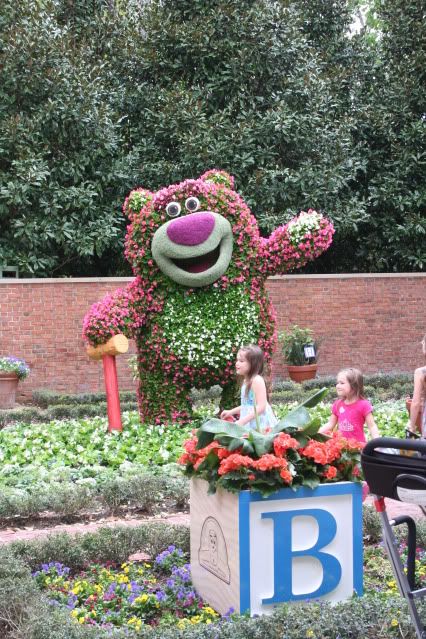 Lotso the strawberry scented bear has moved on from Sunnyside and was ruling over an alphabet-inspired herb garden!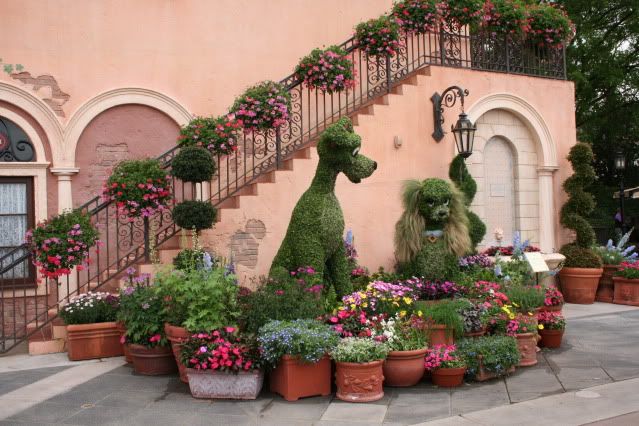 In Italy there was an homage to Lady and the Tramp. I LOVE those mismatched pots overflowing with flowers and greenery.
Whenever I have room for a garden I want to have a cute medley of potted flowers like that!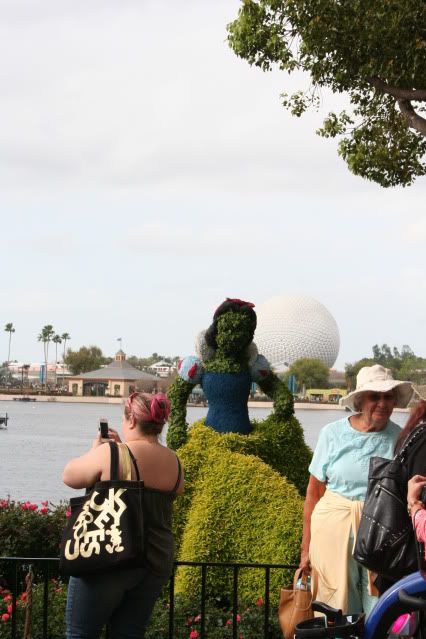 Snow White was skipping through Germany with the seven dwarfs behind her! Sadly this photo op was even more crowded than Beauty and the Beast, another one to go back for!
This was another one of the exhibits, it was interesting to see they reused one of the booths from Food and Wine!
There were some sweet panda bears playing around in China!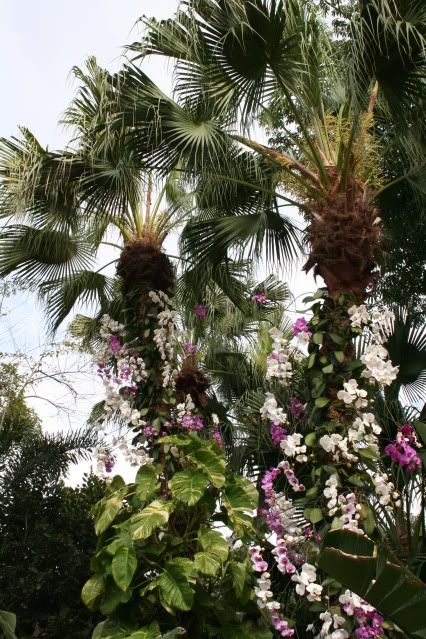 I don't know if these purple and white orchids covering the palm trees in Mexico were there just for Flower and Garden, but they were GORGEOUS! And I didn't know you *could* make a palm tree any prettier!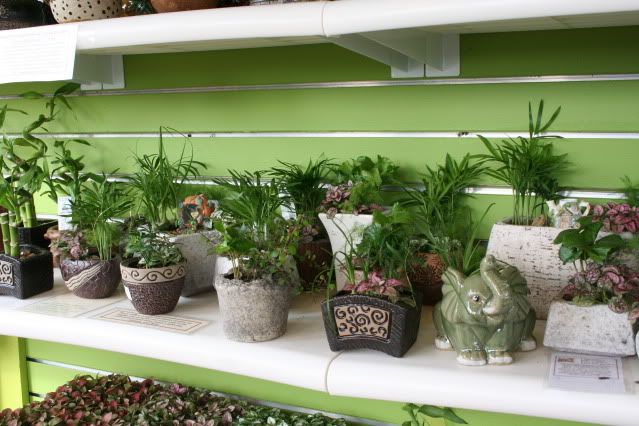 Back by the bridge to Future World we found the bonsai booth, which Aramis was very excited about!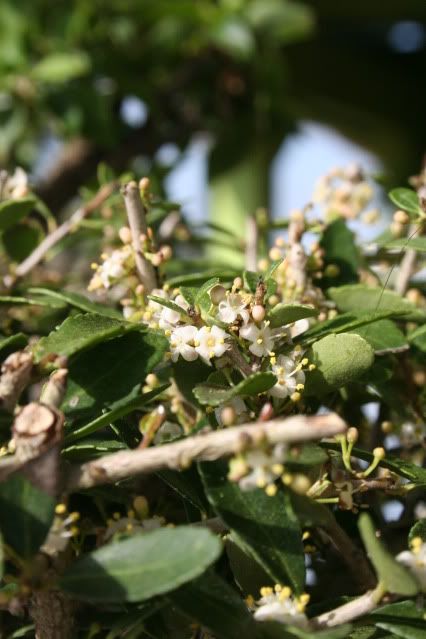 Bonsai everywhere! The tiny little flowers are so lovely. :)
I love everything at Flower and Garden, but my favorite thing might be the simplest...those floating flowers!! But I'm going to have to save that for the next F&G post. ;)
For now I'll close not with a princess topiary, but with an actual princess!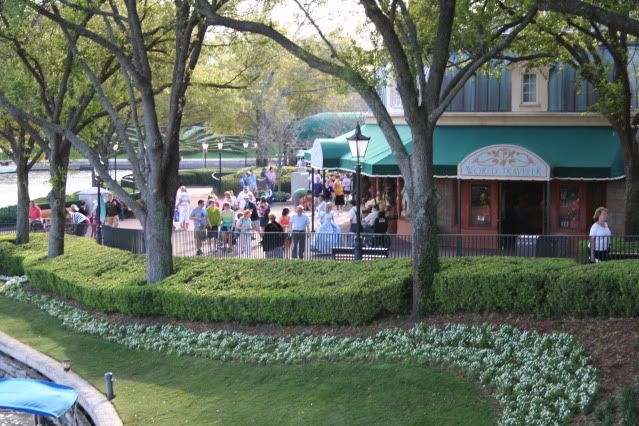 Do you see Cinderella walking along down there??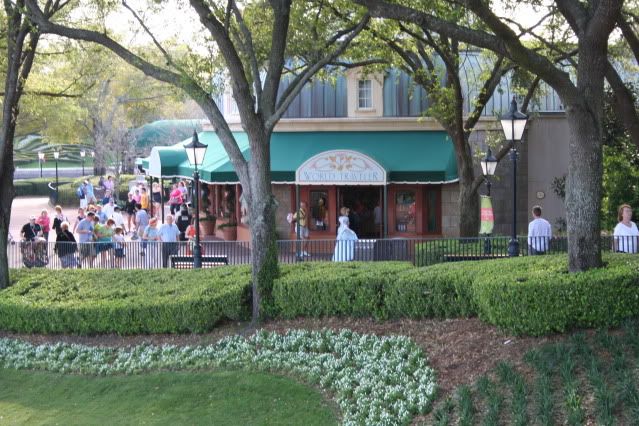 I didn't even know she did meet and greets down there! It was like her topiary had come to life and she was walking through Epcot. lol!
Hope it was a lovely Friday!