For this Monday's cupcake, we're monorailin' it over to Epcot...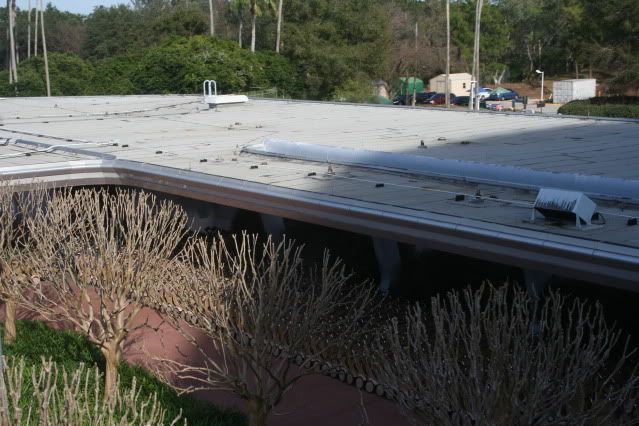 See the army of rental strollers waiting near the entrance, behind the branches
I love the view from the monorail!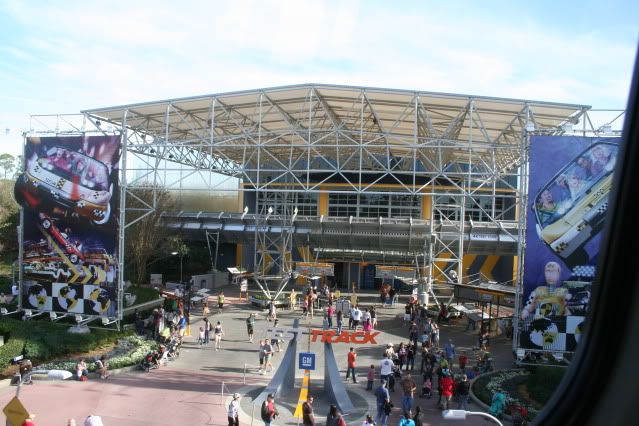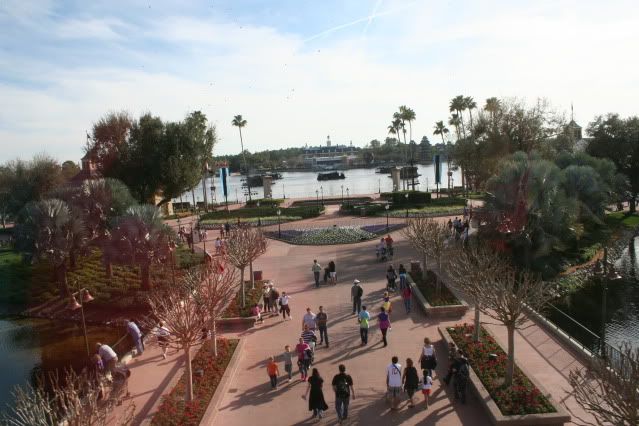 But let's get to Epcot already!!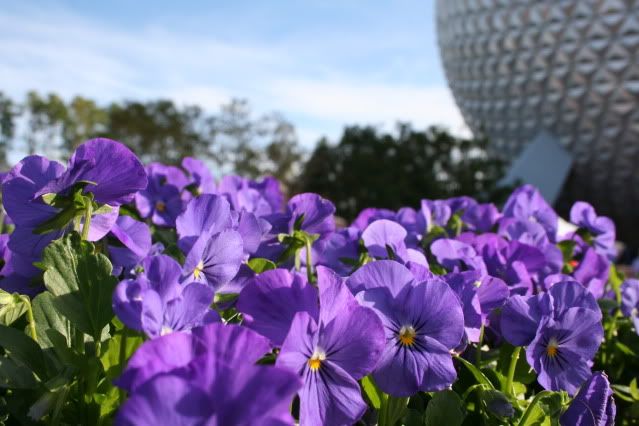 The flowers at Epcot are SO pretty! Florida is very odd...it skips winter entirely and crams fall and spring into one month: at the beginning of February some of the trees finally lost their leaves and it felt a bit like fall. Now there's a smell of spring in the air, new green leaves are coming out, and there are flowers everywhere! But then at Epcot it's not so surprising, the Flower and Garden Festival starts March 8th!
Now today's cupcake is going to be rather pink as well...to get there we're going to turn our steps to the Land, or more specifically, to the bakery counter in the Seasons quick service...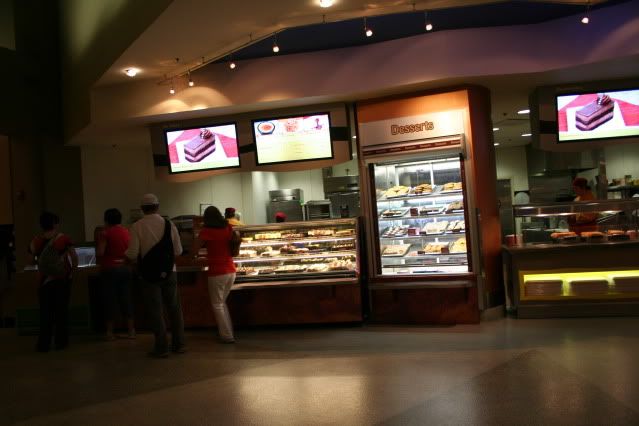 There have been some super impressive new delicacies popping up at this place...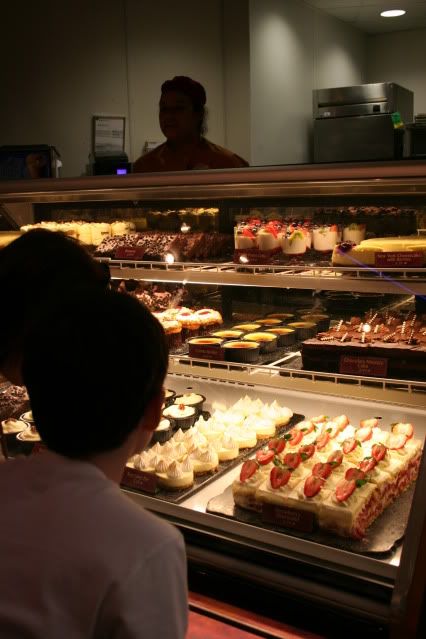 In the case on the left: yogurt panna cotta, new york cheesecake with berries, creme brulee, chocolate mousse cake, key lime pie, and strawberry shortcake. In the pic on the right: lemon poppyseed muffins and some amazing-looking SMORES brownies! There was also a banana cake that looked really good.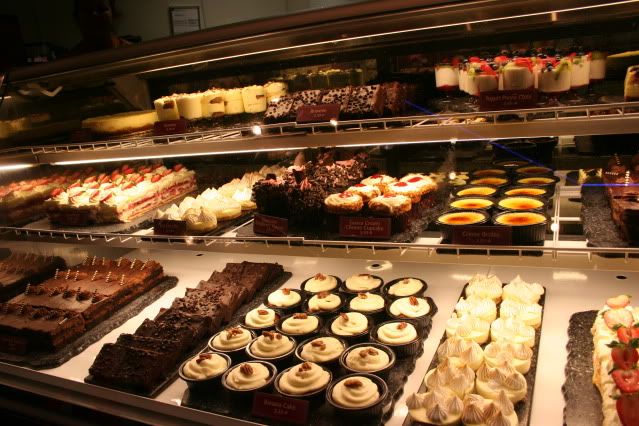 I am definitely visiting this bakery case again (probably on a Sunday 'cause it's lent and I gave up chocolate :( ). ANYway, back to the cupcakes...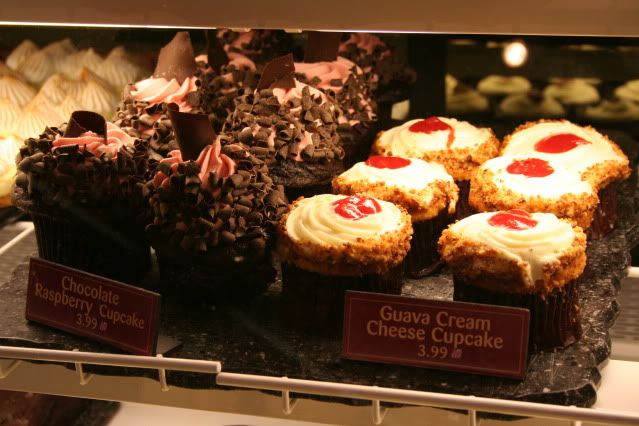 It was a tough choice. Chocolate Raspberry Cupcake v. Guava Cream Cheese Cupcake. Both sound amazing, but on that day I was in the mood for PINK...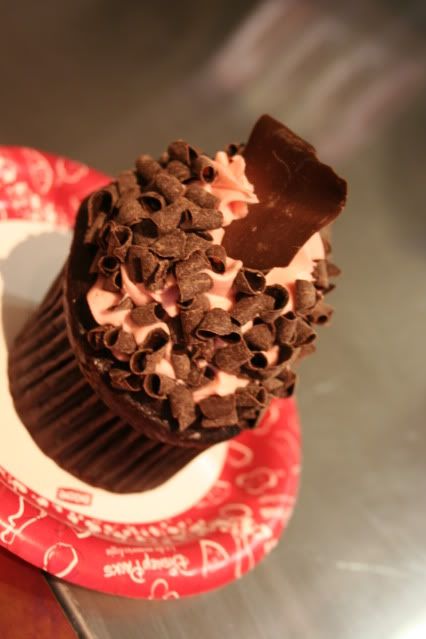 So I went with the chocolate raspberry. :)
The chocolate shavings were DELISH!! And the pink icing was also light and fruity and divine.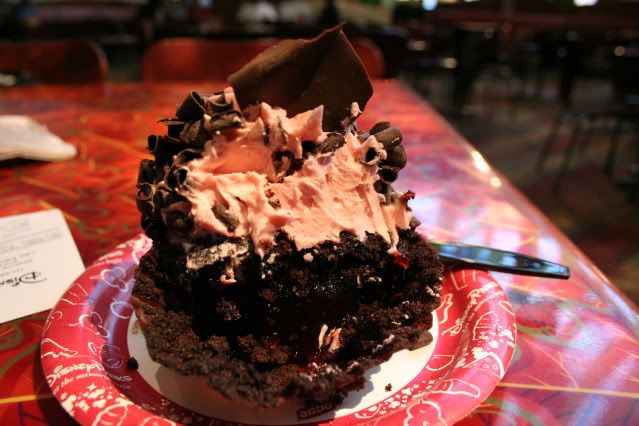 It seems like there must be an unwritten law that all Disney cupcakes must be HUGE and have fillings. This one had some raspberry jam, it was very nice.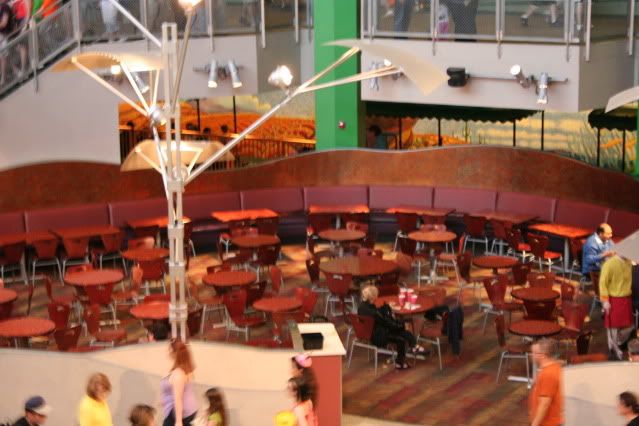 I sat down at one of those booths, looking up at the pretty ribbons gracing the ceiling...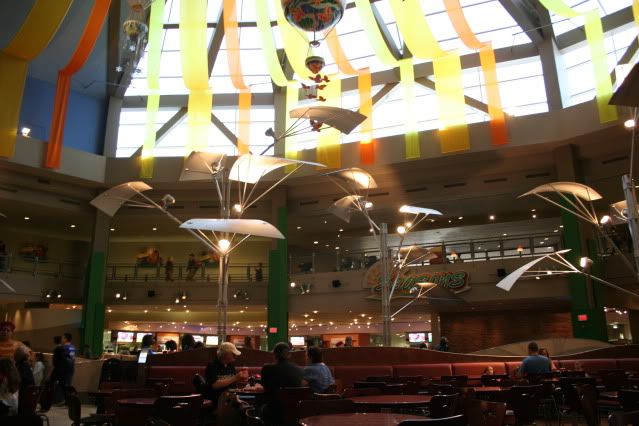 ...and also listening to the music. Do you know they play clips from the Sense and Sensibility soundtrack? A little Jane Austen in Epcot, love it!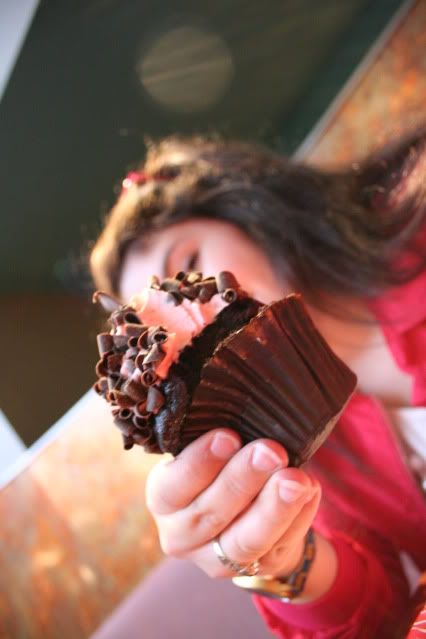 As is oft the case, I just could NOT finish it. But I have devised the perfect device for carrying around cupcake leftovers...
Yes, it is a plain and humble kiddie cup. By the time you've finished half the cupcake, chances are what you've got left is all smashed up anyway. So take off the wrapper and throw it away, put the remains in the cup and eat with a spoon as you walk along. Delish.
Even if you have a whole cupcake, a paper cup isn't a bad carrying receptacle if you have nothing else available. You can get one of the tall cups, carefully place the cupcake in, and then cut or tear the side when you're ready to eat it, then the icing will still be nice and (hopefully) in one piece.
Clearly I think about cupcakes WAY too much.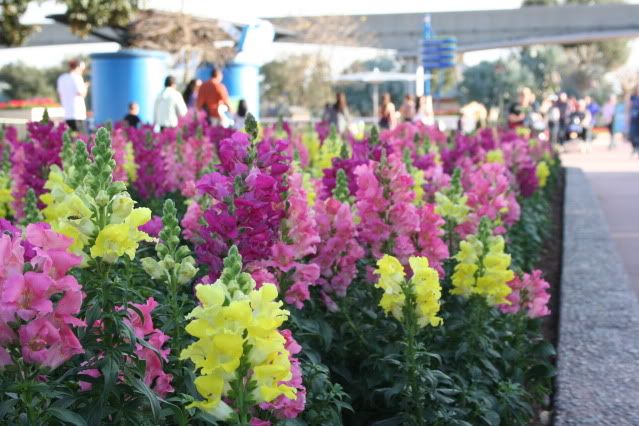 Hope it was a magical Monday! :)