It's Friday! Well, for me work-wise it's actually only Tuesday, but still, there's something rather joyful about Friday. :)
So how 'bout we see the weekend in with a leisurely little stroll around the French Quarter at Port Orleans?
A few weeks ago I found myself out that way with an hour or so to spare before an appointment, so I decided to stop in.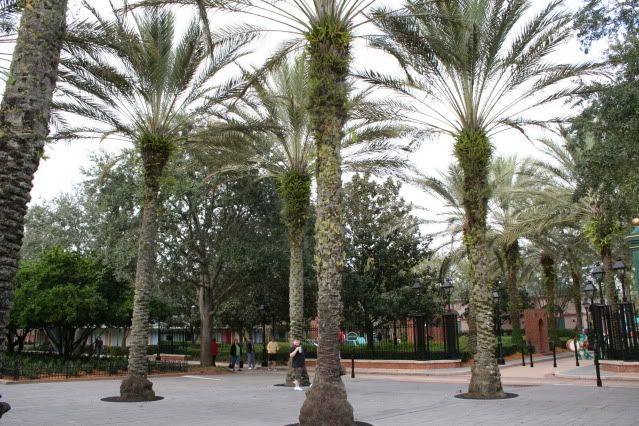 The prettiest parts of the French Quarter IMO aren't the inside of the lobby, they're the outside -- all the little streets, the palm trees, the colorful buildings.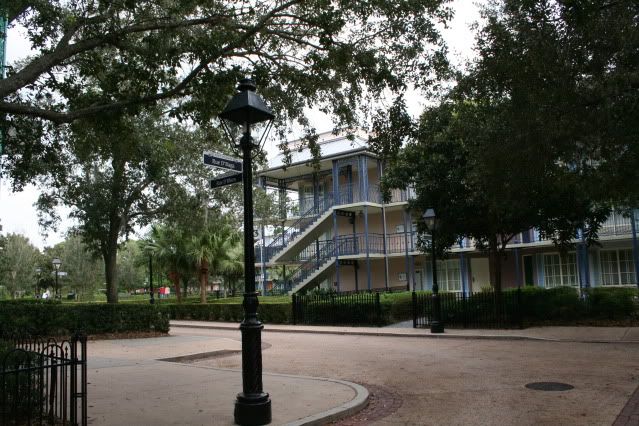 I first stayed at French Quarter when I was about 11 or 12. It was that age when your parents are just starting to let you go out and explore on your own. One evening I grabbed a radio and set out to explore the streets!
No one to tell you where to go, just your own two feet to follow, and no brothers tagging along, just me - it was like magic! Now, of course, I'm always exploring where I like by myself, but then it was the first time, and it was so new and fresh and exciting. Plus the place I had to explore was so much fun -- I've always loved miniatures and dollhouses, so all the pretend streets were like a miniature town from a dream!
I tried to discover all the fountains and courtyards...I made up stories of what would be happening in this sweet little town I had found myself in. I will never forget that hour my 12-year-old self spent by herself, just meandering and dreaming at leisure.
At 22, these streets and trees and courtyards and cosy corners have not lost their charm. I wandered lonely as a cloud, taking pictures, and the only thing I had to wish for was that my family was still up in one of those rooms, as they were on that trip 10 years ago!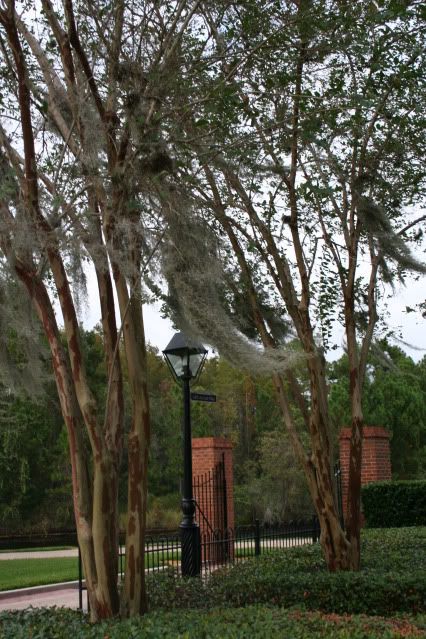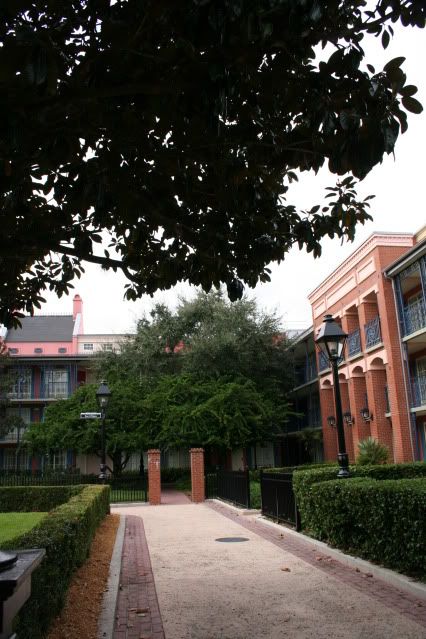 Look at that spanish moss blowing in the breeze! I love the brick gates, flanked by black iron fences and leafy green hedges. So elegant, but familiar and comfortable too.
I sat on a bench by the long green lawn and watched a family playing, a little girl in her Tangled dress toddling along as she tried to catch up with the Frisbee! It was fairly quiet -- probably because of both the hour and the time of year. It was quite nice before Christmas, late in November and early in December. It should be getting nice and quiet again...with the marathon right after New Year's the crowds have taken a little longer to die down, but they're leaving...gradually!
You can probably tell from the pictures...it was quite a grey day. When you're vacationing to Florida, you love the sunshine. But when you live here you learn to savour the cloudy days! There was a fine breeze too, and for once I could wear the sweatshirt I brought.
Look at how bright those railings are! They're like teal lace!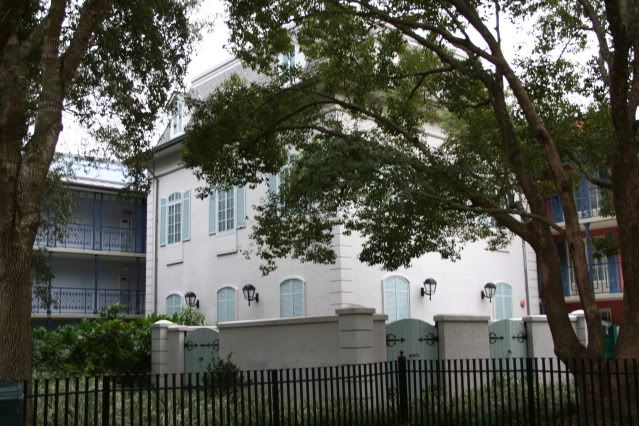 Doesn't this look like a mansion set on the corner? I'm fairly sure it houses the laundry/housekeeping facilities. But how cute are those colors? The pale stone with the robin's egg blue shutters.
I loved the black on the pale blue too. This would be another place where it would be so fun to do a photo session. now just imagine a couple smiling in the middle of that shot...lol!
More colors to admire! I tried to sneak a peek into some of the rooms to see the princess ones...but whenever you found a room with open curtains, there would often be a face peering back out at you! Oops!
I will leave you with a French Quarter classic: the spitting frog fountain! Thanks for taking a stroll with me, have a magical Friday!