Here we are, back at Monday again! Is it just me or is January just flying by? I wish it would slow down, January is my favorite month. :)
But every Monday at least I get to slow down for a cupcake! My last post was about the Polynesian, so this post is going to be about a Polynesian cupcake. Remember those
new gourmet cupcakes at Captain Cook's
? Last time we sampled the chocolate macadamia...today it's time for lemon ginger!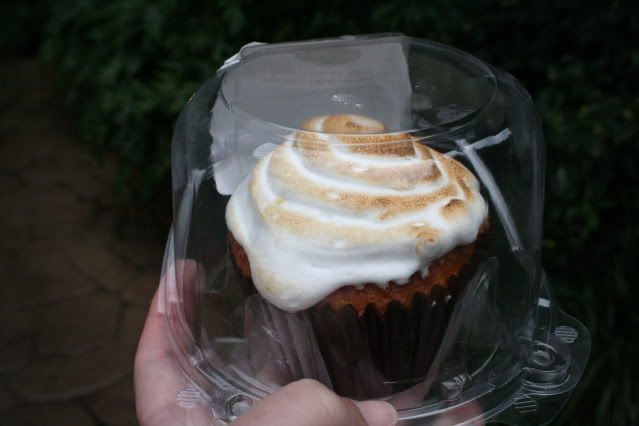 FACT. Cupcakes are even more delicious when eaten amidst tropical foliage.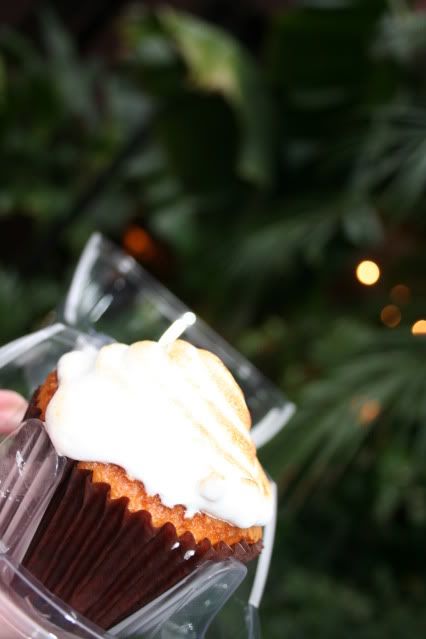 MMMMMMMMMMmmmmmmmmmmmmmmmmm
Beware of sneaky tiki gods...they may try to steal your cupcake!!
Lemon ginger cupcakes also look great poised on the arm of a Polynesian sofa. As I was taking all these pics, a lady across the lobby caught my eye and laughed and asked if it was my birthday. No, I just like cupcakes. And taking pictures of them, lol!
Oh, but maybe you want to know how it TASTES, and not just how it looks? ;)
I was a big fan of this cupcake. It was really good, and also it was really different from anything else I'd had. The icing was sort of marshmallow-y, like on a s'mores cupcake. The ginger cake itself was WONDERFUL. It was one of those times when you don't mind that there's not enough icing to go with the cake, because the cake stands alone.
Then on the inside was a lemon-y filling. When it comes to lemon in desserts, I usually am not a fan, but this filling I actually liked...it added this really light, refreshing element to the cupcake. I can see why they serve this one chilled, it would be really tasty on a hot summer's day! But then it was entirely enjoyable on my rainy Florida winter day as well. :)