During my tour of all these Disney decorations, I have to admit that it was the Boardwalk which was, in my mind, front runner for best decorations. I loved the trees and wreaths everywhere I went, but I felt like, at the Boardwalk, there were so many of them, and the swags were so bursting with ornaments, that the holiday decor really transformed the lobby completely and uniquely.
With this in mind, one evening when the blue sky was deepening to dusk, I took a stroll over to the Grand Floridian.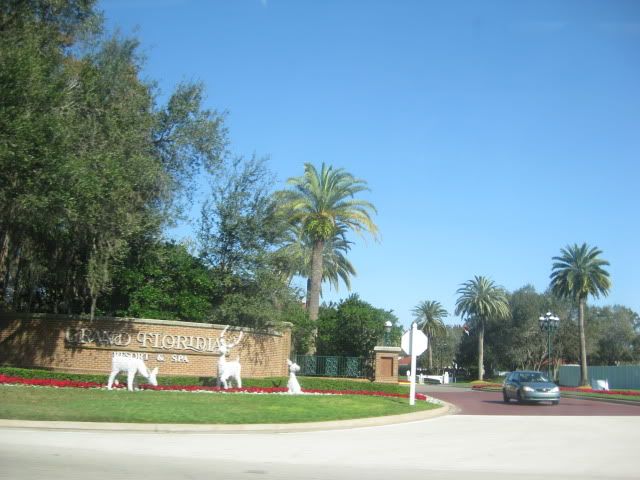 I pass by the gates - which during the Christmas season have some delicate little reindeer loitering in front of them - practically every day, but I hadn't actually gone inside yet.
The Port Cochere was promising - really elegant garland filled with silk flowers in muted pinks and purples.
More adorable reindeer to be found here as well!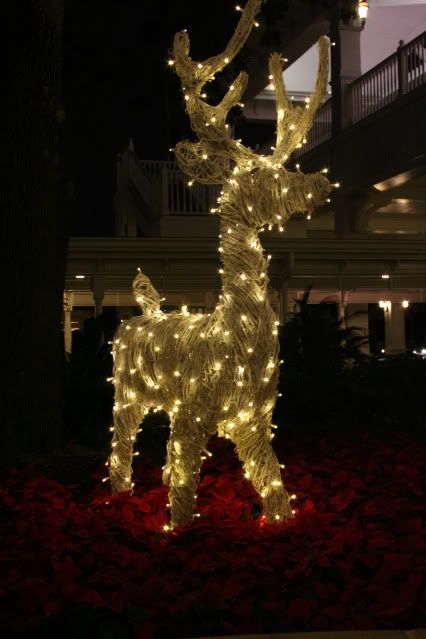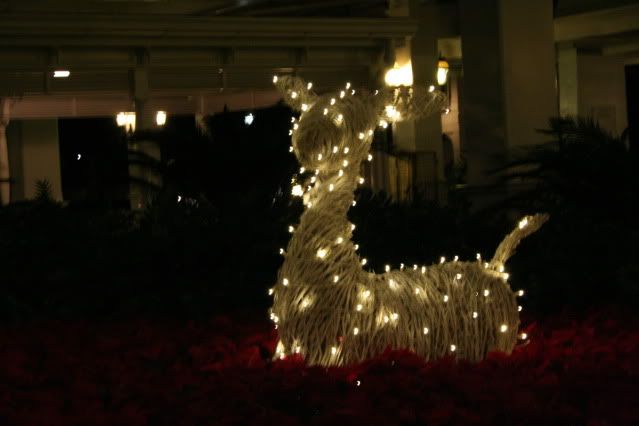 Now here's a random story: as I was taking the photos of these reindeer, I noticed a cast member with a large bucket of what appeared to be hazelnuts. There were some of them on the ground as well, and he was collecting them in a hasty and almost furtive manner.
We were standing right underneath a tree, so I asked him if they had fallen from the tree, and I get a very curt "No." Still persevering (whenever there's a mystery at Disney I like to know what's the story!), I asked if they were in fact hazelnuts; only to be told shortly that they were chestnuts, and the fellow hastened away.
I don't know what he was being so cagey about, I only wanted to know what they were! Well, there are no secrets on the Internet, and it turns out that earlier in the day they actually have a fellow out with a little stove who is roasting chestnuts and giving them out to guests. There was no stove when I passed by, so I guess they were in the process of bringing everything in.
Then I stepped in the Grand Floridian.
...and every thought flew from my head except: "WOW. This is CHRISTMAS."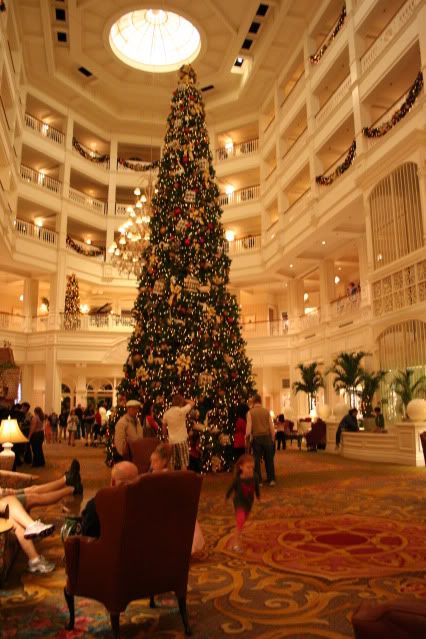 The Grand's lobby is such a large space, you wouldn't think they'd be able to fill it all, but somehow they do!
I admit it: the Grand totally tops the Boardwalk. Even the other resorts with huge lobbies, the Wilderness Lodge and the Animal Kingdom Lodge...I feel like the transformation is as complete as it is here.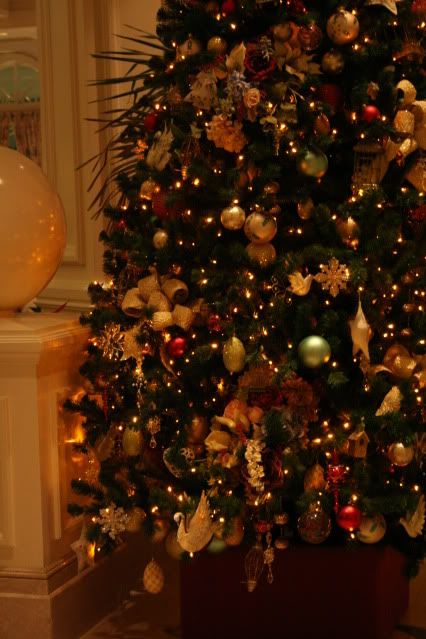 Just the ordinary-sized trees by the entrance are SO PACKED with ornaments. There are so many pretty things to notice - elegant birds and hearts and flowers.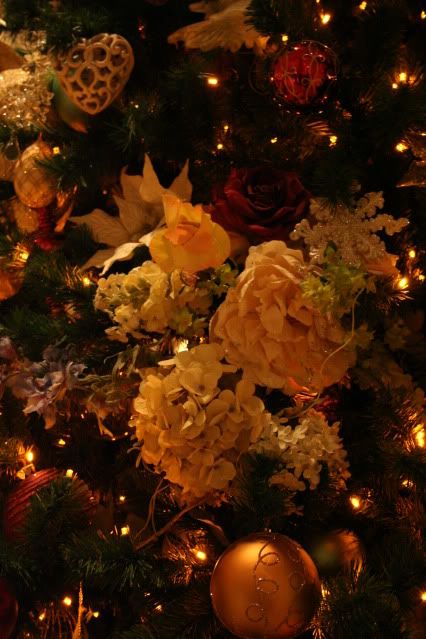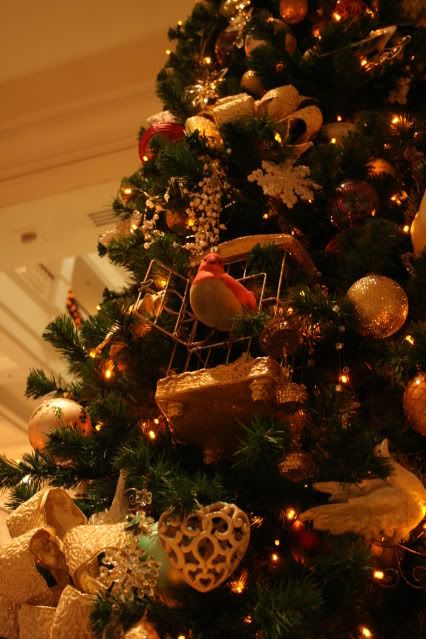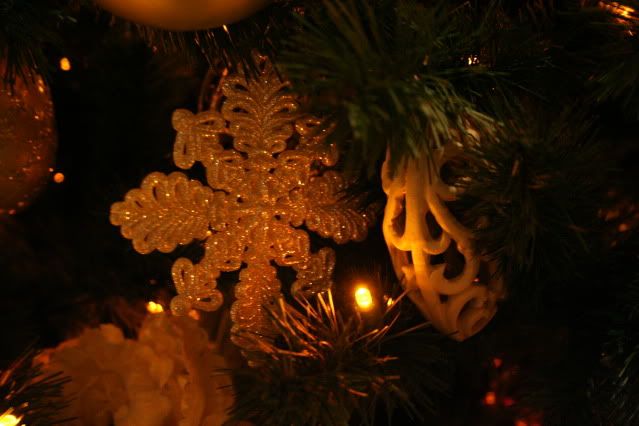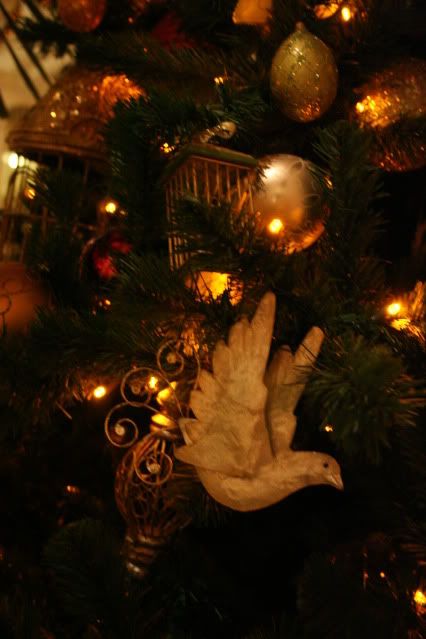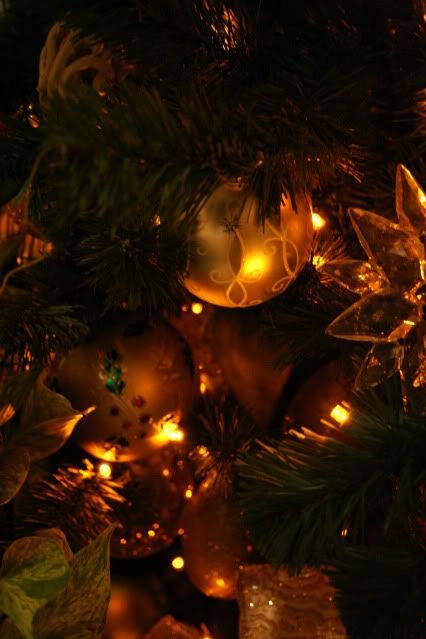 And that's only on the first few trees you see! Then you walk in and see the big, grand tree...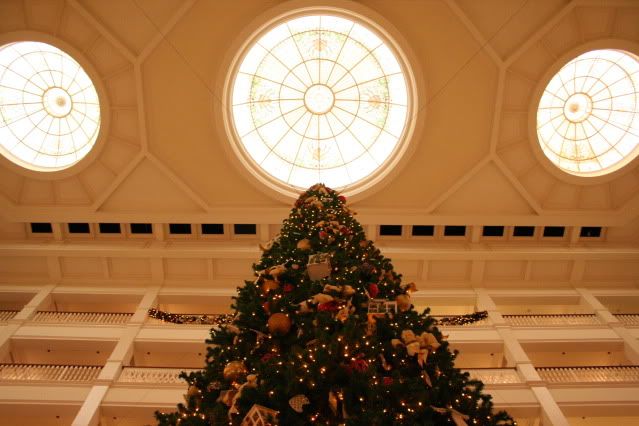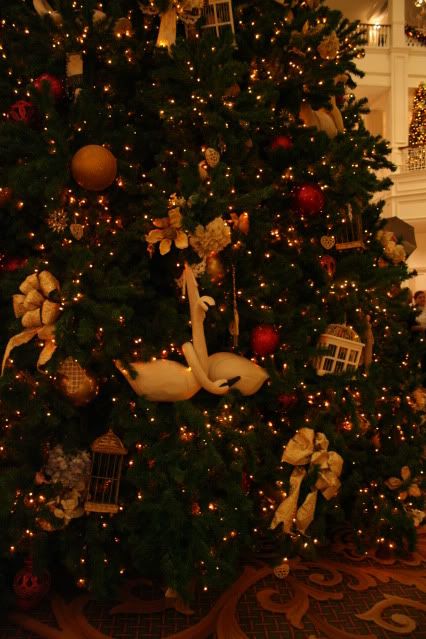 It is full of swans, bird cages, and angels! And then, of course, we come to the piece de resistance: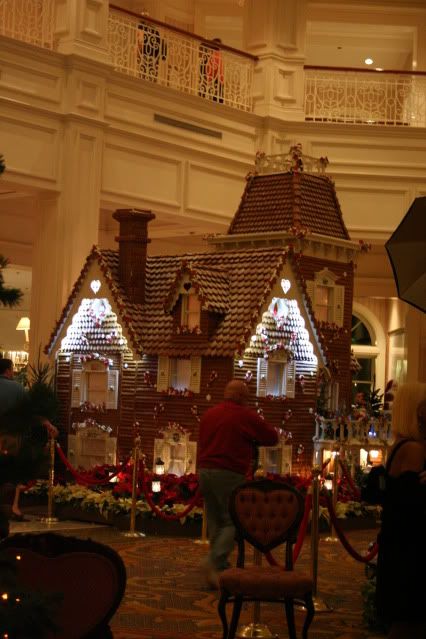 The biggest, prettiest gingerbread dollhouse you ever did see! I haven't been to see this properly in many years, and somehow I wasn't remembering it as this beautiful and detailed and delicate! I was expecting something much more basic, like Stitch's Bakery at the Boardwalk, but this was truly stunning!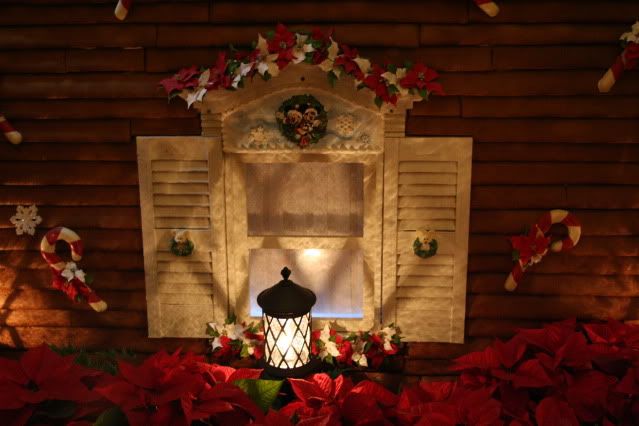 Look at how darling the windows are, with lanterns and Disney characters!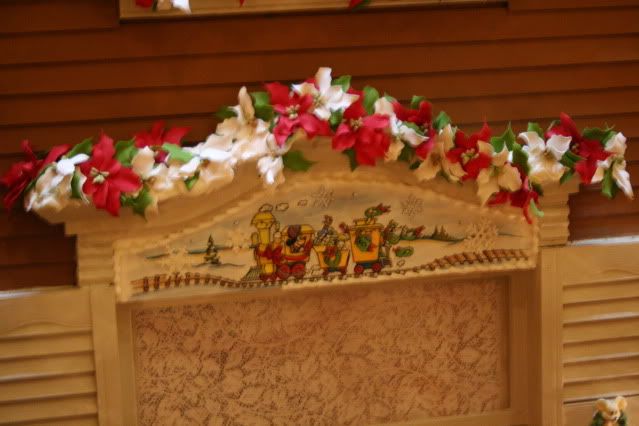 Each window had a different Disney scene! Here's mickey on a steam train. And of course the princesses were in there too...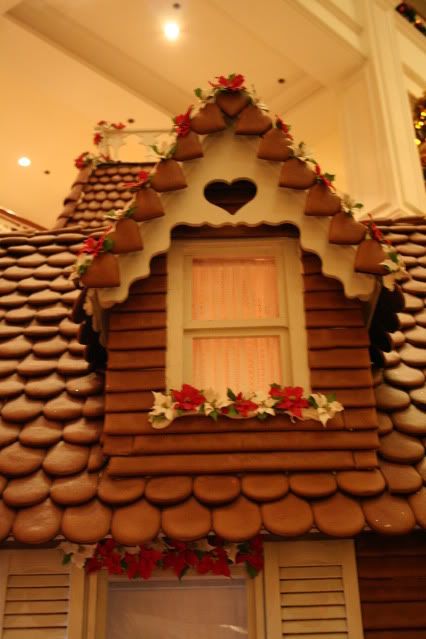 As soon as I could get over oohing and ahhing over the adorable shuttered, beflowered windows (complete with lace curtains), the rest of the gingerbread house left me even more in awe...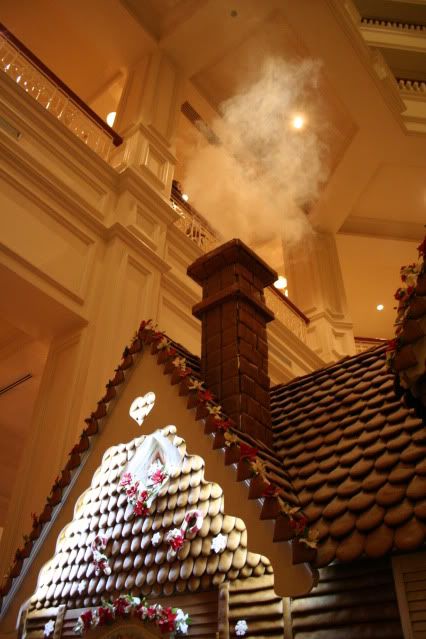 The chimney. actually. smokes. OMGoodness, that is just awesome.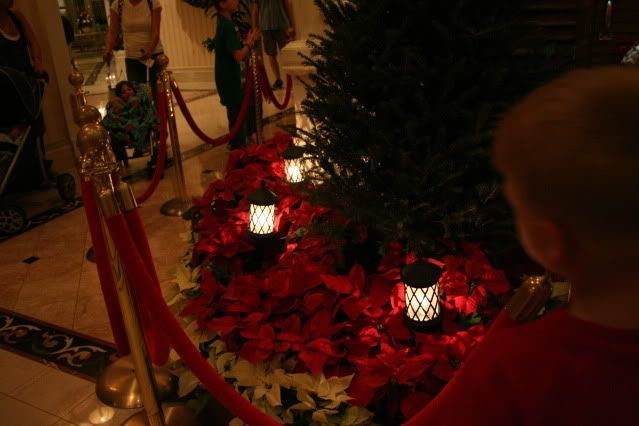 Plus it's surrounded by a garden of palm trees, poinsettias, and lanterns...
And then. the porches. OH, the porches. This thing is like a gingerbread dollhouse from a DREAM. There are chaise lounges, mini pine trees, snow, and little soldiers on those porches.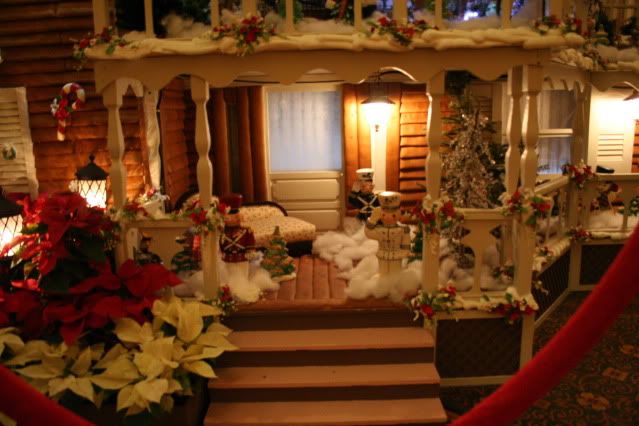 My American Girl dolls could LIVE in this gingerbread house. SERIOUSLY.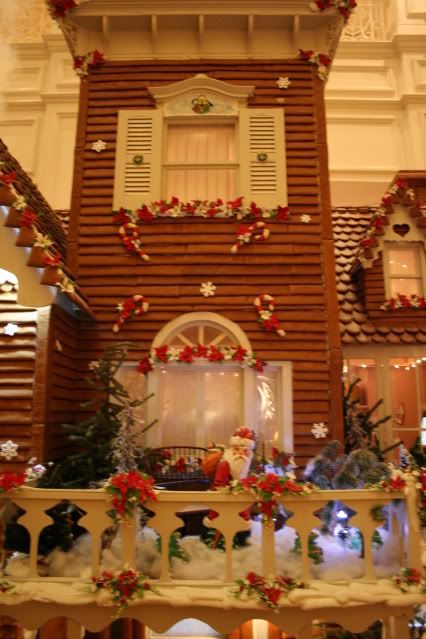 There are balconies too, with the man in red ready to slide down the chimney.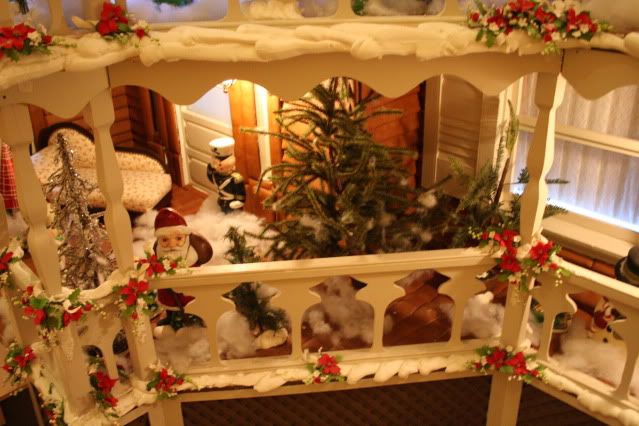 Have I mentioned yet how much I ADORE THE PORCH?? (Yes, the porch turns the corner and surrounds the house on like two or three sides).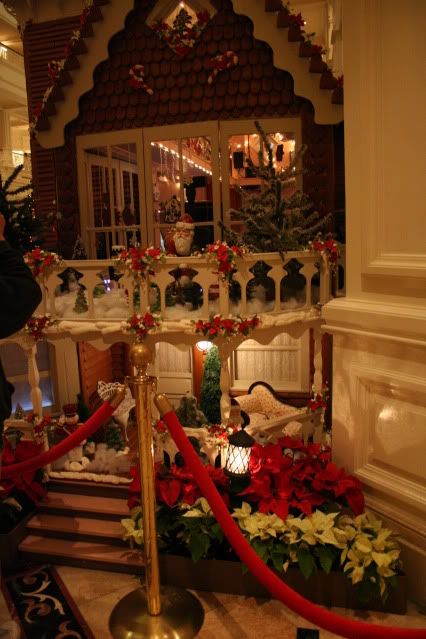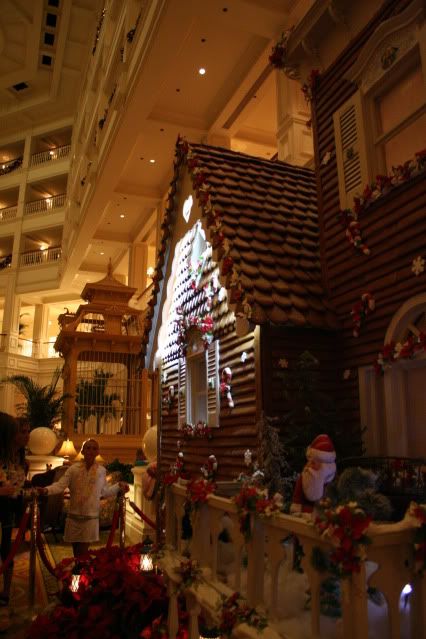 lol - are you sick of gingerbread yet? Then let's look at some of the sugar flowers!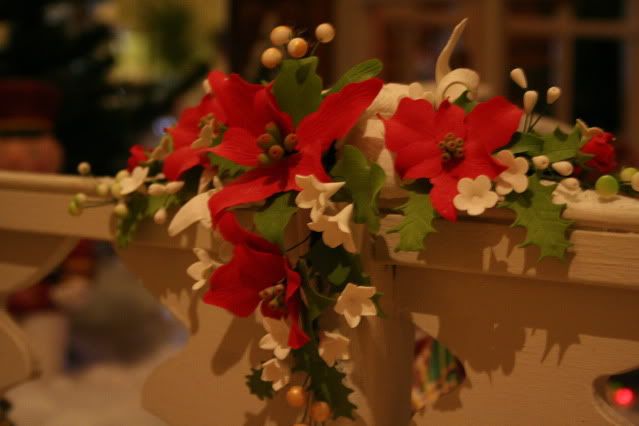 The red petals and white berries are so charming! I want a little pin like this, or to put it on a hair clip.
Sorry for the shadow-y/party blurry factor with all these photos. For the most part when I was taking pics of decorations I tried to go earlier in the day to get the light, but with the Grand I didn't quite make it!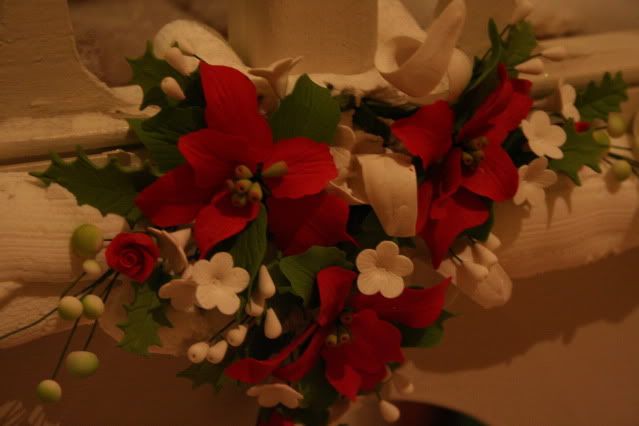 One more, because I can't resist it! I rather had to battle the crowds to get these photos, the area around the gingerbread house was packed with admirers...
The line to get to the window where the actually sold the sweets was quite long, so I just admired that from afar.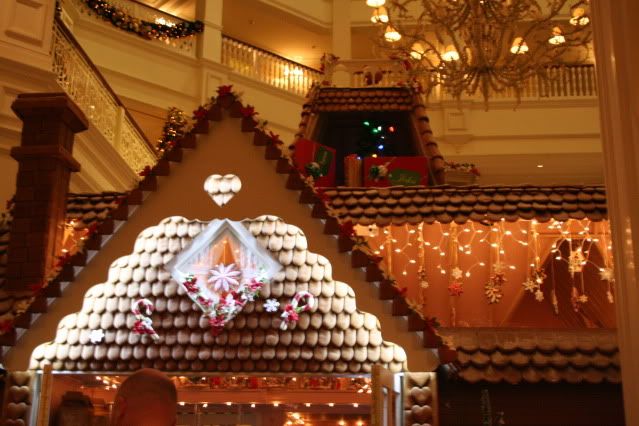 The back of the house had an open ceiling...with lights and hanging snowflake cookies!
Eventually I tore myself away from the gingerbread and went upstairs to have a look around!
The banisters were hung doubly with garlands...one on each side of the railing.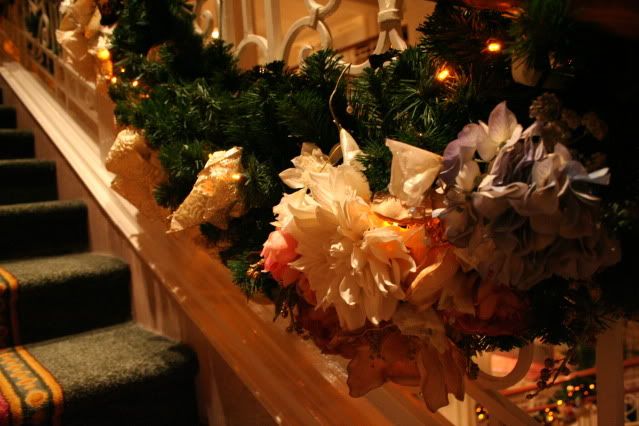 They dipped gracefully, almost to the floor, loaded down with silk flowers and golden-tipped roses.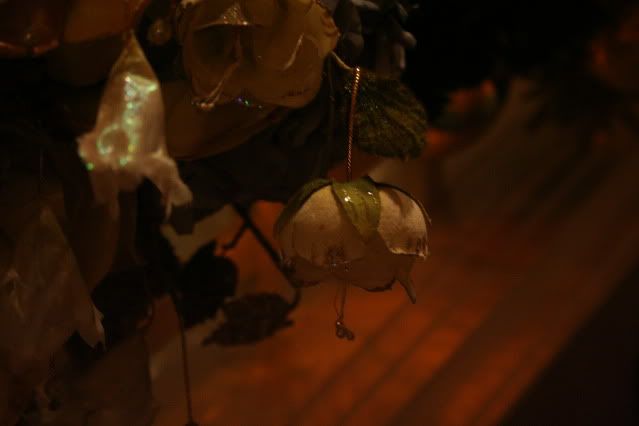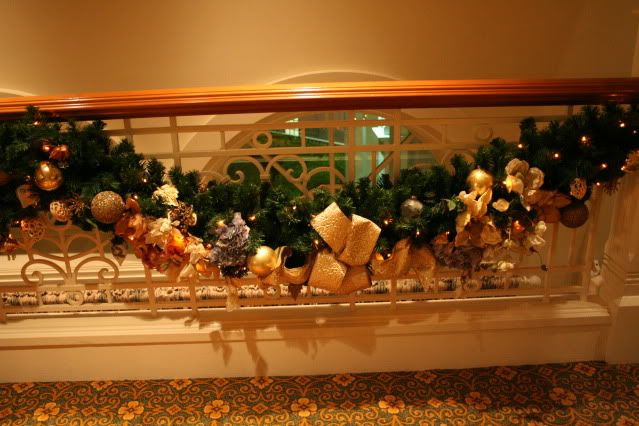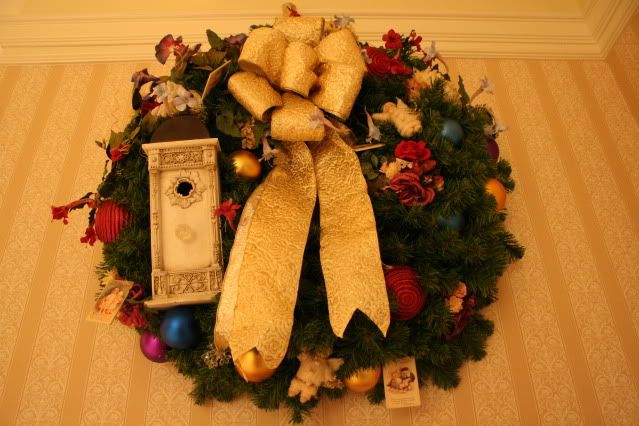 I adored the wreaths hung all around upstairs. Each one seemed to have something different and interesting hung in it. Like this one, which had a birdhouse comparable to Downton Abbey it looks so fancy!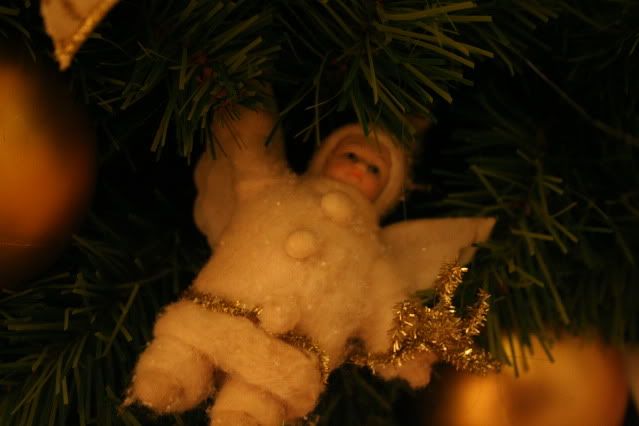 Also a sweet little angel tucked away.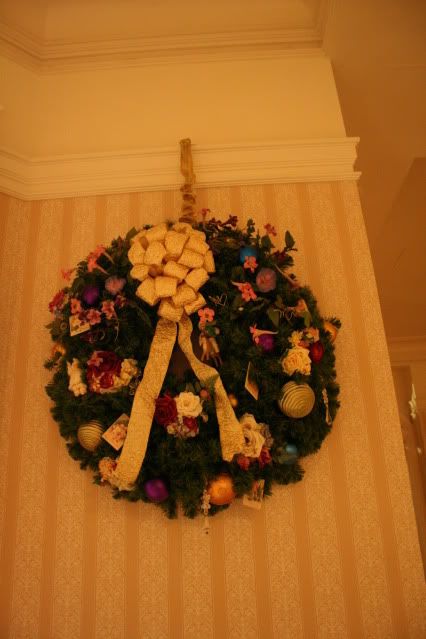 Another detail that I just adored was the vintage Christmas cards hidden in the branches, with such sweet poems written on them. This one said:
May every joy that's seasonab'le,
And every wish that's reasonab'le,
Be granted you this Christmastide.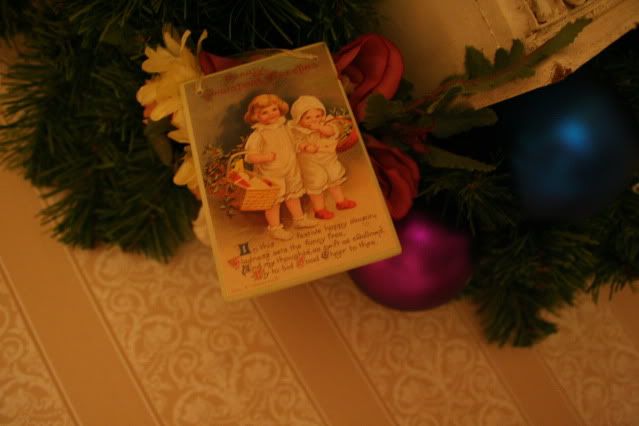 In this festive, happy season
Gladness sets the fancy free,
And my thoughts as swift as swallows,
Fly to bid Good Cheer to thee.
Why don't cards say cute things like that anymore? ;)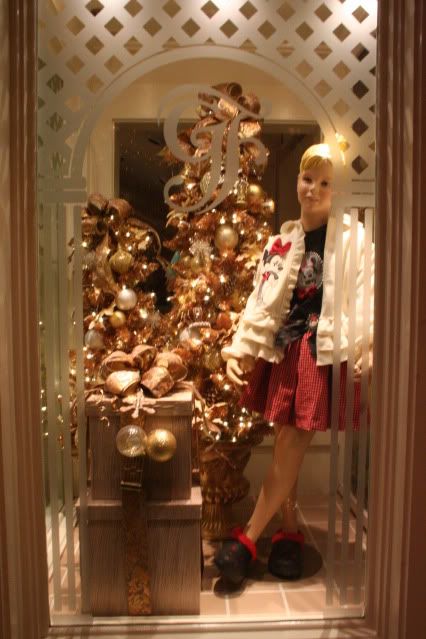 Lots of fun decor in the shops too!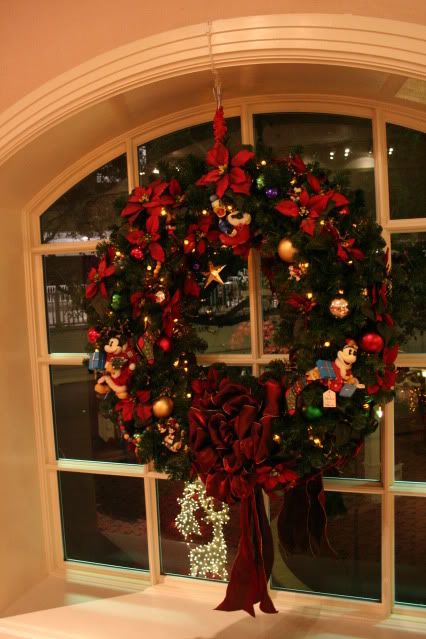 These wreaths had really fun fab five ornaments.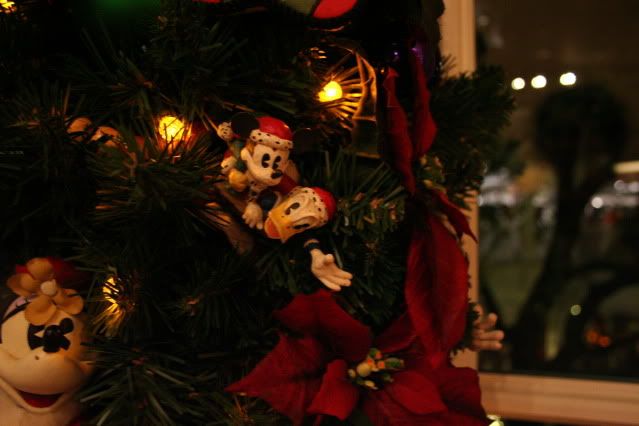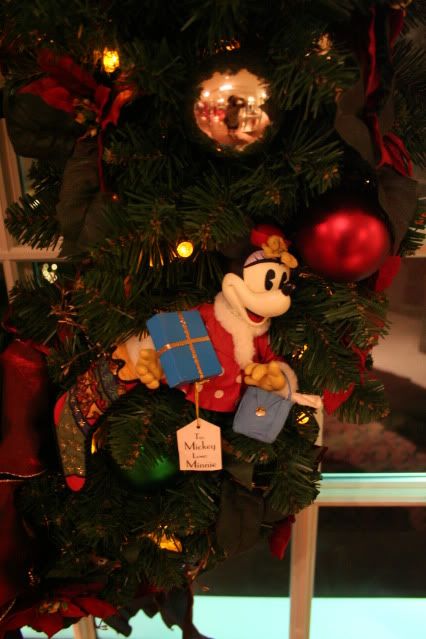 Well, if you're sick of Christmas decorations by now, I can't blame you. To be perfectly honest, I'm just a little exhausted myself. (tho probably that's from wrestling with photobucket, lol!). But I thought it'd be nice to go out of the festive season with the gorgeous Grand...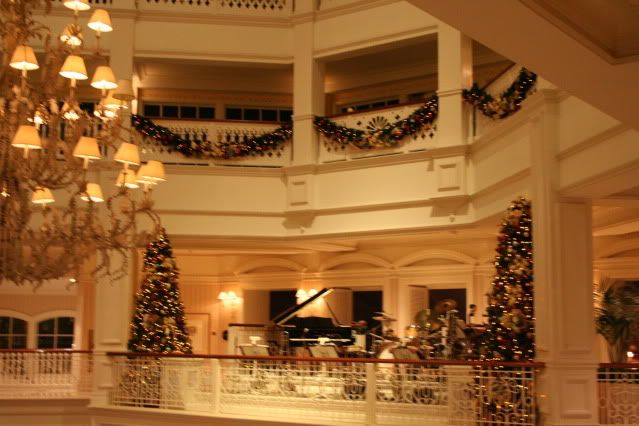 Trees flanking where the band plays!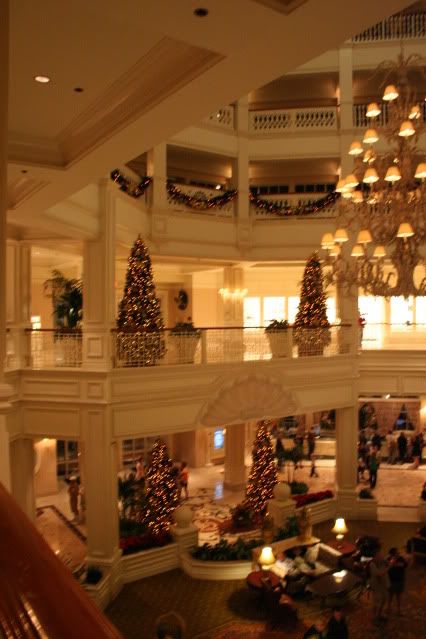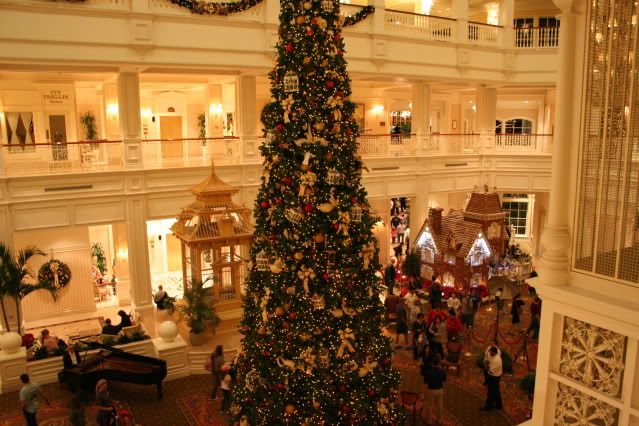 I was truly impressed with the Grand. Before, I thought the Grand Floridian decorations were a bit hyped, but after seeing it this year I'd say it's not to be missed!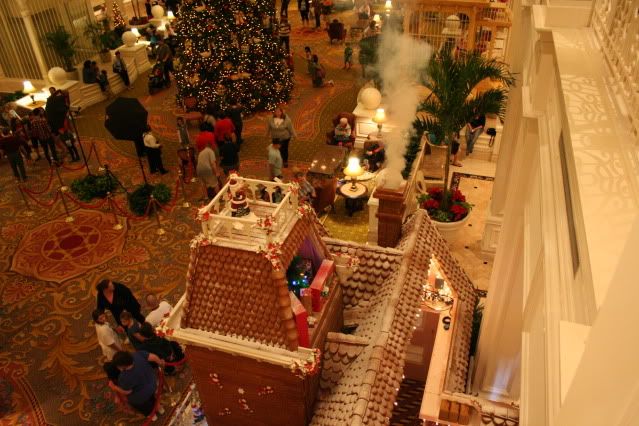 Thank you all for coming along with me for a few extra days of holiday pictures. :) I hope everyone had a *magical* Christmas. 2012, here we go!