Well, Florida finally got the memo. It only took until January, but it finally feels like winter here in the sunshine state!
I expect by the end of February it'll be 90 degrees everyday again, but for now, snow bunny that I am, I'm just enjoying the cooler temps and the luxury of being chilly enough to wear long sleeves and sweatshirts. I know, crazy, right?
To keep with the cold theme, today we're going to visit Disney World's premier milliner's, that is hat, shoppe...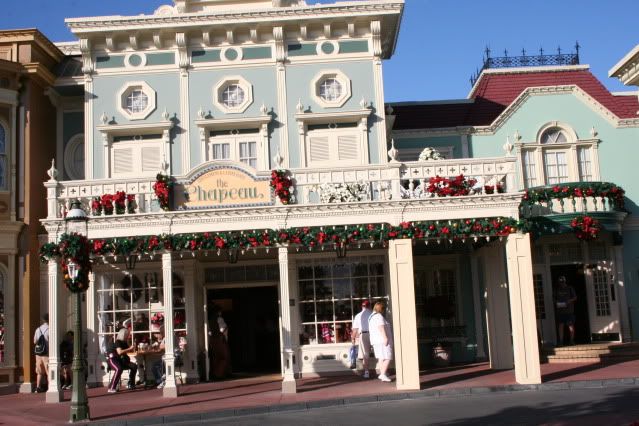 Le Chapeau! Of course, the hats sold here will do you very little if you're trying to keep warm -- but they are pretty adorable, and the decorations are fabulous as well!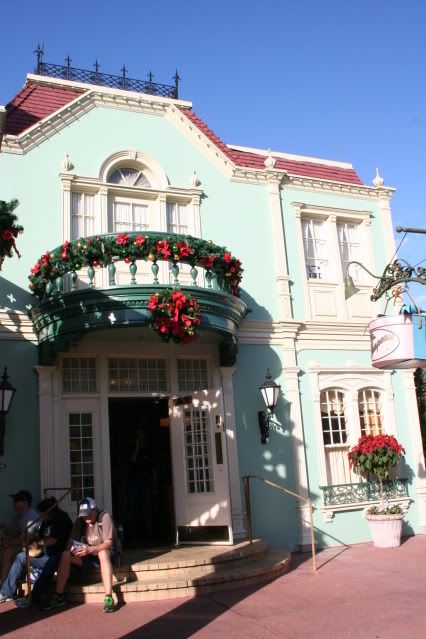 Usually when I'm on Main Street I'm too busy rushing hither or thither to actually notice what the buildings look like. Well as I was taking these pics of Le Chapeau I realized what a cute little building this shop is tucked in! I love that robin egg's blue!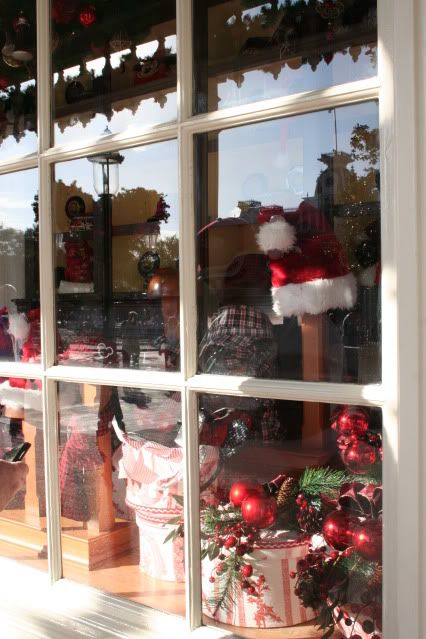 The inside is just as darling as the outside!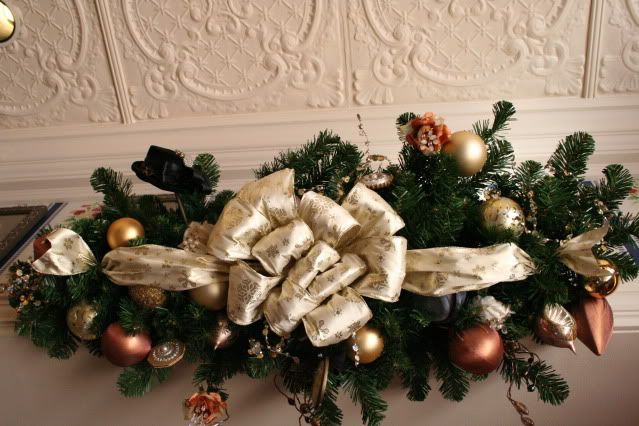 Note the fine plasterwork on the ceiling tiles, and of course the fabulous holiday decor! Take a closer look and you'll notice some pretty fun things are peeking out of all that greenery.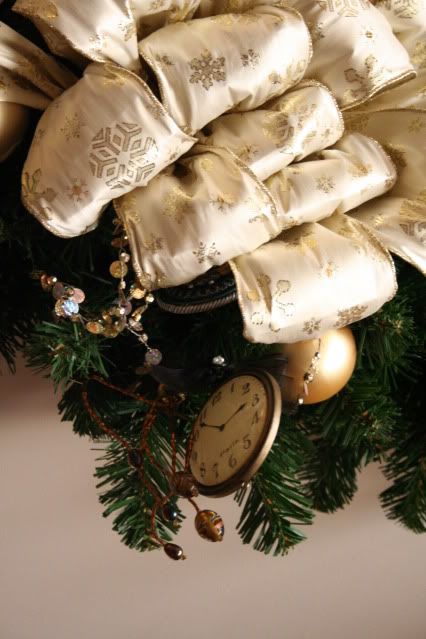 Maybe the White Rabbit's been here?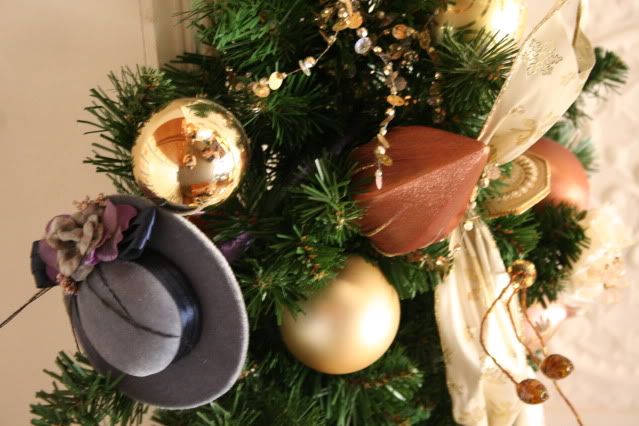 Gorgeous miniature hats!! They were so adorable, they looked just the right size for an American Girl doll!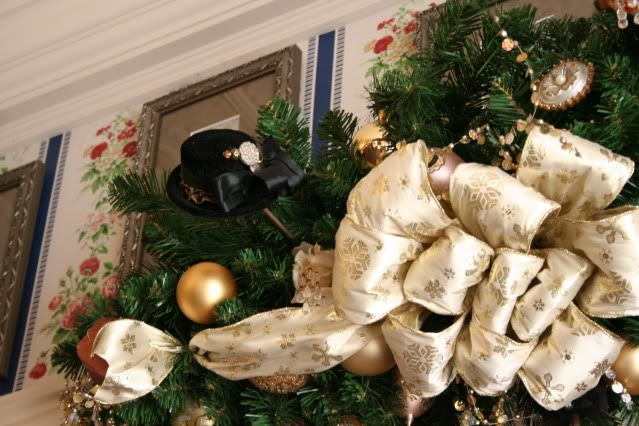 I spot a rather elegant top hat!
It's winter, dahling, of course there's got to be fur!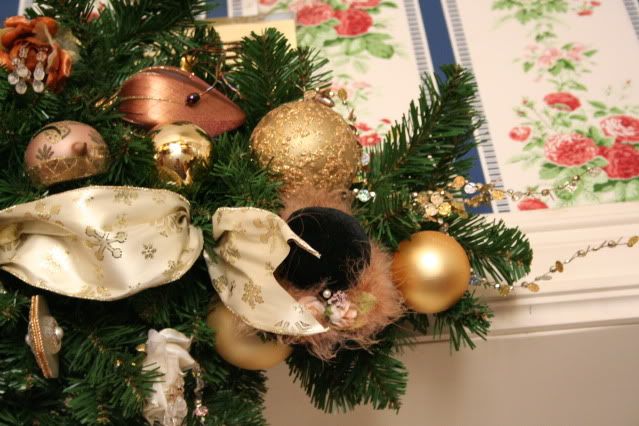 That little hat is full of peach fluff!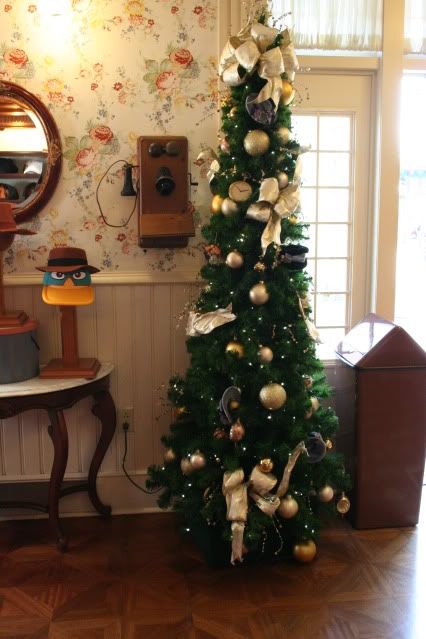 An elegant little tree tucked in the corner by the telephone (which I believe used to be further down Main Street...you can still hear some conversations if you pick it up!).
They are now selling an Agent Perry hat. That's just plain cool.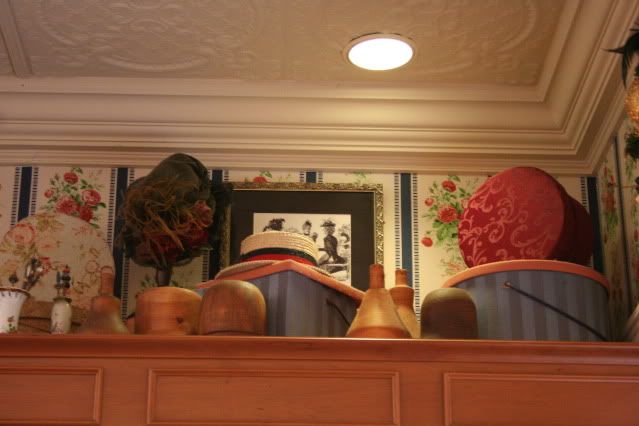 Even the non-holiday decorations here are so fun to look at.
Love the old fashion plates! And look at how pretty the wallpaper is, with pink roses climbing up between the stripes. I wish I could just move into Le Chapeau. It would make the prettiest apartment!
Alright, last picture! I'm so glad I stopped in Le Chapeau - its little hats and elegant turn-of-the-century colors made it one of my favorite decoration spots!