A few weeks ago I walked into the Magic Kingdom, and found, to my surprise, it was Christmas morning!
lol....ok, so it was a created-for-television Christmas Day, and it wasn't as
simple as just walking into an empty MK. But it was still really fun -- I went over to see some of the Disney Parks Christmas Day Parade taping!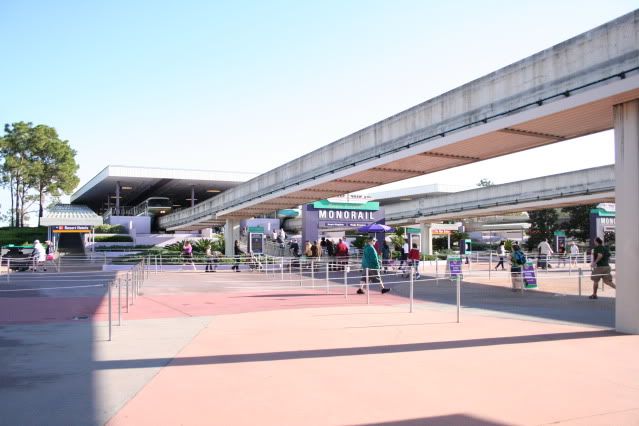 I parked at the TTC around 9. There were looooong queues set up for the monorails...you could tell they were expecting big crowds -- all the parade-watchers with tickets plus the normal park guests! I didn't have a ticket, so I knew I wouldn't be able to get an official spot along the parade route, but I was still looking forward to cruising Main St. to see what was going on.
It was a glorious morning, so I took the steamboat over. Love that view of the castle!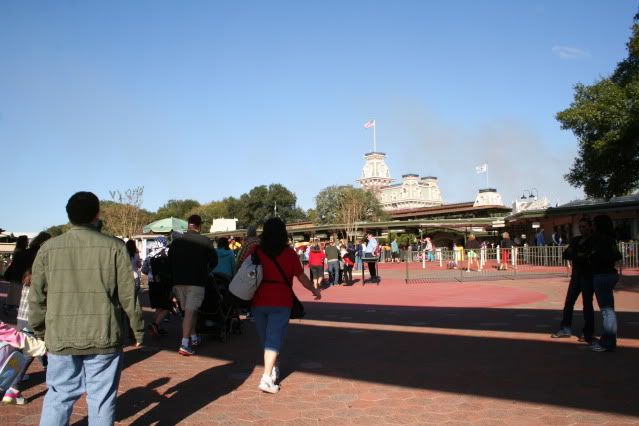 There was a special security entrance for the people with parade taping tickets. I think some parts of the taping, of some of the castle stage performances, had started much earlier in the morning.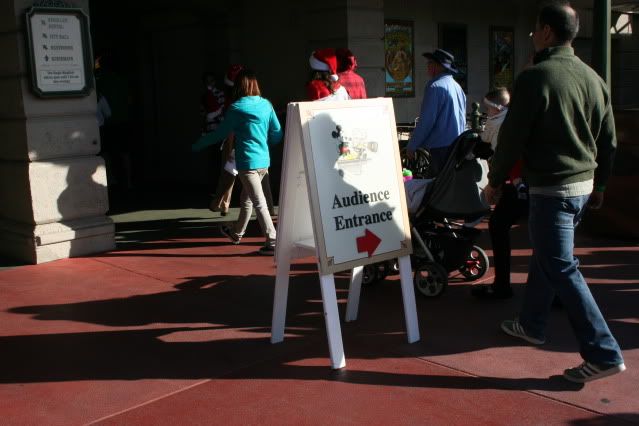 So here's my understanding of what would happen if you had a ticket to be in the parade taping audience (which tickets, fyi, I believe you have to know a cast member to get). You would come into the MK, show your ticket, and be ushered to a spot along the parade route. You would then sit there. Forever.
...or at least until the parade and all the filming had been finished. Apparently they don't like to let you leave, because if they don't have the same people in different shots it makes editing difficult. I was rather glad I hadn't bothered to get a ticket, because it looks like you kinda get held hostage for the whole day!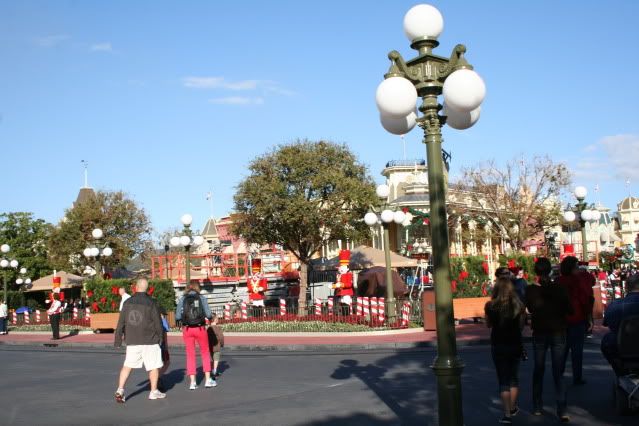 The big Christmas tree was gone, and town square was taken over by film crews and filming paraphanalia.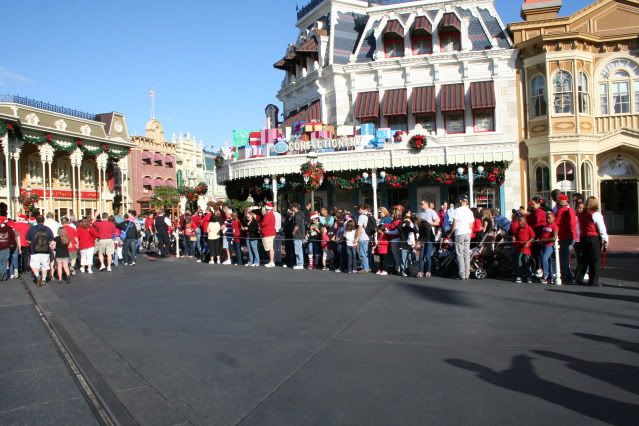 Crowds filling the spots around town square...
Little stage in town square. Not sure what it was there for, but I guess I'll find out when I watch the Christmas Day parade!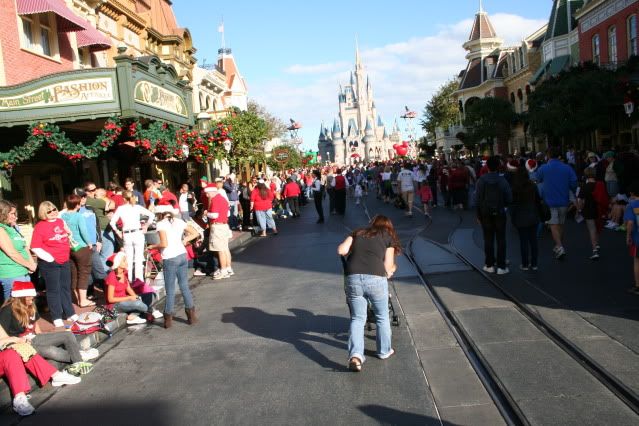 It was kinda weird walking down Main St. with all the people lining the streets with nothing to do but watch you. lol!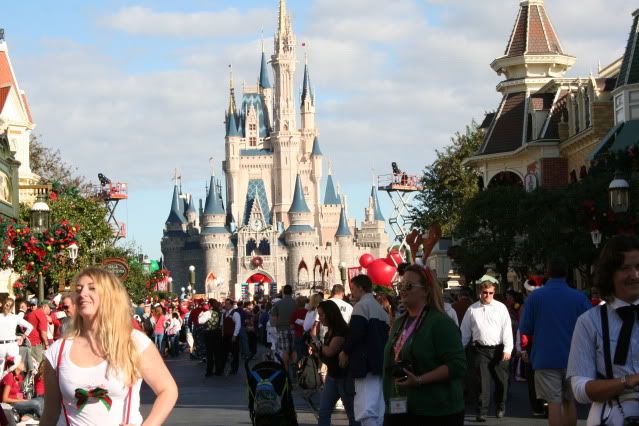 There were plenty of cast members standing around in loud holiday-ish vests, so I asked one of them what was happenin', what was the schedule for the day. Conveniently none of them seemed to know, but a photopass photog told me they were just finishing shooting something on the stage.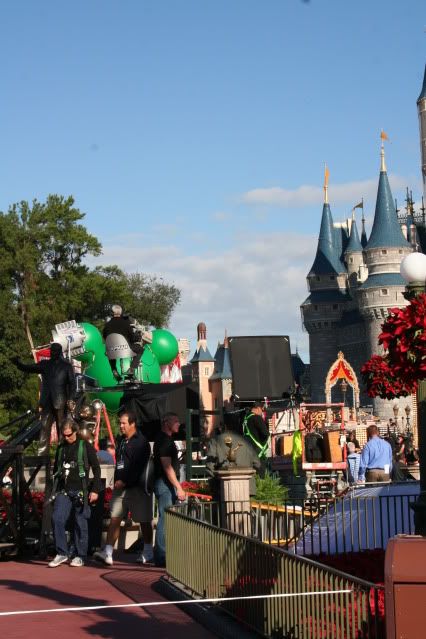 Big cameras pointed at the castle stage! By the time I got up to the hub the performers had gone in...talking to a family hanging around I heard I had just missed the Biebster (Justin Bieber that is) by about 10 minutes. What a shame... *rolling eyes* LOL. I also was told that most of the performances had been shot the day before, and that Jennifer Hudson, Scotty McCreary, and some other American Idol people had been there. I am kinda sad I missed Scotty...I love the new country amer. idols.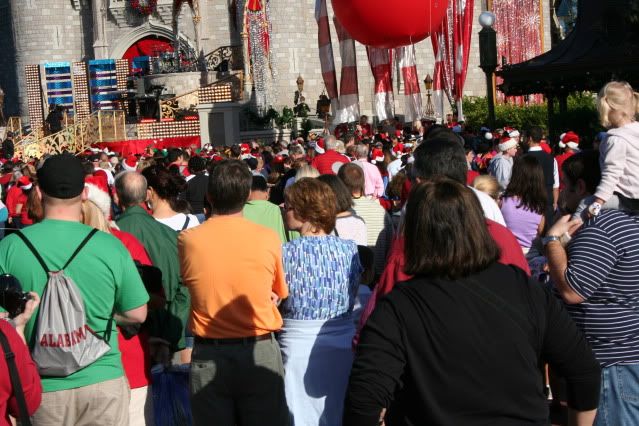 Though I'd missed the actual show, it was interesting to get a glimpse of the sparkly stage decor.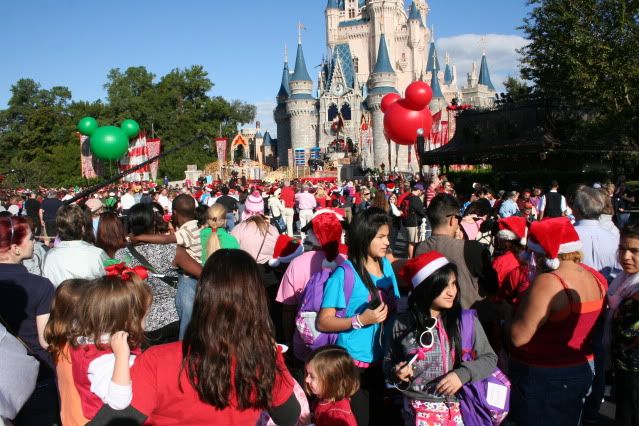 Love the giant Mickey balloons! And all the santa hats in the crowd! They were still filming crowd shots, and it was interesting to hear the MC pepping up the crowd.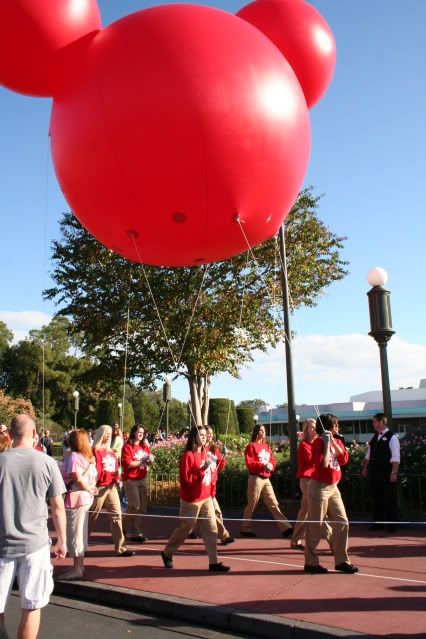 Pretty soon the balloons walked off for their next appearance!
Nothing else seemed to happening by the castle, so I strolled back down Main St. I was feeling a rumbly in my tumbly at this point, since I hadn't had any breakfast before leaving the apartment. The line at the bakery was INSANITY. But luckily, Casey's was serving breakfast as well!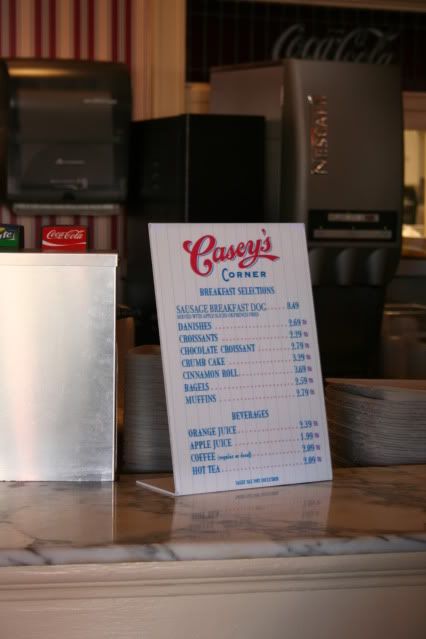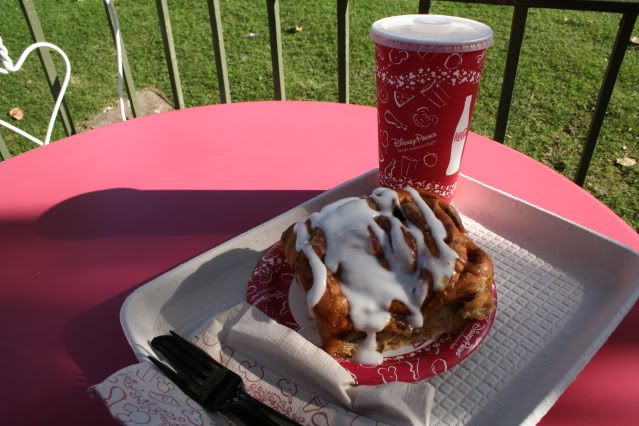 I can never resist a cinnamon roll. And there was even an empty table! The breeze was cool and pleasant, but so was the warm sun shining on my face. Some of the cameras moved rolled down main st., but otherwise not much happened.
The MC who had been presiding at the stage went down to the hub and was once again pepping up the crowd. He was kinda goofy but had a great announcing voice...apparently he's been a CM for 30 years and has worked at basically every stage show on property.
At one point he was leading the crowd in Jingle Bells, and this other voice comes over the speaker saying "MC, can we have radio silence for five minutes?" It sounded like a director from some show at Hollywood Studios, only it was a realy tv sceneario, which was kinda cool! Five minutes later he came back on and said "Thanks, you can talk again..." And so the MC started ramblin' on some more!
I had been thinking of staying at my table to watch some of the parade go by, because I had a fairly decent view, but by now it was after 11, and there was still no sign of floats or characters. I had to be at work that afternoon, but I decided I had time for a ride or two...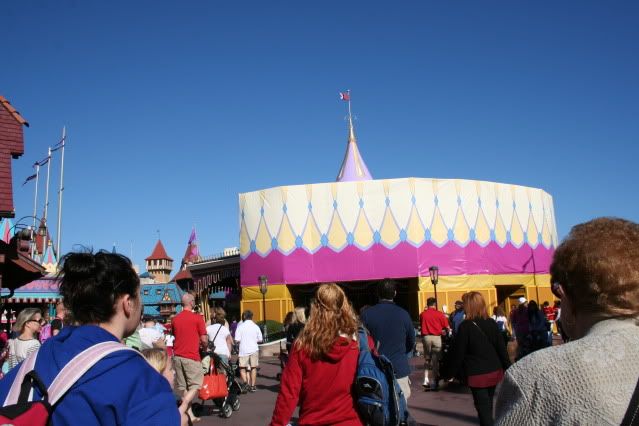 I meandered into Fantasyland. The rest of the park, apart from Main St., was fairly quiet.
Buzz had a 3 minute wait, so of course I had to rock it out as a cosmic commander. ;)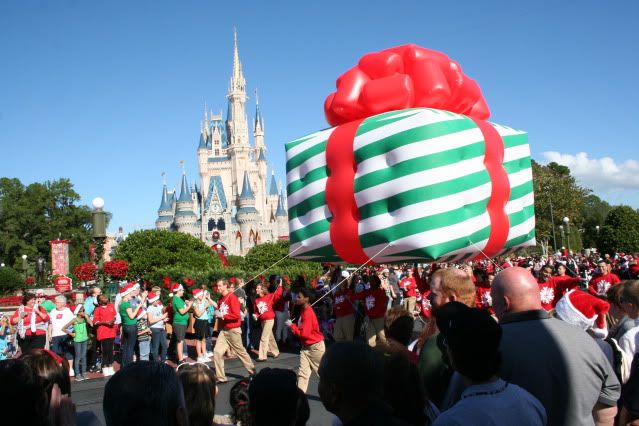 Upon heading back toward Main St. to exit the park, I found a giant present floating in front of the castle.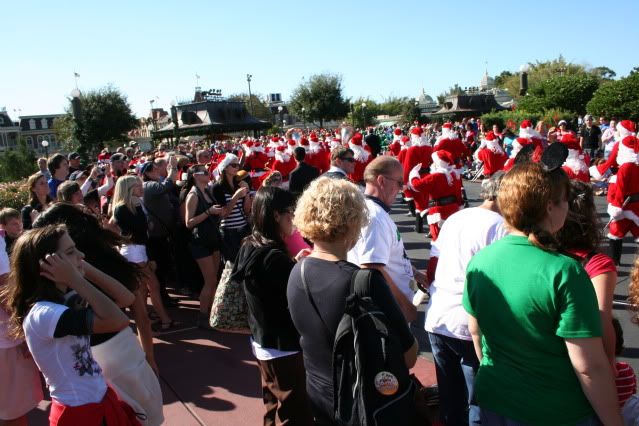 Then I looked and saw...could it be?...and army of Santa's filling the street!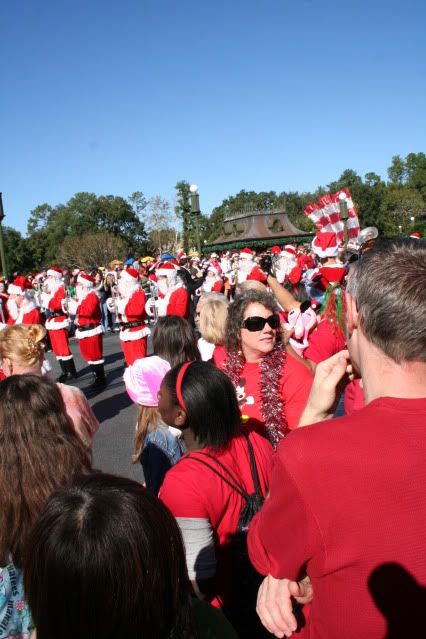 Then I saw...even cooler...that it was a MARCHING BAND!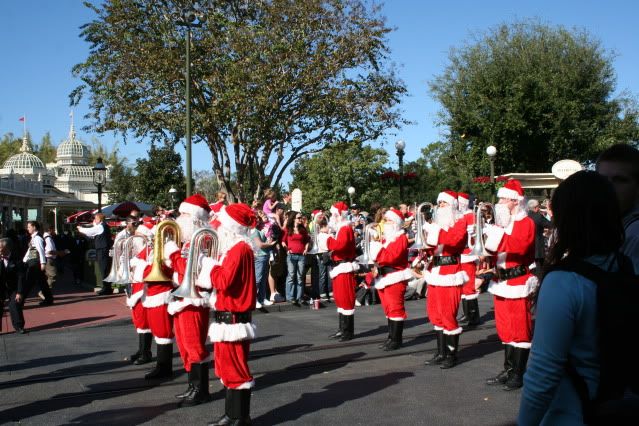 Those suits and beards must've been hot though!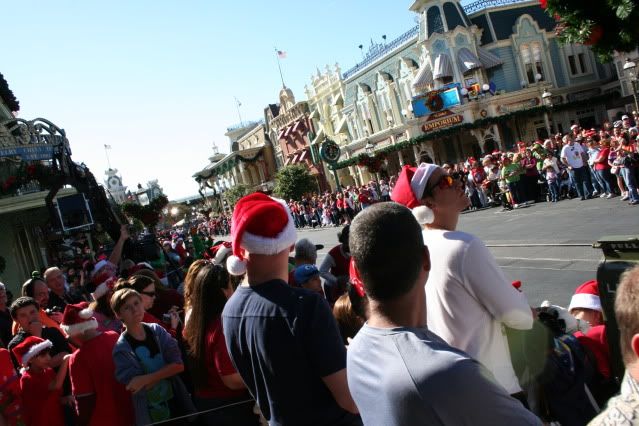 Crowds...still waiting. It was now noon, and there was *still* no action on Main St. and these people had been there since before 9 am. I'm just not sure I could do it!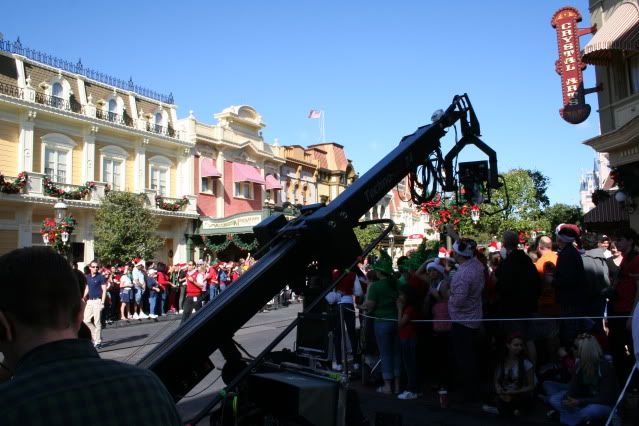 I ducked into the Emporium since it was easier to navigate than the packed and now-narrow sidewalks. I could still see a bit of what was going on though...it looked like the floats were finally moving into position! A giant Christmas tree floated over the heads in the crowd...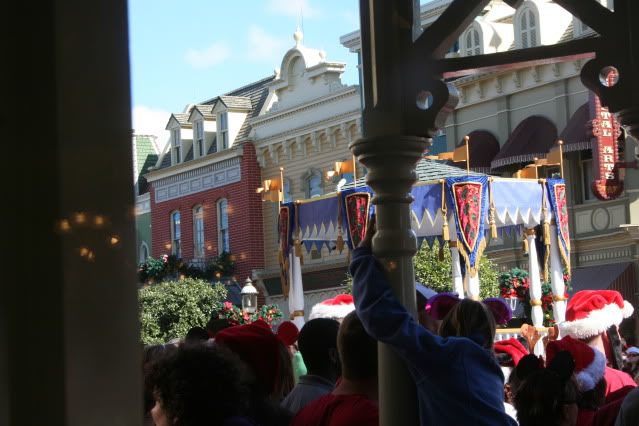 And a gazebo looking like it was destined to hold some waving princesses!
Scooting between vinylmation displays and pin racks and every-other type of Disney souvenier known to man, I made it out of the Emporium and was just about to cross when the CM's stopped us. It was for the best reason though...the characters were *just* coming out to ascend their floats. If I had left the Emporium a minute earlier or a minute later I would've missed it!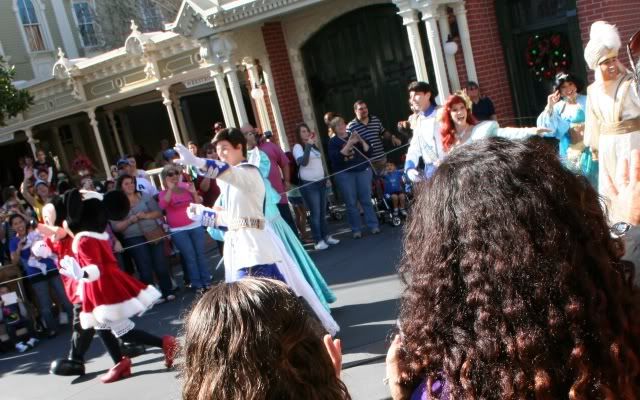 Yay! It's Mickey and Minnie and the princesses and princes!!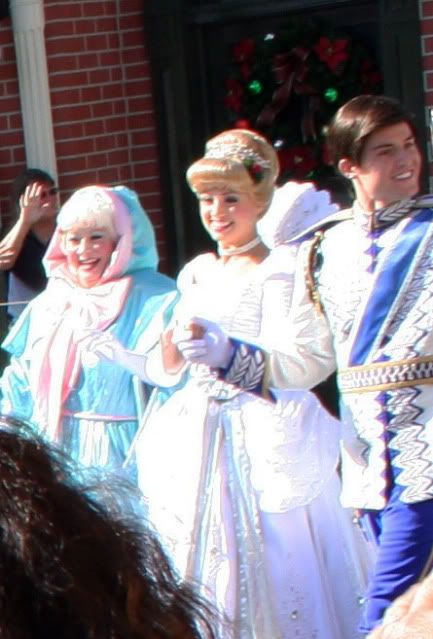 Looks like they pulled the pretty white Cindy dress from the stage show they had a few years ago out of storage! And I love the sprig of holly in her hair.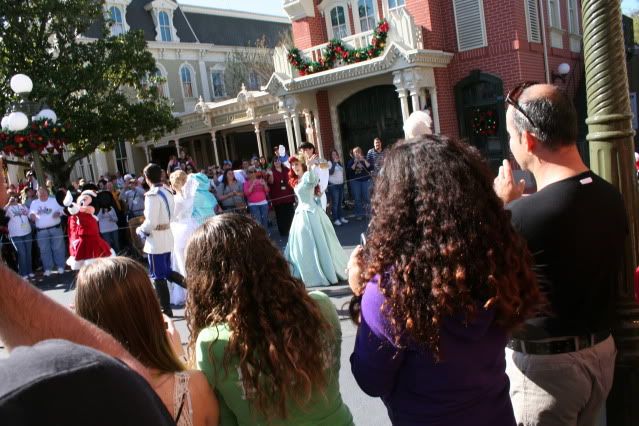 The cast of Peter Pan and some skating snow flakes!
I didn't realize this until looking at the pics afterwards, but do you know who that guy in the red swim trunks is?? I think it must be Mowgli!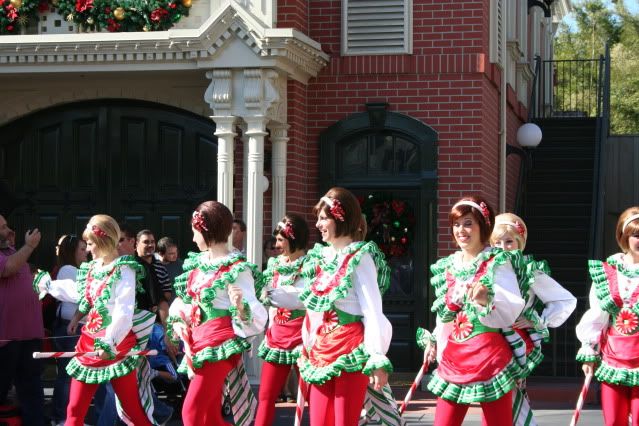 ...decked out in every conceivable Christmassy costume!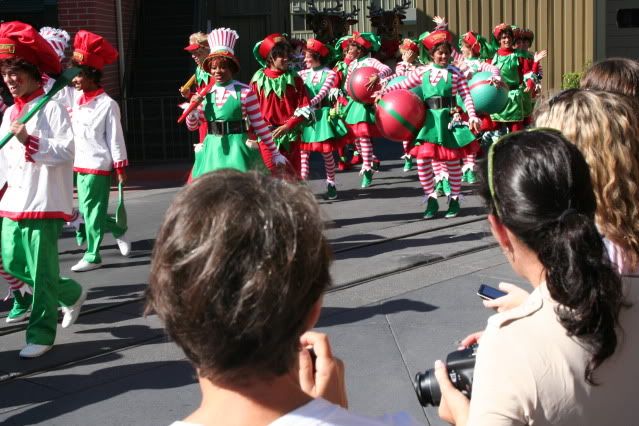 Kitchen elves...only they look a lot more cheerful than the ones in HP! ;)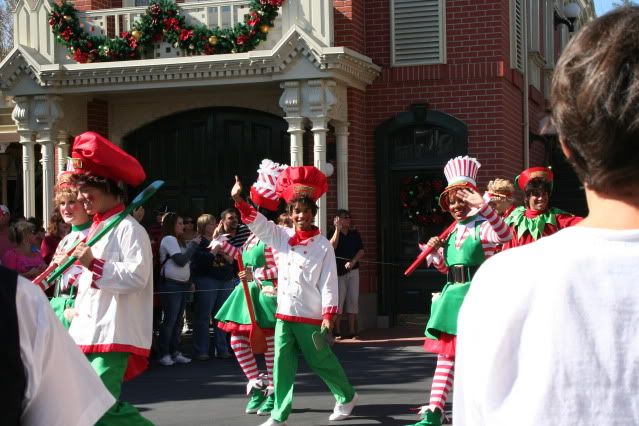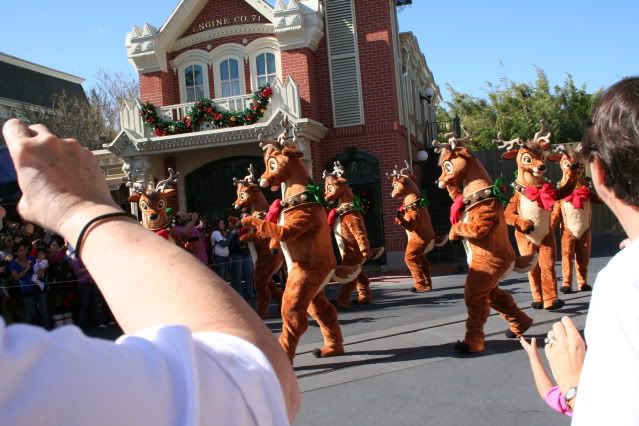 I did not see the big man in red himself, but I did see his reindeer!
It was so much fun to see the characters parading by, I felt like I got to see a little slice of the action!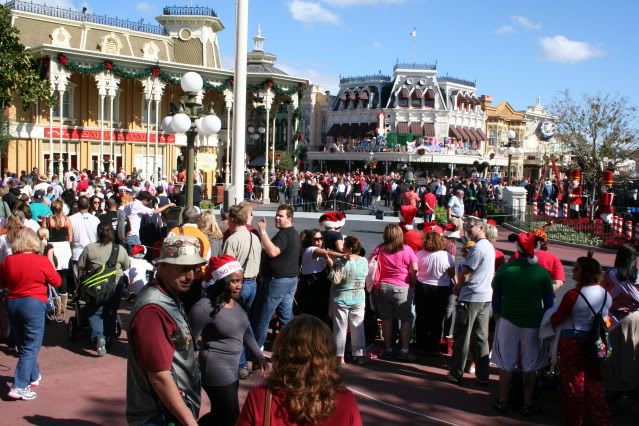 One last shot of the scene unfolding. I had to leave to get to work, but I'm really glad I got to go over and experience it. I'd never been in the park for the parade taping before, so it was fun to see a bit of how it worked. And who knows, I was in the Main St. area most of the morning...maybe on Christmas day I'll see me in the corner of the tv screen, eating my cinnamon roll!