PHEW. Another busy Monday. Almost over.
I'd say we all deserve a cupcake, wouldn't you agree?
Today we're going to look at a cupcake that's been pretty hyped since it arrived on the Disney dessert scene. It's got a gorgeous swirled top of icing, it's from Epcot, and it's drenched in ooey gooey warm caramel. Know what I'm talking about?
I'll give you a hint: it's from in here, Germany's Karamell Kuche! (random observation: rainy days are the best days for cupcakes!)
Sometimes when you head into the Kuche you get lucky, and they're freshly caramelling up the sweets!
AREN'T THEY JUST SO PRETTY??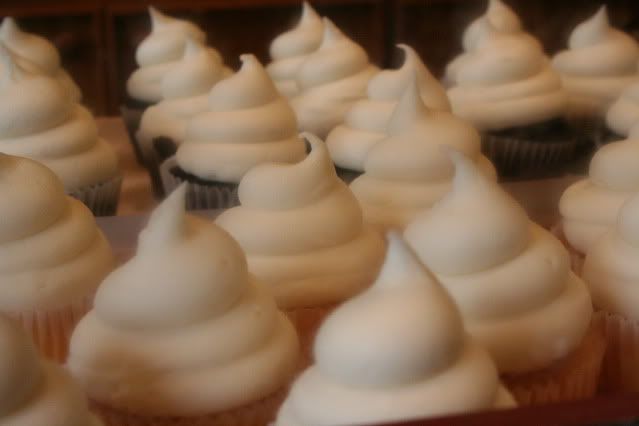 Oh yeah. It's pretty enough for two photos. And these babies don't even have the caramel on them yet.
Totally ADORBS. I wish they'd let me buy the darling little cupcake stand along with the cupcake, then I'd be completely and totally in love.
The only thing the Karamell Kuche is missing is seating. When I got cupcakes with my fam, we had to take them over to America to eat.
I'm a big fan of this cupcake. It's the three things every cupcake should be: adorable, delicious, and chocolate.
I have only one warning to make: the icing is *extremely* sweet. I mean, just sitting on the border between "Whoa, very sweet, but yummy!" and "WHOA, I can't handle this much sugar!!!" If you're the type who doesn't like dole whips and isn't a fan of overly-sugary desserts, this might not be the cupcake for you.