Alright -- I have just one last (slightly late!)

Halloween treat

to share with you guys.
You see, I had heard that there were some neat spooky offerings at the

Main St. Bakery

at the Magic Kingdom. On those nights when I went into the park right before the party, I had stopped by the bakery to see, but that late in the day they were sold out.
One super-nice cast member said they always have them out in the morning, and sometimes they save some for the party. When I told her I wasn't staying for the party, she went in back to have a look if they could sell me one then. No luck -- but she did come out with something even better than a cupcake...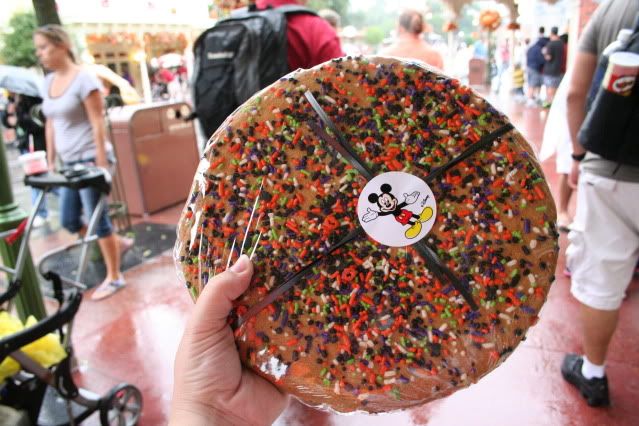 A GIANT HALLOWEEN COOKIE! When she handed it to me (it was free, mind!) I just stared at her in disbelief. It totally made my night.
It was bigger than my head!!! I still have it here at the apartment...I'm only about half way through it!
I absolutely adored the

colossal cookie surprise

, but I still felt a duty (as a Disney-cupcake-lovin' blogger!) to get a look at those Halloween cupcakes!!
The last MNSSHP was last night, November 1st - so I figured it would probably also be the last day they sold the cupcakes. I made sure to get there in the morning when they wouldn't be sold out yet!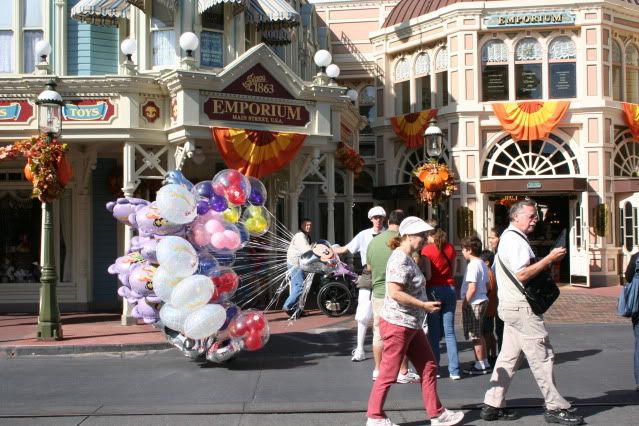 It was rather breezy out that day -- not unpleasantly windy though.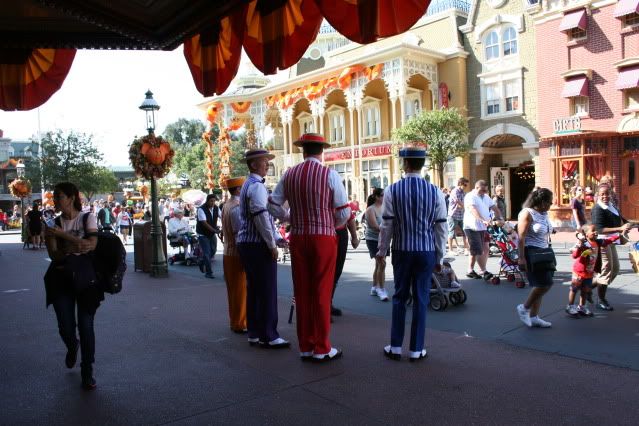 I wonder how many of the Dapper Dans are actually named "Dan."
It was also an absolutely

ideal day

to be in the park -- cool breeze, sunshine, low crowds, and short lines. Before I could think about any rides though, I had to get my Halloween mission accomplished!
Inside the Main St. Bakery! They had lots of mini pumpkins that it looked like guests had decorated and signed lining the ledges in the bakery.
Yay!! I see some a mini version of my cookie (which, by the by is rather buttery but entirely delish)...and Halloween treats!
There was a mummy cookie, a jack o' lantern cookie, then three cupcakes:
A monster and an eyeball...
And a cupcake that landed on a witch...lol!
The cupcakes were quite cute...but honestly, they didn't look like anything I couldn't make myself. I asked, and the flavors were just plain chocolate and vanilla, no special fillings. Plus those delicious warm cinnamon rolls were staring at me down the counter. So I decided that just the pics of the cupcakes would do...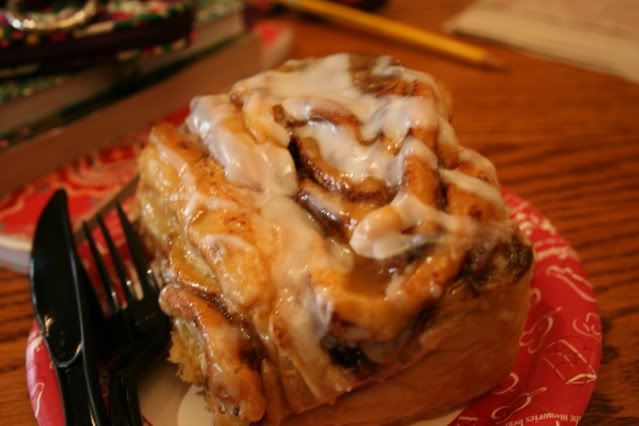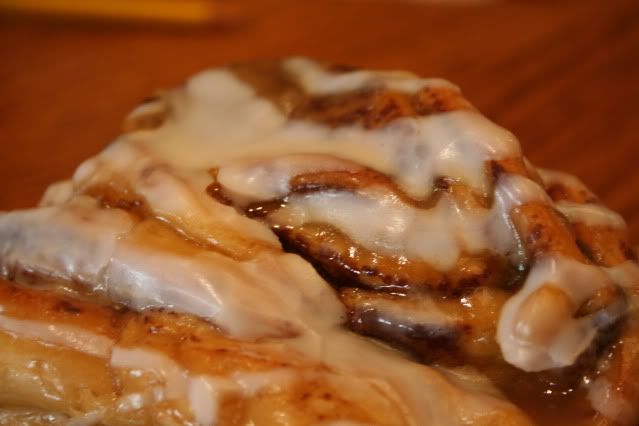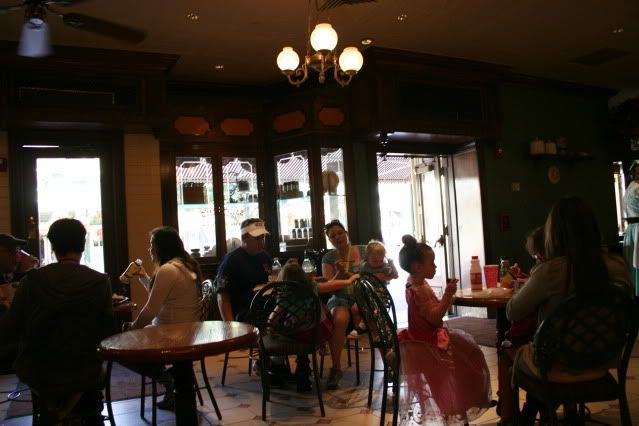 Normally it's hard getting a table mid-morning (about 11 o' clock), but there were a fair number open. I sat eating my cinnamon-y breakfast and reading a book.
My cupcake investigations complete, I decided to stick around and do some Tomorrowland adventuring...
At first my plan was for Buzz Lightyear Star Command. The line was about 10/15 minutes, so I decided to grab a fastpass for Space Mountain first. Space had a TEN MINUTE wait. At NOON. Seriously.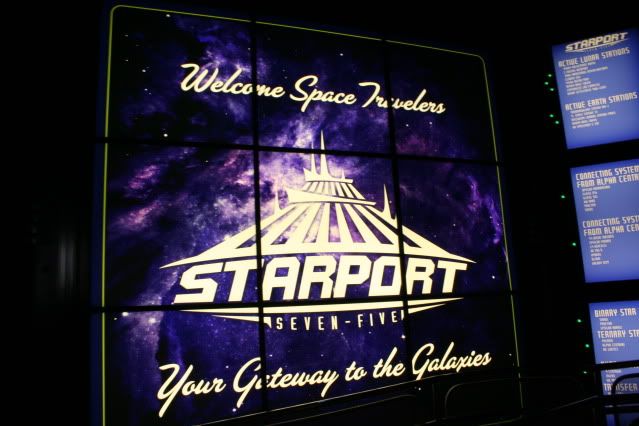 So naturally, I hopped on Space instead. It ended up being more like a five minute wait...it was pretty much a walk-on!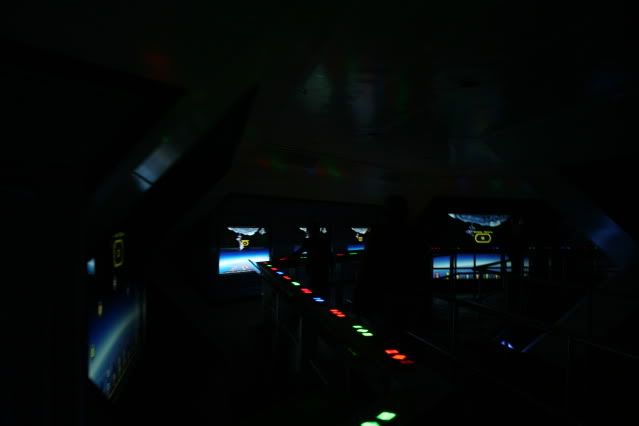 I almost wish there had been a little waiting, because they've added rows and rows and rows of these video games along the ramp. Very cool, and very smart way to make the time pass faster -- when there is a line that is. ;)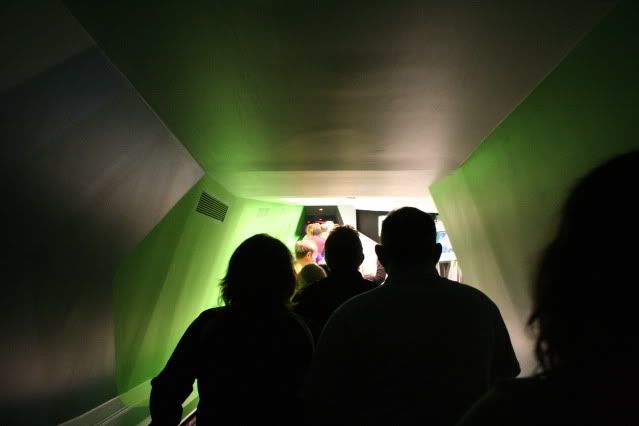 Arriving back on earth! It's funny how the lights inside Space Mountain seem to very...sometimes it's PITCH black on the roller coaster, sometimes you can see the stars and planets quite well. This time it was very dark, and it made me a little sick. I decided a quiet ride on the TTA would be the perfect thing for my stomach.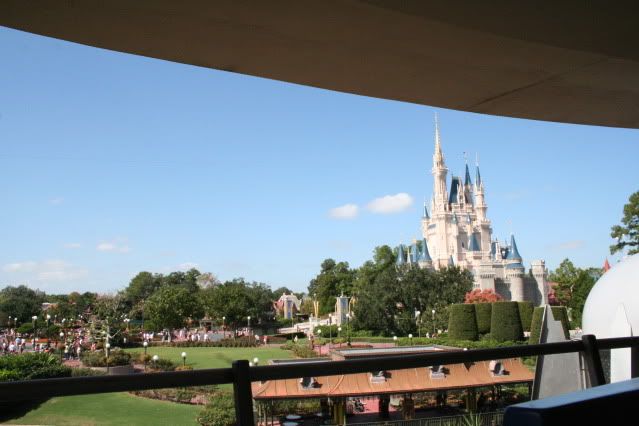 Did I mention what a GORGEOUS day it was yet?? I hope the weather and the crowds stay like this, it's such a great time to come! It was the same way earlier in September too...then the Halloween/F&W crowds made it busier, but now they're leaving and the holiday hoards haven't arrived yet.
I strolled over to Fantasyland next. Pooh was about 20 minutes, Peter Pan was 35 -- it was 1 o' clock and the fastpasses were for 1:40, which was pretty nice. On busy days they'd be gone by 1.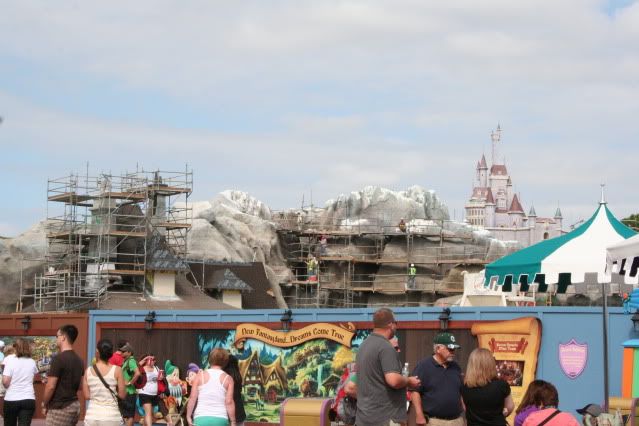 I could see the workers painting snow on the beast's mountains! I SOOO can't wait for this to open up!!
I strolled about the park for a bit longer - watched Mickey's Philharmagical Orchestra, sat in my favorite room at Columbia Harbour House, hung on the rope railings by the water in Frontierland, just watching the wind hurry by Tom Sawyer Island and feeling its pleasant coolness on my face.
Finally I meandered back down Main Street around 3 (being careful to get on the right side in plenty of time before the parade, so as not to get trapped!). It was 2:45, and there were still plenty of prime parade-watching spots, all down Main St. and around Town Square too.
This pic was taken at 3 o' clock...you almost wouldn't know there was a parade coming through -- it's SO nice when it's not crowded! I had chores to do, so I didn't stay for the parade.
So I guess I didn't stay particularly on topic with this post, since it ended up being about spooky cupcakes AND the lack of post-Halloween crowds, lol! I'll leave you with my last two Halloween pics...instead of Disney decorations and pumpkins, these are MY mini jack o' lanterns and decor. :)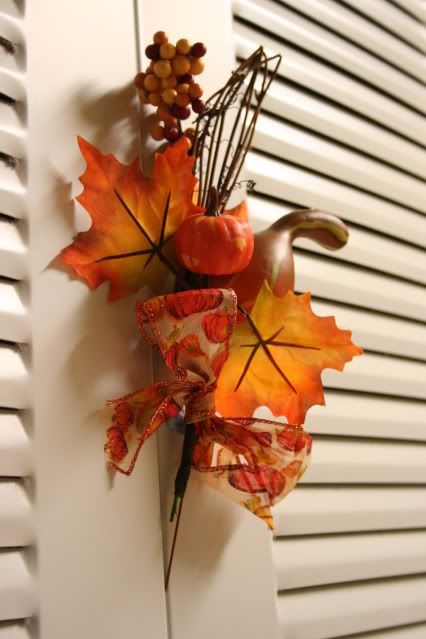 Hope it's a magical Windsday!