The

Food & Wine Festival

at Epcot may be over now, but I never got to finish posting about the tasty treats I tried there! So I hope you all have a good lunch today, because, without further ado, here we go on a little

culinary tour

of World Showcase!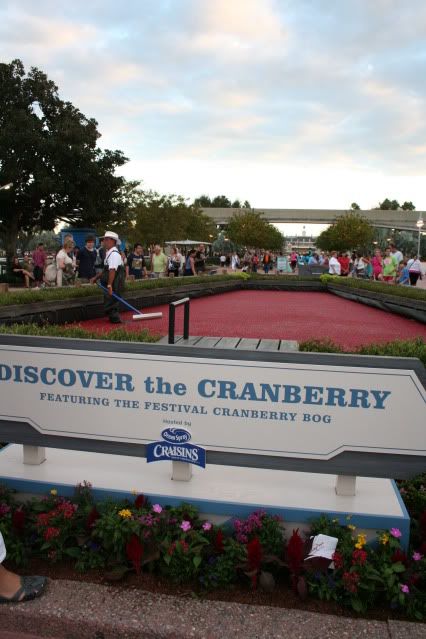 They put a

cranberry bog

in Epcot for Food and Wine. That's just awesome.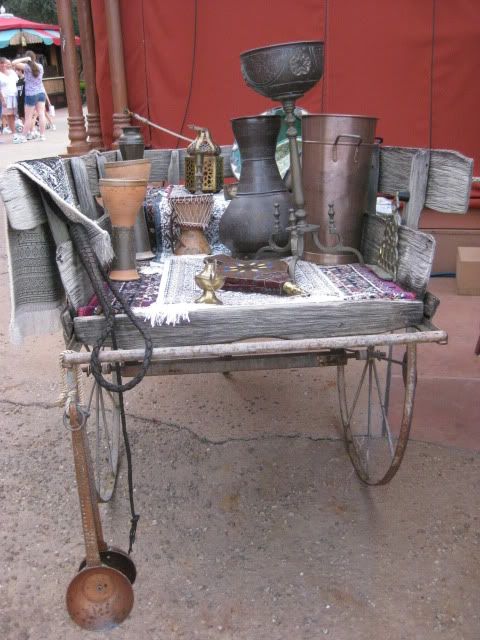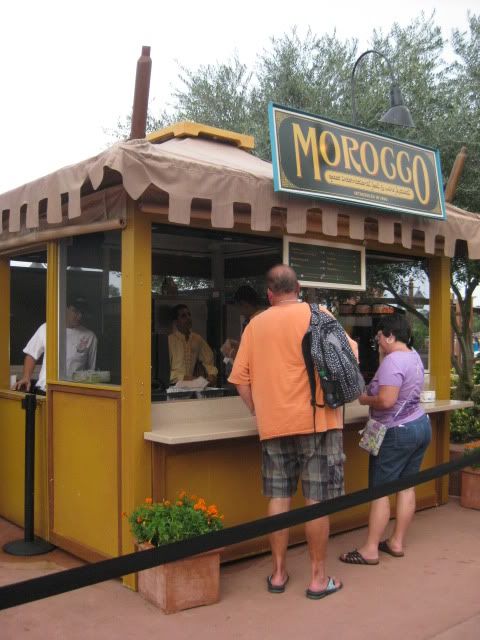 For our first stop, we'll browse the marketplace of exotic

Morocco

....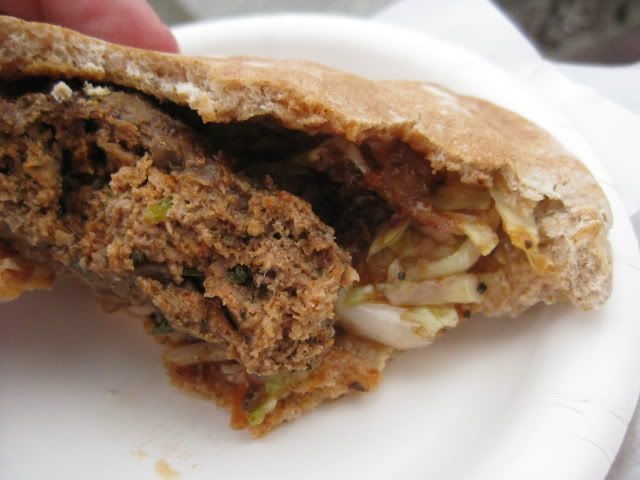 How about a

kefta pocket

...ground seasoned beef and veg in pita bread. Yum yum.
I love how the Epcot ball blends so seamlessly with the sky some days!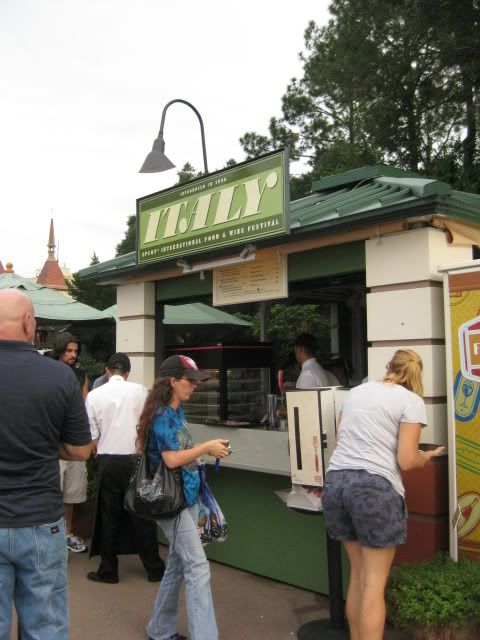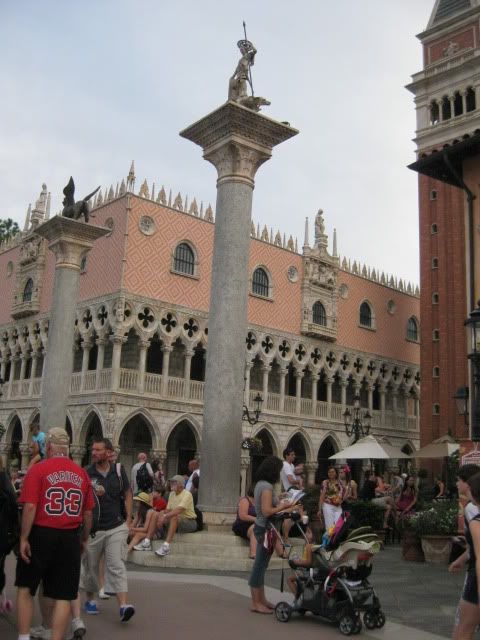 Next we'll breeze on over to the

Mediterranean

for a taste of Italia!
Here's a funny story: at every booth, you would pay at the cash register, then take your receipt to the window, where a CM would take it and get your order. In Italy the CM taking the receipts was just so Italian. He'd hand you your ravioli or canoli with a flourish and say "

Prego! Prego!

" He said "prego!" to every single customer. Love it.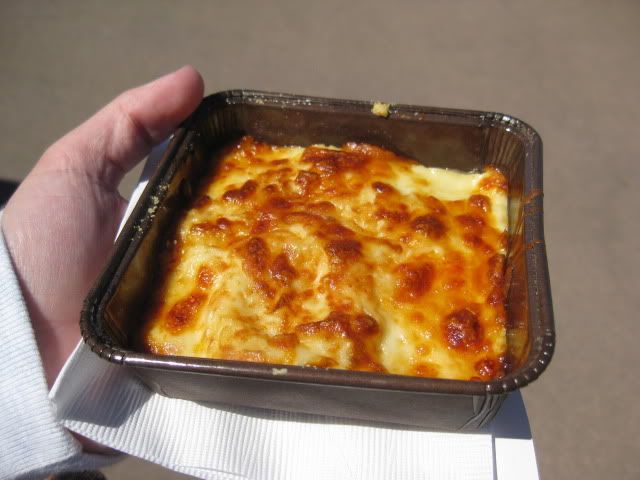 This was the

Ravioli di Formaggio all'Emiliana

...baked cheese ravioli with creamy beef bolognese, parmesan, and mozzarella. It was tasty...nothing stellar, but good. The Italy booth also had a pasta with shrimp which I think must not have gotten ordered much...when someone did order it, Signor Prego and the other CM's cheered!
The

Cannoli di Cioccolato

was SO DELICIOUS!! There were little chocolate chips in the sweet ricotta cream, and the inside and outside of the shell were lined with chocolate, see...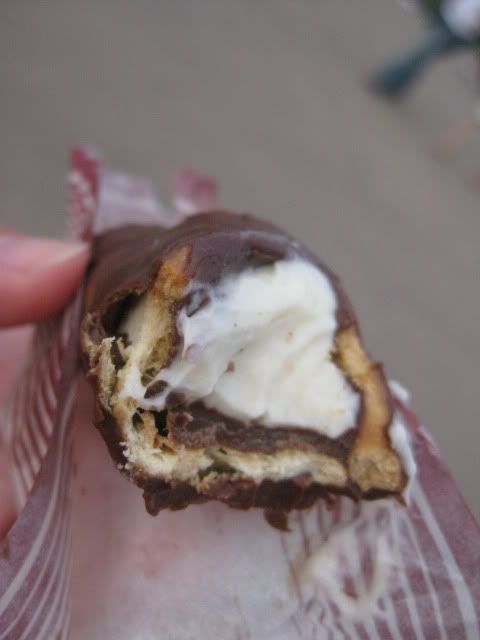 Yes. There is a booth that is just called CHEESE.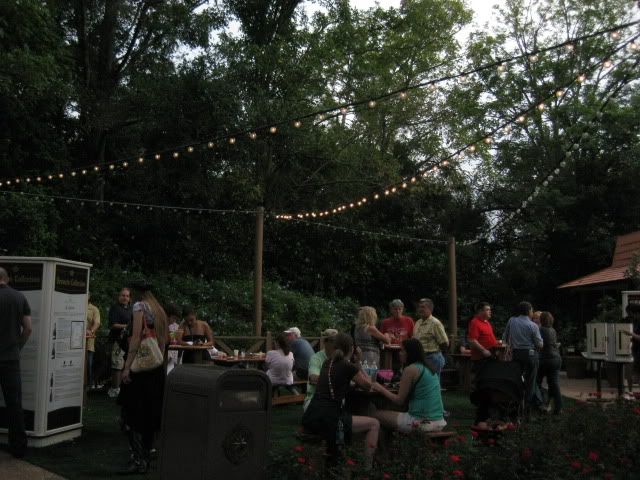 A pretty little courtyard near Germany to sample your food and wine in...
The Brewer's Collection booth. lol...for me it was more of a FOOD festival than Food and Wine. I'm just not a huge fan of alcohol...and anyway, I usually went by myself after work - it's no fun to drink by yourself.
I always loved stopping by to see what the "

Eat to the Beat

" concert was that night. One time I caught

Sugar Ray

...they were really good! It was cute to see some groups of young adults in the audience standing up and singing along.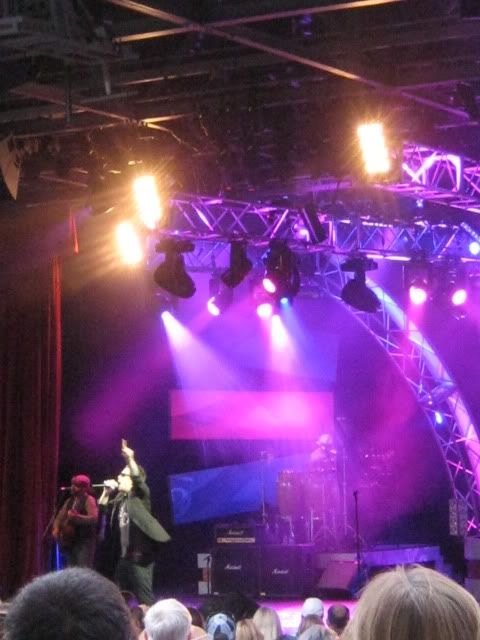 This guy, the lead singer, often came off the stage and walked through the audience, pausing to take pictures with fans -- all while continuing to sing the song, lol!
Sugar Ray was good, but the best act I saw was the

Pointer Sisters

.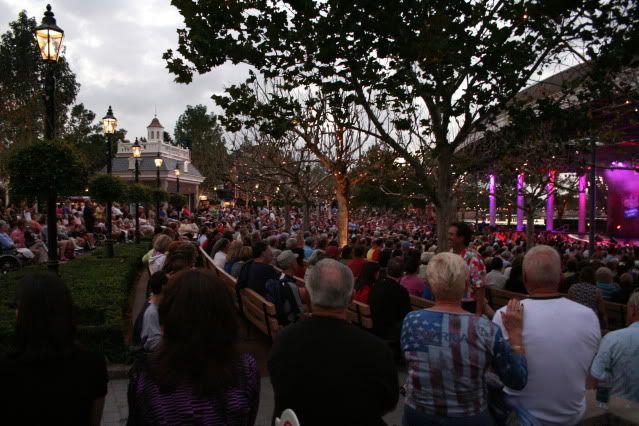 The theatre was absolutely PACKED for them! Most nights I could find a seat, but not with them playing. Oh well, I stood along the side and clapped along anyway. They did "I'm So Excited" and "Jump." They were fantastic!
Another celebrity sighting I had was in the Food and Wine Festival Center, set up back in Future World.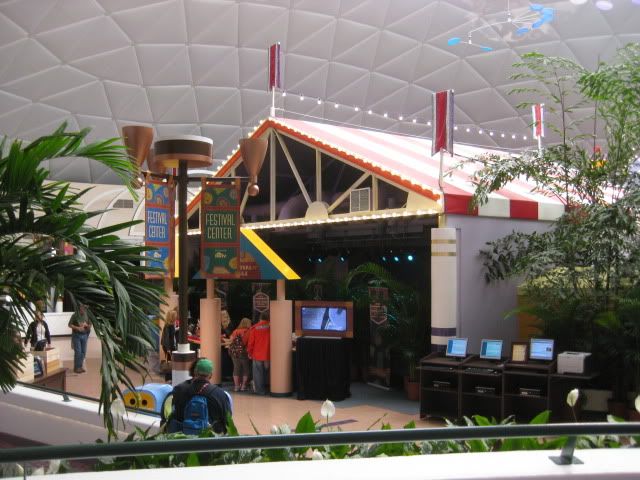 This was where all the

special events

took place...cooking demonstrations, tastings, book signings -- of course there was plenty of merchandise for sale! On the day I dropped in I happened to see a familiar face up giving a cooking demonstration...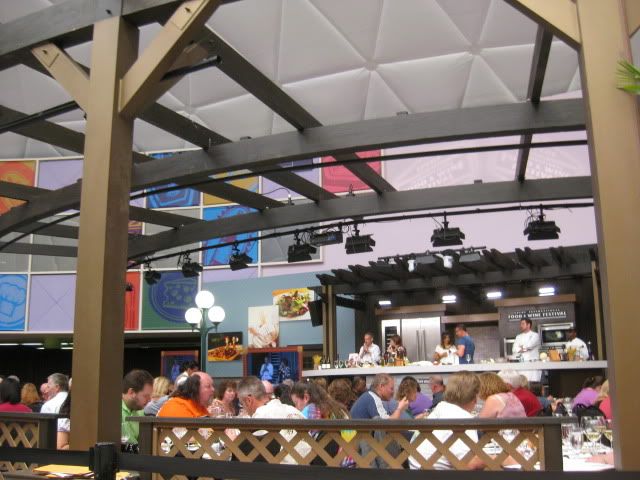 It was

Robert Irvine

, the guy from Dinner Impossible and Restaurant Impossible!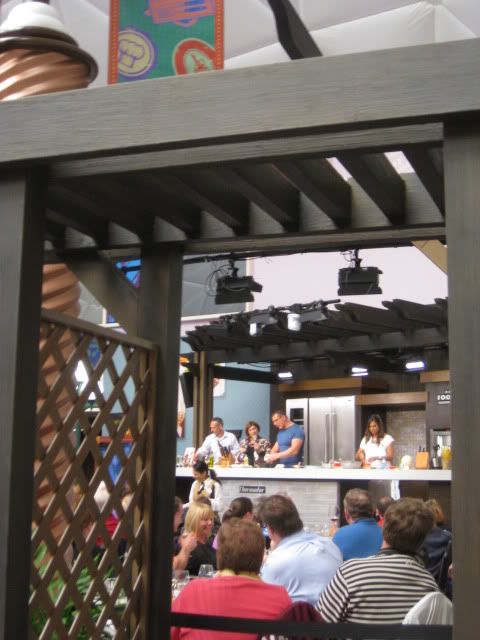 Obvi you had to have a ticket to actually be sitting at a table and tasting the food. But I sat on a nearby bench watching from the outside for a bit, it was fun! The designer girl from Restaurant Impossible was there too.
My brothers and dad and I like to watch Food Network, so I texted them to tell them I was watching Robert Irvine make a banana bread pudding! My younger brother Athos said I should get him a

signed banana bread pudding

and bring it back, lol. Sorry, Athos!
Alright, just a few more food pics. As you have probably deduced by now, these pics are NOT all from the same day. I couldn't eat that much in one evening, lol!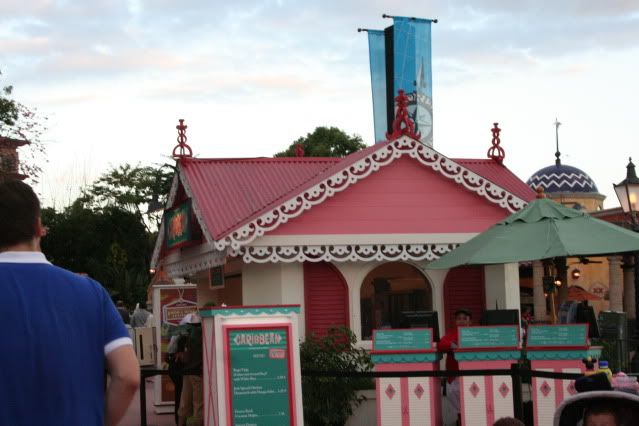 My vote for the cutest booth goes to the

Caribbean

with its pink and white and teal!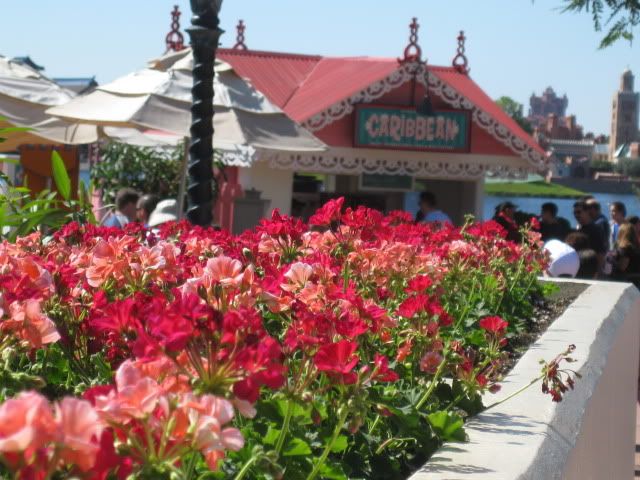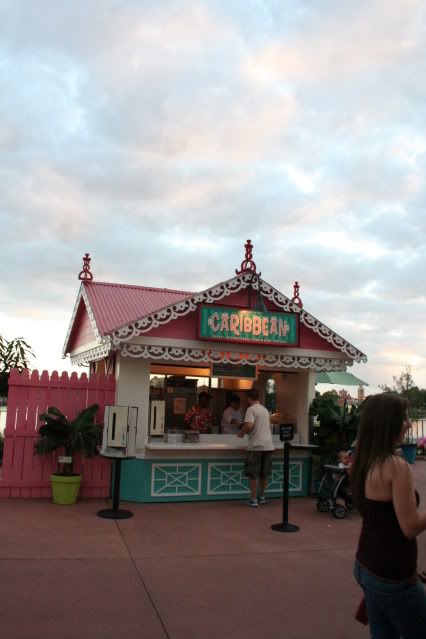 The Caribbean booth even had a mango tree next to it. I want a mango tree. How cool would that be?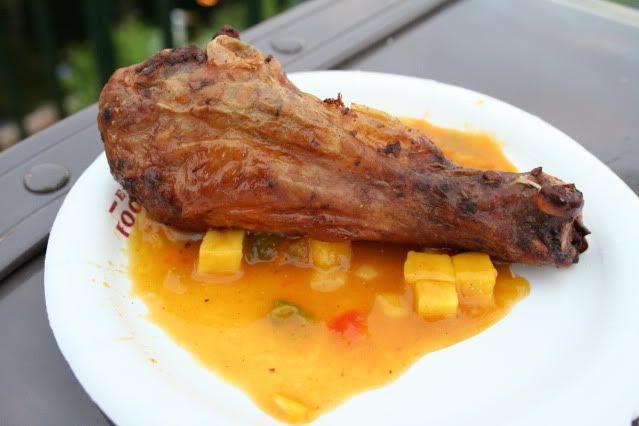 Of course then I had to try something with mango! This was the

Jerk Spiced Chicken Drumstick with Mango Salsa

. It was SUPER good, plenty of meat on the chicken, a little kick to the fruity flavors of the mango salsa.
The

Greece

booth was also incredibly cute...it was white and domed, just like on a postcard. Somehow I never got a pic of it, but I did stop by to try the

Griddled Greek Cheese with Pistachios and Honey

. It sounded so good...but sadly it was rather a disappointment. The cheese was rubbery and cold -- I didn't even finish it it was so bad. I just ate the pistachios off the top, lol.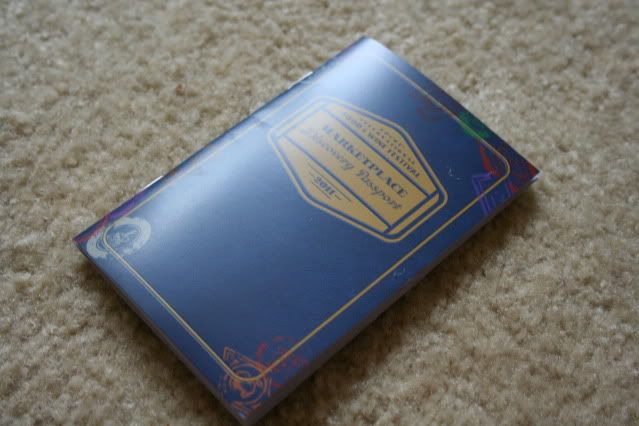 Here's a fun thing about F&W I haven't posted about yet...they handed out these adorable little passports with all the booths and offerings listed in them...
You would go around to every booth and get your passport stamped! I did not try something from every booth, but luckily they were really nice about giving the stamp even if you didn't buy anything!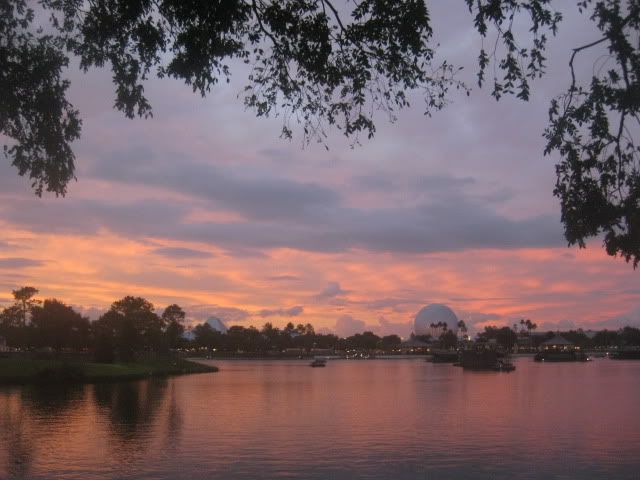 One of the nicest things about the Food and Wine Festival is just having an excuse to stroll along on an evening like this.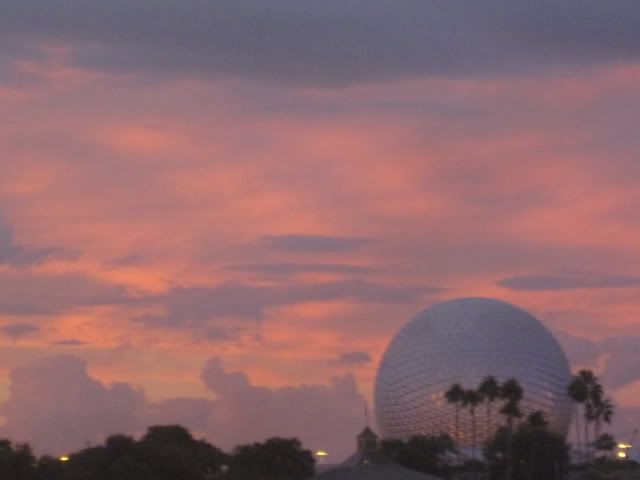 Spaceship Earth looked like a bubble from the pink-and-purple sunset sky that had come to rest on the ground. But it seemed it might float off again at any moment, it so perfectly reflected the sky's colors!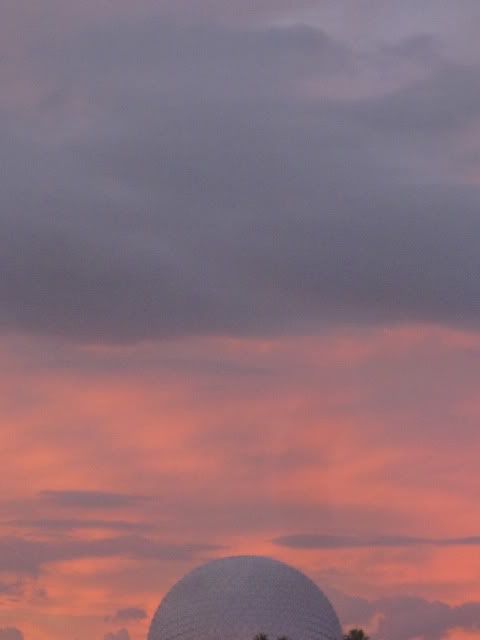 So in review: I really enjoyed getting to experience the Food & Wine Festival this year. I have been in Epcot when it was going on in the past, but we never really stopped to try anything because with my big family, if we bought one small thing, we'd have to buy seven of them to get one for everybody!
There were some really good things at Food & Wine...the Coq au Vin from France, the Caribbean Chicken Drumstick, the Ginger Ice Cream at China. But there were also a lot of just ordinary offerings -- and considering how small some of the portions are, it is pretty overpriced. Would I plan a trip around Food & Wine? No. But I would still enjoy stopping by if I happened to be at Disney World in October!